Words: Alison Brand
Photos: Monica Tindall
Mention a location to any KL local that involves the best view of Malaysia's most famous landmark, chic and sophisticated atmosphere, combined with a serious commitment to offering the best quality drinks and food in town, and pretty much everyone will know you are referring to Marini's on 57. Unrivalled in location, I challenge anyone to tire of the view from the 57th floor of the architecture of the gorgeous Petronas Towers, no matter what time of day…!
New Cocktail Menu Marini's on 57
This iconic KL establishment, needing no further introduction, has a freshly updated cocktail menu in celebration of its 6th anniversary. Since opening in 2012, Marini's on 57 has been treating guests to a fabulous array of concoctions ranging from light and refreshing, to rich and decadent. In total, there are five new Signature cocktails and two new Sunset Hours creations to savour while taking in the unparalleled views from the top of the Menara 3 Petronas Tower. After being seated window side, we were all definitely ready and able to help celebrate Marini's turning six by trying all the new cocktails, a hard gig to be sure…!!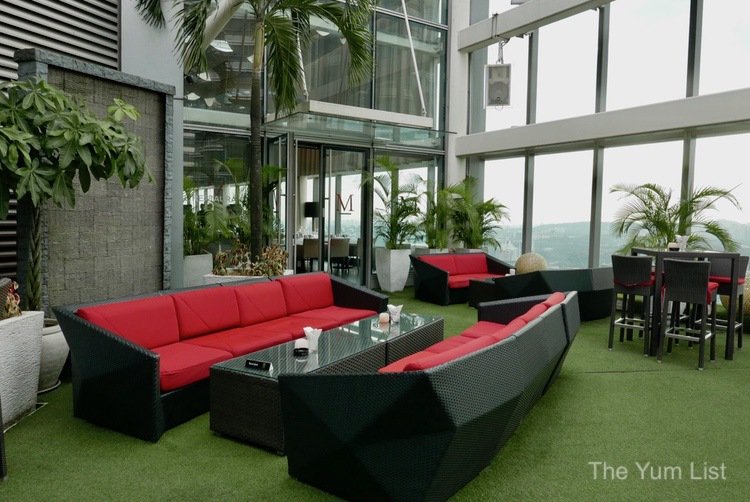 Marini's on 57 Menu – Happy Hours
The first two cocktails to arrive were from the new Sunset Hours menu, available between 5 pm and 9 pm daily. Pinky Promise (RM35) was a refreshingly vibrant mix of gin, lemon, mint leaf, cucumber and elderflower syrup. Green and gorgeous, this felt like a much-needed health boost with added extras, ideal for an early Friday evening revival after a long week at work.
The second sunset cocktail was The New Dawn (RM36), with a refreshing blend of fruitiness coming from the mix of passionfruit puree and lemon juice, smoothed to perfection with white Brazilian rum and vanilla syrup. Served in a long-stemmed glass and rose petal garnish, this beautiful drink was the perfect accompaniment to watching the sun descend over the city below us.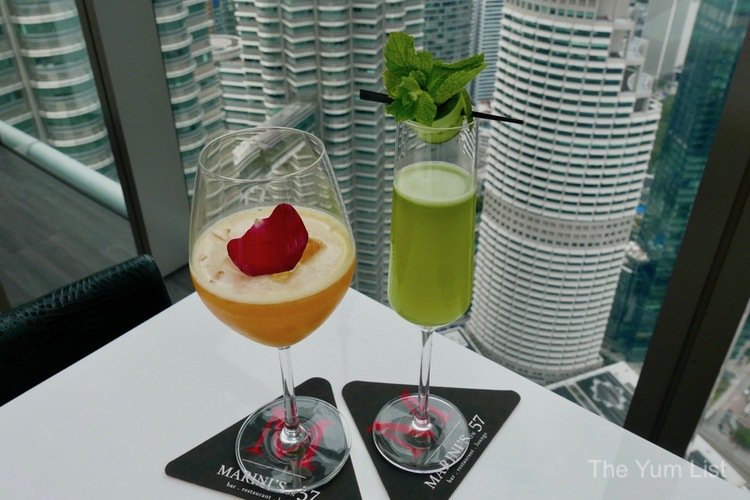 Marini's on 57 Menu – Signature Cocktails
Now that the city was beginning to shift gear and starting to dazzle with sparkling lights, we were treated to a selection of drinks from the Signature Cocktails menu. Newly developed and carefully created by the skilled mixologists behind the Marini's on 57 bar, this selection of cocktails is available daily from 5:00 pm until late.
Appearing as though it had been taken straight off a glamorous 1950's movie set, Pinch of Pepper (RM50) was served in a crystal cut long-stemmed glass and looked a little like freshly made lemonade. Strictly one for the grown-ups though, this unique and cleverly crafted cocktail featured gin, lime juice, ginger and pepper syrup, cilantro and mint leaves, and had the most amazing fruity and spice filled aroma to match.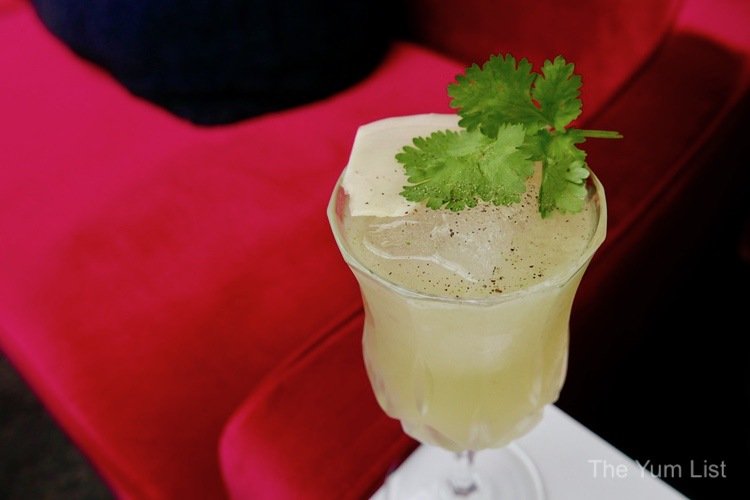 Rush Berry (RM57) as the name suggests, was a glorious berry red mix of tequila, lemon juice, raspberry and basil syrup, and orange bitter, served on a large ice-cube in a cross-cut whiskey tumbler. Decorated beautifully with silver flakes and basil leaf, this drink was a harmonious fusion of sweet and sour, while being smoothly balanced with just the right amount of sweetness on the palate.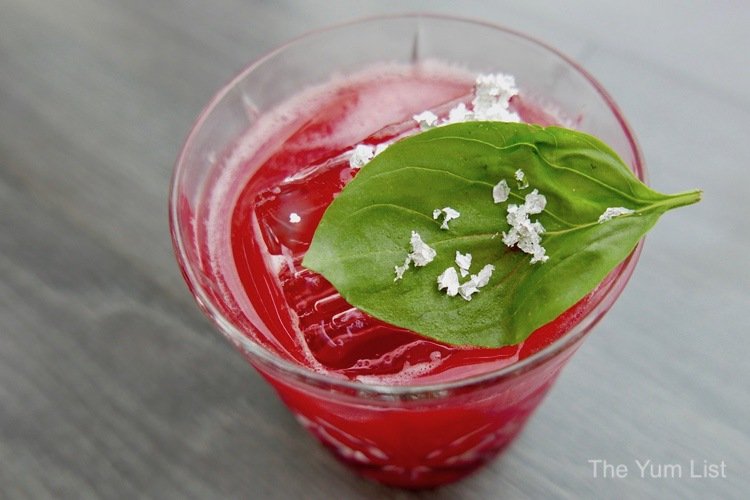 The Traveller (RM45) made me immediately reminisce to Christmas time back in Australia, and to the traditional rich whiskey soaked plum pudding that is a well-loved favourite all around the globe. It was no real surprise then to discover that this deliciously zesty creation was centred upon Irish whiskey, sour plum syrup, Lombardo Sweet, lemon and lime juice, with a hint of Angostura bitters. Absolutely wonderful!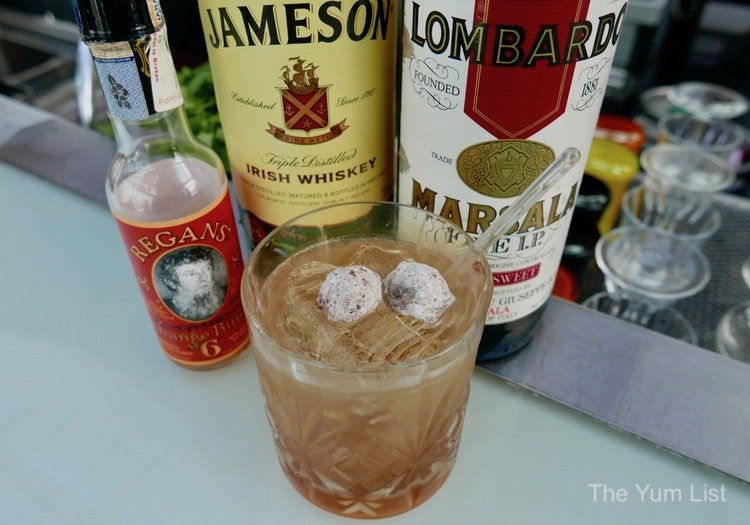 Food Menu Marini's on 57
Knowing full well that one cannot survive on cocktails alone, the chefs at Marini's on 57 prepared a special selection of plates from the accompanying food menu. Marini's style guacamole with house-made rice chips (RM38) was a very welcome addition to the table, combining the well-loved combination of freshly made creamy guacamole with super light and crispy rice chips. Mini tacos with shredded beef cheeks, roasted capsicum and Parmesan cheese (RM38) were also seriously delicious, bursting with flavour and the perfect bite size.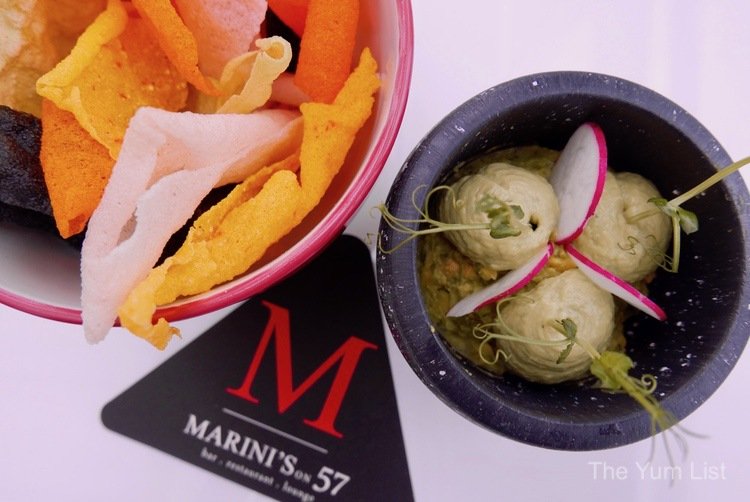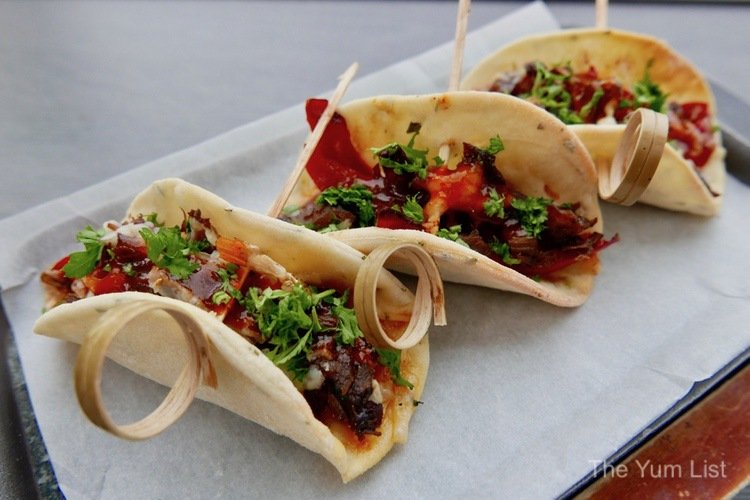 Tortilla di gamberi served with avocado mousse and anchovies dipping (RM48) was scrumptious and enjoyed by all, as was the Capriccios pizza (RM48), with a thin handmade pizza base topped generously with tomato, turkey ham, artichoke, mushrooms and mozzarella cheese. Definitely feeling more satiated, we were ready to continue with more delights being created for us behind the bar.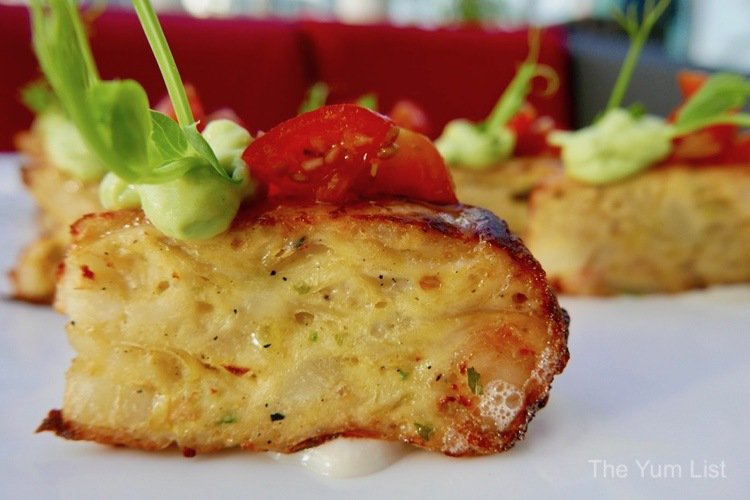 Pandan Loves Truffles (RM50) was one of the real highlights of the evening. Designed to showcase and pay tribute to local flavours, this cocktail featured the dark flavours of aged rum infused with pandan, combined with the refreshing inclusion of lime juice and pineapple. A hint of truffle infused olive oil added to the mysterious aromatic journey that this creation was taking us on. Served in a luxurious heavy chilled golden goblet, I felt a little like Cleopatra must have while relaxing after a stressful day ruling over her immense kingdom… amazing!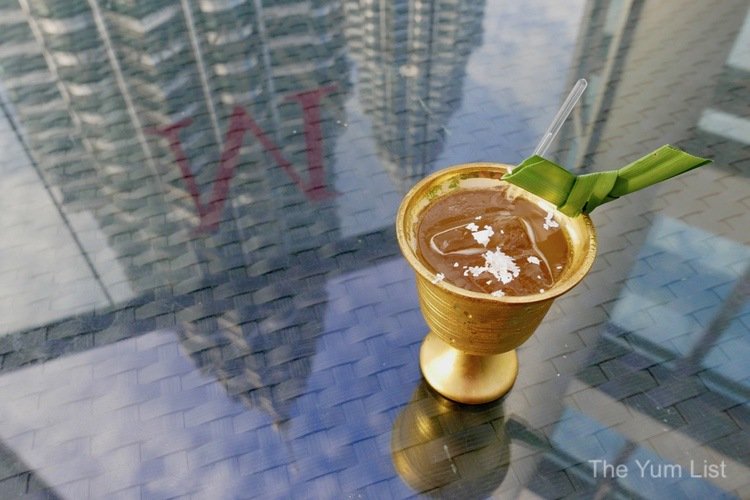 The crescendo to the evening arrived in the form of the Tiramisu Cocktail (RM50). For anyone who is a serious lover of all things coffee, this would definitely satisfy the strongest cravings. Served in the cutest of glass milk bottles and topped with a solid chocolate button with almond and pistachio flakes, this special cocktail tips its hat to the Italian roots of Marini's on 57 founder, Caveliere Modeto Marini. Dessert and after-dinner coffee were perfectly taken care of with this spectacularly rich blend of spiced rum, Frangelico liqueur, espresso, mascarpone cheese and heavy cream.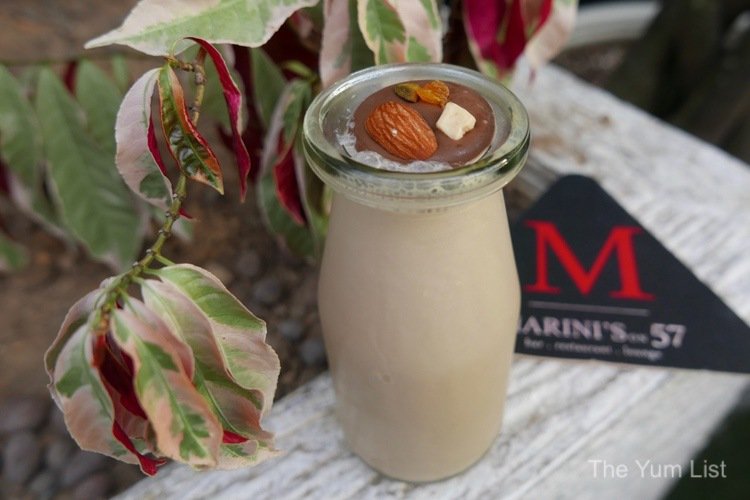 Marini's on 57 Menu – Chocolate
As if this wasn't enough sweet coffee satisfaction on its own, we were also treated to a stunning platter featuring an assortment of house-made chocolate pralines (RM35), specially selected to satisfy the chocolate connoisseur in all of us! This particular evening's offering allowed us to taste a variety of delectably creamy chocolate pralines, including white chocolate, passionfruit, matcha, butterscotch, basil chocolate, orange, berry and hazelnut. All the pralines were designed and created using only the best quality and locally sourced (when possible) ingredients, by the speciality chocolatier at Marini's on 57. What an incredible way to finish off the evening's celebration!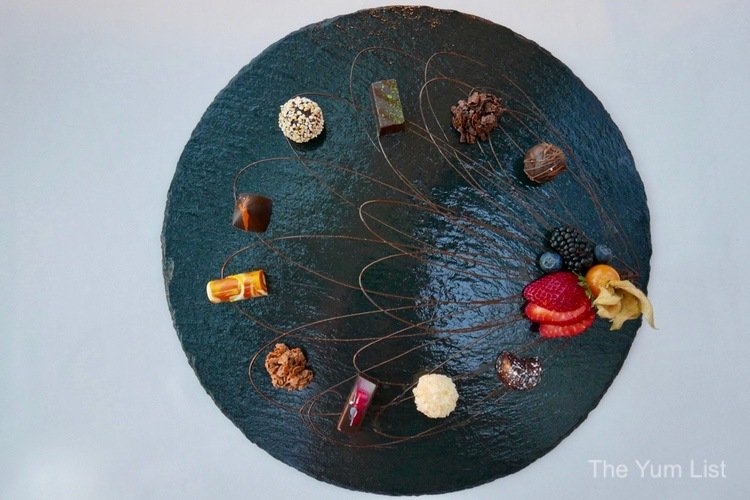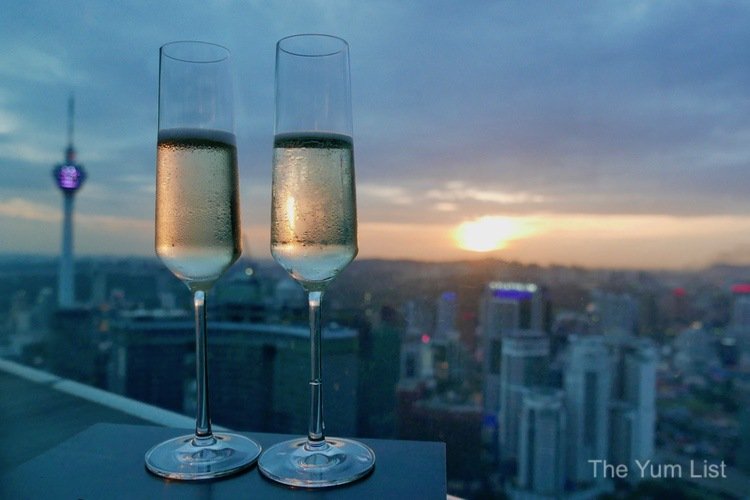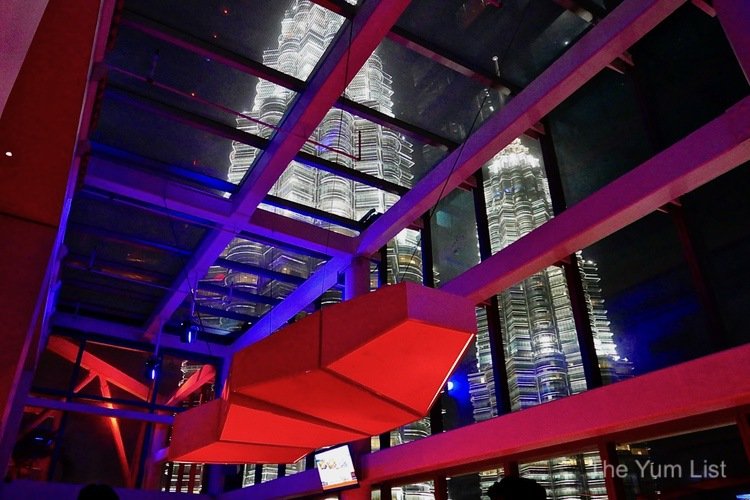 Reasons to visit Marini's on 57: Location, location, location – the unparalleled views and central position right beside KLCC cannot be surpassed. The quality of the drinks, food and service – first class in every way. The chic and glamorous atmosphere makes for a special experience, and will definitely elevate anyone's spirits after a hard day at the office. Fabulous venue for any type of celebration, or to just relax and unwind with friends and family.
Advanced bookings strongly advised.
Marini's on 57 Opening Hours
Monday to Thursday 3:00 pm to 1:30 am
Friday and Saturday 3:00 pm to 3:00 am
Sunday 5:00 pm to 1:30 am
Marini's on 57
Level 57, Menara 3 Petronas
Persiaran KLCC
50088 Kuala Lumpur
Malaysia
www.marinis57.com
+603 2386 6030
Love a good cocktail? Find out more about KL's cocktail bar scene here.