Words: Louise Miller
Photos: Monica Tindall
Where else to stay when in Shangri-la in the Diqing Tibetan Autonomous Prefecture than at the Shangri-La? The town for which the beloved hotel group is named boasts a relatively new addition to its collection: the Shangri-La Resort Shangri-la.
Shangri-La Resort Shangri-la – Welcoming Lobby
Utter serenity pervades the entrance and the lobby area of the Shangri-La Resort. The chain's signature scent of white tea soothes as soon as you cross the threshold. Huge dark wooden panelled pillars with colourfully carved inlays square off the main entrance beyond which lie no fewer than six separate lounge areas. Stylish Tibetan touches abound: from the enormous yak butter candle and hammered copper chimney that provide the reception's centrepiece to the stunning inverted pyramid of brass bells suspended above a table of Tibetan artefacts. Attention to detail is astonishing and there is so much to take in.
Every cushion, lamp, shelf and wall space provides yet further opportunities to showcase the beauty and craftsmanship of this culture's art: intricately carved lacquered wooden panels; open wooden display cases housing teapots and wicker and wooden boxes; stone sculptures in every corner – we are so impressed!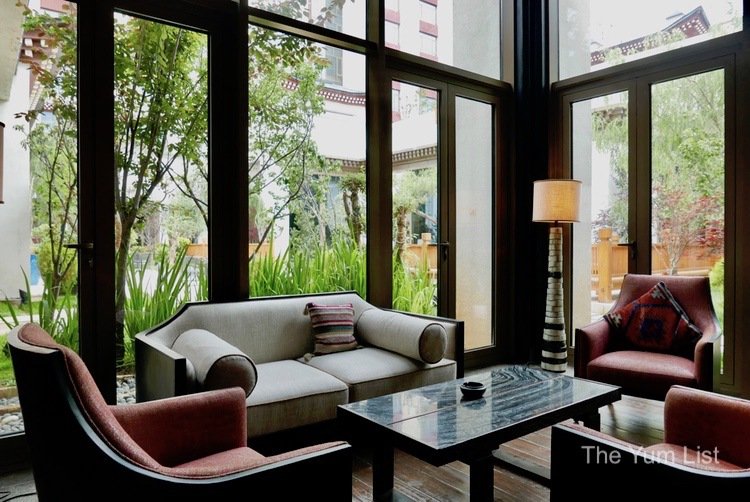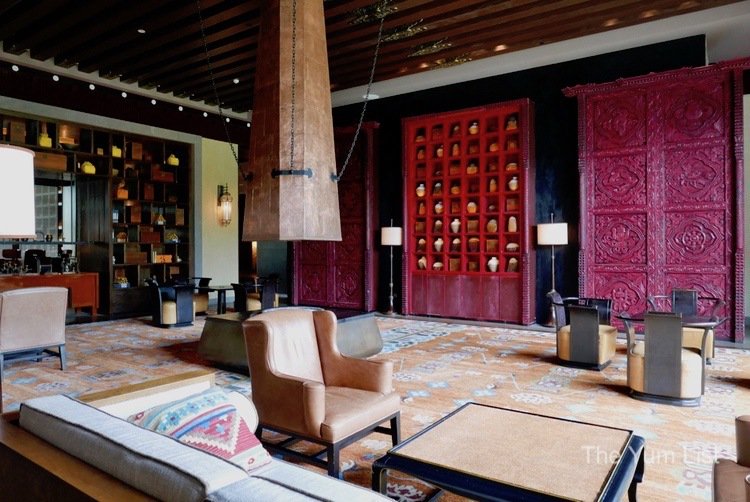 Rooms Shangri-La Resort Shangri-la
The immediate feeling of well-being and relaxation we feel on entry to the room is a testament to its clever design and thoughtful touches. Natural wood, crisp white cotton bed linen and gorgeous Tibetan features characterise the decor. The warm autumnal tones that were seen in abundance in the lobby are reflected here from tapestry cushion covers to the stunning relief fabric artwork above the beds
A powerful shower with the hotel's mint and cucumber scented products will revive any weary traveller or for those in need of something a little more relaxing, have a soak in a hot bubble bath. Either way, wrap up in a luxurious towelling lined cotton robe afterwards and chill out overlooking the impressive city views from the comfort of your sofa or watching the flat screen from the super cosy duvet covered bed.
For guests with work to do, there's a great desk area with strategically placed power sockets, a well-stocked mini-bar… everything you might need to enjoy a restful and/or productive stay.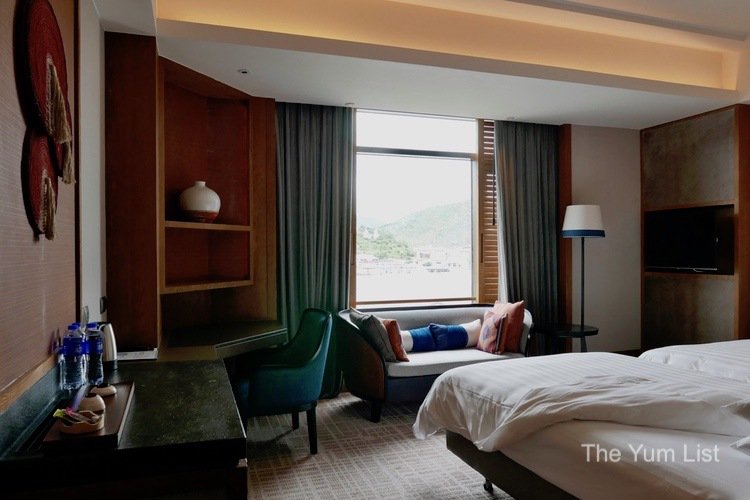 Shangri-La Resort Shangri-la – Facilities
A plethora of health and relaxation facilities will ensure that you leave the Shangri-La Resort Shangri-la recharged and rejuvenated: The well-equipped gym and huge indoor heated pool will provide ample opportunities for calorie burning should you feel inclined to counteract banquet and yak butter indulgence. If however, this sounds like too much hard work, just skip the physical exertion, head straight to the jacuzzi and chill out afterwards in the stylish relaxation lounge.
The gardens offer further opportunities to relax. Ponds, walkways, stone sculptures and water features create a serene setting in which to walk or sit and take in the clean mountain air.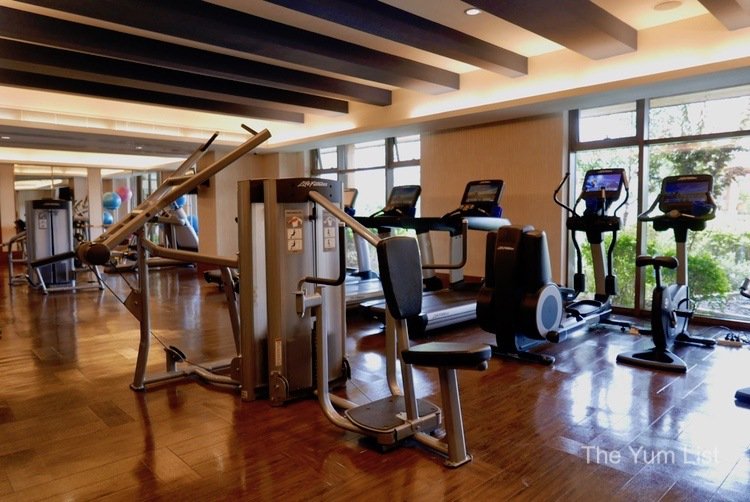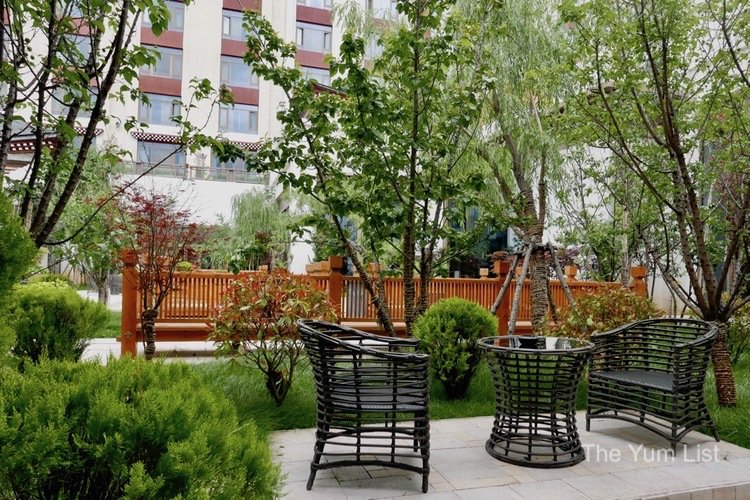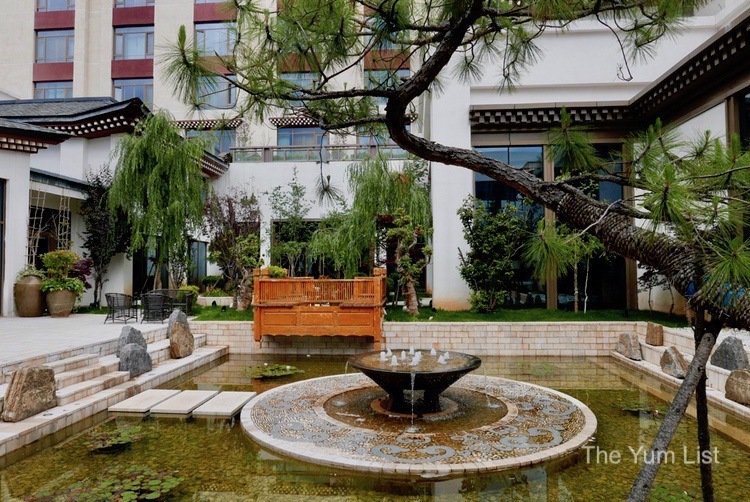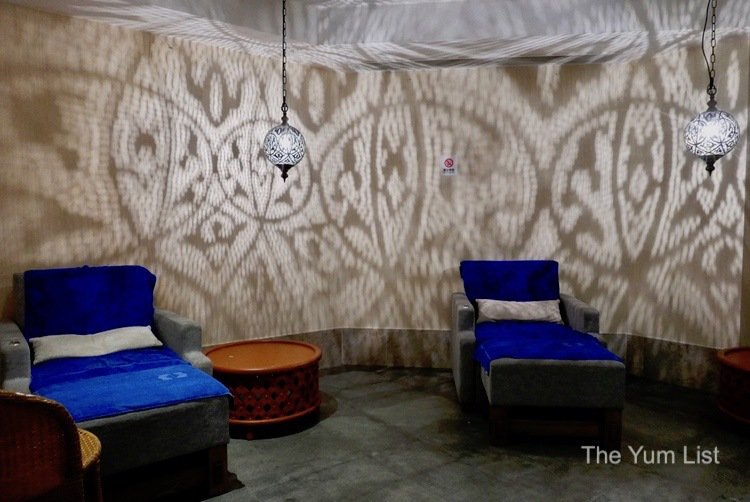 Breakfast Shangri-La Resort Shangri-la
Our morning repast was one of the highlights of our stay at Shangri-La Resort Shangri-la. The breakfast buffet here is copious and diverse offering absolutely every breakfast dish you could possibly wish for and more. In addition to fresh fruit, cereals, yoghurts, cold meats, cheeses, salads, pastries, hot western and oriental dishes there is a local section offering delicious Tibetan dishes such as the toothsome stir-fries featuring yak meat, aubergine, tofu and lotus root.
We were so impressed by both the food and the truly excellent service here and never more so than when, in response to our request for the chef to plate up a typical Tibetan breakfast, we were privileged with our own private yak butter tea making demonstration. Chef mixed the tea and butter in traditional churns before serving with delicious yak milk cheese balls and buckwheat baba (a kind of flatbread of a soft biscuit-like texture). And if all of this weren't unique and memorable enough, our experience culminated with the chefs' performance of a Tibetan song.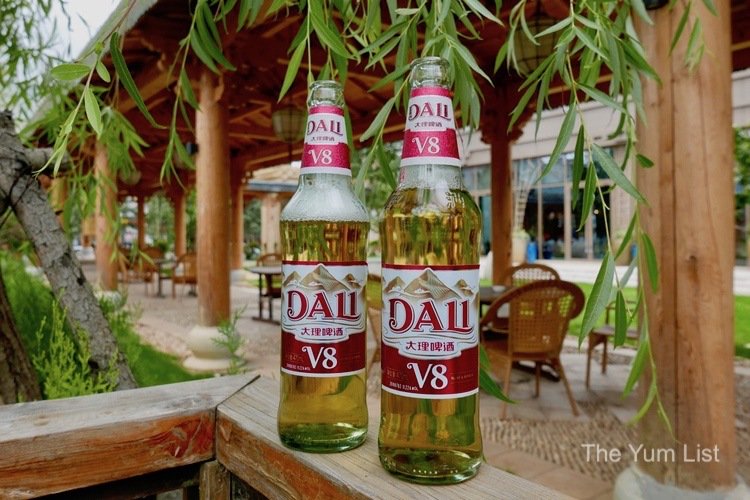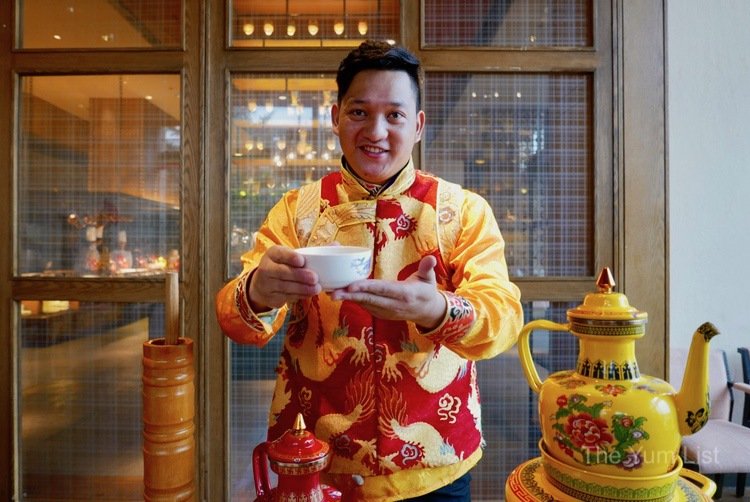 Location, Shangri-La Resort Shangri-la
The Shangri-La Resort, Shangri-la is situated right in the centre of the city only 15 minutes from the airport and five minutes from the bus station. It's also within a short walking distance of the quaint old town.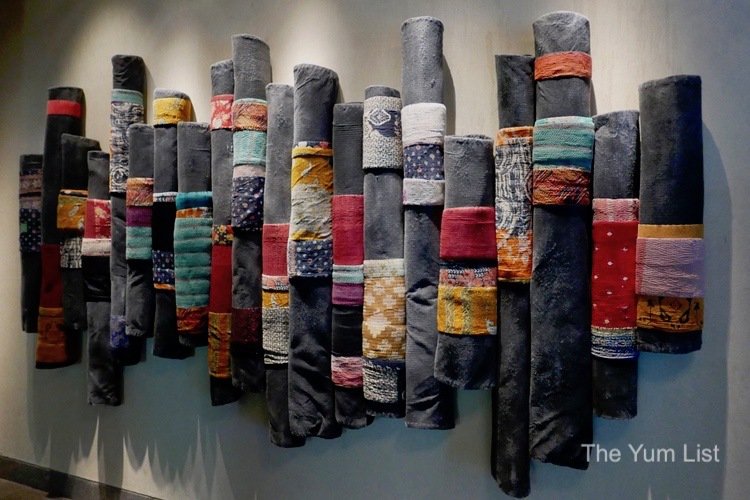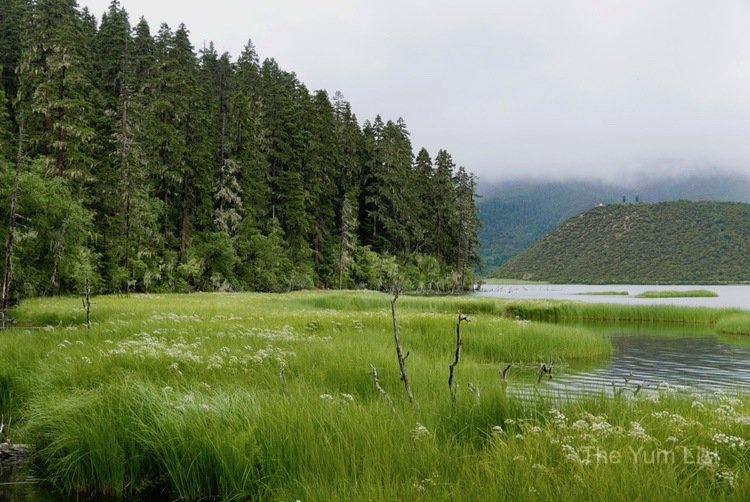 Reasons to stay at Shangri-La Resort Shangri-la: stunning decor with plentiful Tibetan features, comfortable and stylish rooms, excellent service, delicious food.
Follow this link for more travel recommendations for Yunnan, China.