Words: Kitty Lang
Photos: Monica Tindall
Taps Beer Bar in Plaza Arkadia is one of a small few craft beer bars in Kuala Lumpur. Owned by a group of cousins, one of whom is a beer expert, or 'cicerone' (the beer equivalent to a sommelier), the concept was born out of passion for a good brew. Given the absence of boutique brewers in KL, this is a very welcome addition to the KL drinking scene. With a rotation of over 800 beers on tap, from Scotland, USA, Japan and Australia, even non-beer drinkers are likely to find something to suit their palate.
Taps Beer Bar is set on a corner plot in the centre of the new Plaza Arcadia, offering a ringside view to the central concourse, where markets and social gatherings frequently occur.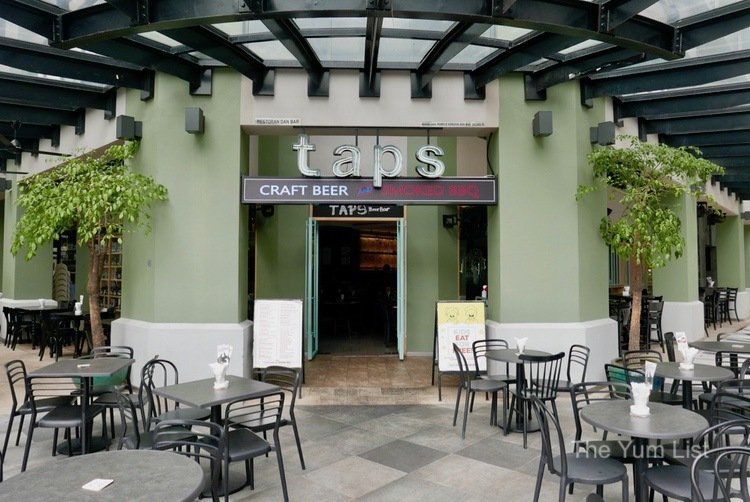 Craft Beer KL – Taps Beer Bar
To kick us off on our liquid journey, Joash, our host, presented us with their 2 Brothers Little Apple Cider 4.9% (RM 27/30- happy hour / regular price) a proper English style cider (being brought up in Worcester, the home of cider, I like to think I have a certain authority on the subject), very traditional with a strong overriding apple flavour without being too sweet.
With a plethora of beers to come, we grouped them into light, medium and dark. Fortunately, between us, we had different preferences so could do justice to the beer banquet.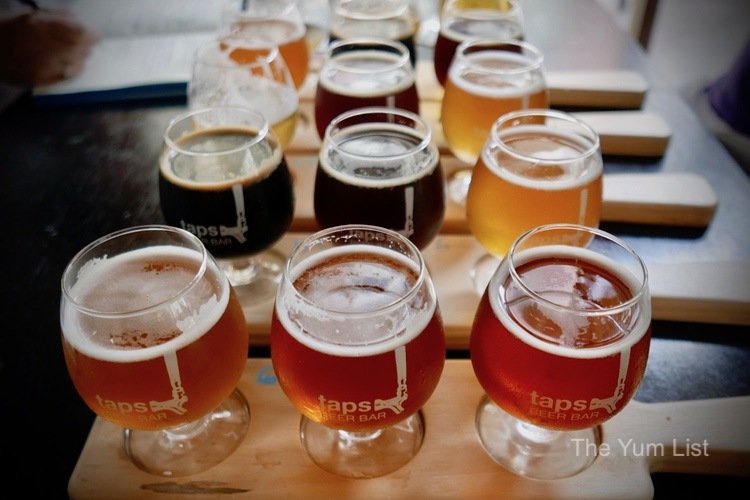 Taps Beer Bar Menu – Light Craft Beer
Our lighter beers started off with a very clean, citrus forward pale ale from Oz, the Hawkers XPA 4% (RM25), which belied the very hoppy nose. As a Scot, I am very familiar with Brew Dog, a Glaswegian brew house with big ideas, who provided the Punk IPA, hefty at 5.6% (they hold the record for the world's strongest beer, Sink the Biszmark) but not too heavy with a slight caramel overtone and a hoppy aftertaste to this pale orange beer.
Buxton, a beautiful area of the Peak District provided our next beer. The water source there is so good, it is bottled and sold, which when used in the process of this beer, creates a lovely soft beer, slightly flowery with no bitter aftertaste. In our global tour of beers, Japan supplied the Saison Du Japan 5% (RM 25), a really interesting beer with flavours of cherry bark and nuts, and a slightly burnt nose. Great length with an interesting orange colour.
In addition, we tried Adderson Valley (my favourite as it happened), G & T Gose 4.2% (RM 25/28) and Rogue Honey Kosch 5% (RM 30 / 33), a light and easy drinking beer.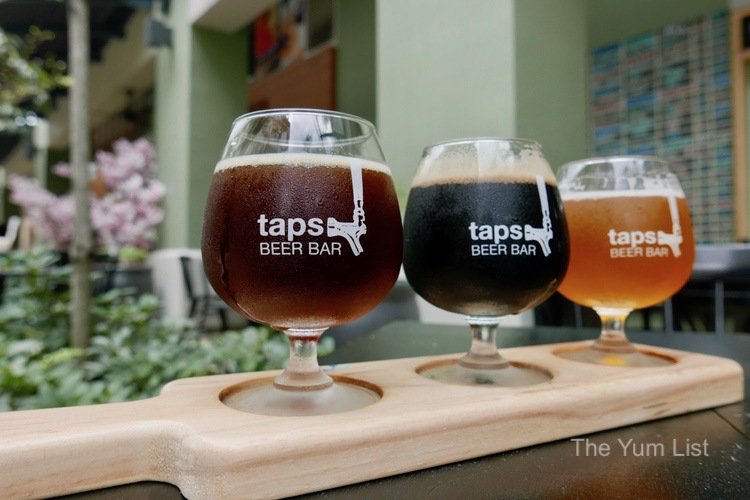 Taps Beer Bar, Desa Park City – Medium Bodied Beers
The medium-bodied beers started with Hitachino Red Rice Red Ale (RM 30 /33 another Japanese beer, new to me) at 7% tasted much more easy drinking than it should, leading through to a strawberry finish. A couple of these could have you talking fluent Japanese. Brewdog's 5AM Saint is well known to me, with a hoppy nose and fruity, bitter follow-through. Another cheeky number from Hitachimo was their 'Amber' at 6% (RM 32/35) with a slight carob flavour to it. We finished the middle beers with the Red Rogue Hazelnut Brown Ale, from the US (RM 30/33) – another 6 % beer, with a delightful hazelnut finish.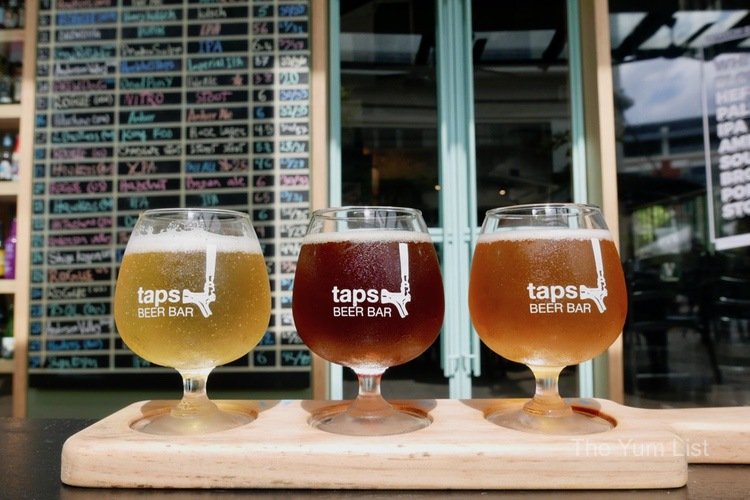 Darker Beers at Taps Beer Bar Plaza Arkadia
For the final duo of darker beverages, we went back to the US with Rogue Nitro Stout (RM 28/31) which at 6% was a dark black colour and a chocolate porter. The same brewhouse provided the Chocolate Stout (RM 28/31) at a slightly lesser 5.8% which although had some chocolate tendencies, reminded us more of Café Patron, the coffee flavoured tequila.
To finish with a bang, with the Rogue made a final appearance with the Chipotle Ale, (RM 53 for a 1-pint bottle), which as the name suggests is laced with smoky jalapenos. Whilst the chillies provided quite a delicate, background flavour, this is hardly what one might call a 'session' beer. The chilli was subtle enough not to over-power but offered a gradual build-up of tingly heat.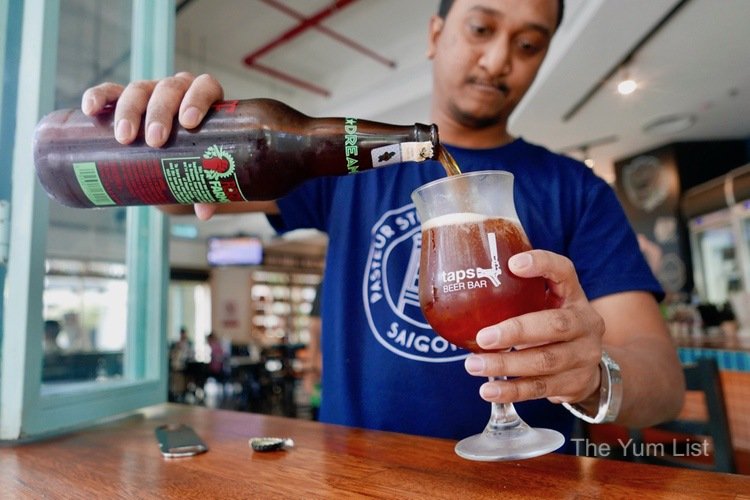 Taps Beer Bar Menu
With that array of alcohol, of course, we needed some beer bites to soak it all up.
On paper, the Balik Kampung pizza, should absolutely not work. Crispy, thin pizza base, topped with Bèchemel sauce, prawns, anchovies, fried shallots, kaffir lime leaves, belacan, ginger, lemongrass – not exactly your traditional pizza! But I certainly didn't mind being wrong in my initial judgement. It was bright and zingy and refreshingly different.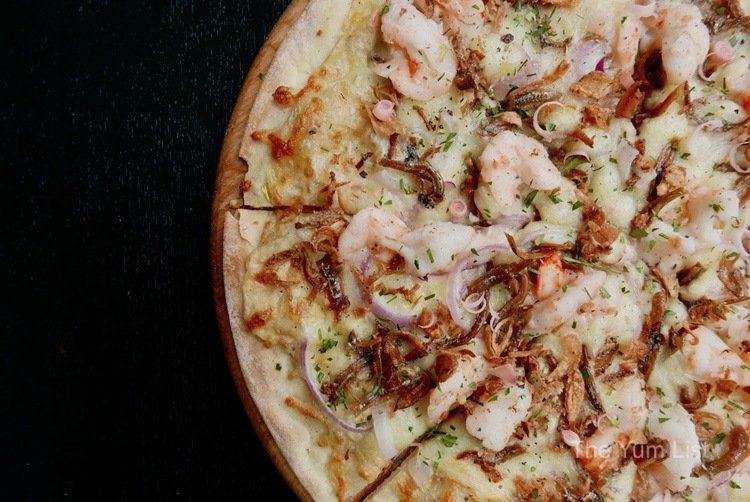 Deep Fried Pork Belly (RM 26) topped soy sauce laden, angel-haired pasta and was crowned with a perfectly poached egg – a cholesterol inducing indulgence! The Rib-eye Skewers (RM 40) were a crowd-pleaser with their mustard and onion sauce, perfectly tender and juicy and well-matched with crispy Golden Mushrooms (RM 15).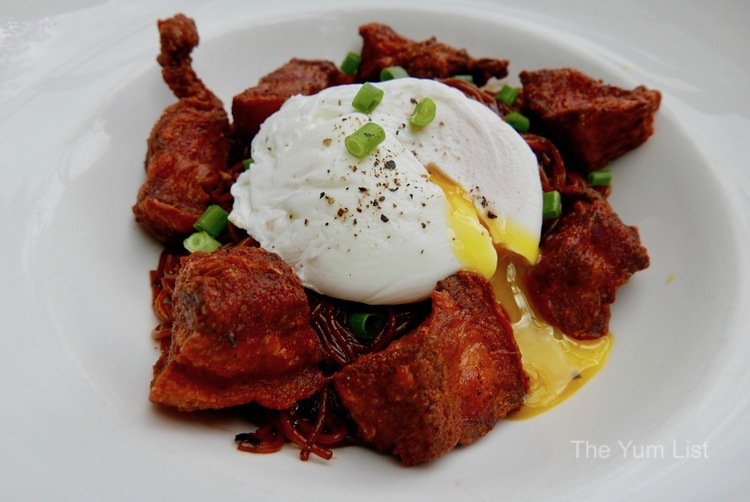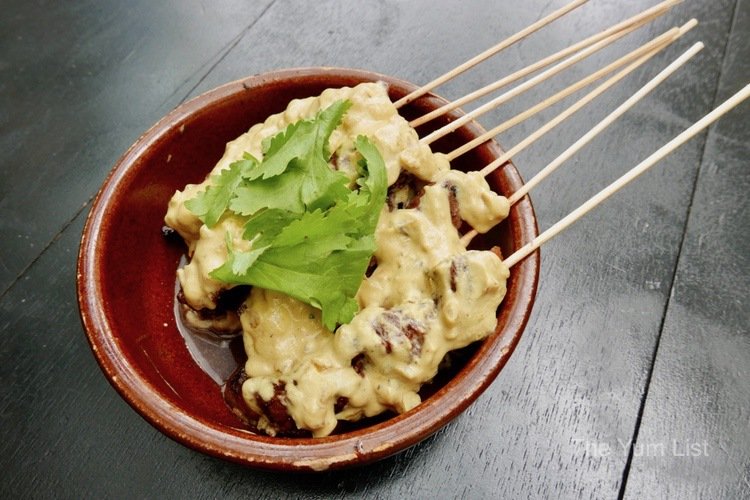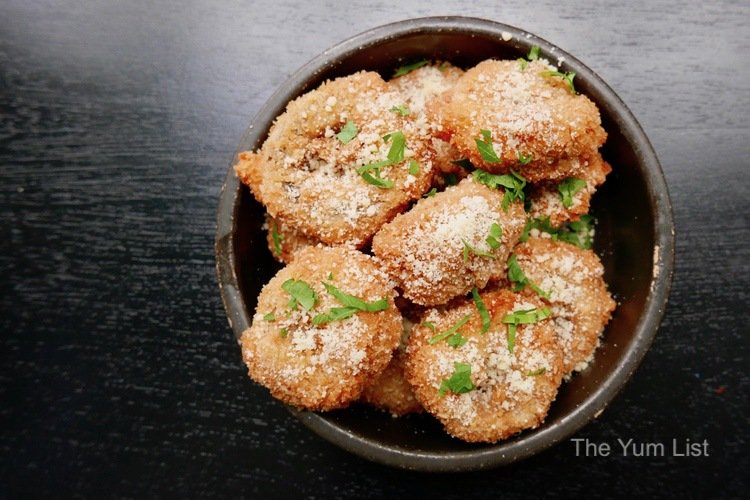 The Pulled Pork Burger (RM 26), an example from the evening barbecue menu was equally popular amongst our group, with one of our number (mentioning no names) nearly polishing the lot off before the rest of us got a look in! The smoky barbecue sauce was complemented by crunchy red cabbage, soft brioche bun, veg and fries. A fine and filling dish.
Taps Beer Bar celebrates a whole cacophony of craft beers. Both hardcore beer enthusiasts and newcomers alike are bound to discover to please.
Reasons to visit Taps Beer Bar: with a rotation of over 800 beers on tap, this is THE place to go in Kuala Lumpur for craft beer.
Taps Beer Bar Desa Park City
F-G-1 Plaza Arcadia
No. 3 Jalan Intersari Perdana
Desa Park City
Kuala Lumpur, 42200
Malaysia
tapsbeerbar.my
Taps Beer Bar Opening Hours Plaza Arkadia: daily 11 am- 1 am