Words: Nathaniel Jay
Photos: Monica Tindall
I love Thailand and I love just about everything Thai (so much so that even my wife is Thai). I'm always excited about trying new Thai restaurants in KL, longing to reconnect to those food memories of my second home. As such, I was happy that Mon invited me along to visit the new Malai Thai Restaurant inside Fraser Place, albeit with a twist.
Vegetarian Thai Food KL
Tucked away in the 10-page menu is an entire section dedicated to non-meat entrees. Knowing full well the challenge involved in creating plant-based Thai meals, this is an exciting vegetarian Thai food find.
Thai Drinks
Ordering the Watermelon Juice (RM15) at the start of the meal was a fantastic idea. The juice was fresh, fragrant and naturally sweet – no added sugar. A very pleasant surprise. Our other drink was the traditional Thai Iced Tea (RM12). Strong brewed Ceylon tea: seasoned with a bit of cardamom, star anise, orange blossom water and sweetened with sugar and condensed milk. The spice notes shine through with an orange wheel garnish.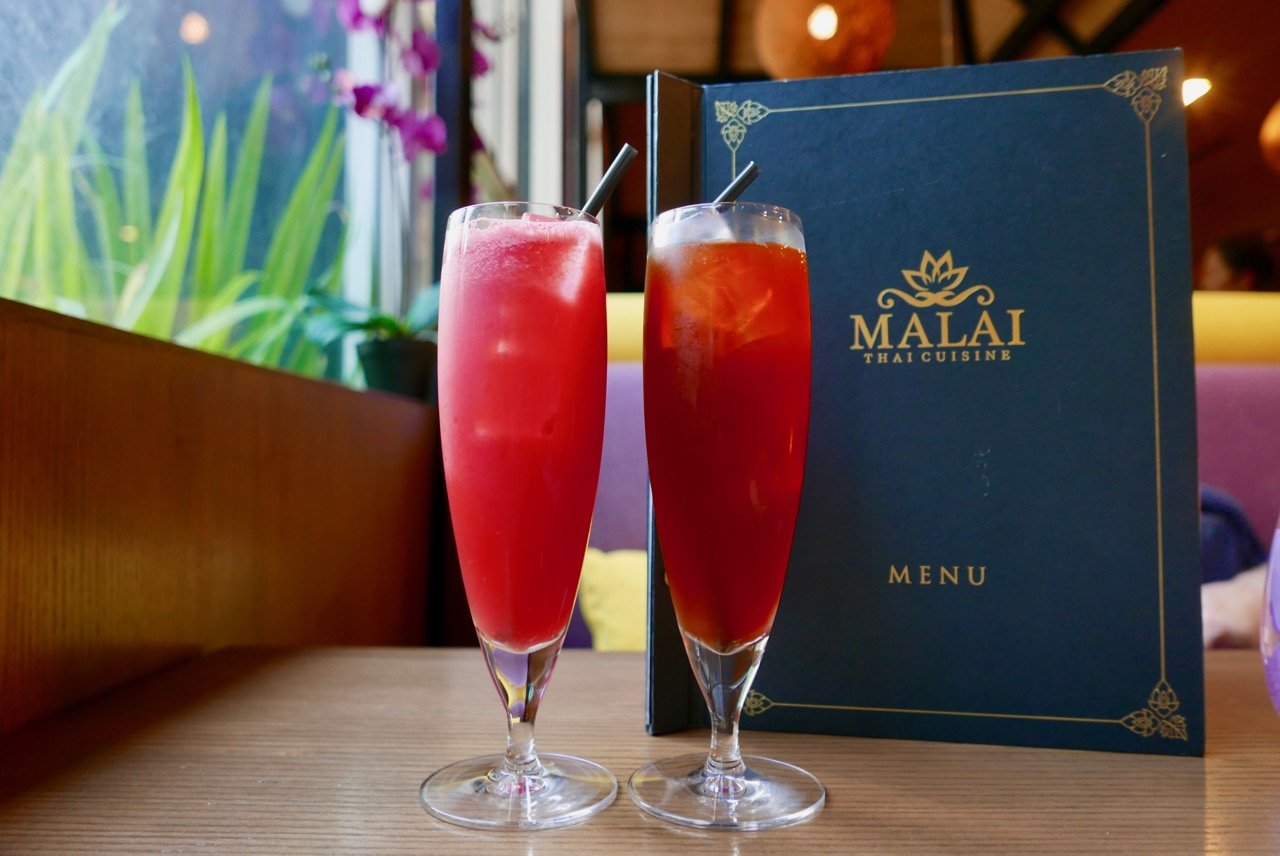 Vegetarian Thai Food KL
There are no less than 10 vegetarian Thai food options (not including dessert) at Malai Thai and on this visit we got to well over half of them. Gaeng Keaw Waan Towhoo (RM18) was ushered to the table in a small black kettle on a wooden board decorated with fresh vegetables. The green, tofu curry was well balanced in flavor, providing enough heat from the chillies to stay true to the food but not overwhelming to those that are more sensitive to the spice. The color was beautiful and the aroma wafted high into the air.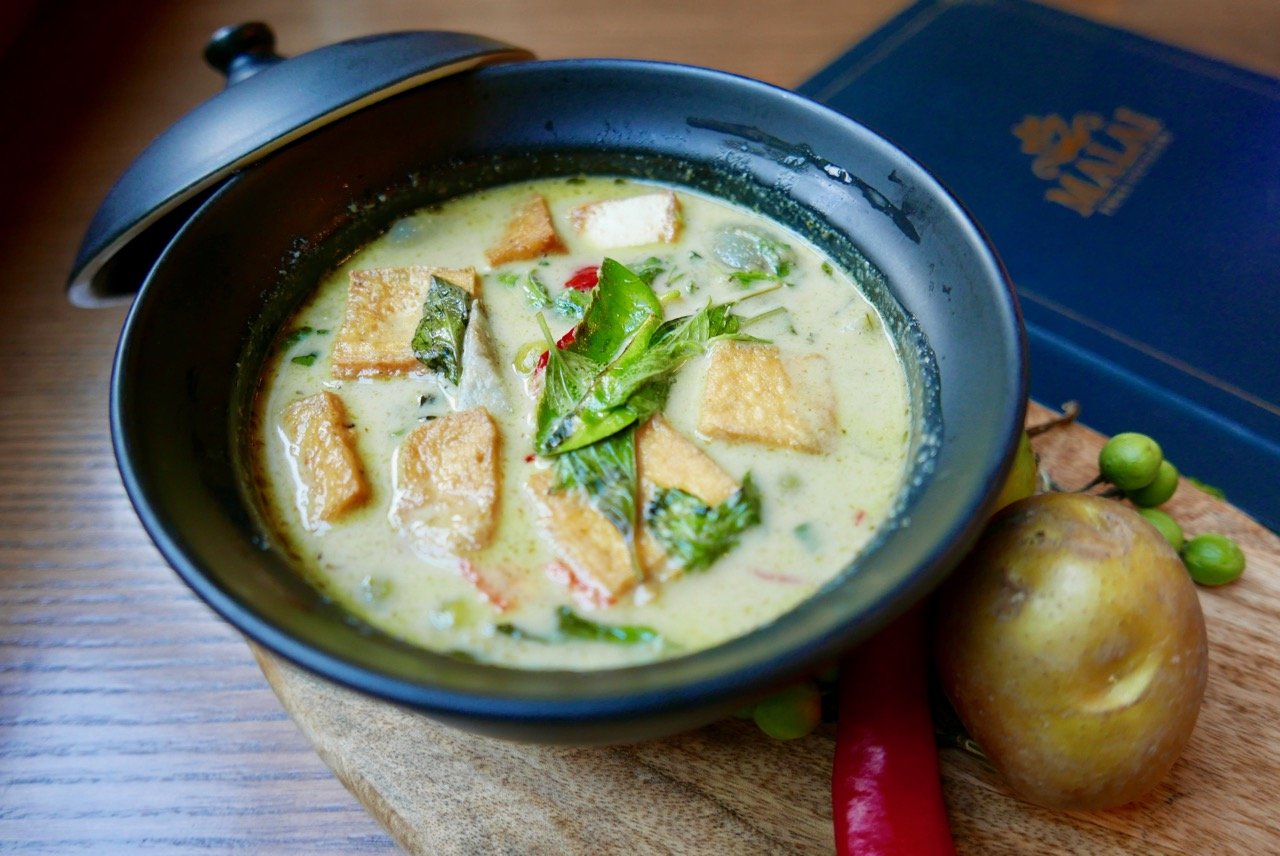 Tao Hoo Tod (RM19) was a clever preparation of fried tofu satay and peanut sauce. While I love the imagination behind the dish, I felt the kitchen could do more to enhance the subtle flavors. The peanut sauce was chunky, mildly sweet and had a nice consistency.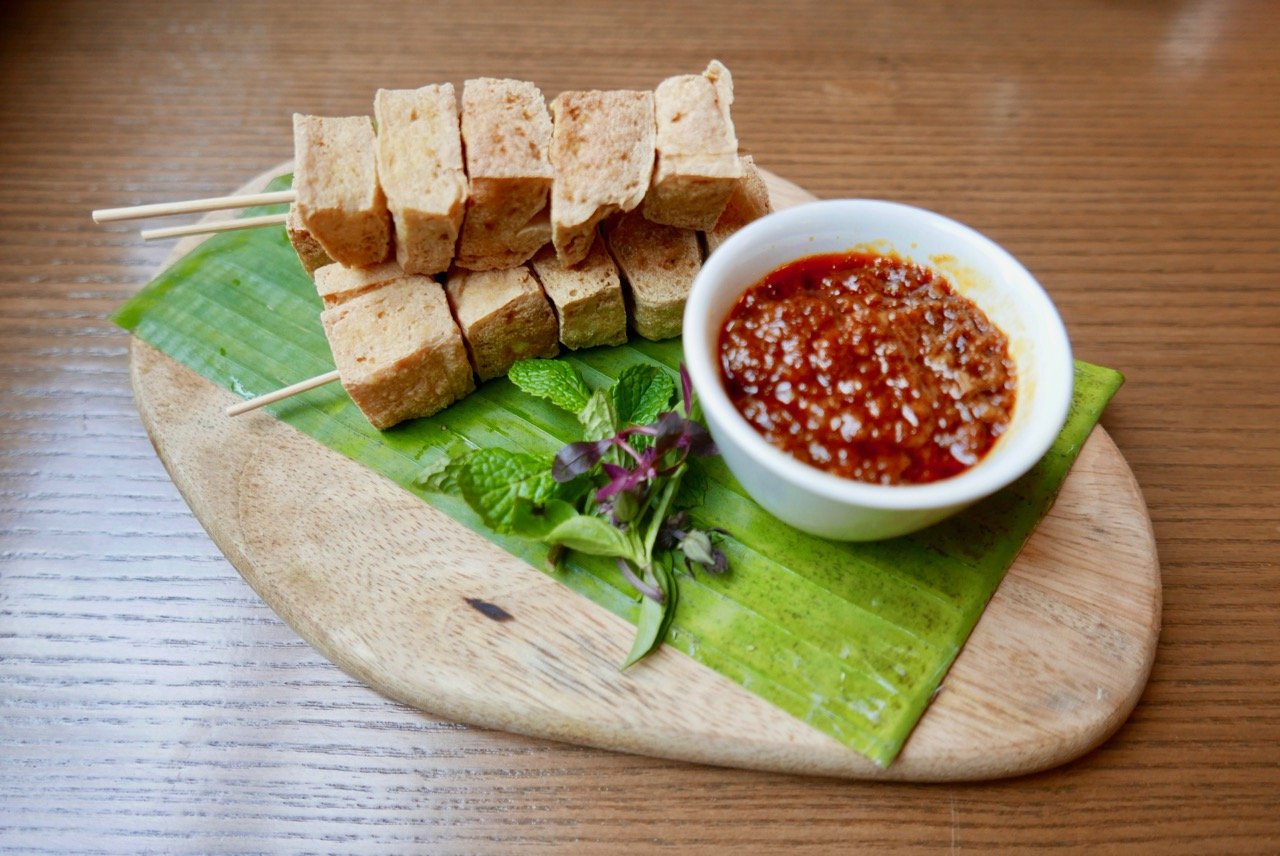 Tow Hoo Pad Tour Gnok (RM19) was a very mild dish, featuring stir-fried tofu and bean sprouts. The sauce was very light, playing a chorus on your tongue of salty, sour, sweet. The bean sprouts provide crunch. The tofu itself is crispy but still manages to act as a sponge for the sauce. This is a great item to eat alongside a spicier choice. This is high on my list of things to eat in Thailand.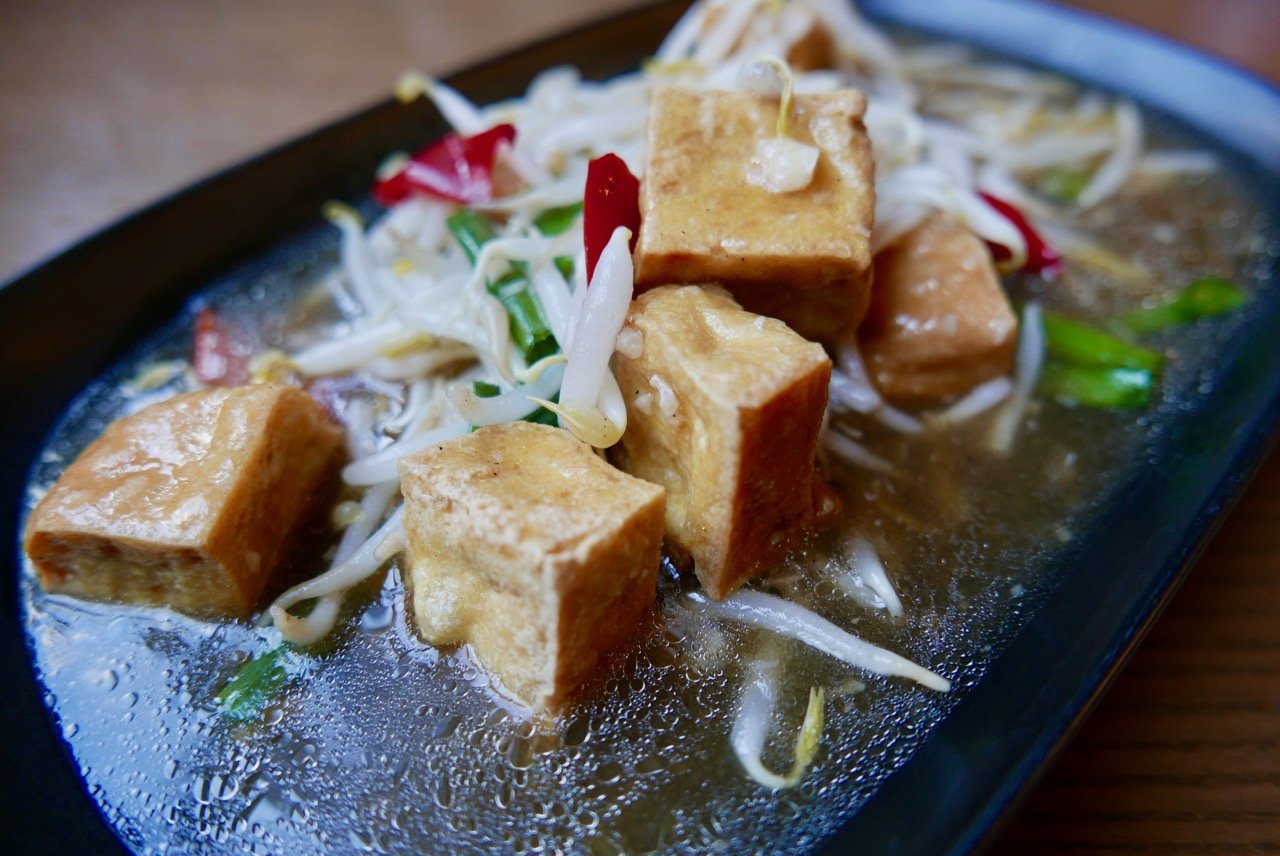 Pad Krawpow Gai Phed is one of my most-loved Thai dishes (stir-fried chicken, hot basil leaves and extra chillies). I have a favorite auntie shop near Sukhumvit 107 in Bangkok that I go to whenever I'm in town. This was the first time though to try Tow Hoo Pad Krapaw (RM19), the vegetarian version. Tofu was the star of the show here and I really enjoyed the familiarity of the seasonings. The fried basil leaves had a bit of a chewy texture much like a wilted mustard green or Swiss chard. I would recommend this dish to everyone.
Lab Het (RM18), spicy mushroom salad, was my absolute favorite recipe of the day! The sauce is sweet, sour, salty and spicy. The humble mushroom is completely transformed by this dish. The tender shimeji are paired (in typical Thai fashion) with some raw snake beans and green cabbage for contrasting texture. A few slices of cucumber and some basil leaves would have been a great touch.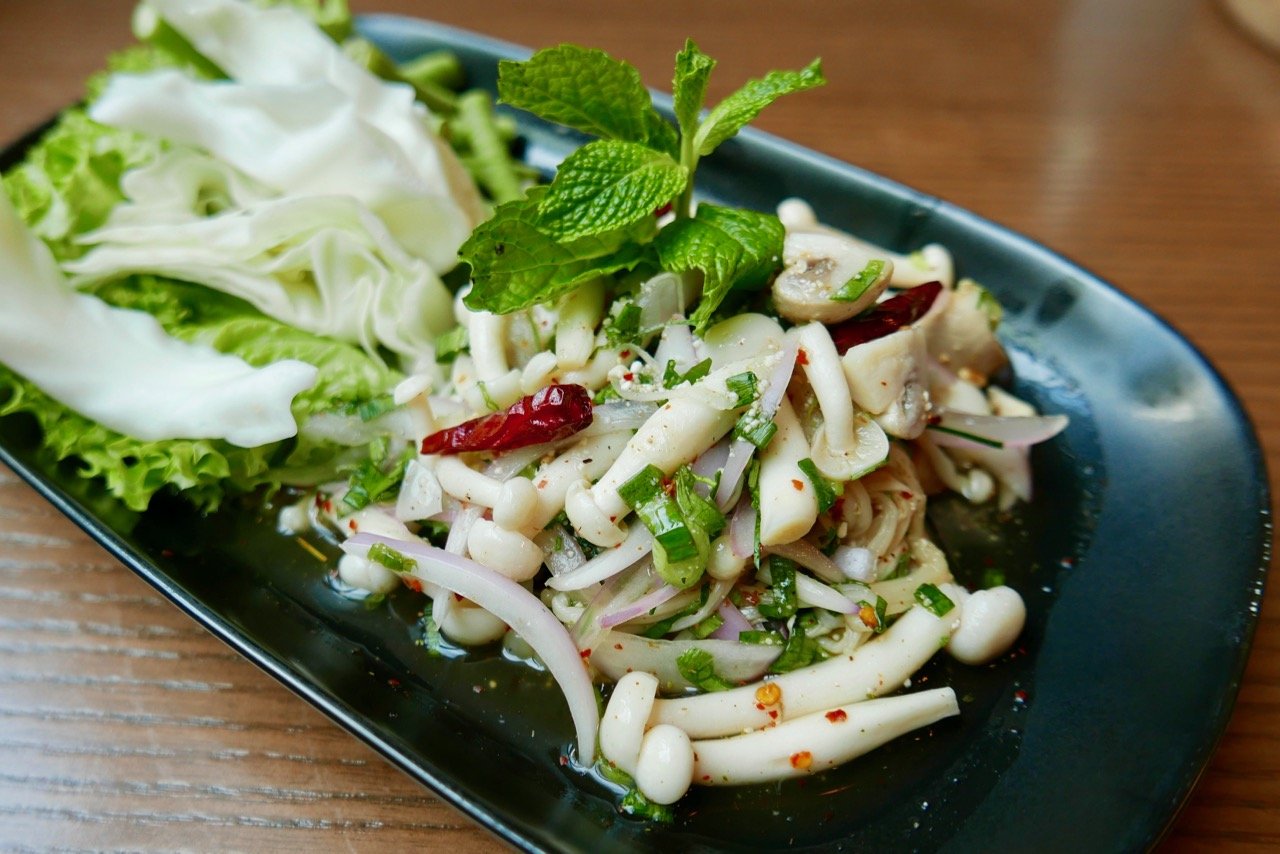 Pad Thai Tow Hoo (RM22) or wide, fried rice noodles with tofu was another mild and satisfying option. This is another Thai recipe that I have never tried as a meat-free choice. The rice noodles were slightly chewy and have a slight tinge of flashed oil from the wok. The vegetables are crisp and bright in flavor. It is important to note that this is a dry stir fry presentation. Some people may be familiar with a similar recipe where the noodles are covered with a thick sauce. This one is great too! All the flavors soak into the noodles and the vegetables shine as individuals.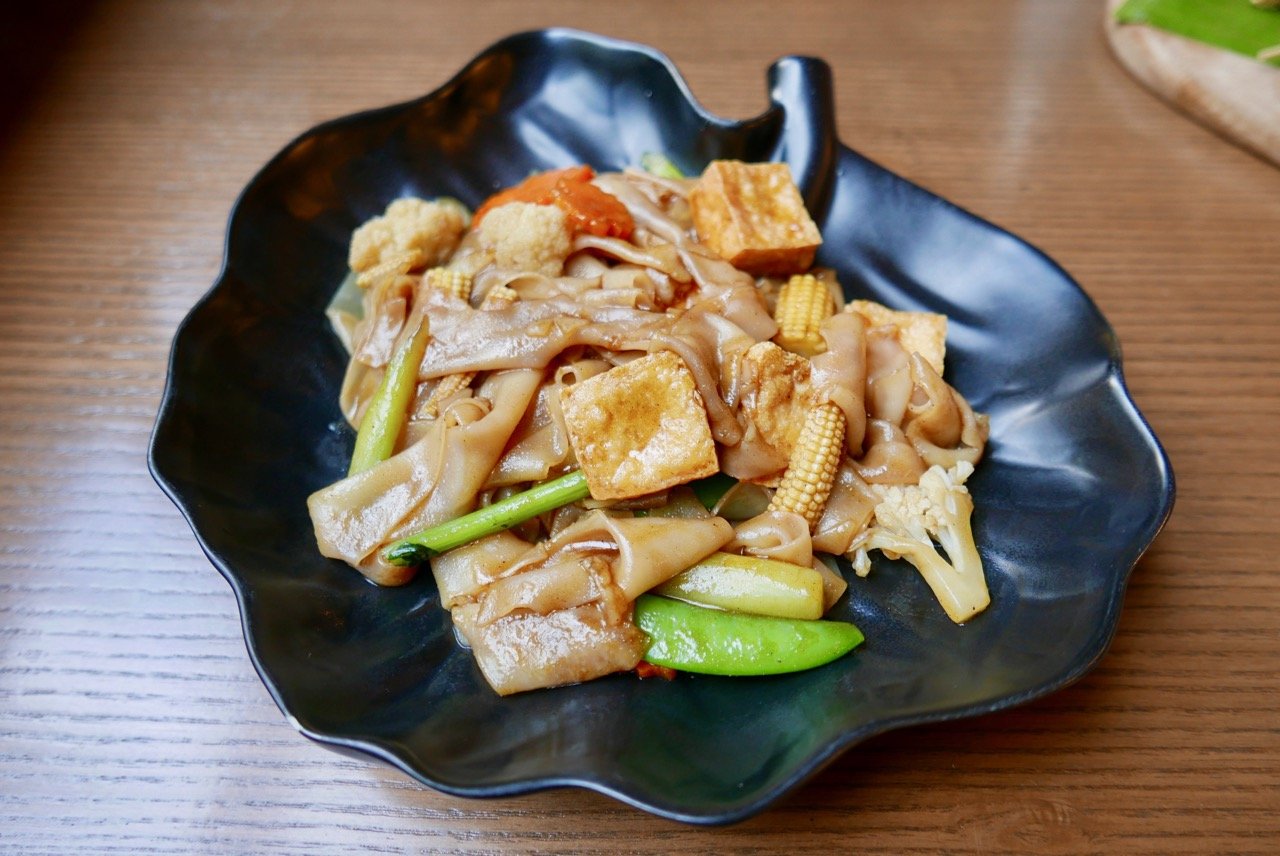 Vegetarian Thai Food KL – Dessert
Khao Niew Ma Muang (RM18) is a famous Thai dessert of sweet mango, sticky rice and sweetened coconut milk, garnished with a sprinkling of toasted sesame seeds. In Thailand, they look forward to the end of late April when the sweet mangoes come into season. When simple ingredients are the focus of a recipe, they need to be the best. Thai people have exact varieties of mango for specific recipes. The most common type used for mango sticky rice in Thailand, especially in the Isaan area, is mamuang nam dokmai which translates to flower water mango. This dish would do any Thai proud.
Reasons to visit Malai Thai for vegetarian Thai food: an excellent vegetarian Thai food menu; tranquil setting; walkable within the city center but also valet parking and self-park options.


Malai Thai
Vegetarian Thai Food KL
Fraser Place, Lot 163, 10 Jalan Perak
50450 Kuala Lumpur, Malaysia
www.malaithai.restaurant
+6 03 2181 2505
For group reservations and functions contact JoAnnA Chee CDD Hospitality at +6 011 1769 8233
Opening hours Malai Thai:
Monday to Saturday 12pm -10pm
Closed Sundays
Find Malai Thai's regular menu here.
Check out our other favourite restaurants in KL for meat-free dining here.