Words: Shaun Humphries
Photos: Monica Tindall
I can't say I've ever started a meal with a high-pitched scream, so our recent Sunday visit to KL's newest homemade sausage joint – Wurst – was definitely an exhilarating first.
The visit started out peaceful enough. Taking a seat in the cosy confines of Wurst's basement location in the MOV Hotel, I was admiring the smooth contours of their amazing one-storey spiral slide when a blood-curdling yell and an unidentifiable flying object came shooting out the bottom and broke my concentration.
"Oh, hi Shaun," said Monica, dusting herself off and straightening her hair. "The slide was faster than I thought it was going to be."
After my laughter subsided, I, of course, took my turn down the slide just to see what all the yelling was about – and yep, it's pretty fast and fun – although my screech was much quieter than Monica's.
The dynamic chef behind the slide at Wurst KL is Logan Terence Lopez. When the gentle chef Logan emerged from the kitchen to greet us, he very simply explained the theme behind what he was about to serve. "It's Sunday, right? So, I figured, just eat!" he said with a massive grin and giggle.
With that enticing (and somewhat ominous for my waistline) opening salvo, we started like any good Sunday brunch should – with some coffee and beer.
The cappuccino (RM10) and long black (RM9) were expertly made and provided the caffeinated pick-me-up needed to tackle a Sunday feast. After the hot liquids disappeared, it was time to move on to something cold.
The delicious and refreshing Polar Monkeys selection (RM19) offers something for all kinds of beer lovers – and Wurst is the only place in KL where you'll find these Finnish brews. We sampled the 5.5% White Collar Golden Ale, which is the soft and elegant member of the Monkey family, and offered a rich taste and a deep, golden colour. Other family members include the Blue Collar Amber Lager, the Chair Man India Pale Ale and the Silver Back Strong Ale – and all work in lockstep with homemade sausage.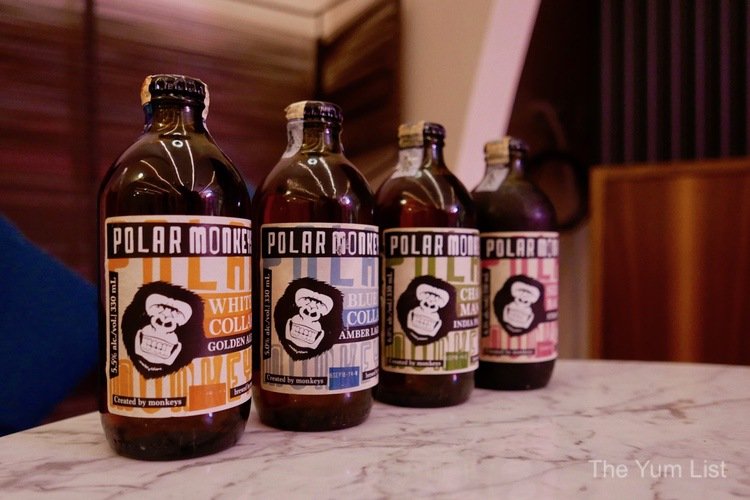 After we finished monkeying around, we started sipping on a San Miguel Light (RM17), which is an easy-drinking Spanish beer that goes well with any type of grub.
Starters Menu Wurst KL
With our whistle wetted, it was time for the appetizers. The Hummus and Guacamole (RM20) with tomato coulis and crispy German flatbread was a nice shared starting point. Like almost everything at Wurst, the dips are made in-house, and the bread is baked by local university students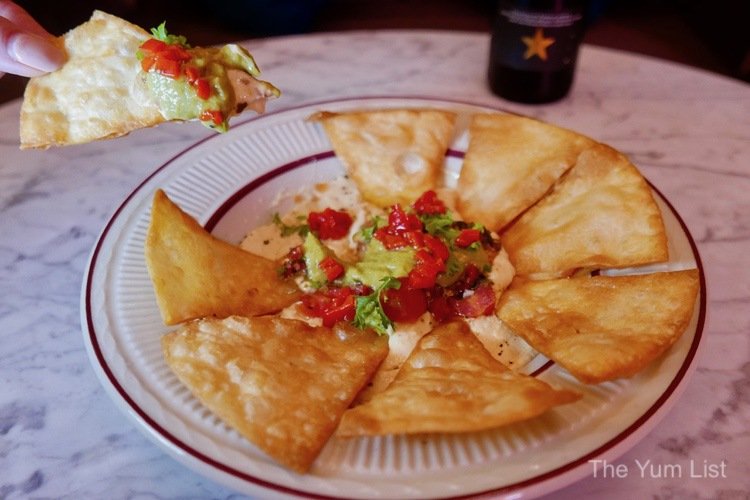 "I'm either making all the food here or we're sourcing it from a local artisan," chef tells. "It's very important for us to support and grow our local food industry."
Up next was a Fresh Fig Garden Salad (RM28) featuring three types of protein including a salted and dried Cecina as well as artichokes, heirloom dwarf tomatoes, feta cheese and a Vincotto raspberry vinegar dressing.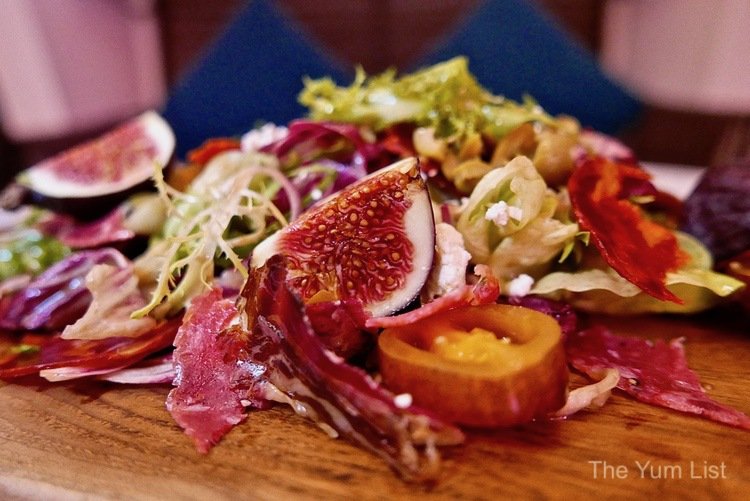 The melt-in-your-mouth, homemade Angus Beef Meatballs (RM25) served with tomato passata, paneer cheese and sweetcorn bread really showed off Chef Logan's creativity and attention to detail. Using beef cheeks and only the tastiest tendons, the meatballs were great foreshadowing for what was to come with his other menu items.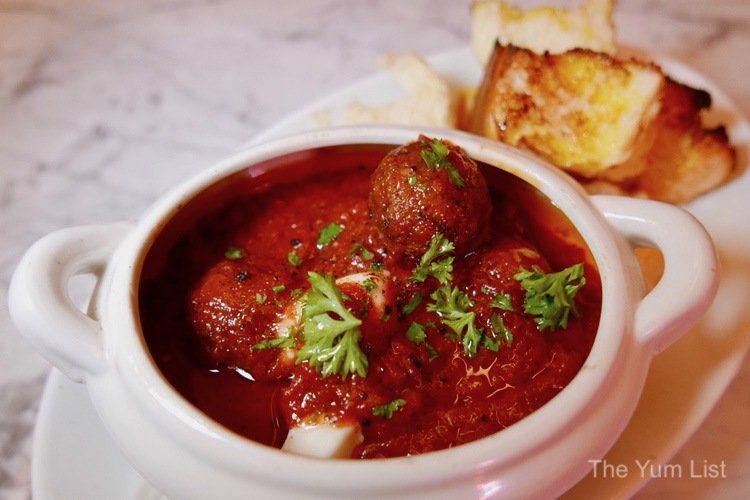 The Wagyu Bone Marrow (RM28) served with green olive tapenade, truffle butter, onion compote and brown gravy was a first for me. Before this, I've only ever considered bone marrow in the context of medical procedures. But, after slurping back Chef Logan's creation, I have seen the light and have added it to my personal menu.
Our final starter was the Salmorejo Soup (RM23) with Momotaro tomatoes, extra virgin olive oil, farm fresh eggs and smoked duck bacon bits. This is a great example of delicious comfort food and would make me very happy on a rainy day.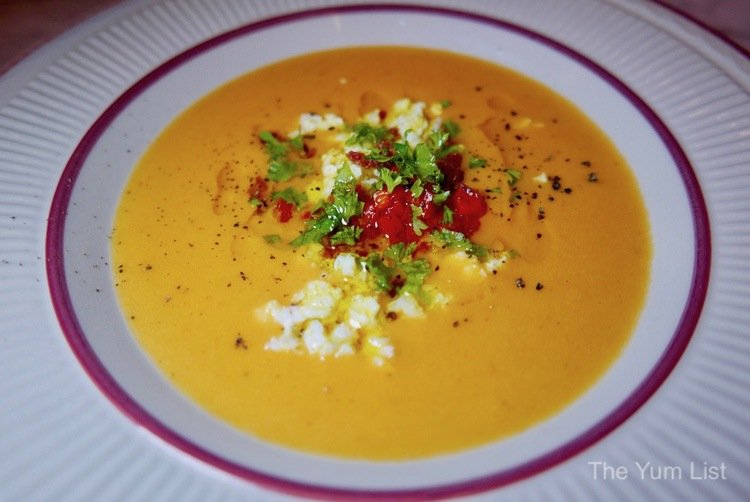 Wurst KL Menu – Mains
Our first main course dish happened to also be my first ever experience with haggis. The 120 gram Lamb Haggis (RM36) served over bashed neeps (turnips), herb mashed potatoes and Ardbeg (whiskey) sauce was a delightful surprise (I really didn't think I'd like it!). Cooked with ingredients like nutmeg, dill flower and bay leaf, and soaked in fresh milk, the haggis was flavourful and fun. I'll definitely have it again.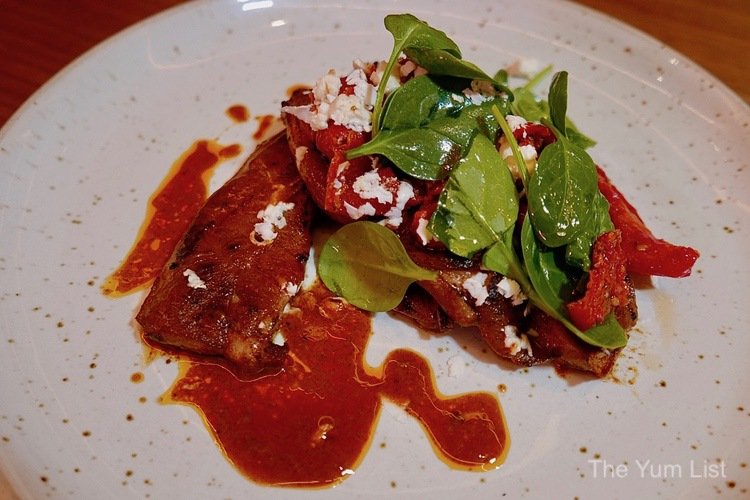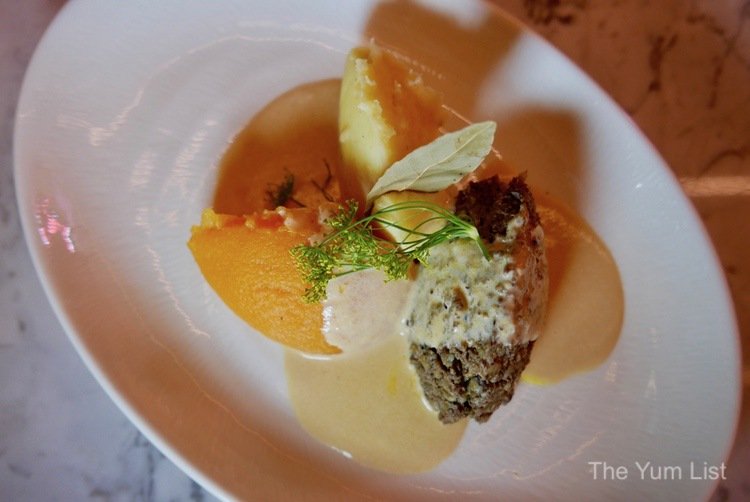 The Lamb Chop Sous Vide (RM35) was much more in my wheelhouse. Cooked for over 24 hours and served with homemade sun-dried tomatoes, feta crumbs, boiled potatoes and Espagnole sauce, the chop was soft and tender and had me getting my hands dirty eating meat off the bone.
Chef Logan also flexed his pasta-making muscle by serving us a lip-smacking Cacciatora (RM33) featuring chicken garlic medallions, plum tomatoes, capsicums, mushrooms, fresh herbs and shaved parmesan. Lots of protein in this one!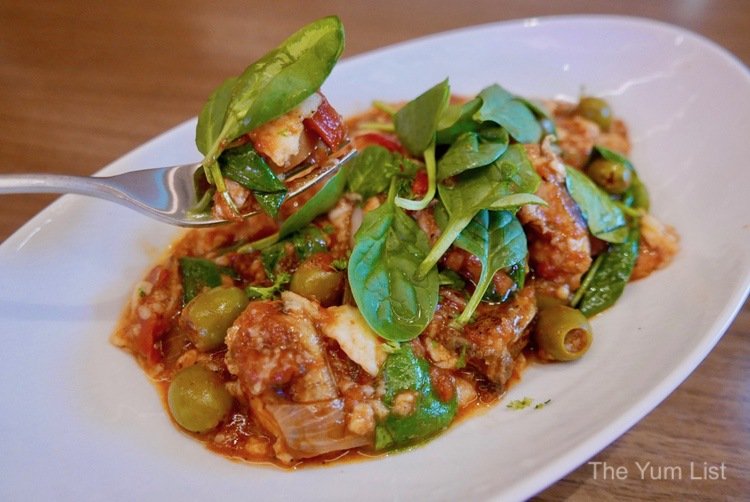 The magnificent Wurst Sausage Platter (RM199) is Chef Logan's signature dish featuring a selection of five different types of handmade, pork-free sausages, Wagyu sirloin 200gm (marble score 4, wet aged), two salads, cornbread and three sauces – including a house-made sauerkraut. It's an outstanding looking and tasting dish and is plenty of food for two people with good appetites. A constantly changing sausage selection, my favourite was a slightly spicy, green curry lamb that needed no extra dips.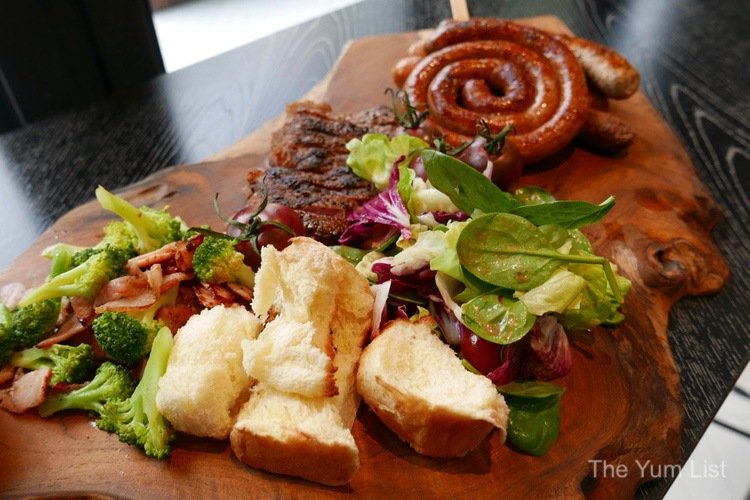 Wurst KL Menu – Dessert
Scraping the sausage platter clean, it was time for a change of pace. And, the piece of Käsekuchen German Cheesecake (RM22) with frozen grapes coulis was just the right speed. Creamy, crumbly and sweet, it almost made me end the meal with how it started – a joyful, exuberant scream.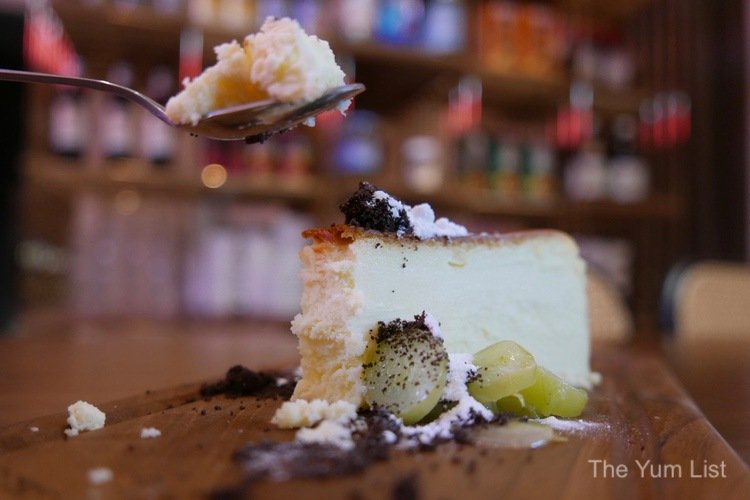 Miraculously keeping my emotions in check, I said goodbye to my lunch mates and immediately realized I didn't need anything else in my belly for the next few days.
Wurst KL is pork-free and open from 6:30 a.m. until 10 p.m. every day with a menu that is always evolving and changing (inside the mind of Chef Logan).
Reasons to visit Wurst KL: Everyone could use more slides in their life! Chef Logan has created a modern deli-style restaurant that specializes in artisan sausages, house-made pasta, hearty wholesome food and imported beers – all in a welcoming, secluded cave-like atmosphere.
Wurst KL
MOV Hotel – 43, Jalan Berangan
Bukit Bintang, Kuala Lumpur 50200
Malaysia
+603 2781 9801
www.facebook.com/wurstkl
@wurstkl