Words: Louise Miller   Photos: Monica Tindall
Nestled amongst the myriad of Bangsar's eateries in its well-trodden Telawi 3 location is KL's original seafood and oyster bar, Bait. The restaurant's pink neon signage blinks a tantalising announcement of fresh oysters immediately drawing the eye inside to its simple, unpretentious decor of wooden panelling and naked lightbulbs suspended from latticed metal frames.
The result of two friends' effort to rectify the lack of seafood restaurants in this foodie city, Bait boasts a menu of simple yet robust flavours. For almost six years, the restaurant has been delighting diners with delicious ocean offerings and more. Ingredients are carefully sourced, super fresh and the dishes constantly reinvented. We're here today to try out the new menu that sees the addition of many more small plates, ideal for grazing and sharing with friends whilst enjoying the venue's relaxed and fun vibe.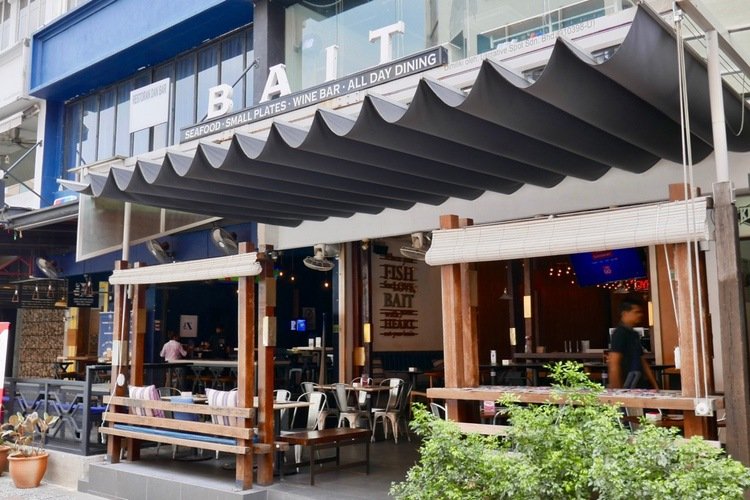 Bait Bangsar Menu
Grilled Caesar Salad (RM25) is an ensemble of crisp grilled romaine lettuce garnished with shredded egg, Parmesan cheese and smoked duck bits placed atop a generous spread of anchovy cream which we couldn't resist mopping up until nothing remained.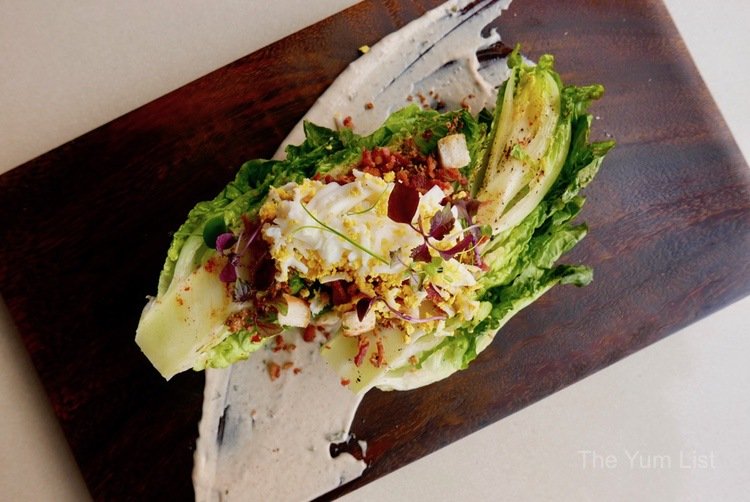 The popular Porcini Mushroom Soup (RM25) followed. The intense earthiness of porcini is tempered with Swiss brown mushrooms to create rich and rounded notes balanced by a toothsome parmesan cheese espuma.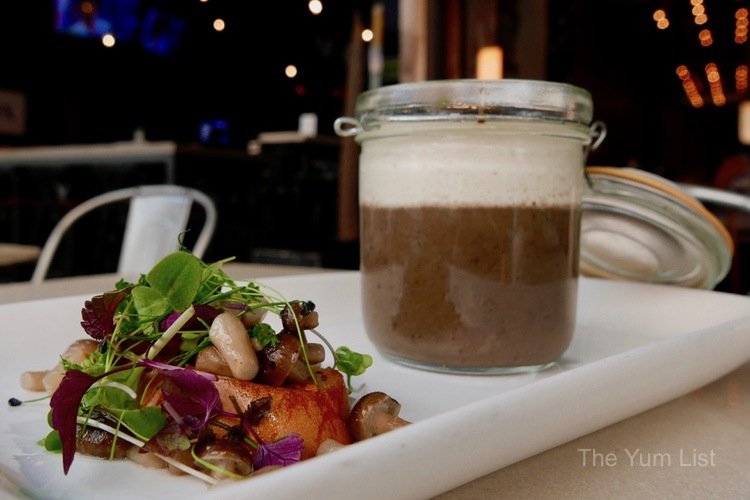 A great sharing dish follows in the form of Braised Italian Meatballs (RM19). The succulent beef balls are smothered in a creamy mushroom gravy and dotted with fried caper flowers and parsley pesto providing a satisfying flavour and texture combination.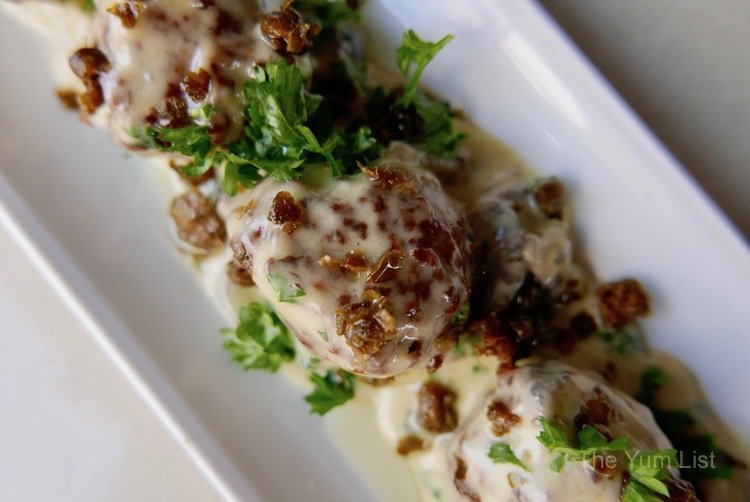 Flambeed King Prawns (RM29) is next to delight our palates. A tasty topping of crab roe, deep fried capers and parsley combine beautifully with the sweet prawn meat and a spicy saffron cream butter sauce to provide a real treat for seafood fans.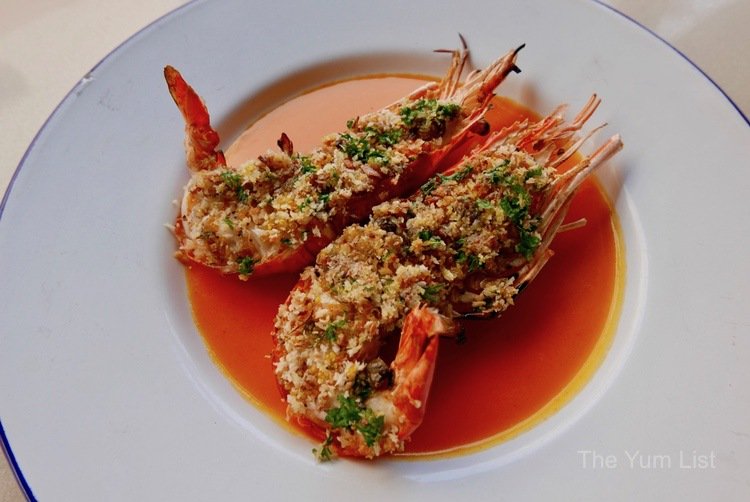 Baked Avocado (RM30) will please any ardent avo aficionados. Organic chicken eggs fill the stone cavities and the fish theme continues with accompanying little heaps of smoked salmon.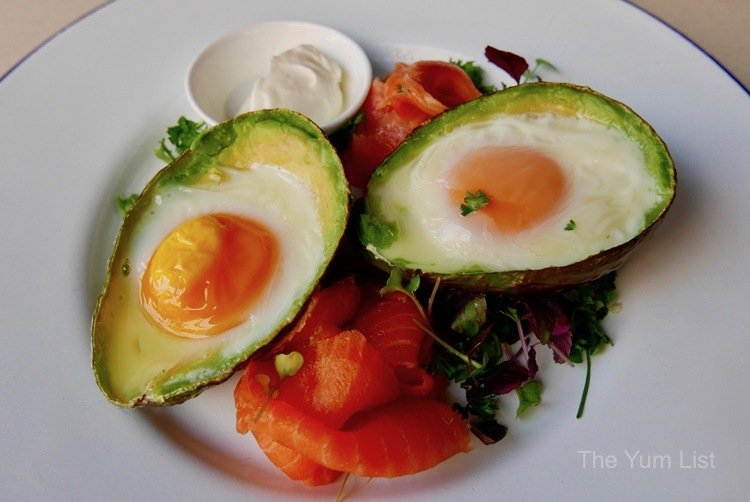 Whilst enjoying these sharing plates we meet the talent behind them, Executive Chef, Logan Lopez. A great believer in letting the freshness and quality of produce speak for themselves. He explains that at Bait, there is no stocking of ingredients. Rather, to ensure the highest standards, everything is hand-picked at neighbouring markets every morning or sourced from local farms (another big Yum List tick from us!).
As we are busy chatting to Chef Lopez, his Seafood Jambalaya (RM119) arrives at our table and sees the culmination of our savoury grazing. A real showstopper of a dish, this hearty offering would easily feed two or three hungry diners. The Creole rice and seafood stew has a flavourful base of celery, beef chorizo, and okra and is generously laden with Asari clams, squid, mussels, cuttlefish and jumbo prawns. Paprika lends its vibrant colour and smokiness to the stew, each mouthful of which provides mouth-watering, moorish flavours. Chef Logan explains that in this dish, like all of the others, the carb loading is reduced to make way for more protein. This not only favours a healthier balance in the food but also ensures that diners get value for money.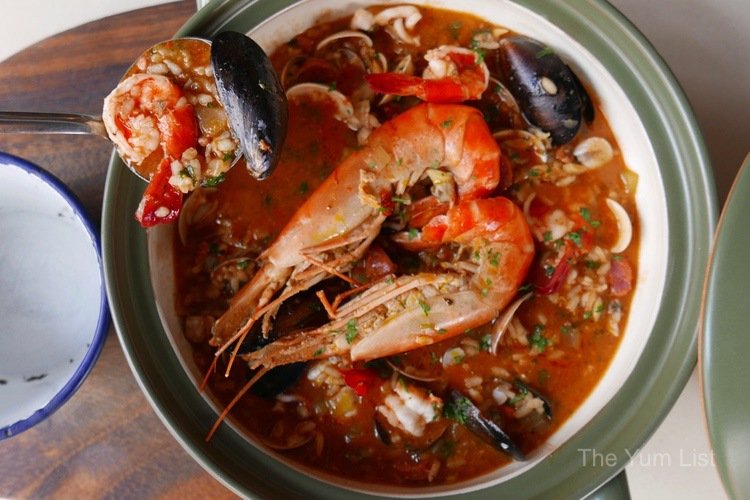 Dessert Menu Bait Bangsar
We complete our meal at Bait with a Rum Baba (RM19) dessert. Not for the faint-hearted as its yeast cakes are soaked in a hefty amount of alcohol but far from being overpowering, the flavours are simply divine with contrasting accompanying cream, Maraschino cherries and tiny pieces of candied fruit.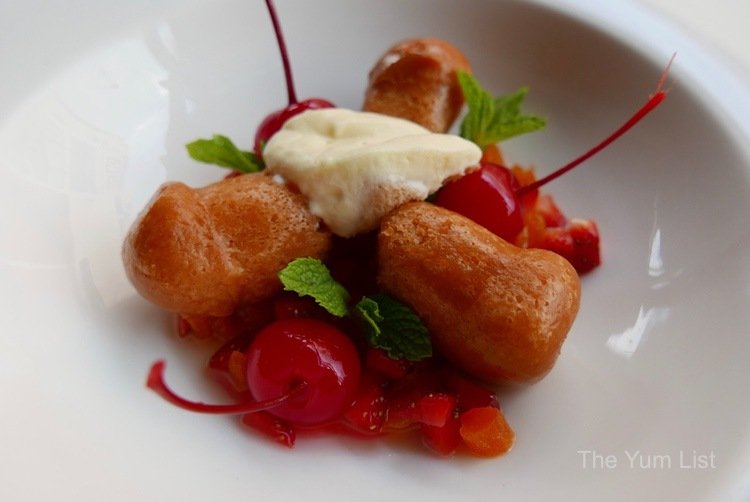 Reasons to visit Bait Bangsar: value for money and attentive service. Everything we tasted today was very good indeed but if forced to choose only one highlight, it would be the Seafood Jambalaya. Late night visitors should also check out Bait for its Nasi Lemak (RM15) which is available to take away once normal kitchen service ceases at 22.30.
Bait Bangsar
65 Jalan Telawi 3
Bangsar Baru, Kuala Lumpur 50200
Malaysia
+60 3 2201 8187
www.baitkl.com/menu
Bait Bangsar opening hours: every day from 16:30 until late.
Love seafood? Find more seafood restaurants in Kuala Lumpur here.