Words: Tania Henry Photos: Monica Tindall
As I walked into Knowhere Bangsar, I was captivated by the ceiling of webbed fairy lights creating the illusion of a starry night sky, the mesmerizing feature wall hand-painted by local artists and the funky and stylish bar with colours of teal and chrome standing out against a backdrop of darkness. Entering this bar is like entering another universe, a cosmic fantasy with two incredible mixologists, a Malaysian chef with Mediterranean experience and a passionate and knowledgeable owner Shalini Surian who has absolutely excelled with this new venture.
Shalini is not just your average owner; her passion for the bar scene, strong eco and ethical values and attention to detail shines through in every element of Knowhere Bangsar. Shalini and her team care about local, sustainable and fair trade movements serving not only fabulous food and cocktails but doing so in a way that gives back to the environment and the community. Following the Tak Nak Straw movement and under the Usuk initiative you won't find much plastic in this bar as Shalini sources bamboo straws handmade by the village people in Sabah. The napkins in the bar are recyclable, fabric coasters are on their way and any organic waste is taken to the urban garden to turn "spoil into soil."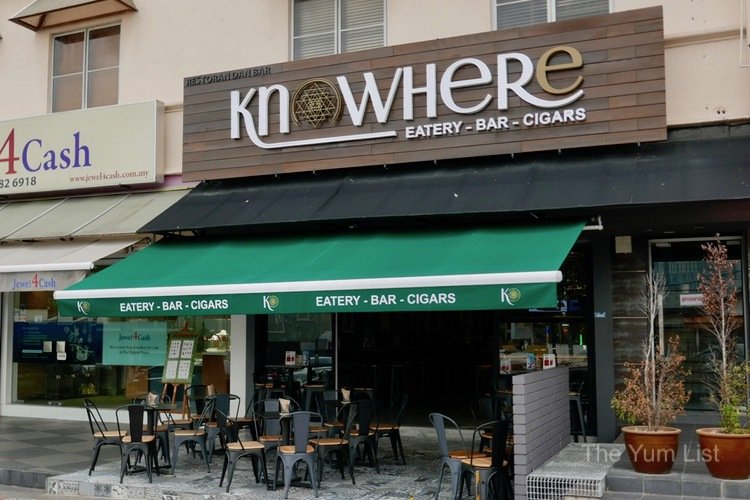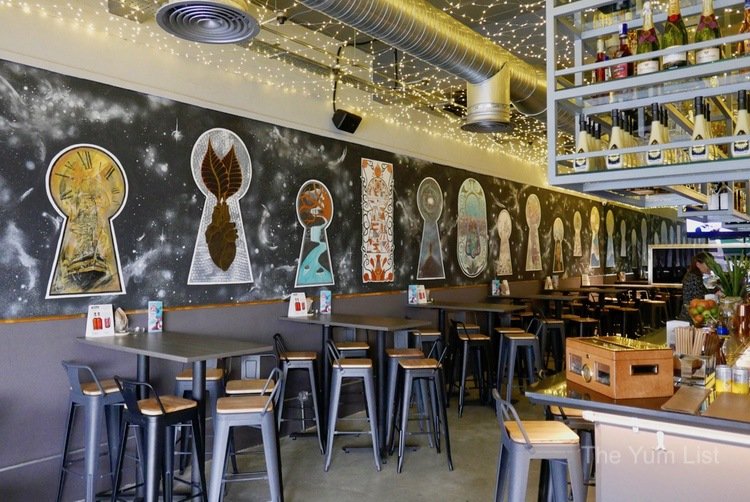 Drinks Menu Knowhere Bangsar
The drinks menu at Knowhere Bangsar is exceptional with an extensive range of spirits including international whisky and gins (20+ each), a good selection of imported wines from Australia, New Zealand and France, a couple of imported and local beers and, most impressive, a fabulous selection of cocktails using spirits infused with local delicacies such as jackfruit, pandan and blue pea flower.
As I browsed the menu, my attention was suddenly diverted to a bellowing of smoke coming from behind the bar. In what seemed like a magic trick, the bartender produced the Kopi Negroni (RM32). With dark rum brewed in spices, orange peel, star anise and cinnamon, homemade kopi tongkat ali liquor and kopi hitam, it tasted deep, smooth and decadent with a coffee aftertaste. Monica, loving her Negronis, found this one to be her fave.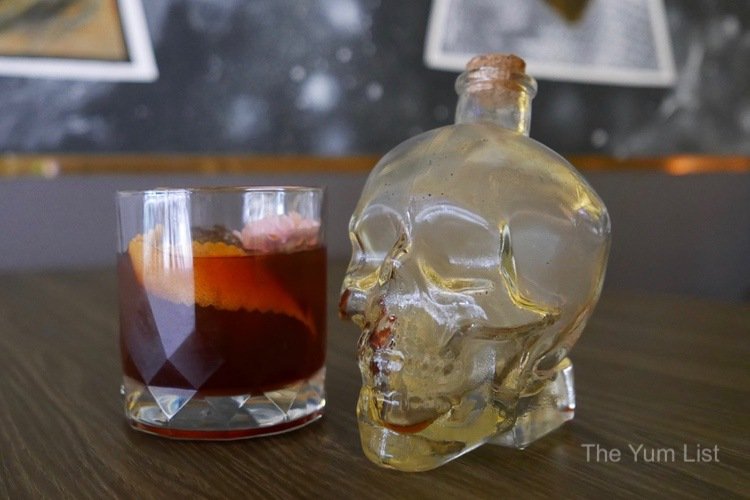 Next came the Kebaya Nyonya (RM40), which tasted sweet in the beginning with a white chocolate middle and nicely tart ending combining butterfly pea infused gin, white chocolate, fresh ginger, homemade grapefruit juice, dehydrated limes and sprigs of thyme. I loved the lightness of this drink and it was Caning's top pick for the evening.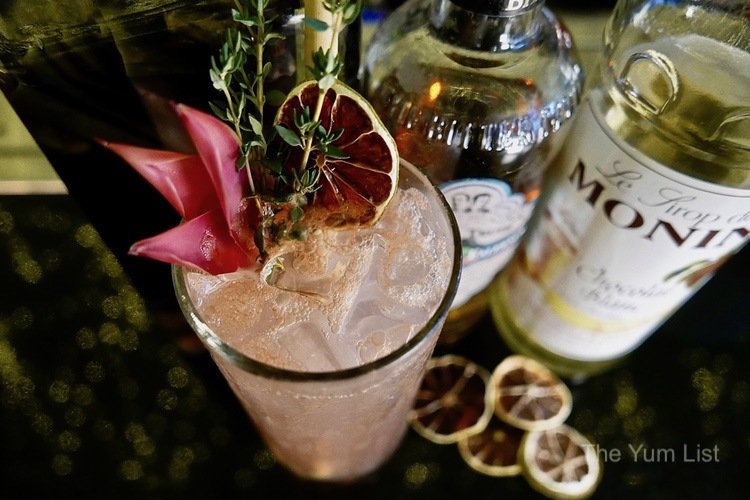 We also enjoyed the Sirap Setan (RM32), a lemongrass and pandan infused gin blended with homemade rosewater, cherry blossom and sours. The soaked chia seeds in this one perfectly balanced out the strong sweetness and the subtleties of the sour. This one might grab the fancy of those who like their cocktails on the sweeter side.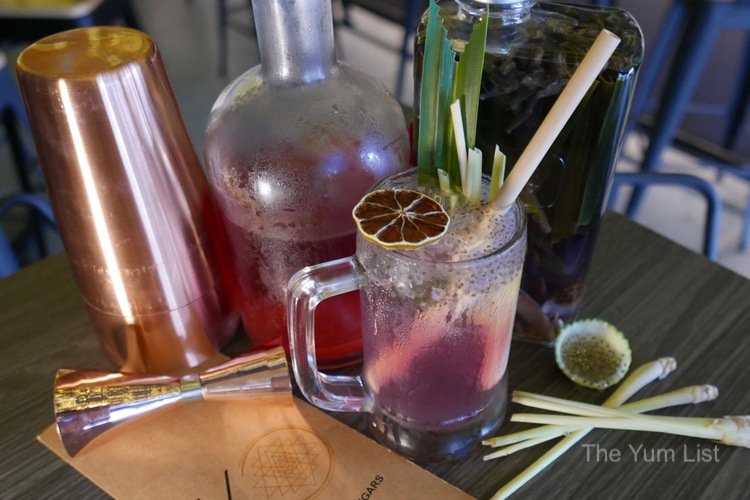 To end our cocktail adventure we all delighted over the Nova (RM28), my personal favourite. With vodka, lychee syrup, freshly juiced watermelon, sprigs of rosemary and a celery and goats' cheese foam, it tasted fresh, healthy and revitalising!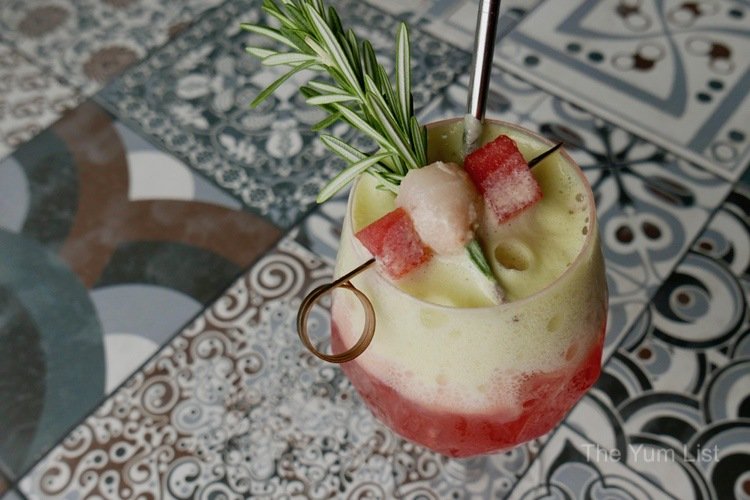 Knowhere Bangsar also stocks the True Juice range with locally sourced fresh fruit, no additives with lemon juice as a preservative and reusable bottles! We picked the Beetroot & Red Apple (RM16), which tasted earthy, grounding and subtly sweet and the Passionfruit & Pineapple (RM16) with lemon and thyme which was refreshingly tart.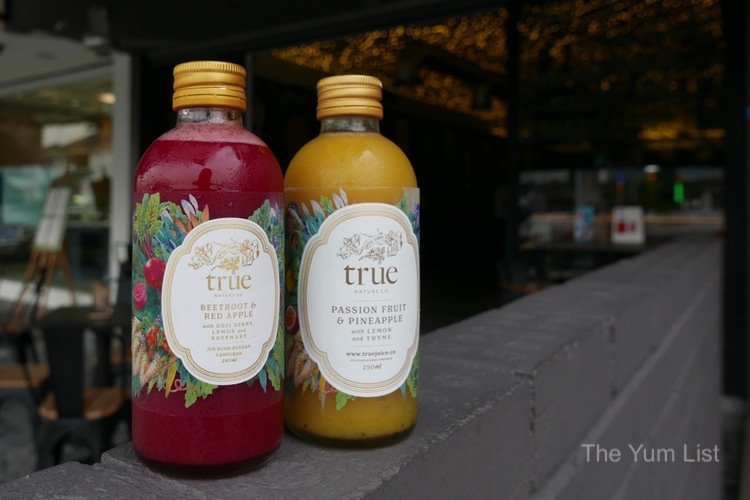 Food Menu Knowhere Bangsar
To match the friendly setting and refreshing cocktails comes a variety of quality and affordable dishes that kept us in this hidden galaxy just that bit longer. With a pork-free kitchen and a variety of vegetarian options, the menu is just what you want for a bar with a selection of sharing platters, delicious tapas, tasty burgers and pizzas too.
We sampled across the menu starting with the Sharing Platter (RM48.80): sweet and spicy chicken wings, grilled tender calamari spiced up with homemade roast chilli sauce, fried baby shrimp and crispy-on-the-outside soft-on-the-inside potato wedges. As the name suggests, it was perfect pickings for a group of friends.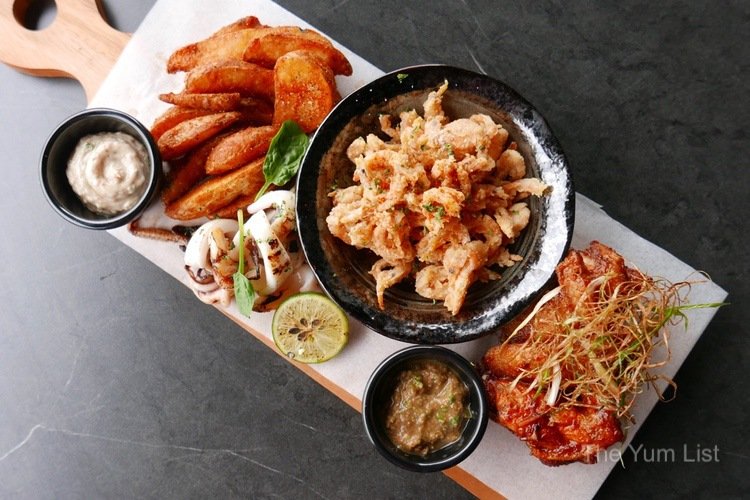 Sauteed Wild Mushrooms (RM17.80) with homemade flatbread dusted in herbs provided a vegetarian option, as did the Grilled Crudites (RM15.80). Julienne cuts of fresh and earthy grilled vegetables with a rich, smokey and creamy baba ganoush and fresh and light cucumber raita gave a hit of nutrients (justifying another drink right?).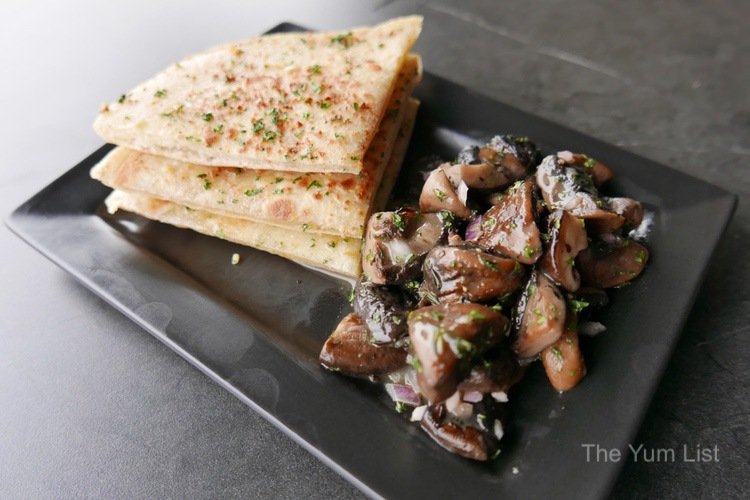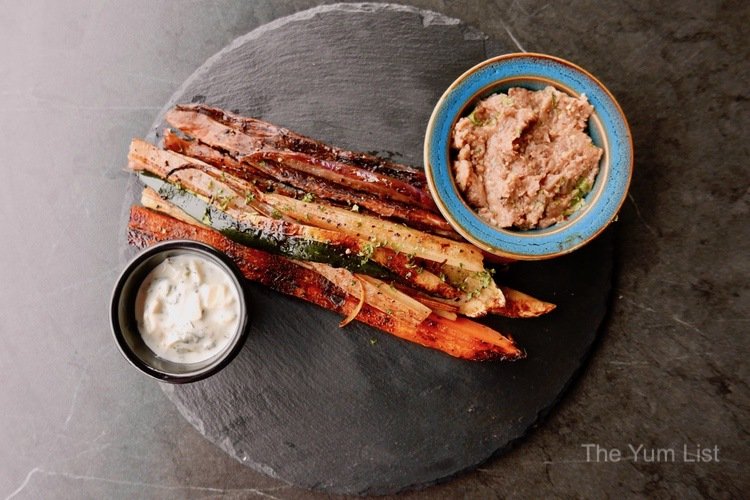 For something more substantial, we devoured the Un-quarter Pounder (RM30.80) composed of a homemade juicy beef patty with sliced mushrooms, gherkins and grilled peppers with soubise sauce all pressed inside a soft homemade bun. If I had to pick a favourite though, it would be the Duck Confit Pizza (RM36.80) combining homemade pizza dough, delicious duck confit and a rich tasting caramelised onion marmalade.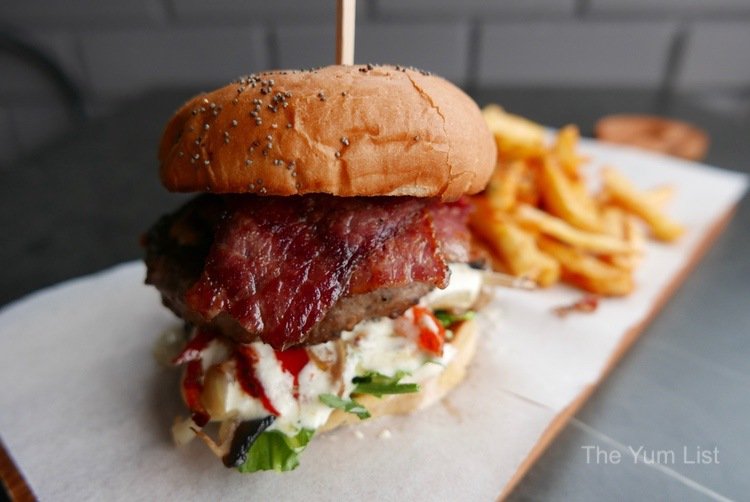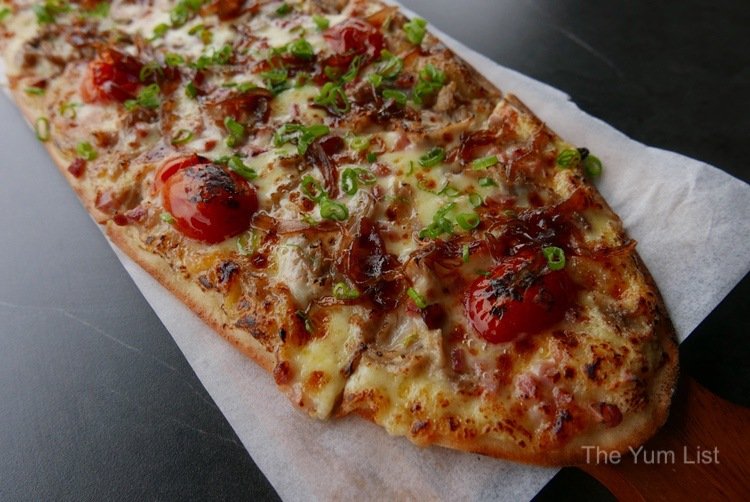 Knowhere Bangsar
Overall, Knowhere Bangsar is like nowhere else! A truly unique experience, this bar is not only mixing up innovative cocktails with local ingredients, serving delicious and tasty bar food and creating a cool and funky ambience but doing so with an ethical conscience. Well done Shalini and her team. I will certainly be back to Knowhere Bangsar soon!
Reasons to visit Knowhere Bangsar: Innovative and delicious cocktails with fresh, local ingredients, house-infused spirits and deliciously tart homemade grapefruit soda; A unique and stylish setting with a fairy light webbed ceiling creating the illusion of a starry night sky; no plastic straws, reusable napkins, and a zero-waste goal.
Knowhere Bangsar opening hours: 4 pm-1 am daily
Knowhere Bangsar
50, Jalan Maarof, Bangsar,
59100 Kuala Lumpur,
Malaysia
+6 0102202358
www.facebook.com/knowherebangsar
For more on the KL bar scene, check out this list.