Words: Monica Tindall
Photos: Rich Callahan
Since our first meal at Grano Pasta Bar @APW I've been salivating to return. Introduced to the menu with a natural wine paired dinner, I appreciated the care with which each dish was prepared and the noticeable sense of balance in every recipe. With a focus on quality, affordability and meals made to share, it's easy to understand the popularity of Grano Pasta Bar. The menu is focused: handmade pasta is the highlight and a handful of sides, salads and desserts support it. We return today to order a la carte and get a wider picture of what they have to offer.
Wine by the Glass at Grano Pasta Bar
Every good European meal begins with a glass of wine right? As such, a 2016 French Sancerre, Pascal Jolivet, Attitude (RM29.20) launches our lunch with its fresh citrus notes and bright acidity going well with our initial light salads. And you could also say that every good meal continues with wine, correct? Well, I think so at least, and so a 2013 E. Guigal Cotes Du Rhone Rouge from Rhone serves our later selections well making a fine mate as the dishes pick up the intensity with richer tomato sauces and beef. Earth, smoke, spice and a mouthful of dark berries roll into a lengthy, elegant finish in this blend.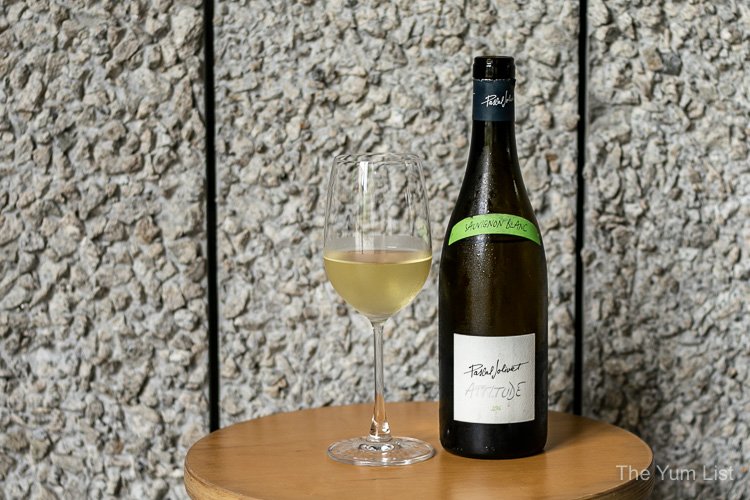 Salad Menu Grano Pasta Bar @APW
Despite the reputation for carb-heavy delights, Italians do like a balance of greens with most meals and so we do as the Italians and begin with a Pear and Mesclun Salad (RM23.5). Vibrant with pomegranate, feta cheese, toasted pecans and a honey lemon lavender dressing it is a very palatable start.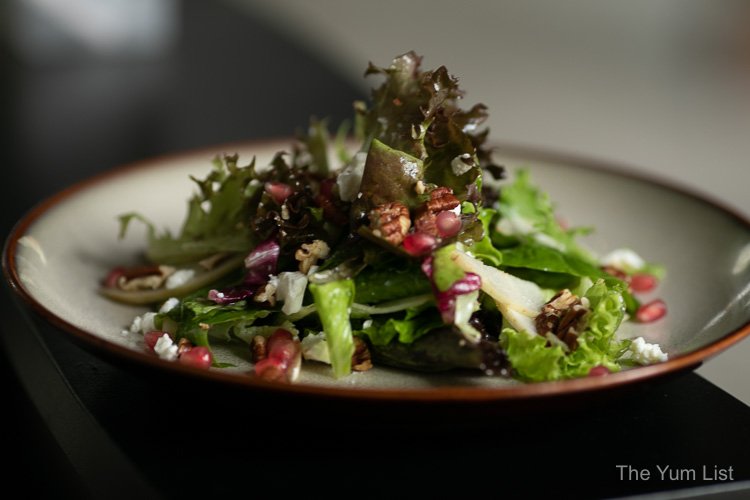 Small Bites
Oh my, you must try the Polenta Fritta Con Taleggio (RM21.60)! Cubes of polenta with cheese are deep-fried and partnered with two sauces: aubergine sesame seed spread, and semi-dried tomato-pumpkin seed pesto. The contrast between the crisp warm cubes and the creamy spreads is divine.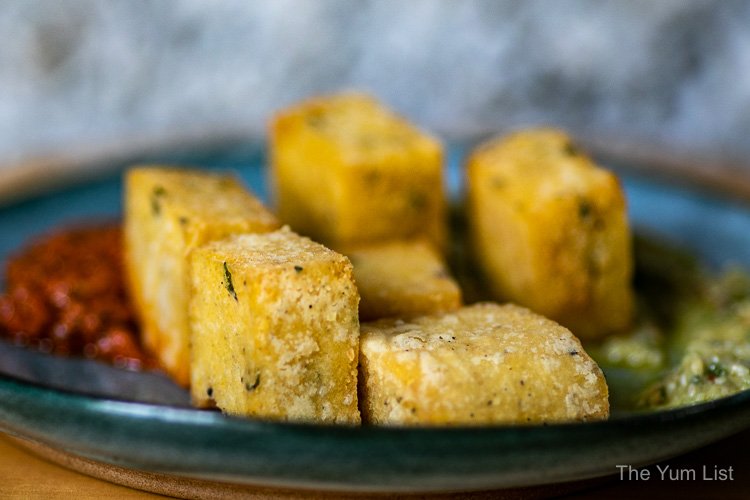 Specials Menu Grano Pasta Bar
Grano Pasta Bar has a solid menu of staples but also mixes up the selection with regular specials. Tajarin Egg Pasta is our pick of today's offerings. House-rolled and cut, it's coated in a fresh summer truffle butter sauce with shavings of Pecorino Romano. The egg yolk base gifts this pasta additional colour and richer flavour. Black summer truffles are in their bounty at this time of year and fungi fans can further glam up their meal with extra lashings (RM14 – 5 grams).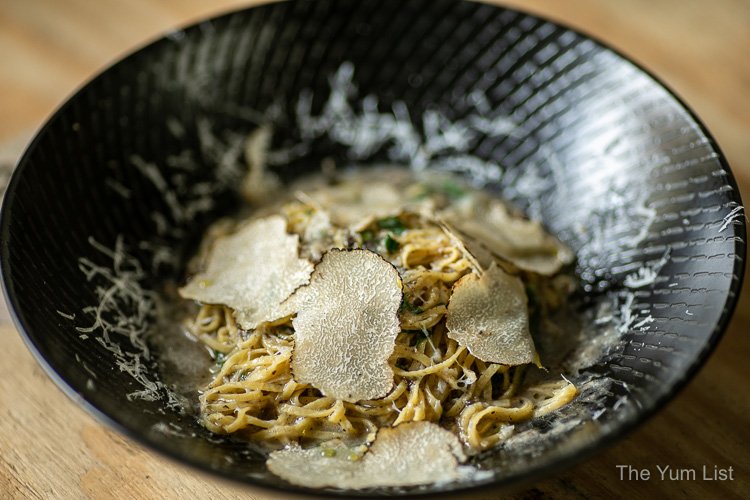 Classic Pasta
We're impressed with the number of meat-free dishes on the menu and the Reginette Puttanesca (RM33) is another that impresses. Long strands of ribbon-shaped pasta with ruffled edges are enlivened with green olives, anchovies, cherry tomatoes and capers and given a subtle kick with a good sprinkling of chilli flakes. The rippled edges hold the sauce and ensure every mouthful is packed with punch.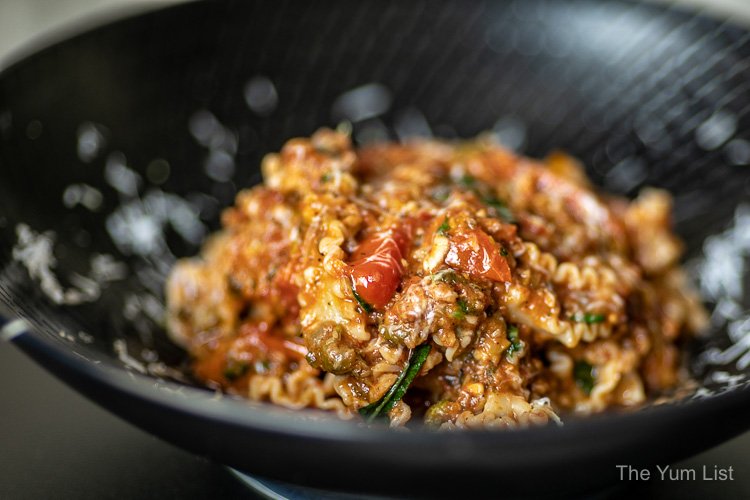 Gourmet Pasta
Ravioli (RM37.7) comes out steaming with cured duck breast, mixed mushrooms and ricotta in a mouth-watering tomato saffron broth. Served in a bowl, it's made for not only appreciating the pasta but also for slurping up the tasty broth. Yummo!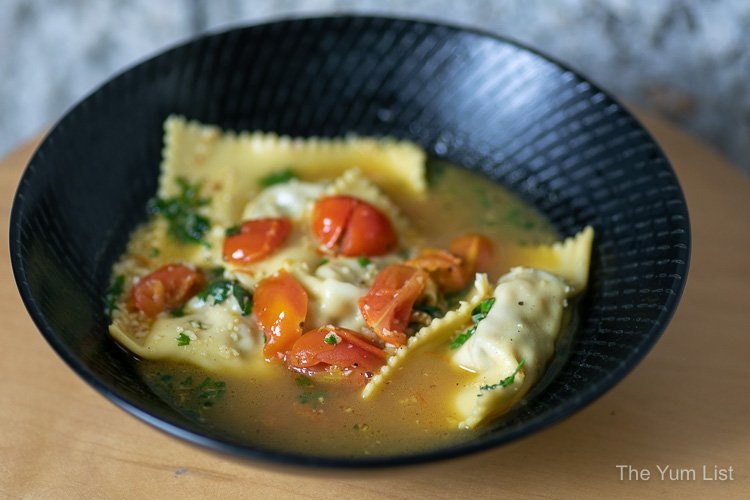 The Risotto (RM38) is an attractive presentation colourful with roasted beetroot. The rice has a great bite and the texture is boosted with firm pieces of beetroot. The earthy flavours of the beet are broken with gorgonzola. Finally, lemon zest cuts through the richness of the overall profile and a mascarpone herb cheese spread melts seductively as it's stirred through.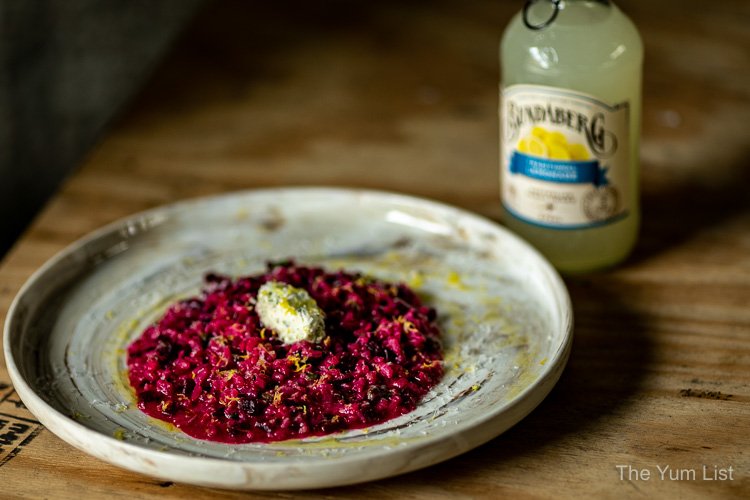 Spaghetti alla Chitarra (RM37.7) is named after the tool that it was traditionally made with. Strings resembling a guitar (chitarra) made the narrow rectangular ribbons and this version is accompanied with cuttlefish and roe, prawns and smoked salmon cooked in a white wine, fennel and peppercorn sauce – Timor pepper berries from Nepal to be exact. It reminds me of the Adriatic Coast from where this dish originates and even though our belts are starting to feel a little taut we have no problem cleaning our plates.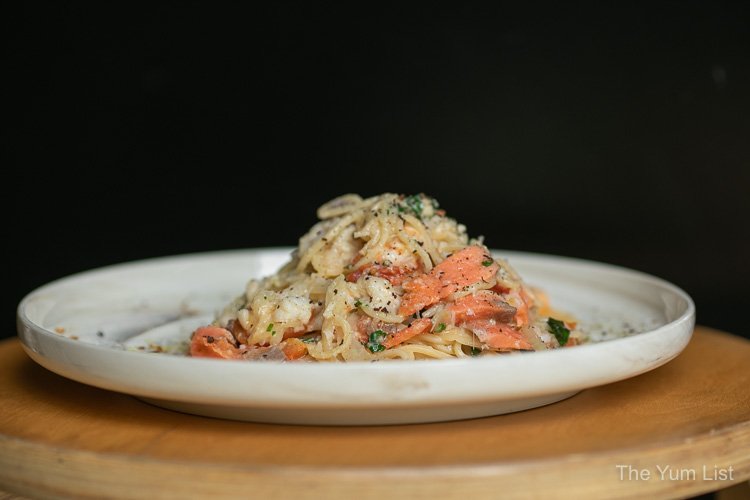 Pizza at Grano Pasta Bar, APW
In need of more carbs? Guests can also order pizza from Grano Pasta Bar's sister restaurant next door, Proof. Bianco Arrosto di Manso (RM36.7) is a current special and sounds irresistible with slow-roasted Holstein beef, mozzarella, smoked Scamorza, capers, pickled pearl onions, Pecorino Romano and cherry tomatoes. The crust is fabulous; a natural sourdough self-culture with puffy edges and just enough sturdiness to carry the generosity of toppings. Of course, knife and fork are provided but the best way to tackle this is by folding it and devouring it with your hands.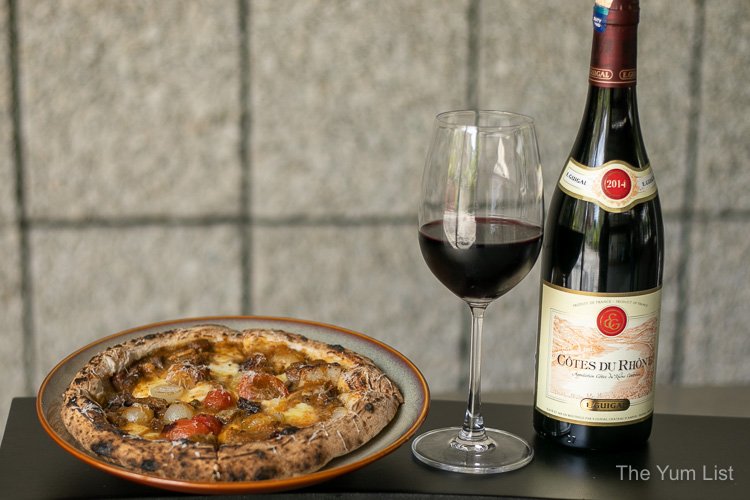 Dolci
Lastly, a sweet signature of the house and an item on every table's order is the Sourdoughnut (RM23.5). Made with the same dough as the pizza, these little bites of heaven are not too sweet and have an enticing whisper of sourness in the finish. They are lushed up with rosemary custard and rose flower whipped cream. Genius!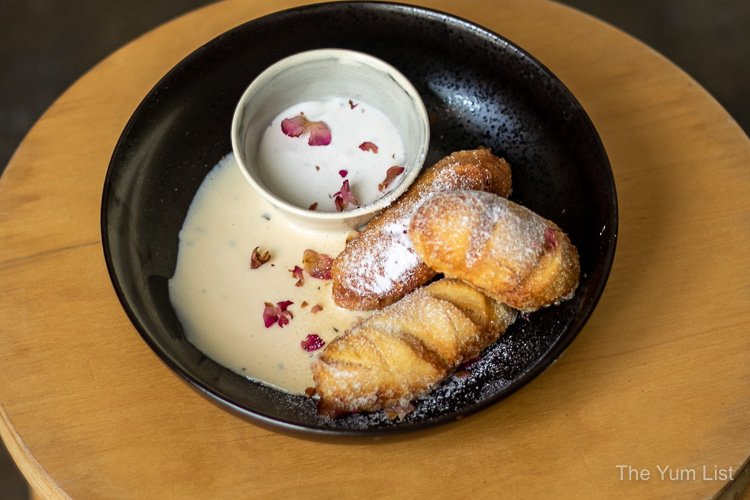 Reasons to visit Grano Pasta Bar: well-balanced recipes; quality wine selection; homemade pasta; our top picks – Caning – Spaghetti alla Chitarra & Pizza, Rich – Reginette Puttanesca, Tajarin Egg Pasta & Duck Ravioli, Mon – Beetroot Risotto & Polenta Fritta Con Taleggio. We all loved the Sourdoughnuts. Excellent selection of meat-free options.
Grano Pasta Bar
29 Jalan Riong
APW Bangsar
59100 Kuala Lumpur
Malaysia
+6 27883595
www.facebook.com/pg/granoapw
Love European food? Find more delicious KL options here.