Stamping Your Wine Passport: Travel in a Bottle
Words: Claire Matheson
Photos: Monica Tindall
The wine glints a deep purple-red in the glass as it catches the soft light. Swirling softly around the bowl, it glides up to the rim before falling back again, leaving its 'legs' to cascade down the side in slow motion. Thomas Ling, Malaysia's first certified sommelier clears his throat in front of the expectant room. "Drinking wine is like travelling. Everyone has their favourite destinations they go back to time and time again. You know you're going to have a good time, you're going to enjoy yourself. Or you can choose to discover new places. And this is when you have the best experiences."
"When purchasing a bottle, some may find the rows of unknown labels and names perplexing and confusing, preferring to stick with familiar brands." However, drinking wine is a chance to learn something new he reasons, to experiment, explore the globe and travel to new destinations. It is an adventure.
Twenty years ago, when people spoke of wine, they spoke of luxury. Pretentiousness and ostentation went hand in hand with 'knowing' about wine. People who could tell their cabernets from their merlots and their sémillon from their pinot gris would unashamedly bore you on the details of terroir in old world vineyards, or other highly esoteric viticulture topics designed to intimidate and impress. Europe's old world vineyards were, of course, the only ones judged acceptable in polite sipping culture.
Times have changed, however. Wine knowledge is no longer relegated to these circles of exclusionary relics. Understanding varietals and how, when paired with regions, they influence the subtleties and complexities of flavour profiles is a go-to topic that people are increasingly taking pride in. Whether you are 75 or 25, are well-travelled or a home-body, learning about wine – how it is made, how it tastes and how to drink it – gives you undeniable street credibility. And nowhere are the markets booming more than in Asia, where business handshakes over whisky have been usurped by those versed in wine.
In Shanghai, Hong Kong, Bangkok, Kuala Lumpur and Singapore, luxury operates on a different level. Five-star hotels are envisioned, designed, built and booked in the blink of an eye and designer labels are practically commonplace. This ushering in of wealth and sophistication is coupled with a greater focus on wellness, and the health benefits of choosing a glass of red wine in particular over beer are well documented.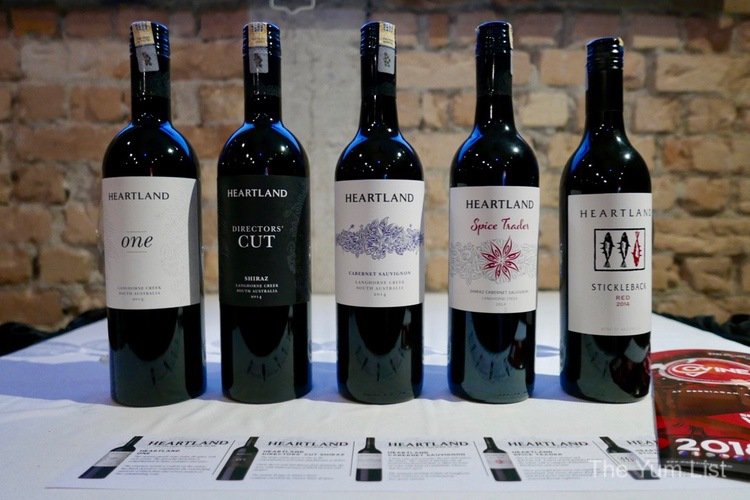 9 Vines Wine Festival – Ampang
Dionysus Asia, one of Malaysia's largest wine suppliers, have collaborated with the Persiaran Ampang dining community this month to present the 9 Vines Wine Festival. The festival features over 80 wines from nine international wineries located in Italy, France, Spain, Australia, New Zealand, South Africa and Chile with canape food pairings from La Risata, Las Carretas, The Daily Grind and Sapore. Hosted by the General Manager of Dionysus Asia, Edmond Quah and with tastings led by Thomas, you can book your tickets for your wine education passport each Wednesday evening (RM138++) for a 6 pm start. The Festival culminates in the final weekend of September with the Food'licious night (RM168++) from 7:30 pm on Saturday the 29th, and the Grand Wine Marathon Finale (RM118 nett) from 11am-6pm on Sunday the 30th. Events are punctuated with the sultry sounds of musician Philippe Jarvelle and a range of talented local and visiting singers including Iklil Jannah, Hai Yen, Helga V and Marco Antonio. Their smooth jazz and blues will further transport you during your bottle travels.
9 Vines Wine Festival – Wine-nesday
The first Wednesday (or Wine-nesday) of the month's festivities, tonight's event is at La Risata and we begin with glasses of The Pavillion Chenin Blanc and Shiraz Viognier from the Boschendal Gardens in South Africa. One of the better house pours I've encountered, the Chenin Blanc is minerally and smooth, with hints of guava and pink grapefruit. Precisely balanced it sits nestled in the middle of the sweet-dry spectrum. The Shiraz Viognier is mellow with dark red fruits, slight florals and tannins amidst more vocal pepper tones.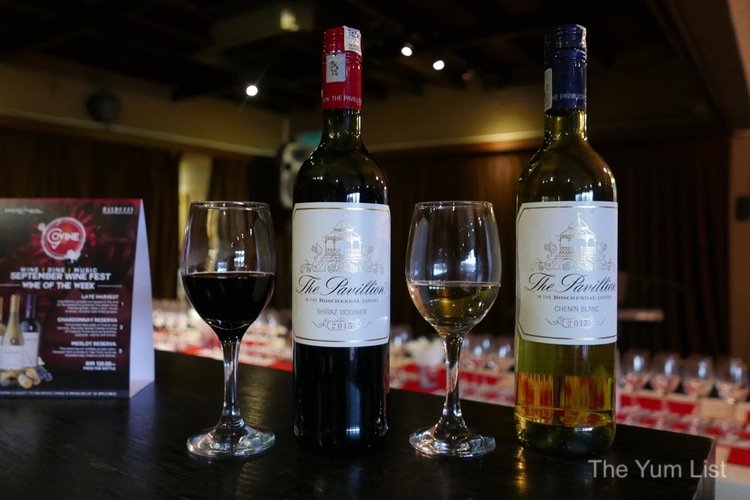 9 Vines Wine Festival – Heartland Wines
House pours aside, tonight we are tasting the Heartland range from South Australia. Grown in the Langhorne Creek region, a modest area of pocket gem vineyards only a one hour drive southeast of Adelaide. A new age of smaller production boutique wineries in Australia has allowed for greater experimentation with blending and new technologies. This area, with its large predominance of red varietals, forms part of the Australian Geographical Indication appellation of Fleurieu, a region which also includes McLaren Vale. The sandy loam soils of Langhorne have good water retention, producing fast ripening grapes with stronger fruit forward flavours similar to many Italian growing regions. What sets this region apart is something known as the 'Lake Doctor', a cold wind blowing straight from the Antarctic that arrives late each afternoon in the growing season, dropping temperatures anywhere from five to 15 degrees. This halts the strong sun-drenched daytime ripening, allowing the vines to recover overnight, retain their moisture and acidity, and maintain their powerful fruit flavour.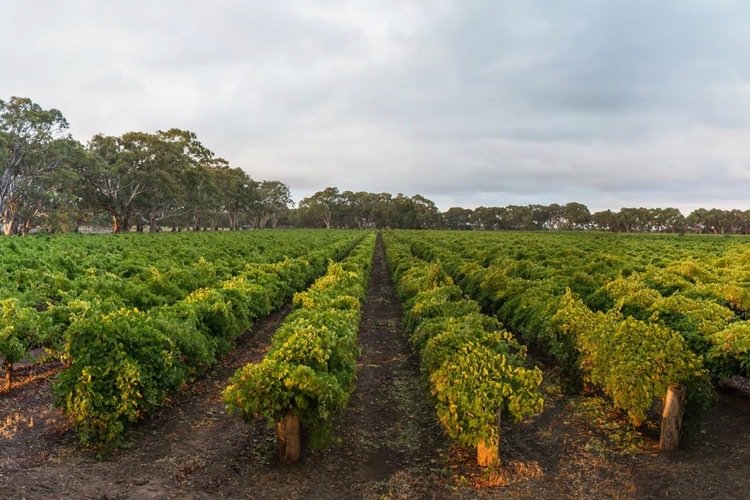 The consummation of Ben Glaetzer's break-the-rules winemaking attitude, Heartland's visually appealing labels are illustrated with the leaves and flowers of its herbaceous notes. As an additional competitive advantage, Heartland's wines are vegan-friendly and lower in alcohol content than some of their more potent South Australian cousins, meaning the flavours do not have to compete for your attention. The Heartland mission is simple and embodies Thomas' idea of travel through a glass. Ben describes it as "that place between the vines with the best view of the gum trees. You might be in another part of Australia or another part of the world …but you can taste it from where you are.". Ben is oft considered a winemaking prodigy, rising to fame when his 2003 Amon-Ra achieved 100 points from Robert Parker. He went on to win the 2004 Qantas Young Winemaker of the Year at only 26 years of age.
The first wine of the evening is Heartland's Stickleback Red, well rounded and balanced, this easy to drink drop pairs with almost any meal. The initial bouquet is vibrant with plums, blackcurrants and more subtle floral violets. Made from vines aged 15-20 years, this drop is medium bodied with a vivid ruby purple colour. Barrel aged in French and American oak for twelve months, optimum drinking is up to three years after production. Blended from Cabernet and Shiraz, this bottle also has a touch of Northern Italian inspired deep and dense Lagrein, a quirk of Ben's introduction. As an accompaniment, a small taster plate of thinly sliced wagyu beef drizzled in light cold pressed olive oil is almost raw in pure flavour.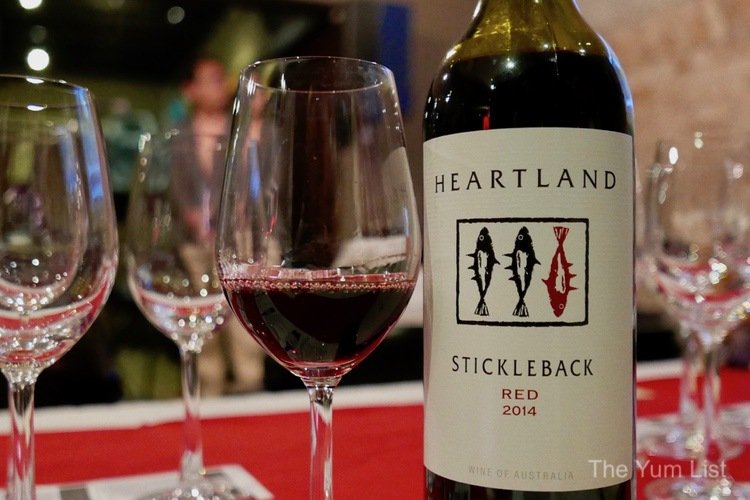 Heartland's Spice Trader Shiraz Cabernet is darker in colour, with strong spice, pepper, blackcurrant and dill. There is a visible contrast in intensity and nose when compared with the Stickleback. This is a more robust, burly wine with a bit more depth. Firmer tannins linger among the exotics. Yet it has a softer structure, allowing the character to settle on your palate. A more refined glass, this boisterous drop is also suitable for pairing with a wide array of dishes, though is best taken with more vigorous, layered flavours. Made from vines aged 25+ years, and barrel aged for twelve months, optimum drinking is between one and five years. We alternate sips with bites of a smoked duck tortellini doused in lavish truffle oil and velvety mascarpone. Later, we are rewarded with a second serving and Monica dubs this the dish of the night.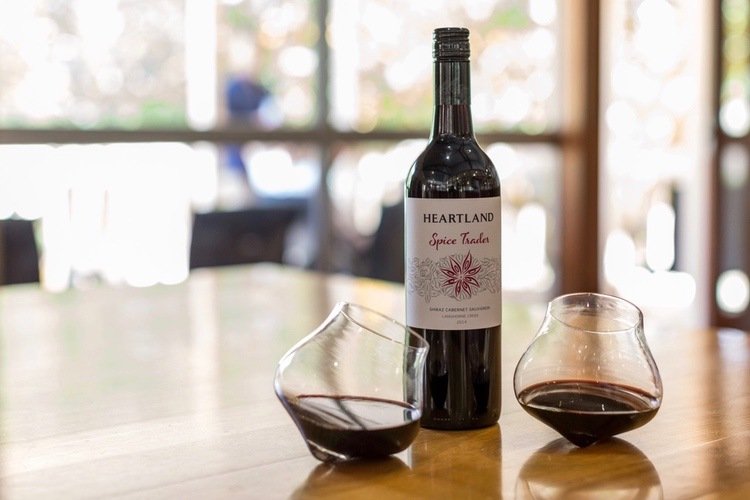 A pour of Heartland's Cabernet Sauvignon reveals spices more well known to Asia. Cardamom, liquorice anise and tobacco work alongside the favoured blackcurrant and red fruit notes. It reads like an expensive perfume. Spice and herb-laden, but not overpoweringly so. First impressions are compelling. Strong opening notes do not overstay their welcome. A three-day skin-on maceration of grapes grown on 20+-year-old vines prior to fermentation is the key to the characteristic aromatics with balanced tannins. Best drunk with roasted or grilled meats, we are served morsels of pull-apart lamb in a rich gravy sauce sitting atop boats of swiss button mushrooms sprinkled with parmesan, parsley and finely chopped peppery tomato salsa. A superb pairing.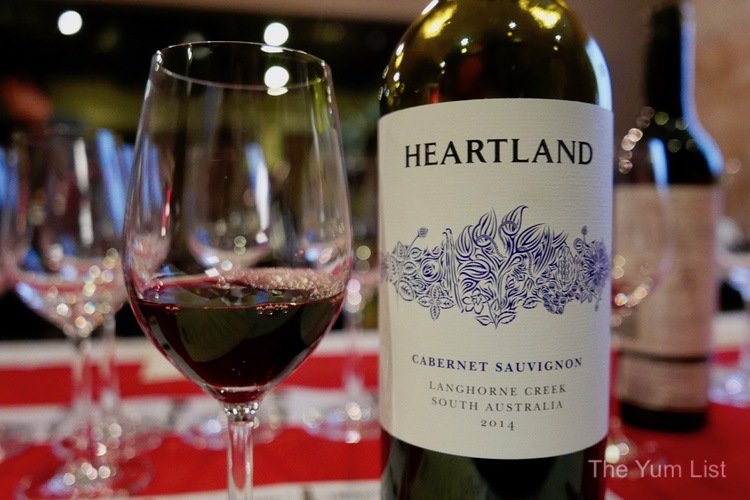 Our fourth Heartland wine of the evening is the fragrant and perfectly pungent Director's Cut Shiraz – their definitive flagship. For many, Shiraz's bolder tones can be a little uncompromising, however, this is gentle yet confident. Diverse, bolder fruit notes and a more sultry, mysterious palate enhanced by 14 months in 100% oak gives structure and discipline. The strong berries are further emboldened by pepper, herbs and black liquorice. This bottle has a more distinguished, notable finish, changing and morphing as it breathes. The silver fox of the range, it is the culmination of 40+-year-old vines, strict pruning, and night harvesting and can be cellared for 10 years or more. To pair we are served mouthfuls of bursting cherry tomatoes with balls of buffalo mozzarella and balsamic vinegar. The simplistic, bare fruit flavours intermingle without upstaging the oak.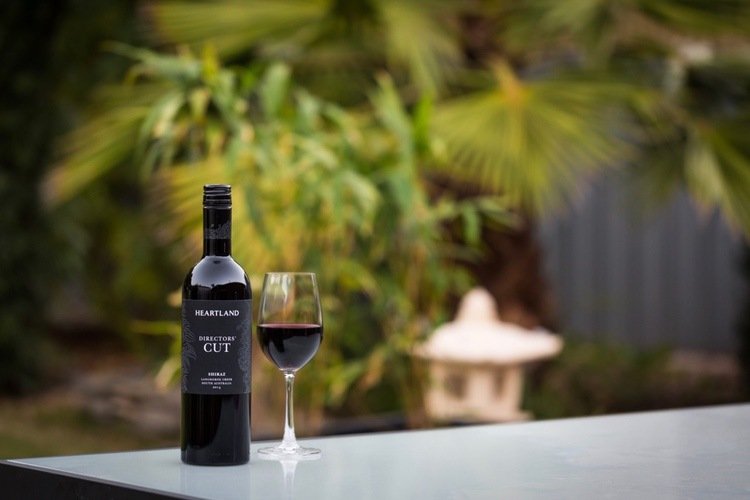 The final wine of the evening is the Heartland One, their 'first…and last word." Multilayered with herbs and spices including Heartland's favoured pepper and star anise, the fruit flavours of blackberries and black cherries expand to fill your mouth with velvety richness and texture. Finely poised, and well balanced, this is smoother and more refined. Night harvested and fermented with a Rhône isolation yeast, the result is intense, youthful and a little bit complicated. The flavours keep going, and you would be fooled into thinking you had held it in your mouth, long after swallowing. Thick cut, meaty and heavy Milanese salami on fresh baguette rounds is a fitting accompaniment.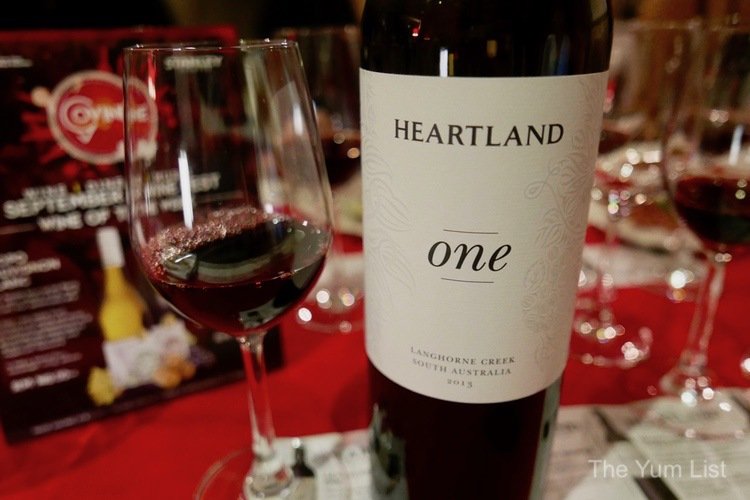 The evening's lesson draws to a close, and guests return to mingling and refilling of glasses with their favourite Heartland wines. We nibble on miniature cheesecakes with strawberry coulis and lemon curd sauce and chat about our favourite wine and travel experiences, the conversation flowing as easily as the glass pouring.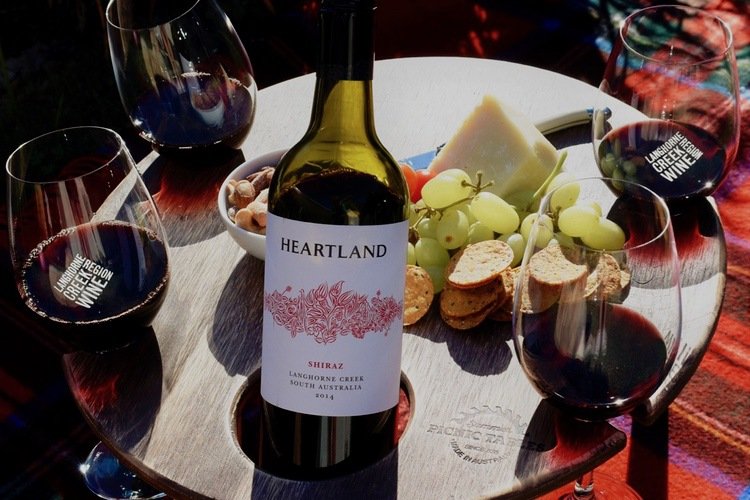 9 Vines Wine Festival – Cellaring Those Fine Wines
Financially, buying and trading in wine in Asia is the next big thing. Collectors of fine goods have shifted their attention to wine auctions and industry experts predict China will become the second biggest buyer of grape-based wine after the USA in the next five years. And the market is keeping a close eye on Australia, home to some of the world's oldest commercial vines, with numerous wineries headlining 100 year plus vines.
For collectors in Southeast Asia, cellaring presents its own challenges, and Jeffrey Phang of Grübel wine chillers explains the need for proper temperature controlled wine storage in Malaysia. Their purpose built fridges have dual doors for differing red, white or sparkling temperature control. For the gadget lovers, Nicolas Sigloch is the Managing Director for Asia for By The Glass, a gassed wine dispensing system from the Netherlands which prevents oxidation. Using less gas than Coravin systems, it preserves the taste of fine wines for repeated dispensing, keeping multiple bottles open simultaneously for extended periods so you can enjoy single glasses of all your favourite drops without needing to empty the bottle in one sitting – a must have for those collecting and drinking high-end bottles. Those attending the Grand Wine Marathon Finale will stand chance to wine a wine chiller from Grübel!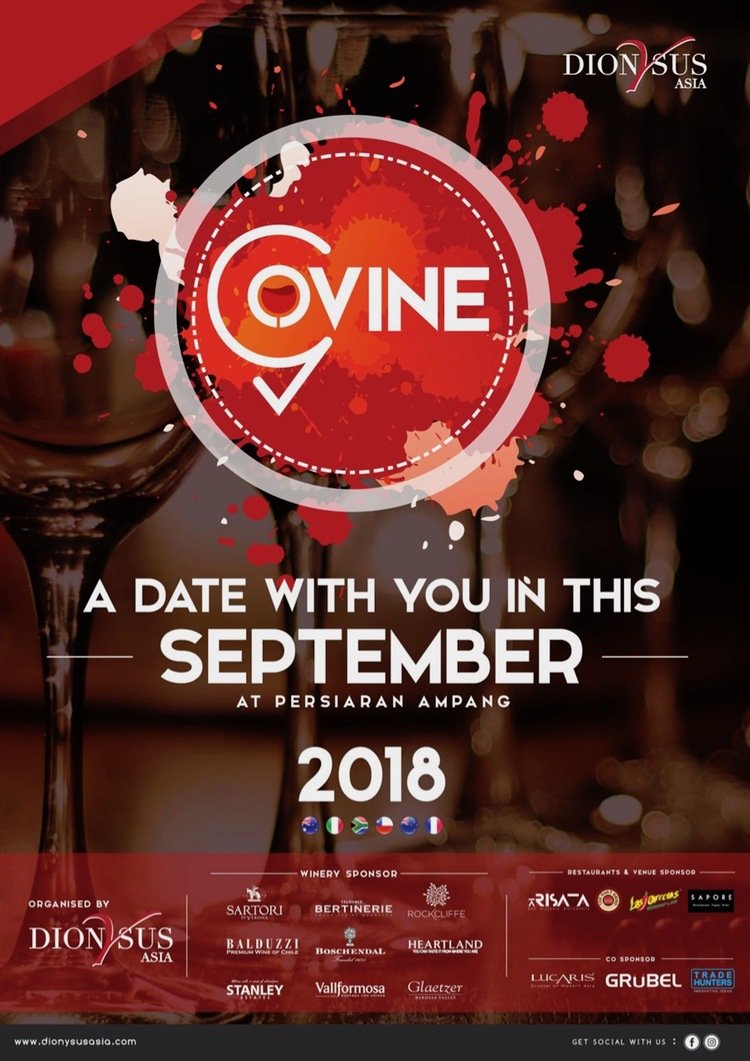 9 Vines Wine Festival Ampang
The Dionysus Asia 9 Vines Wine Festival in Persiaran Ampang continues throughout September. Not only will guests benefit from the extensive knowledge of Thomas Ling and Edmond Quah, but you will be able to taste an array of different wine paired dishes from the four participating restaurants. Tickets are on sale now so come and get your wine passport stamped and start your travels.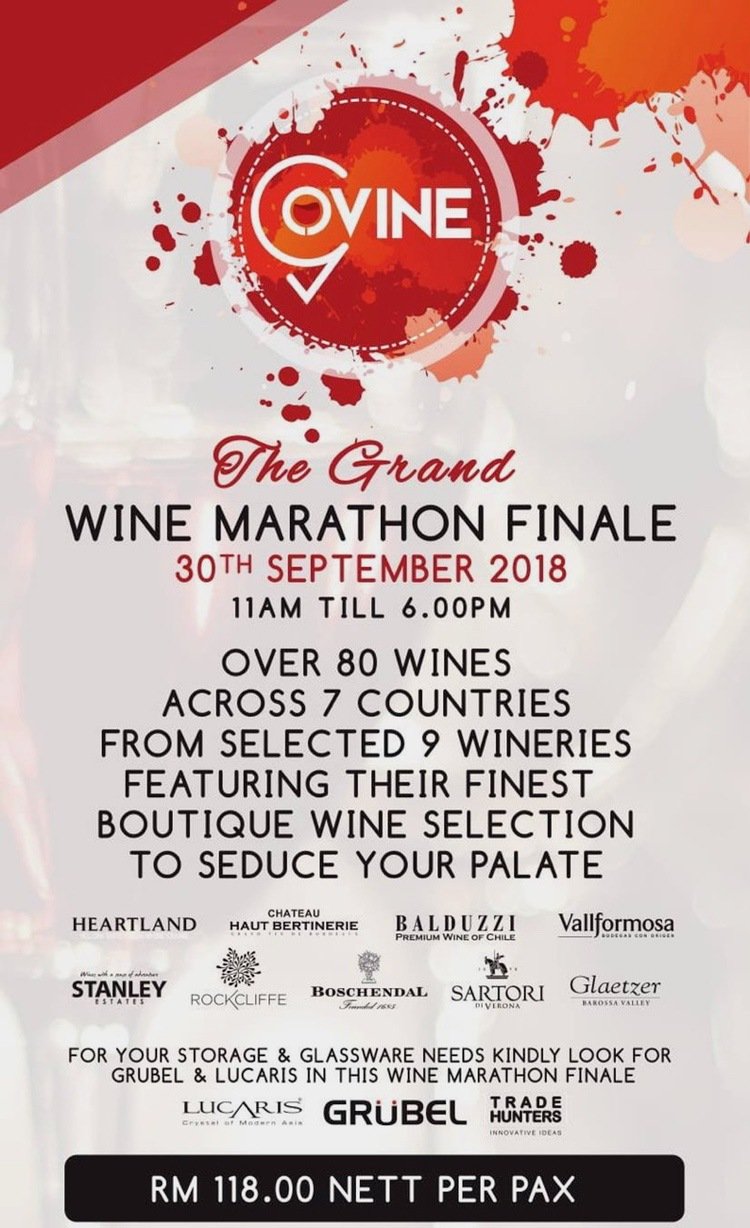 9 Vines Wine Festival – Free Tickets!
We're giving away 10 tickets to the Grand Wine Marathon Finale worth RM118 each! All you have to do is follow The Yum List on Facebook or Instagram and tag a wine-loving friend in the comment box below on either platform. You can enter as many times as you like by tagging different friends each time. Winners will be announced a week from this post.
Love wine? Check out more of our articles about wine on The Yum List here.