Words: Monica Tindall
Photos: Rich Callahan
I can't imagine a tougher challenge for a chef than to be in charge of curating menus for the highly anticipated opening of the W Kuala Lumpur. Known for constantly surprising guests with a quirky design, witty innovations and bold service, the W brand pushes the boundaries in offering a contemporary experience to customers while maintaining its five-star edge.
As we're soon to find out, executive chef Richard Millar and pastry chef Kevin Yong, go way beyond providing a superficial level of pizzaz. They, instead, substantiate the wow factor with a true connection to their current home base, Malaysia. By forging partnerships and developing relationships with small local businesses, the team aim to not only have the freshest and best of ingredients used in the hotel but to also support the growth of quality product coming from local cottage industries. Of note are two organic farms in Cameron Highlands from which the majority of fresh produce is grown, the organic herb farm right here in the city centre, wild honey sourced by the Orang Asli and cheese production with local milk by the Milky Way.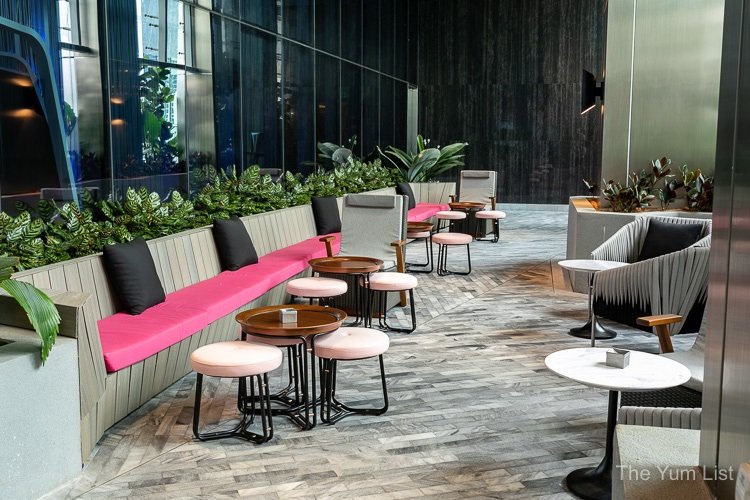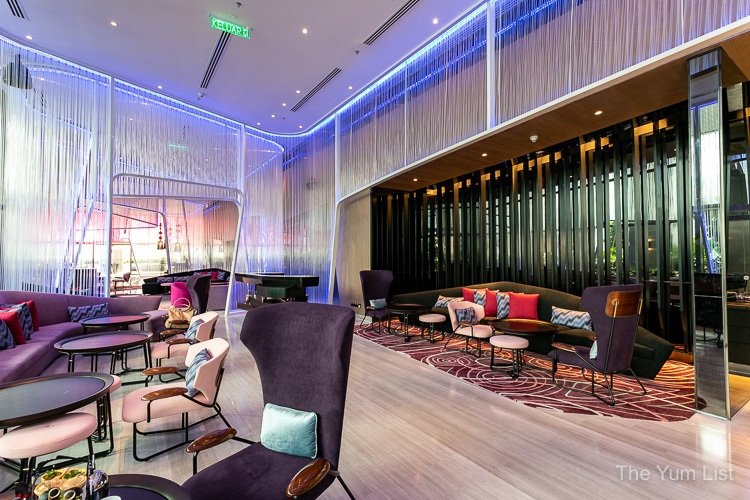 Afternoon Tea W Kuala Lumpur
Afternoon Tea at W Kuala Lumpur is our first introduction to the menu. Appropriately themed as Hi-Tea Par-Tea @Woobar, the set follows through in providing an attractive presentation backed up by some seriously delicious treats. Unlike many afternoon teas in Kuala Lumpur that are 80% plating and setting and 20% good food, the chefs at W Kuala Lumpur have nailed it on all accounts.
W Kuala Lumpur Afternoon Tea Set
Before the W KL's afternoon tea is delivered, an amuse bouche arrives inside a bamboo basket wrapped in a red and white checkered napkin. Miniature jam jars hold liquid shots of blood orange, fresh orange juice, grapefruit and tualang royal honey (harvested by the Orang Asli who climb some of the tallest trees in the world in order to obtain it). The sweet citrus shots open the palate, performing their duties just as the chef has ordered.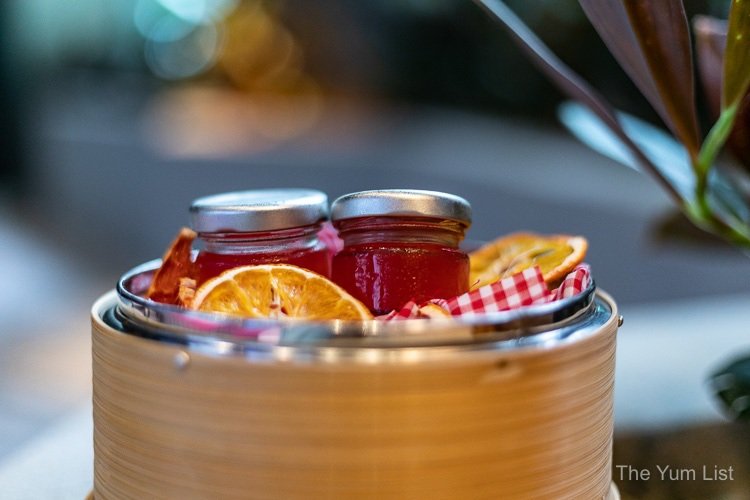 Shots downed, a "tree" takes their place holding a mélange of gourmet savouries, sweet bites and signature chocolates. The tree frame has been custom designed by a company in Greece – My Glass Studio – who is also responsible for a number of other key pieces in the hotel.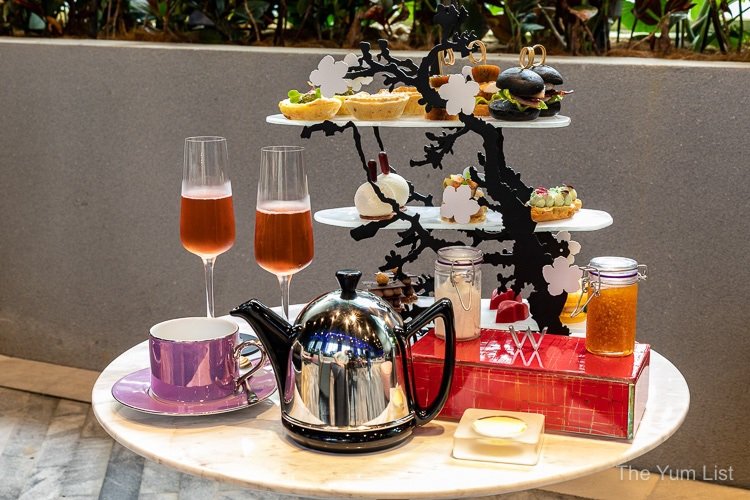 Savouries, Afternoon Tea, W Kuala Lumpur
Our first bite is seafood with a poached prawn on sourdough crostini. It's spiced up with Sriracha mayo and pico de gallo. A beautiful heirloom tomato from their Cameron farm tops it with a mini skewer holding it all together. Little bites of heaven are found in the caramelized onion and goats cheese tart with green olive tapenade and micro daikon sprouts. They're still warm from the oven and an absolute delight. In the charcoal sliders, eel is bold with smokiness; a flavour that lingers seductively intertwining itself with crispy streaky beef bacon and the horseradish and avocado mash. Lastly, what appears to be a mini Aussie meat pie is actually way more decadent with a stuffing of duck confit, thyme and mushroom. A buttery shortcrust pastry encases it in a flaky buttery dream.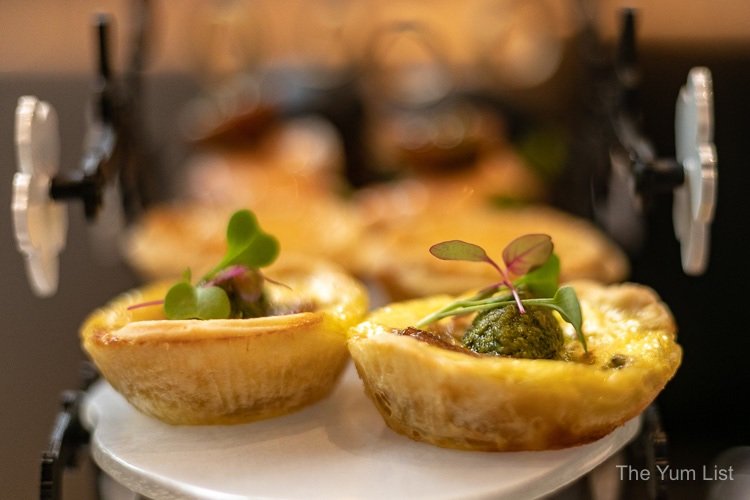 W Kuala Lumpur Afternoon Tea Menu – Cakes
The tiramisu sphere looks so tempting I can't wait to nab it first. Rainbow sprinkles shimmer in the light and a pipette of espresso provides a little interactive fun with each squeeze. Inside the mascarpone, ball is ladyfingers, soft with the cream. Feuilletine acts as a base but also adds contrast in texture. The second pastry, petite matcha yuzu éclair, looks as though it is going to be rich with buttercream. When I bite into one though, the yuzu pearl caviar that tops it bursts, releasing its juice and an acidity that breaks up the decadence of the cream. Lastly, while the fig (from Puchong) and honey cheesecake looks dense just as you might expect of a baked version, it surprisingly light and creamy, aerated and sweetened solely by the honey and fruit.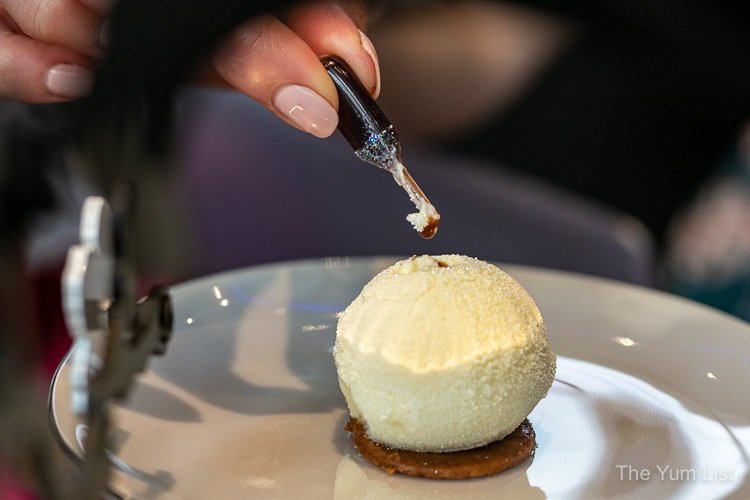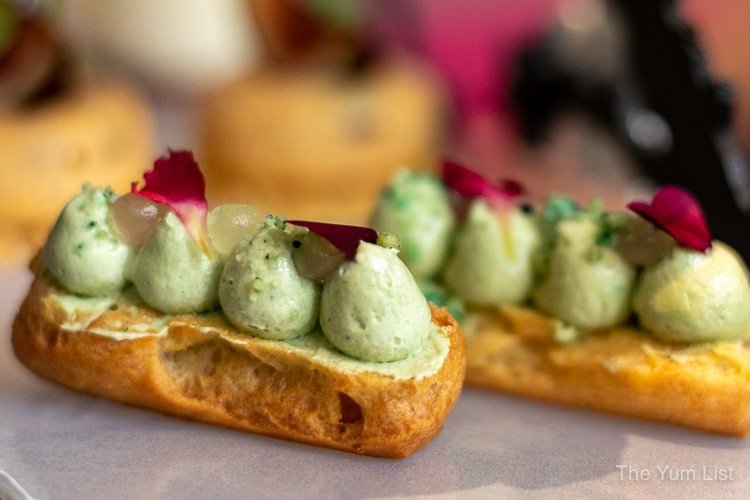 Pralines, Bonbons and Macarons
Taking the sweet intensity up a notch is a selection of pralines, bonbons and macarons – all made in-house, of course. Even though many of the recipes in W KL's afternoon tea set showcase traditional recipes with whispers of local influence, the chocolate hazelnut dacquoise is one recipe that cannot be improved upon. As such, it's served to its original recipe using both milk and dark chocolate, ending with a sweet bite that is elegantly crunchy and creamy at the same time.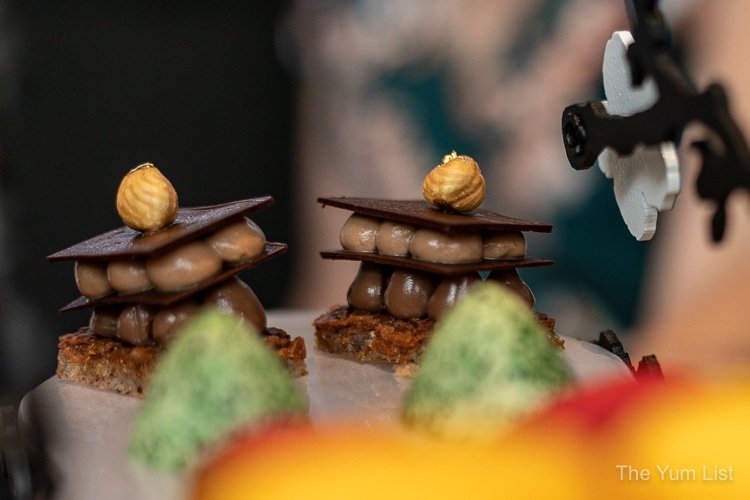 The pandan kaya bonbon, on the other hand, is a fine example of blending local ingredients with European technique. Resembling a speckled bird's egg, it cries Malaysia with its addictive components of padan kaya sweet with gula Melaka and pandan white chocolate ganache. The Sarawak pineapple macaron (with a faultlessly thin crisp shell and soft middle) filled with pineapple jam mashed with coconut cream is equally inventive.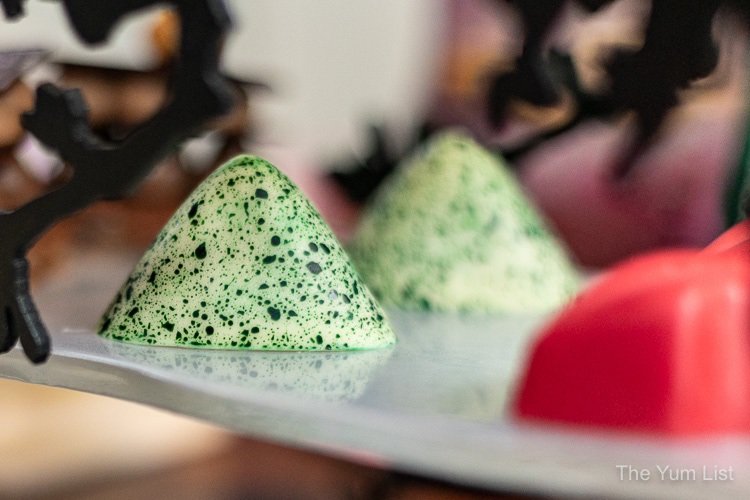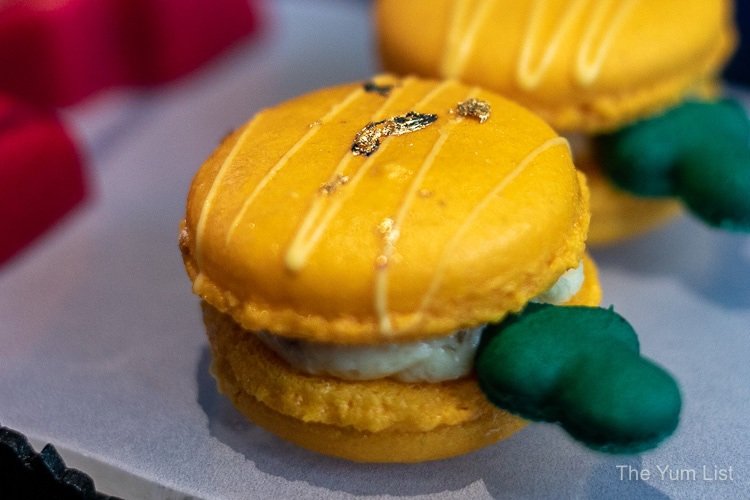 W has a culture of being quirky and it's with chocolates shaped in red lipstick-painted lips that remind us of where we are. As I bite in, pastry chef Kevin folds his hands in the Malaysian symbol for five indicating that I should for wait for five seconds after swallowing to appreciate the slow chilli burn. This rich red shell holds a velvety praline laced with chilli to literally add spice to the afternoon.
Afternoon Tea W Kuala Lumpur Menu – Scones
Scones are obligatory in an afternoon tea and with an Aussie executive chef, I hold high expectations. They're delayed in arrival as the service sequence ensures that they're served warm – just as they should be. Orange-ginger and vanilla scones are the perfect density, golden on the top and take a bite or two to dissipate in the mouth. Orange rind gives an occasional bitterness to the bite and the juice gifts sweetness. French butter, clotted, cream and cape gooseberry jam (you guessed it grown locally, made in-house) make delicious companions.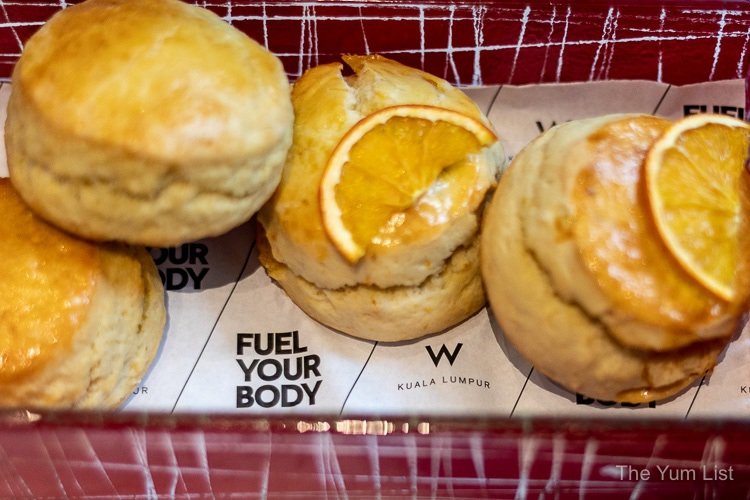 The Afternoon tea W Kuala Lumpur comes with either a pot of TWG tea or coffee included for RM140 per set for two or with two glasses of Rose Champagne by Moet Chandan for RM280 per couple.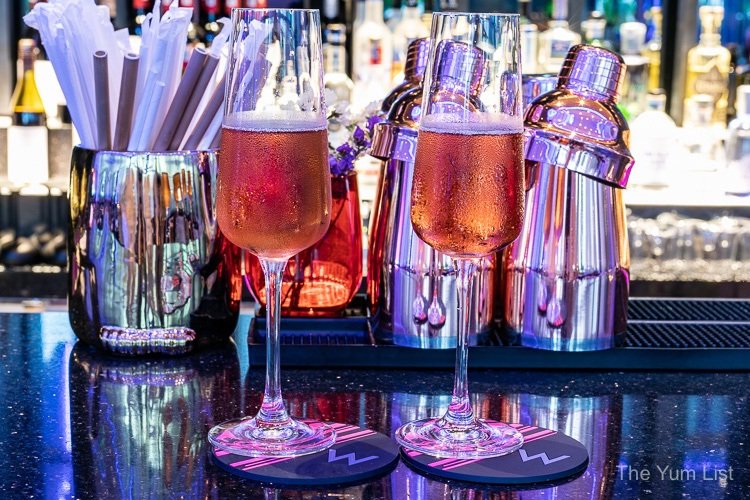 Reasons to have afternoon tea W Kuala Lumpur: an afternoon tea where both aesthetics and taste correspond; the hottest new afternoon tea in KL.
Afternoon Tea W Kuala Lumpur
Hi-Tea Par-Tea @ Woobar
W Kuala Lumpur
121 Jalan Ampang
50450 Kuala Lumpur
Malaysia
+603 2786 8888
W Kuala Lumpur website
Lover of afternoon tea? Find out more locations for this afternoon pleasantry in Kuala Lumpur here.