Words: Monica Tindall
Photos: Rich Callahan
There sure is a lot for bar hoppers to be excited about in Kuala Lumpur. New craft cocktail bars seem to be cropping up at lightning speed. It's rare, however, for a bar to put as much thought into the service as they do the cocktails and presentation. WOOBAR KL, the parallel to a lobby lounge at W Kuala Lumpur, takes the appearance, composition and delivery of food and beverage to new levels.
WOOBAR Kuala Lumpur
Playing on the concept of a jungle city, WOOBAR KL is far more interesting than your average lobby bar. LED curtains mimic waterfalls cascading in an envelope around the space. Pink and purple upholstery mirror those of vibrant tropical bird feathers set amongst a lush display of plants. Indoor lounges and outdoor patios allow for differentiation of desires (smoking, non-smoking, air-conditioning, al fresco) and there are even a few golden monkeys thrown in for additional whimsy.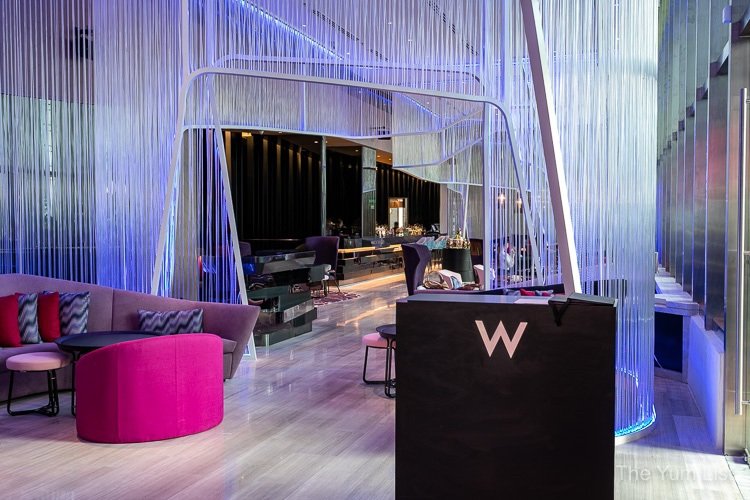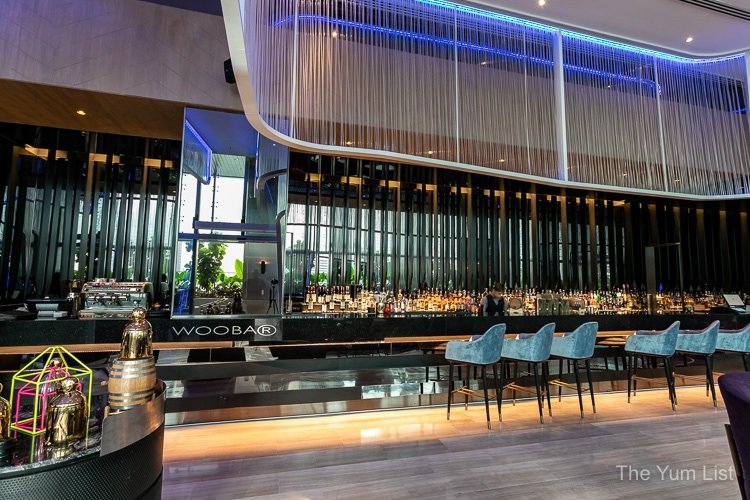 WOOBAR KL Menu – Bites
Being a bar, the cocktails, yes are well worth exploring, but the tapas menu is high on the "reasons to visit" list too. Expertly prepared, based on local ingredients (organically, sustainably and ethically farmed where possible) and celebrating freshness in a diversity of cuisines, the recipes are much more than tummy fillers for soaking up some bevvies.
You know I love my veg, and so it's probably no surprise to you that my first orders are two plant-based recipes: Olives and Farmer's Fetch. Don't be fooled by the simplicity of the name of the former. Olives may seem a simple bar snack but, we're at the W, and you are best advised to leave all assumptions at the door. Lip-smacking Spanish beauties have been marinated in extra virgin olive oil, rosemary and lemon. They're sided with aged Hispanico cheese cubes (local production) and paper thin lavosh rectangles seasoned with paprika and herbs. The olives have an addictive sourness to the finish. Bite into the full-flavoured cheese for a complete change in texture and taste and then munch them all together with the crunchy lavosh.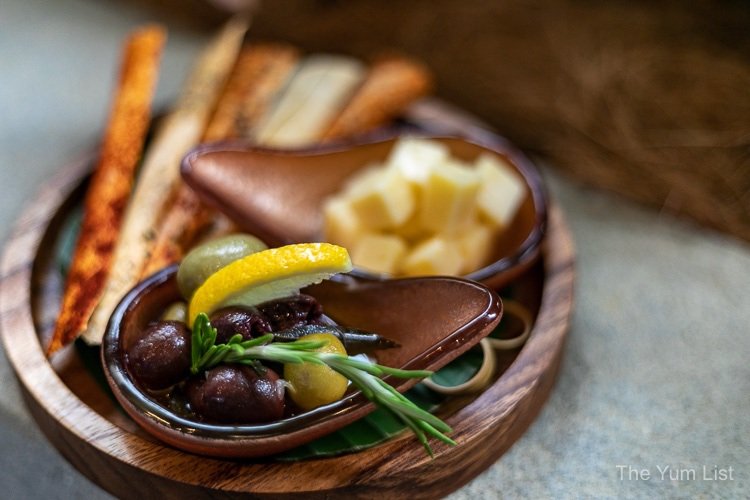 The Farmer's Fetch, plated in a "garden pot" with Laugh" prescribed on the side, is the most luscious version of crudités and dip I've come across. Vibrant organic vegetables – heirloom carrots, radish, cucumber and sprouts – "grow" from goats cheese fromage blanc and olive liquorice (ground dehydrated olives mixed with brown sugar and star anise resembling soil). This is one happy dish.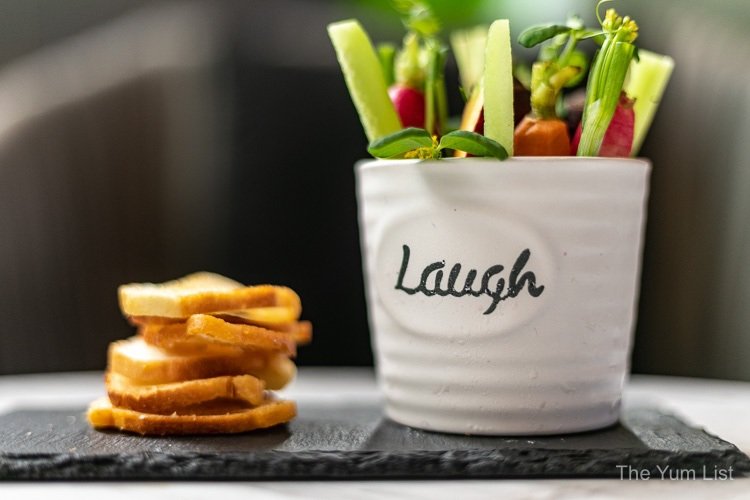 Hubby is very pleased with the Mariachi Splash, W's take on ceviche: Australian kingfish marinated in pomegranate, red onions, chilli, coriander, calamansi and petite piped cones of avocado mousse. The fish is from the chef's "kampong" building on a fond childhood memory and a great ingredient as the base of ceviche. The "leche de tigre" marinade has just the right amount of tang balanced with the fruity pomegranate and smoothed over with the avocado.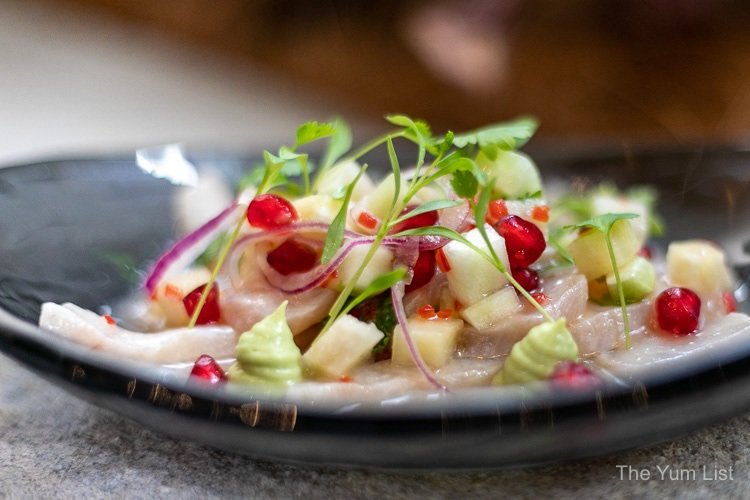 Señor Quack takes Rich's fancy. These Asian 5-Spice duck confit tacos are moistened with chilli-corn salsa, tanged up with tamarind and given a garden bite with verdant sprouts. It's fresh, and rich and saucy all in one, and boy what a difference handmade tortillas make.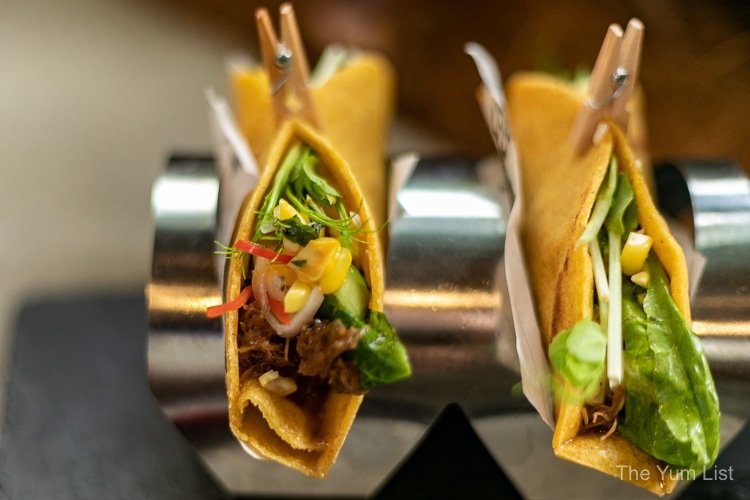 Cocktails at WOOBAR KL
Tummies sufficiently lined, it's time to shift our focus, and there is an attractive cocktail list to meet. Malaysia's national animal, the Tiger, is the inspiration for the first page of the signature cocktails. Sophisticated with determined strength, confident and brave, the drinks in this selection mirror the animal's traits.
The custom-made vessel of the Hive Five (RM45) sees a glass perched on a twig of a log draped with a piece of honeycomb. Dedicated to the tualang honey collectors for risking their lives in climbing some of the tallest trees in the rainforest to bring down hives as heavy as three kilograms, the cocktail salutes them with a High-Five. Be prepared for witty bartenders to literally give you a high-five when they present the drink to you – it's all part of the experience. Gin, lime, mint, tualang honey and pomegranate produce a fresh and fruity drink: a great thirst-quencher in warm weather.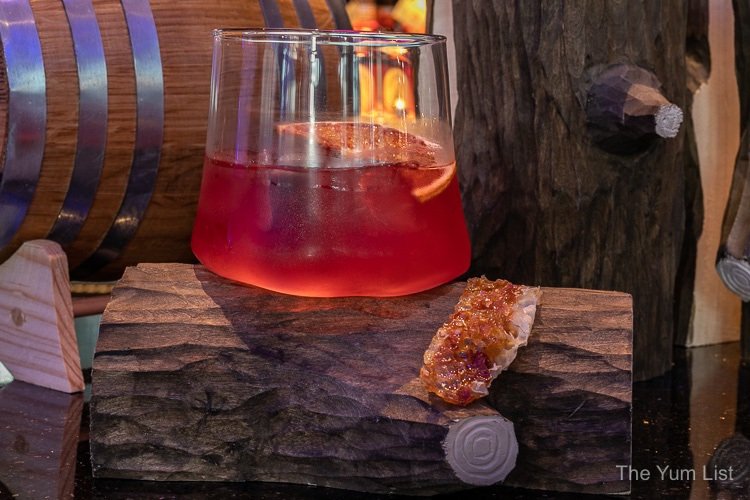 I don't realise the next beverage has been served until I'm nudged into acknowledging it. "Happy treasure hunting," says the waiter indicating a white paper bag, just like the bags the roasted chestnuts are served in from Jalan Alor street vendors. Tearing open the paper bag, The Alor Treasure Chest (RM50) reveals a transparent chest holding an amber liquid with a glow-in-the-dark jewel glowing from within. Tropical flavours of Rhum Agricole are shaken together with chestnut infused Campari, blood orange, citrus and shiitake syrup. Bold visually and also in the mouth, the initial sweetness quickly gives way to the bitterness of the Campari in the mid-palate and ends with a long earthy finish of the mushroom.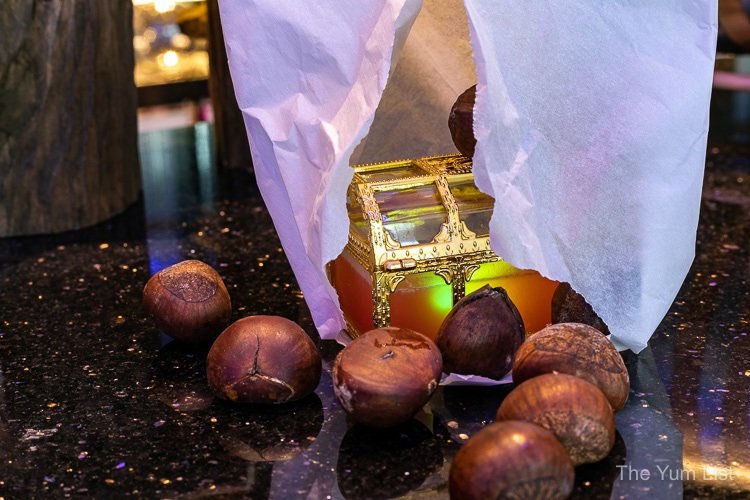 More nuts and rum are found in Nut This Time (RM45). Dark rum (Diplomatico my favourite), is mixed with groundnut infused Campari, blood orange, lime and simple syrup in a deep dark twist on the Malaysian cocktail, the Jungle Bird. Sweet, savoury, sour and nutty, it's much heavier and denser than the classic – a nod to the depth of character of the peacock which is the inspiration for the next page of cocktails. An actual bird glass adorned with a leaf crown and tailed with feathers and fresh flowers make an Instaworthy shot. And, a note on Instagram friendly drinks: not only are cocktails at Woobar KL highly photogenic, they've been made with no ice, taking into account the desire for cameras to drink first, and hence preventing the problem of ice melting and watering them down.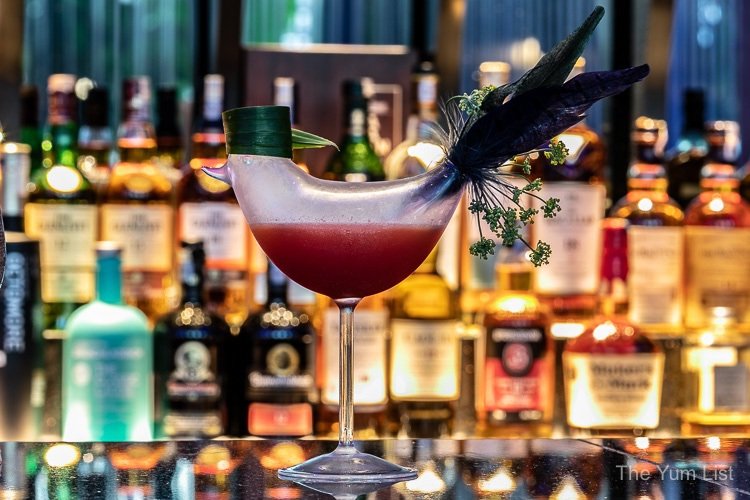 The theme of the peacock continues with the following two drinks bringing mystery, seduction, ambition and impressive courting displays to the table.
Waiters play on your stereotypes when they serve the Bouquet (RM50) just as a centrepiece might be displayed. Served in a vase with a bouquet of fresh flavours and even sprayed with a floral scent just before delivery you would be forgiven if you were a little hesitant to actually take the first sip. Get over that initial reticence though because you don't want to miss this floral, nutty, herbal beauty. Macadamia bourbon, gin, tualang royal black honey and mint are responsible for the tasty combo.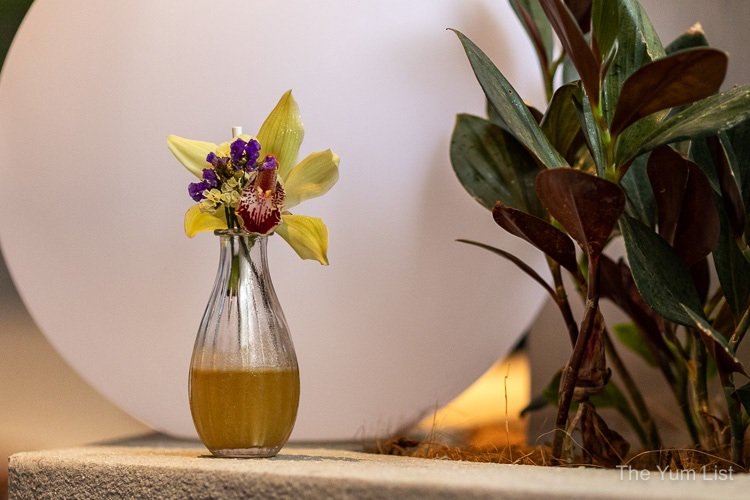 Lastly, the Islay Wonderland (RM50) is tendered in a glass globe filled with smoke. Almost paralleling a snow globe settling after being shaken, the drink is slowly revealed as I blow into the straw creating a mini-hurricane of mist. My mouth has a soft coating of smoke that is just waiting to be relieved with a mouthful of the liquid. Bianco Vermouth, chamomile, calamansi, pineapple and orgeat syrup provide a naturally sweet balance to the peated whisky and smoke infusion.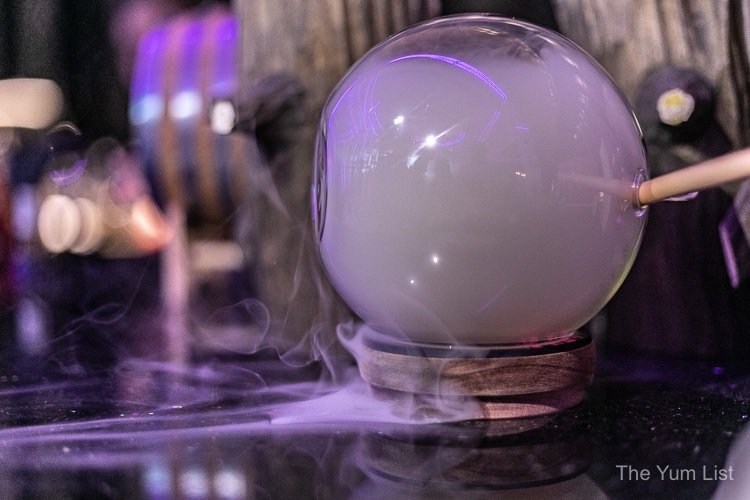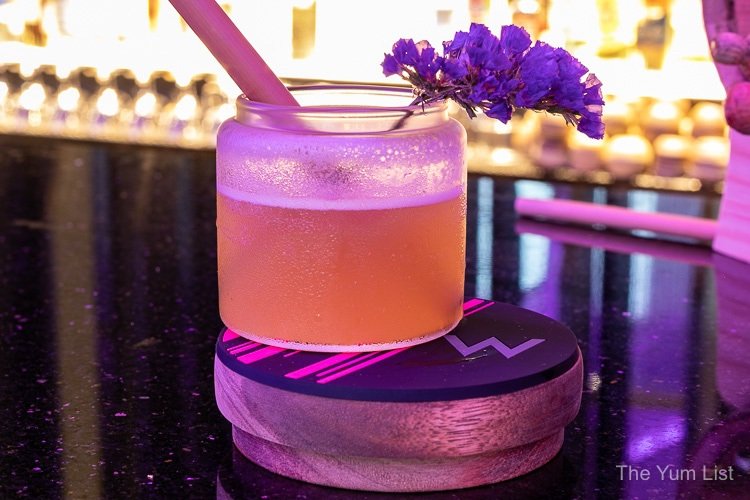 Reasons to visit WOOBAR KL @ W Kuala Lumpur: fresh local ingredients and some truly gourmet bar snacks – veggie-loving me adores the Farmer's Fetch and Olives, Rich is taken by Señor Quack and hubby is singing the praises of the Mariachi Splash; Instagram worthy cocktails that not only look good but taste delish and are delivered with W wit and fun.
WOOBARKL
W Kuala Lumpur
121 Jalan Ampang
50450 Kuala Lumpur
Malaysia
+603 2786 8888
W Kuala Lumpur Website
WOOBAR Kuala Lumpur Opening Times: 11 am – 1 am.
Love a good cocktail bar? Check out more or KL's hottest cocktail bars here.