Monica Tindall
Contemporary Japanese cuisine with whispers of Korean flavours and charm from around the world are delivered from the kitchens of Akira Back. Conceptualized by celebrity chef Akira, who was born in Korea, raised in the USA and sports a comprehensive resume of work in celebrated Japanese restaurants around the world, the menu and setting are evidence of the chef's international upbringing and experience.
Akira Back Singapore
Akira Back is located in the happening culinary and entertainment strip of South Beach Singapore in the basement (not your typical dark no-light underground room but a vibrant well-lit setting encased by glass windows) of JW Marriott Singapore South Beach. Long communal tables, romantic spaces for two as well as booth seating for four to six provide plenty of seating options. Fantastic chandeliers resembling a jumble of deer antlers ending with individual lampshades illuminate with soft lighting. Framed art pieces by chef Akira's mother herself (!) and a long carpet reminding me of the work of Joan Miró contribute energy to the grey washed walls and floor.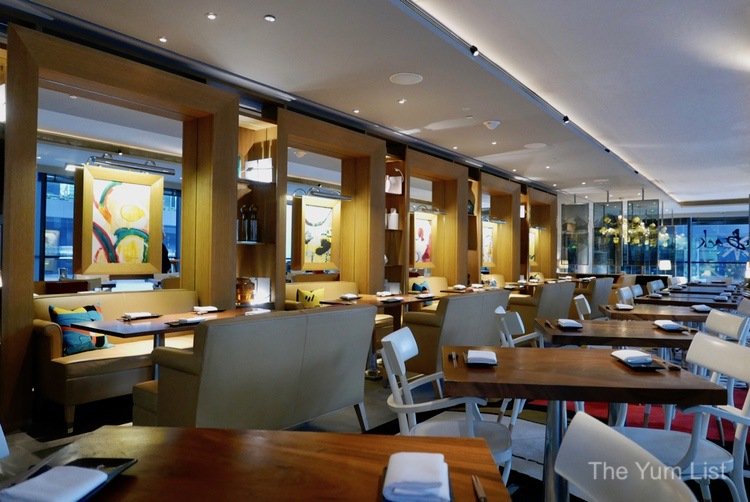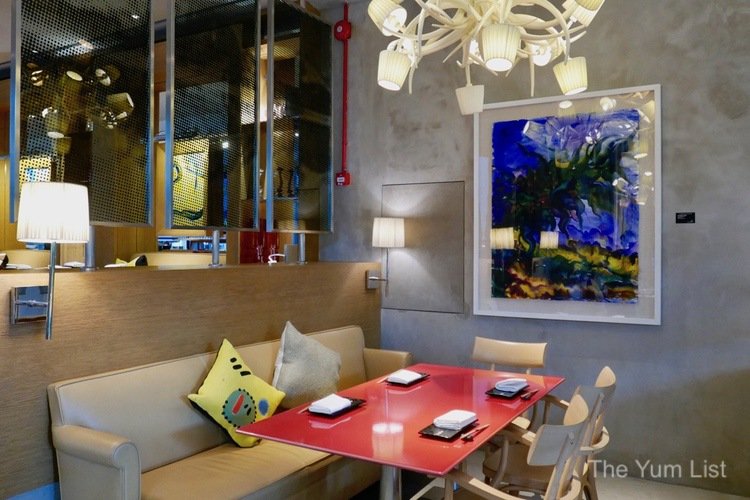 We're here to enjoy the weekend brunch menu, A Japanese Affair. The eight-course set menu sends out some standards and also allows choices for starters, mains and desserts. It's always a good idea to dine with two or more friends so that you can try it all (or I suppose you could also return on multiple occasions).
Akira Back Brunch – A Japanese Affair
Restaurant Director, Vincent Tan, greets us with a complimentary bottle of Prosecco. When ordering two of Akira Back's brunch sets guests receive a bottle of Italian bubbly. It's just right for a weekend brunch. A bottle is enough to take us through the meal and, unlike a free-flow experience where we feel the need to get our money's worth and end up overindulging, we have a pleasant experience and are still standing to enjoy the rest of the day. Zardetto DOC Prosecco Extra Dry is unusually dry in profile for a sparkling from this region. The fizz is not too aggressive and it's light and clean in the mouth with sufficient weight to carry us across the entire menu.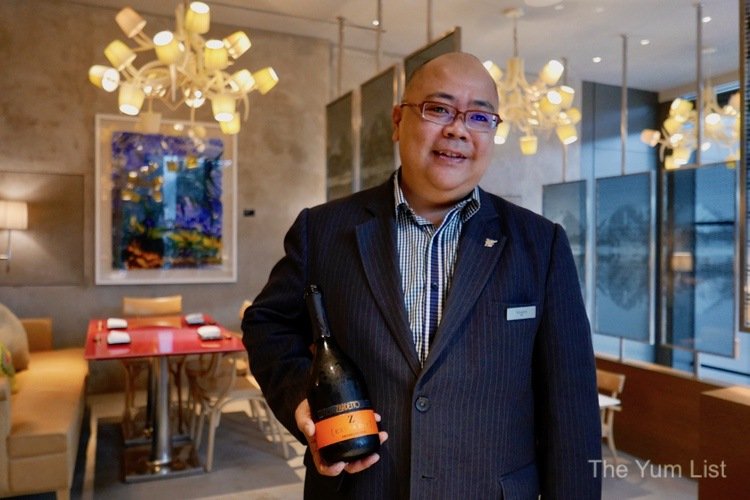 Akira Back Menu
Our Signature
Sous chef Bobby, from Korea and the first Akira Back in Seoul, presents the dishes and walks us through each course. Akira Back is known for its pizza and the toppings for today are tuna and mushroom. The base is a wafer-thin crispy wheat tortilla and umami aioli. Delicate slices of tuna and king oyster mushroom sashimi are sprinkled with micro shiso, drizzled with truffle oil and strewn with Maldon sea salt. They're delicate mouthfuls, paying a nod to the elegance of Japanese cuisine with a western spin. (For an extra charge you can get the chef to shave fresh black truffles on top.)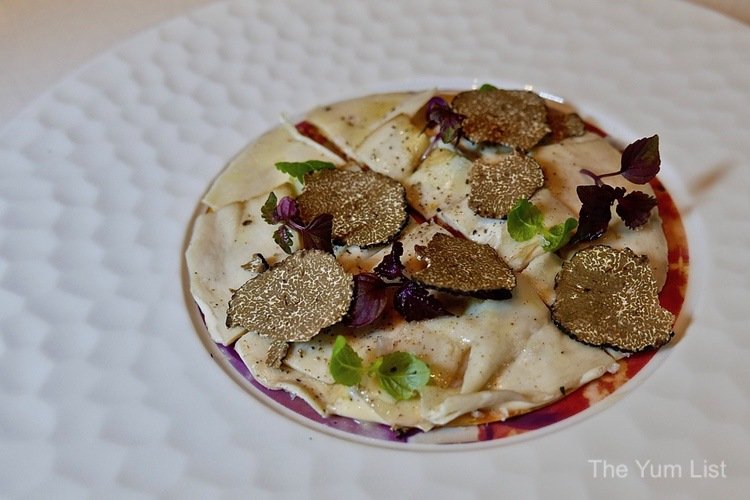 Zensai
Soup and salad change weekly. Today's root vegetable salad with ginger balsamic dressing is crowned with deliciously smoked daikon radish and teeny tiny purple and yellow flowers. The clear dashi broth is packed with flavour (it always amazes me how much taste can be packed into a clear soup), filled with clams and tiny cubes of mushrooms float on the surface. The soup is warm and comforting and feels as though it could cure a cold; the salad is superbly fresh and crunchy.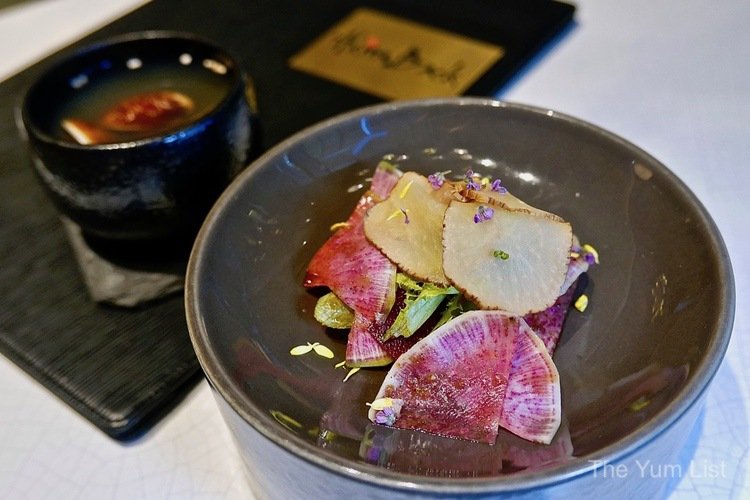 Sakana
Sakana presents a choice of sashimi or sushi. We like our fish unadulterated and so fish solo is our order. Yellowtail, salmon, tuna, octopus, eel and omelette are stunningly presented atop a ceramic bowl of ice complete with hand-carved ice sculptures. Garnishes of bamboo, shiso leaves, sweet plum, radish chopped with yuzu peel and wasabi add some adornment as well as some edible components. The sea creatures are sublimely fresh and so the trimmings are not necessary – although that radish with yuzu does make a fabulous palate cleanser.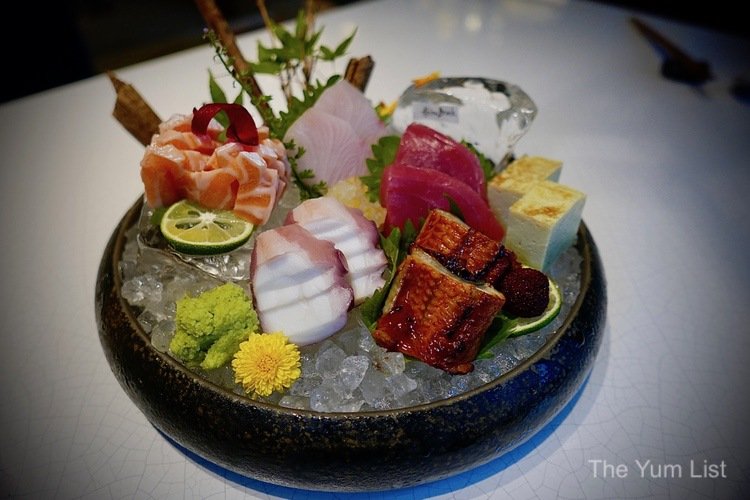 Agemono
The pottery basket of tempura is hot from the fryer. Both vegetarian and ocean delights are coated in a light batter and make perfect dipping for the tendashi sauce mixed with grated radish. Sweet potato, eggplant, shitake mushroom, prawn, white fish and soft shell crab are a generous serving, yet we manage to polish them all off.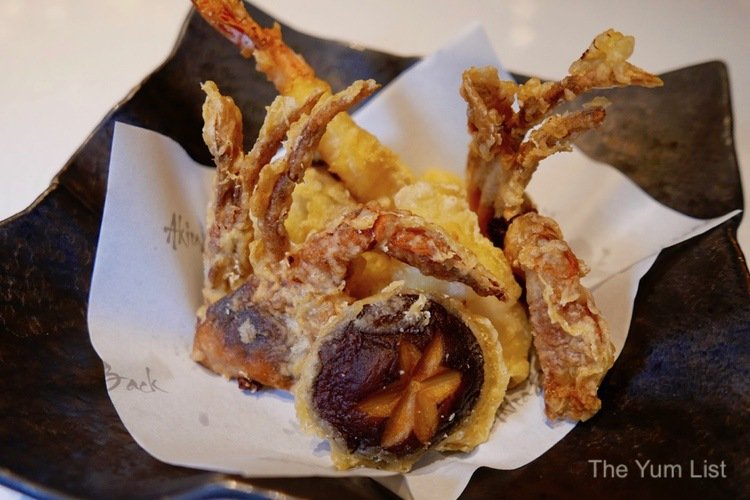 Okuchi Naoshi
Vodka lychee granita and raspberry sorbet act as palate cleansers before the main. The granita is just as a between-courses dish should be – mildly flavoured and fresh removing remnants of the previous dish and preparing our mouths for the main. The sorbet is what is often found in contemporary restaurants and mention-worthy as a dish in itself. For some, it might be better suited as a dessert but for others, it's a fun fruity change to cross the bridge to the principal plates.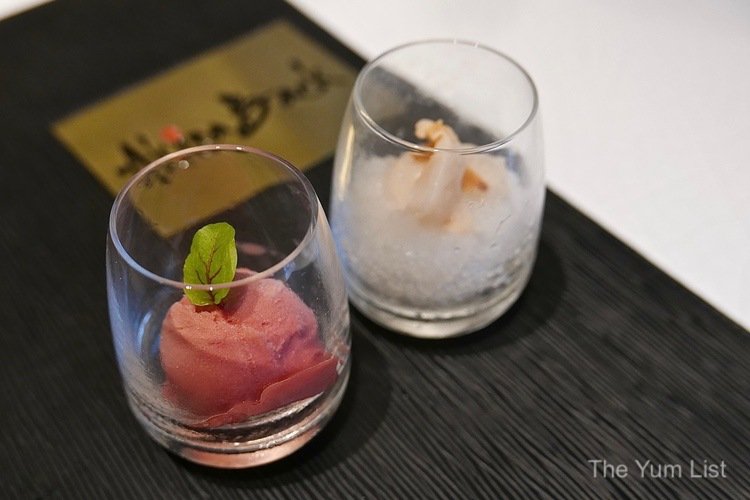 Main Menu Akira Back
There are four mains to choose from: Hamachi Kama; Chirashi Donburi: Spring Chicken and Rib Cap Tobanyaki. Japanese amberjack is my choice and hubby goes with the beef.
The fish is simply char-grilled with salt and pepper. Large, sweet flakes are high in fat content and a squeeze of the lime alongside the crisp mesclun mix with ginger balsamic dressing provides the perfect balance. Hubby's meat option is sous vide and flambéed just before serving on a hot ceramic plate (toban yaki) with sautéed vegetables and shaved leeks. The beef is rich in flavour both naturally from the cut and also as a result of the ponzu sesame oil, amasu and umami sauces. "Incredible. Delicious," confirms hubby.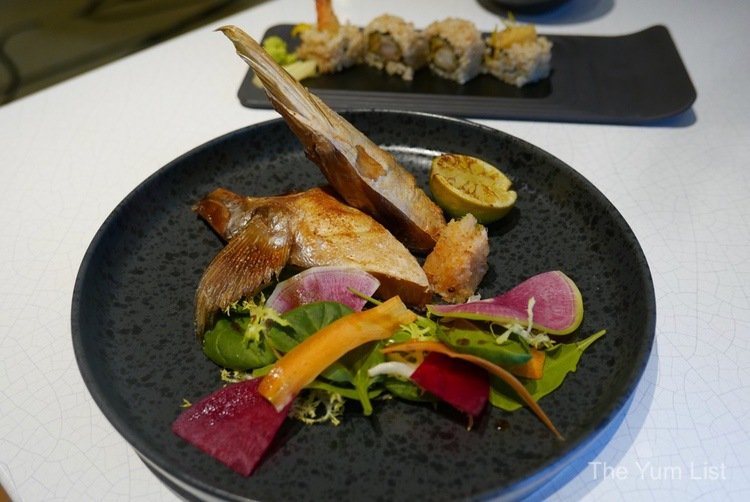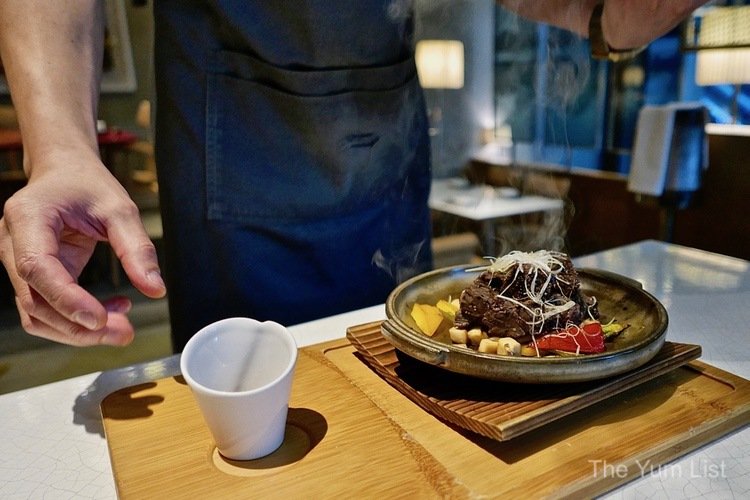 Garlic Fried Rice or Hosomaki Roll
The great thing about dining in pairs (or larger groups) is that you can try more options across the menu. Here we get both the rice and the rolls. Hosomaki rolls are filled with prawn tempura cucumber and pickled radish, and tumbled in sesame seeds and bonito flakes. The short-grain fried rice is kept simple with garlic, chives and sesame seeds. Both are made with brown rice giving them a healthy touch and also an appreciated nutty savour and texture.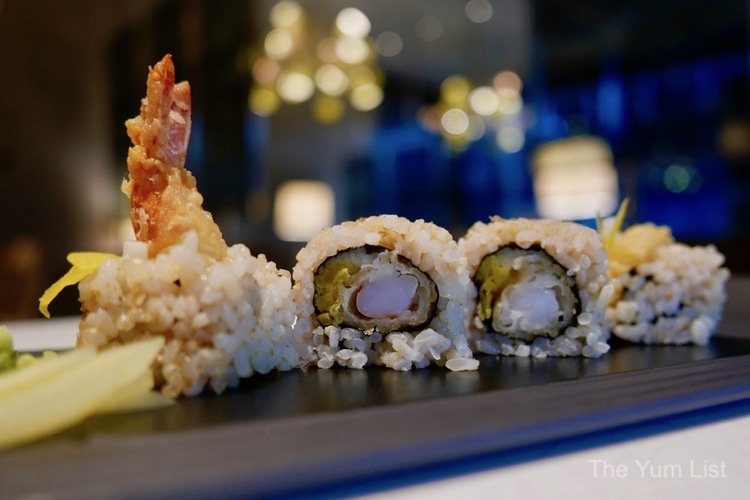 Mizumono
Pastry chef, Shu Pei Koh, presents the desserts. Matcha is the very green sweet with matcha sponge, matcha chocolate ganache and matcha ice cream. Fresh raspberries break up the greenery and the tea topping is also parted with an artistic swirl of pink. I struggle at first to recognize the pannacotta. Tradition is challenged in Akira Back's Amande version with carrot chips, caramel nuts, cherry compote and dots of yoghurt concealing the pannacotta base. The coverings furnish texture and tang contrasting the velvety bottom but almond and double fermented chocolate through the cream also supplement another layer of complexity.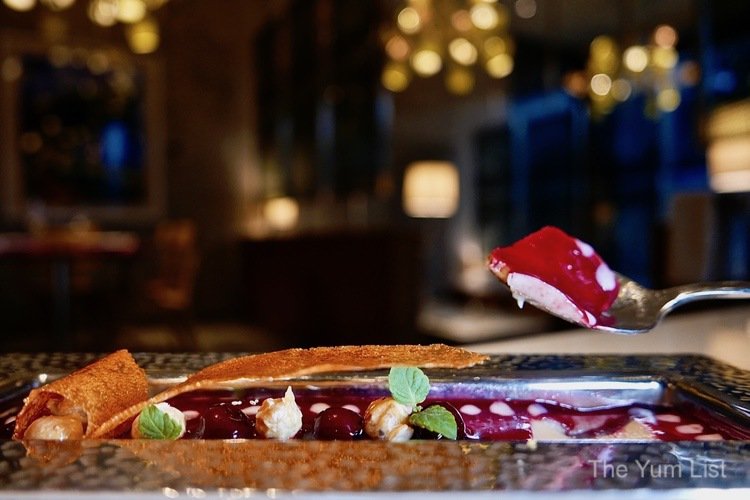 Akira Back Singapore Review
It's been a fabulous meal. Each dish has been constructed with meticulous care and the overall menu is well-balanced. The inclusion of a bottle of Prosecco livens up the line-up turning a delicious meal into a fun outing, well-suited to the weekend.
Akira Back Singapore Price
A Japanese Affair eight-course weekend brunch at Akira Black is priced at $98 per person including a free flow of hot or cold green tea and a bottle of prosecco for every two diners.
Reasons to have Brunch at Akira Back: a meticulously prepared line-up of contemporary Japanese cuisine; a well-balanced menu; complimentary bottle of prosecco for every two diners; stylish modern setting; a great leisurely weekend lunch option.
Brunch at Akira Back
JW Marriott Hotel Singapore South Beach
30 Beach Road, Access via Nicoll Highway
Singapore 189763
+65 6818 1888
www.akiraback.com
Akira Back opening hours:
Lunch: 12-2:30pm
Dinner: 6-10:30pm