Words: Monica Tindall
Photos: Rich Callahan
The newest bar on the KL cocktail scene brings meticulous attention to detail in handcrafted cocktails and boutique Japanese spirits to the city centre with a well-loved maestro in the industry, Sam Kinugawa, in the stylish digs of Bar Shake.
Bar Shake Platinum Park
Cool, clean and mysterious are my first impressions of Bar Shake in Platinum Park. A panelled wooden door opens to a dimly lit bar. Sparse light comes from tiny downlights and candles: it could be any time of day. Ornate carved wooden doors with semi-transparent panels allow a glimpse of the premium spirits behind. Leather stools are the studded bar version of classy grandfather recliners and promise comfy seating for hours on end. Elsewhere leather couches are partnered with low tables and there's a private room big enough for 10 people well-suited to a more intimate affair.
Head bartender, Sam Kinugawa (you might know him formerly from The Bar in Empire Damansara) describes the hidden bar as "a collaboration between a sushi restaurant and a cocktail bar." Next door is Sushi Ryu, led by KL's first Japanese sushi chef with Michelin star credentials – he earned two Michelin stars this year as the Executive Head Chef of Michelin starred Shoukowa in Singapore, before relocating to KL to open this new venture. Sam continues, "Most of the products here are Japanese," as he slides across the shelf door revealing a beautiful collection of Japanese gin. "Many are from tiny producers with a very limited production such as Kyo Ya with their yuzu gin to larger companies such as Suntory producing the much-beloved Roku gin."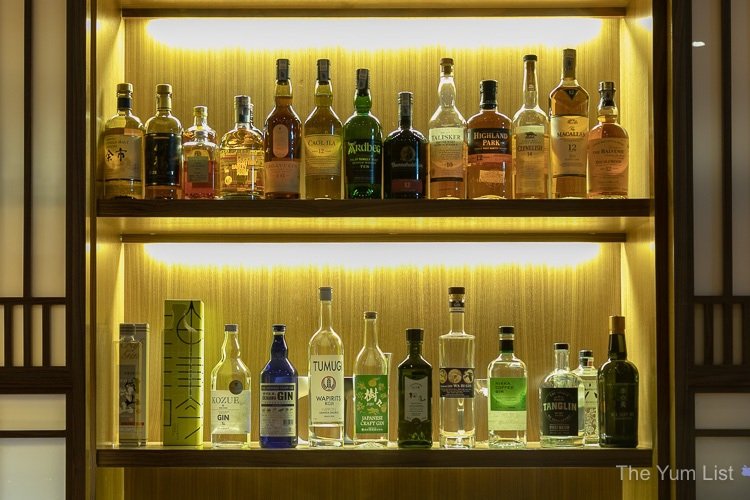 Bar Shake Menu
Sam is known for his sake and fresh fruit cocktails by which he hand-squeezes local fruits through a Japanese (cheese) cloth, and insistence on making as much as he can in-house such as ginger ale, tonic water and clear tomato juice (stay tuned for more on that later). He is also recognized for hand carving ice into cubes and chips right before serving. We're glad to learn that these haven't changed and begin with a signature sake cocktail.
Sake Cocktails
Seasonal Fruit Sake (RM45) is a seemingly simple mix of sake with hand-squeezed fruit. This version is with longsat, a fruit native to South East Asia, which is said to have many health benefits such as assisting digestion and improving skin quality. It can seesaw between sweet and sour so Sam judges the intensity of the fruit and adds or omits sherry as needed.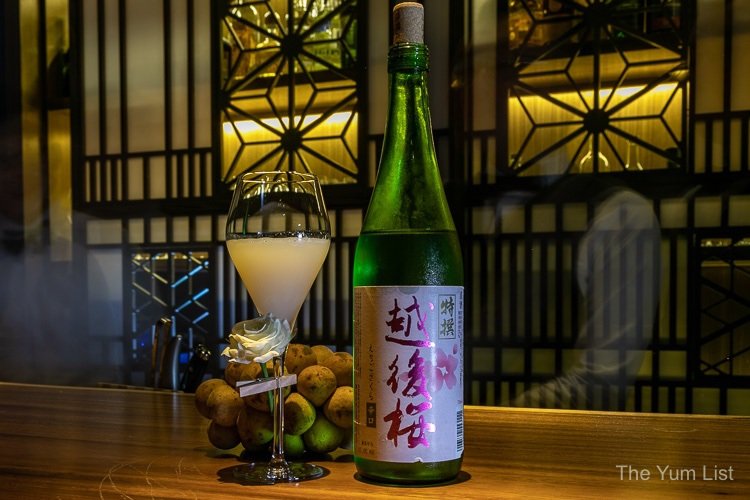 Homemade Cocktails
Moving onto less familiar grounds we try the Clear Bloody Mary (RM28). Made with Sam's house made clear tomato juice (Japanese Momotaro tomatoes cooked with basil, clams and seaweed powder), the traditional recipe is given a contemporary, transparent twist. Vodka has been infused with chilli padi for the kick, which is simply poured over ice with the clear tomato juice and garnished with a cherry tomato, a sprig of basil and a half rim of salt. The flavours come in layers: first entering mildly sweet then the sea components develop and finally the spice creeps in. This could easily replace the classic. I especially like the clean mouthfeel.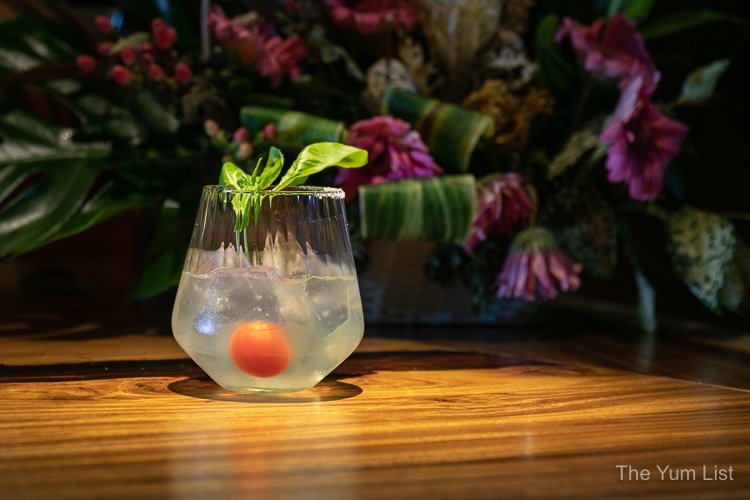 Martini Cocktails
Another classic is lushed up a notch or two with Sam's Truffle Martini (RM58). This gin-based cocktail is infused with black Italian truffles. Ideally, the infusion is for 45 days but we're a tad early in the development so the truffle notes are a little softer. Mancino Vermouth is added at about one-part Vermouth to six parts gin widening the palate even more. Lastly, it's finished off with a drop of olive oil making its own spherical garnish.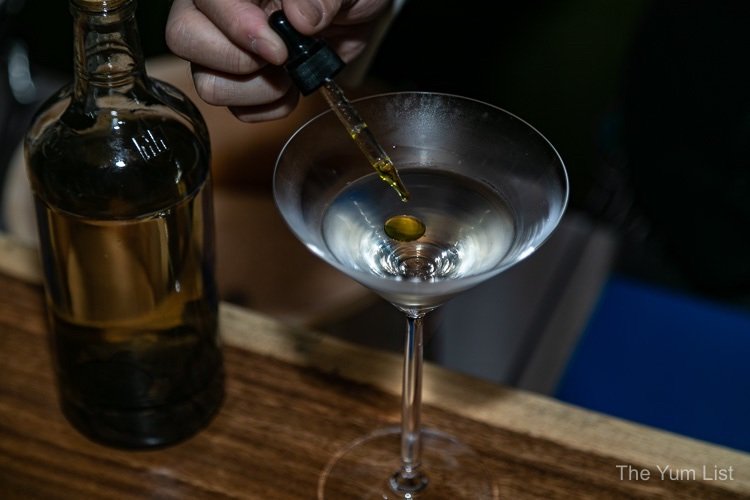 Aged Cocktails at Bar Shake KL
Cocktails from this section of Shake Bar's menu are from a French oak barrel that has been double washed, once with whisky and once with sweet sherry. Bar Shake's Old Fashioned (RM45) muddles chocolate bitters with a sugar cube. A block of ice is added and Japanese whisky is poured over the top. Zest of orange and lemon are smoothed around the rim and then added as a garnish. Don't stir it for a stronger edge or give it a good mix for a sweeter finish.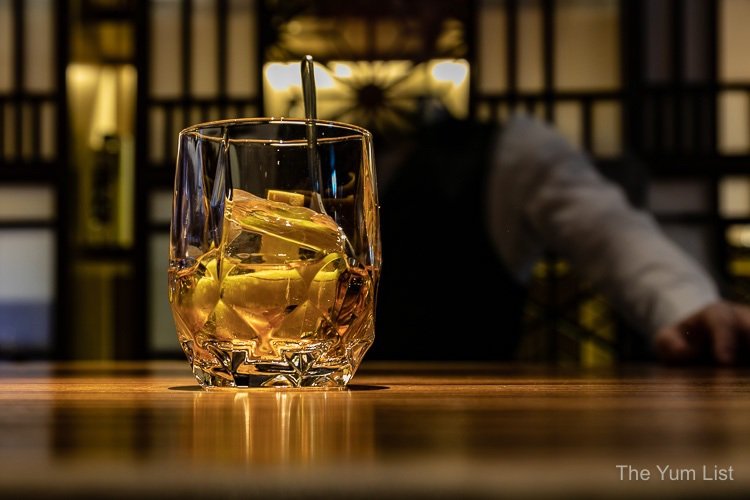 Vinegar Mocktails
Sam's insistence on making all he can in-house is showcased once again in the Strawberry Vinegar Mocktail (RM28), which is shaken and then poured over a cube of hand-carved ice. Rice vinegar infused with strawberries, orange juice, lemon and soda water combine to make a refreshing, fun beverage that leaves our mouths salivating for more. We try it in mocktail form but Sam tells that it can also be combined with alcohol and that rum makes a good mate.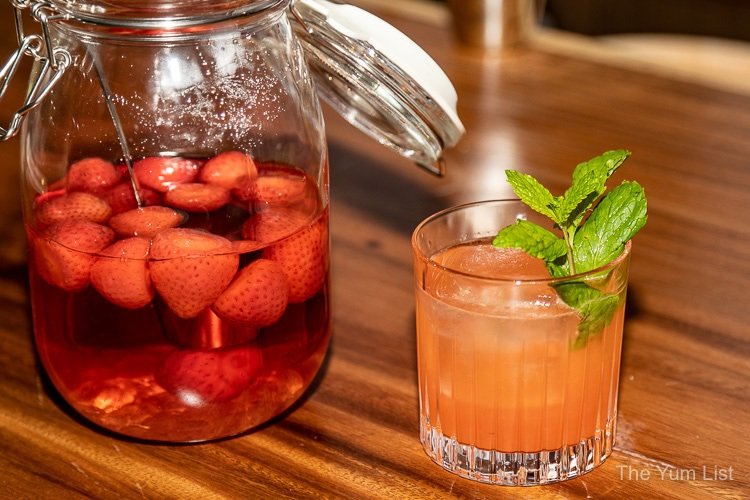 Bar Shake Platinum Park Review
Although Bar Shake in Platinum Park is all class in design, the vibe is one of easy casualness. It's a place where time disappears seeming to slip inside the technique of the bartender or infuse in the quality of the beverages; causing you to slow down and appreciate the details.
Reasons to visit Bar Shake KL: cocktails crafted with meticulous attention to detail; a quality selection of boutique Japanese spirits; cool hidden bar vibe; love the fruit vinegars; marvel at the care that goes into making a fruit sake; Bloody Mary fans should test their loyalty with Sam's clear recipe.
Bar Shake KL
Unit 3.3A, Level 2, Tower 1, Platinum Park
11 Persiaran KLCC
50088 Kuala Lumpur, Malaysia
www.facebook.com/barshakekl
Bar Shake opening hours
Monday to Friday: 4 pm-midnight
Saturday and public holidays: 6 pm-midnight
Closed Sunday