** Now closed.
Words: Monica Tindall
Photos: Rich Callahan & Monica Tindall
Looking for a departure from the confines of the office? A bit of fun in your lunch or brunch? The newly opened Bowling Club (formerly Bait) in The Intermark mall is conveniently located for a quick bite in between running errands, a heartier meal to energize for the afternoon, or long leisurely sipping and nibbling after work. With a retro feel inspired by American diners and old-school bowling alleys, backed up with a menu by one of KL's legends, Chef Logan Terence Lòpez, The Bowling Club is bound to please.
Rich and I check out the new digs and menu and find loads to satisfy our tummies and taste buds – so much so that we vow to return for Part 2. Chef Logan's signature style is to cook up meals bountiful in proteins and veg and lighter on the carbs providing diners with extraordinarily good value for money. You won't find mounds of cheap rice and pasta here topped with a few ingredients but rather quality proteins with carbs treated as more of a side than the main attraction.
Breakfast at The Bowling Club Intermark (10 am – 2 pm)
To begin we get a sampling of the signature morning bruschetta from the brekkie menu. Bruschetta comes with bean stew and your choice of egg – scrambled, sunny side up, omelette or poached. The selection includes wilted spinach with ricotta cheese (RM12.90); sliced veal with tuna topping (RM13.90); sautéed wild mushrooms with truffle butter (RM12.90); roasted beef pastrami (RM14.90); or foie gras pate with onion compote (RM14.90). With beans and eggs, the bruschetta is a nicely balanced brekkie option. My fave: the spinach and ricotta.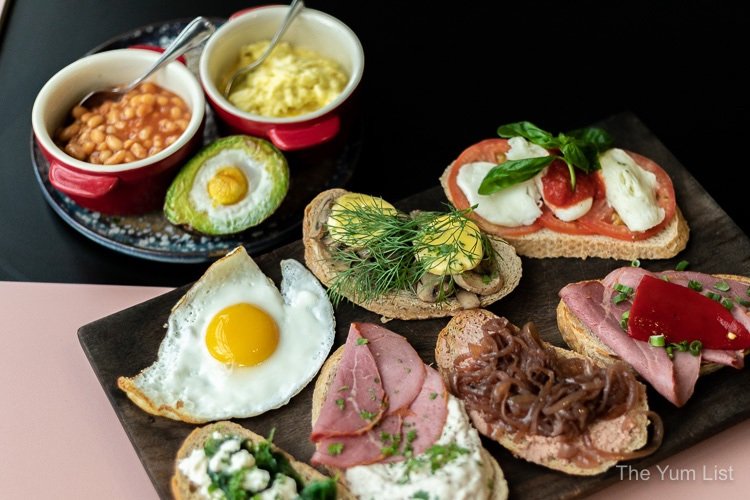 If you're looking for comfort, you can't go past the Big Breakfast (RM29). Veal bacon, beef pepperoni, roasted mushroom, garlic, onion, capsicum and wilted spinach are pan-fried together and crowned with an onsen (sous vide) egg with hollandaise sauce. Available all day, it's superbly tasty and a perfectly viable option to have breakfast for dinner.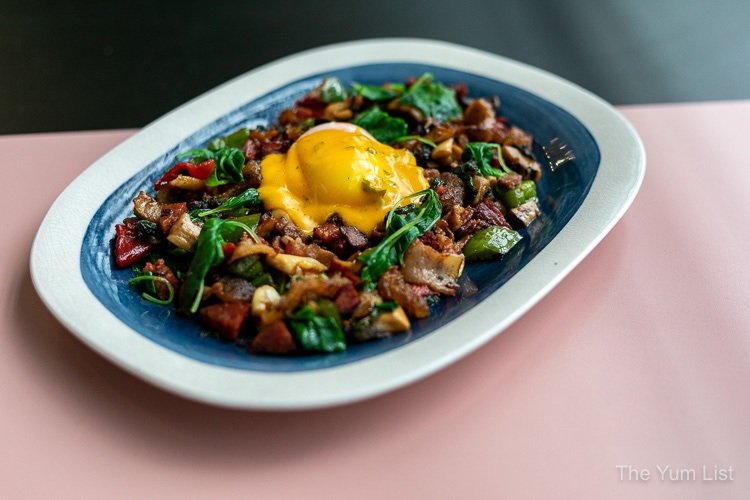 Croque Monsieur (RM25) attracts immediately with a poached egg and melty cheese sauce seductively drizzled over the top. Inside three layers of toasted brioche, there's beef pastrami, boiled turkey ham and yellow cheese and hollandaise. You are bound to make all of your friends Insta-jealous with this one.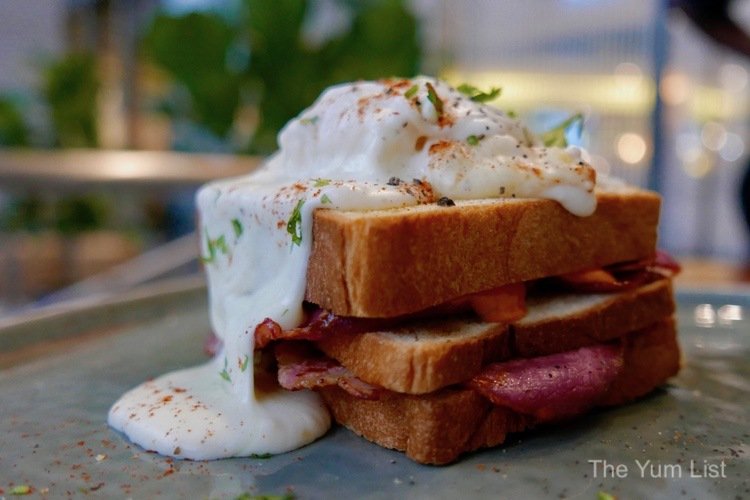 Salad
For something filling yet healthy, the Cobb Salad (RM23) is ideal. Lettuce halves, edamame, pine nuts, olive tapenade, sun-dried tomatoes and melon cubes are seasoned with a scrumptious buttermilk dressing. Veggie bacon (it's not really called that I just made it up) – thinly sliced carrots deep-fried – add a nice crunch to the mix.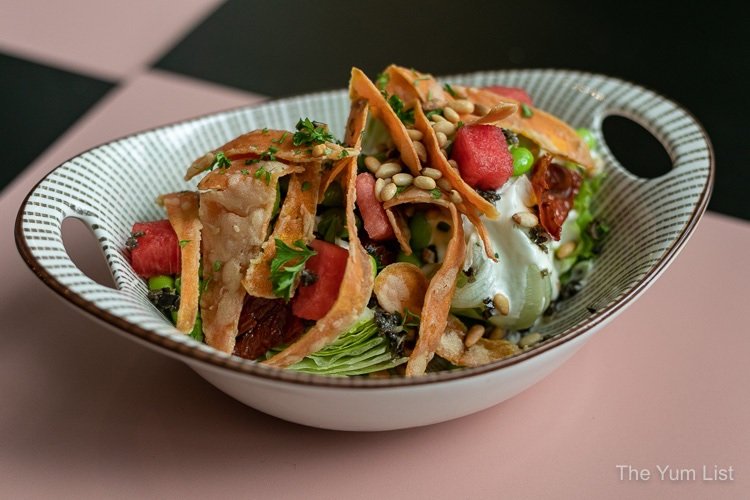 The Bowling Club Menu – Mains
Cleverly named, The Bowling Club Sandwich (RM30) is a hearty tummy filler. Crispy Dutch milk-fed veal bacon, turkey ham, egg, lettuce and slices of Momotaro tomatoes fill the triple-decker. A Parmesan crisp and lightly-herbed sweet potato fries bulk up the serving.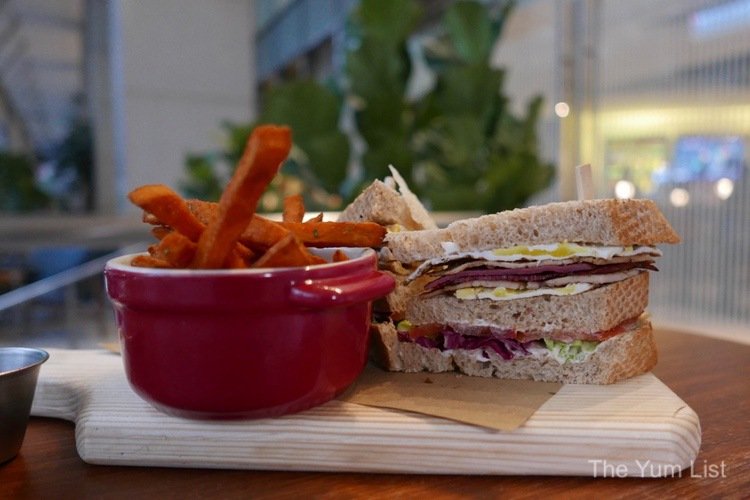 We've had chef Logan's squid ink paella before but this is our first taste of his Paella Valenciana (RM59). Served in a large paella pan, saffron-gold grains of rice are filled with long beans, mussels, clams, prawns, braised chicken and red pepper. A little pot of aioli and fresh lemon wedges add tang to your liking. It has the signature chewiness around the edges where the rice has become caramelized around the pan – yum!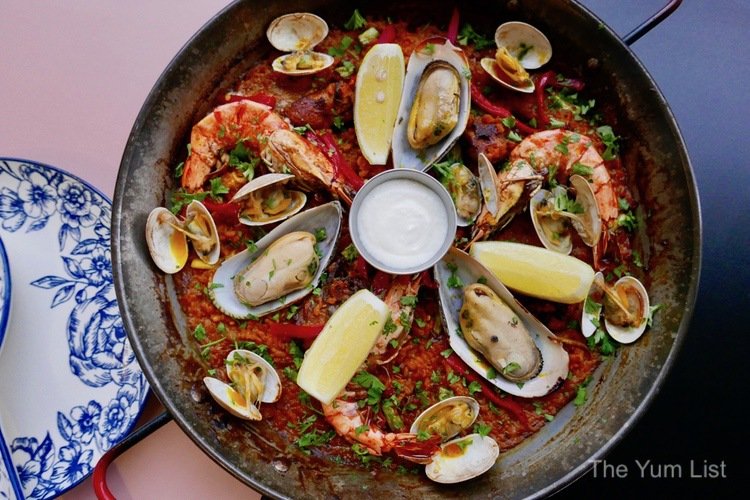 Flatbreads at The Bowling Club
Flatbreads have fast become a fave with people at the bar and the Funghi al Clasico (RM35) is a plant-based choice. White mushrooms, black mushrooms, wilted spinach, feta crumbs and semi-dried tomatoes make for a flavoursome pizza that goes very well with a glass of New Zealand Steinlager Pure (RM20).
Sides Menu The Bowling Club Intermark
What seems a little more than a side is the 1/4 Bird Crispy Fried Chicken (RM26). Soaked in buttermilk, sea salt and lime juice, every bite is packed with flavour. Louisiana sauce – a bit sweet, a bit vinegarish – is perfect dipping.
Dessert Menu The Bowling Club Intermark
For dessert, you must order the s'mores, but they're not just any s'mores, they're Sizzling S'mores (RM25). Vanilla marshmallows, crispy chocolate crumbs, chocolate ganache and Nutella are baked in the oven getting the insides all nice and melty. They're then torched over the top to caramelize the edges. It's one sticky, gooey, mess. Spoons are unstoppable, friends are now competitors: I advise to order more than one.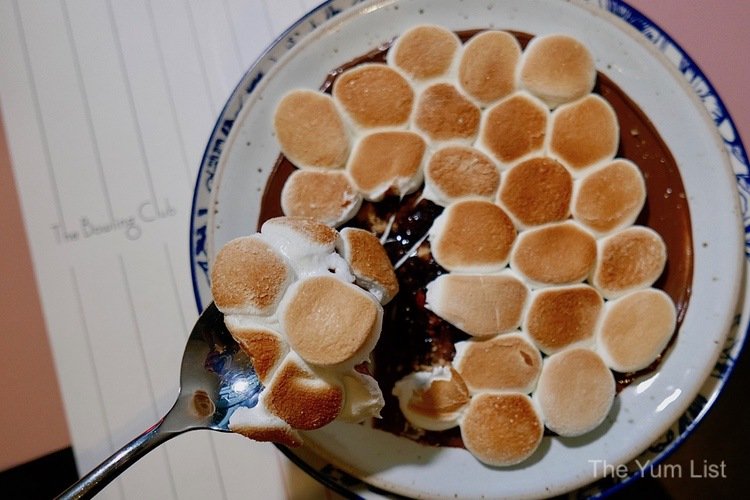 The Bowling Club Intermark Drinks
Mirroring a US diner, the drinks menu offers milkshakes and smoothies to bring out the best of Americana. There's a small selection of table-style wines, whisky and a handful of classic cocktails. Beer from New Zealand, Steinlager Pure (RM20 or five for RM79), is light and refreshing, and Peach Sangria (RM30) with white wine, Grand Marnier and peach halves, is a fine choice for a hot afternoon.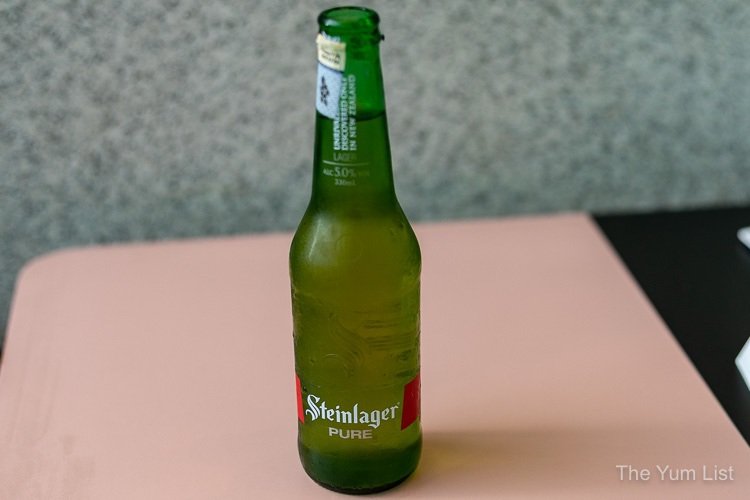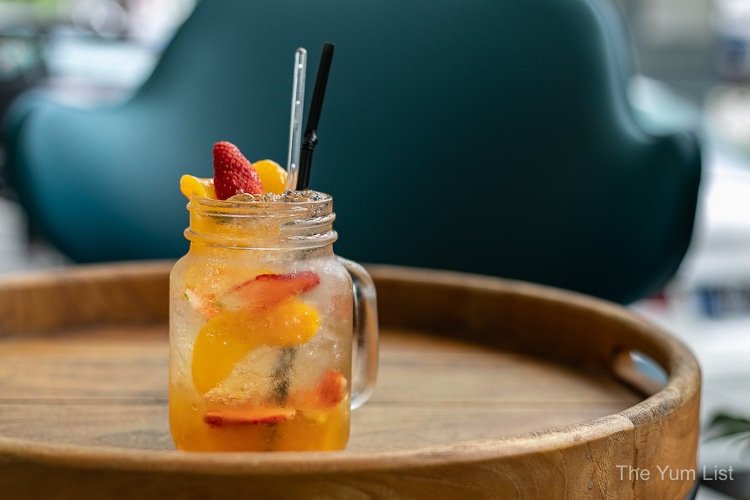 The Bowling Club Intermark Review
A vibrant setting backed by a good value menu makes The Bowling Club at The Intermark mall a great choice for brekkie, lunch, dinner or drinks.
Reasons to visit The Bowling Club Intermark: fun setting; excellent value bruschetta brekkies; a solid paella; flavoursome flatbreads; sweet tooths shouldn't miss the sizzling s'mores.
The Bowling Club
348, Jalan Tun Razak
Kampung Datuk Keramat
50400 Kuala Lumpur
Malaysia
www.facebook.com/thebowlingclubkl
+6 03 2181 1268
*Pork-free
Weekend Deal: weekends kids under 12 eat for free when dining with an adult who orders a main.
The Bowling Club Intermark opening hours: daily 10 am – midnight