Monica Tindall
When I first wrote an article about speciality coffee roasters Kuala Lumpur back in 2015 there were just over two handfuls of local KL roasters worth noting. Three years later, the numbers have exploded with the originals continuing to sharpen their craft and an outstanding number of newcomers beginning to commercialize their beans. Spoiled for choice, we discover the best coffee beans for espresso as well as filter method here in an update on some of the most respected coffee roasters in KL.
VCR was first established as a café in October 2013 and quickly became popular amongst Instagrammers for its charming setting and eye-catching menu. With a team continually focused on providing the highest quality of product by doing everything they could in-house, it wasn't long before they expanded and began roasting their own coffee.
Today, speciality coffee is at VCR's core with a strong emphasis on espresso-based coffee, complemented by various expertly executed hand-pour brews. Ensuring they get the top pick of the beans from around the world they personally travel to the World Coffee Event every year getting the first selection of green beans before they are released to the wider market.
Their roast is targeted to the taste buds of the mass-market with chocolate notes in coffee roasted for milk, and fruity notes for black beverages. They place an emphasis on roast consistency desiring customers to enjoy the same quality experience every time they return. Being at the top of their game in coffee though, they do have select single origin beans rotating seasonally for the true aficionado. Try a cup in-house at either the Jalan Galloway or Bangsar outlets or take some home for yourself.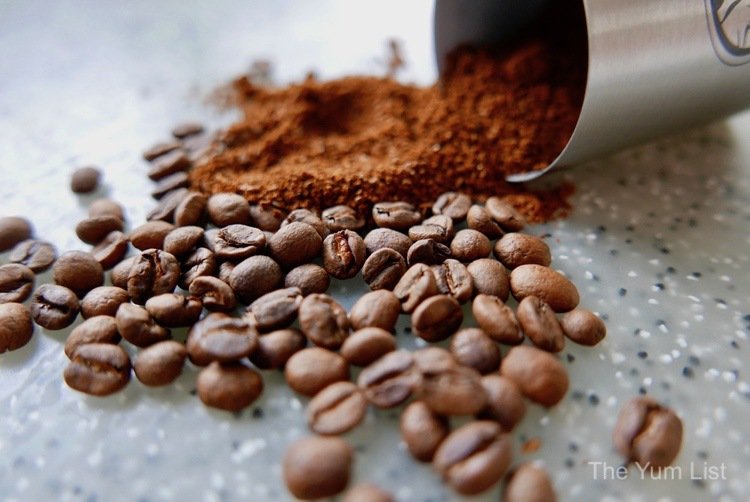 JWC Roastery is a micro roastery born out of passion and perseverance to attain the best from seed to cup. The team aim to distinguish, select and import the best coffee from the most interesting origins around the world (including some interesting beans grown locally here in Malaysia) in order to "enrich your sensory adventure."
JWC stands for Just Want Coffee and was founded in 2009 in Johor Bharu. They quickly expanded, currently running five cafés in Malaysia (four in JB and one in Puchong) and run all ends of the business from roasting to training and consulting. They are also the proud home of the Malaysian latte art champion for the last three years.
From their roaster, we try Colombia La Esperanza (RM220 per kg), one of the team's current faves. This natural coffee, grown by the famous coffee producer Granja La Esperanza in Caicedonia, Valle del Cauca region of Colombia between 1500-1700 meters above sea level, is a Catuai varietal. Unlike common Colombian coffee characteristics, this one is big, fruity and floral. We get notes of mango, passion fruit, white grapes and honeycomb followed with a medium to high body and very smooth mouthfeel. This "omni" roast is good as both espresso and filter.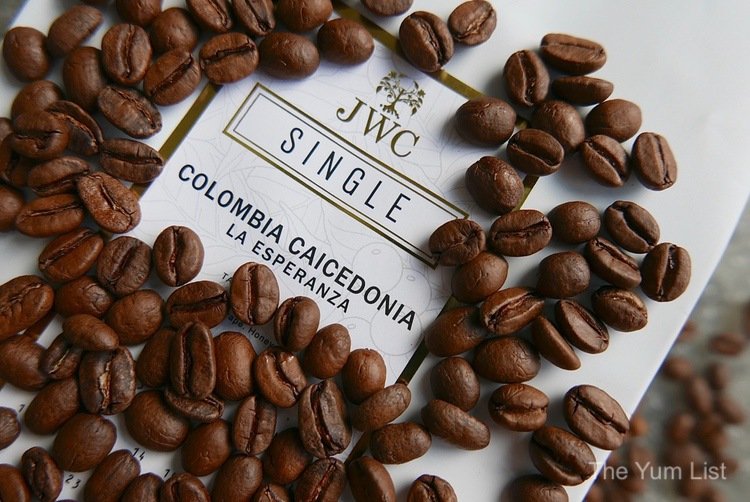 Opening not quite two years ago, the Italians behind Ra-Ft KL sought to create a blend that was great to drink as an espresso but that would also stand the sweetness of milk. The team tell stories of repeated failures before finally coming up with the precise combo they were looking for.
Made with five different beans from around the world, the Ra-Ft Blend is a dark roast of Central and South American beans (Colombia, Guatemala and El Salvador), which are perfect for espresso, along with the trending and medium roasted Indonesian beans (Mandheling and Java), which are well known for their high-quality acidity ideal to be enjoyed with milk.
To achieve the desired results, the five are roasted individually to bring out the best of each bean before being mixed, creating a blend that is as equally good with or without milk. A 1Kg bag of the Ra-Ft signature blend is RM159, and a 250g bag is RM42.  Bags can be picked up from the café itself or bought online via www.ra-ft.com/our-coffee. Free delivery is gifted for orders of 1Kg and above.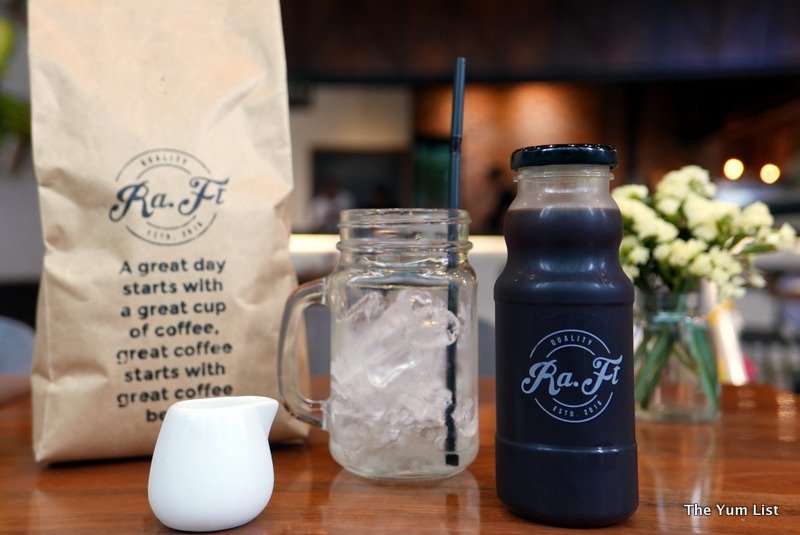 After running The Owls Cafe & New Chapter by The Owls Café for some time, founder Thomas Ooi decided that it was time to craft his own coffee. Noting the passion that goes into every cup and the craftsmanship expressed in each beverage, the team forged on to create opportunities to romance people into the "delicious world of coffee."
Founder Thomas Ooi, roaster Chriss Tan and wholesaler Michael Tan believe that "there is always a better cup of coffee." With that motto, they make constant refinements to their roasts and look at the complete experience when crafting their brews. From flavour, fragrance and mouthfeel to the conversations and interactions that go along with every cup, they are continually seeking ways to improve.
We try their Owlsome espresso blend (retail RM120 per kg) of seasonal beans (this season it's a medium roast of Guatemalan and Brazilian beans) and find a bold, chocolaty, nutty and sweet balanced cup going well on its own as espresso/long black or with milk. Coffee can be picked up at any of these cafes: The Owls Café, New Chapter By The Owls Café, The Owls Cafe @ One Space or Burung Hantu or by contacting the wholesale manager at [email protected]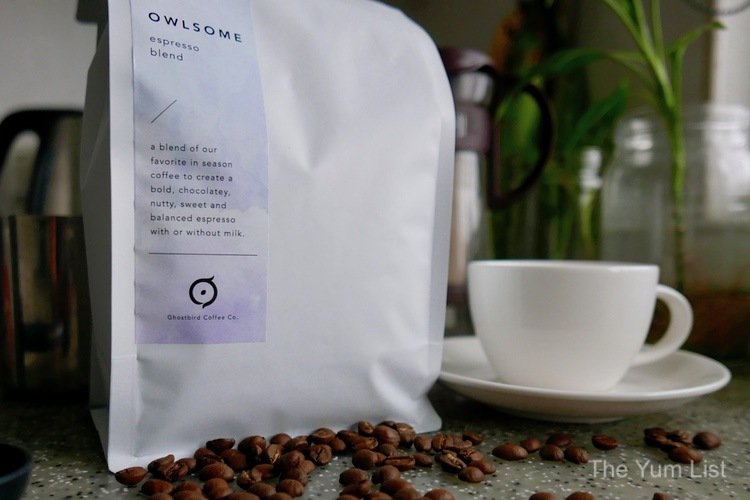 Brew & Bread is a quality-focused boutique roaster dedicated to serving speciality grade coffees. Priding itself on offering a myriad of exceptionally high-quality coffees featuring small-lot origins from Latin America to Africa to Asia, KokThong (lead of the brand) is constantly travelling to different producing regions sourcing unconventional and the best green beans.
With a vast array of accreditations in their team (ranging from SCAE Barista, Brewing, Grinding, Roasting and Q-Grade) and a stellar track record of more than five years in the industry, they are confident in applying their artisanal skills to all of their produce especially in the roasting fortress where Jian takes the helm.
They believe that coffee should be more than just a quality beverage, it is also a portrait of one's lifestyle. Their core concept is to unite the very best of craftsmanship and lifestyle, especially for those with an acquired taste. One kilo of their coffee retails for RM148 and 250g goes for RM48. Orders can be made here or here or by calling +6 018 208 1588.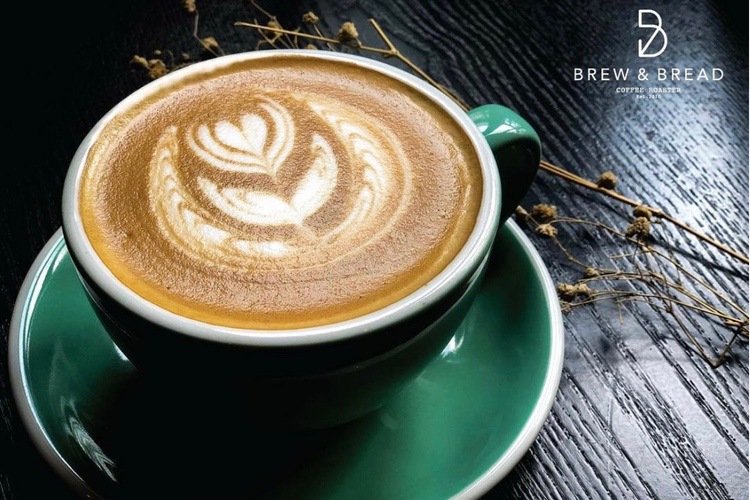 ALTITUD3 is an independent commercial and speciality roastery that prides itself in crafting distinctive "truly Malaysian" blends. With over 25 years of combined experience in roasting and F&B, they have an extensive background in coffee. They are passionate about making sure that everyone enjoys the perfect cuppa, so they don't only supply beans but also work to ensure that their clients have everything they need to serve a good coffee. They provide consultancy services to wholesale buyers (such as KHATULISTIWAH) where they help develop their own customised coffee blends and also provide other cafe management services such as assisting in cafe setup, equipment, operations training, branding and marketing support.
We try three of their current blends. Rajawali, a blend of Guatemalan Huehuetenango, Ethiopia Yirgacheffe, Sumatra Mandheling and Peru Botijas is smooth with a medium to heavy body, strong dark chocolate notes and a mild berry-like acidity finish. Murai Batu combines Guatemalan Huehuetenango and Indonesia Lampung for The Kopi "Kaw" blend, which is bold and earthy with a caramel sweetness and nutty undertones. Lastly, Pekaka Api, made with Ethiopian Yirgacheffe and Indonesia Lampung is known as The "Wild Card." It sports complex flavours of soft floral, berry undertones given by the Ethiopian Arabica and bold and robust accents gifted by the Indonesian beans.
ALTITUD3 beans can be purchased online via www.altitud3.asia or contact the team directly – Jit Kiang  ([email protected] | +6012 449 1601) or Aimann ([email protected] | +6011 3710 5710)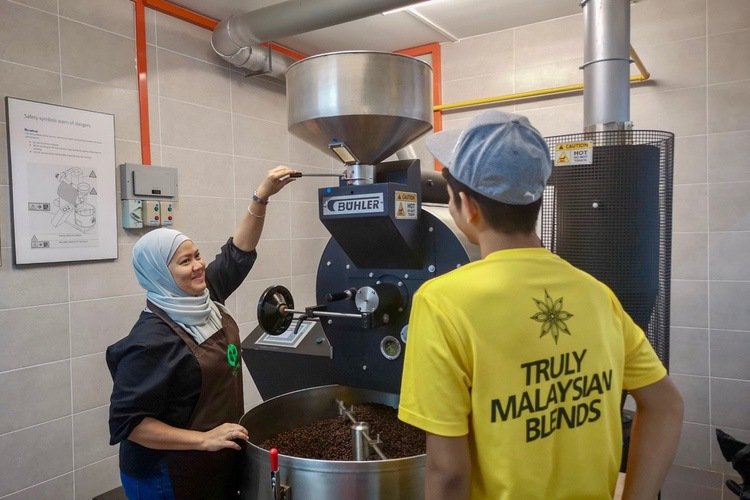 A common thread we're seeing with local coffee roasters in Kuala Lumpur is the insistence on elevating the profile and appreciation of premium coffee in Malaysia. RGB aligns with this goal but takes its own distinct route. While their primary source of beans come from South America and Africa, the team at RGB look closer to home to the emerging coffee bean growers of Asia, especially from the Chiang Mai region, also increasingly picking up supplies from Indonesia and recently some interesting beans from Laos.
The team at RGB find that Indonesian beans have a fuller, earthier, spicier profile (quite close to wine notes really), compared to South American beans, which tend towards more chocolate and nuts and Ethiopian, which tend towards strong floral and citrus notes. RGB prefer a medium to dark roast, where many of the other micro-roasteries in KL roast on the lighter side. They like full caramelisation to maximise the sweetness of the coffee and fully develop the bean.  While they do some single origins that work well as filter coffee, the majority of their beans are targeted towards espresso drinkers.
While Asian coffee production is slowly raised, the team at RGB continue to work with conventional coffee suppliers to bring the highest of quality to customers and by constantly experimenting with their roast. Coffee can be enjoyed in their café at RGB & The Bean Hive on Jalan Damai, their new outpost on the ground floor Lobby at GTower, or homebrewers can pre-order and take away bags of beans. Being one of the oldest roasters of speciality coffee beans in Kuala Lumpur, beans are, of course, also available for wholesale.
Most beans are priced at RM45/250gm or RM155/1kg (or 4 x 250g – buy 6 get 1 free) with the Misty Valley Organic Ethiopian Yirgacheffe at RM45 for 200g. This particular bean is roasted more for filter / pour over drinks to highlight the strong berry and floral notes.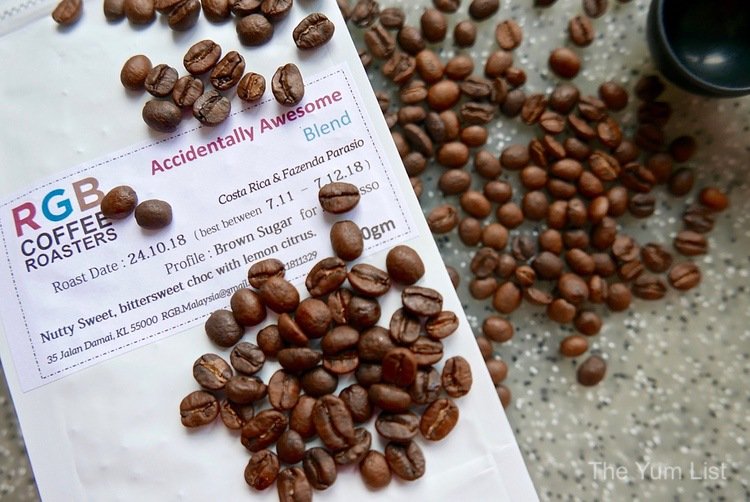 Love a good coffee but don't want to make it yourself? Check out our list of KL cafes here.