Monica Tindall
Imagine this.: A private table for two set up on an outcrop of rocks overlooking the Andaman Sea; a gentle breeze caressing the skin, fine Thai food filling the stomach, sunset views to die for and the warm hospitality of the Thai catering to your every whim. That is the Dining on the Rocks experience at Kata Rocks and what we've signed up for on the first night of our stay.
Tonight the weather has not behaved, however, so we are unable to "dine on the rocks" as planned. Every cloud has a silver lining, though, and with rain, there's cooler weather – a much-welcomed respite in the tropics. The staff are well-adapted for monsoon weather and have changed our location to a safer spot. We're still in a private setting, partially outdoors, but sheltered below the glass-bottomed resort pool. Fairy lights and candles softly illuminate our linen-covered table, which is adorned with a vase of red roses.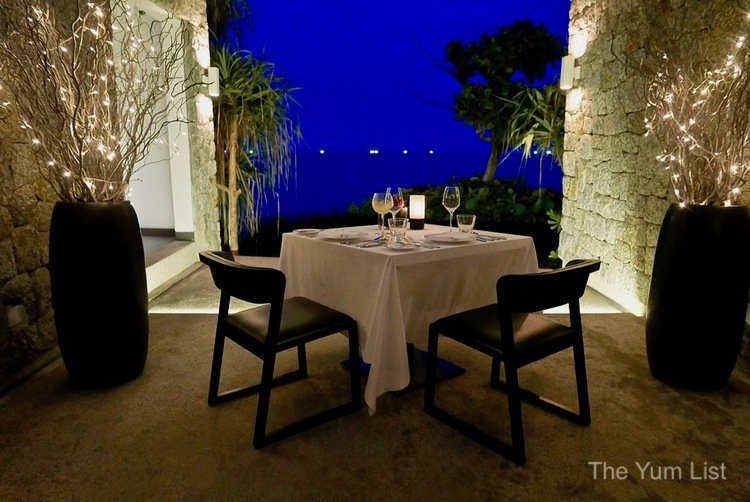 Dining on the Rocks, Cocktails
We kick off the evening with two KR Signature cocktails (THB390): Passion Fruit Mojito and Copper Rose. The first was a no-brainer as hubby is predictable in his mojito selection. Add passionfruit to the mix and there is no chance he will consider anything else. We both love that it's made with dark rum rather than light, Plantation Dark Original, alongside passion fruit, lime, cinnamon syrup, mint and soda. It has a little more depth of flavour than the classic and hubby congratulates himself on the order. The latter was suggested by our Rock Star, Nut, who thinks it will make a nice photo. Because of my sweet-cocktail-aversion, I'm a little hesitant with its ingredients of honey lemon-lavender syrup, pineapple juice and raspberry but Nut tells me he will make sure it tips more towards tangy than sweet. The vodka, lime and bitters do balance out the flavours, and Nut was right – who doesn't want to drink out of a copper pineapple on a tropical island?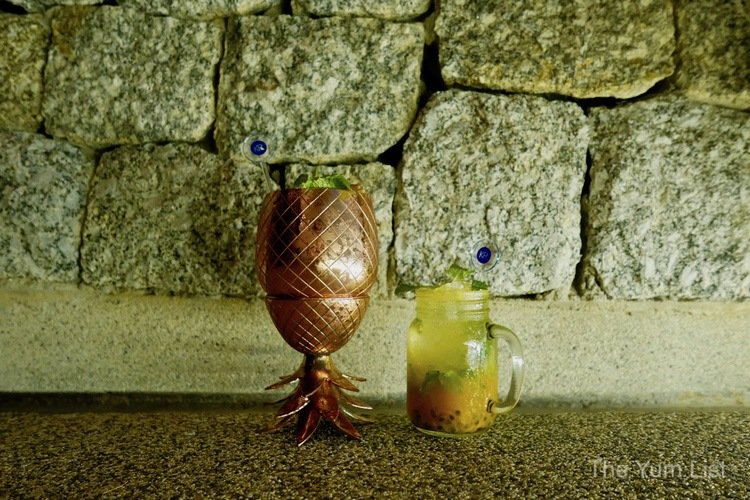 Dining on the Rocks Menu
As we're sipping on our cocktails, we nibble on a basket of bread with sourdough, ciabatta and focaccia. Olive oil and balsamic, butter and an olive tapenade are fine partners and it takes quite some self-control to not polish off the entire bowlful. Fortunately, Nut is on his way with an amuse bouche, which forces us to pay attention to the set meal before us.
Amuse Bouche
Today's amuse bouche is Goong Kra Bork – a prawn wrapped in deep-fried vermicelli noodles and topped with sweet chilli and mango salsa. "Mmm, mmm. It's beautiful," says hubby. I guess our meal is off to a great start.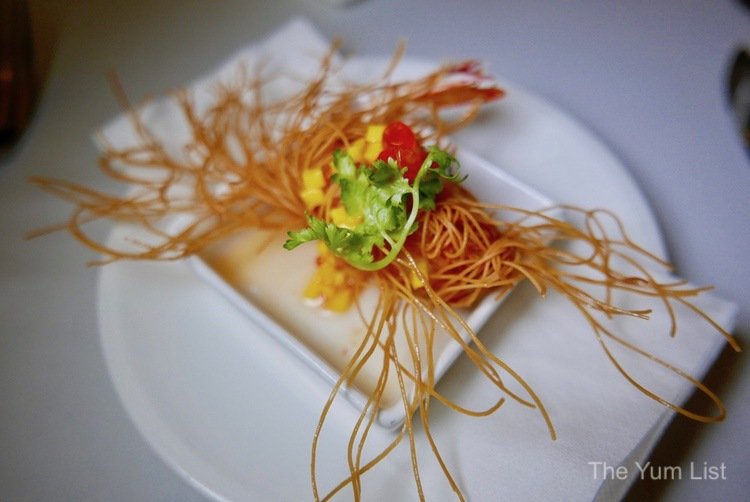 Starters
The starters confirm the seriousness Thai's take in the presentation of their food. Served on blue and white ceramics and garnished with a bounty of fresh herbs, both the chicken and the fish are highly attractive. Gai Hor Bai-Toey sees chicken deep-fried in pandanus leaves, which impart a faint vanilla-like taste to the dark meat. Tamarind sauce adds a touch of tang and black and white sesame seeds balance the flavours. Fresh vegetable spring rolls, Por Pieer So Pla Krob, with crisp fish are prettily presented alongside a sweet chllli sauce. The kick of the spice is softened with ripe mango making the sauce unstoppable dipping. While hubby's moans and groans are of happiness over the deep-fried chicken (he's taken five of the six pieces already!), my whimpers of joy are a result of the light and healthy rolls.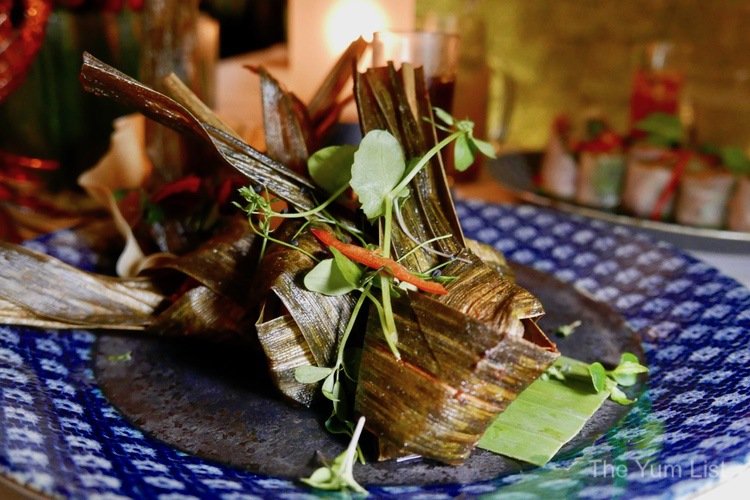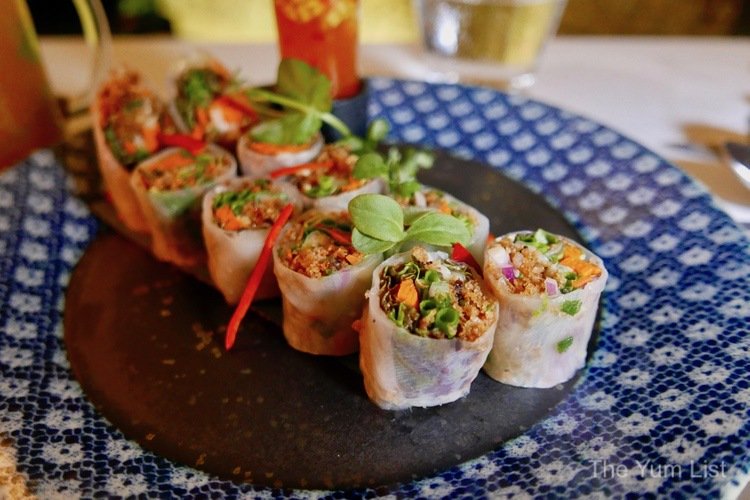 Soup
If you're going to have a Thai set menu, you might as well have the classic Tom Yum Goong Ma-Proow On. The traditional spicy soup is a wonderful mélange of flavours with two huge plump prawns topping off a broth with lemongrass, galangal, mushrooms and kaffir lime leaves served in a hollowed out coconut. The flesh from the young coconut floats in the soup taking some of the impact of the chilli. The chef has made hubby's mild, and mine moderately spiced, and we're thankful for the differentiation.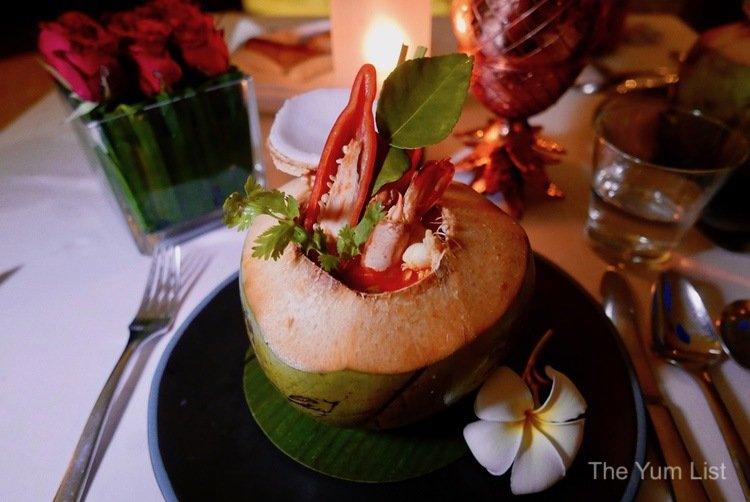 Main
Our mains come from the land and the sea with Chu-Chee Pla Salmon and Nuea Phad Bai Ka-Proaw. The fish fillet is pan-fried in a red curry paste with coconut milk, kaffir lime and red chilli. Again the perfect equilibrium is found with lychee counteracting the kick. The beef is superbly tender stir-fried Australian tenderloin (wagyu marbling 5) with chilli, garlic, oyster sauce and hot basil. It's another recipe I have to fork in for quickly as I can tell by hubby's contented murmurs that soon there won't be any left.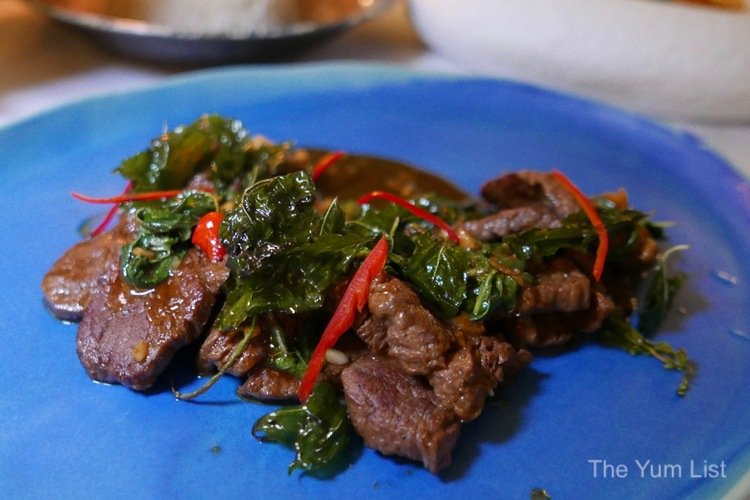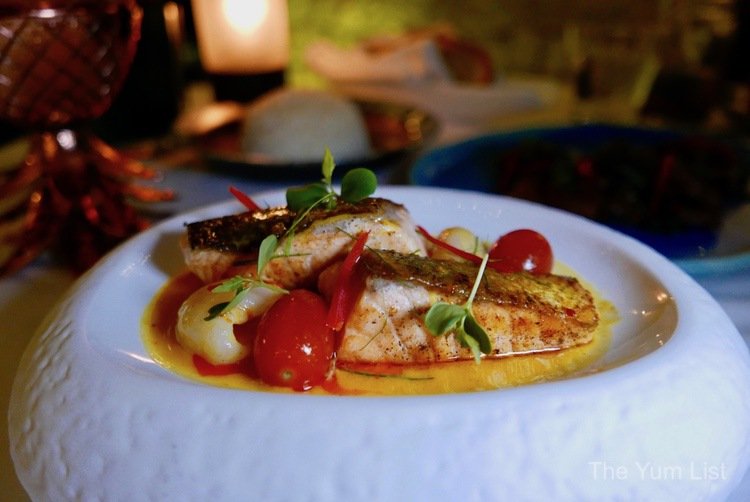 Dessert
The meal ends with a classic, Thub-Thim Krob. Thai ruby pearls (water chestnuts coated in tapioca flour and red colouring) float with fresh young coconut and crushed ice in coconut milk. Coconut ice cream is cool and velvety on top. Yum!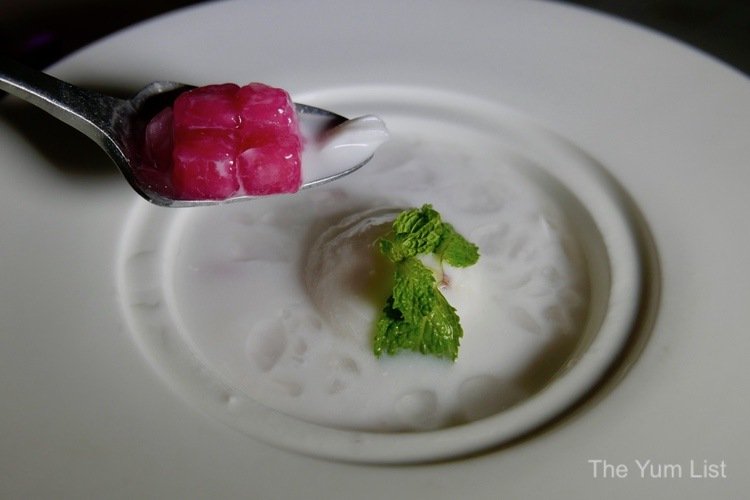 Dining on the Rocks Price
The Dining on the Rocks experience at Kata Rocks is priced at THB9000++ for two which includes two cocktails, the four-course set menu and a private setting.
Dining on the Rocks Review
If you're looking for a dining experience to woo a date or celebrate a special occasion, Dining on the Rocks offers good food, a private setting and friendly, kind service.
Reasons to experience Dining on the Rocks: when the weather behaves, a unique "on the rocks" experience – ideal for special occasions. When the weather is not so great, the setting is still private, the Thai food delicious, and the service heart-warming and kind.
Dining on the Rocks
Kata Rocks
186/22 Kok-tanod Road
Muang, Phuket 83100
www.katarocks.com
[email protected]
+66 (0)76 370 777