Words: Patricia Podorsek
Photos: Monica Tindall
For those of us who are Northern Hemisphericals, November is the month that ushers in the depth of autumn, unearthing the goodness of Mother Nature and the last of her bounty before the resting season of winter. This month, Skillet Fraser Place is pleased to showcase a harvest of new recipes, ones that capture the spirit of autumn, while remaining true to their signature fusion roots. Guests can enjoy a multi-course degustation or a more modest three-course version, offering choices from the starter, mains, and dessert options.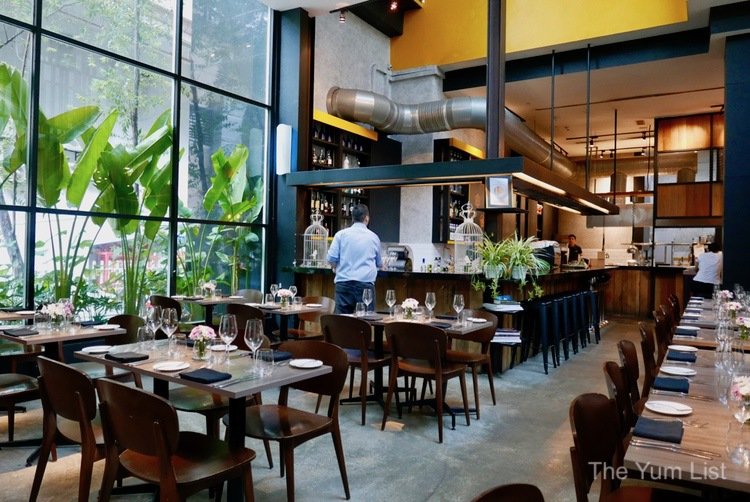 Skillet Fraser Place Menu – Autumn
Like any worthy degustation, we begin with an Amuse Bouche. In part one, Chef Raymond celebrates the earthiness of the season with a black croquette, delicate mushroom paste encased in crispy charcoal batter then crowned with a thin slice of ethereal truffle. In part two, an airy sago puff is topped with salted egg yolk cream shadowed by undertones of curry. Both are well-balanced, blending textures and flavors into autumnal tones of black and deep green.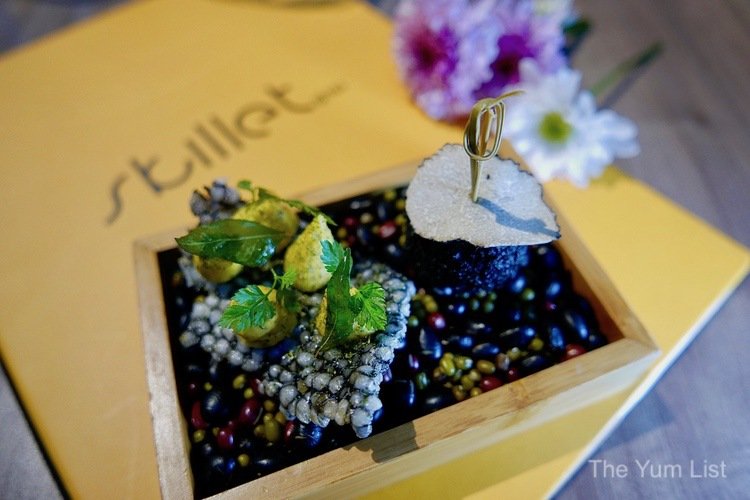 To complement the starters, head bartender Shaun recommends a 2011 German Riesling by Sybille Kuntz. This medium-bodied white carries notes of mature fruit and citrus to match the maturity of the autumn flavors on the plate.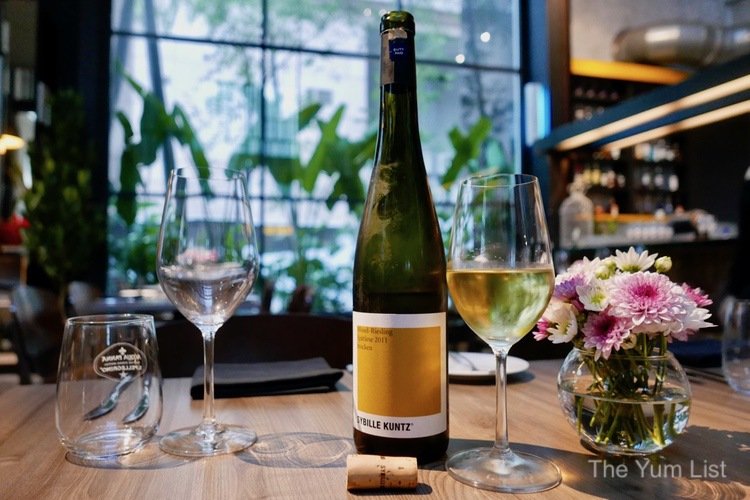 Skillet Fraser Place Starters
From the choice of starters, we first sample the salmon, a strip of tender house-cured fish sweetened by a soy glaze then dressed with lightly pickled seaweed and local white fungus. This little bit of acidity underwrites the aroma of toasted sesame and pumpkin seeds, which add some crunch as well. I appreciate how the chef works to ignite all the senses with each presentation.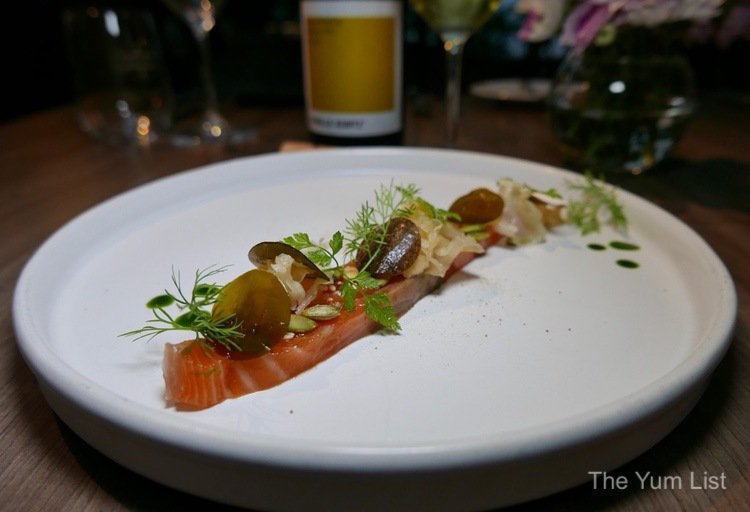 If salmon with seaweed celebrates bounty from under the sea, then the Humble Onion showcases bounty from under the soil. This fabulous starter slow cooks a whole onion in brown butter, adding a nutty aroma to the caramelizing. Creating a cup from the layers, the chef then fills the onion with silky Roquefort, which mellows against the sweetness of the onion, especially when draped with onion cream. Framed by a bed of charcoal soil, this gorgeous offering elevates the most unassuming of vegetables to the very height of a thanksgiving offering. I know I was thankful to be eating it!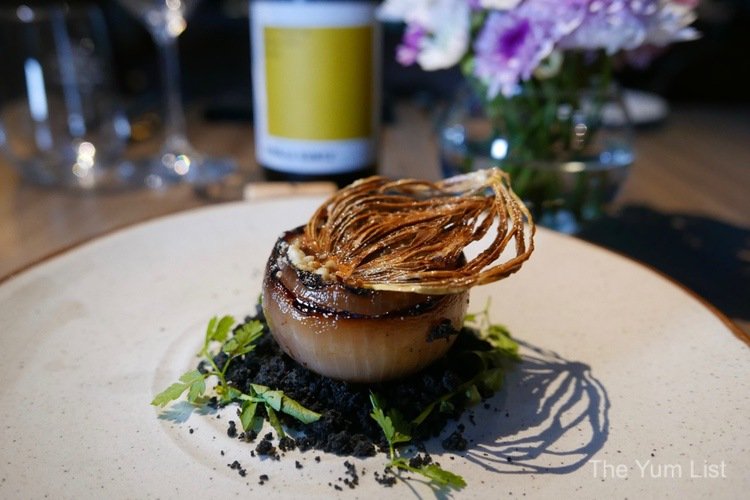 The last of our starters glorifies treasures from both underground and undersea. Cullen skink sounded a little strange when I read it on the menu, but after a quick check with my favorite expert Wikipedia, I learn that it is a potato, onion, and fish soup from Scotland. Skillet's version, called Deconstruct Cullen Skink, takes flaky barramundi and crisp-fried potato skins and envelopes them in delicious foamy onion cream. This rich and warming soup speaks comfort to cool hearts with memories of a Scottish grandmother like mine.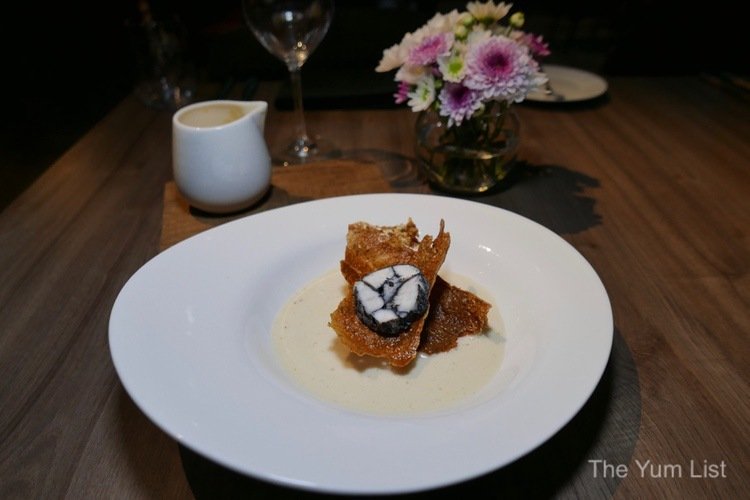 Skillet Fraser Place Menu – Mains
From the mains selection, the Duo of Lamb delivers hearty cuts of meat in two forms. The first is a tender chunk of rump tastefully offset by smoky aubergine puree and a ruby jus made from local dried longan. The second is a housemade crepinette, minced lamb marinated in rosemary and garlic and stuffed into casing, not unlike a mild sausage. The gravity of lamb makes me think of cold nights and open fires, perfect as part of an autumn menu.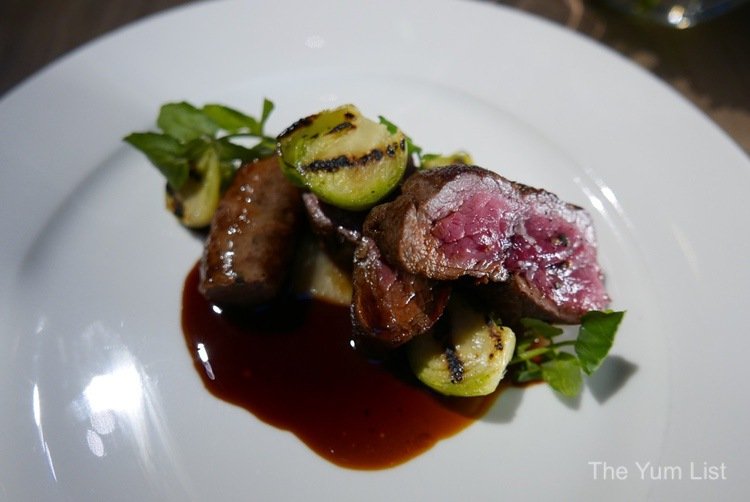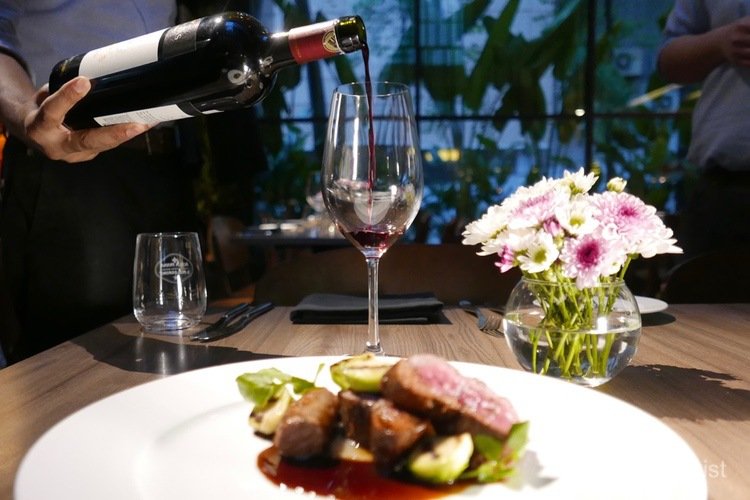 As an escort to the lamb, Shawn recommends a 2016 Malbec bottled by Terrazas de los Andes. Plum and black cherry on the nose are augmented by subtle tannins and hints of pepper on the palate. The fruity notes pair well with the richness of the meat.
Chef Raymond displays his penchant for unusual combinations of ingredients and cuisines with the Guinea Fowl and Truffles Tortellini. Here, Chinese-style braised guinea fowl is enriched with mushrooms and stuffed into fresh pasta pillows colored by squid ink. With slices of autumn truffle, a sprinkling of chopped hazelnuts, and a base of celeriac puree, autumn colors and flavors take center stage. A brush of truffle foam on the top brings even one more layer of depth to this complex plate.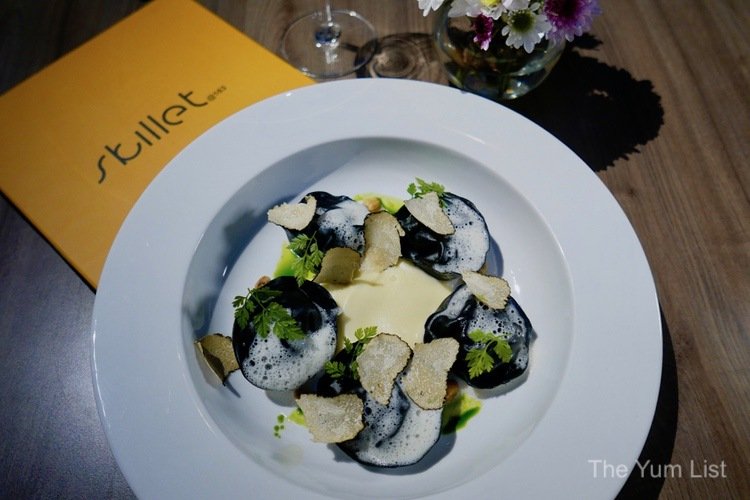 Skillet Fraser Place Menu – Dessert
No autumn-inspired meal would be complete without the embrace of apples. The Apple and Dulce de Leche offers an elegant variation on the traditional apple crumble. Tart Granny Smith apples are softened by caramel-rich dulce de leche and edgy thyme crumble. My favorite part was the scoop of cinnamon ice cream on top, raising the humble roots of this dessert to the heavens.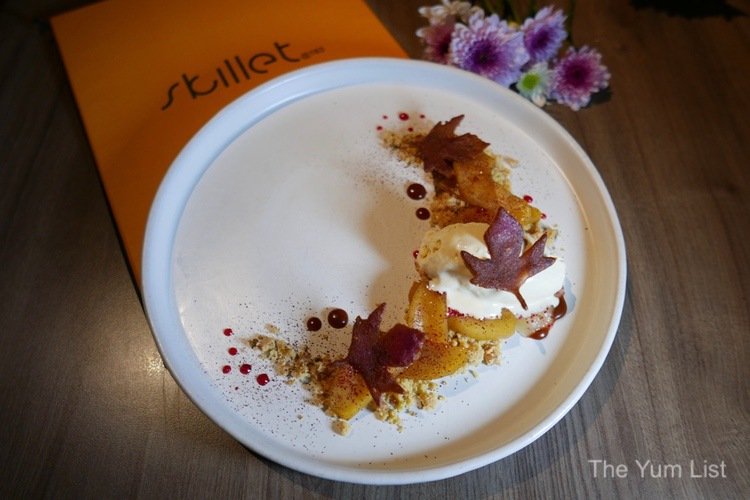 Skillet is known for their dessert experience called Texture of Chocolate, and for this new menu, a leafy version graces the table. A chocolate sphere is filled with pumpkin chocolate "popcorn" and served on a bed of cocoa soil enriched by cranberries fermenting in-house since 2015. Liquid nitrogen adds mystique and keeps the sphere cold until the server breaks it with a mallet and pours pumpkin cream over the top. This dessert lives up to its name in that the texture diversity is unlike any dessert you've likely tried. In the end, chocolate in any form satisfies a sweet tooth and the dramatic experience captures the vision and flair of autumn in a satisfying end to the meal and celebration of autumn.
For a few years, Skillet Fraser Place has delivered original cuisine and a tasteful atmosphere to the KL food scene. Their new autumn menu falls right in line with their reputation. And although it is only November, we are already seeing sprouts of Christmas popping into the decor. You can be sure that Chef Raymond is already looking with relish to the opportunity of another exhilarating food experience in time for Christmas. Stay tuned.
Guests can sample the full degustation of the new autumn menu for RM300+ per person, with an additional RM250+ for wine pairing. A 3-course option is also available for RM128+. Skillet @163 is open daily for lunch, 12:00 – 3:00 p.m. and again for dinner, 6:00 – 11:00 p.m.
Reasons to visit Skillet Fraser Place: Chef Raymond's signature Asian-Western fusion in new manifestations with items that engage flavor, texture, and aroma. Don't miss the Humble Onion off the starter menu and the dramatic experience of Textures of Chocolate, this month with an autumn twist.
Skillet Fraser Place
163, Fraser Place Kuala Lumpur
10, Jalan Perak
Kuala Lumpur, 50450
03-2181 2426
www.skilletat163.com