Words: Monica Tindall
Photos: Rich Callahan & Monica Tindall
The Kuala Lumpur food scene never ceases to surprise with the best of food found in the most curious of places. Take, for example, hearty loaves of German bread and buttery European pastries: the last place I would expect to look is in the lobby of a local hospital! Der Backmeister Ampang, however, delivers precisely that with some wholesome German cuisine, rustic pasta recipes and a darn good selection of bread to boot.
Der Backmeister Ampang – German Bakery and Café
That's right, you read correctly, Der Backmeister Ampang is located on the ground floor of Hospital KPJ Ampang Putri. Tucked away up a hallway past the main lobby, regulars here are not solely hospital staff and patients, residents from neighbouring suburbs and even further afield have followed the smell of fresh bread to the café much like children in pursuit of the Pied Piper.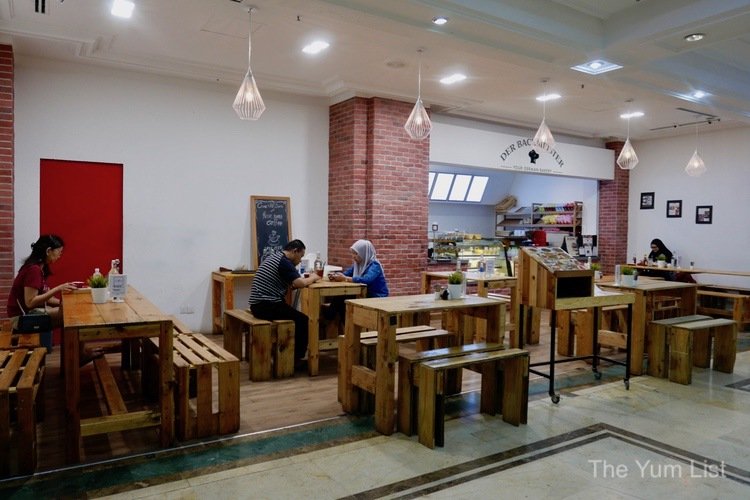 Der Backmeister Ampang Menu – Drinks
Of course, you can expect a bakery to be carb heavy on the menu so coffee, hot chocolate and organic juice make perfect companions. Our Cappuccino (RM11) is expertly frothed and has a nice balance of acidity and bitterness (I recommend a double shot if you like your coffee strong). Caraibe Hot Chocolate (RM13) features a gourmet dark chocolate by Valrhona with steamed milk made just a bit more fun by presenting the chocolate and milk separately, allowing you to mix and drool at the same time. "How can you not say that is just great?" Rich approves.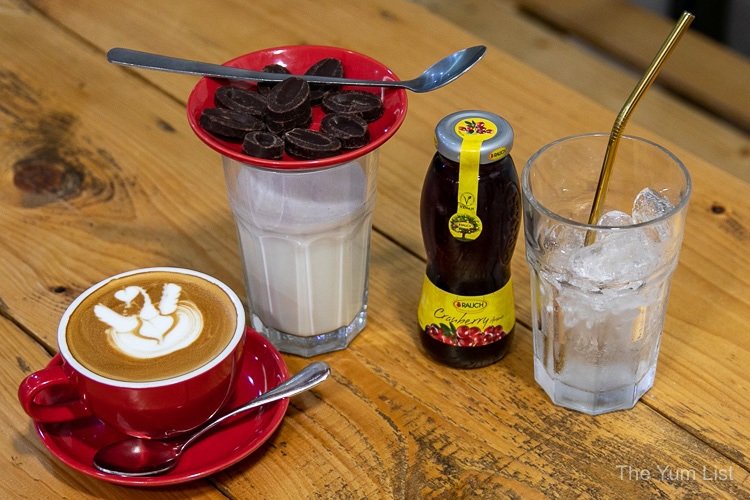 Der Backmeister Ampang – Quality German-style Bread
The main bakery in TTDI produces the bread and there is a limited selection brought daily to the Ampang outlet. There's certainly enough to keep us happy, however, with apple strudel, custard Danishes and crusty loaves of farmers' bread. What insiders know though is that you can order any bread that is on their website and request it to be brought to Ampang the following day. To make things even easier you can have it delivered directly to your door and only pay the transport fee – no premium on top of the bread price. My secret is to make a monthly order of multiple loaves, ask the team to slice them and keep them in the freezer taking out single or double slices as needed.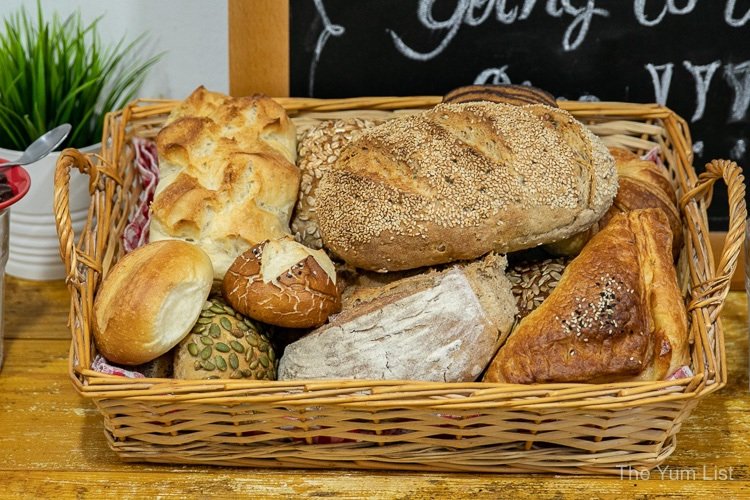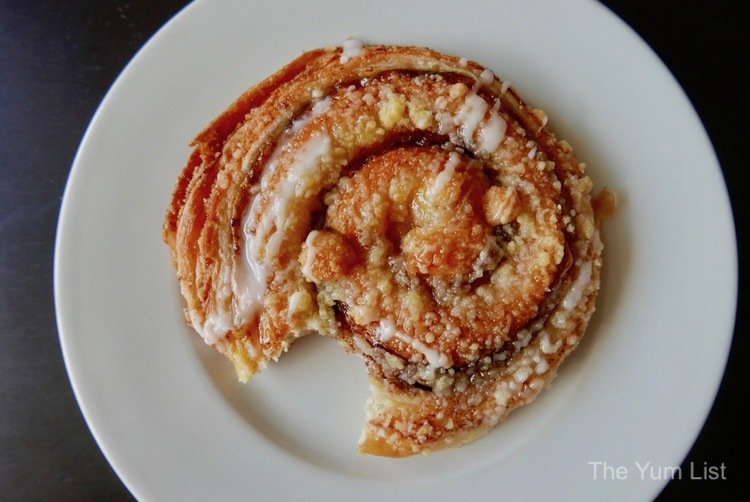 Der Backmeister Ampang Menu
Besides the bread, there are a plenty of other dishes to bring you to the actual outlet. A full menu of robust brekkies, German specialities and filling sandwiches mirror the TTDI sister but Der Backmeister Ampang has bulked up their menu even further by including three kinds of pasta, which make great nosh for lunch.
Spaghetti Bolognese (RM22) is a recipe that has been passed down through three generations: grandmother, mother and co-founder Oliver's own. Al dente pasta strings are topped with a German prime beef ragu sauce, called "nudeln mit Haschee," and is delightfully comforting.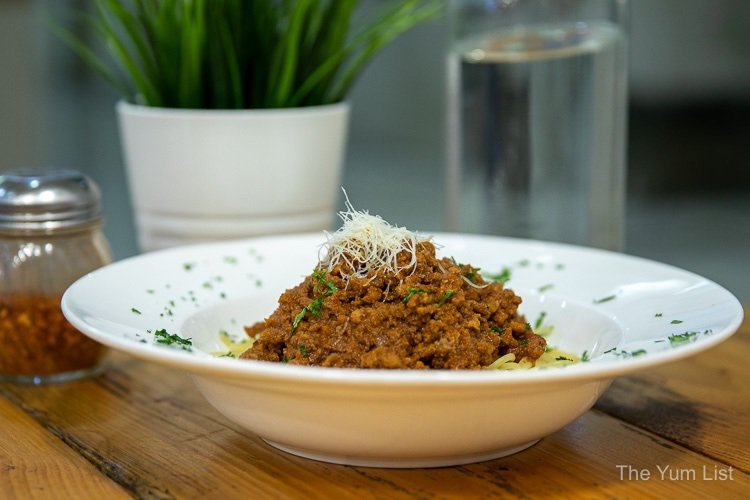 A traditional Spaghetti Carbonara (RM24) recipe features pasta topped with bresaola (air-dried beef), eggs and finely grated Parmesan cheese. It actually tastes light and healthy; such a contrast to what is commonly found in local cafes with their frequent addition of cream.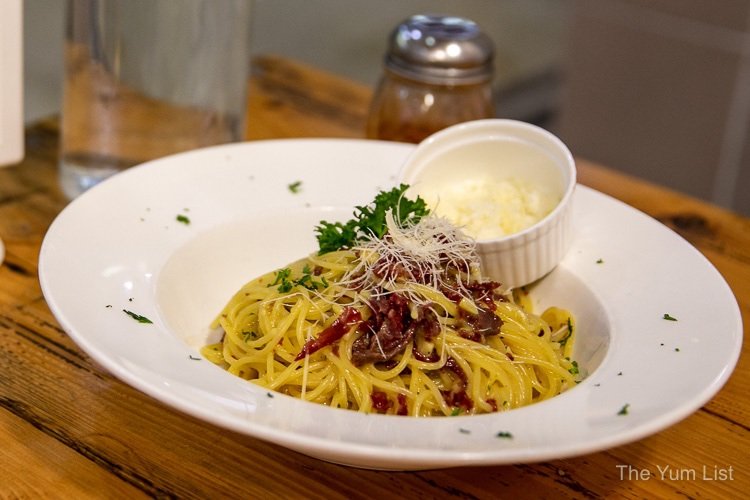 Another tasty pasta dish is the Spaghetti Aglio Olio E Peperoncino (RM16). Again, the seasoning is a simple yet effective mix of quality ingredients put together well. Extra virgin oil, garlic and fresh chilli can be beefed up with prawns or salmon for a small premium.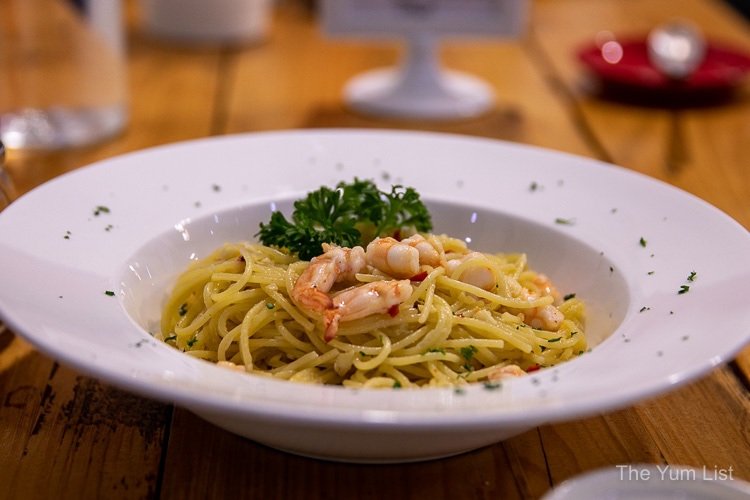 Breakfast at Der Backmeister Ampang
Again, the lobby of a hospital might seem an unlikely place to meet for brunch but The Big Backmeister (RM33), designed especially for "the hungry wolves," has proved that when food is good, people with come. It is such good value that three plates are needed to hold it all: a mixed platter of salami, meatloaf, ham, cheese and salad is sided by a plate of scrambled eggs and accompanied by a basket of bread slices and buns. There's jam, butter and mustard for additional flavour.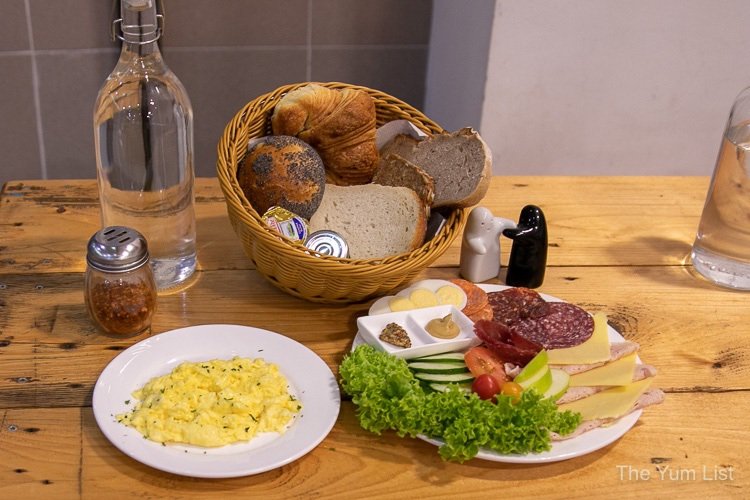 German Specials
Sunny Meatloaf (RM19), Leberkas Semmel, presents a solid piece of meatloaf from a German butcher topped with a sunny side up egg. Fried until golden brown and crisp around the edges, and nicely soft inside, it's partnered with Dijon mustard, a grainy slightly sweet mustard and is again sided with a basket of wonderful bread.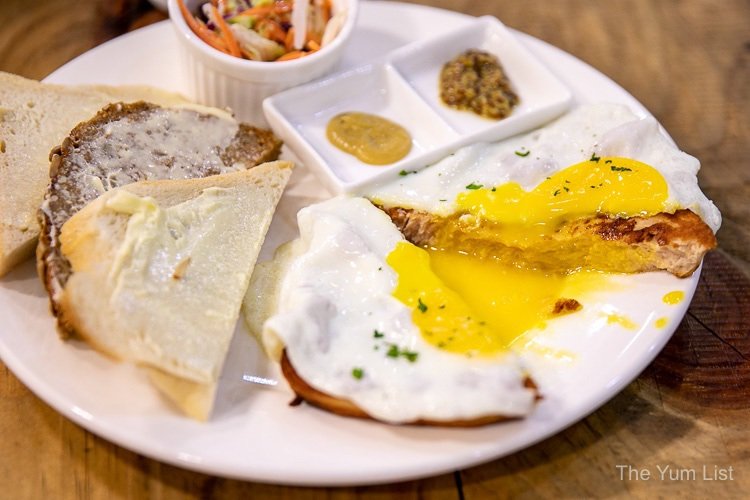 Sandwiches
A solid selection of sandwiches offers enough variety to please most palates. As we've had quite a lot to eat already, we choose the Avocado Egg Sandwich (RM18) hoping to balance our indulgences somewhat. Luscious slices of natural sourdough multigrain bread hug the filling of roughly mashed egg with tomato, lettuce and finely sliced onions. Yum.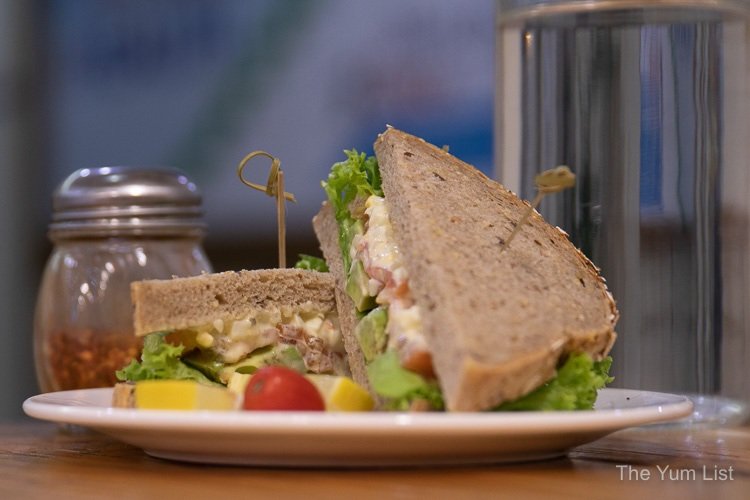 Reasons to visit Der Backmeister Ampang: hearty European style breads (you can order the full selection from the larger bakery online and collect them from this Ampang branch or even have them delivered to your door); meals made with wholesome, good quality, simple ingredients – minimum processing and no nasties (ie no artificial flavours, colours and so on); The Big Backmeister is incredibly good value, the pasta dishes are simple and tasty and sweet tooths should not miss the apple strudel.
Der Backmeister Ampang
1, Jalan Mamanda 9
Ground Floor, Hospital KPJ Ampang Putri
Taman Dato Ahmad Razali
68000 Ampang, Selangor
Malaysia
www.facebook.com/derbackmeister
Der Backmeister Ampang Opening Hours: Daily 7.30 am – 9.30 pm
Want some more ideas for cafe hopping in KL? Find them here.