Words:  Monica Tindall
Photos: Rich Callahan
It's places like Extraction 萃 café in SS2 that have kept me in KL so long. A trio of friends with a passion for coffee and bread, Herman, Shin and Edric are the embodiment of what I adore about the KL food scene: small independents having a go.
Conceptualized around handcrafted sourdough bread and excellent coffee, Extraction guarantees two things: a darn good sandwich and an awesome brew. The name symbolizes what can be done with simple ingredients such as flour, water and coffee: with the right technique the goodness is extracted. And, it's not only bread and coffee where this applies, but the team at Extraction 萃 SS2 also insist on making everything from scratch, including the sauces.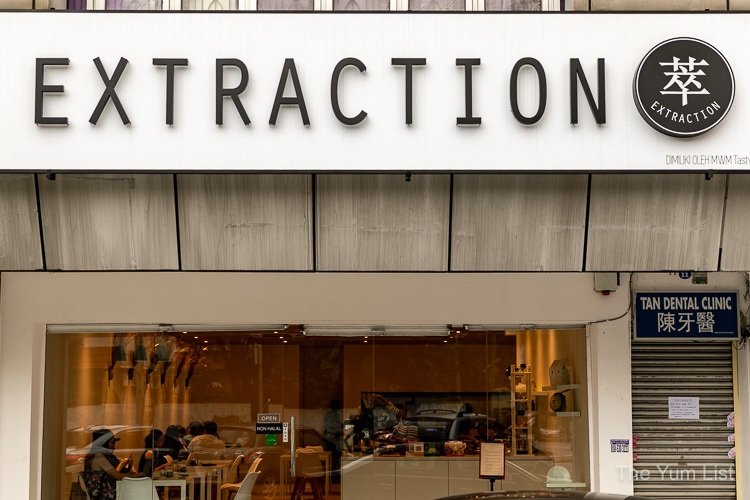 Extraction Menu – Breakfast
What better way to get a feel for a café than with The Big Breakfast (RM29)? Homemade sourdough is thinly sliced, buttered, toasted and wonderfully chewy. Long specimens of German pepper and Vienna style sausages add protein alongside smoked streaky pork bacon, baked beans and creamy scrambled eggs. Sautéed mushrooms, grilled tomatoes and salad balance the dish to make "one big plate of happiness," so says the menu at Extraction.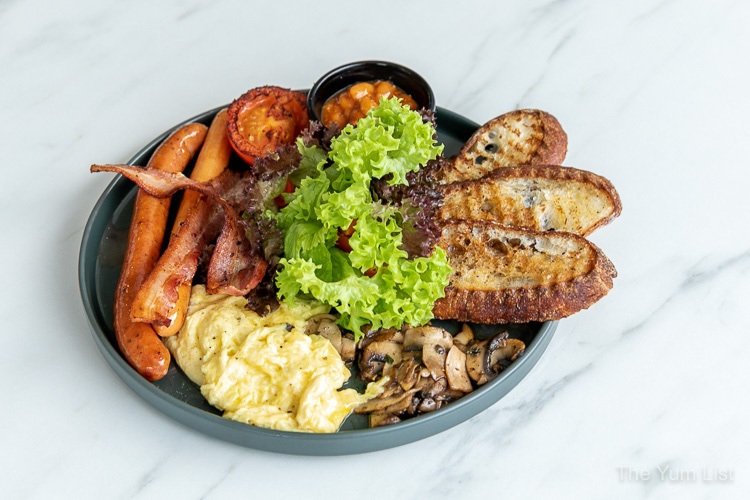 Another classic brekkie dish is found in the French Toast (RM15). Fat slices of sandwich bread are dipped in Extraction's "secret" egg batter and slow-roasted until crisp. A topping of fresh fruits, caramelized banana (yum!) powdered sugar and honey make this a sweet choice.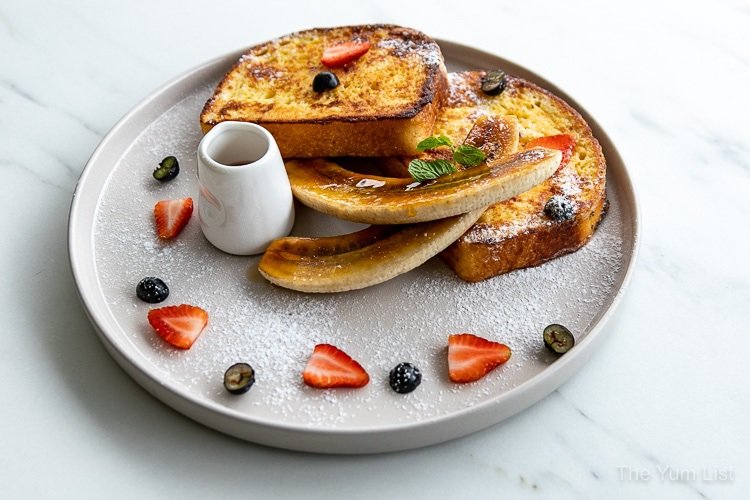 With all of that home-made sourdough, it's a wise move to make carbs your priority at Extraction and as such a Grilled Cheese Sandwich (RM15) is our next order. It's a pretty decadent toastie with buttered slices of sourdough filled with a generous amount of extra sharp cheddar cheese both on the inside and the out! It's grilled enhancing the outer layer to a warm crispiness while the inside forms a gooey cheesy heaven. Dried oregano gifts a taste of Italy and yellow mustard on the side contributes tang if so desired.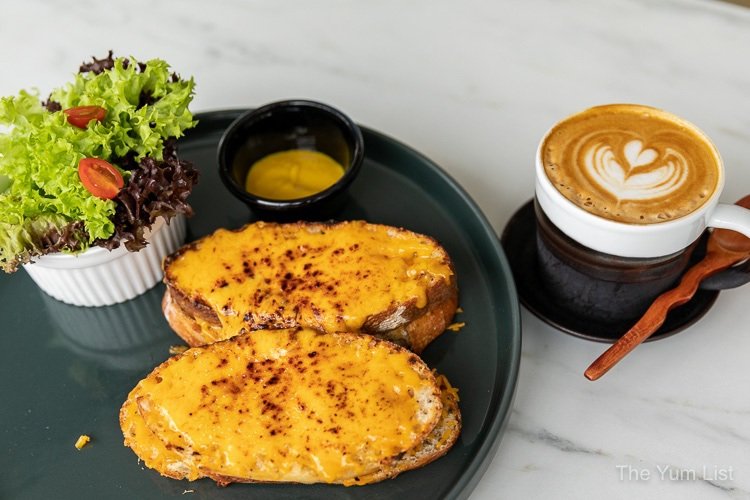 Extraction Menu – Main Courses
Spaghetti Carbonara (RM19) is coated in a chicken stock-based cheese sauce with crunchy pork bacon, roasted cauliflower and a soft egg. While it's not a traditional recipe, Herman sure has produced a delicious recipe. The vegetables are a great contrast in texture and a pile of grated Parmesan provides a nest for the sous vide egg.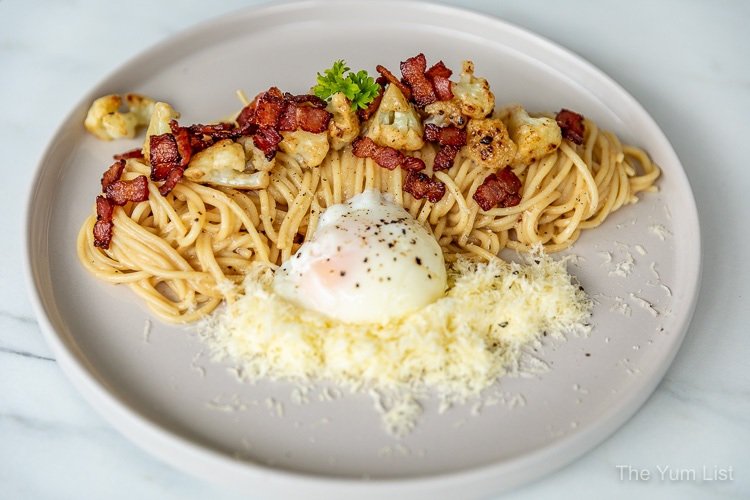 Lastly, making the most of Extraction's home-baked bread, we opt for the Japanese-Style Hambaga (RM23). And oh look it's a PORK patty! Again, we'd expect nothing less from Extraction with their pork patty being homemade. It's souped up with teriyaki-style sautéed mushrooms, caramelized onion, tomato, lettuce and wasabi mayonnaise all packed between a homemade sourdough burger bun. Tortilla chips add some crunch on the side.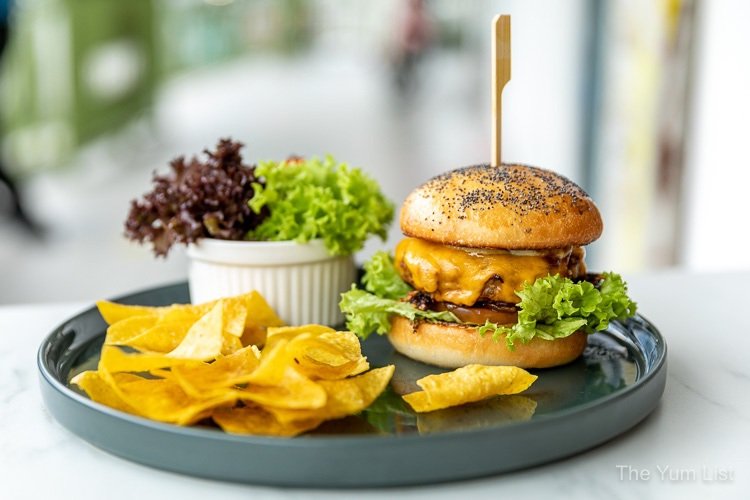 Extraction Menu – Dessert
With a clear fondness for Italian cuisine, the Tiramisu (RM17) presents a favourite, which again has been given a distinctive Herman twist lushing up the classic a notch or two. Mascarpone cream, crushed toasted walnuts, digestive biscuits, honey castella cake, chocolate ganache, espresso and Italian Marsala wine makes for some delectable spooning.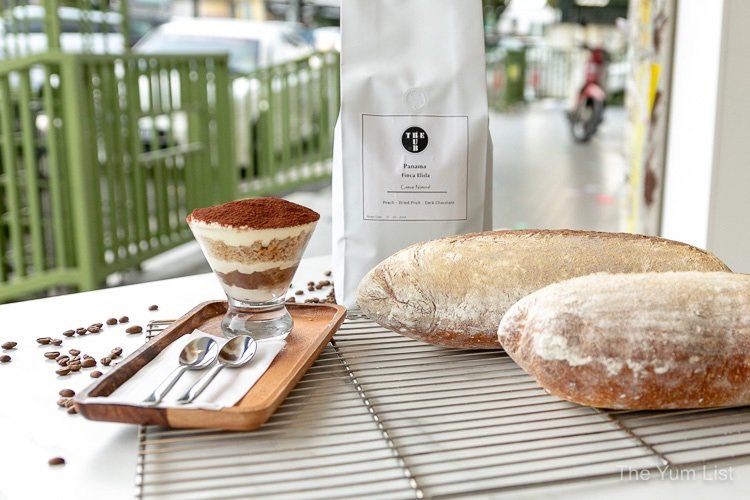 Extraction Menu – Drinks
Coffee and tea are the focus of Extraction café's drink menu with beans locally roasted by The Hub and leaves by Niko Neko. A Café Latte (RM11) and Espresso (RM8) are a solid way to judge the strength of the beans comparing how well they do on their own and with milk. Presented in beautiful ceramics, the coffee is full-bodied and fruity with a sour aftertaste. These are clearly high-quality beans that have been roasted with care.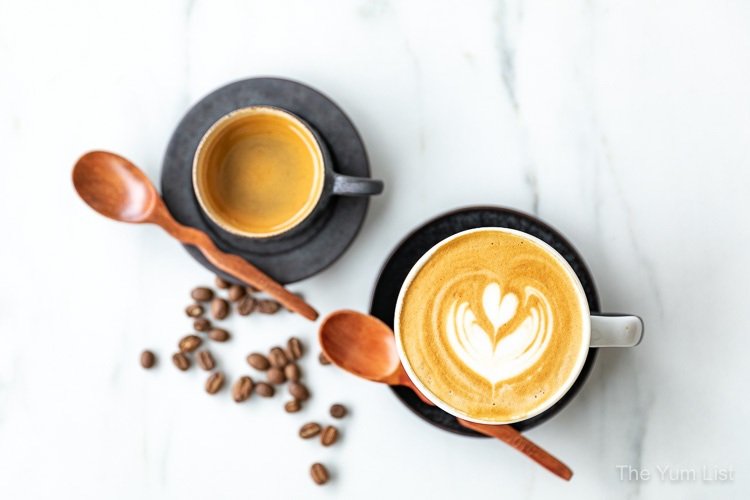 Not only are the beans pretty special but the espresso machine is distinctive as well. Leva is a spring-lever manual machine which means the barista has total control over the brewing process but also means that they need to have a level of knowledge and skill greater than your average barista. Herman compares it to a Ferrari – performance is high but you need to know how to control it.
Extraction Review
If you're around SS2, Extraction 萃 offers a clean, serene environment in which to enjoy some darn good bread and coffee.
Reasons to visit Extraction Café SS2: great coffee; excellent bread; porky dishes; must try Herman's luscious take on Tiramisu and you can't go wrong ordering anything accompanied by the housemade sourdough.
Extraction 萃 SS2
11, Jalan SS2/75
47300 Petaling Jaya
Malaysia
+603 7496 7337
www.facebook.com/extraction.mwm/
Extraction SS2 Opening Hours: Tuesday to Sunday 8 am to 6 pm.
Love a good cafe hop? Find some of our other favourite KL and PJ cafes here.