Words: Maggie Casey
Photos: Rich Callahan
Lisette's Café and Bakery's Sunday brunch is a fresh, quaint and oh so aesthetically pleasing place to enjoy good food, coffee and company. Opening in August 2018, Lisette's Café and Bakery was previously known as Dr. Inc, but is now is the newest member of The Social Group's restaurants who has rebranded Lisette's to what it is today!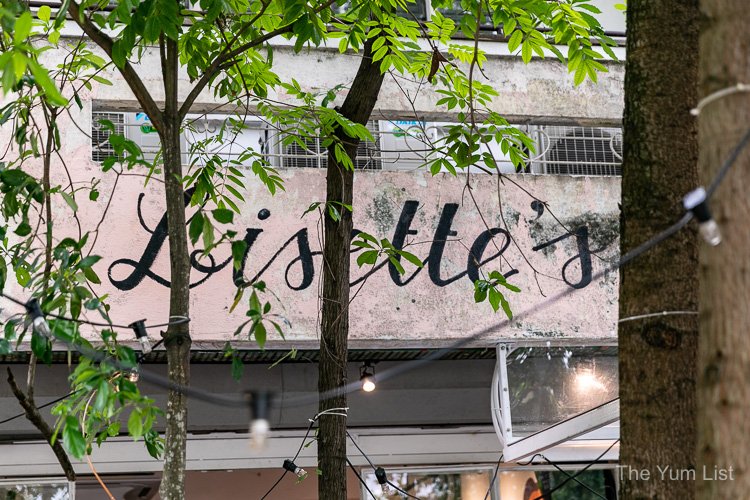 Lisette's Café and Bakery, Bangsar
Located on a small residential street in Bangsar, Lisette's Café and Bakery is immediately charming. The café is in the style of a renovated house, giving it a cozy, relaxing atmosphere right off the bat. Once inside the restaurant, there are large windows both in the front and back making the inside feel alive, green and bright. Little touches like yellow flowers on every table and blue accents on all the furniture go a long way in making this place feel both totally Insta-worthy and like you are right at home.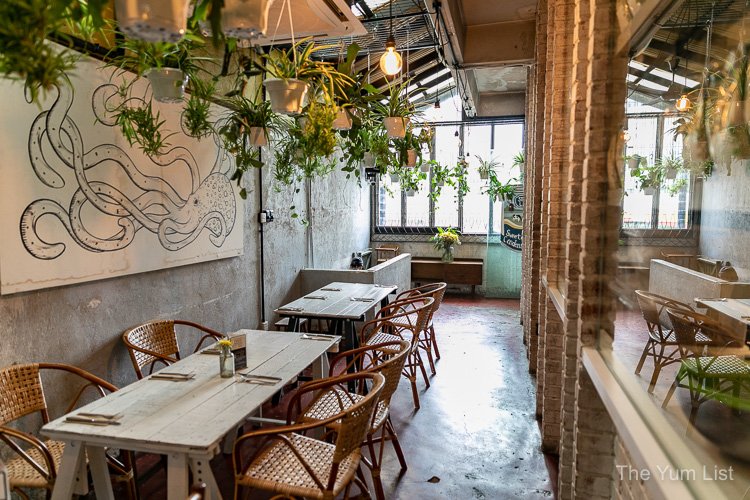 Sunday Brunch Lisette's Café and Bakery
We were there for the Sunday Brunch spread, which at RM 55++ per head (beverages excluded) makes for one of the best Sunday brunch deals in the city. The bright atmosphere and lots of natural light perfectly complement the type of food being served; wholesome, loads of plant-based dishes, and comforting.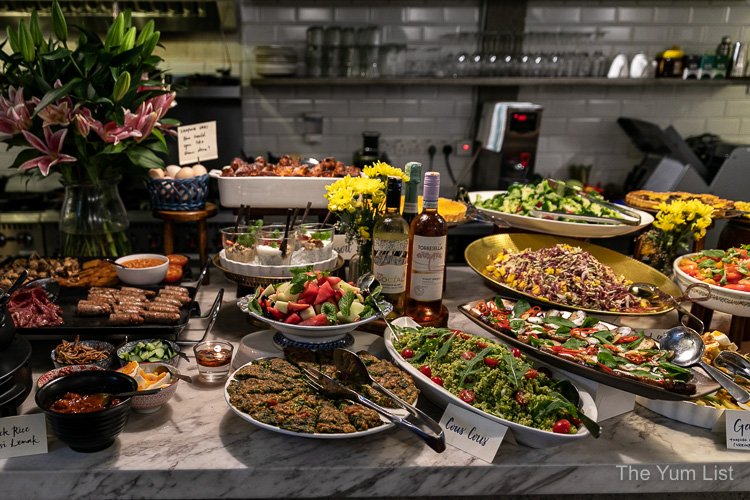 Bubbly Brunch Lisette's Café and Bakery
Before we could make our way to the buffet, we perused the drink menu which offered a plethora of options for coffee enthusiasts and juice drinkers alike. Monica went with a classic Latte (RM13), while I opted for a simple, strong Espresso (RM9). The espresso was rich and roasted to perfection, while the Latte managed to find the perfect balance between robust coffee and the softness of creamy milk. We also ordered de-TOX Green Juice (RM16) which boasts celery, apple, cucumber, kale, and green pepper as just a few of its ingredients. This nutrient-packed juice will make sure your day starts right. Note that beer and wine are also available, and the brunch can be turned bubbly on Sundays if you purchase a bottle of prosecco (RM 200++).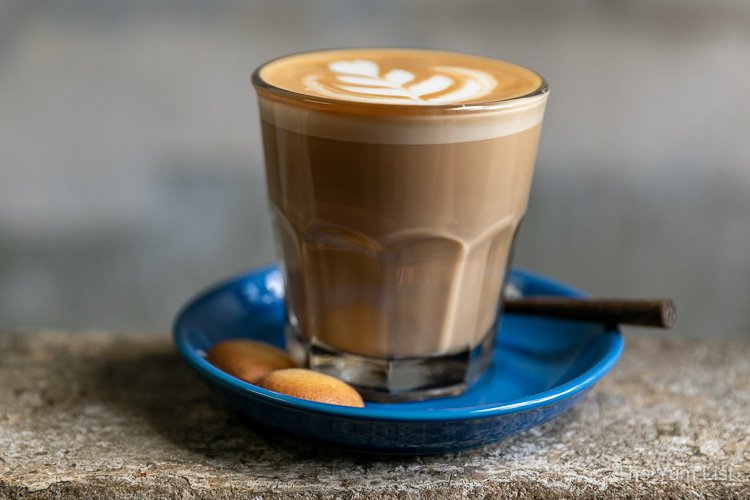 Buffet Lisette's Café and Bakery
Once our drink orders were placed we made our way up to the buffet, which was so beautifully displayed I hesitated to dig in for fear of ruining the presentation. Of course, food is meant to be eaten not simply stared at and so after taking it all in, I happily filled my plate. The majority of the buffet is vegetarian which offers a nice brunch option for those looking to give heavy meat eating a rest. While the lunch spreads on Tuesdays and Fridays are entirely vegetarian, on Sunday's there are meat options (sausages, beef bacon and so on). In a testament to the café's commitment to clean eating the sausages are nitrate and gluten-free and the eggs (which can be ordered and made to your preference by the chef) are free-range, local Kampung eggs.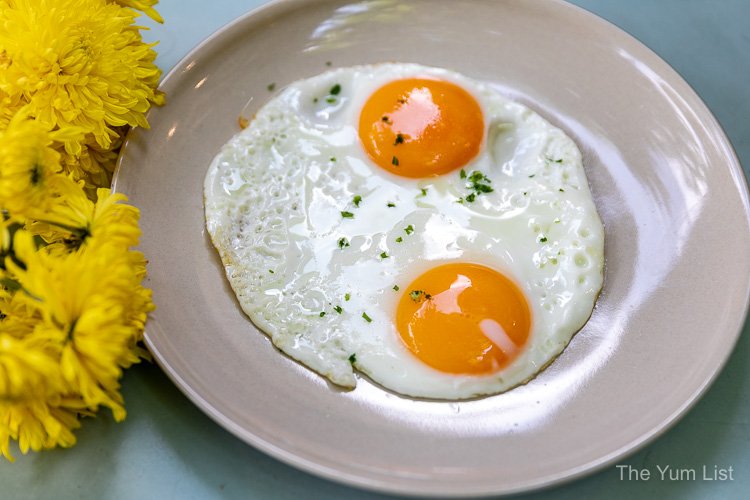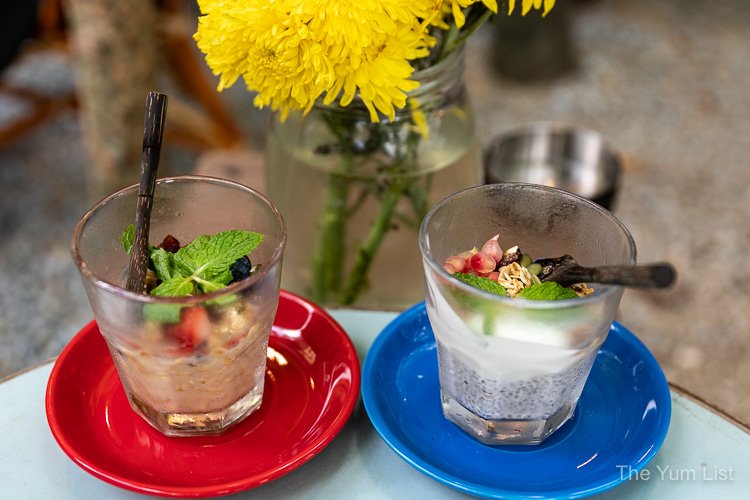 Lisette's Café and Bakery Buffet Menu
Among the highlights of the spread is the Panko Baked Pumpkin Wedge as well as the Yellow Curried Cauliflower. The dishes are rich in flavor and texture, satisfying both your veggie needs and desires for comfort food. I am always a fan of having a plate filled with (natural) color, so I gravitated toward the Red Cabbage Slaw with Mango. The vibrant reds and yellows of the dish did not mislead as the flavors practically leapt off my fork. The citrusy and light slaw paired well with heartier Mushroom Egg Frittata. The frittata's crust was wonderfully buttery and flaky while the use of thyme was a perfect complement to the egg and mushroom base.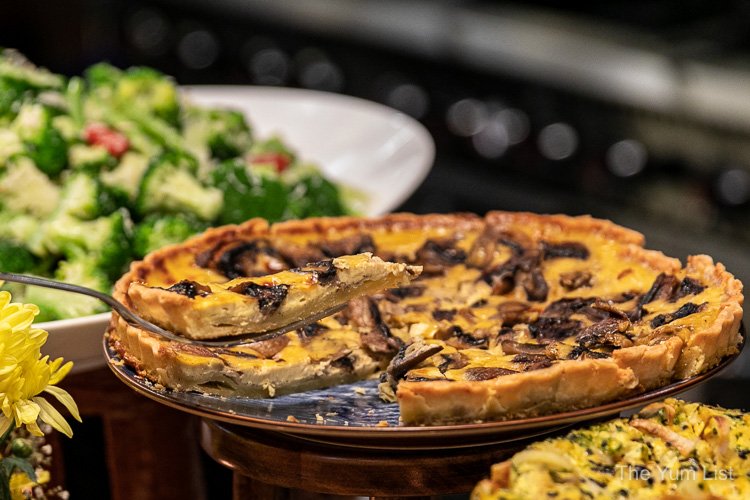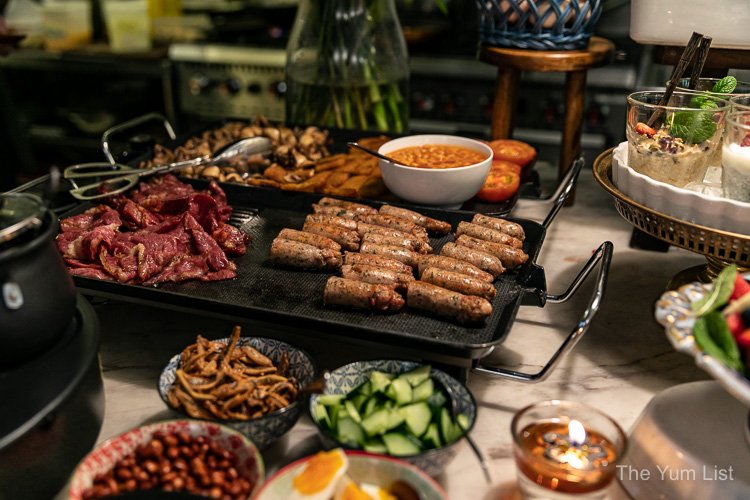 Now, it would not be a Malaysian breakfast without some Nasi Lemak, and Lisette's Café and Bakery makes no exception to this rule. They do, however, add an inventive twist. The café uses black rice, which has higher levels of antioxidants and lower levels of carbs than the more traditional brown or white rice used in this classical Malaysian dish. This recipe manages to add some extra health benefits without compromising any of the beloved tastes or textures of traditional Nasi Lemak! It's a win-win!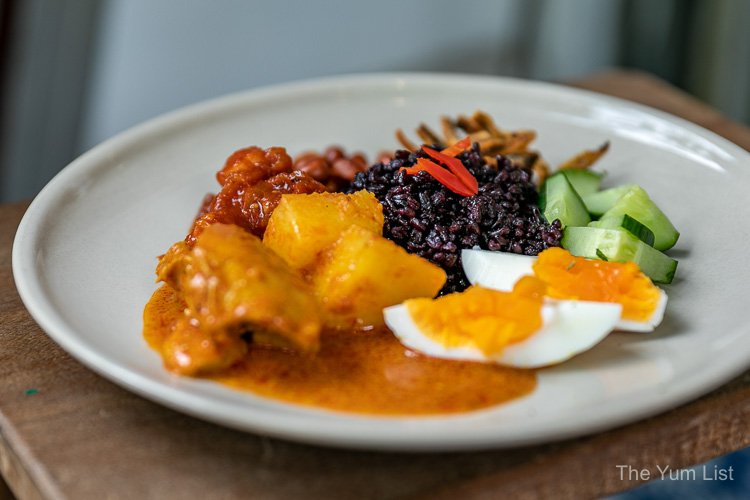 Lisette's Café and Bakery Menu
Healthy and nutritious food is certainly a priority at Lisette's Café and Bakery, but for those looking to indulge your sweet tooth, there is plenty to choose from! Upstairs Lisette's has their very own patisserie chef providing a combination of in-house and outsource baked goods offered a la carte in addition to the brunch. Again, my affinity for color got the best of me and I was immediately drawn to the Mango Passion Banana Cheesecake (RM 18). The bright yellows and oranges make for a great Instagram pic, and the mouse-based consistency of the cheesecake helped to make a still decadent dessert a little lighter while taking care not to compromise any of the very fruity flavors! The Raspberry Cheesecake (RM 15) was also a delightful dessert. The cheesecake was creamy and smooth and the fresh raspberries on top were the perfect complement to a wonderfully indulgent cake. For the chocolate lovers out there, I recommend the Chocolate Caprese (RM15). It is moist, creamy, topped with caramelized almonds and it is gluten-free!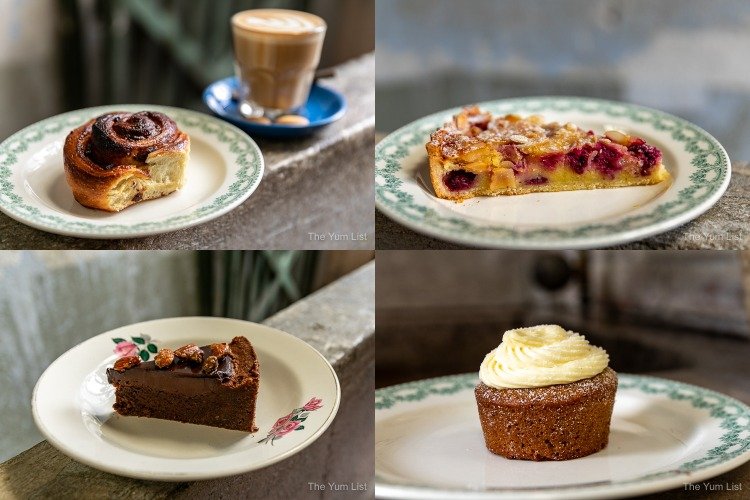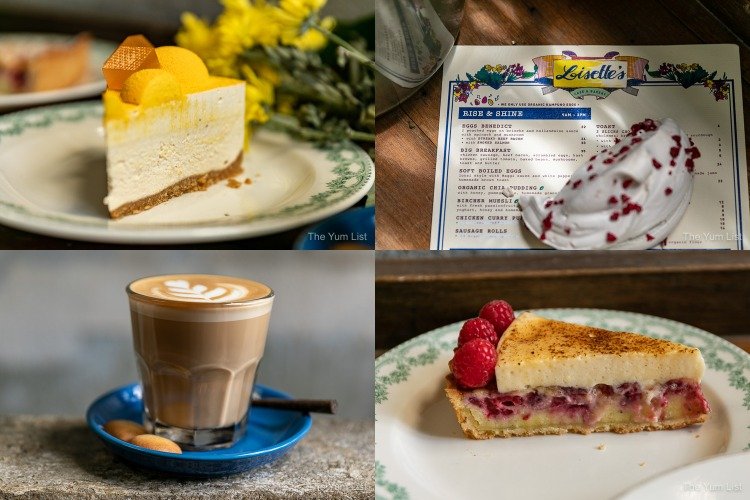 Lisette's Café and Bakery Review
Lisette's combination of healthy food, indulgent sweets, extensive beverage selection and overall whimsy (they have an in-house turntable for live DJs on Sundays!) makes this café and bakery the perfect trendy weekend hangout!
Reasons to visit Lisette's Café and Bakery: charming atmosphere (great for fun photos): loads of fresh plant-based food; delicious coffee; one of the best value brunches in KL.
Lisette's Café and Bakery
8, Jln Kemuja, Bangsar
59000 Kuala Lumpur
Malaysia
+6 03 2201 7772
www.facebook.com/lisettes.my
Lisette's Café and Bakery Opening Hours: 9 am -5 pm daily
Vegetarian buffet every Tuesday & Friday from 11:30 AM – 2:30 PM
Sunday brunch spread every Sunday from 10:30 AM – 2:30 PM
Find more of our favourite vegetarian restaurants in KL here.