Words: Monica Tindall
Photos: Rich Callahan
Super Ramen brings a taste of Japan to Sri Petaling with their rich bowls of ramen with creative twists from around the world. It's not only ramen that is drawing the crowds, though: a trendy setting and craft cocktails are lures too.
Lodged between a multitude of unassuming shop lots, Super Ramen stands out from the masses with its Insta-worthy interior, funky piano music and lively vibe. The semi-outdoor patio, fenced in with potted plants and furnished with rattan chairs and low tables, is a great spot to enjoy in the evenings when the air cools. Inside, there's a sleek cement bar, a variety of tall tables, dining tables and bench seats, and a window with a view into the kitchen.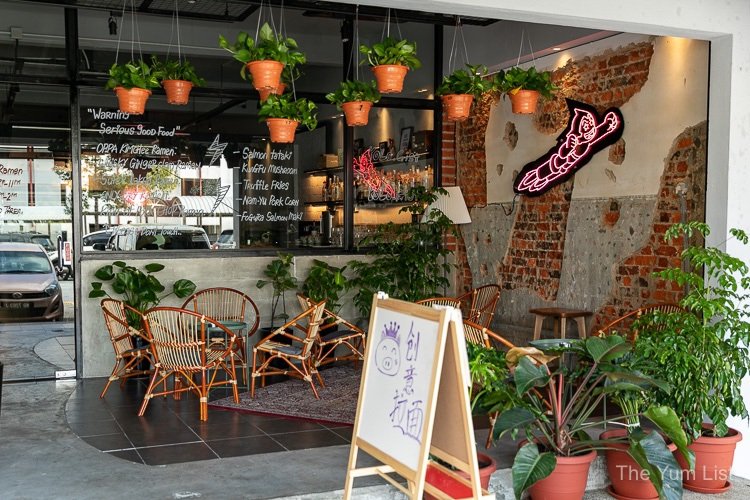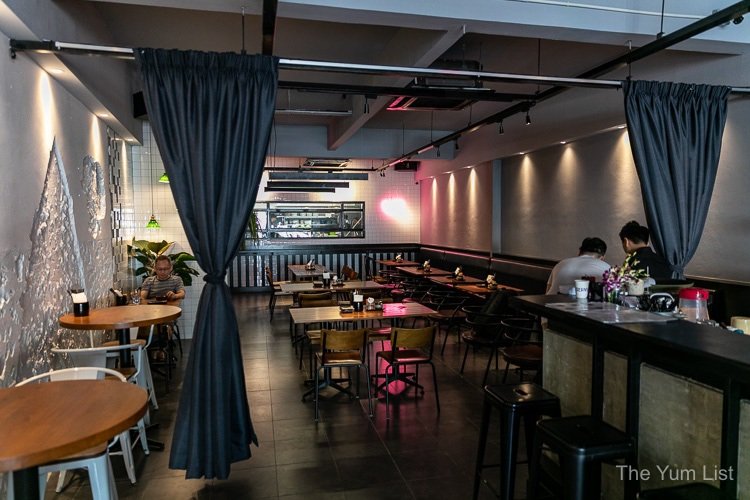 Super Ramen Sri Petaling Menu
Chef Rudi insists on making as much as he can from scratch and seasons food with natural flavours shunning the use of MSG. We begin by diving straight into the leading act, with a tasting of four different types of ramen.
A feast fit for royalty is presented in the King of Pork Chop Ramen (RM28.80). Pork tomahawk, so big it can't fit completely within the bowl, sits in a tasty pork-bone broth. Beansprouts, black fungus, corn, a halved boiled egg and Japanese fish cakes add texture and bulk. The pork is marinated in Cajun spice giving it an even thread of kick. Wondering how to eat the chop? Aluminium foil has been wrapped around the bone so you can just pick it up caveman-style and chomp.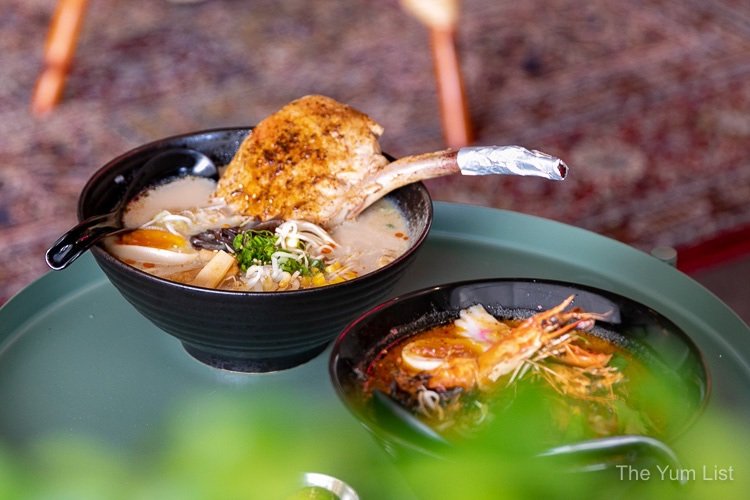 A fun play on a local tradition, the Super Laksa Ramen (RM26.80), comes brimming with tiger prawns, ramen, bean sprouts, taupok, black fungus, cucumber, egg and Japanese fish cake. A zippy Sarawak laksa broth is the base and a squeeze of lime enhances the flavours.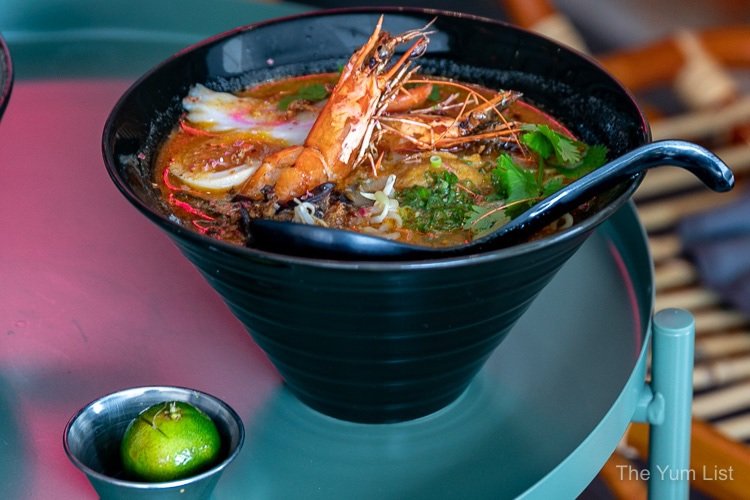 Ramen without the soup is found in the Only-Dry Ramen (RM24.80). Siu yuk (roast pork), noodles, bean sprouts, black fungus, egg, crabmeat, fish cake and tobiko are accompanied by Super Ramen's homemade soy sauce. On the side, tonkotsu (pork bone soup) provides a tasty wet partner perfect for sipping between lifts of noodles.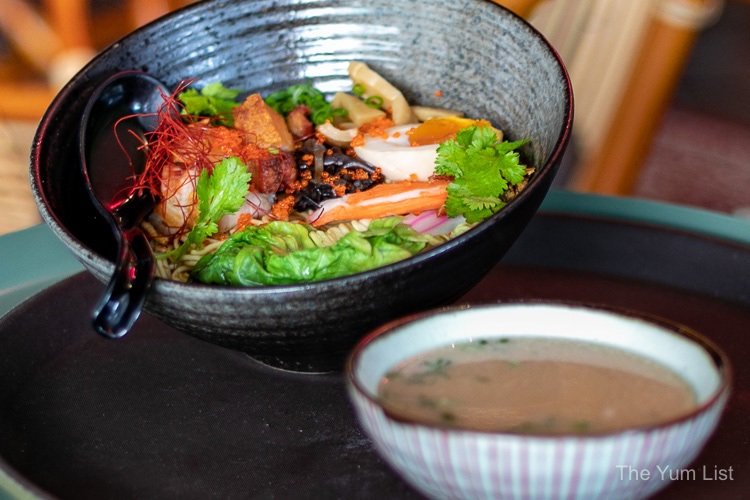 So far the ramen bowls have been packed with flavour but relatively light at the same time. We manage to try all of them without getting that sluggish feeling sometimes co-occurring with a traditional serving of this soup. The HK-Kowloon Ramen (RM24.80) is lighter yet again with its chicken base. Bulked up with Spam meat, noodles, seasonal veggies, bean sprouts, black fungus, corn, egg and crabmeat, this is another recipe we enjoy very much.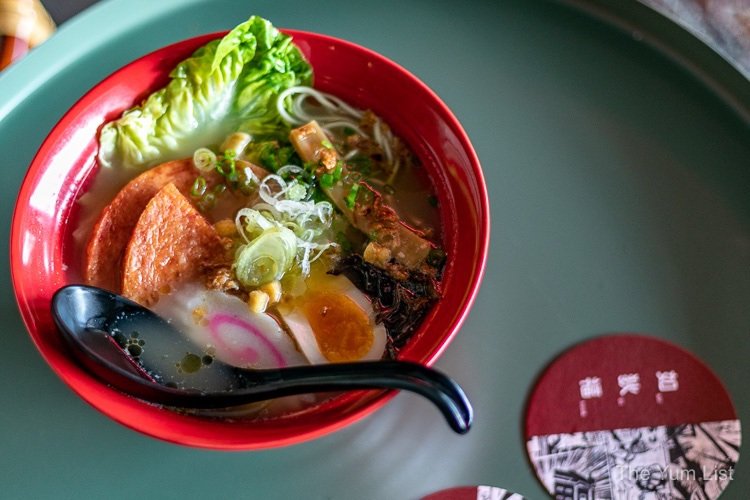 Sharing Menu Super Ramen Sri Petaling
While ramen is clearly the focus here there are a number of other dishes worth their calories too. Nam-Yu Pork Corn (RM15.80) is not a type-o. It is indeed deep-fried marinated pork belly that could easily replace popcorn as your nibbles for movie night. A light coriander, Thai mustard sauce for dipping presents a delicious tang and a mild spice – delish.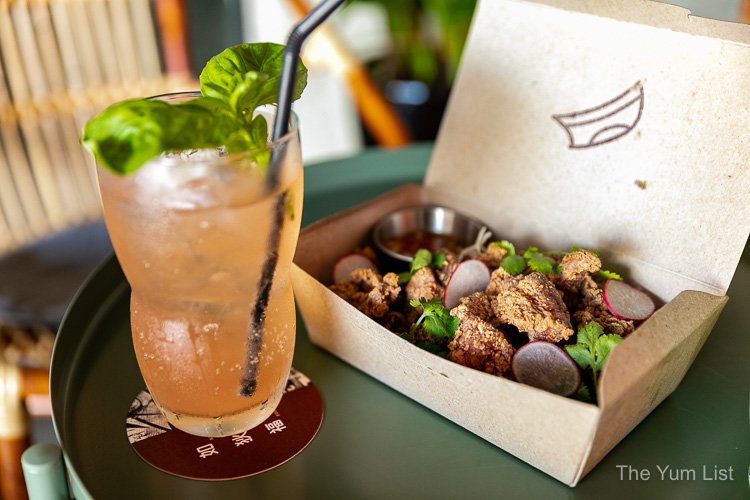 Squid Ink Calamari (RM18.80) is a dark take on a popular bar snack. Blackened with squid ink and served with the house made tartar sauce, this dish is not only an attractive pic but scrumptious pickings that you may (or may not) want to share.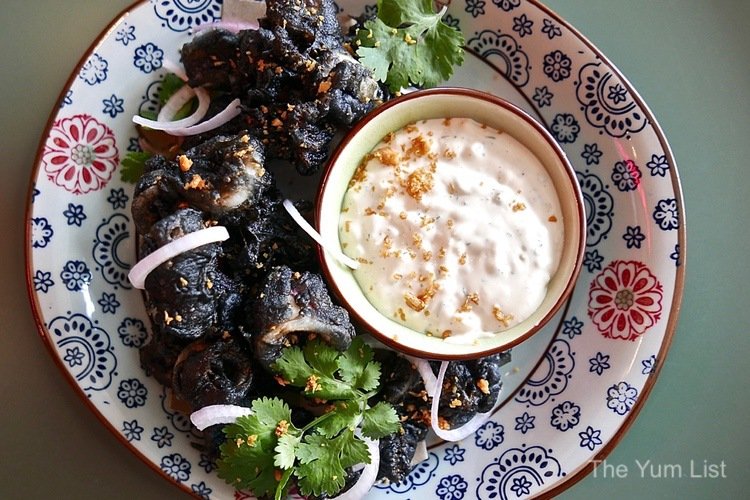 It's not all protein though: the Vege Lover (RM14.80) celebrates greens with stir-fried qing long cai (green dragon veggie – a hybrid of leek and onion) and erring mushrooms topped with grated cheese and bonito flakes. The distinctive smell of the smoked tuna makes our mouths water to begin and then the fresh greens with sesame sauce keep us forking back in for more.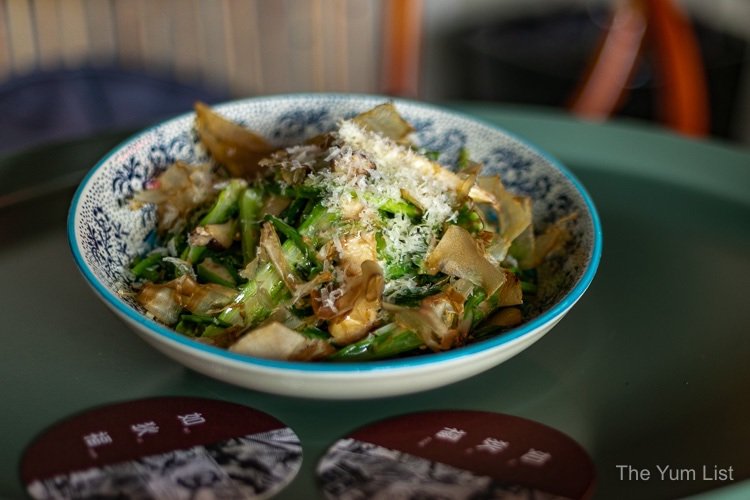 Super Ramen Dessert
Mad Milo Parfait (RM12.80) brings feelings of nostalgia with every spoonful. The layers of Milo, ping pong soda crackers, salted ganache and chocolate ice cream ensure we dig all the way to the bottom capturing every part in every spoon. There's a good range of textures here but the soft chewiness of ganache has won me over – please sir, some more?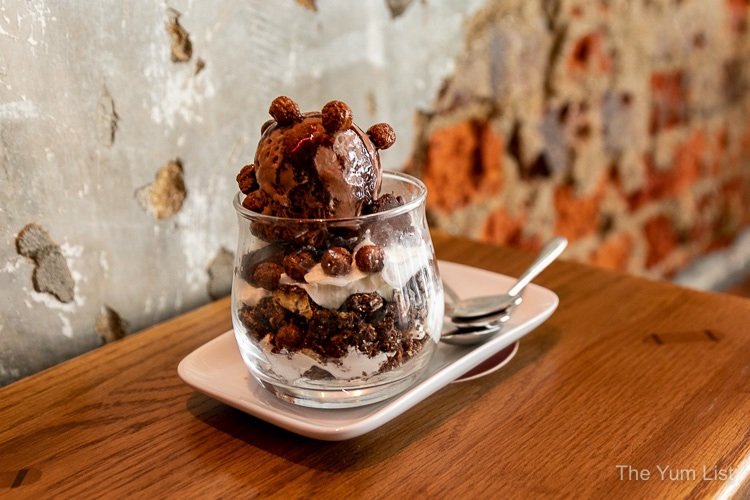 Super Ramen Cocktails
It's not just the food that benefits from an international mindset but the cocktails too. New recruit, Edwin Kho, previously tending at White Rabbit in Singapore shares his liquid creativity in Super Ramen's bar.
Inspired by a Chinese dessert soup, Dream Big (RM32.80) is presented in a blue and white ceramic bowl and could easily be mistaken for sweets. It's an intriguing mix of white fungus infused gin with osmanthus, goji berries, elderflower syrup and honey. The bitterness of gin is softened by the fruit reminding me of the wonderful balance struck with Italian Amari.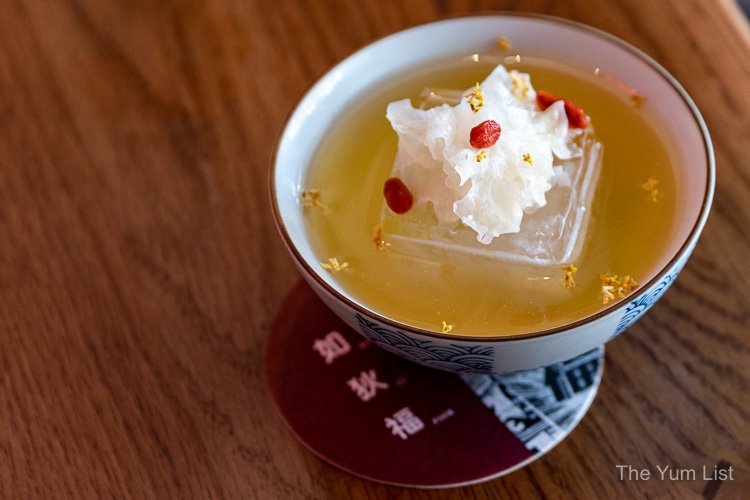 What is the perfect pairing for ramen? Sake, or sake cocktails, of course! Luo Han Guo (RM22.80) has the Japanese rice spirit, luo han guo syrup and orange bitters. The garnish of winter melon sticks comes in a petite bowl on the side. Often used in herbal tea, many Chinese believe the Luo Han Guo has many health benefits. It's a light cocktail with a low alcohol content. The cube of ice in the drink is made with luo han guo syrup so that as it melts it doesn't dilute the drink.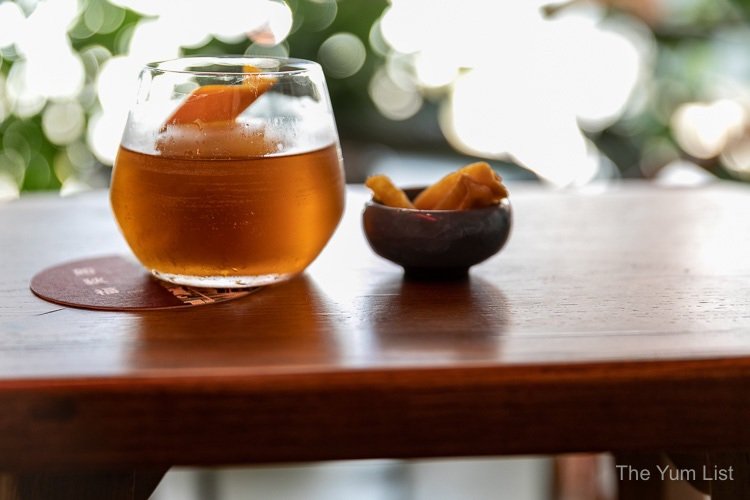 A good range of gin is found at Super Ramen including No. 3, G'Vine, Sloe Gin and The Botanist. We refresh with a chilled glass of Hendrick's (RM37.80) with tonic, mini dried rose buds, shaved cucumber and black peppercorns. Fitting perfectly into the theme of light refreshing drinks that pair perfectly with the richer cuisine, this G&T is floral and crisp.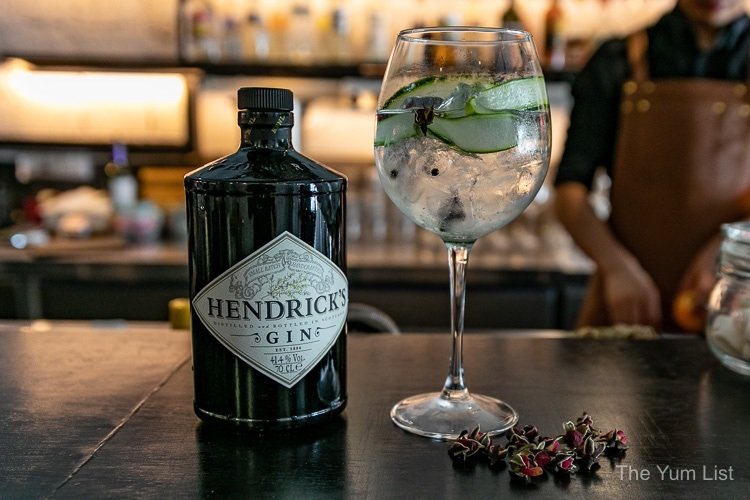 Mocktails are equally perky with Watermelon Coconut (RM12.80) and Lemongrass and Sour Plum (RM12.80) popular picks. The former shakes fresh coconut water, house-made watermelon syrup, basil and soda over ice. The latter's key ingredients are lemongrass, apple juice, ginger and soda. Both are revitalizing and great palate cleansers for the flavour-packed food menu.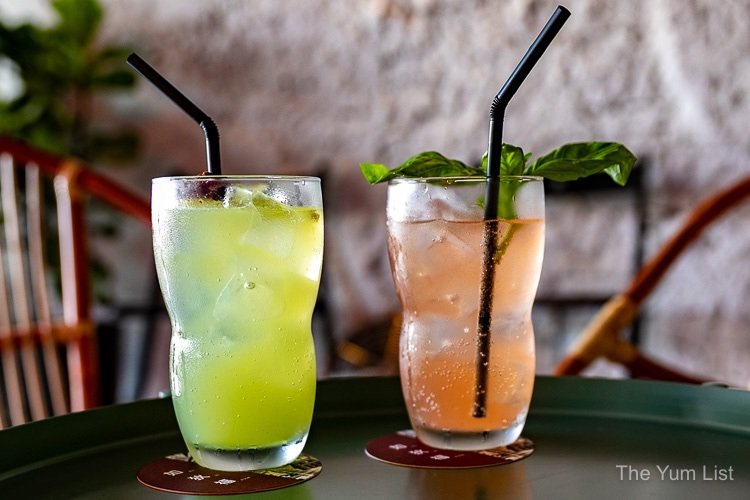 Super Ramen Review
Super Ramen is a fresh addition to the KL restaurant scene. It's a cheery setting with a happy vibe and an innovative food and drinks menu to match.
Reasons to visit Super Ramen Sri Petaling: innovative ramen dishes; must try the King of Pork Chop Ramen and green dragon veggie; Instaworthy setting; drinks prepared by an expert mixologist that pair wonderfully with the food.
Super Ramen
65 G, Jalan Radin Bagus
57000, Sri Petaling
Kuala Lumpur, Malaysia
www.facebook.com/Super-Ramen
Super Ramen Sri Petaling Opening Hours:
Daily lunch: 12 noon – 3 pm.
Daily dinner: 6 pm – 11 pm.
Bar: until 1 am.
Closed Wednesdays