Monica Tindall & Stacey Short
I have to declare up front that I don't mind a drop of whisky or two. Pairing an entire dinner, however, with whisky is not my idea of a great time. I'm a wine girl and have difficulty imagining something as weighty as whisky with every course. I have an open mind though, and eagerly awaited Struan Grant Ralph, the Glenfiddich Global Brand Ambassador, to challenge my perception at a recent whisky-paired dinner at Beta Restobar in KL.
In the stylish surrounds of the dining area (which can be closed off for private events) we were greeted with an Old Allione. Made with Glenfiddich 12 Year Old, elderflower syrup, St. Germaine, dry sherry, Tio Pepe, and lemon, the highball was cool and refreshing. It served as an adept lubricant to a conversation with our fellow diners and Struan, and the discovery of some stories behind the world-famous brand.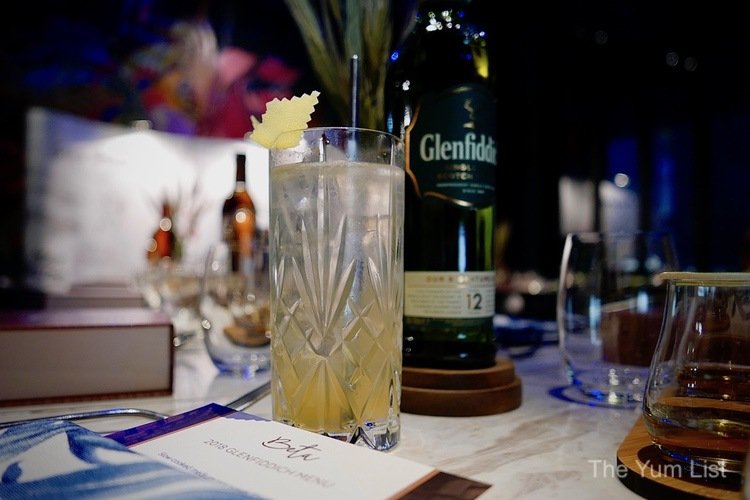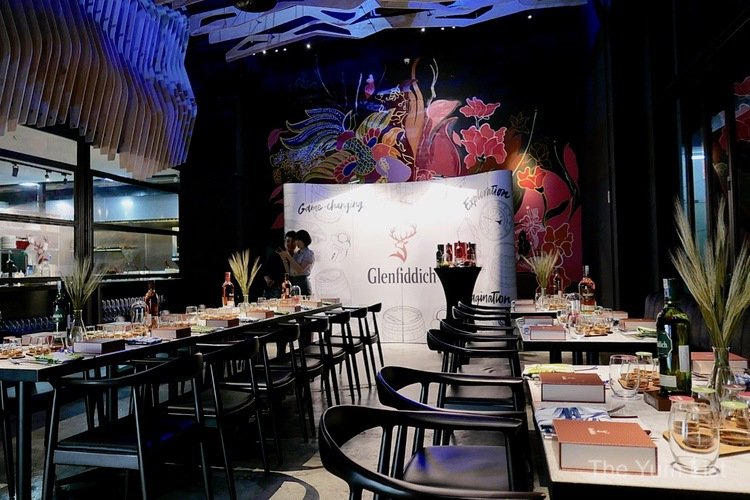 Glenfiddich Whisky
Claiming the title of being the World's Most Awarded Single Malt Scotch Whisky," Glenfiddich is one of the few single malt producers that remains wholly family owned. The distillery was founded in 1886 when William Grant and his children began building it by hand. A year later, the distillery was complete and named Glenfiddich, which means Valley of the Deer in Gaelic, giving reason to the brand's distinctive label.
With multi-award winning whisky, one of KL's most respected chefs, Raymond Tham, and our personal guide, Struan, our evening was off to a good beginning.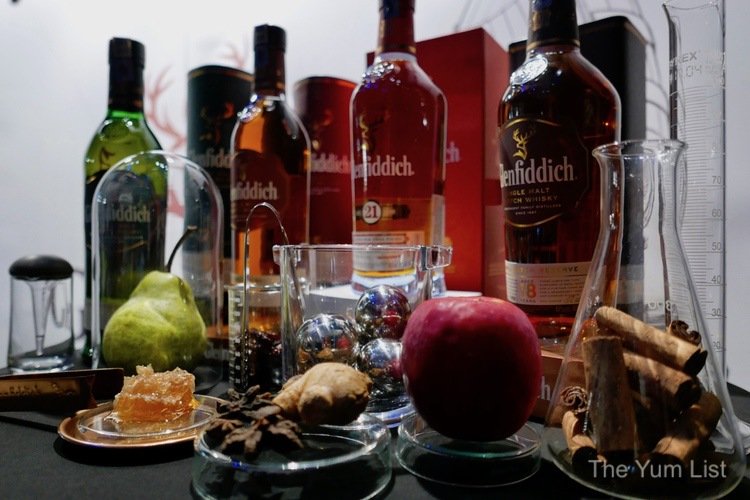 Glenfiddich Whisky Dinner, Beta KL
First Course – Glenfiddich 12 Year Old
I suppose if you're going to convince me that whisky can be more than aperitif or digestive, a smart first move is to incorporate whisky into the recipe – as seen with the local slow-cooked medium rare prawn. Topped with Glenfiddich 12 caviar, which offered mini-explosions of liquid, it complemented the zing of the pickled torch ginger flower. The Glenfiddich 12 Year Old mate mirrored the flavours with hints of apple and pear, a creamy middle and a touch of nutmeg-tinged spice.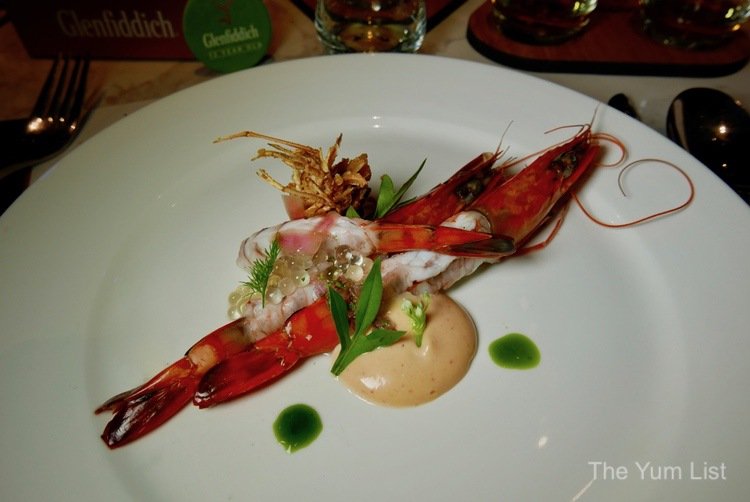 Second Course – Glenfiddich 15 Year Old
The second course, pan-seared salt-brined chicken with ginger and honey espuma and beetroot, was art on a plate. A slender piece of chicken, brined overnight and then seared, lay across a small pond of sauce with a dusting of beetroot powder on top. The chicken was moist and the gentle punch of the root spice played well on the palate. Glenfiddich 15 Year Old, aged in European oak sherry casks and new oak casks, was warmer, fuller and more smooth than the first. Rich, dark and fruity with hints of honey and vanilla, it smoothed the soft sharpness of the ginger in the recipe.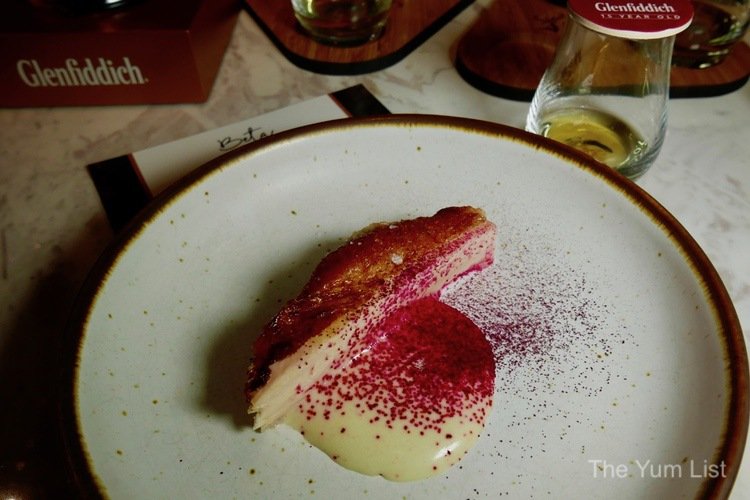 Main Course – Glenfiddich 18 Year Old
Again plated with expert care, the pan-seared lamb rump rested in the centre of the plate with grilled eggplant puree, charred four-angle beans and a delicious raisin reduction. The sweetness of the sauce bridged the meat and the Glenfiddich 18 Year Old expertly. Made in small batches and aged in Spanish Oloroso and American oak, it was deep gold in colour and rich with fruit and oak on the nose. Dried fruit continued in the mouth with layers of smoke, dates and candied citrus peel. It left our hearts warm and ready for dessert.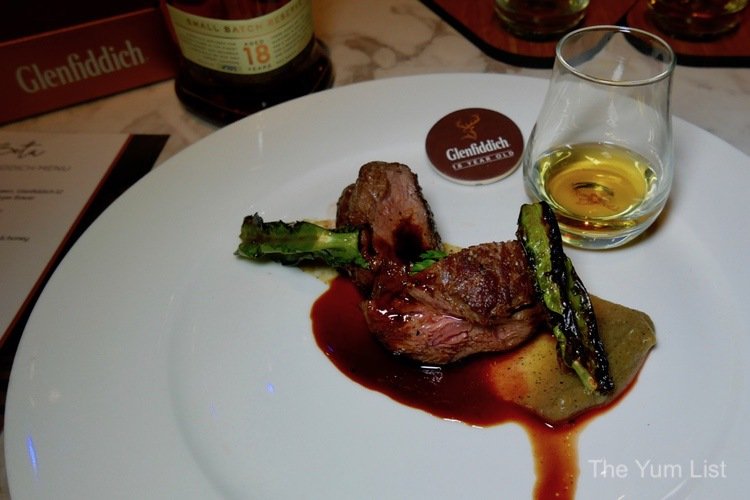 Dessert – Glenfiddich 21 Year Old
Coming to a climax, the gula Melaka mousse with caramelized coconut stole the show in terms of presentation. The creamy base was crowned with handcrafted chocolate in the shape of Chinese characters over which a tangle of chocolate resembling a tree branch lay. Inspired by mooncakes and Mid-Autumn Festival, the pudding approximated a golden moon peeking through the limbs of a tree. Its mate, Glenfiddich 21 Year Old, benefits from a long maturation and a final finishing in Caribbean rum casks. Both flavours and aromas are complex with an interweaving of brown sugar, figs, some tropical notes, pepper and smoke – a vibrant drink with a long-lasting finish.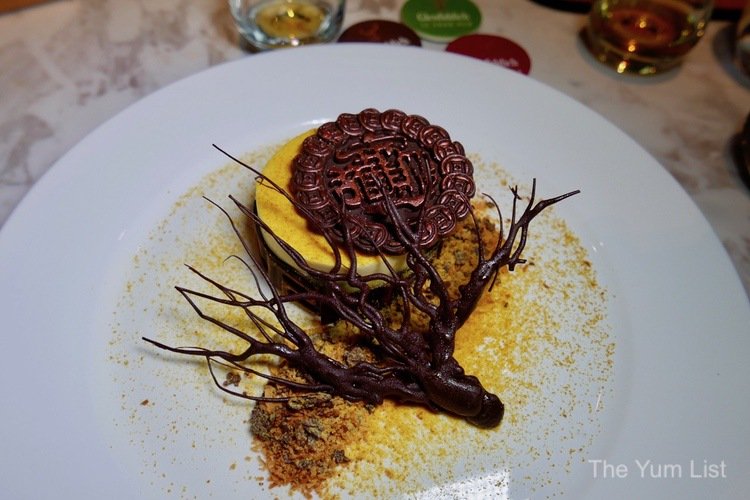 Glenfiddich Whisky – A Special Treat
Okay, so I can admit game-over: not once did I want for wine in this meal. Struan and chef Raymond have convinced me that whisky can be versatile enough to be taken through an entire dinner. But we had not yet reached the end. Not only was our dining companion, Struan, the Glenfiddich Global Brand Ambassador but he is also now officially a whisky maker and as a special treat we got to taste one of his achievements. Project XX (known as Project 20) is a single cask whisky that Struan was a part of creating along with 19 other whisky experts from around the world. Put into an oak sherry cask in 1998, Struan describes the result as "the sum of its parts." The label features an integration of the fingerprints of each of the 20 people and the layers are just as complex as the 20 personalities who brought it together. Project XX offers strength alongside pleasant floral notes and juicy pear. Smooth traces of dark chocolate, spice and nuts lead to a long sweet conclusion.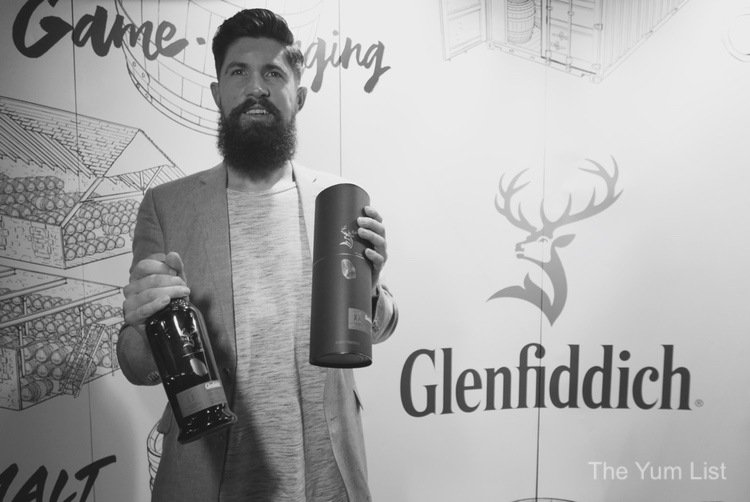 Beta Restobar
Fraser Place (2nd wing on the adjoining building of Skillet and adjacent to KL City Walk)
168 Jalan Perak, Kuala Lumpur
Malaysia
www.facebook.com/betakualalumpur
+6 03 2181 2990
Beta Restobar Opening Hours:
Tuesday – Sunday
Lunch: 12 pm-3 pm
Dinner: 5 pm-1 am)