Monica Tindall
A Spanish winery, famous for Garnacha grapes in the province of Aragon, is this month's featured winery at Stoked KL. Export director, Miss Virginia Gimenez, joins us sharing some stories behind the vines and leads a dinner paired with some signature wines from Bodegas Borsao.
Popularly known as the "Empire of Garnacha," this winemaking region has a long history dating back to 1203 when the first written records of winemaking were recorded in the Monastery of Veruela. Working with 375 winegrowers, the team at Bodegas Borsao focus on the indigenous Garnacha grape with over two-thirds of their vineyards planted with it. Tonight we have a generous tasting of the Garnacha grape both on its own and as a blend.
Snacks – Bodegas Borsao Blanco Seleccion 2015
We enter the tasting with small bites of French Toast with Parmesan cheese cream and cured duck, a rice cracker topped with red koji mayo and thyme, and lastly, a spiral of potato and aioli. It's attractively served on a bed of dried Chinese herbs and the fattiness of each piece mirrors the creaminess of the chardonnay in the wine mate. Blanco Seleccion 2015, a Macabeo (85%) Chardonnay (15%) white blend, gives the creaminess of chardonnay and the acidity of Macabeo. Peach, apricot and a backend of vanilla on the nose follows through with full fruits in the mouth. It's round, smooth, very enticing and the three months the chardonnay has spent in French oak is evidenced in the complexity of the wine.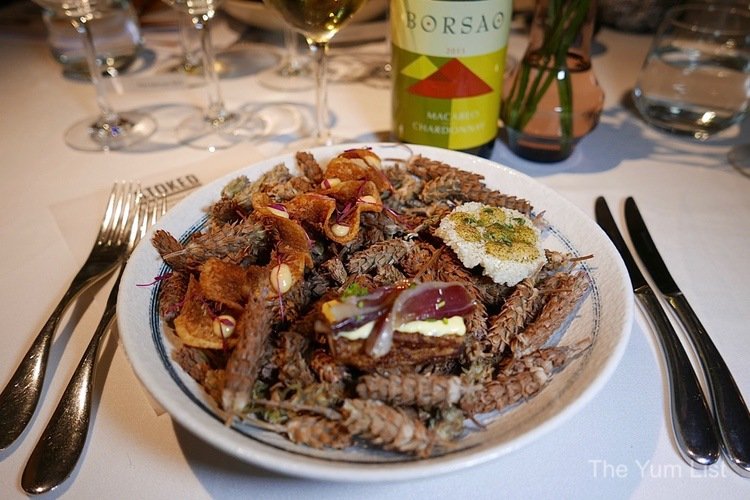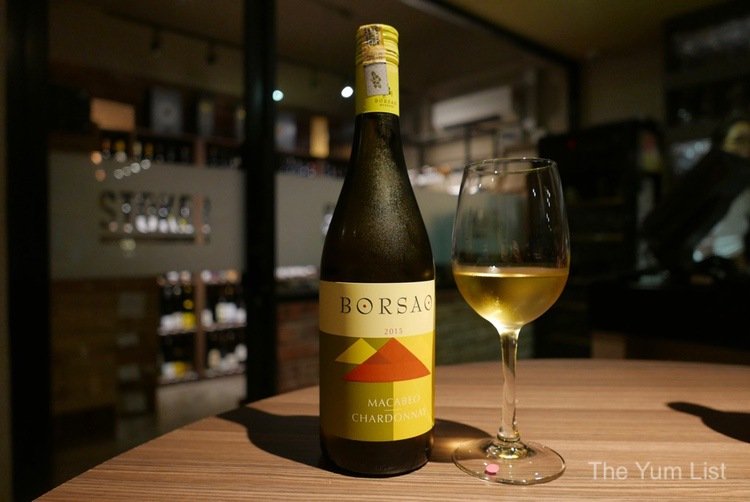 First Course – Bodegas Borsao Rosado Seleccion 2015
Smoky Grilled Vegetables, esclavida in Spanish, is given a decadent element with crispy duck fat. Yellow onion, capsicum and eggplant are rich in flavour and garnished with baby spinach. As I accuse chef of ruining my ideas of eating healthily this evening (balancing out my wine consumption by eating veggies) by adding duck fat he smiles and retorts, "I can assure it tastes better with the duck fat and don't worry, there's some healthy olive oil there too to enhance the flavour." Rosado Seleccion 2015, a crisp Garnacha-based rose, is bolder in colour than most roses, almost amber in hue, and its slight level up in intensity does well with the rich flavours of the grilled vegetables. It's refreshing in the palate with good structure and a bold acidity. It's fruity and concentrated yet refreshing. A balance between sweetness and acidity makes the wine nicely rounded on the palate. It has a silky texture and a prolonged finish.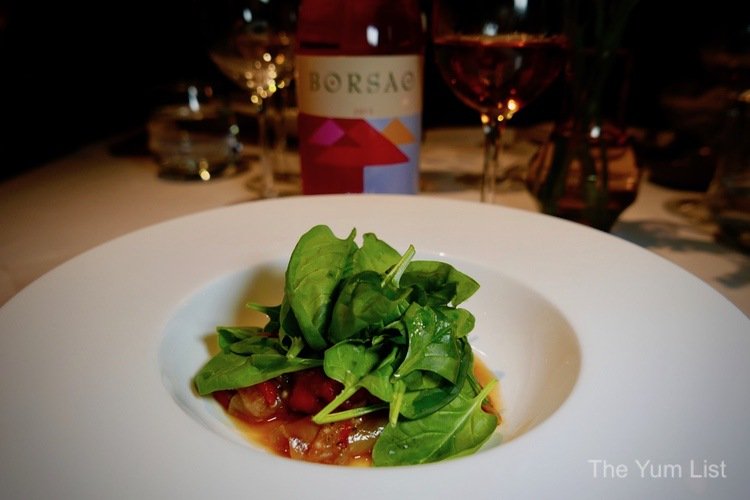 Second Course – Bodegas Borsao Tinto Seleccion 2015
One of my favourite veggies, lotus roots, adds garnish and crunch to the Tuna Ceviche. Tossed with calamansi juice, chopped shallots, ginger, chilli and coriander, the dish is superbly fresh. Soft drops of charcoal infused cream smooth over the tang of the citrus and fresh herbs. Tinto Seleccion 2015, a 100% Garnacha wine, is an interesting pair for this dish. It's a young wine, the most popular wine sold internationally and in the top 100 list of best value wines by Wine Spectator. The colour is a distinctive star-bright ruby red. On the nose, you get sweet spice, smooth liquorice and cinnamon. On the palate, it's velvety with fine tannins and balanced characters of sweetness and acidity. An elegant seam of spice takes us through to the end.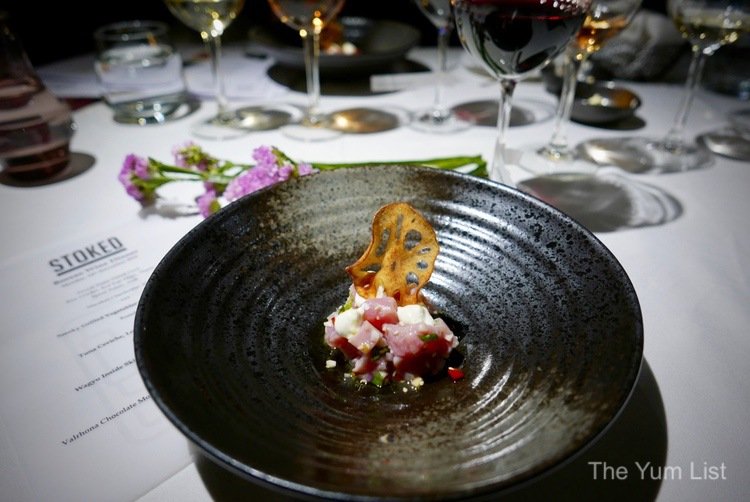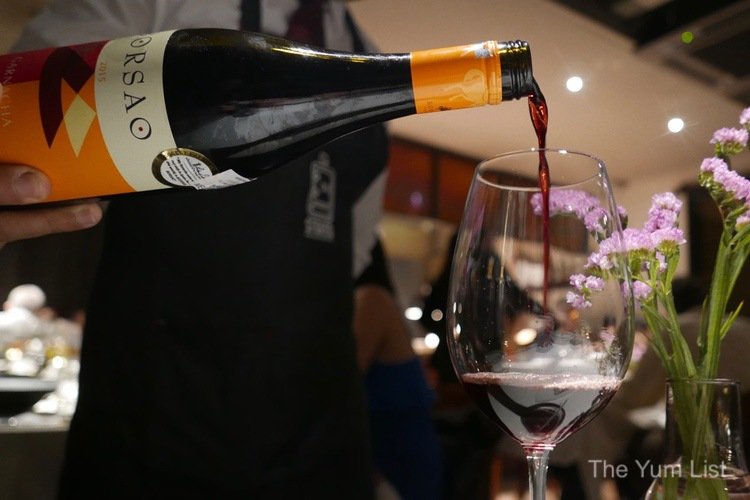 Main – Bodegas Borsao Berola 2013 & Tres Picos 2014
Wagyu Inside Skirt is sided with confit potato, sliced carrot, pea sprouts and a light black pepper jus. It's cooked medium rare and is full of flavour. Paired with two Grenache-based wines, Berola 2013 (Grenache, Shiraz and Cabernet) and Tres Picos 2014, we get to taste and compare the subtleties of each. The former scored 90 points by Vinous. Aged in new French oak barrels for 14 months, it offers liquorice and blackberries on the nose and displays ripe fruit in the mouth. Its high acidity is suited to fatty meats. The latter, made with vines nearing 70 years in age, scored an impressive 91 points with Vinous. Light ruby in the glass, an initial nosing reveals berries and vanilla with whispers of smoke and spice. As it airs in the glass, a certain smokiness becomes more prominent. There's loads of fruit in the mouth and a thread of pepper, which lingers with soft tannins in a persistent finish.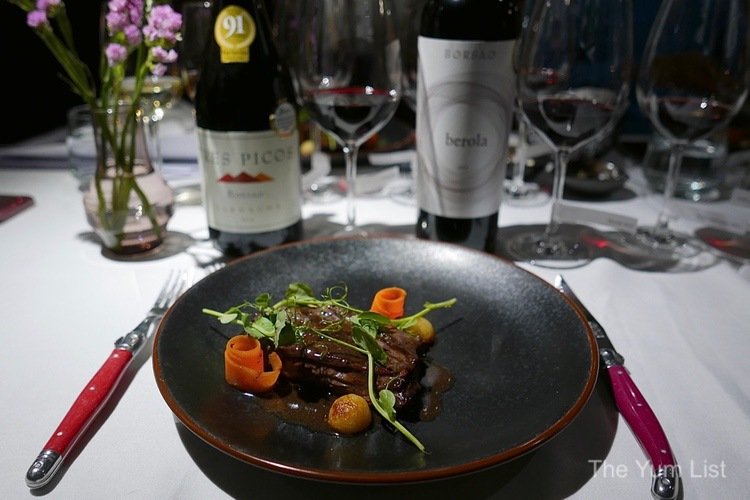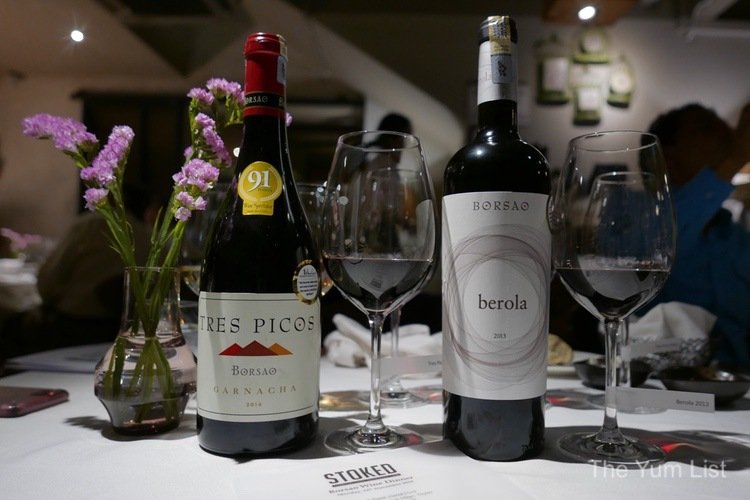 Dessert
The wine bridges the red meat and chocolate with style. Seamlessly transitioning from savoury to sweet, the versatility of the Garnacha is allowed to work its magic. The velvety smooth texture of the Valrhona Chocolate Mousse is broken with dehydrated meringue and milk ice cream, which melts into a milky liquid within minutes of service. It's rich yet comforting – a homely finish to a satisfying meal.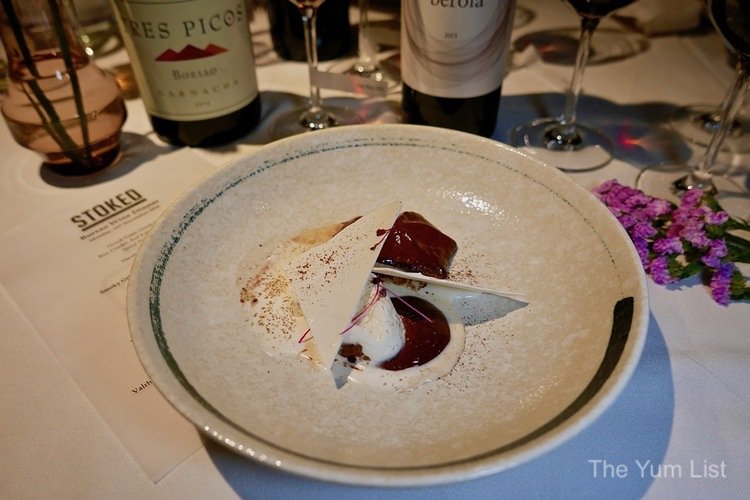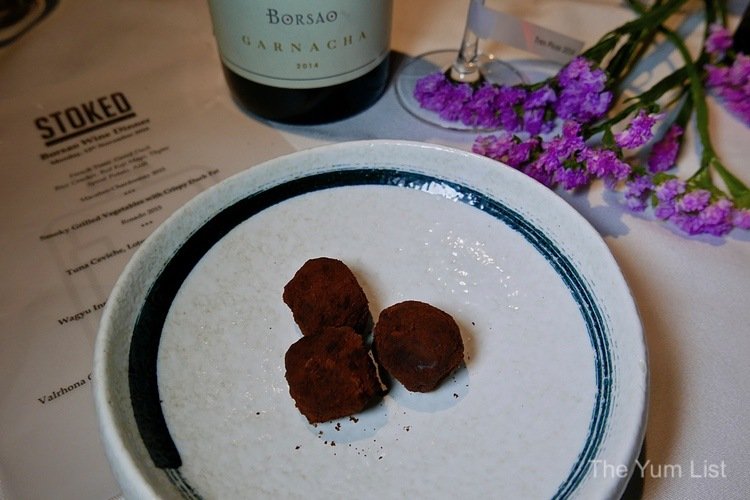 Stoked KL
120-122, Jalan Kasah
Medan Damansara
50490 Kuala Lumpur
Malaysia
Find these delicious Spanish wines and more at In Vino Veritas.
Love wine? Find more of our favourites available in Kuala Lumpur here.