Words: Karen Callahan
Photos: Rich Callahan
KL's original rooftop bar, SkyBar KL on level 33 of Traders Hotel Kuala Lumpur, maintains one of the premier views and late night party vibes in KL. The pool dramatically occupies the slender two-story space. Yet, more impressively my eyes are drawn to the gleaming Petronas twin towers, which are the real stars of the show. We're here on a Friday evening ready to welcome the weekend and check out a few of bartender Ezzy's new cocktails.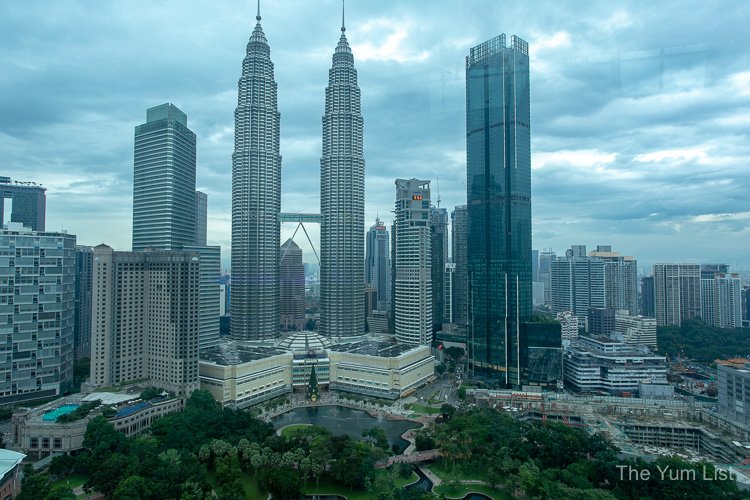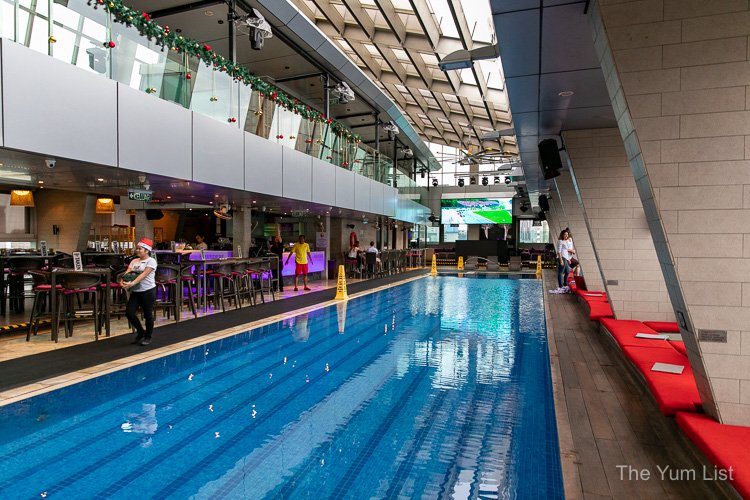 SkyBar KL Menu – Cocktails
We nestle into one of the poolside cabanas (a cosy sunken couch with prime views), eyeing several pages of colourfully illustrated signature cocktails. Ezzy sets our Friday sundown in motion with a sweet East & Zest (RM48) made with Belvedere vodka, orgeat syrup, lychee, pineapple and lemon juice. The tropical presentation matches the sunset and pool setting.
Knowing we had a long list of cocktails ahead of us, one of the signature mocktails was in order. The aptly named Skybar Snuggles (RM25) has a brilliant balance between sour and sweet with its mix of peach and cherry purees, lemon juice and soda water. It's served in a long glass and adorned with a childhood favourite, the maraschino cherry.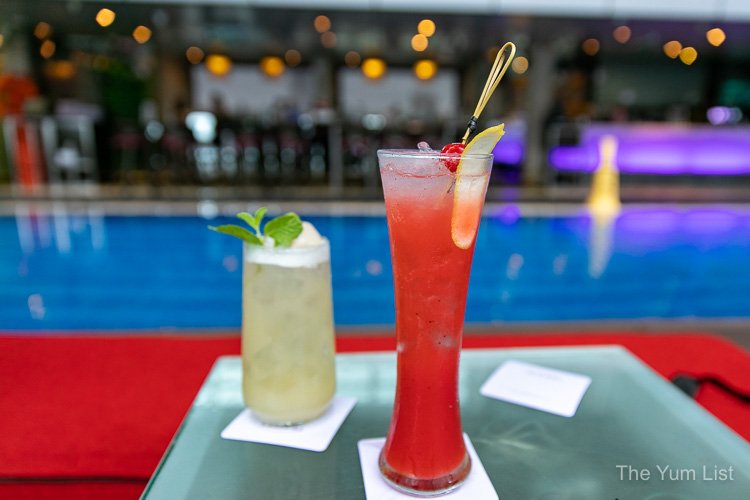 I am most excited about the Sky Spritz (RM80) made with Aperol, Martini Bianco, prosecco, lime and grapefruit juice, because ANYTHING with prosecco is ALWAYS up my alley. The Aperol colours this drink red and is subtly lighter than the presentation suggests. This fresh cocktail tantalizes my senses with the slight fizz, citrus nuance, and rhubarb undertones.
What would a classic KL rooftop bar be without a signature aromatic pandan cocktail? The Pandan Sour (RM48), consisting of pandan leaf infused gin, egg white, pandan syrup, and lemon juice, delivers a cool, sweet vanilla vibe. Frothy egg white adorns the top along with a fresh pandan leaf.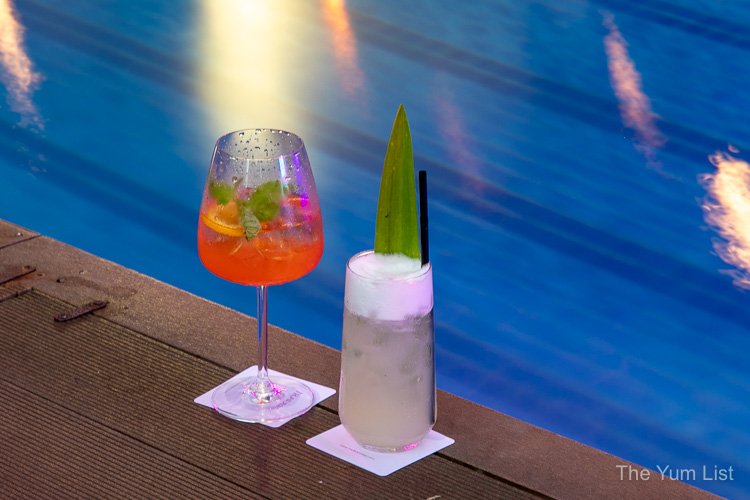 The peculiar pairing of the next cocktail has me wondering how well it sells to the late-night crowd. But, when the health-conscious consumer wants a margarita, only a Carrot Margarita (RM48) will do! A base of Jose Cuervo tequila is shaken together with Cointreau, agave syrup, carrot and lime juice. This one delivers a delightful fusion of refreshing carrot and our old friend Jose! The rim is abundantly lined with salt, pepper and spice mix which contrasts the smoothness of the margarita. I feel healthy and indulgent all in one drink.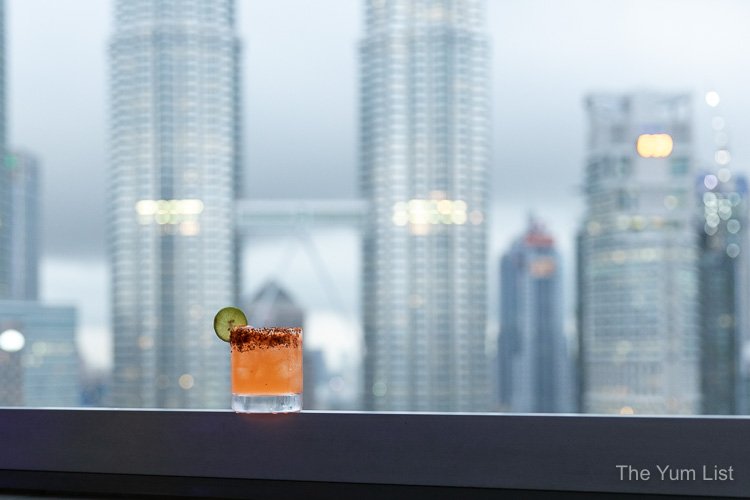 SkyBar Malaysia DJ
As the night progresses, the mood shifts from a scenic and casual happy hour to a rhythmic and vibrant nightclub with a DJ spinning an eclectic mix of dance music (think the top hits from the last 30 years – YMCA played next to Despacito followed by Magalenha).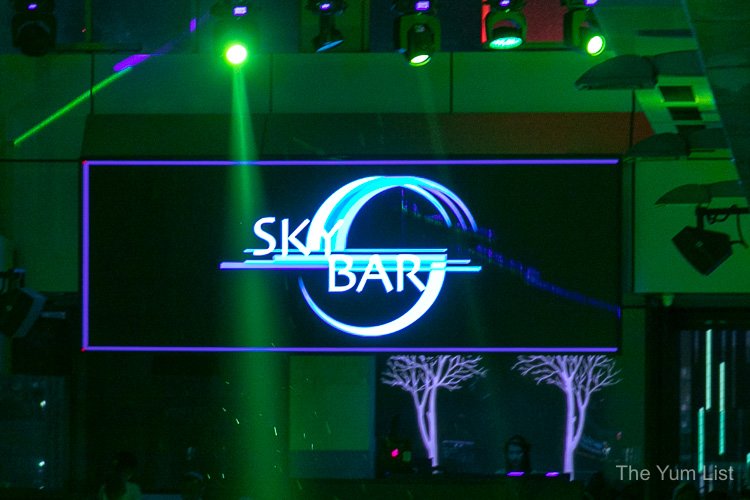 As the night gets darker, we decide so too should our drinks so it's with the Cafferoni (RM48) that we continue. Tanqueray gin, Campari, Aperol and Antica formula infused with coffee beans has a lovely roundness and depth of flavour. The caffeine doesn't hurt either as it approaches our bedtime.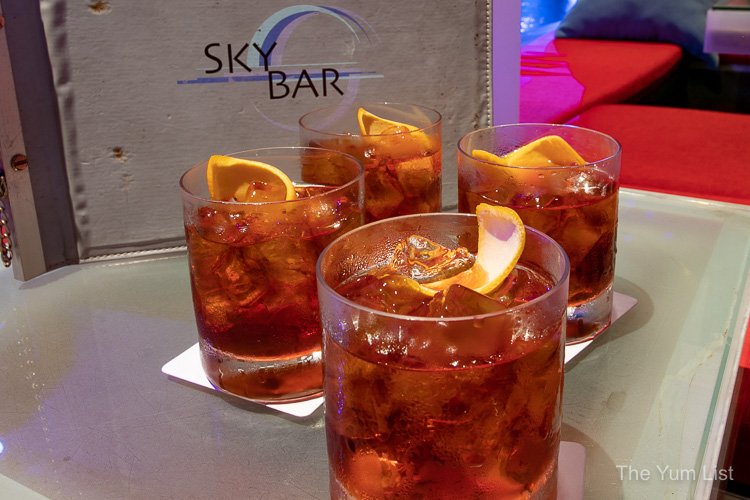 To top off the evening, we indulge in Ezzy's favourite, The Evergreen (RM48). Tanqueray gin, elderflower liqueur, sage, kumquat, and lemon juice form a brilliant drink where herb and citrus fill our sense of sight, smell and most critically our taste. This one, along with the Cafferoni, turns out to be our two faves from the list of SkyBar's crafted cocktails so we end on a high note indeed.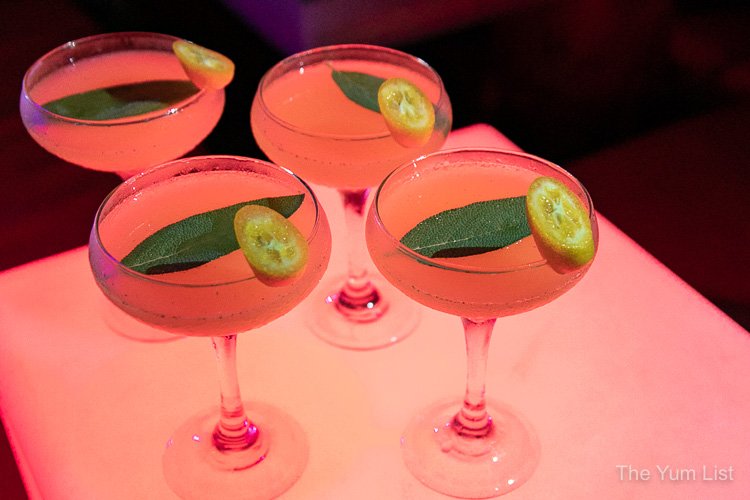 SkyBar KL Review
SkyBar is a mainstay among KL's rooftop bars. The ever-transforming view is a treat for the eyes, and the setting provides for a unique evening out with friends.
Reasons to visit SkyBar KL: incredible, uninterrupted views of the city centre; a fantastic location to watch the fireworks for the many and varied Malaysian holidays throughout the year; a great choice for New Years' Eve.
SkyBar Traders Hotel Kuala Lumpur
Level 33
Kuala Lumpur City Centre
Malaysia
+6 03 2332 9818
www.skybar.com.my
[email protected]
New Year's Eve at SkyBar KL
At the decks will be: Charlotte Devaney, Natalia Moon, Dennis Lau, Ezzy
Package 1 Level 34
Table for 2 persons (non-cabana seating)
RM 1,800 nett inclusive of 2 bottles (1 bottle Moët Brut and choice of 1 bottle Singleton 12 years or Belvedere Pure Vodka)
Package 2 Level 33
Table for 4 persons (non-cabana seating)
RM 2,500 nett inclusive of 2 bottles (1 bottle Moët Brut and choice of 1 bottle Johnnie Walker Gold Label or Singleton 12 years or Belvedere Pure Vodka)
Package 3 Level 33
Table for 4 persons (non-cabana seating)
RM 3,500 nett inclusive of 3 bottles (choice of Moët Rose and Johnnie Walker Gold Label or Singleton 12 years or Belvedere Pure Vodka or Ron Zacapa) and food
Package 4 Level 33
Table for 4 persons (non-cabana seating near the dance floor)
RM 3,900 nett inclusive of 4 bottles ( 1 bottle Moët Rose and choice of 3 bottles Johnnie Walker Gold Label or Singleton 12 years or Belvedere Pure Vodka or Ron Zacapa) and food
Package 5 Level 33
Table for 6 persons (cabana seating with KLCC view)
RM 6,500 nett inclusive of 5 bottles ( Veuve Cliquot or Johnnie Walker Gold Label or Singleton 12 years or Belvedere Pure Vodka or Ron Zacapa ) and food
Platinum Package
Table for 8 – 10 persons (with KLCC view)
RM 6,900 nett inclusive of 5 bottles (Veuve Cliquot or Johnnie Walker Gold Label or Singleton 12 years or Belvedere Pure Vodka or Ron Zacapa) and food
Titanium Package
Table for 6 persons (cabana seating with KLCC view)
RM 10,000 nett inclusive of 5 bottles Dom Perignon and food
Cover Charge
RM 150 nett per person inclusive of 1 glass of Moët Brut