Monica Tindall
It doesn't take much convincing to get me to do an Ashley's by Living Food review. Proclaiming to be the "home of real food, done right" with "wild caught fish, grass-fed meat and lush greens," I know there is always plenty to make both hubby and myself happy.
We're here today to check out the new Himalayan Pink Salt Block menu. The team at Ashley's by Living Food discovered the salt block on a food trip to India. They loved the idea of the cooking style, which they found similar to a cast iron pan, and with their nutrition-loving background, especially appreciated the addition of a mineral element. Looking to add some excitement to the menu, they decided that this was going to be their next big thing for 2019.
Ashley's by Living Food Review – Salt Block Special
The Himalayan pink salt block has many health benefits imparting trace minerals into the food that is cooked on it. Elements such as boron, chromium and manganese are said to assist brain function and have anti-inflammation and antioxidant properties. Besides being a technique that results in delicious recipes, a little nutrient boost is a welcome bonus. The menu is a simple presentation of an appetizer and main and is ideal for sharing.
Chilled Himalayan Pink Salt Block – Appetizer
I've seen the salt block used before for hot dishes but utilizing it chilled is a new idea for me. Here, Ashley cures the salmon on the salt block before rolling it in a fine wrap and topping it with Avruga caviar. It's served alongside crème Fraiche and truffle scrambled eggs on a thin slice of toasted sourdough. Ashley says, "it's basic and simple," but the flavours are complex and layered. It's a delightful start and does indeed awaken the appetite.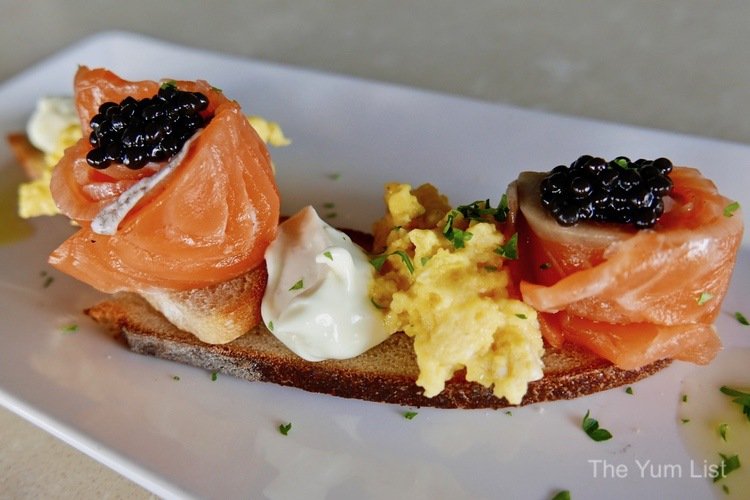 Mains Grilled on the Himalayan Pink Salt Block
Heated to 500 degrees Celsius, the Himalayan salt block is special because it retains the temperature for an extended time and provides a stable, even heat, making it an ideal cooking tool. This churrasco features Ibérico lamb rib, Australian wagyu striploin, fresh sashimi-grade Japanese scallops and wild-caught prawns from Sabah. It is a real surf and turf meal given extra oomph with a mild saltiness imparted from the block itself. There is something so attractive about quality ingredients done simply allowing the natural flavours of the produce to shine: this dish gets a big thumbs-up from both hubby and myself.
Two vibrant sauces are tasty companions: one purple, the other yellow. The first is made with dabai, the "Sarawak olive," which has a flavour similar to olive but the creaminess of avocado. The second, ají amarillo, a Peruvian inspired sauce made with yellow capsicum is mild with a subtle tang. The meat and seafood are toothsome enough on their own but the duo of salsas are worthy additions.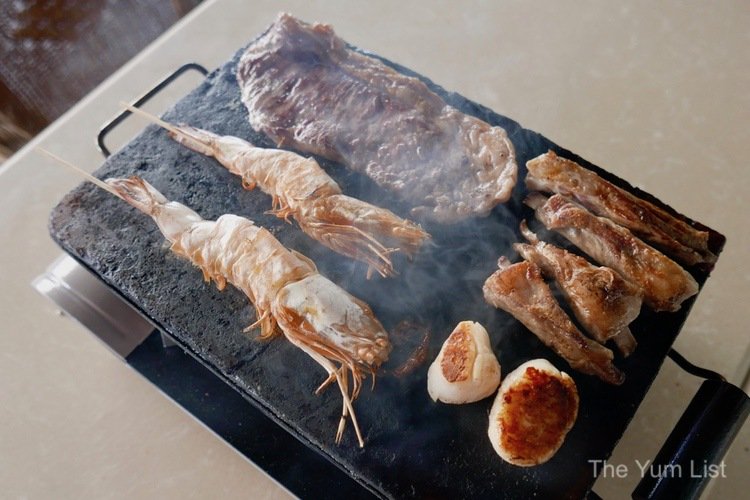 The meats are cooked on the front patio and guests are welcome to take photos and interact with the chef while they're grilling. Once done, they're plated with living greens salad and a side of mushroom Bolognese. A splendid ginger flower mix dresses shredded napa cabbage, kyuri cucumbers, pea sprouts, avocado, pumpkin seeds and cranberries in the salad. The pasta is rich with the house-made tomato sauce and given grain with white button mushrooms. Served over al dente organic whole wheat pasta, it ensures that tummies are satisfied.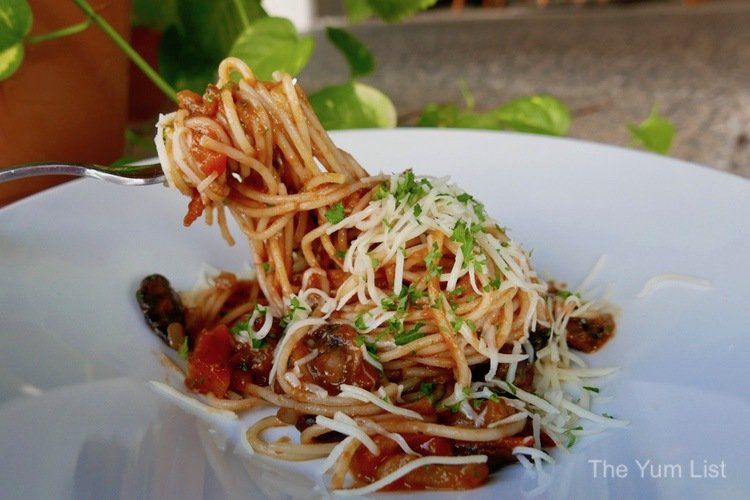 The Himalayan Pink Salt Block menu is ideal for sharing with platters for two people priced at RM248 and for four people RM488. It's available every Friday, Saturday and Sunday until the end of February 2019. Reservations are necessary a week in advance with a 10% deposit as all of the ingredients are ordered fresh. Diners who love the concept can even take a salt block home with them. An 8×12 inch block retails for RM800 and an 8x8inch block for RM600.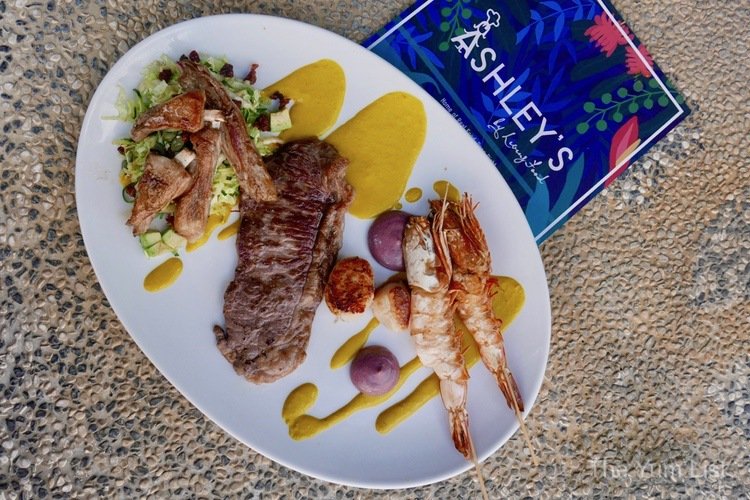 Ashley's by Living Food Review – Dessert
Thanks to the final spaghetti dish, there's not likely going to be much room for anything else – except dessert, of course! Guilt-free sweets are a pleasure at Ashely's by Living Food with many being raw, vegan and gluten-free such as their signature Living Cream Pocket (RM25). Thin crepe skins made from almonds and bananas fold around sweet nut cream and fresh fruit in one scrumptious warm embrace. The cashew paste is so smooth and fluffy it could easily be mistaken for cream and the overall profile is well-balanced with a natural sweetness coming from the fruit.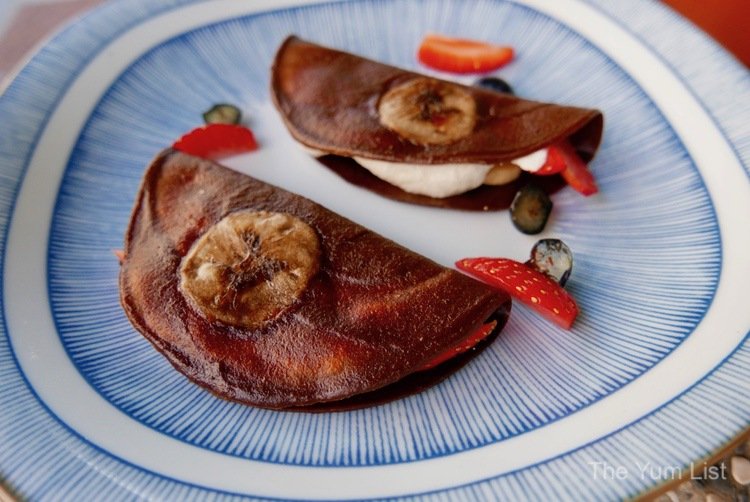 Ashley's by Living Food Review – Drinks
And, to really top off the meal and extend the festive spirit, we conclude with a Mulled Wine (RM28). Just back from the Christmas markets in Europe, we can attest to the authenticity of the beverage: a merlot brewed with cinnamon, allspice berries, cloves and star anise. Ashley tells that it was such a successful Yuletide item that they have decided to keep it on the menu for a while longer.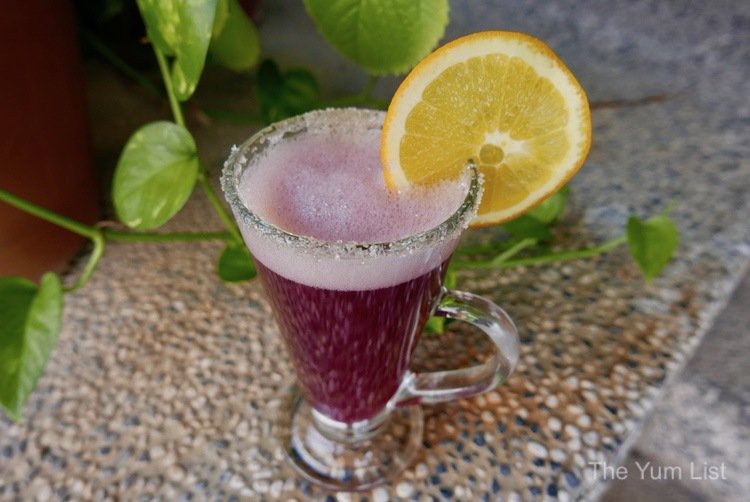 Ashley's by Living Food Review: healthy meals that are delicious; must try the new Himalayan Pink Salt Block menu.