Words: Kitty Lang
Photos: Monica Tindall
At a recent wine event at La Bodega we had the chance to celebrate one of their featured wine houses, Torres Wine from Spain. A household name, this is one of my favourite 'affordable' wines and we are fortunate to have such a large number of their Spanish wines available in Malaysia.
When we arrived, the room already had a vibrant buzz. Joining the fiesta, we quickly found ourselves mingling with multi-cultural hobnobbers and local blogging celebrities. Soaking up the Spanish vibe, conversations were enhanced with Spanish tapas and a whole lot of Torres wine.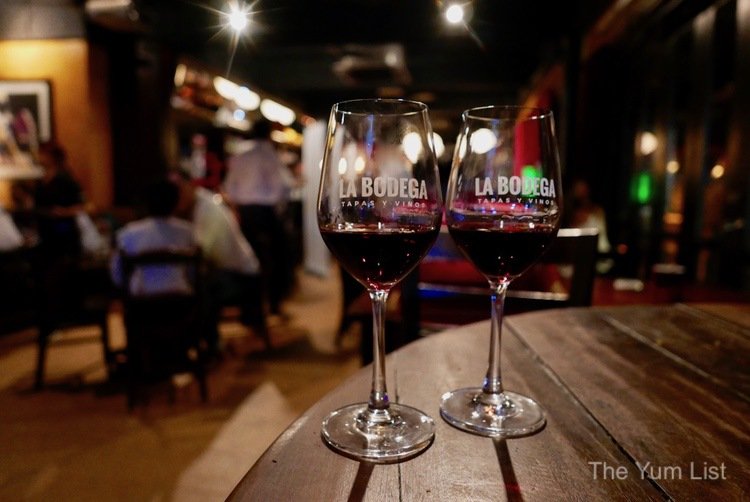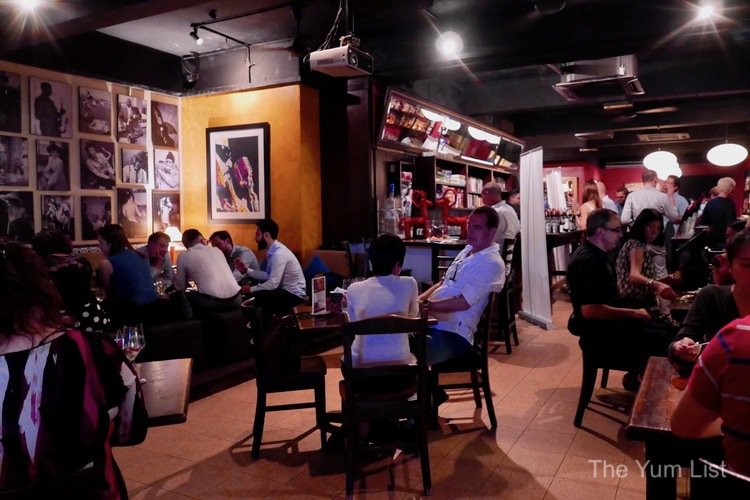 Torres Wine with Food
We were greeted with a glorious spread of tapas and an enormous paella. We started off with a lamb empanada. Having a lovely crusty pastry and generous chunks of melt-in-the-mouth lamb, it was hearty and filling. The crab cake, dense with tightly packed brown meat with aioli, was fried to crispy perfection, pairing particularly well with the Atrium Chardonnay. An interesting and unusual addition to the tapas was a bone marrow gremolata. Rich and creamy marrow contrasted well with bright fresh flavours of garlic. The tapioca cracker with scallop ceviche, was a delight, with heirloom tomato adding a tangy sweetness. I couldn't resist this one and may or may not have (who's judging?) gone back not just for seconds, but thirds and fourths of this lip-smacking pleasure dome. The star of the show, though, was the decadent Paella. Tomatoey with al dente rice, it had just the right balance of flavours. Beautifully decorated with massive prawns, moist and flaky white fish and juicy squid and clams. For dessert, we enjoyed a smokey sugar sesame seed snap, served with a fresh, velvety mango and mint parfait.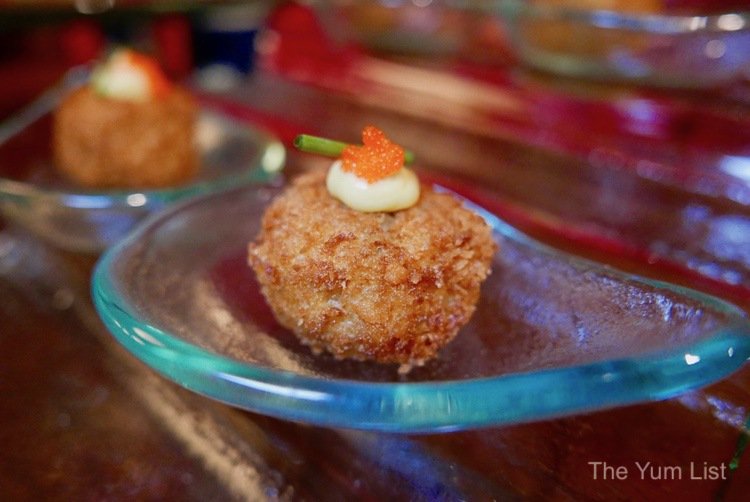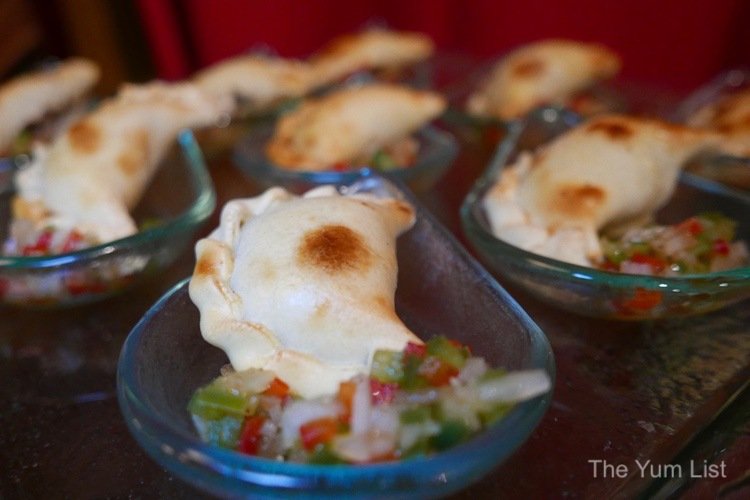 Torres Wine – The History
Torres is 148 years old having been founded in 1870. It is 100% family owned showing in the recently changed logo, where Mr Torres is still very much hands on. They have had some interesting wine revolutions during their time, with Mazaplana being the dream of the fourth generation of Torres, a single grape Cabernet Sauvignon. The son had a fight with his dad about this new direction, with the Mum encouraging them to be more harmonious. Subsequently, at a wine tasting in Paris 1979, their burgundy bottle wine won the blind tasting, unheard of in France of Spanish wine.
In search of broadening their horizons, Torres Wine's globe-trotting allowed them to happen upon Chilean vineyards. As well as having a great climate, the family committed to innovation (using steel vats for example). They also committed to reinstating forgotten varieties with a backbone of the family being their social project of corporate responsibility. For example, they don't advertise the fact that all of their wines are organic as a marketing tool as they believe this should be a given, for any wine producer. This is something they are trying to encourage the rest of the industry to do, whilst investing in different appellations.
Their estate wines and mass wines are two different parts of the business of which 70% are exported.
With a heavy bias towards the reds, we started with the whites and worked our way through all of their offerings. There was not a Viña Sol in sight, so we quickly realised that we were experiencing a more exclusive range of Torres wine.
Torres Wine – White
The Atrium Chardonnay I mentioned earlier, boasted buttery tropical fruits and was well balanced. Chardonnay can sometimes be a bit on the heavy side, but not the case here. The Torres Paso das Bruxas Albariño 2015 was a pale lemon colour and had a palate of minerality, sharp fruit and blossoms.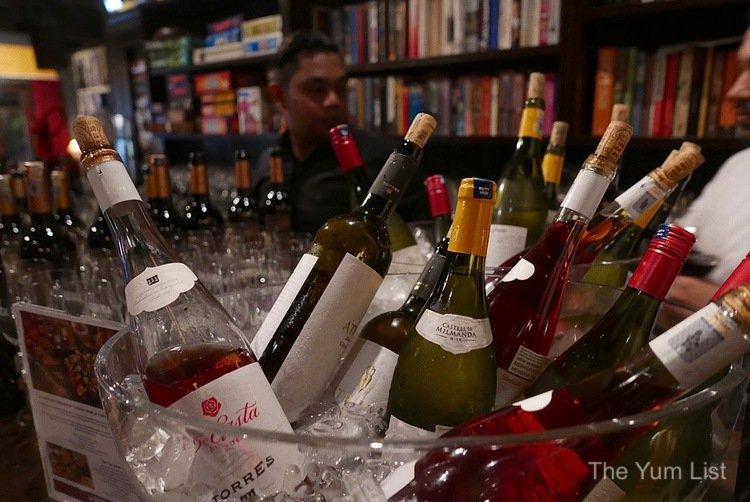 Torres Wine – Rose
Torres De Casta Rosada Garnacha 2016 had the typical characteristic cherry that makes a Garnacha so immediately identifiable and probably my favourite of the reds. In this case, Torres have experimented over 40 years, to perfect this rose.
Torres Wine – Red
La Causa Cinsault 2014 had heavy red fruit on the nose. This was followed by dark plum with good tannins and long legs with more summer fruits on the palate and a long mouthfeel. La Causa Païs 2015 is aged for 12 months in French oak, which was expressed in the tannins. A bit more restrained than the Cinsault, it was certainly a wine that would benefit from decanting. More bright, berry flavours in this one paired nicely with the bone marrow. Torres Altoa Ibericos Reserva Tempranillo 2012 had a strong cherry nose, sharp palate and was warm, rounded by a hint of cocoa. Clearly benefitting from the ageing, it was the oldest wine of the tasting. La Causa Cinsault, Pais, Caignan 2014, the best vintage for this wine, was a deep purple with dark red fruits and spicy notes. Lastly, Torres Altos Ibéricos Graciano Syrah 2014 was a complex wine with a slight hint of mint with long persistent tannins and strawberry with dark fruits.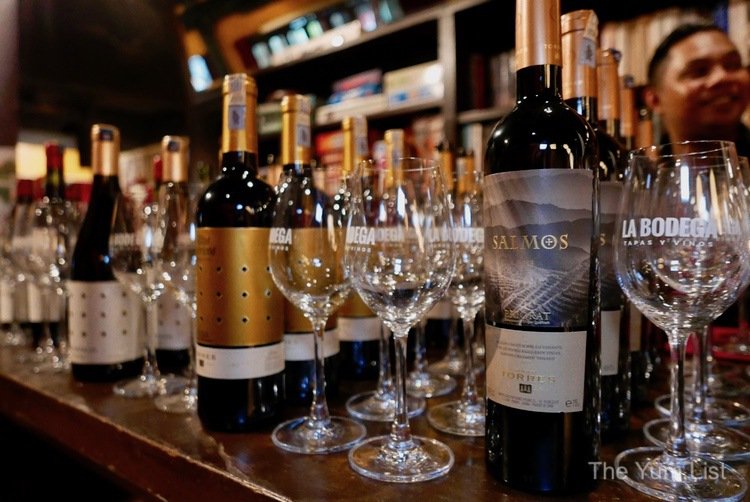 This was a thoroughly enjoyable and educational evening particularly highlighted by the stories of the family and how Torres Wine came to be what it is today. Along with the impeccable hosting of the La Bodega team, great wine and food, we are grateful to have so many palate-expanding opportunities in KL.
Reasons to drink Torres wine: value for money wine, easy drinking on their own and also great with food.