Words: Monica Tindall
Photos: Rich Callahan
"Eat, Drink and Get Lucky"
A cheerful and funky new addition to the Changkat scene is Lucky Tora. Located in the trendy street between No Black Tie and Feeka, it walks in stride with the cool kids on the block. Vibrant in the hipster scene, but two streets removed from the shady crowd, Lucky Tora is bound to make KLites happy for a number of reasons. Craft cocktails, fab menu and happening vibe unite, proposing Lucky Tora as the next in thing.
The entrance is inviting with wicker chairs and tables lined with leafy potted plants and a mural of random Japanese icons. Inside, the roof is partially rounded (perhaps like a bachelor pad of the 70s), neon lights proclaim you can "Eat, Drink and Get Lucky" and a sense of fun is found in exposed bricks painted navy blue with shimmery streamers dangling from above. A playlist of global funk along with Japanese city pop contributes to upbeat vibe and the music is just loud enough to encourage some toe-tapping while still allowing comfortable conversations.
The bar takes the centre position of the restaurant for good reason: they have a serious drinks menu with cocktails crafted by Haniff (formerly of Pahit and Locker and Loft – two of KL's top training grounds for earnest cocktails).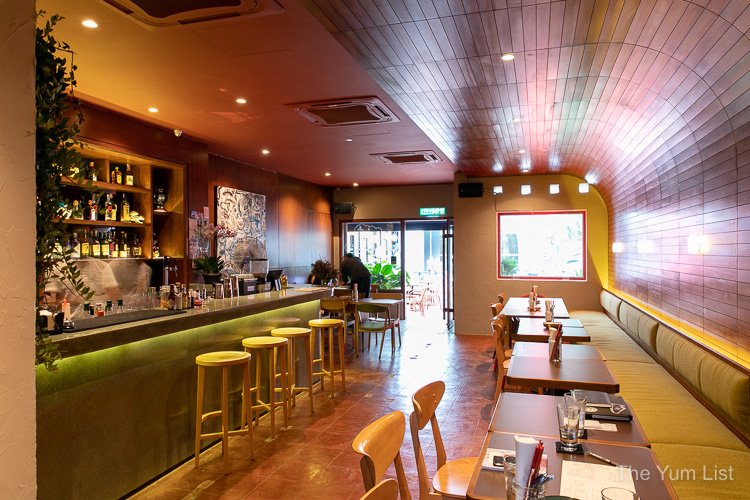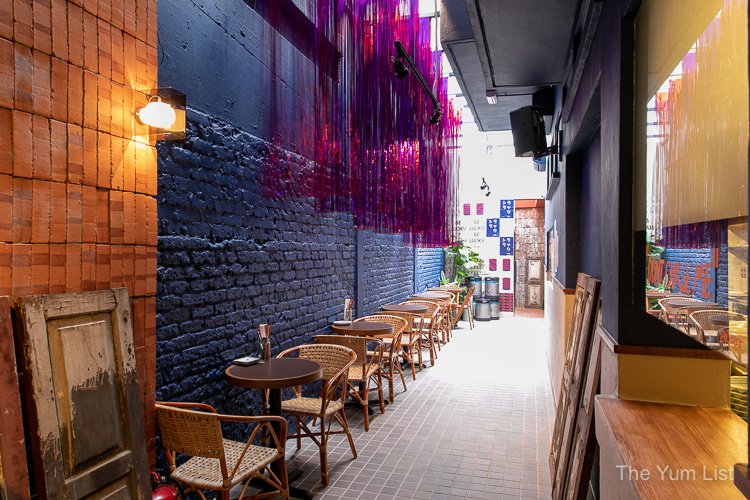 Lucky Tora Menu – Cocktails
Haniff mixes up some Lucky Tora craft cocktails playing along with the restaurant's contemporary Japanese theme. The list is compact making decision-making easy.
A refreshing drink is found in the Midnight Tokyo (RM38) with Ford's gin and passionfruit taking the edge off the warm afternoon weather. Sweet basil, lemon and egg white form an easy-drinking cocktail, something you can sip on all afternoon. Garnished with a half lime shell filled with passionfruit pulp, it gets a big thumb's from us.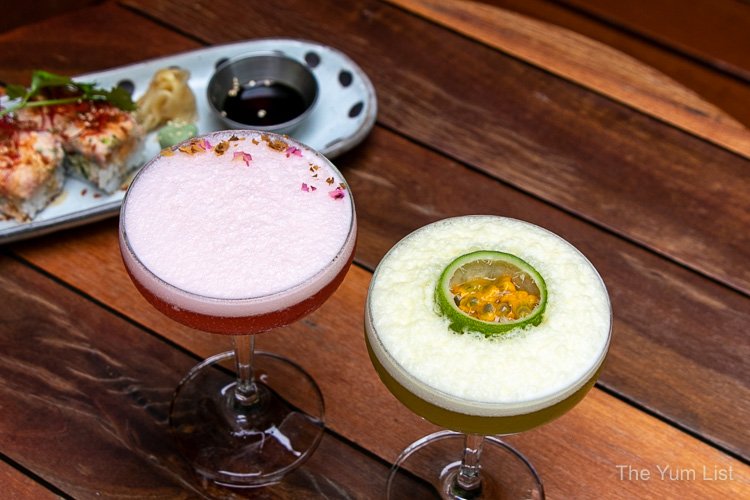 You might want to shout the bar's name three times too after trying the Tora! Tora! Tora! (RM38). At least, I might. It features my favourite spirit, rum! Plantation Dark, Plantation OFTD (Oh Fudge That's Delicious, just kidding it's an overproof artisanal rum from Jamaica – Old Fashioned Traditional Dark), Damrak Gin, Amaro, Cassis, honey and bitters make this a spirit-forward drink, and even if you were not screaming for the love of rum before this beverage, you just might after downing it with the alcohol content seemingly equal to three cocktails combined. Love it!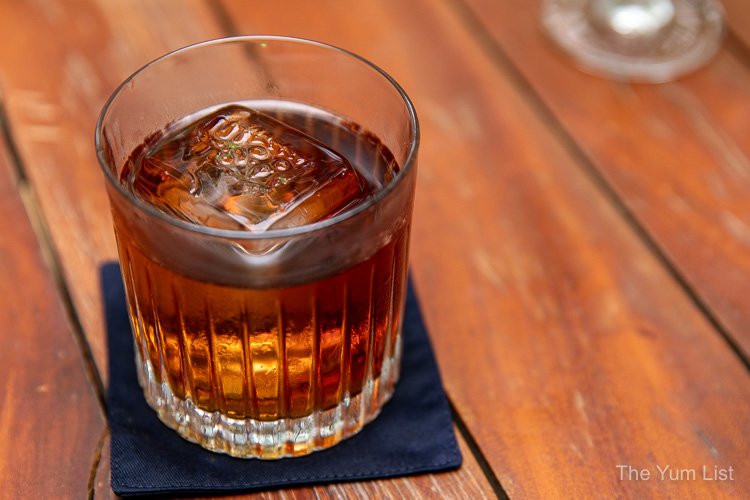 Rozu Pisoko (RM35) brings things back down a notch into the easy-sipping domain with El Gobernador Pisco, rose, lemon and egg white. A pretty pink twist on the Peruvian classic is pleasing both in the mouth and in front of the camera. Dried rose leaves garnish the edge and for those who like the flavour of pandan, you'll find a pleasant roundness to the drink as a result of a drop of screw pine syrup.
Craft cocktails show off the bartender's skill but Lucky Tora also has a good list of boutique spirits, wines, sake and highballs to suit all tastes.
Lucky Tora Menu – Yakitori
Going mightily well with our cocktails are Japanese barbecued skewers of Lamb Rack (RM16), Prawn on a bed of garlic mayo rolled in roe (RM10) and Tsukune (RM7). The first two are pretty much self-explanatory and the last one is chicken mince meatballs greased up with wagyu fat – lush! Mix the egg yolk into the teriyaki sauce and soon you'll be repeating the graffiti on the kitchen window that states, "This guy cook good sh*!"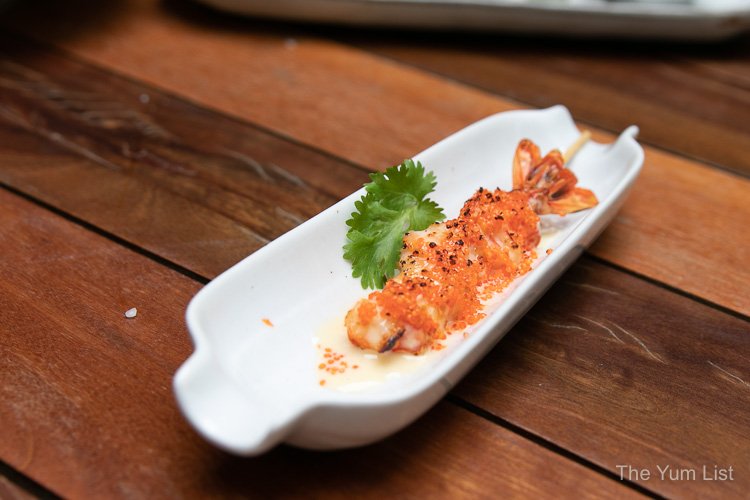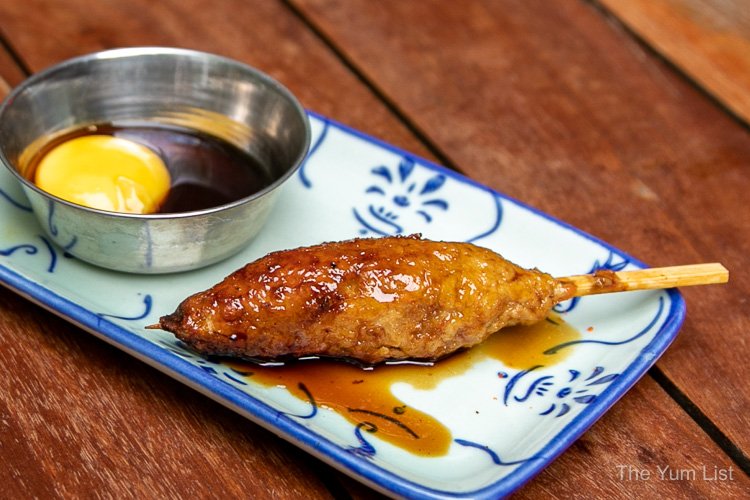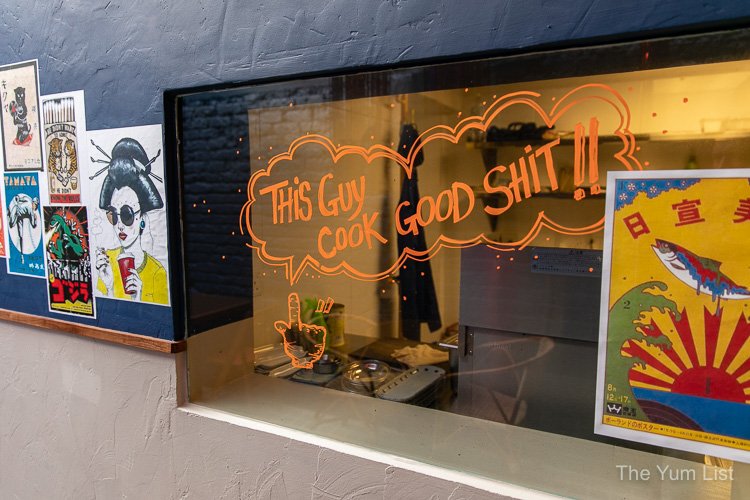 Lucky Tora Menu – To Share
We've decided we like this taste of the Lucky Tora so venture onto some larger, To Share, plates.
Chicken Katsu Bao (RRM18) is a hot seller with the ever-so-popular deep-fried chicken katsu stuffed alongside char-siew sauce, tartar sauce, pickles and coriander in a soft steamed bun. There are shavings of ginger torch (you know my love for this!) that lifts the richness of the fry.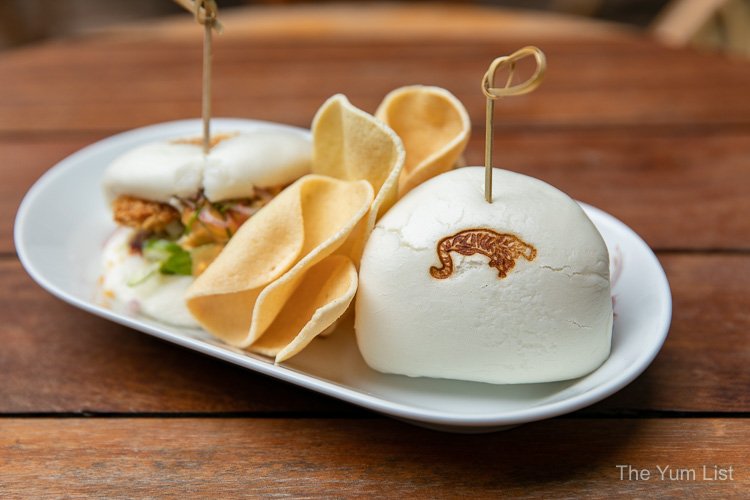 Another firm favourite, the Unagi Tempura (RM18), makes the beloved eel the star of the deep-fry show along with four-angle beans. Teriyaki sauce and Japanese mayo are drizzled across the top. They lie on a bed of fried glass noodles (yee mee) and are crowned with edible flowers as garnish.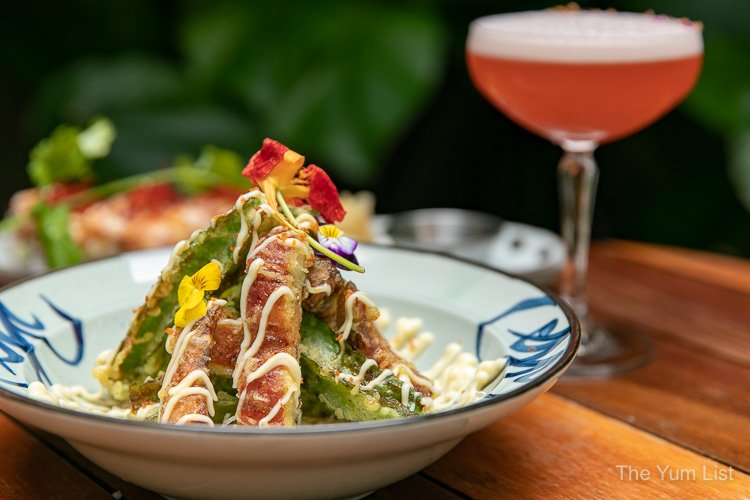 Lucky Tora Menu – Makimono
We roll into the Makimono menu with NYC Spicy Tuna Rolls (RM22). These scrumptious little cylinders have a good zap to them thanks to finely shredded red chilli laying across the top. Rice wraps tuna, cucumber, spring onions, tanoki (breadcrumbs) and crab meat. A homemade spicy sauce along with wasabi and pickled ginger further season the bites.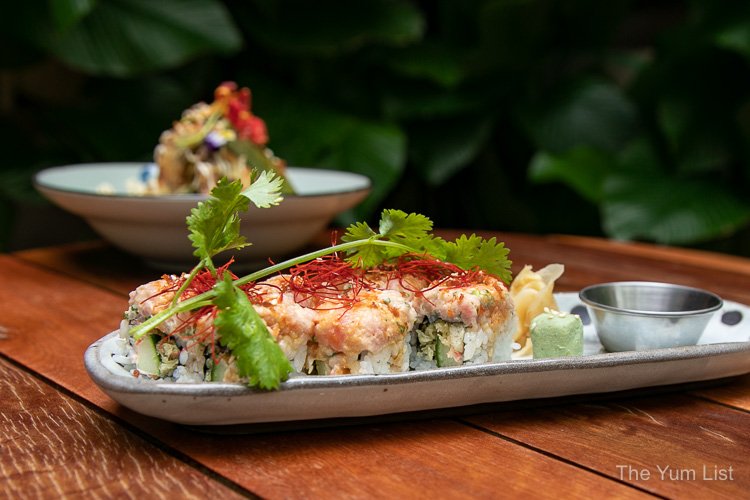 Lucky Tora Menu – Don-Don
Want to continue imbibing those mouth-watering cocktails? No problem! There's plenty to line stomachs with Don-Don – rice bowls.
Wagyu Beef Katsu Don (RM32), as you've probably guessed, is topped with barbecued slices of wagyu beef as well as tanoki, a fried egg, mixed veggies and a side of miso soup. I look across the table and the boys are clashing chopsticks. As I watch them both switch to spoons to scoop more up in a testosterone competition to the very last grain, I sure am happy that I was fast enough to get in a bite before they got the taste. As I note my observations to the pair, hubby denies all involvement but Rich proudly claims that spoons allow you to shovel more, faster.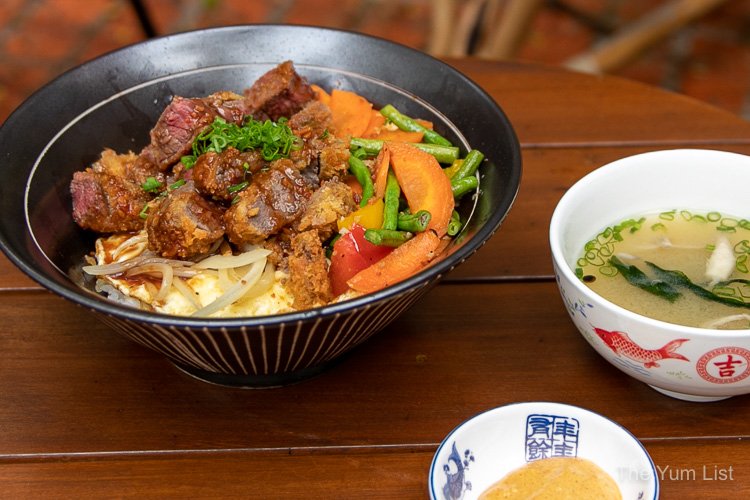 Another tummy-filler is found in a sticky bowl of garlic-fried rice holding tiger prawns, squid and egg in the Tiger Fried Rice Seto (RM24). A mini salad and bowl of miso soup turn this into a complete meal. It is such a comforting dish I immediately understand why orders of the set become very popular around 10 pm on the weekends.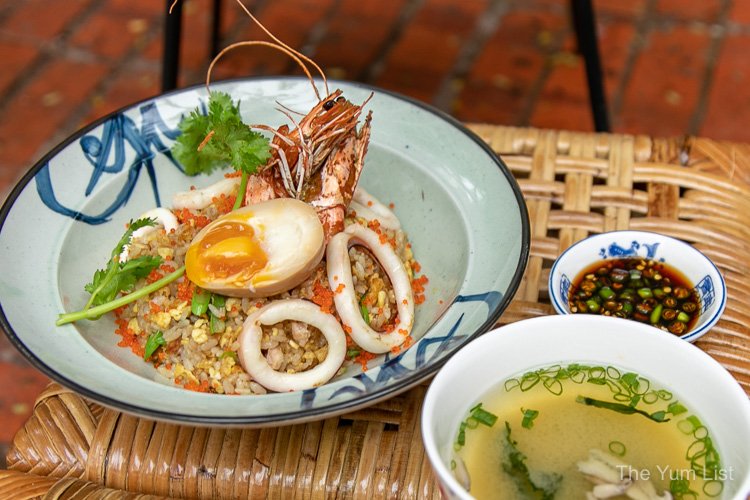 Lucky Tora Menu – Desserts
Personally, I would return to the bar for dessert, but Rum and Raisin with Beef Bacon (RM14) do sound intriguing right? It turns out a good match with creamy gelato made by local supplier Forty Licks contrasted with crunchy bacon bits.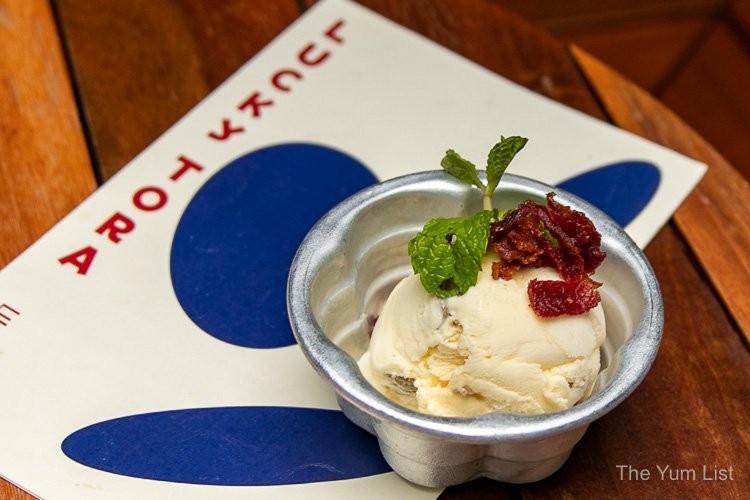 Wrapping things up, literally, we hit the climax with the Banana and Nutella Spring Roll (RM14). A great conversion of savoury into sweet with the rolls stuffed with warm sweetness and covered with melty ice cream. Hot. Cold. Nutella. Yum.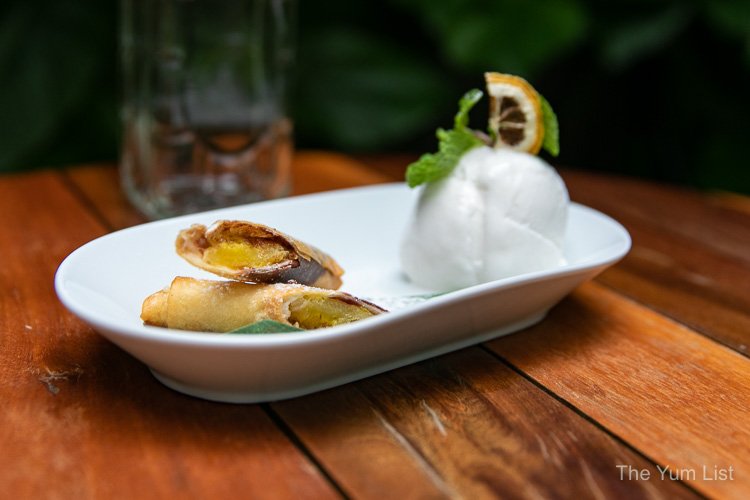 Lucky Tora Review
Uncomplicated and fun with an upbeat vibe, tasty food and expertly prepared cocktails, Lucky Tora is well worth a visit.
Reasons to visit Lucky Tora: fun, friendly setting; injection of South-East Asian flavours into Japanese recipes; playful food and vibe; one of the most reasonably priced places to dine in Changkat; GREAT craft cocktails.
Lucky Tora
25 Jalan Mesui
Changkat Bukit Bintang
Kuala Lumpur
Malaysia
www.facebook.com/GoLuckyTora
Lucky Tora Opening Hours
Monday to Friday – 12 pm – 3 pm, 5 pm – 1 am
Saturday & Sunday – 12 noon – 1 am (last call 11:15 pm)
Find more of our recommended bars in KL here.