Words: Monica Tindall
Photos: Rich Callahan
It's always a pleasure to see what chef Raymond Tham has cooking in his kitchen at Beta KL. Providing a contemporary look at Malaysian cuisine, Raymond and his team inspire guests to view local with a whole new mindset. They've made some distinct changes to the menu since our last visit and vamped up their cocktail list to pair with food so we can't wait to check it out.
Beta KL Welcome Drink
Chef Chris, who has been taking his culinary skills to a whole new level in a stint behind the bar, greets us with a welcome drink, The Oriental. Living up to its Chinese theme, the ingredients are orange, cinnamon, red date, longan and apple cider for acidity. It's sweet and sour, and indeed very refreshing. There is a distinct moreish quality to it, making us want to continue sipping.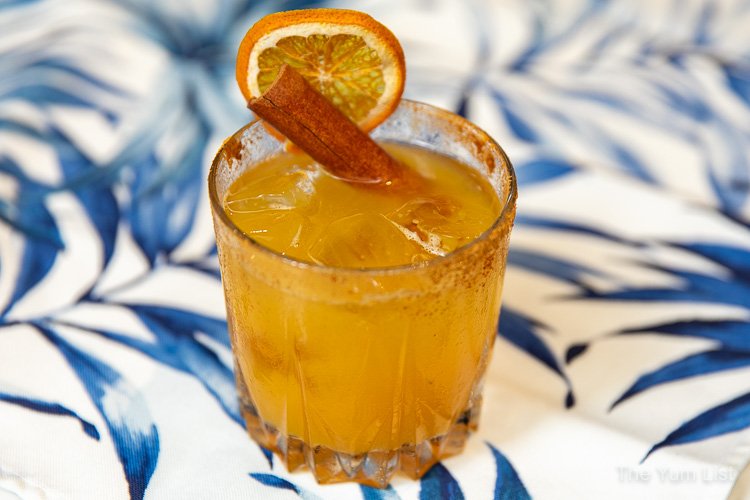 Beta KL Menu
One of the biggest changes to the Beta KL menu is that dinner is no longer offered a la carte but rather in set menus. Available in three, five and seven-course series, there is also an option for cocktail pairing. Today we try a number of highlights across the menu including a dish for Chinese New Year (that is fast approaching) and Raymond's signature chocolate dessert, this time with a Chrissy theme.
Beta KL Menu – Snacks
It's intrigue from the very first plate of snacks. A trio of small bites is presented over a display of black and white beans. The snacks will change regularly but today it's mushroom, turkey and salted egg. The first sees a mushroom paste crowned by fine shavings of local cheese with Sarawak pepper atop a Feuille de brick. The second is a crisp potato cylinder filled with shredded turkey with fermented cranberries (which, by the way, have been continuously fermenting since 2015 – dedication). Lastly, a black puffed sago cracker shaded with squid ink holds salted egg yolk cream, dried tiny shrimp and a fried curry leaf. Each reaches a different part of the palate and fulfil their assignment of awakening appetites.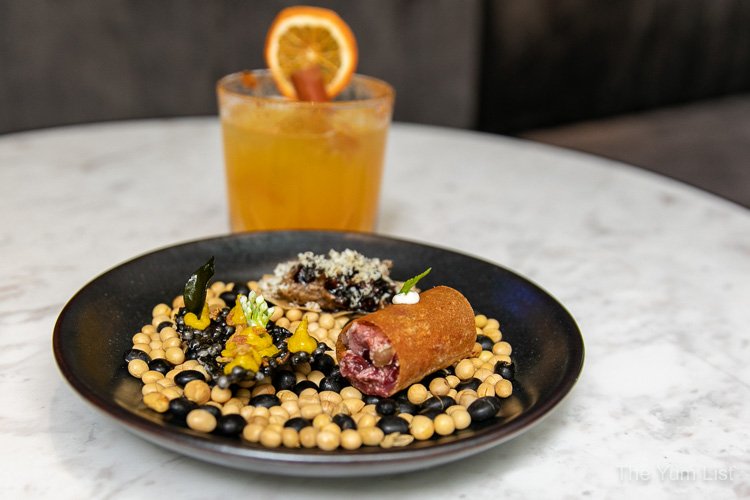 Yee Sang
With a look ahead to Chinese New Year – that is just over a month away – Raymond delivers the "Yee Sang." I bet those who know yee sang would not even come close to calling it. Individual portions offer a marked change to tradition. A mini tower of finely diced scallops with pickled papaya, carrot, mango and a little beetroot present, perhaps, the prettiest yee sang dish I've come across. On top, there are deep-fried yams with golden coins of pickled pumpkin and at the final moment, pomelo snow is sprinkled over. A thread of tang and sweetness is given by plum sauce and decadence with an abalone adorned with a leaf of gold on the side.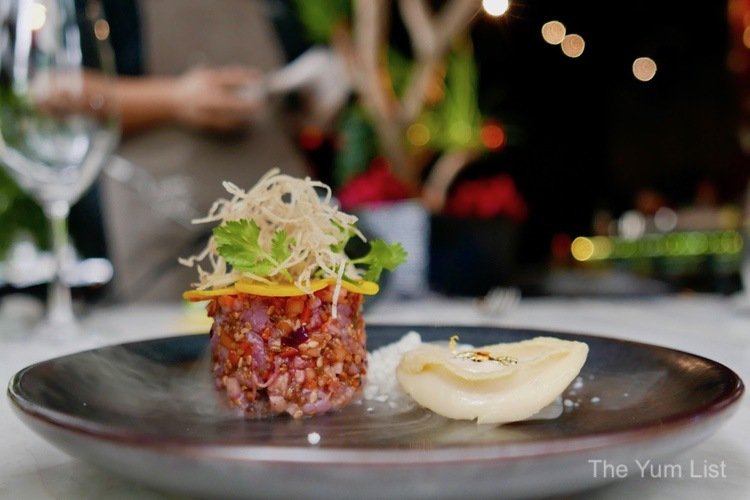 Beta KL Menu – Pairing Cocktails and Food
Next, we get a taste of the developing concept of menus paired with cocktails with the Malaysian Daiquiri and Tiger Prawns. The beverage was imagined with memories of Chris' grandmother's insistence of making street food at home. Her opinion was that she could make it better and healthier in-house and so encouraged the kids to eat at home. One such recipe was her vamped up pisang goreng (fried bananas). Instead of using regular bananas she used the musa variety, which is thicker and offers a slight side of sourness. To mirror this favourite childhood snack, Chris infuses dark rum with curry leaf – curry because it brings out the fried flavours and Brugal añejo rum because of its vanilla and caramel profile. The fruit is represented by banana liqueur, and brown sugar mimics the caramelization that occurs after frying. A garnish of dehydrated banana slices, a giant sprig of curry leaves and edible flowers are rather dramatic. All in, it's yum!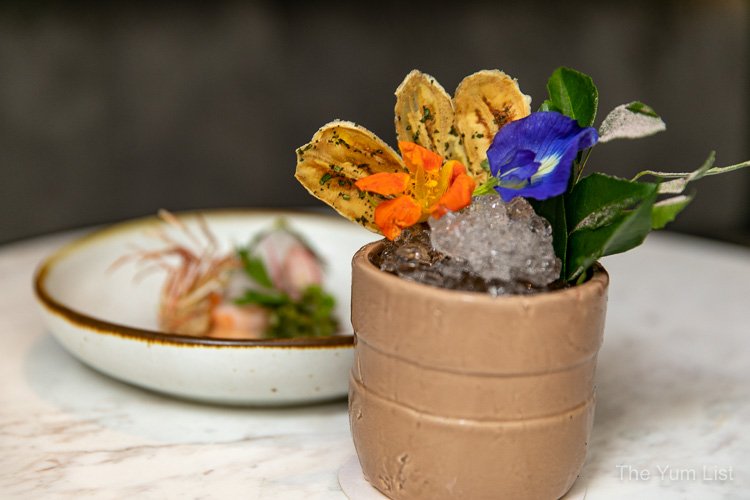 Tiger Prawns are the mate and we're happy to see a focus on sustainable eating with the entire prawn, including the head and the shell, used in the dish. The flesh is made into a roulade, the head is deep-fried and the shell has been turned into an aioli. Finely diced cucumber, shallots and that addictively zappy ginger torch complement this fresh dish beautifully.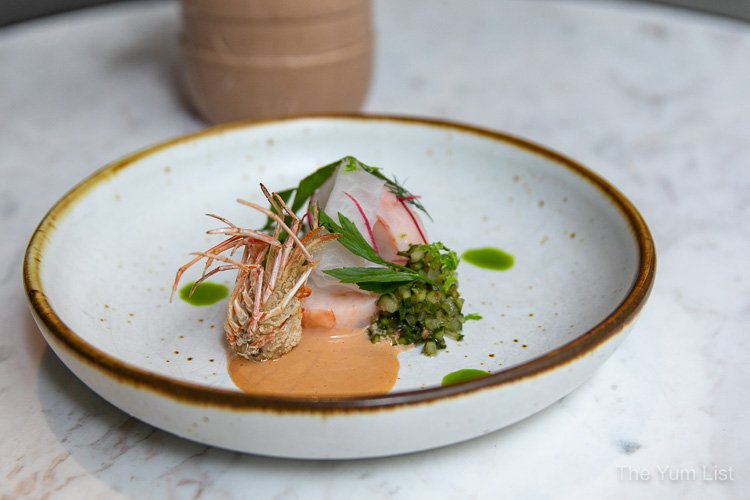 Beta KL Menu – CNY
Another cocktail from the new Beta KL menu, the Hanz Sling, persuades our minds to return to Chinese New Year. Hanz means sweet potato in Hokkien slang and, as such, this mix reflects the classic sweet potato Chinese soup and tang yuen (sweet glutinous rice balls often associated with this time of year). It is with a sense of Chris' longing for home that pandan infused gin (Brokers), Suze (a type of liqueur with an earthy bitter taste) and ginger come together. Orange, yellow and purple sweet potato balls float through the drink and the pandan and ginger play a gentle seesaw of flavours.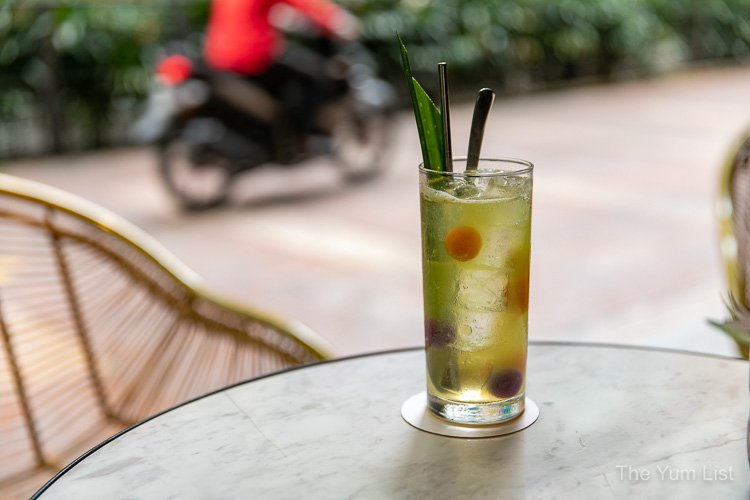 The fish dish going with this cocktail is one of chef Raymond's favourites – and that is saying a lot as chefs are often hard-pressed to pick one dish over another. Local Barramundi is moist and flaky and lined with a delicious crushed candlenut blanket. Seaweed supplies the umami flavours and a sauce of turmeric, clam juice, galangal, lemongrass and betel leaf adds complexity. Layering the dish even further is a side of poached clam and fermented pineapple. The fish, I imagine, will suit most palates, while the fermented fruit provides something for more adventurous taste buds.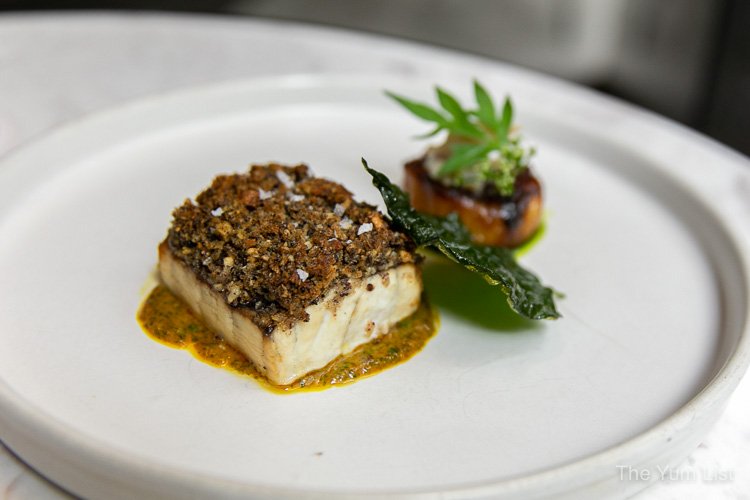 Again, looking to the not-too-distance future, our third cocktail is a readying for Valentine's Day aptly named, Pick-Me-Up. All ingredients, apart from the liquor, come from Cameron Highlands. This drink is both fruity and floral with Chrysanthemum infused vodka, elderflower liqueur and roselle syrup. Acidity is layered with strawberry yoghurt and lime and egg white foam provide a light, creamy top. It furnishes a lovely aroma, goes down sweet and sour and finishes with a whisper of bitterness. Last but not least it's dusted with roselle powder, three drops of Peychaud bitters and garnished with a choc coated strawberry gentleman.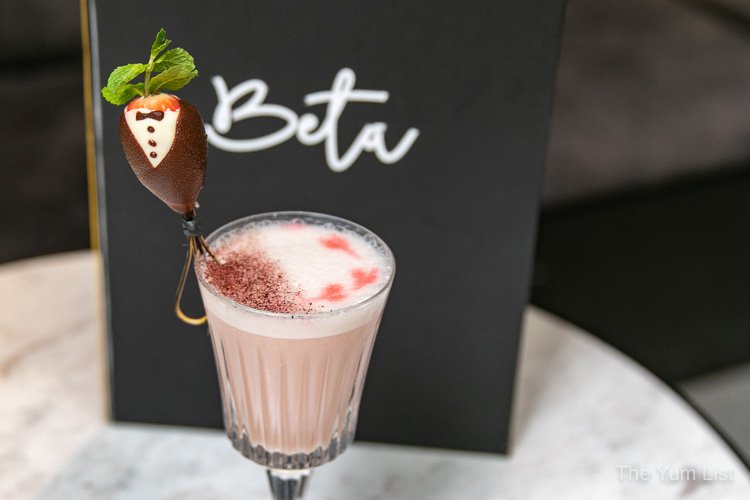 Beef Short Rib
Rich's love for meat is pampered to in the slow-cooked Beef Short Rib with Sarawak black pepper. It's cliché fall-off-the-bone good. The flavours are quite bold hence the pairing with mashed potato and chargrilled local veggies including four angle beans, which provide texture but don't compete with the taste. It really is so very very good!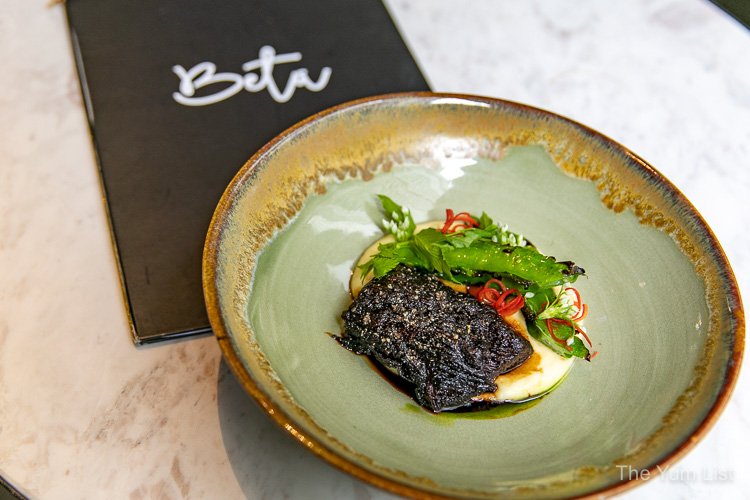 Christmas Dessert
Bringing the tasting to a climax is chef's signature chocolate dessert. A red Christmas tree centres a wreathe of pine. The outer layer is white chocolate and the core a tangy passionfruit curd. Dark crisp chocolate and white yoghurt sponge surround the tree as if presents under the tree gifting contrast in texture. It arrives in a cloud of smoke and disappears with swift motions of the fork. We both find it luscious and shamelessly murmur sighs of gratification until every last crumb is gone.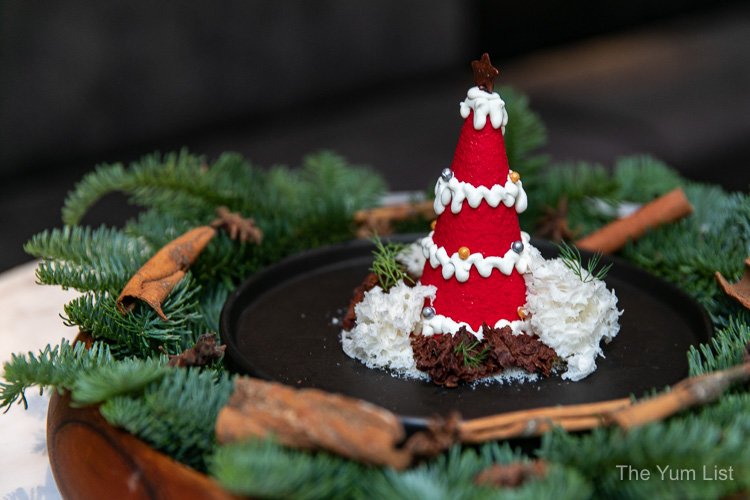 It would be a shame to not delight in one of chef Raymond's chocolate desserts but bartender Chris' culinary background is proposing audacious competition in his final proposal. Kindled by the classic Hong Kong dessert, yang zhi gan lu – made from mango, pomelo and coconut milk – this cocktail could be a sweet ending all on its own. Pomelo skin infused brandy, homemade mango syrup, lemon and Cointreau along with clarified coconut milk mixed with tequila just before serving accord an Asian twist on a margarita – sweet, sour, citrusy and slightly creamy on the end. The half salt rim brings out the creaminess of the drink and the garnish of toasted coconut cookies with mango and coconut milk mousse topped with pomelo pulp really might be considered a happy ending all on their own.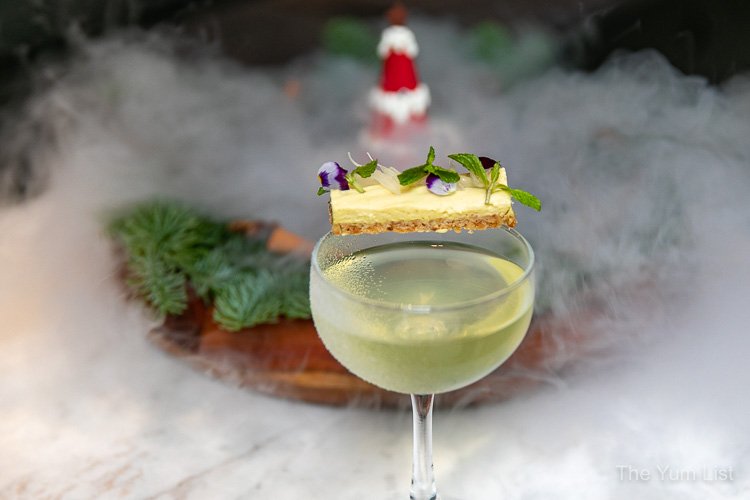 Just when I think things have wrapped up and I take notes on the overall experience, Chris appears with a shot glass of digestive. Another Chinese-inspired drink (think leng chee kang) using six types of Chinese herbs cooked in a sweet soup featuring longan and monk fruit acts as the concept behind the finale. While it's a pretty straightforward twist on a Manhattan, longan-infused whisky and monk-fruit infused vermouth orchestrate a decidedly local touch.
So happy to return, we're excited to see that the Beta KL menu has only proved to become more refined and focused. This narrowing of concept tells that the chef is clear with his mission and we think that you should all jump on board!
Reasons to try the new Beta KL Menu: set menus make it easy to decide with the experts already making suggestions of what goes well together; must try the new cocktails with or without food.
Beta KL Menu
Restobar – Contemporary Malaysian Cuisine and Cocktails
163 Fraser Place
10 Jalan Perak
Kuala Lumpur, Malaysia
+6 03 2181 2990
www.facebook.com/betakualalumpur