Words: Maggie Casey
Photos: Monica Tindall
It is a well-known fact that Malaysia is famous for their food. From mamak stalls selling a wide range of sinfully delicious roti and fried noodles, to exquisite Italian restaurants and other fine dining assortments, Malaysia is the perfect place for a foodie. However, often I find myself craving a green smoothie, or a light snack option to offset a perfectly greasy nasi lemak. As a full-time vegetarian and part-time vegan, I am always on the lookout for something that satisfies my grumbling belly while also getting in my daily fruit and veg! Needless to say, I was tickled at the idea of Glow Smoothie Bar by Amazin' Graze opening up right near ISKL at the new LINC shopping and dining plaza.
Glow Smoothie Bar by Amazin' Graze, The Linc KL
It was a Friday after school when Monica and I headed over to the newly minted LINC shopping centre on Jalan Ampang and Tun Razak. After a full day of teaching PE, I was hungry and ready to get some nutrients into my drained body. Glow is a charming smoothie bar located near the exit of B.I.G. Grocers. While Glow itself is only take away, B.I.G Grocers has a comfortable and relaxing seating and dining area if you wish to take a second to enjoy your refreshing smoothie (Glow is one of many food options within the store). The bar itself radiates clean, healthy vibes complete with wooden spoons and biodegradable straws, which makes my heart glow (sorry, couldn't resist). Glow includes a combination of smoothies and smoothie bowls, both vegan-friendly as well as the option for a Build Your Own Yogurt Tub. As we perused the menu, Monica and I were delighted to see a wide range of smoothie styles available; from tropical citrus to hearty avocado and green veg, there is a smoothie (and smoothie bowl) for all taste buds.
Glow Smoothie Bar Menu – Smoothie Bowls
Up first we tackled the smoothie bowl section of the menu, trying the Purple Glow (RM 18.90), Power Up (RM17.90) and the Greenlicious (RM17.90). Not only is purple my favourite colour, but I am also a sucker for anything that uses the restaurant's name in the title. Thus, I was extra excited for our first smoothie bowl, and it did not disappoint. The Purple Glow base was acai, blueberry, lemon, banana, almond milk, and coconut sugar making it a refreshing, vibrant and surprisingly light smoothie. To complement, the topping combination of hazelnut black forest granola, blueberries, banana, pepita and chia seed worked exquisitely. The hazelnut granola gave the base the chocolatey finish it needed while the pepita, chia and blueberries gave the bowl a textured chewiness that I could not resist.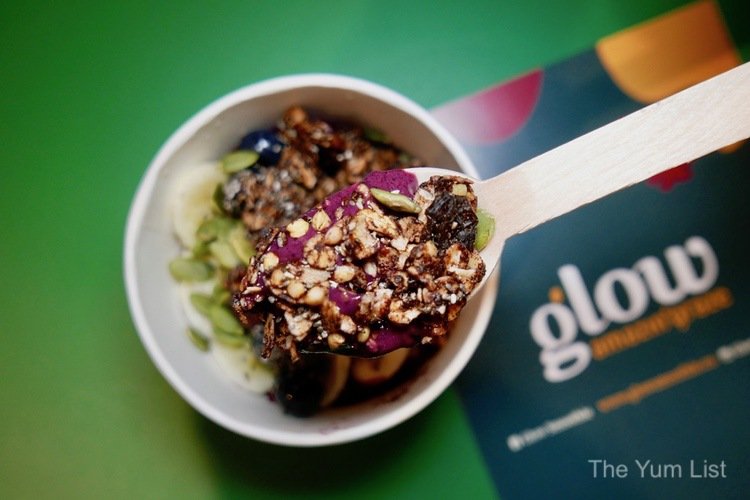 Moving along the colour spectrum, we went green with the Greenlicious bowl which was spinach, matcha, apple, banana, coconut water, and coconut sugar smoothie topped with banana and strawberry which added a fruity tang, and an exquisite, chunk banana bread granola. Finally, the bowl was finished off with some goji berry and chia seeds to elevate this recipe to superfood status! It's a yummy healthy bowl, for those who like a good kick of matcha to get you going no matter what time of day!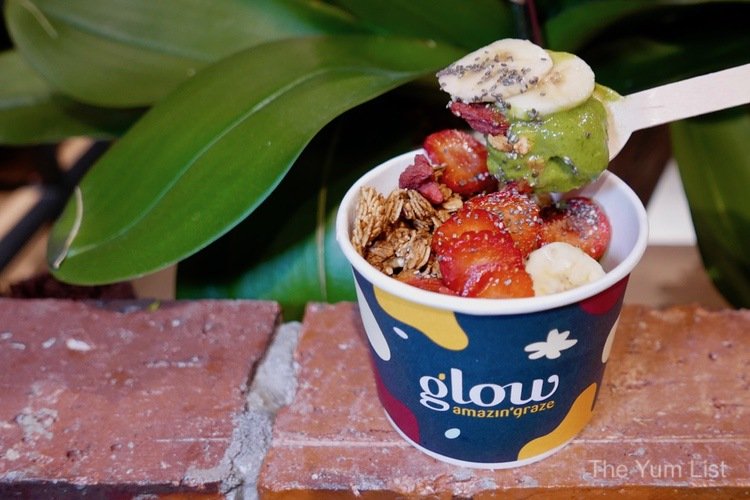 Monica selected the Power Up smoothie bowl as she is an avid peanut butter fan and this bowl has just that, as well as avocado and banana and cocoa powder in its base. The salted gula Melaka granola was a delightful finish to this creamy, chocolate bowl. I swear I could feel my sore muscles taking in all the protein with every bite.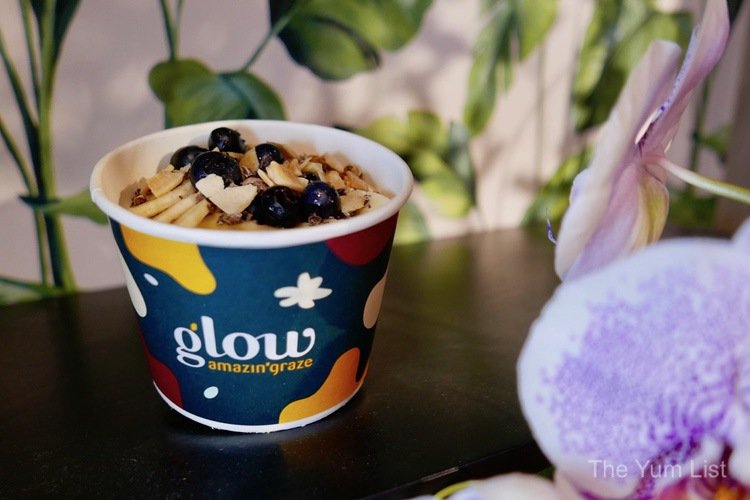 Glow Smoothie Bar Menu – Smoothies
Bowls in hand we needed something to sip on so I opted for the Pink Dragon Smoothie (RM12.90 for a 12oz, RM15.90 for a 16oz) as I wanted to try a more locally sourced option, though I had been enjoying the treat of fresh blueberries! This drink is a zesty combination of dragon fruit, apple, orange, chia and coconut water. This drink is ice cold, refreshing and the mildness of dragonfruit works well with the tangier orange and apple tastes to create a well-balanced smoothie.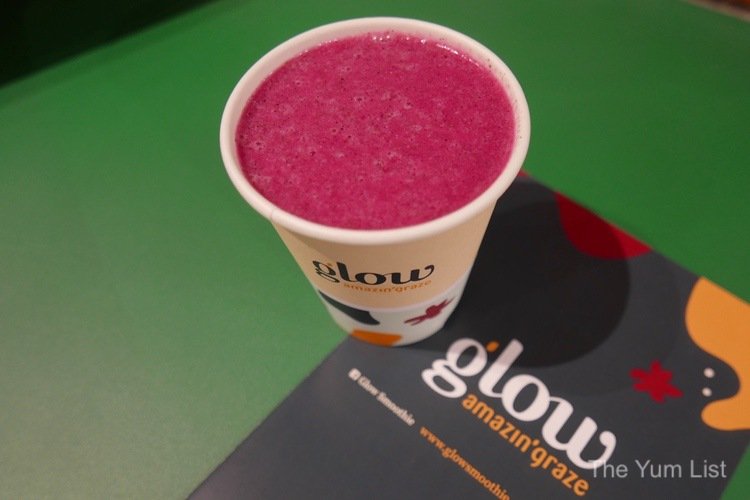 Glow Smoothie Bar Menu – Build Your Own Yoghurt
We finish off our afternoon with a Build Your Own Yogurt Tub (Regular RM9.90, Large RM 13.90). The creamy Greek yoghurt base was filling and the only item we tried that had dairy. The Greek yoghurt is full cream and whipped to such perfection that any topping would delight! The build-your-own element allows for total customization making sure to get a yoghurt bowl perfectly suited to your desires and promises to never get old!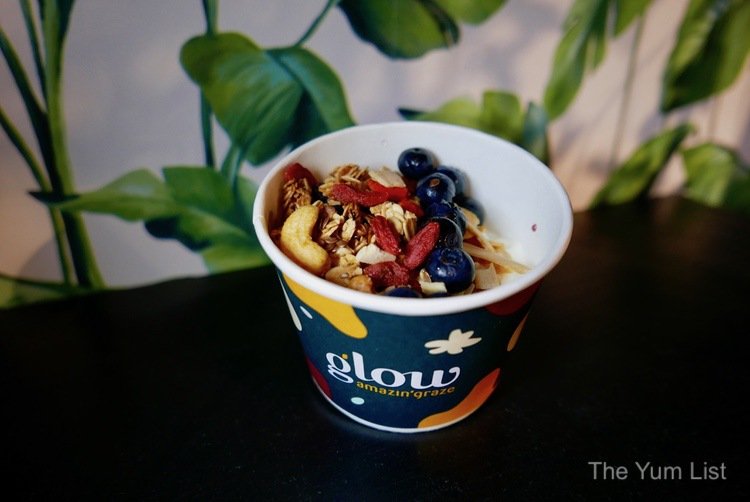 Glow Smoothie Bar Review
Glow is the perfect snack, light brekkie, or on the go lunch to grab while shopping or running errands at the LINC, but it also warrants a visit in its own right. The wide selection of fruits and veg, the plethora of homemade granolas and a myriad of choices for your superfood toppings makes this place a welcome healthy addition to the grab-and-go food scene in KL's city centre. I can guarantee your mind, body and soul will leave glowing!
Reasons to visit Glow Smoothie Bar by Amazin' Graze: So many healthy options for a snack or light meal, almost all the menu is vegan, try the Purple Glow smoothie bowl and the Build Your Own Yogurt Tub!
Glow Smoothie Bar by Amazin' Graze
Smoothie Bowls at The Linc KL
360 Jalan Tun Razak
50400 Kuala Lumpur, Malaysia
[email protected]
www.facebook.com/GlowSmoothie
Glow Smoothie Bar by Amazin' Graze Opening Hours at The Linc:
Daily: 8.30 am – 10 pm
Find more healthy choices in KL here and more vegetarian menus here.