Words: Monica Tindall
Photos: Rich Callahan
A meal at Nero Nero, Italian restaurant in DC Mall, is not only about the gastronomic adventure but also an education in Italian culture. Chef Giuseppe Lioce brings passion and enthusiasm to the table and joyfully shares the origins of each recipe with anyone who might care to listen. This openness and the connection of heritage to the culinary experience gives meaning to a meal and, besides the superb quality of the food, I'm sure it is one of the reasons diners go out of their way to get here. This is not our first lunch at Nero Nero: the restaurant has become a staple of ours and we're always glad to return. Today, we're in the expert hands of chef Giuseppe Lioce as he introduces us to the new Nero Nero Menu.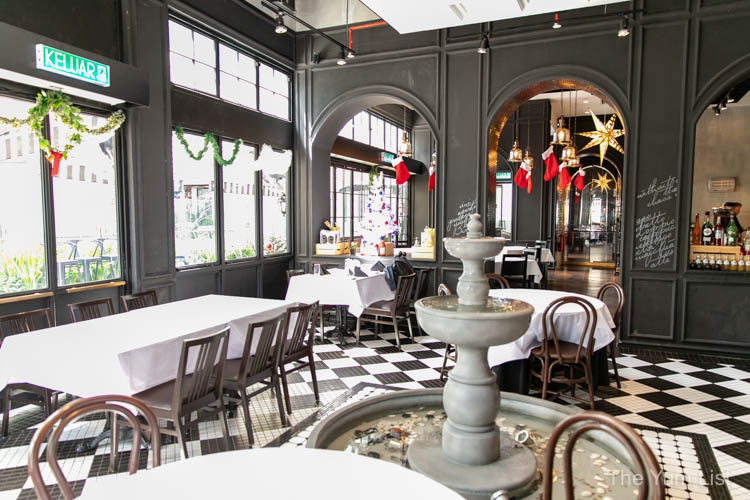 Nero Nero Menu – Italian Aperitivo
One of my favourite aperitifs, Aperol Spritz (RM37) kicks off our afternoon with vibrant colour and an appetite-inducing bitterness. As we're sipping on our spritzes, a basket of warm focaccia provides something to munch on. It's crusty, fresh from the oven and seductively buttery. Happiness.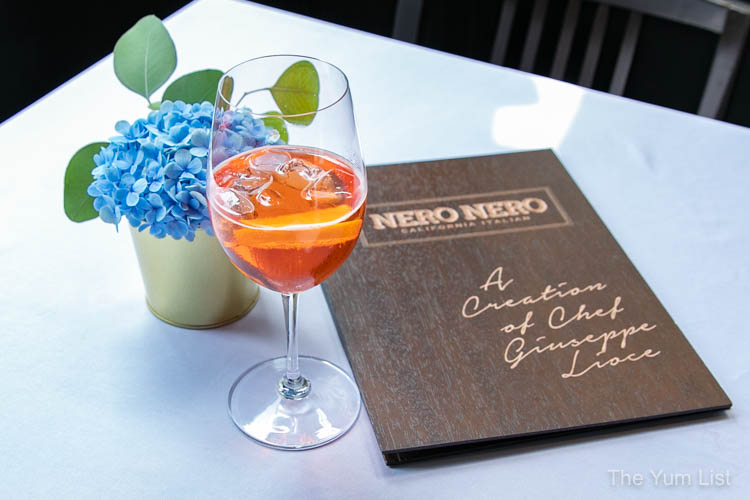 Nero Nero Menu – 'Il cibo risolve' – food solves anything
The menu is stylishly done with a wooden cover, textured paper inserts, fun photos and some quotes that many of us can connect too.
Nero Nero Menu – Starters – Antipasti
Carpaccio di Baccala (RM63) launches our tasting with imported Spanish cod fillet served on a base of mashed chickpeas (always with extra virgin olive oil), pumpkin, lemon dressing and pink peppers. The fish rolls across the top in a thin sheet of white covering the goods of the land with the fruits of the sea. This dish is from chef's hometown with the recipe a result of the traditional roles of a married couple from Bari: the husband often being a fisherman and the wife taking care of a small plot of land – so land meets the sea with vegetables and fish.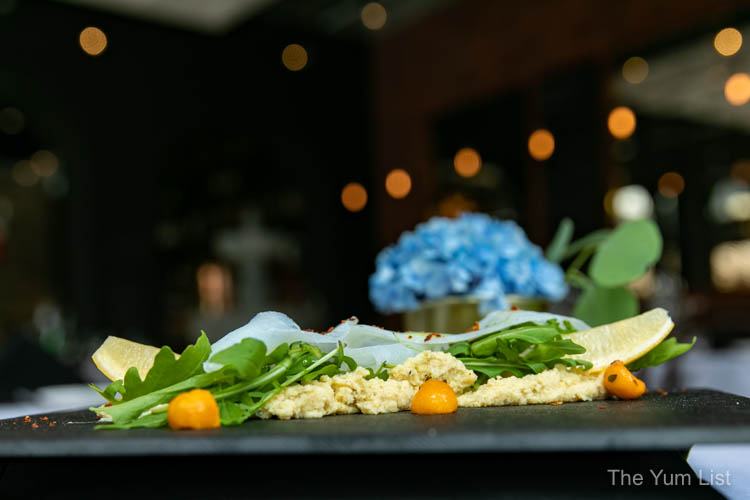 Vitello Tonnato (RM63) sees thin slices of slow-cooked Italian veal seasoned with a tuna sauce and truffle sea salt covering a bed of capers and arugula leaves. This is an old recipe from the north of Italy in Piedmont dating back to the 17th century (said to actually come from a French chef who was employed by the Italian elite) that has since become popular national-wide. It might at first seem a little strange with the combination of veal and tuna but believe me, it is something you should try.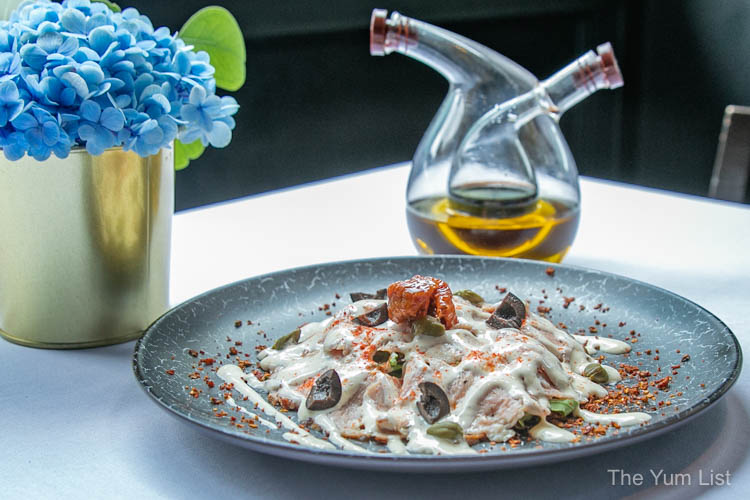 A meat-free starter, ideal for sharing, is next with the Frittelle di Patate e Zucchine (RM33). Scrumptious balls of zucchini and potato with tangy pecorino cheese (made with sheep's milk) are staged atop a bed of mint and green pea puree. Chef recalls that mashing peas and disguising it amongst other ingredients was a common trick of his mother to get children to eat their greens without knowing it but today, as adults, there are no complaints, "peas sir, some more?"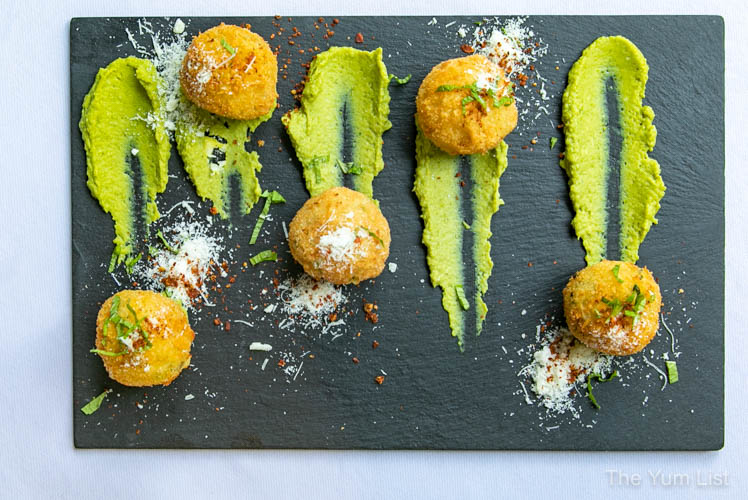 With the last drops of our cocktail disappearing we switch to wine, again from the home of chef Giuseppe Lioce. A 2017 Tormaresca Chardonnay from Apulia (RM195 bottle) is an easy-drinking beverage. Fresh and fruity, nicely balanced with a crisp finish, it does well with our seafood and salads.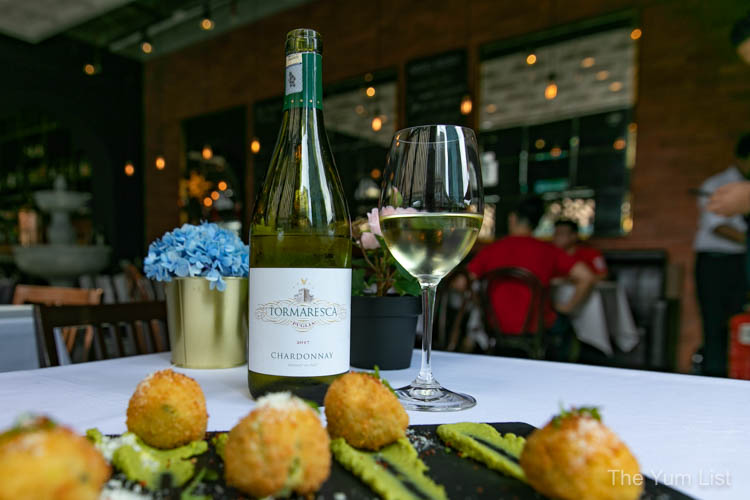 Nero Nero Menu – Salad – Insalata
The most beautiful salad is delivered in the Polipo, Papate e Limone (RM65). A well-loved combination enjoyed in the south of Italy and across the Mediterranean sees octopus cooked in a big pot with a wine cork. Huh? A wine cork? Yep. Chef shares that it's "old ladies' superstition" that the cork ensures the octopus is tender. Science or wives' tale, the cephalopod does indeed hit the plate succulent and the marinade of extra virgin olive oil (you guessed it, from chef's home region of Apulia) with lemon alongside shaved fennel, potato, orange segments and basil pesto is a delicious combo.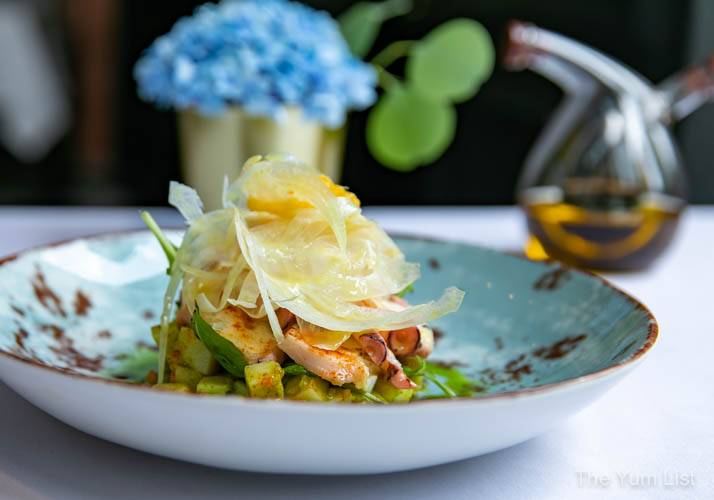 'O mangi la minestra or salti dalla finestra' – eat this soup or jump out the window
Nero Nero Menu – Pasta
The next section of the menu, cheekily prefaced with the above 'take or leave it' warning, is rather exciting as the team at Nero Nero have recently hired a full-time pasta chef, Paolo Cola, charged with making ten handmade types of pasta daily! The chef has a bench in the dining hall as you enter and guests are welcome to watch, ask questions and learn. Allow up to 10 minutes for pasta dishes to be ready as they are actually made fresh on the spot.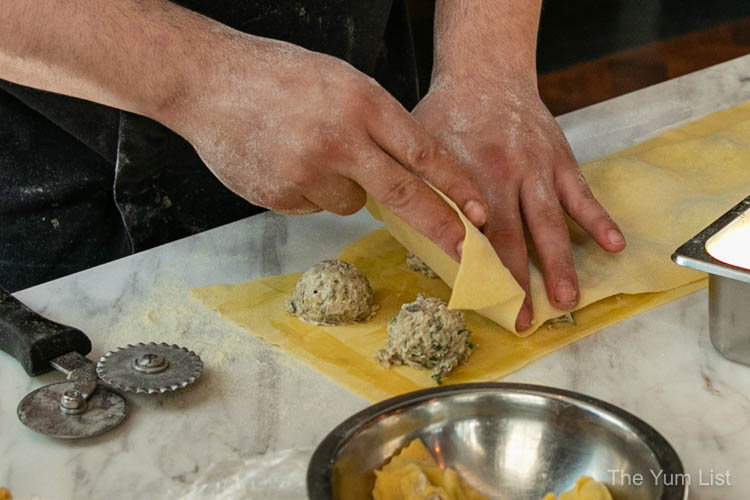 Orecchiette Alla Pugliese (RM52) is one of chef Lioce's signatures featuring house-made ear-shaped pasta cooked with garlic, chilli, broccoli florets and crowned with cacio ricotta cheese. This is an egg-free fresh pasta that takes quite some skill (and patience) in making as each piece is formed by rolling it off the tip of the finger. The name comes from the streets of small towns where ladies would traditionally make it in the morning outside their homes and chat catching up on the latest gossip with their neighbours (hence the name 'ear'). A nice change in texture is provided on the top with a pan-fried mix of breadcrumbs, garlic and the last bits of Parmesan cheese. Common in Sicily, this was once a method of the poor in making cheese go further by bulking up the remains with bread.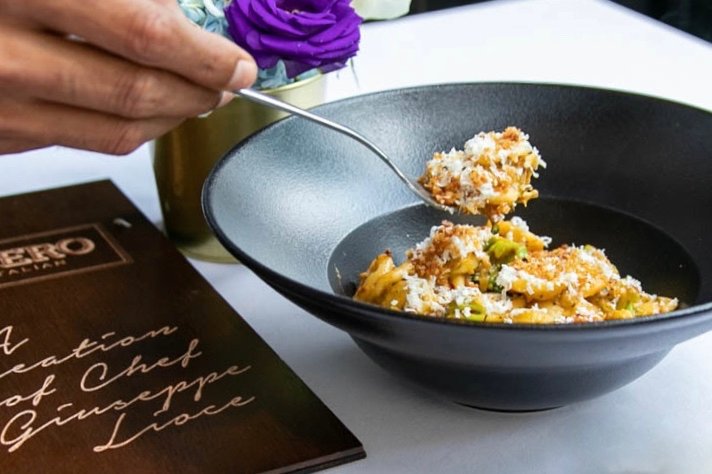 Another house-made pasta delights us with the Ravioli del Pastore (RM62). These little parcels are stuffed with slow-cooked eggplant, sheep milk ricotta cheese, and mint. A gently spicy sauce, arrabbiata of garlic, chilli and cherry tomatoes makes a delicious topping. Chef immediately makes a disclaimer that this does not exist in Italy: it is something he has invented himself combining chef Paola's technique from the north of Italy and his own ingredients from the south.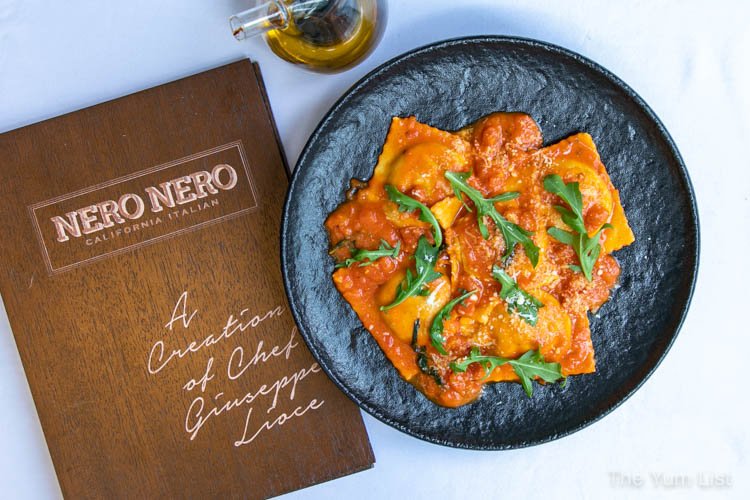 Risotto of the Day (RM250 with truffle, just the mushroom is RM95) is founded on seasonal ingredients. We are of the good fortune to find white Alba truffles have just arrived and so the rice dish of today is Risotto Tartufo. When the conversation turns to a record sale of a white truffle making international news for the extraordinary price it fetched just days before, Rich says, "You pay whatever they ask when it's this good." Only available in the months of November and December, these white truffles offer wonderful aromatics and are shaved fresh atop the slightly chewy carnaroli rice. Mmm.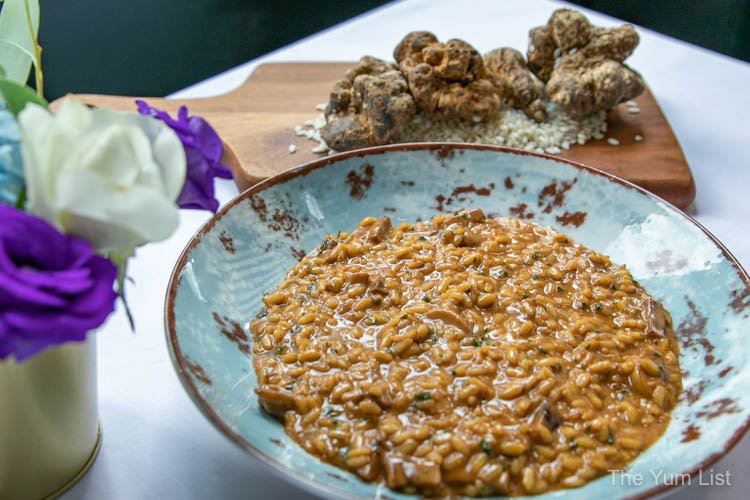 'L 'appetito vien mangiando' – the appetite comes by eating
Nero Nero Menu – Mains
Another wise saying introduces the main menu and it seems chef believes our stomachs are bottomless pits. He may just be correct as, despite our protests, the whole spring chicken served as the main is too devoured leaving only a clean plate. Again taking advantage of those freshly arrived fungi, Pollo al Tartufo (RM82) offers beautiful aromas. The roasted bird is served with oven-baked potatoes, wild mushrooms and black truffle sauce. The secret to the poultry's tenderness lies in the day-long marination in an entire bottle of Primitivo wine along with rosemary, thyme and sage.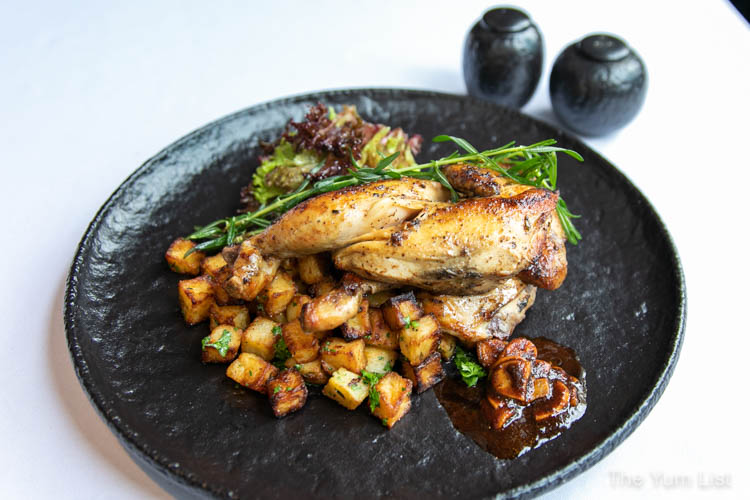 'Finire a tarallucci e vino' – to end up with biscuits and wine
Desserts
Don't be fooled into thinking our meal is coming to a conclusion with dessert as we still have five dishes and a digestive to go! "I just want to make you fat," chef unreasonably justifies and we are all too happy to play along.
Pannacotta Bicolore (RM32) is a delicious twist on the Italian baked custard with Belgium chocolate cream and vanilla giving the duo of colours. This pretty partnership came about with chef's fond childhood memories of biscuits soaked in hot chocolate for breakfast. This cooked cream recipe is softer than many and the biscuit crumble breaks up its velvety smoothness with a bit of crunch. This can easily be made gluten-free by requesting it minus the crumble.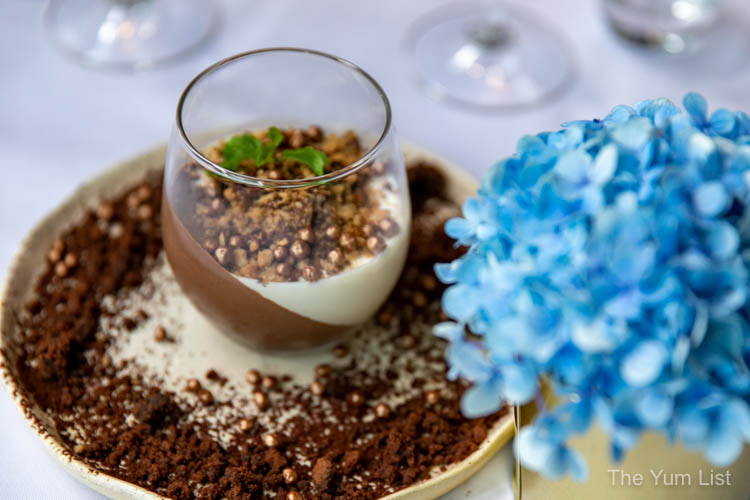 I can't help but gasp out loud as I bite into the Torta Caprese al Limoncello (RM35). It's unexpectedly warm and with the cool creamy hazelnut gelato melting over the top, absolutely divine. Made with almond flour, it's another gluten-free recipe. Limoncello (a trademark of its Amalfi coast origins) bears a refreshing taste of citrus.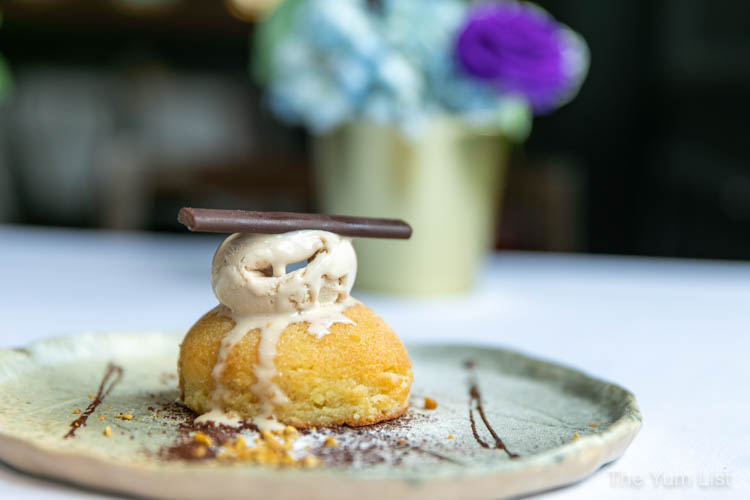 As much as I avoid processed foods, the one naughty indulgence I just can't seem to resist is Nutella! I'm so happy when chef suggests the Fondente di Nutella (RM32) as it is a dark Belgium chocolate and Nutella lava cake. This one comes with vanilla gelato, the perfect contrast in flavour and temperature to the warm cake.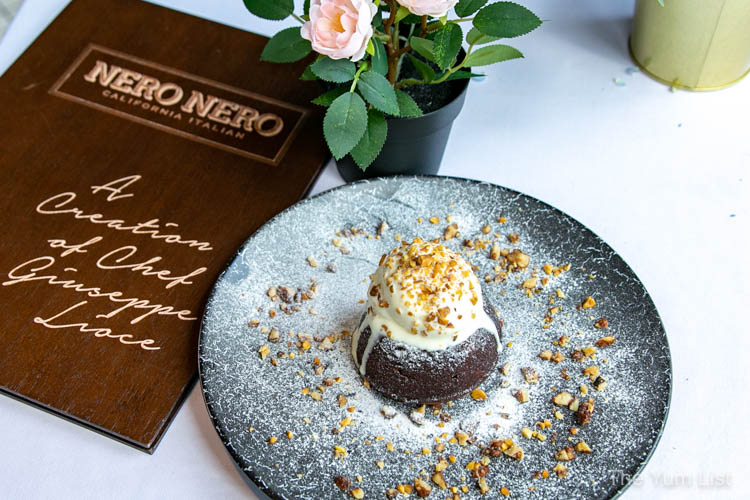 Pistachio Gelato (RM10) made with Sicilian pistachio nuts, called pistacchio di Bronte, has a slightly salty characteristic. Just like the gelatos accompanying our desserts, it is too made in-house, has silky smooth and creamy and has a full round rich flavour that the Italians seem to have mastered so well.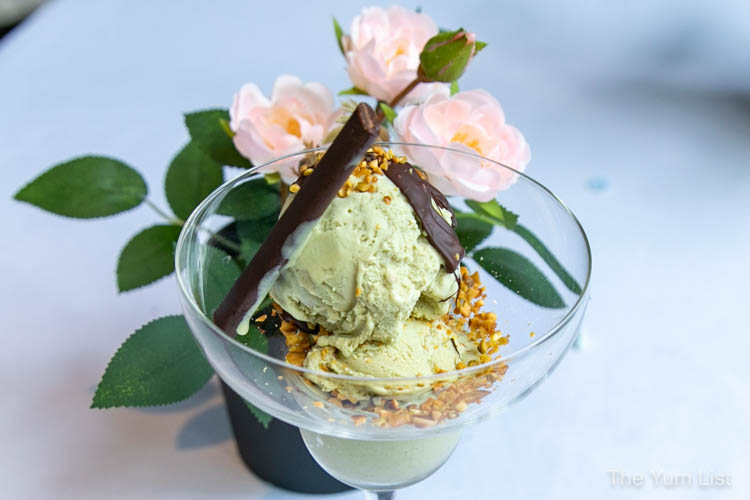 A digestive of Averna Amaro Siciliano and a Christmas treat of slices of panettone (we're visiting before Chrissy but you won't be reading this until the new year) ensure that Italian hospitality in overfeeding and generosity is present until the very end.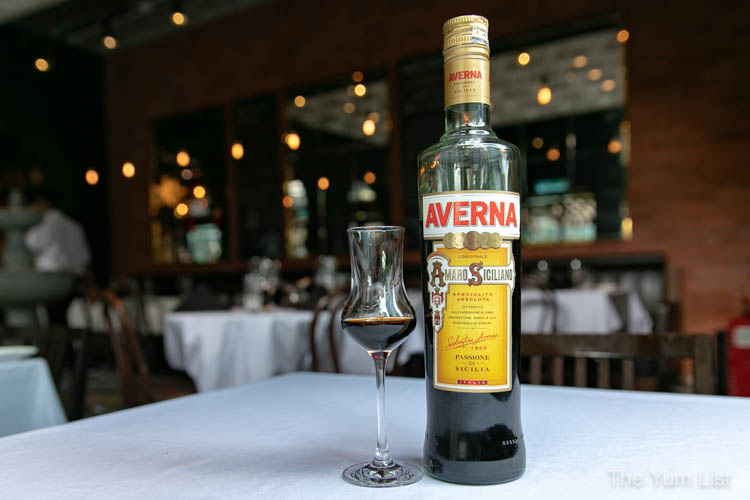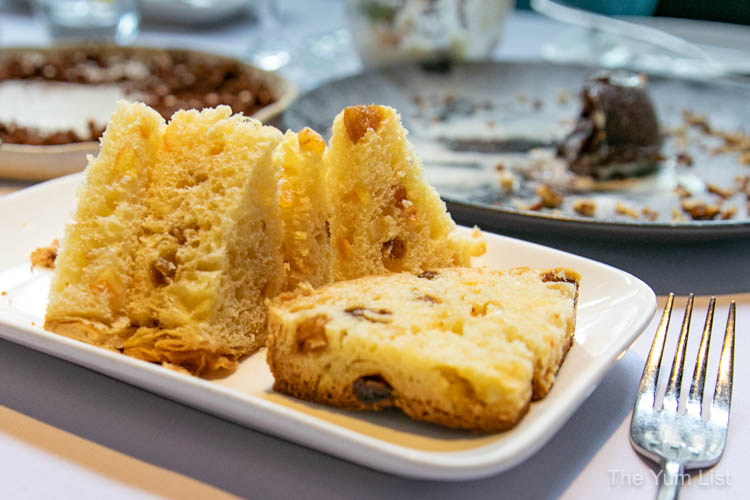 Reasons to try the Nero Nero Menu: authentic Italian cuisine; seriously one of the best Italian restaurants in Kuala Lumpur; not one, but TWO Italian chefs; fresh pasta made daily; just try everything and make sure to leave room for dessert, or don't leave room but order dessert anyway!
*pork-free
** chef also makes one of our favourite brunches in the city, the Grandmother's Table. Check it out here.
Nero Nero Italian Restaurant DC Mall
L3 – 02 Jalan Damanlela
Damansara City Mall
Damansara Town Centre
50490 Wilayah Persekutuan Kuala Lumpur
Malaysia
+60 3 2011 3811
www.neronero-dc3.com
Nero Nero Opening Hours: Monday – Sunday
Lunch: 12.00noon – 2.30pm
Limited menu: 2.30pm – 5.30pm
Dinner: 6.00pm – 11.00pm (kitchen closes at 10.00pm)