Words: Craig J Selby    Photos: Monica Tindall
I'm Coming Grandma, I'll Set the Table
It took an eccentric but loveable Italian Chef to think of this, and boy, am I grateful that he did. Nestled on the rooftop of DC Mall is Nero Nero – home to Chef Guiseppe Lioce – and his Grandmother's Table monthly brunch concept.
Grandmother's Table, Sunday Brunch Nero Nero
Take one table, a group of mixed friends and strangers, a bubbly chef and his random kitchen creations, free flow of wine and beer, and you have Grandmothers's Table. A concept designed to be like the old-fashioned lunches at grandma's house, with dishes from the kitchen coming out to surprise and please her guests. Giuseppe oversee's a very busy kitchen, and plates up no less than six entrée dishes, plus mains, plus desserts, with time in between to chit-chat with all his guests and maybe even a glass of vino or two (in our case, Limoncello).
The Yum List was amongst the first to sample Grandmothers's Table, heading over for brunch earlier this month. Chef tells us that each month (first Sunday) he'll be hosting the table, and each time there will be a different menu – just like during his childhood for family get-togethers.
The restaurant is light and airy – great natural light (Monica even managed to get some indoor photos of the food). Huge arches, brickwork, and an old-school coffee maker (with what looked like the Spirit of Esctacy on it), gorgeous floor tiles, eclectic tables and chairs, and even a water fountain. Now, don't drink too much of that vino … you could get wet stumbling into the fountain if you're not careful. I almost did.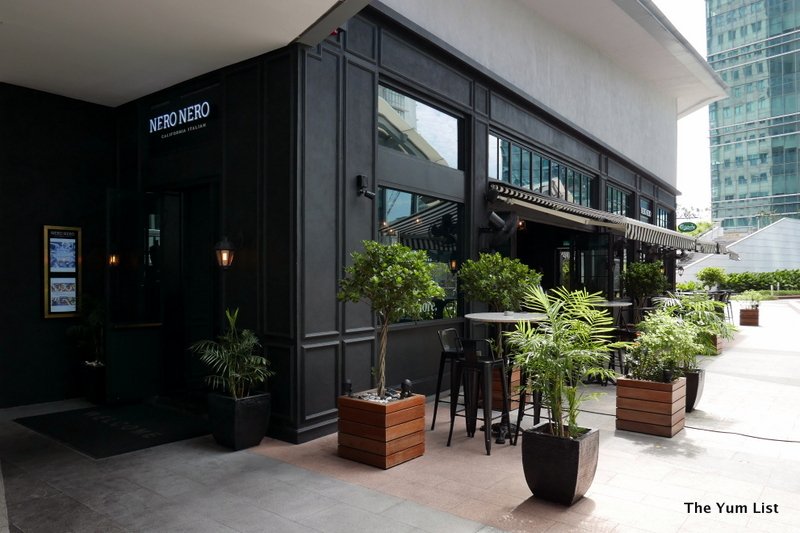 Free Flow Sunday Brunch, Nero Nero
Speaking of wine, they offer two white and two red. There is one Italian option for each (keeping it authentic) and one new world option too. We opted to stay true to our host and guzzle copious amounts of Italian wine – starting with the white, a Villa Rossi Rubicone Trebbiano. Very light in hue, it is not as bold as a new world wine, but nicely aromatic and soft to the palate; perfect for Sunday (or any day, frankly).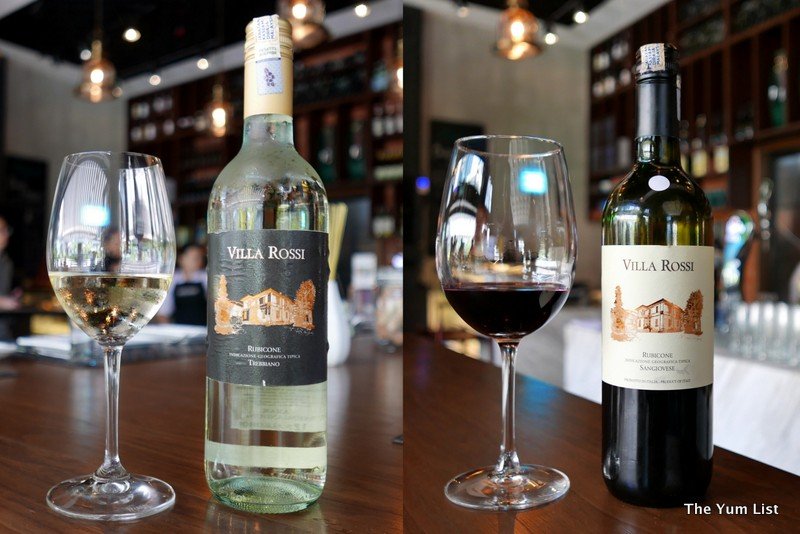 Prepare yourself for a true feast, and eat slowly (please). There's plenty of food, plenty of wine, plenty of time, and plenty of good company.
Starters included some Italian classics, meatballs, pizza, arancini, and other familiar favourites. The Parmigiana di Melanzane was a softly baked eggplant, smothered in tomato, with Provola cheese and Parmesan. The eggplant was tender and tasty, and the acid of the tomato lent itself nicely to life the flavour. And that cheese – ooooohhh, big cheese fan here.
Accompanying this were Panzerotti. Little puffs stuffed with creamy mozzarella, basil, tomato and capers, they offered a savoury burst.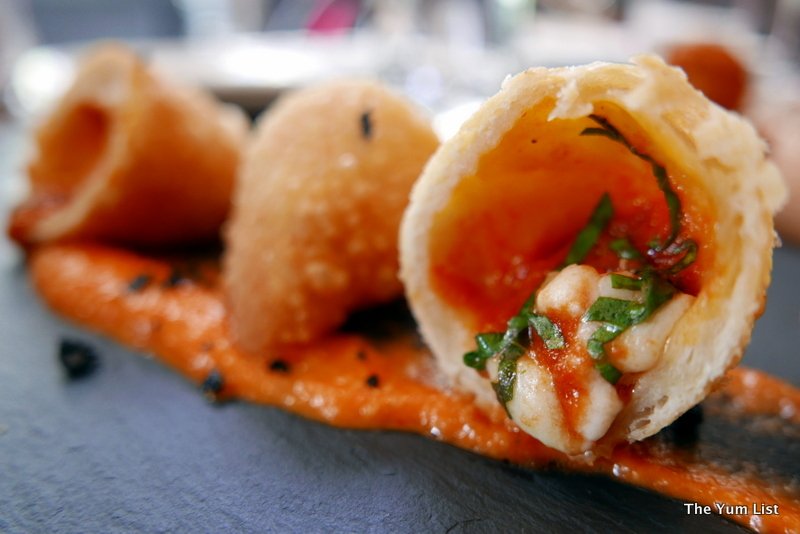 I loved the cod croquettes – Crocchette di Bacala. These balls of smashed cod, pan-fried, with an aromatic garlic sauce were divine. I enjoyed the bite-sized portions but especially the combination of light cod with garlic.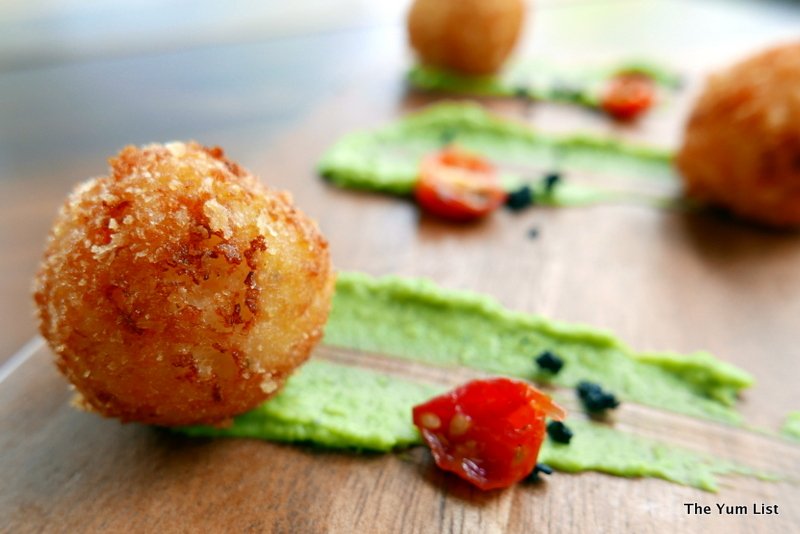 Crispy focaccia was served with slow-cooked meatballs (Polpette) in a thick tomato sauce. This dish is reminiscent of homemade meatballs and were juicy bites of meat with the rich tomato sauce. Use the focaccia to sop up the tomato sauce, because you don't want to leave a drop.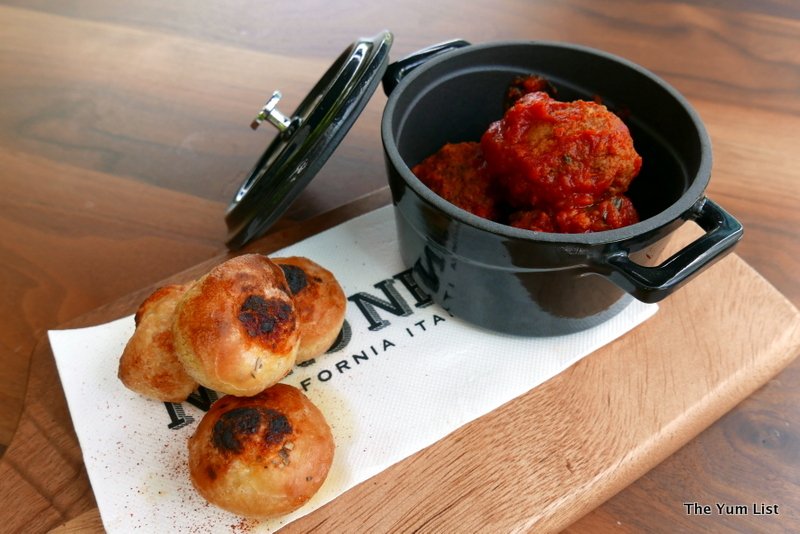 As one would expect at any self-respecting Italian venue, there MUST be pizza. Nicknamed Italian Flag Pizza (it was red, white and green), the Pizza Margherita uses not only dough fermented for 42 hours but is made with Aqua Pana instead of typical filtered water. Chef swears that this adds to the flavour – we certainly don't disagree. I have always been told that with Italian cuisine, "simple is best", and this approach of tomato puree, mozzarella cheese and basil leaves, with a light portion of seasoning, reinforces this. It was a delightfully simple yet tasty pizza that had us wanting more.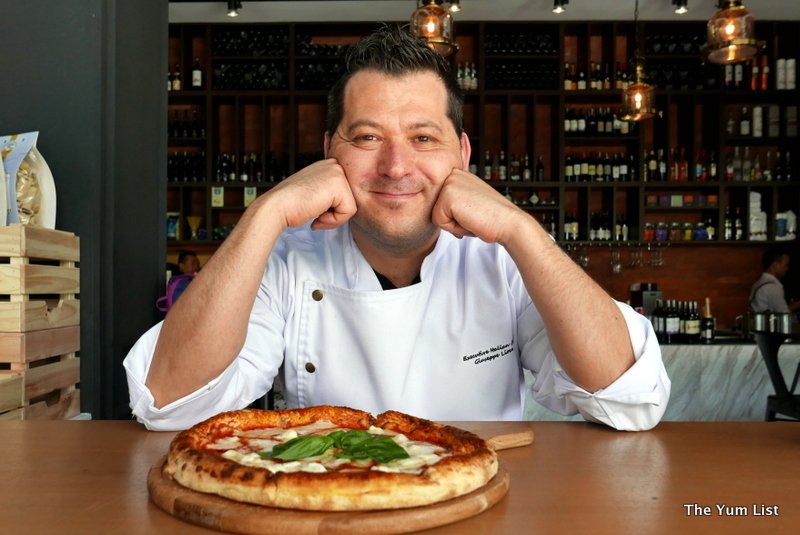 The Arancini, little lightly fried balls were stuffed full of rice and scamorza cheese. Slightly salty, these little bites are beautiful. One gulp of wine, one arancini, repeat! Bliss.
Cannelloni stuffed with ricotta and spinach were deliciously creamy rolls, baked to perfection. Stuffed full with smooth ricotta and fresh spinach, they proved yet again that simple is the most effective.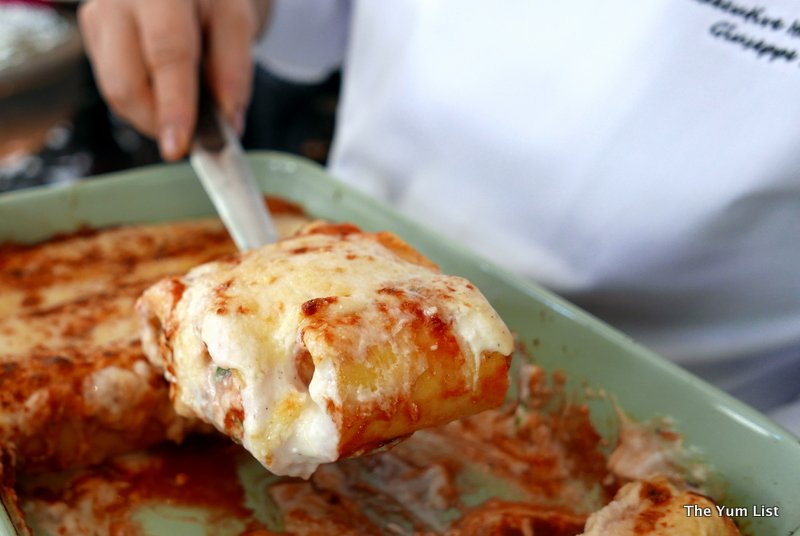 Chef delighted in telling us that these were mere starters – heartier, heavier dishes were to come. So, prepare yourself!
Homemade Beef Lasagne was served from a giant communal bowl. Generous lashings of beef, pasta, and uniquely so, boiled egg, made this familiar favourite taste great. I loved the inclusion of the egg, which added texture to a rather creamy meat dish. Good stuff!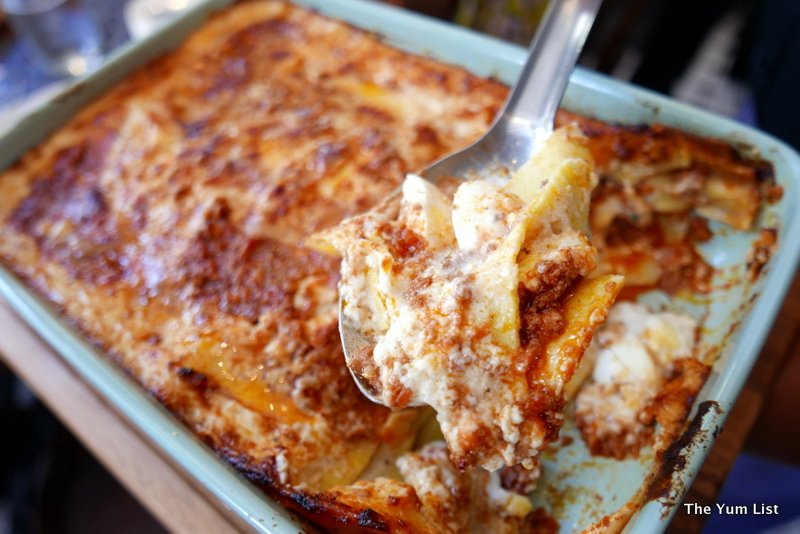 For 'seafoodies', enjoy the Cavatelli ai Frutti di Mare. Homemade pasta, hand-rolled by the kitchen team, cooked in a white wine sauce, and lashings of fresh seafood added. This impressive bowl of pasta was a hit. Cherry tomato added fresh bursts to the big chunks of seafood and merged to create a creamy gravy. I enjoyed the pasta and the sauce immensely but shied away from the seafood. Monica and Caning, however, did not, and they loved the richness that the cacophony of seafood gave.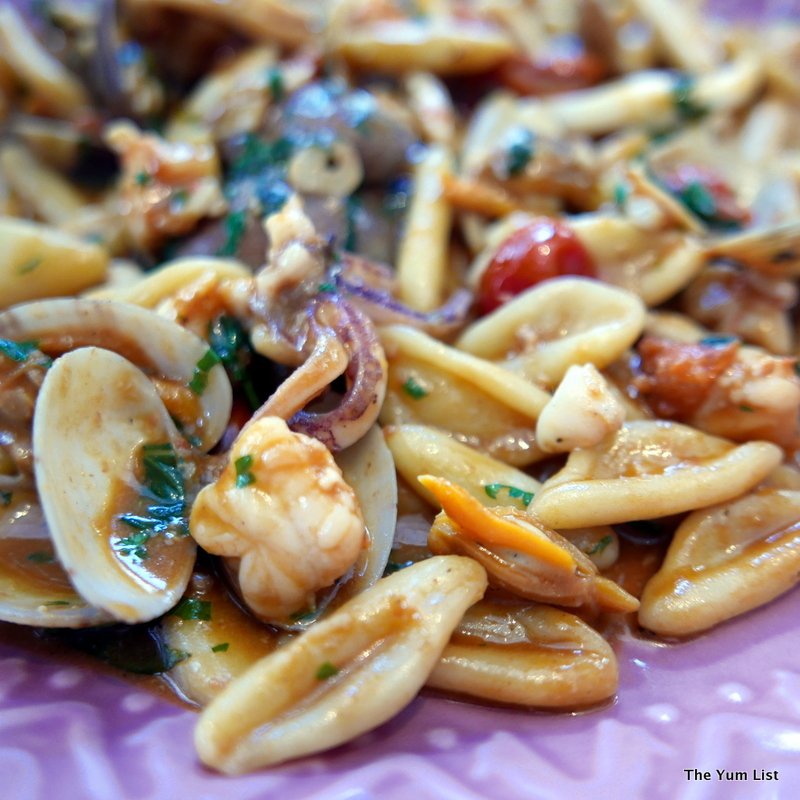 No Sunday lunch, in any culture, can be complete without a roast of some sort. Today was Pollo Arrosto, tender roasted chicken, in a truffle mushroom sauce, with roasted herbed vegetables. Served on a wooden carving board, this really screamed Grandma's Table. Tender chicken pieces, salty potatoes, and atmosphere brought the memories flooding back. Food transcends culture. The truffle infusion was bold here, but it worked well in the overall scheme of flavours.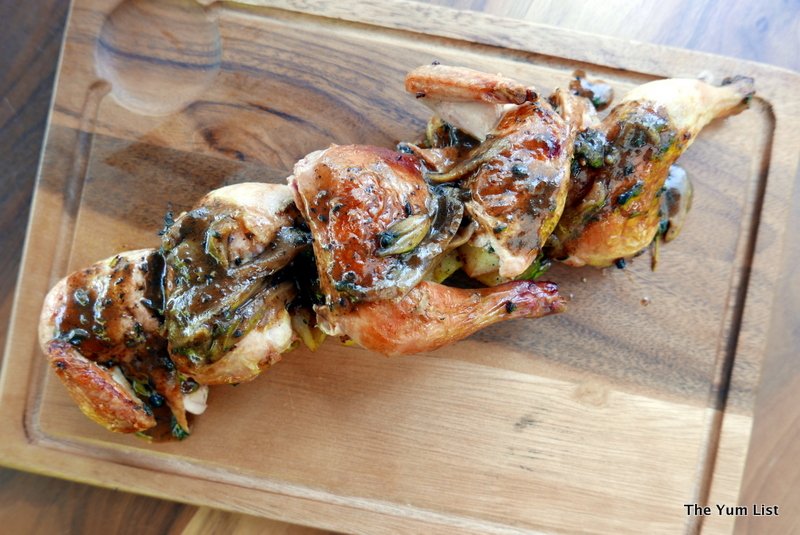 Dessert at Grandmother's Table, Sunday Brunch Nero Nero
And, just when you though the tummy could handle no more, in true family style, desserts were served. Indulgent, yes. Delicious, certainly. Full, absolutely! Chef's Millefoglie was my pick of the desserts – Italian custard spooned over crisp puff pastry. Add berries and vanilla ice cream, and forget all your troubles.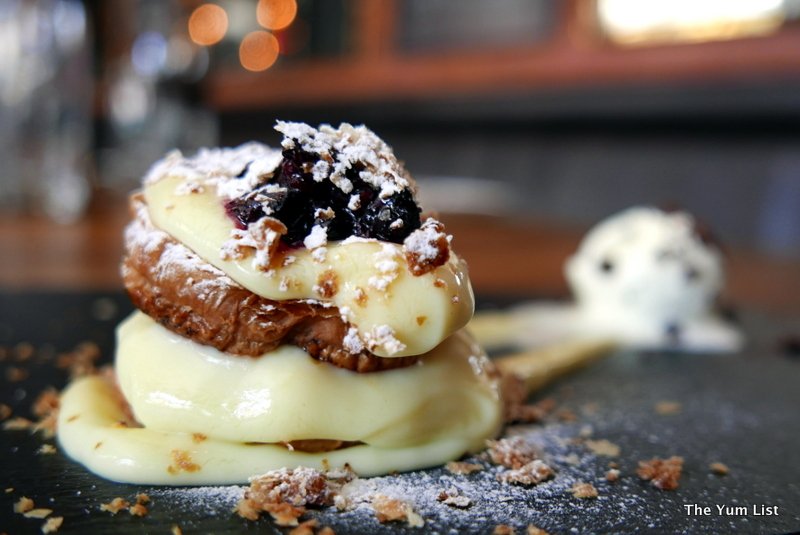 The Chocolate Cake was a rich and indulgent gluten-free almond chocolate cake with bitter chocolate. Call me a sunbed – I'm done for the day!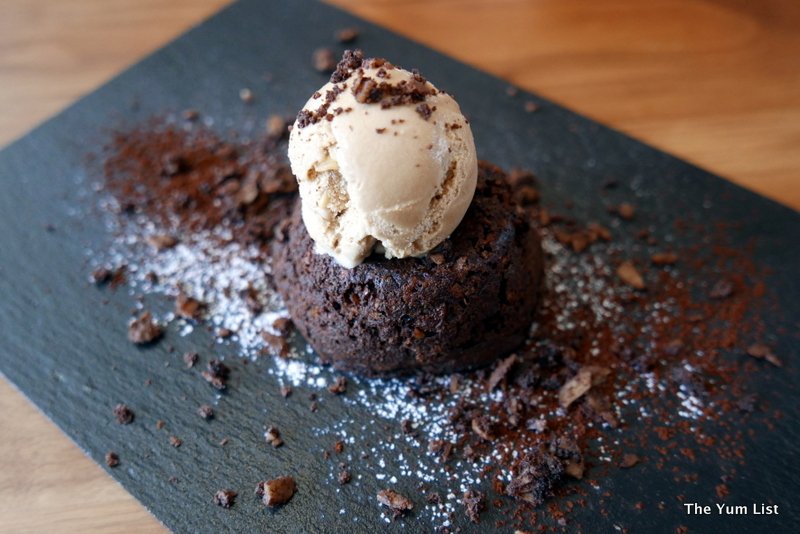 The feast that is Grandmother's Table is available for RM 190++ for Beer and Wine Free Flow, RM 130++ for Juices Free Flow, Children 65++ (11yrs to 17yrs) and is FOC for children below 11.
Reason to visit Grandmother's Table, Sunday Brunch Nero Nero: Great food. Fun ambience. Great conversation and networking. Very reasonably priced.
Nero Nero California Italian Restaurant
L3 – 02 Jalan Damanlela
Damansara City Mall
Damansara Town Centre
50490 Wilayah Persekutuan Kuala Lumpur
Malaysia
+60 3-2011 3811
www.neronero-dc3.com