Cava Spanish Wine Bar
Words: Monica Tindall
Photos: Rich Callahan
Cava Spanish Wine Bar has done well in its 15 years of operation but times they are a changing and so too is this restaurant. With the hiring of executive chef Toni Valero, the group (who also own Opus, Lucky Bo, Leonardo's and Bobo) has ordered a revamp.
I couldn't imagine a better person to take the lead. Toni Valero has an impressive career. Hailing from Barcelona, Spain he cut his teeth in a restaurant many chefs could only dream of entering: Mugaritz (frequently placed in the top 10 of The Worlds' Best 50). Later he opened Ohla and Deuce in KL, then went onto Singapore to set up Olivia, and now, fortunately for us, he is back in Kuala Lumpur.
Given his heritage and charged with breathing new life into the group of restaurants housed in Jalan Bangkung, the journey begins with the most obvious, Cava Spanish Wine Bar. This restaurant profits from not only a new menu but also a modernization of the physical space.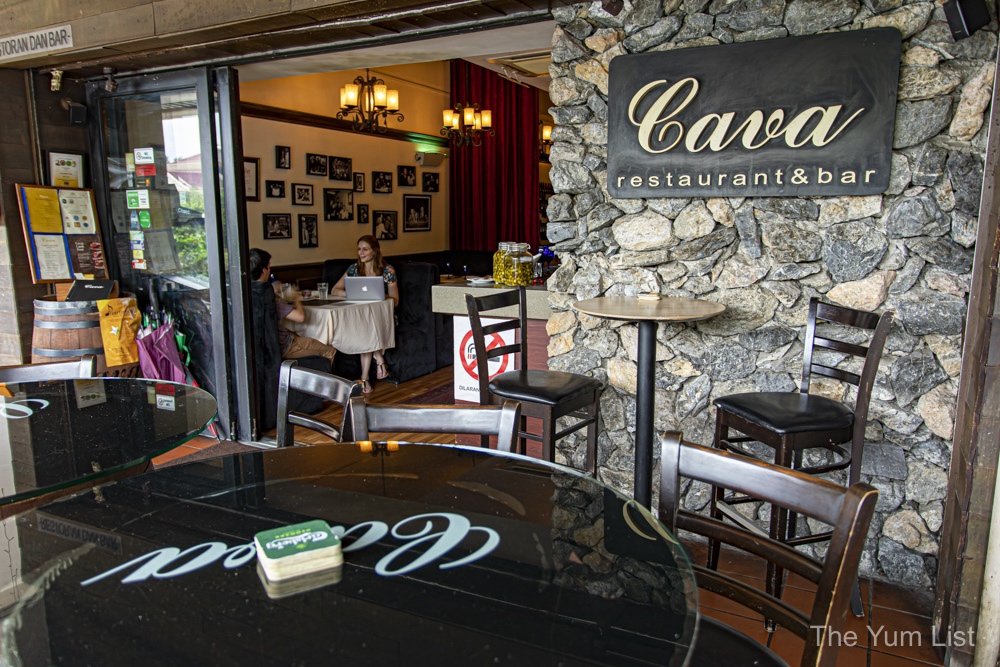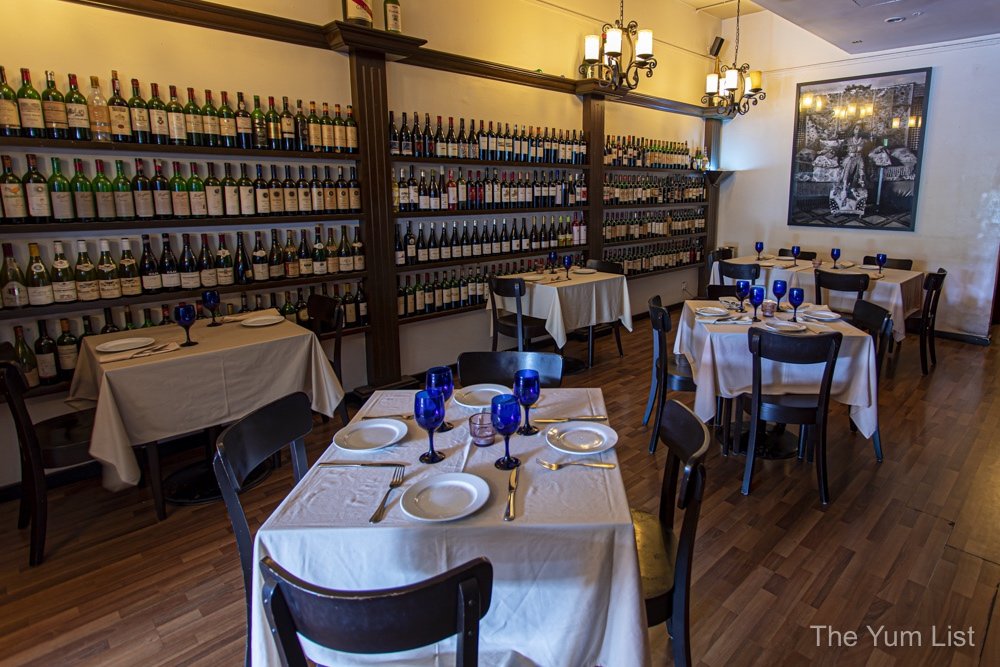 Cava Spanish Wine Bar
The old-school dining room at the back of the restaurant that regulars are familiar with remains. Linen-dressed tables, racks of wine and long red drapes are a familiar place for diners wanting a sit-down, more formal, meal experience. The front of Cava Spanish Wine Bar, however, has benefited from a makeover. Tall tables rimmed with stools and an updating of the bar area transform the entrance into a casual place ideal for sipping on wine and nibbling on tapas. It's a perfect setting to transition after work, meet friends, or simply take a pleasurable moment alone with a glass of Tempranillo.
Cava Spanish Wine Bar Menu
Spanish Wine
Firmly planting their feet in the Iberian Peninsula, the wine list at Cava Spanish Wine Bar is now entirely Spanish. Currently, six labels are available in individual serves with more expected to be included soon. Adding to the option of several wines by the glass or bottle is also a pouring by the carafe. Choices, choices.
Cava
As good a place as any to start is with a glass of sparkling wine, Vallformosa Classic Brut NV D.O. Cava (RM 45). Produced with a second fermentation in the bottle, the production is similar to that of Champagne (although some sources say that cava was actually in production before its French cousin). Made with Chardonnay, Parellada, Macabeo and Xarello grapes, the first gives structure while the second offers aroma. It's worth trying a glass or two.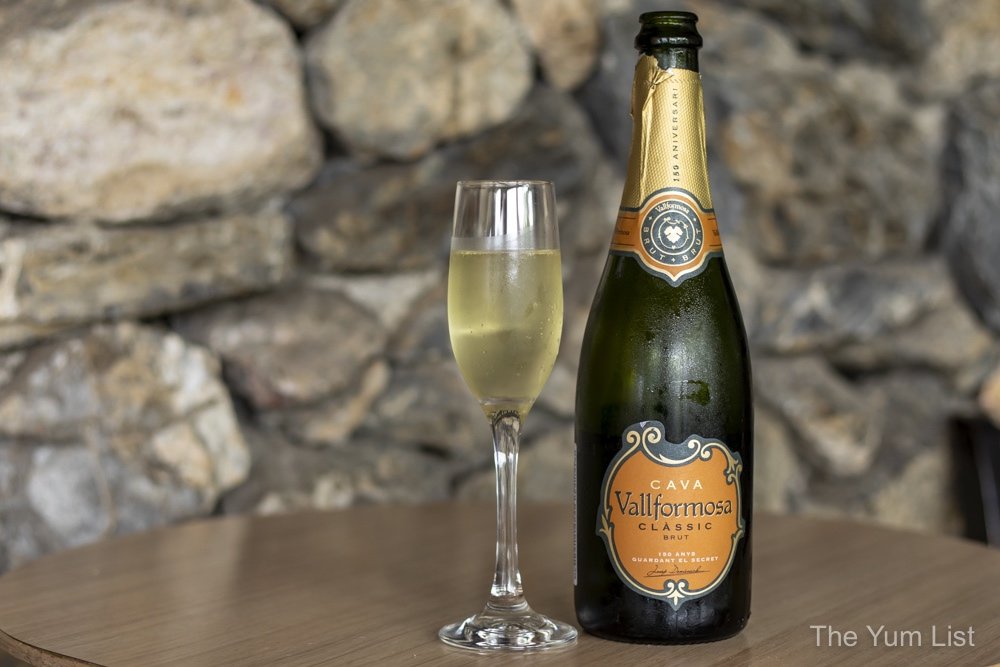 Spanish White Wine
What's welcome on Cava Spanish Wine Bar's menu is the availability of both an entry-level wine by the glass, alongside a more premium option. I'm of the opinion (age) that money is better spent on a single fine glass of wine over two or three average drops. In this case, the Borsao, Blanco Seleccion 2015, D.O. Campo de Borja (RM 32) is actually pretty good. A blend of Macabeo and Chardonnay, the butteriness of the latter comes out in the finish.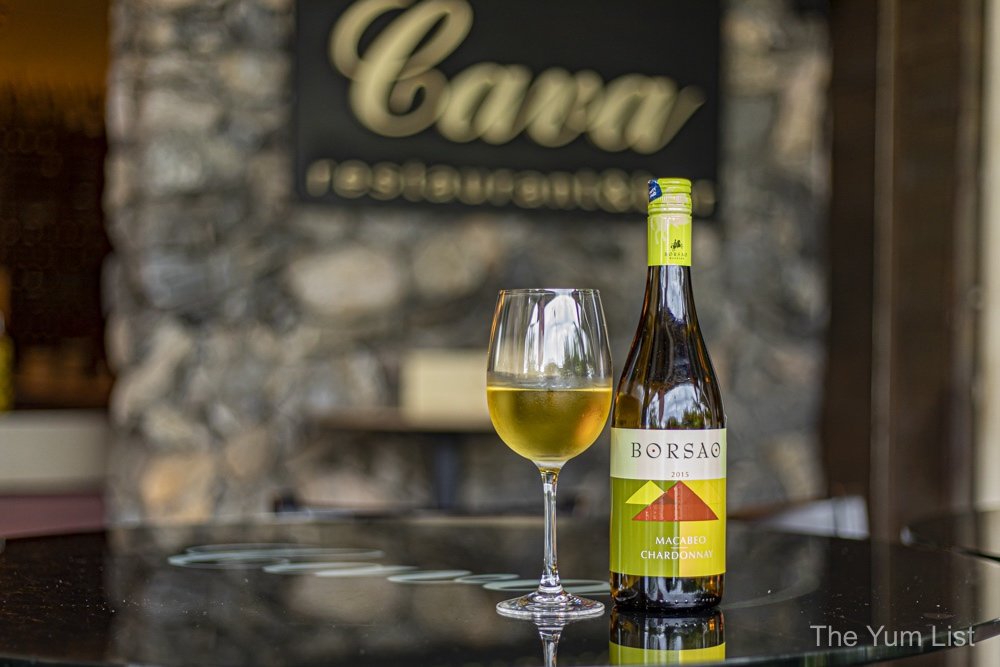 Worth a long, lingering savouring, however, is the Marques de Murrieta, Capellania Reserva 2014, D.O.Ca Rioja (RM 48). A hundred per cent Viura grape, there's distinct minerality on the nose that follows through to the palate. There are only 48 000 bottles of this made a year, so we are lucky to have this boutique winery displayed on the shelves of Cava Spanish Wine Bar here in KL.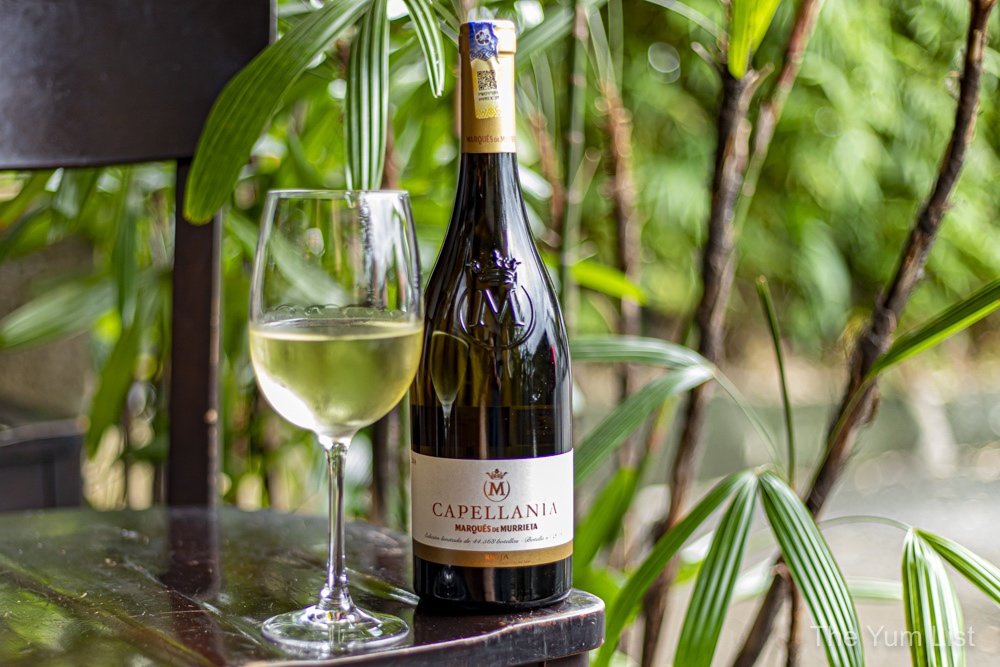 Rosé
I love the versatility of rosé, and the Finca Museum, Rosado 2017, D.O. Cigales (RM 30) lives up to my expectation of being easily paired across several dishes.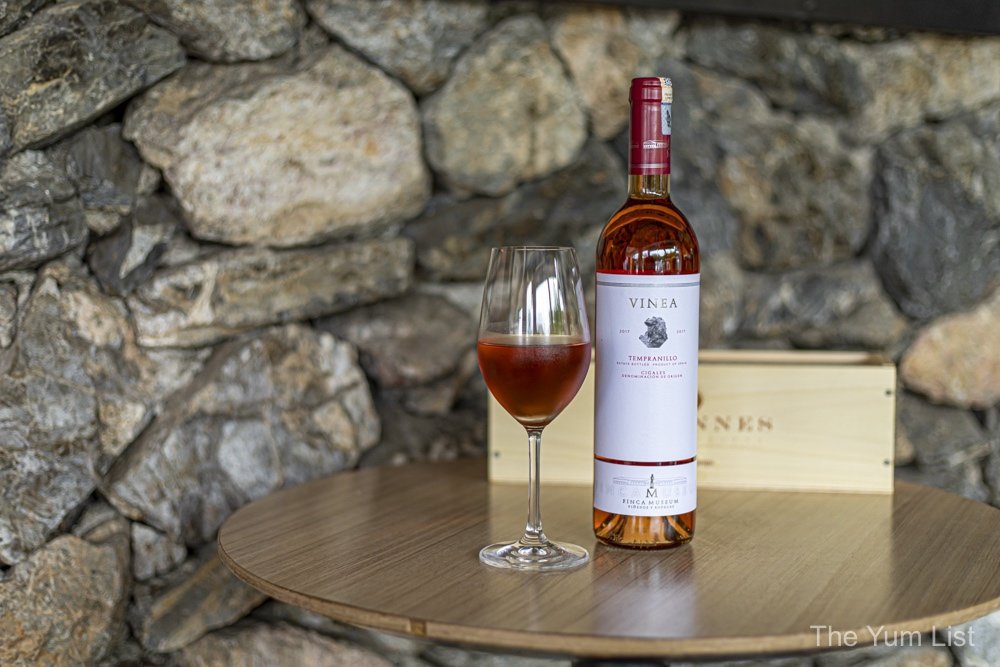 Spanish Red Wine
Tempranillo is the first grape that comes to mind when I think of Spanish wines. Still, I'm happy to see the menu at Cava Spanish Wine Bar has diversified from the obvious. The Monastrell grape is the core of the Telmo Rodriguez, Al-Muvedre 2016, D.O. Alicante (RM 32). Coming from one of the country's top winemakers, this drop is in line with his commitment to highlighting native grapes. Often this varietal is used in sweeter wines. In this glass, however, it's dry with significant tobacco and leather layered through. It's an affordable wine that provides wine lovers with a distinct option not usually found on menus in KL.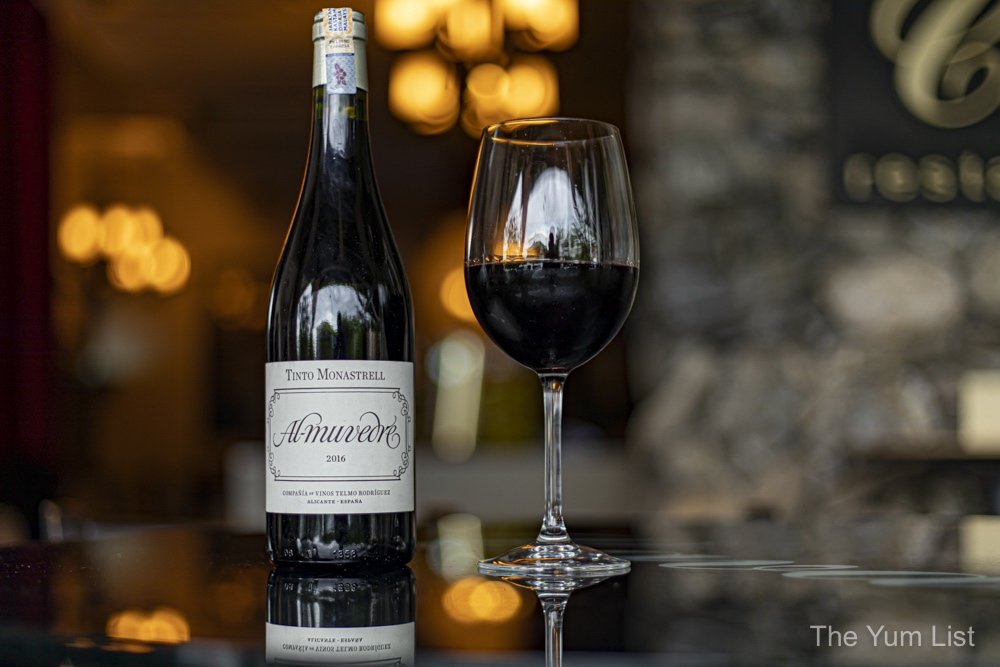 Perhaps the highlight of the wine by the glass list though, is the Teso La Monja, Romanico 2016, D.O. Tinta de Toro (RM 48). This Tinta de Toro (a local variant of Tempranillo) comes from a winery acclaimed for producing the most expensive wine in Spain. It does exceptionally well with food with its generous aromatics, juicy fruit and notable structure.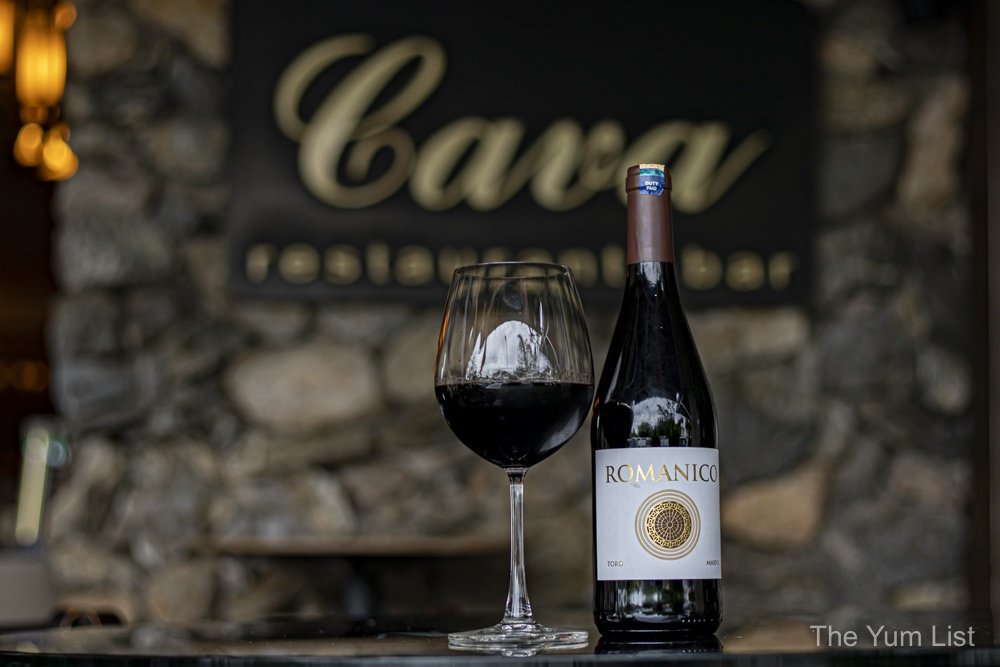 Picoteo/ Snacks
Cava had proved an excellent introduction to Spanish cuisine for Malaysian residents since its inception a decade and a half ago. The new menu, however, has evolved, offering more sophisticated diners a contemporary experience, similar to what you find in Barcelona today. To go with your wine, I recommend ordering a few snack items together to celebrate the diversity of flavours and play around with how each complements the other.
You can see the Marinated Olives (RM 12) in a giant jar on the bar bathing in cinnamon, lemon, star anise, orange and extra virgin olive oil. Three types, kalamata, manzanilla and gordal are delicious pickings. Fast fact: The Spanish have two names for olives, which signify how they've been processed. Aceituna refers to raw olives, while oliva means they've been processed.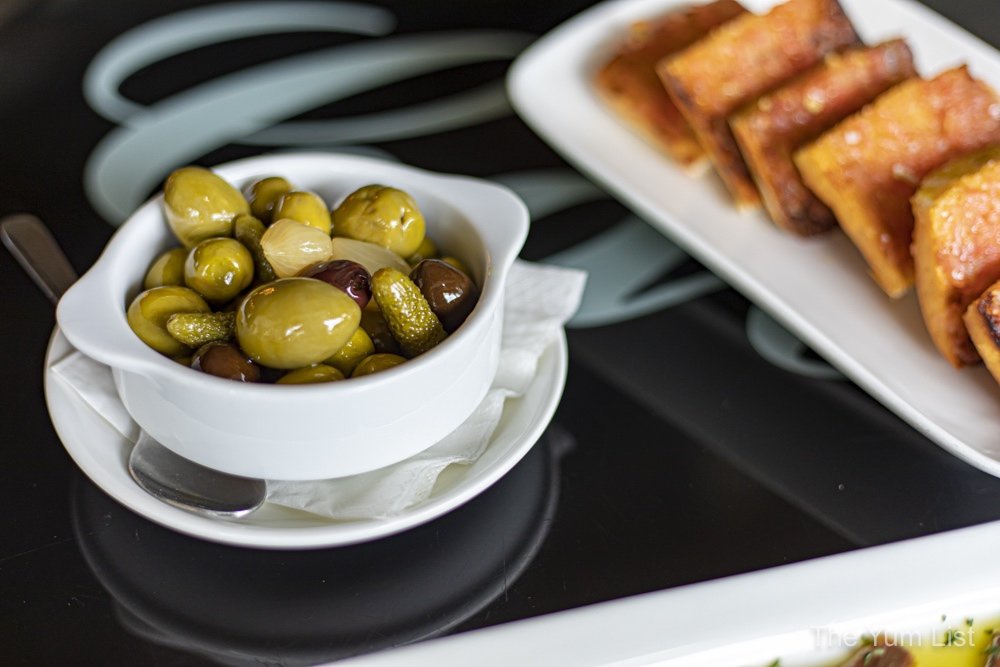 Pa amb Tomaquet or Bread with Tomatoes (RM 9) is a classic recipe, and a Catalan icon. The beauty of this dish is that minimal ingredients are used to deliver a punch of taste. Bread is simply rubbed with tomato, olive oil and salt. Garlic can too be added for a tad more cuff.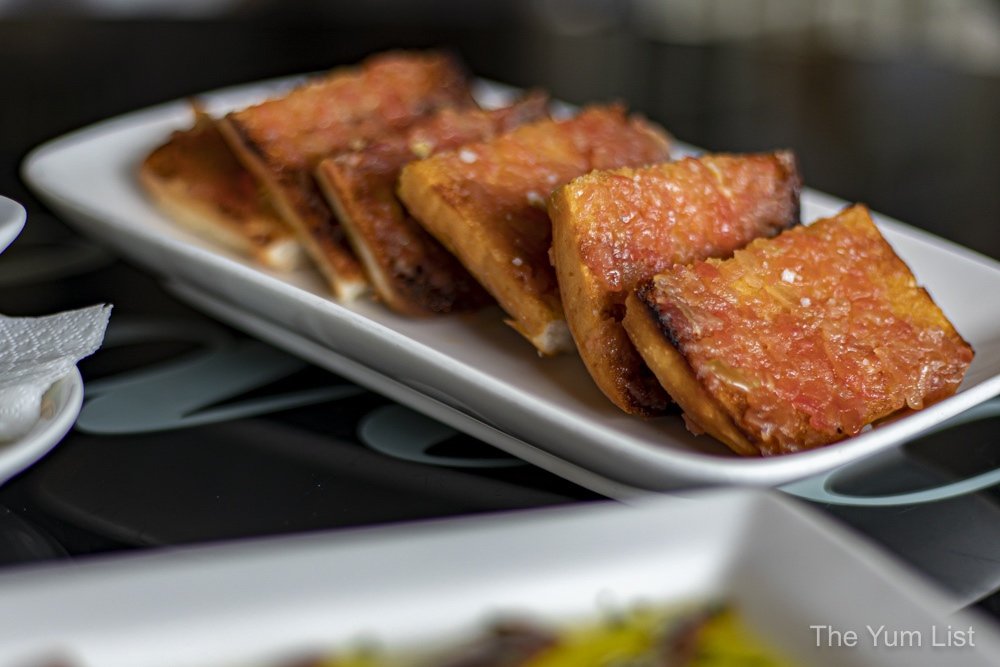 Santoña Anchovies (RM 38) from the Cantabrian Sea are something rather special and are unlike most varieties you'll come across. Caught in summer, when the skin is not that tough, salt is easily absorbed, and the flesh is both sweet and savoury.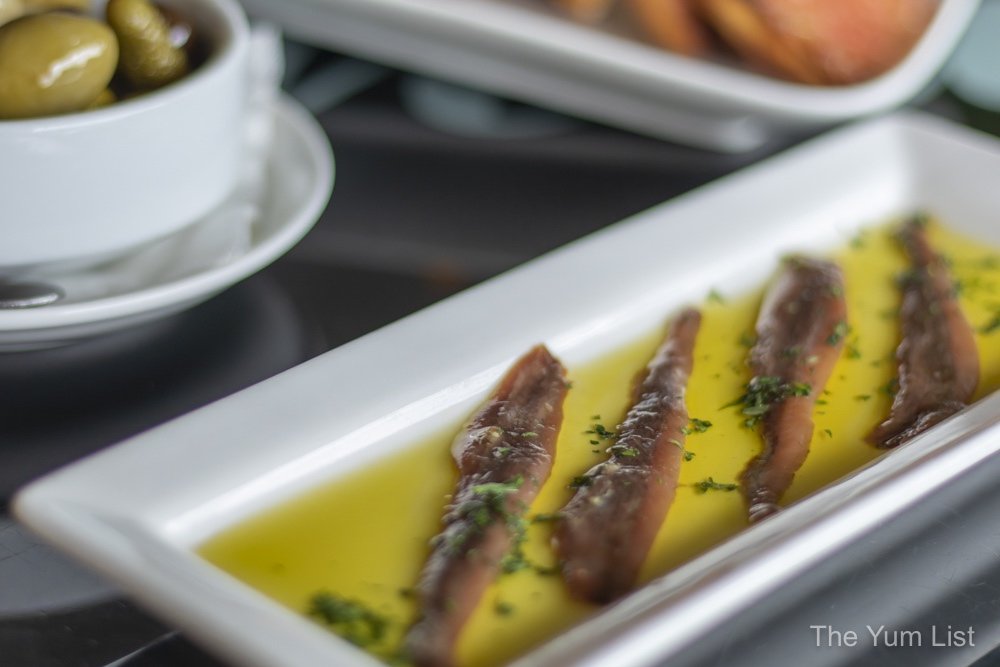 Another Spanish gourmet product is Cecina or Smoked Dried Beef (RM 33) from Leon. It's sliced deliciously thinly and served with grated Manchego cheese. Drizzled with olive oil, it too is moist and luscious.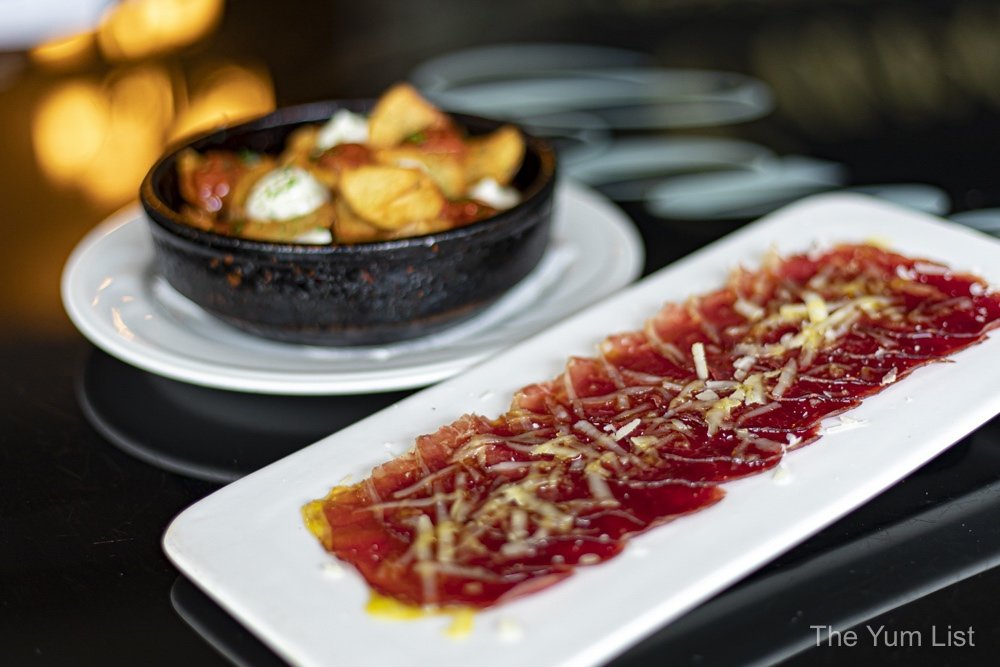 If you are only to pick a single item from the snacks section of the menu at Cava Spanish Wine Bar, make sure it is the Patatas Bravas (RM 16). Chunks of russet potatoes are coated in the most delicious salsa brava I've come across. Built on a base of tomato, vinegar and chilli (Cayenne pepper), the spice from the sauce weaves through the mouth in a smooth, seductive swirl.
Tapas/ Small Plates
Tapas are perhaps the best-exported concept of Spanish cuisine; small plates ideal for sharing. Found most commonly in southern and central Spain, Gambas al Ajillo (RM 34) or garlic prawns, is another straightforward preparation allowing the flavours of the natural ingredients to dominate. Shrimp, are cooked together with garlic and olive oil, and here at Cava Spanish Wine Bar, they're given an additional herbaceous quality with the use of rosemary. Fried in oil and served in a ceramic pot, they maintain their heat – be warned, they come out hot!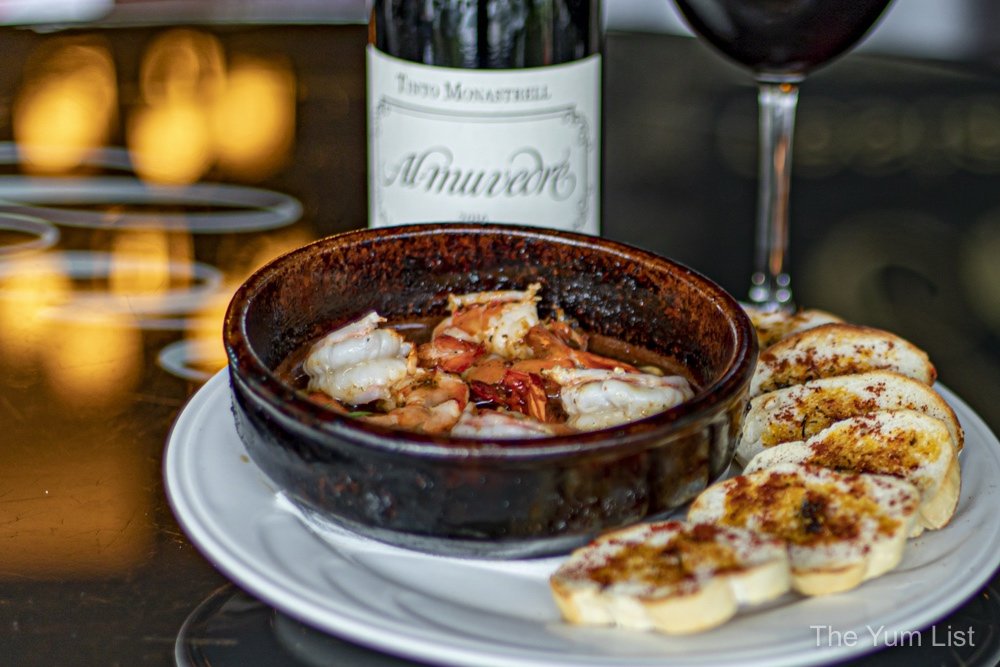 More seafood is provided with the Mediterranean Octopus (RM 68). Customarily cooked on the streets of Gallicia, Polvo a Feira, comes with boiled potatoes and pimentón de la Vera – smoked paprika exclusively from La Vera valley. Añana sea salt adds a little lift (often claimed to be the best salt in Spain) and the bed of creamy potato mash furnishes a warm, comforting base.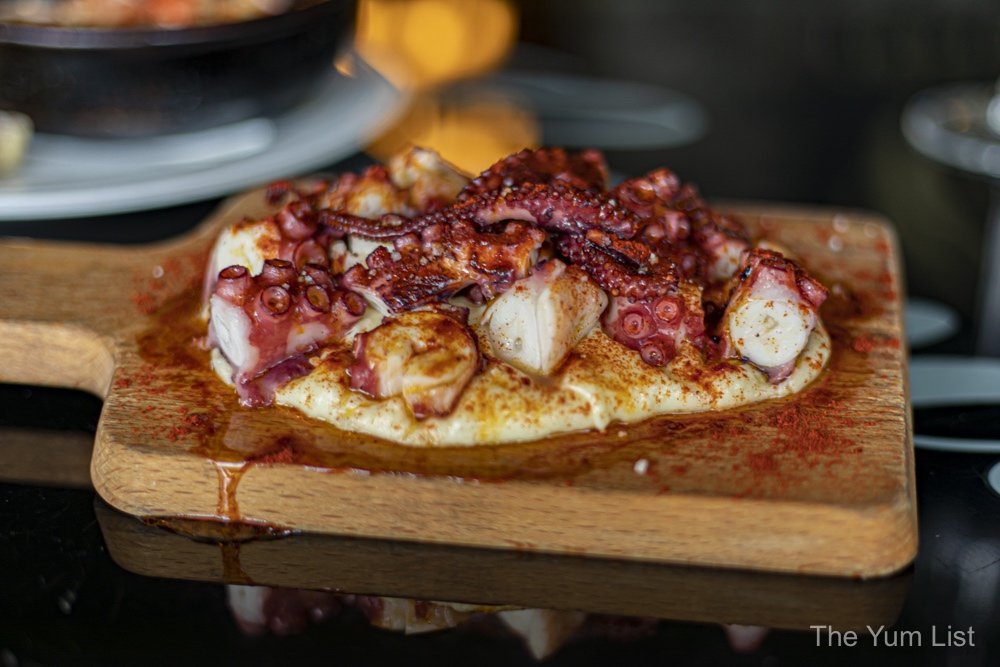 Arroz/ Rice
Lastly, from the savoury section of the menu at Cava Spanish Wine Bar, paella is a flawless dish not only for sharing but to ensure that nobody leaves the table hungry. Arroz Negro (RM 54), squid ink paella is a deep black with squid, prawns and aioli breaking its intensity. The rice has been slow-cooked with lots of olive oil and a lobster headstock. This version is a little dryer than the original, which can be quite juicy with liquid.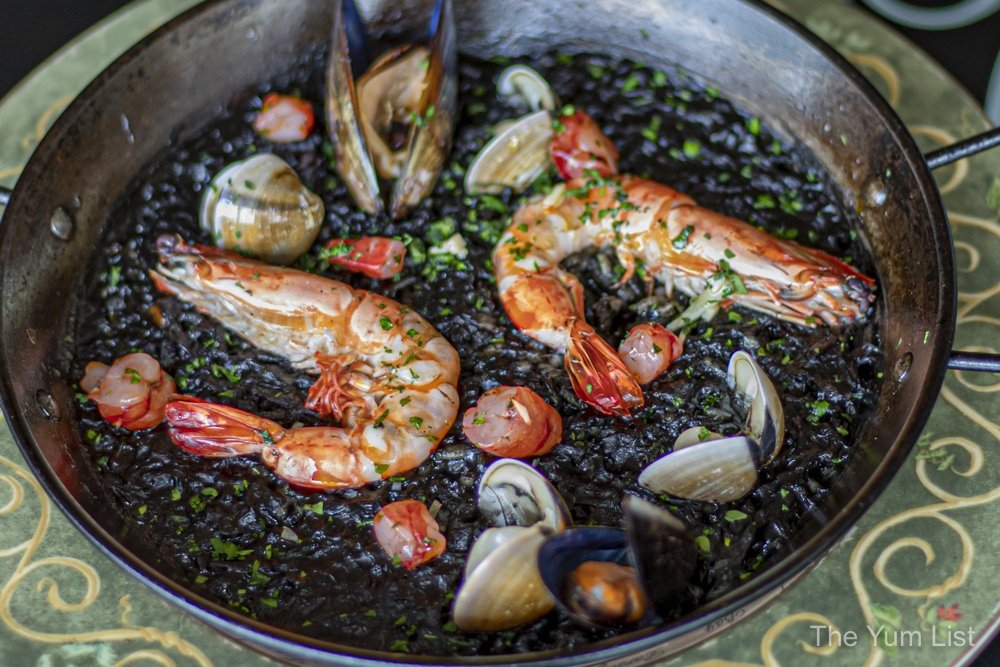 Dessert
We conclude with what the Spanish claim to be, "A better version of French toast," Torrija (RM 18). Chunky pieces of day-old brioche bread are soaked in milk and egg, deep-fried (not pan-fried) in olive oil (not butter) until golden. It's then sprinkled with spice (cinnamon, lemon, orange) and sugar. Here they come warm from the pan, and a creamy scoop of vanilla ice cream seductively melts over the fingers. Delicioso.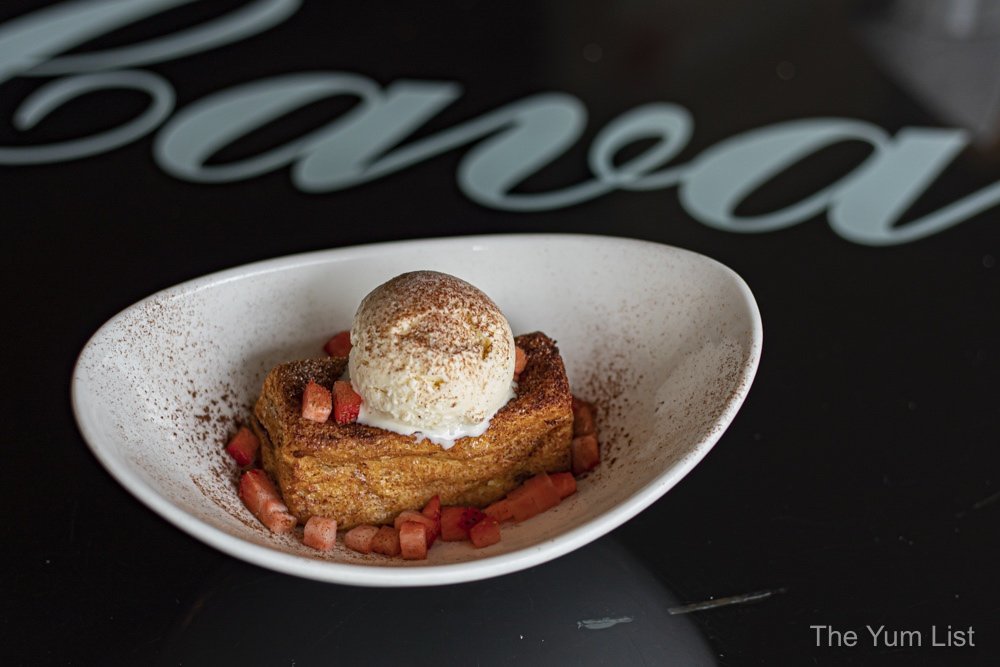 Digestive
Cava Spanish Wine Bar's vino list is supported by more national beverages. D.O. Montilla-Moriles, Alvear, Gran Reserva NV (RM 25) is a brandy from Spain's south aged in American oak barrels. I prefer it without ice, but you're invited to try it both ways to find its greatest appeal.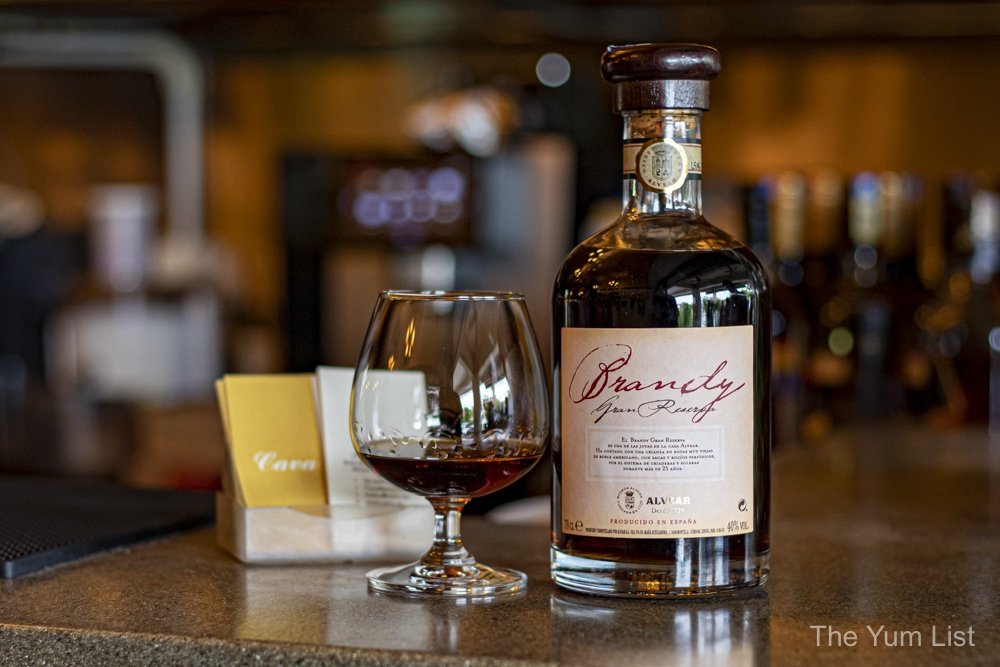 Cava Spanish Wine Bar Review
The revamp of Cava Spanish Wine Bar in Jalan Bangkung sees the preservation of a few old favourites alongside the introduction of newer, more authentic Spanish recipes. The makeover of the front of the restaurant allows versatility in seating. It is a fantastic place to enjoy wine and tapas with friends (or by yourself). The wine list is worthy of attention, and there's plenty of small plates and snacks to sustain your sampling.
Reasons to visit Cava Spanish Wine Bar: great spot for after-work drinks with light bites but also a for a full meal; excellent Spanish wine list; premium wines by the glass; must order the Santoña Anchovies and Patatas Bravas.
Cava Spanish Wine Bar @The Bangkung Row
71, Jalan Bangkung, Taman Bandaraya
59100 Kuala Lumpur, Malaysia
www.facebook.com/CavaRestaurant
Instagram @cavabangkung
+6 03 2093 6637
Cava Spanish Wine Bar Opening Hours
Daily: 12 noon – 3 pm & 5 pm-midnight