Sunday Brunch Nero Nero – Grandmother's Table
Words: Patricia Podorsek
Photos: Rich Callahan
Grandmothers hold a special place in our hearts, and somehow we love them, even more, when they reach our hearts through our stomachs! In my case, one grandma shared her love with Scottish scones and sweet milky tea and the other with Ukrainian chicken and dumplings. For those who have an Italian grandmother – or wish they did – Nero Nero offers a special Sunday brunch the first weekend of every month. Here chefs replicate the offerings of their own grandmothers in a style that is both familiar and abundant. Grandmother's Table at Nero Nero in DC Mall celebrates love and memories and some darn fine southern Italian cuisine based on recipes passed down from generations.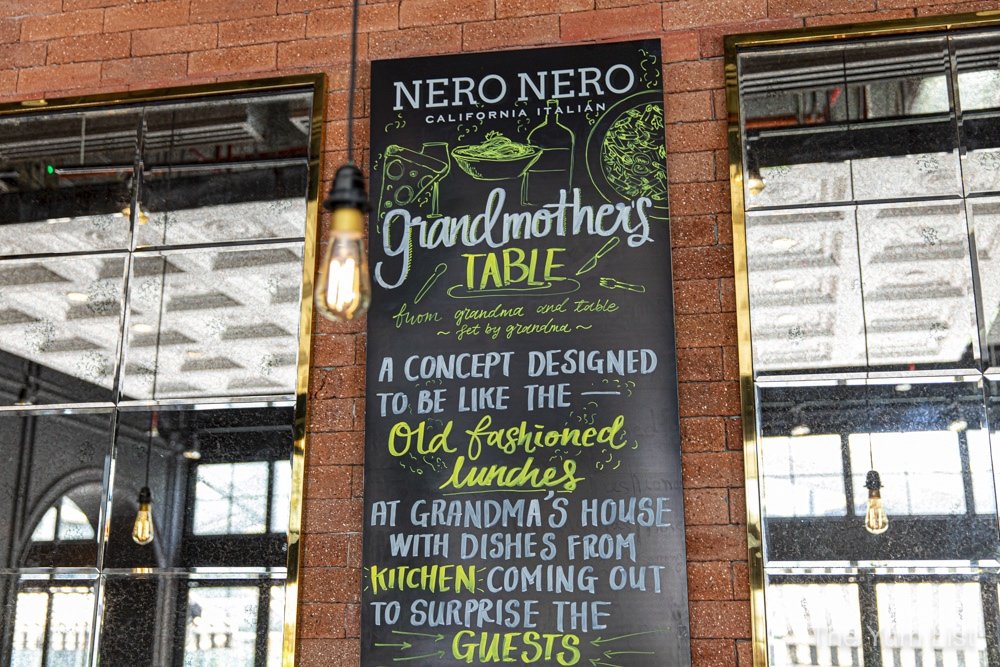 Grandmother's Table Nero Nero Sunday Brunch
The fun starts outside. Greeted by a server with a tray full of Frisella – crostini topped with ricotta forte, cherry tomatoes, tapenade, and tuna – I begin to realize the commitment to good food that this day will be. Head chef Giuseppe Lioce is regaling newcomers with stories of Italy while sitting at a table making orecchiette. Orecchiette literally means "little ears," an apt name since this simple pasta was often made communally by the women in his grandmother's village who would gossip as they worked. Later we'll have a chance to try this with a beef tomato sauce. More servers come along with baskets of Pettole con Olive, Apulian style fried dumplings laced with olives and sundried tomatoes. As I reach for a second, I'm happy that I skipped breakfast.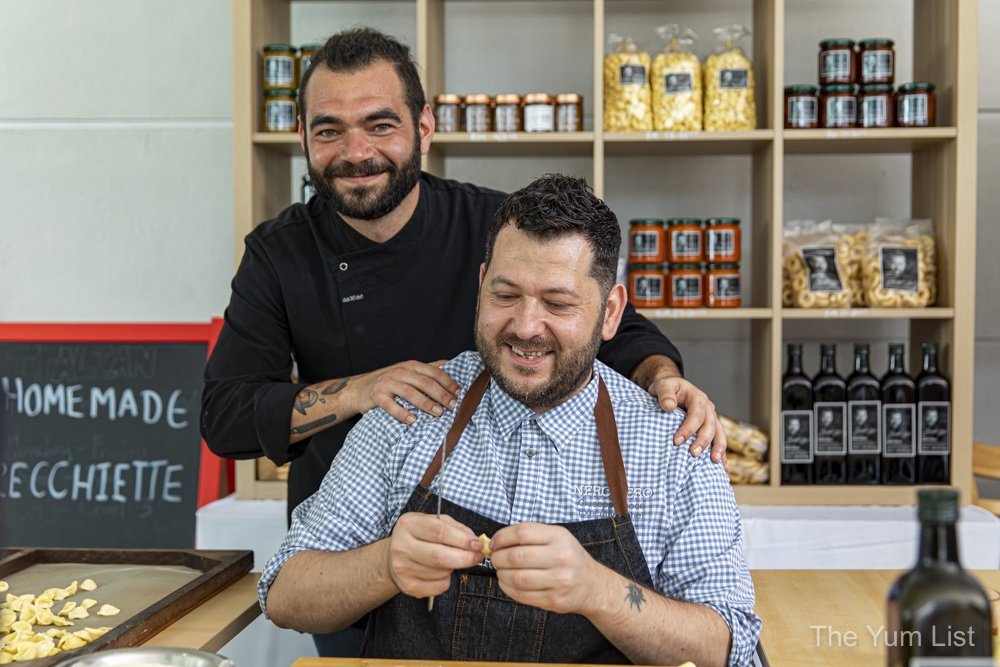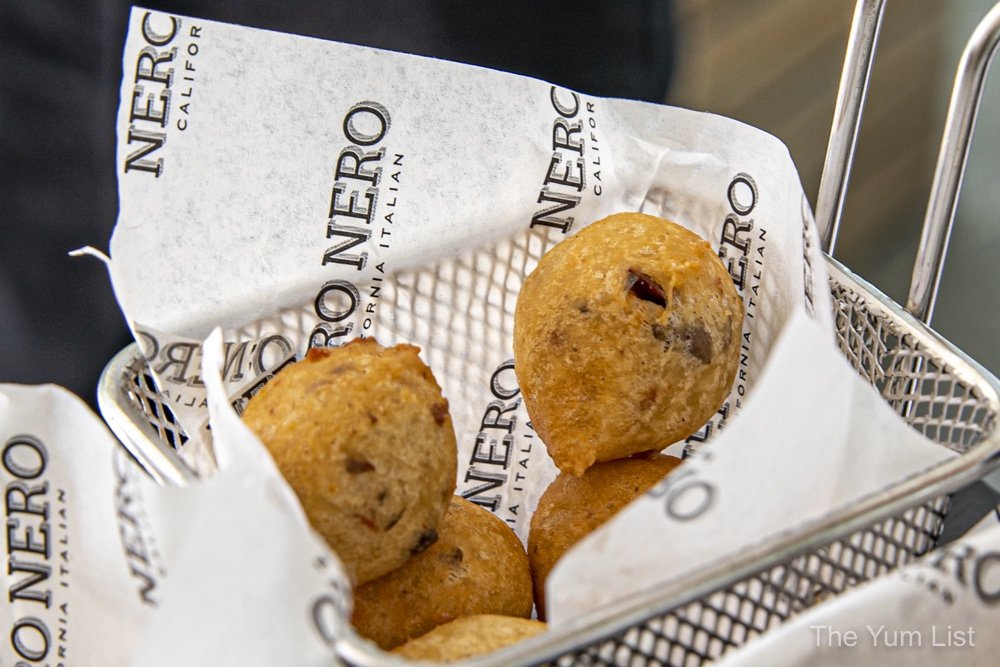 Italian Aperitif
Just nearby, mixologist Enzo Comes receives guests with a choice of Aperol Spritz, Negroni, wine or bubbles. A fan of the featured Gin Mare, I opt for a Negroni. Matching the Spanish gin with the Spanish Yzaguirre vermouth, I admire the balance of the ingredients that help me slip into an easy manner for the meal ahead.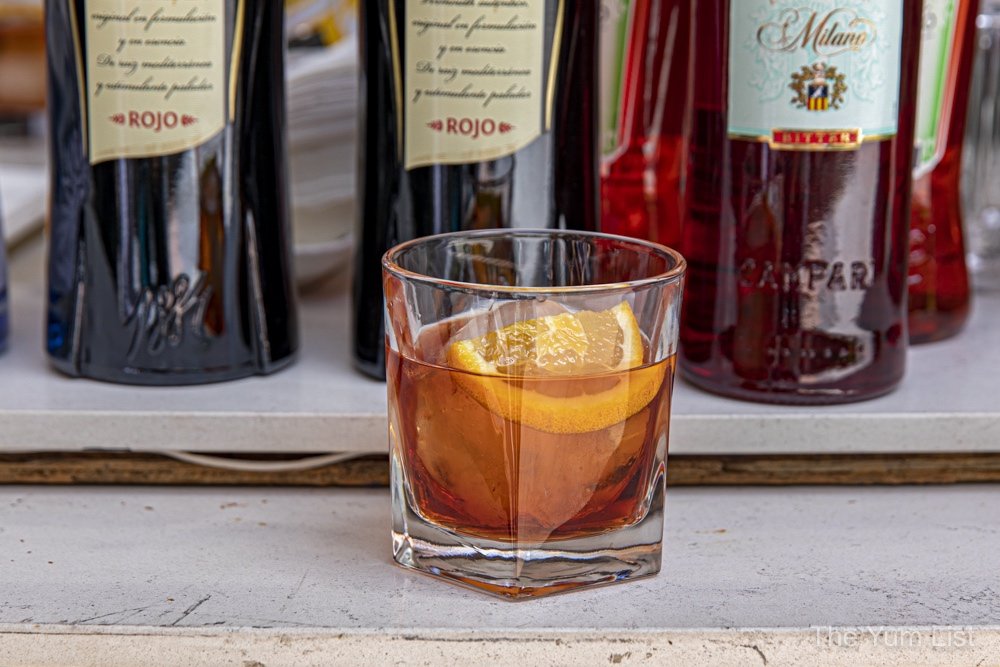 Sunday Brunch Nero Nero
Stepping inside, the stylish black and white décor and tall windows create an ambience both elegant and inviting. A small fountain in the centre has me thinking of gardens I've loved in the past. Long tables set a familiar tone for a meal to share with groups of old friends or new ones.
A whole set of goodies waits for us on the tables: plates of artisanal cheeses and nibbles like dried fava beans, preserved artichokes, and lampascioni onions in brine. Creamy frittata lies alongside little jars of pumpkin and peppers jam and green olive and eggplant pesto. Burrata adds richness and breadsticks add crunch. I can see that this will not be a meal to be taken in courses. This is an experience that celebrates the pleasures of food, the whimsy rendered by capable hands, and the range of surprises that one kitchen can deliver. We settle in for the long haul.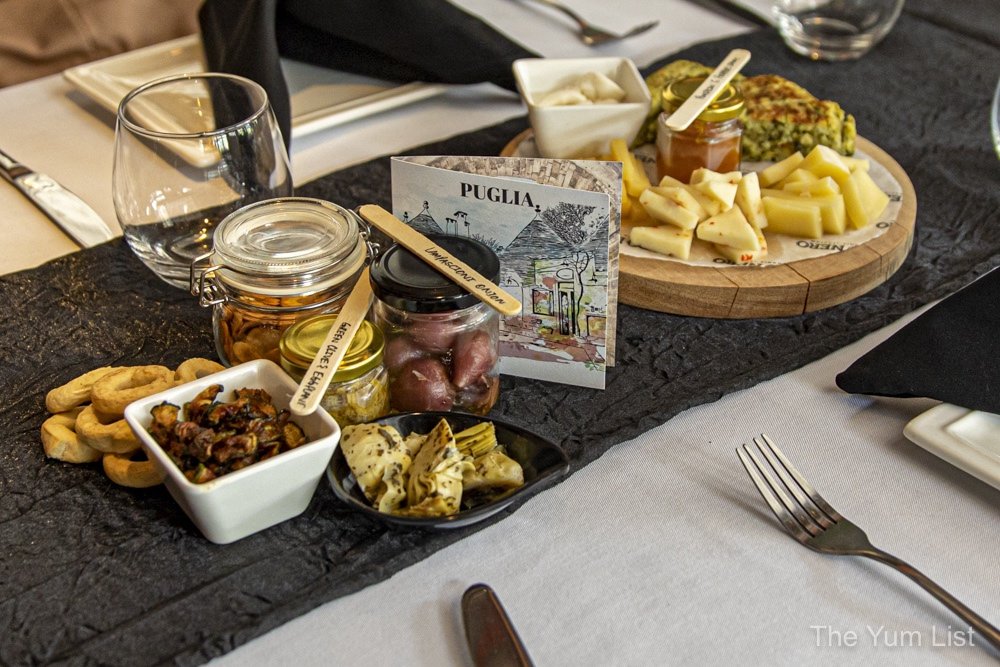 Italian Sunday Brunch
The next set of delectables in Sunday brunch at Nero Nero kicks off with a rustic, thick bread pizza. Rectangular in shape, cut into strips for easy sharing, it is topped with black olives and fresh tomato. Slightly blackened on top, the crust is nicely crisped, and the olives add a little tang. Next is the Rustico Leccese, tall-standing puff pastry filled with bechamel, tomato sauce, buffalo mozzarella, and so much air it resembles a souffle. I feel as if I could float away on it! Might need an anchor…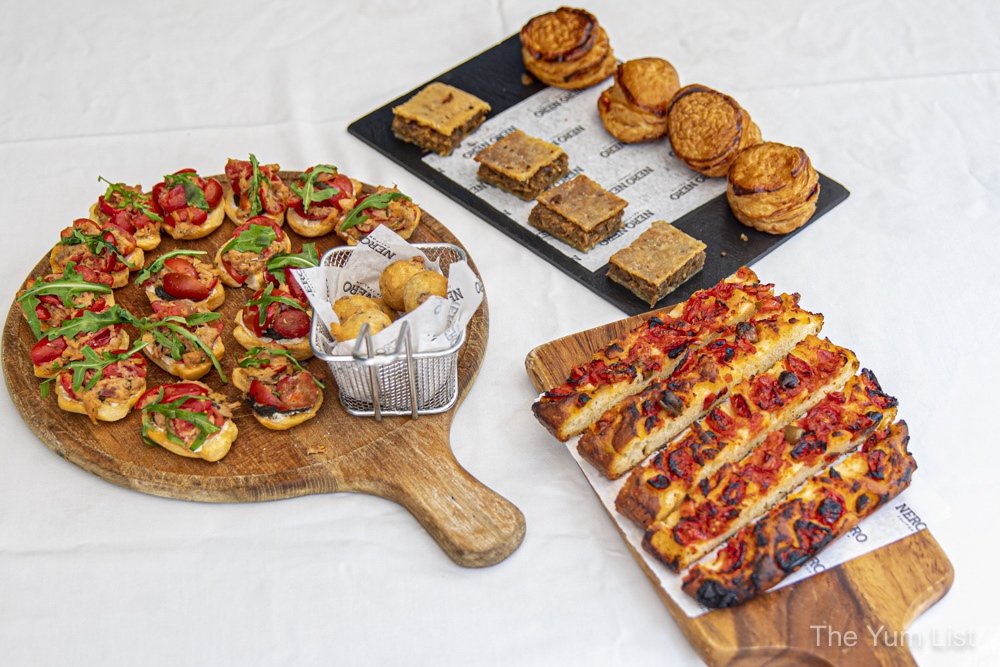 Italian Wine
And what better anchor than a glass of wine? Given the celebration of Apulia in the day's cuisine, it's only natural that we try a bottle from the same region. Petrelli's 'Luna Saracena' is a semi-sweet fiano blend with a fruity bouquet and a fresh grape finish that complements the salty nature of the appetizers.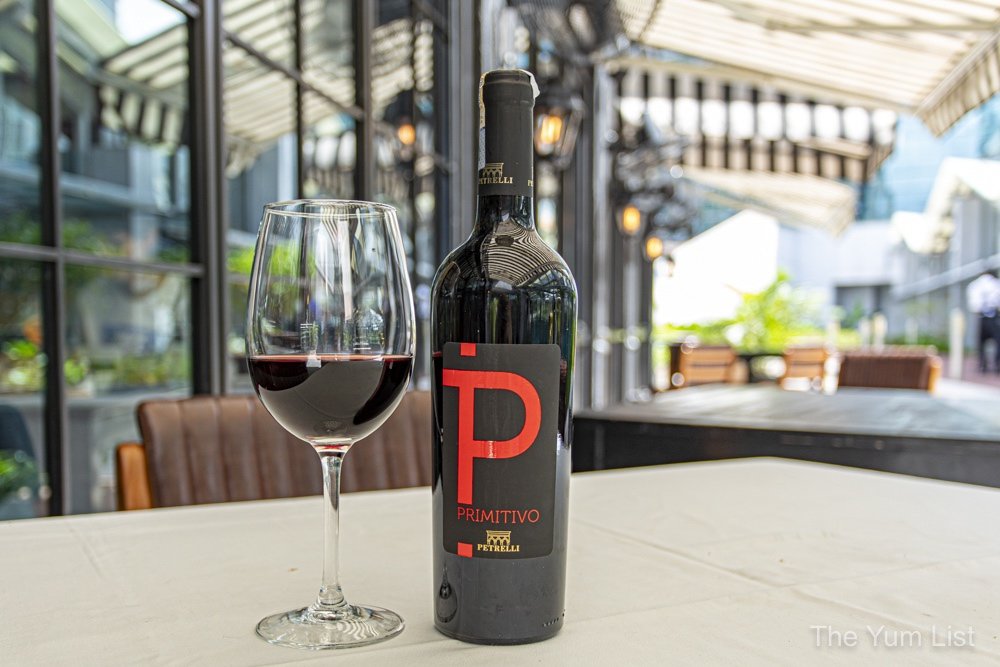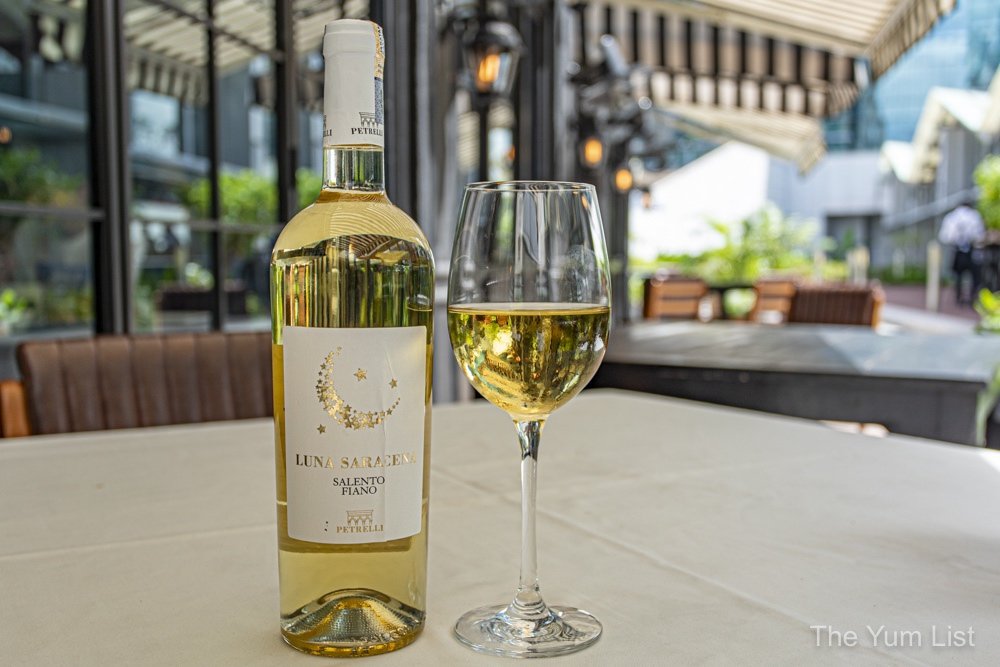 Appetizers
The yumminess from the kitchen continues with Fave e Cicoria, pureed fava beans drizzled with olive oil and served with chicory. More decadent are the Polpette di Melanzane, breaded eggplant balls atop a bed of divine cheesiness. My original guess is a sauce made from gorgonzola, but the base turns out to be Caciocavallo, a word which translates to "cheese on horseback." How fun! Can I say that the pairing has galloped away with my taste buds? It wouldn't be so far from the truth! More edible balls arrive with the Polpette Pugliesi, a type of poor man's 'meat' ball made from only 30% meat. Instead, bread crumbs are roasted and mixed with garlic and parmesan then fried to a crispy finish with a little meat. Broken open with the side of my fork, the inside is herby, cheesy and, like everything else today, delicious.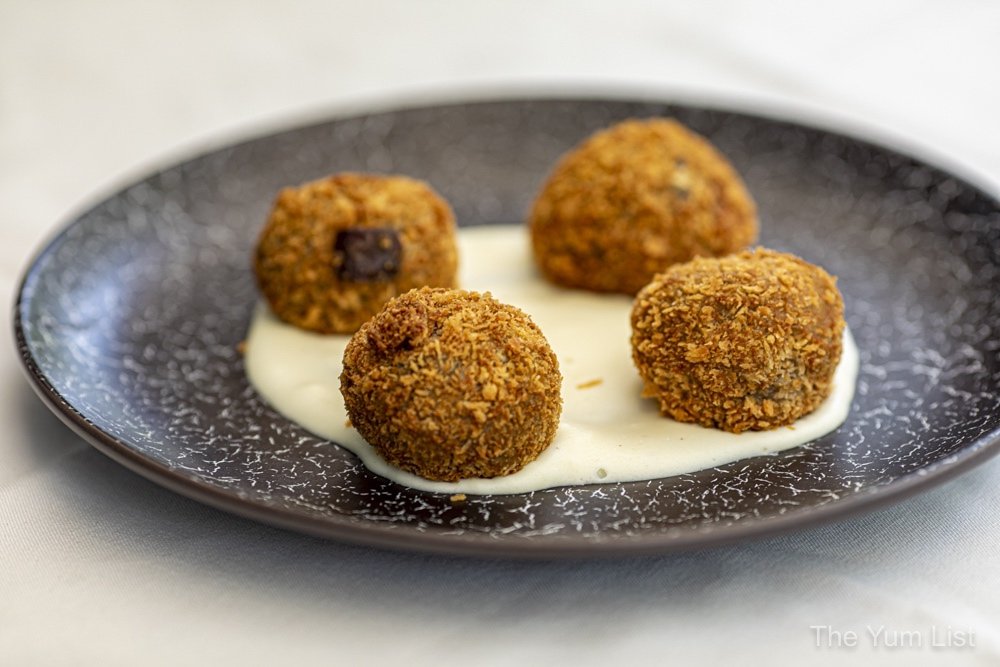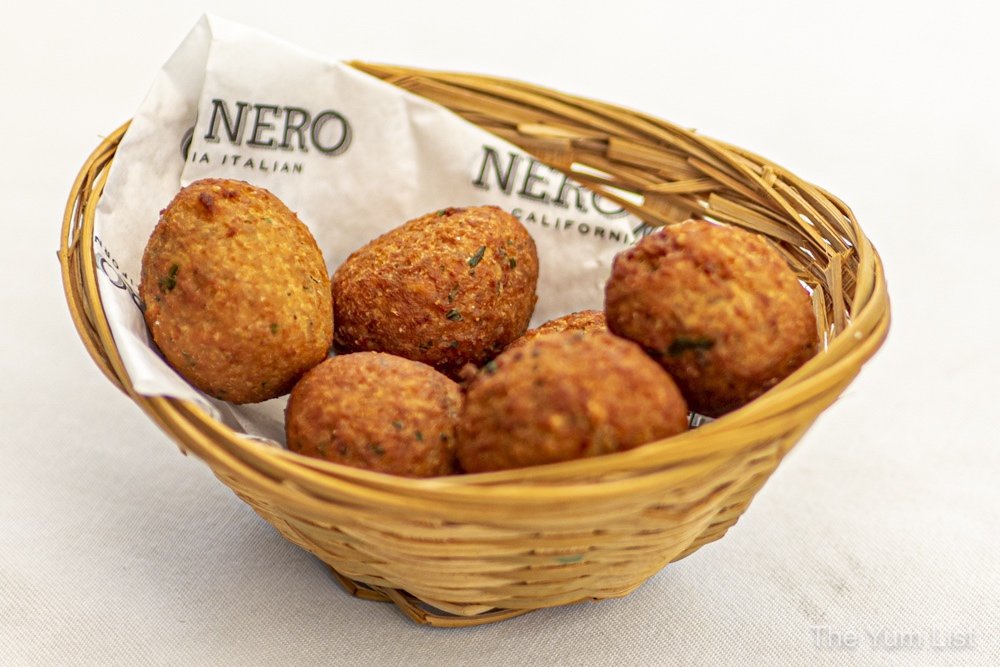 Martinis – To Open The Stomach
Head chef Giuseppe Lioce is walking through the dining room right about this time, and I happily complain to him that my stomach is getting too full for much more. His prescription? A martini! He insists that it will open up a second stomach to help the cause. Enzo steps up to the challenge and delivers Gin Mare extra dry and a little dirty in an elegant glass. I am entirely uncertain of the science behind this bit of alchemy, but somehow sipping on icy cold gin alleviates the lead feeling in my tummy. Must be time for more food.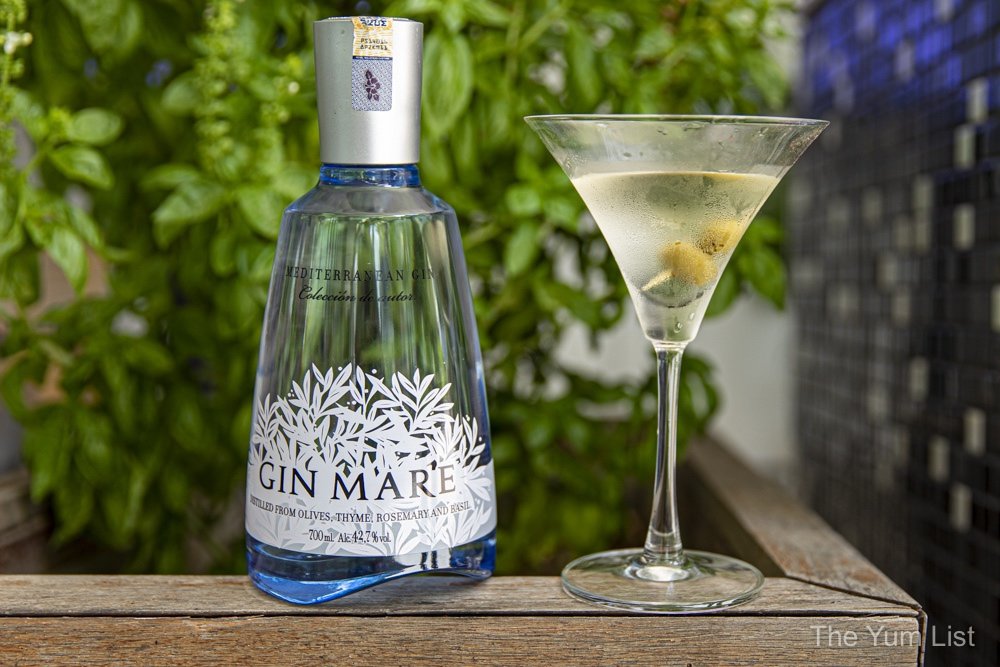 Seafood
With Apulia hugging the heel of Italy's boot, it's no surprise that seafood features prominently in its cuisine. The Baccala Salentino mixes dried salted cod with potatoes, olives, parsley and onions in a light wine dressing. More complex is the Calzone di Cipolla e Tonno. It layers tuna and onions stewed in wine and olive oil within thin sheets of semolina pasta and bakes it into a type of pie. I find a lot of intense flavours going on at once here, including the tang of capers lingering around the back edges. It's not intimidating, just complex, in both flavour and texture. I'm grateful for a crisp white wine to balance the intensity, the Catarratto Chardonnay by Sicilian winemaker Angelo featuring notes of both citrus and tropical fruits.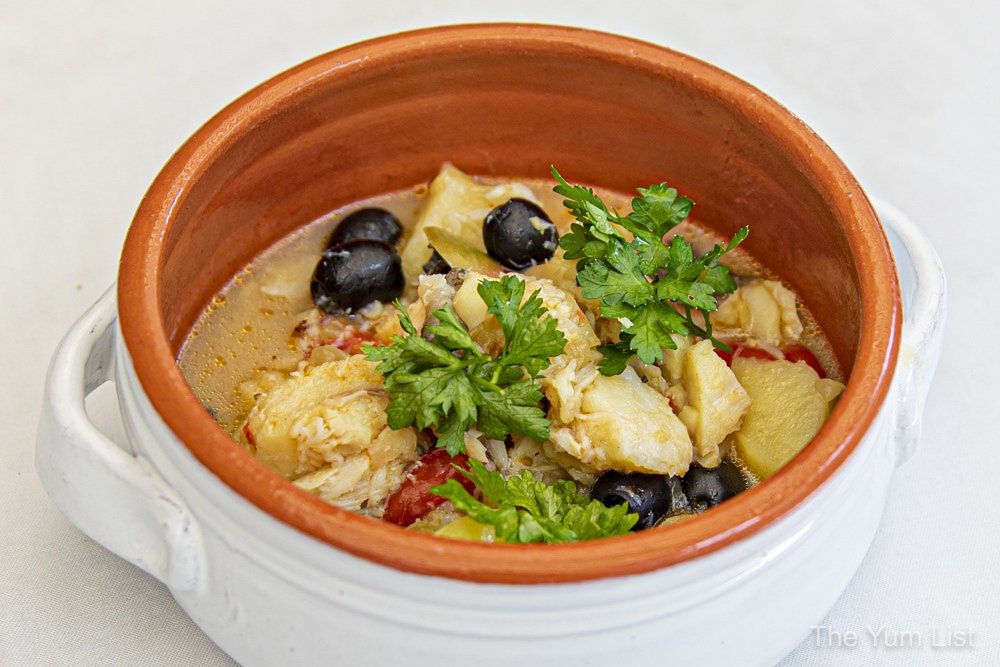 Guest Chef from Apulia
Nero Nero's guest chef for the weekend, Brunetto Magno, hails from Bari, the capital of Apulia, and adds a particular authenticity to today's menu. He takes us back to his kitchen to see the design of his creations. We are duly impressed by the Riso Patate e Cozze, a homestyle casserole of rice, potatoes, and mussels baked in a terracotta pot. Back in the dining room, we savour the creaminess lent by pecorino to the short-grain rice and the zip of cherry tomatoes.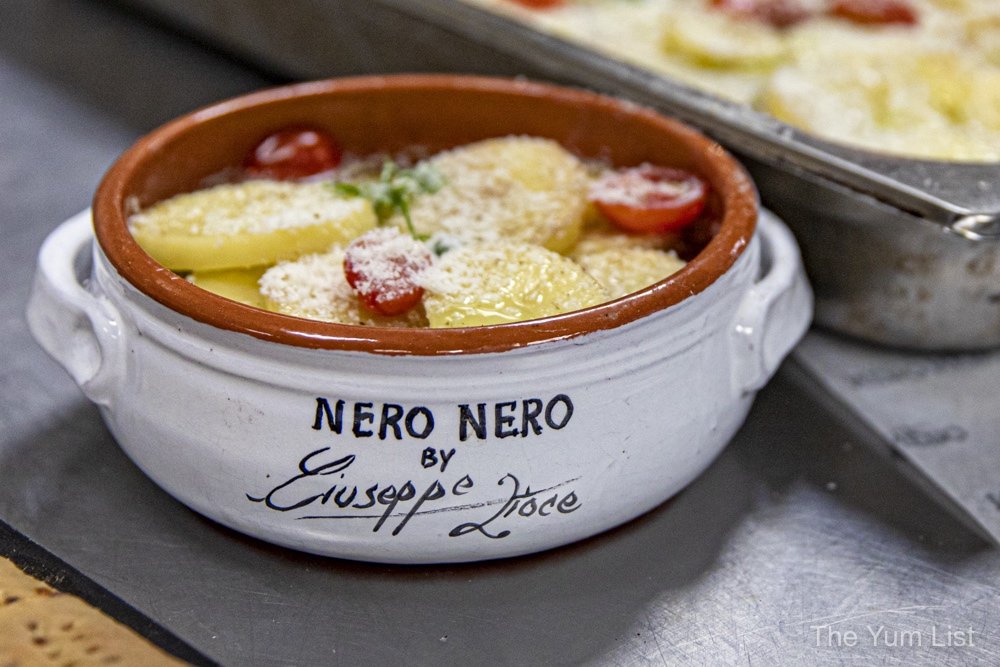 And speaking of homestyle, we finally get to try the orecchiette whose birth we witnessed at the start of the day! Big steel pots are ushered into the dining room, from which the hot pasta is ladled into bowls in front of all the guests. In the time since we last saw it, it has been slow-cooked in San Marzano tomato sauce, tempered by the addition of rocket and cacioricotta. Elevating simplicity into elegance, the goodness of this humble dish satisfies both heart and tummy.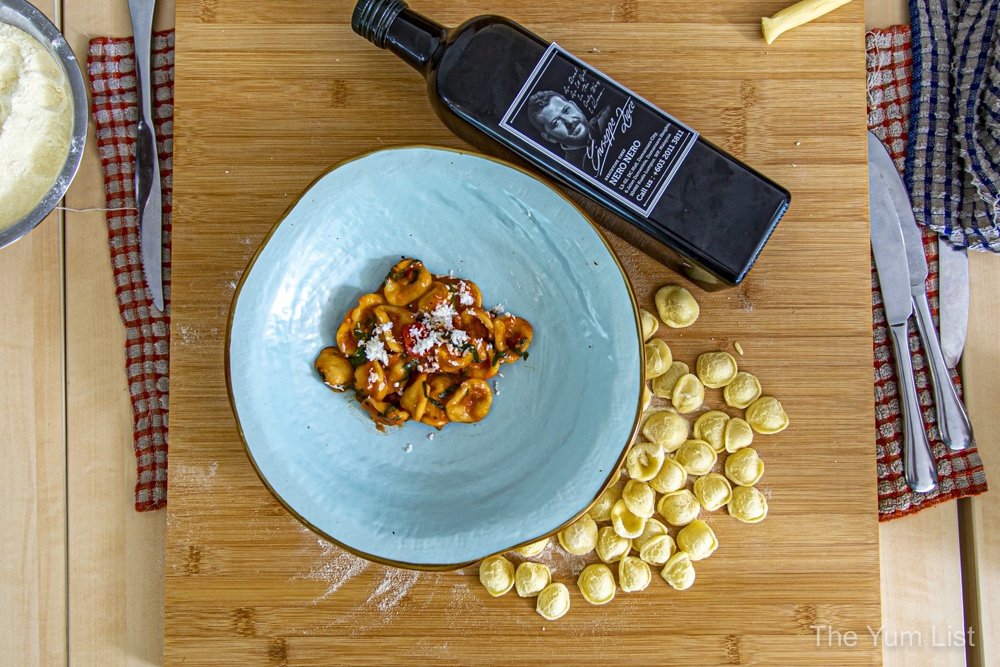 Grandmother's Table Sunday Brunch Nero Nero
I keep thinking that this surely must be the end of the conveyor belt of food when Monica reminds me that we haven't seen the mains yet! Thankfully, there is just one. Braciola Barese, beef rolled in garlic and herbs and slow-cooked overnight in tomato sauce until it has absorbed all the seasonings into the tissue, is falling right off the bone into melty magic. Alongside, we enjoy the Cialda Pugliese, a Bari-style salad made with mixed greens, potatoes, onions, and crumbled Frisella tossed in a light herbal dressing.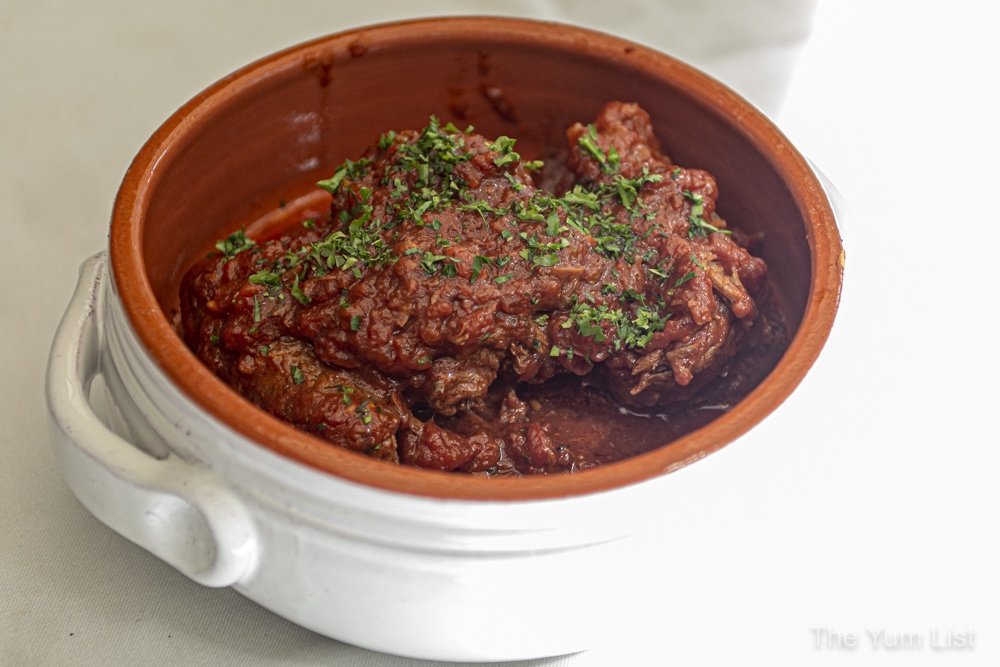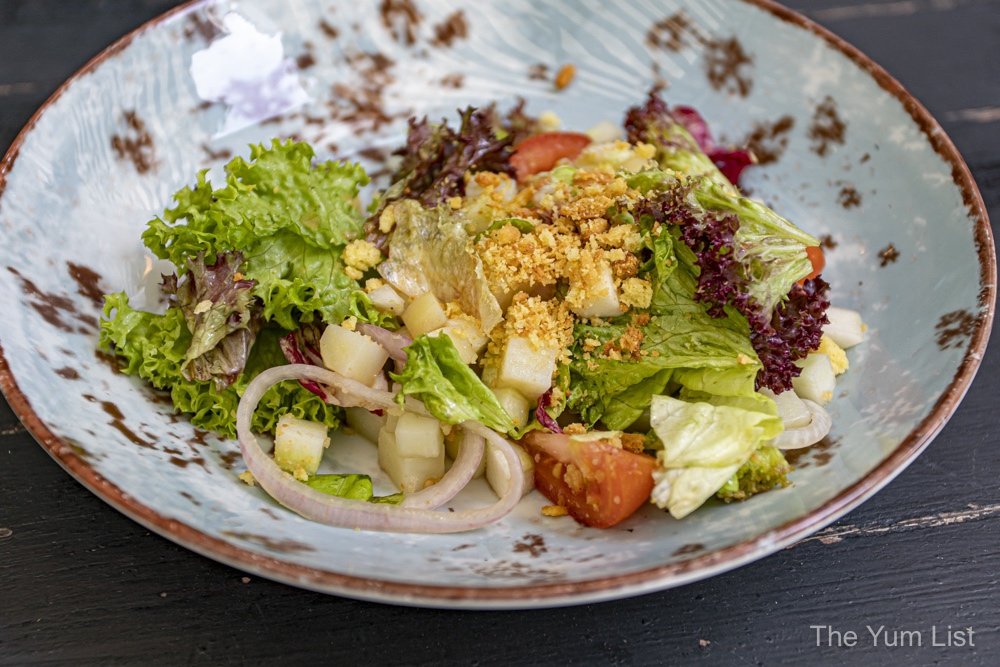 Apulian Dessert
While we were in the kitchen earlier, we caught a peek at Dolci, proudly forged by pastry chef Giordano Carlucci. He shares with us the secret to Chiacchere, carnival treats made by mixing flour, lemon and butter with grappa and rum. Sprinkled with powdered sugar, they resemble the masks that party-goers would wear for the festivities. These are sent out to tables later on a platter that features other cookies made of almonds and hazelnuts, which have surprisingly chewy interiors despite stiff exteriors. More homestyle sweetness is delivered in Ciambellone, Grandmother's olive oil sponge cake topped with apricot and apples, moist and sweet and yummy.
Cookies and cake are obviously not enough for Grandma – or for Giordano – because we next see the arrival of two additional desserts. The Sporcamuss fills hot puff pastry with warm lemon custard for an oozy treat. But our collective favourite is Pasticciotto Leccese. This translates to "Little Messy," an appropriate name since the shortbread crust can barely contain the gooey-ness of vanilla custard, sponge cake and amarena cherries. Everything is good, but this is divine.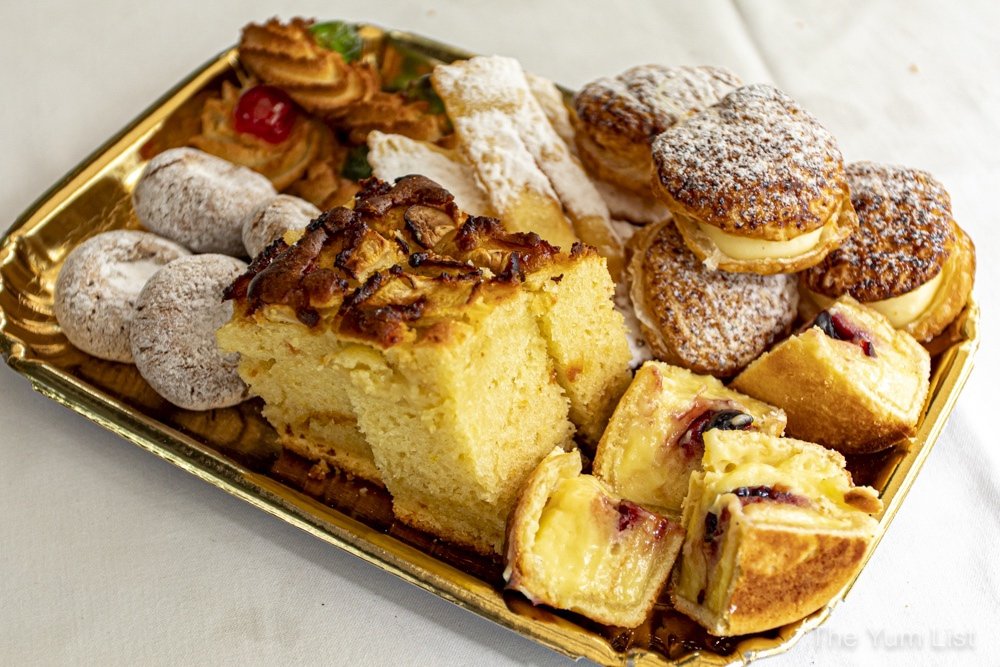 Sunday Brunch Nero Nero Grandmother's Table Review
Thankfully, there is espresso to keep us from collapsing into a food coma at this point in the day. I couldn't begin to count the number of different foods I've tried since I arrived. Like grandmas everywhere, the attempt to feed loved ones enough to last for days – or perhaps the month until the next Grandmother's Table at Nero Nero – has been fully realized in both variety and volume. If the way to the heart is through the stomach, I'm glad I've eaten enough for two. My heart is definitely as full as my tummy.
Grandmother's Table Sunday Brunch Nero Nero DC Mall runs the first Sunday of every month, beginning at 12.30 p.m. It is priced at RM 298++ with free-flow prosecco, wine and beer, and RM 168++ for food and soft drinks only. With a focus on Apulian cuisine, the menu will offer new items each month, possibly in collaboration with guest chefs from Italy. Check out Nero Nero's Facebook and Instagram pages for more details.
Reasons to visit Grandmother's Table, Sunday Brunch Nero Nero: A full array of food surprises inspired by the grandmothers of southern Italy rendered by the capable hands of Head Chef Giuseppe Lioce.
Grandmother's Table Sunday Brunch Nero Nero
Italian Restaurant
L3-02, DC Mall, Damansara City
6 Jalan Damanlela, Damansara Heights
50490 Kuala Lumpur, Malaysia
+603 2011 3811
www.neronero-dc3.com
Grandmother's Table Opening Hours
First Sunday of the month from 12 noon