Words: Monica Tindall
Photos: Rich Callahan
A fantastic new addition to the Mont Kiara dining scene is Proof Arcoris! The plaza it's located in could have been pulled directly from Sydney's CBD with its shiny looking office blocks, stylish yet casual restaurants and verdant, well-manicured landscaping. It is a good fit for the restaurant and its friendly setting, menu and prices should be attractive to the many expats and locals living in the area.
An outdoor covered patio facing the gardens cooled with ceiling fans is immediately attractive. We hear this has quickly become a popular spot in the evenings. There are a few tables downstairs with a position perfect for watching the wood-fired pizza oven action, and upstairs there is a small dining level too.
Being the second branch of Proof Pizza + Wine (the first in APW, Bangsar), the menu here is mostly the same with a few small tweaks and the inclusion of a number of pasta dishes to even further boost the carb provisions (pasta will be officially on the menu mid-February).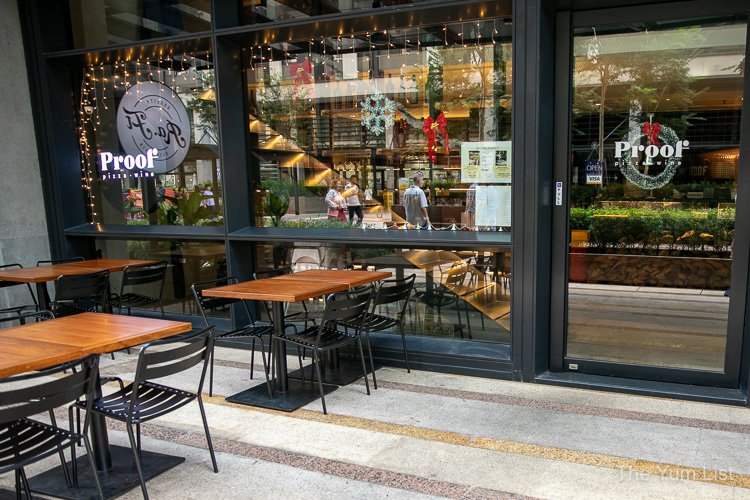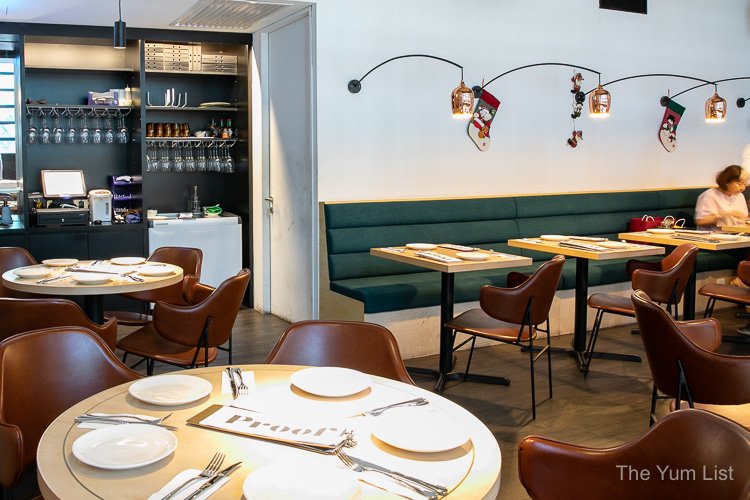 Proof Arcoris Menu – Wine
Alongside a focused pizza menu, Proof Arcoris has a compact and very well selected wine list. It's with an Italian glass of 2016 Vernaccia di San Gimignano (RM29.20) by Castello di Querceto, Tuscany that we begin. Pale gold in the glass, it has a soft bouquet of fruit and flowers. It's dry and fills the palate, doing well with our seafood and veggie-heavy selection of dishes.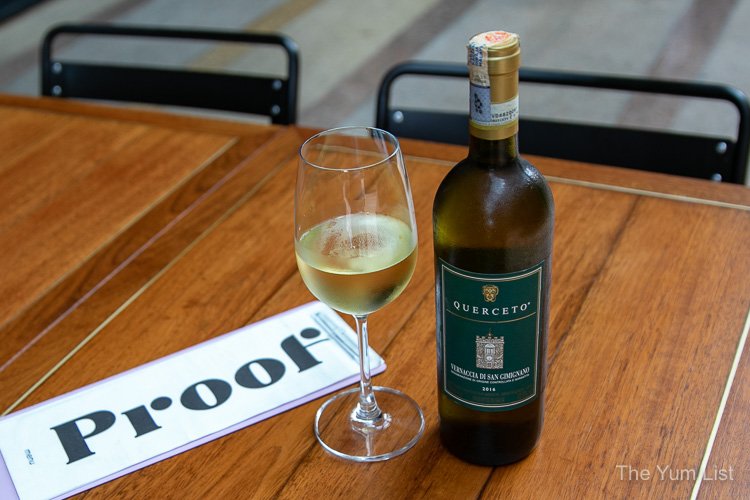 Proof Arcoris Menu – Salad
Pear & Mesclun (RM23.50), one of my favourite salads from Proof APW, has us off to a healthy start. Salad leaves and slices of pear are bulked up with pomegranate, feta cheese, toasted pecans and a honey lemon lavender dressing. Fruity, nutty, floral – all balance to provide a fresh, crisp start.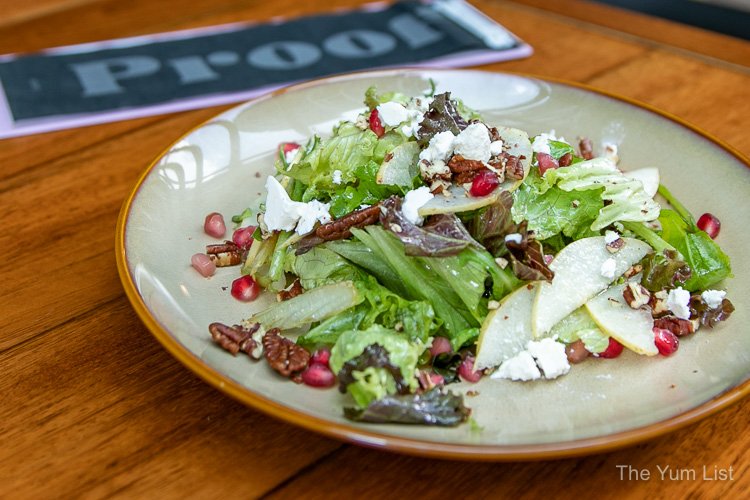 Piadina Italian Flatbread
Italian-style sandwiches are a great way to continue and it's with two meat-free options that we get a taste. The Formaggi e Rucola Piadina (RM25) features mozzarella, taleggio, ricotta, scamorza and pecorino Romano half folded between a thin yeast-proofed bread that has been toasted in the Acunto wood-fired oven. The oven is from Naples (the capital of the best pizza in the world) and is made with volcanic rocks (think Mount Vesuvius and Pompei). Blocks of Acacia wood provide a good slow burn and add a gentle aroma to all that's cooked inside.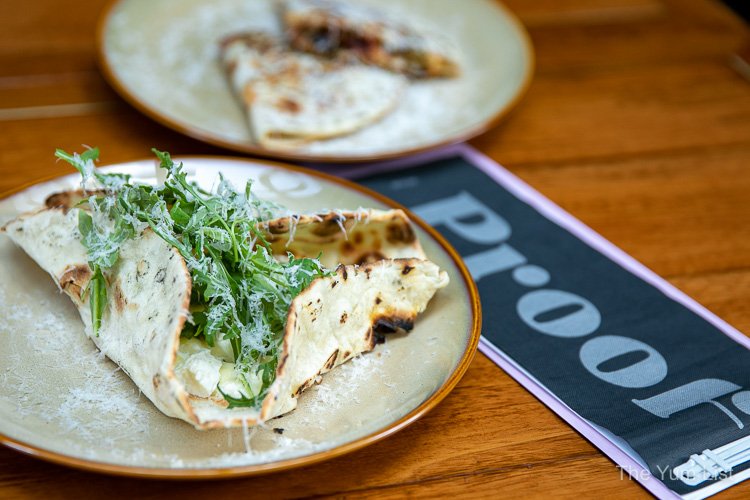 Vegetariana Piadini (RM20) is a deliciously satisfying sandwich of mushrooms, sun-dried tomato pesto, marinated artichokes, caramelized onion, fresh basil, almonds, ricotta, and pecorino Romano. The salad is a perfect accompaniment and this combo makes a highly gratifying lunch.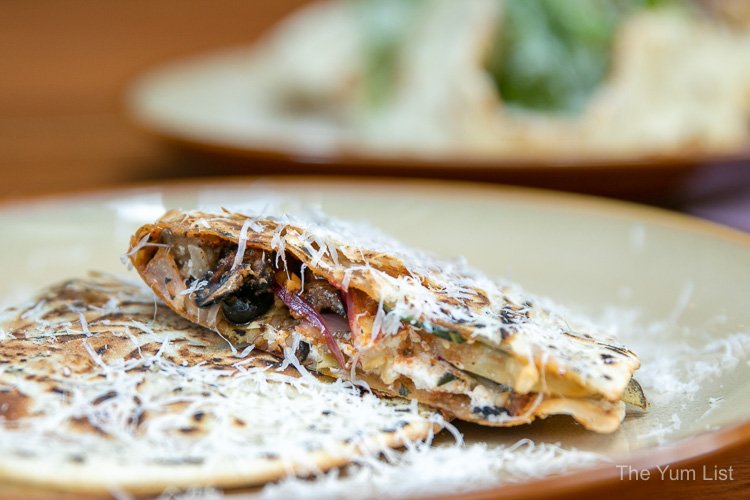 Proof Arcoris Pasta
Newly introduced to the menu, Proof Arcoris takes advantage of its sister restaurant, Grano (with fresh pasta as its speciality), to include some pasta dishes in their offerings. At the time of our visit, the prices were not yet decided but most will be in the early to mid-thirties.
Our first taste is with Seafood Reginette, a delightful dish, full of texture. The ruffled edges of the pasta ribbons catch tiny pockets of sauce and play with the tongue with their ridges. Prawns, crabmeat, smoked salmon, broccoli and a touch of chilli are generous in their portions and lift the dish to levels of lightness gifted by the inclusion of plentiful seafood and veggies. Pecorino (sheep's milk cheese) and lemon zest furnish a nice tang furthering the freshness in the overall profile.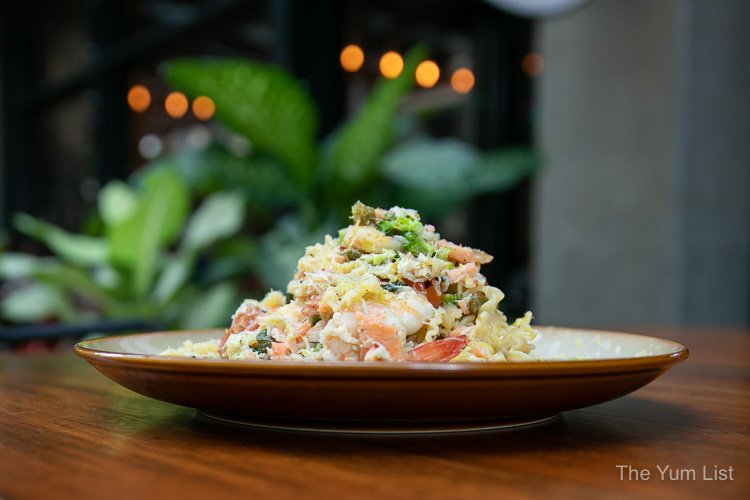 Another meat-free option on Proof Arcoris' menu is the Spaghetti a la Chitarra. It too boasts a liberal coating of sauce with homemade pesto teaming up with marinated artichokes, mushrooms, toasted pecans, shaved pumpkin and Pecorino Romano.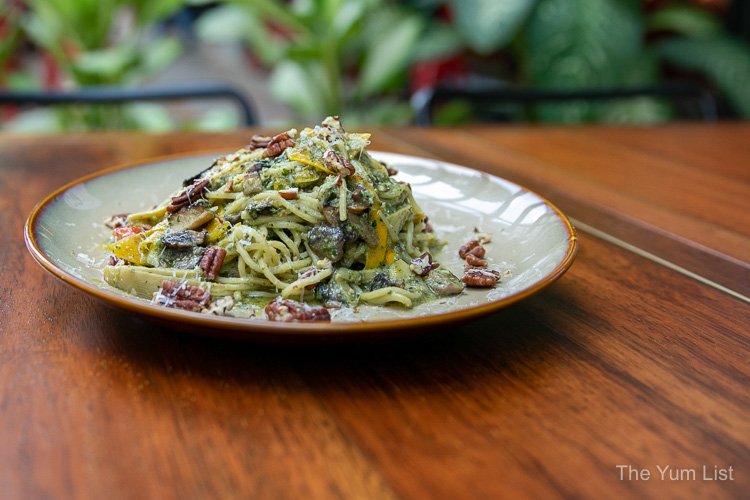 The third pasta recipe, Gnocchetti Sardi, is packed with flavour due to slices of Italian pork sausage. Rocket and thinly shaved fennel relieve the weightiness of the sauce and we highly recommend this rich dish as great for sharing.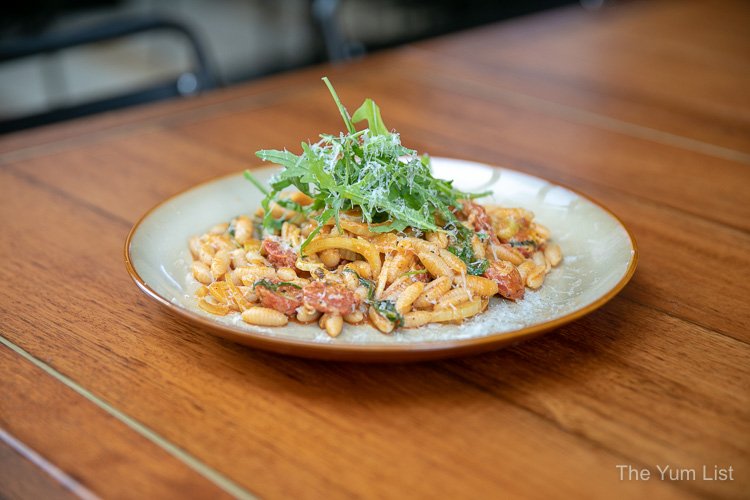 With a turn in the next bend towards pizza, we also switch hues of wine. A Chianti, by the same producer as our first glass, Castello di Querceto (RM29.20) is a ruby red with a floral and fruity bouquet. It's fresh on the palate with a lingering finish and makes a good companion to the rich tomato sauces, punchy cheeses and smoked meats to come.
Ciccio Pizza
Proving that not all pizza needs cheese are the ciccio – non-cheese based pizzas. From this style, we try the Garden Veggie (RM24.50). It's topped with herb pesto, cherry tomatoes, sweet potatoes, aubergine, zucchini, balsamic reduction and mayonnaise. The veggies are charred until soft and the thread of sweet tang due to the balsamic and mayo make us forget that cheese is often a norm anyway.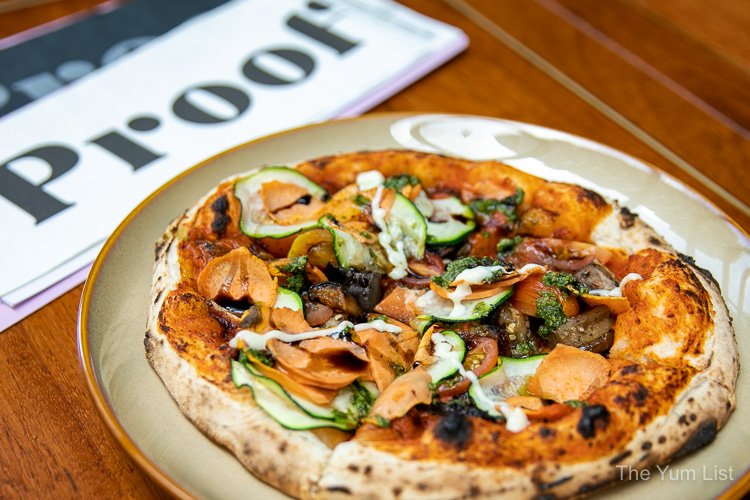 Gourmet Pizza
From the gourmet pizza list, comes the Umbrian Black Truffle Pizza (RM38.6). Mixed mushrooms, mozzarella, mascarpone, black truffle paste and taleggio make for intense toppings. With winter black truffles (RM32 for 2 grams) in season, we lush it up further with some shavings fresh over the top. This has been a particularly good season for truffles and this crop gifts a beautiful earthy fragrance.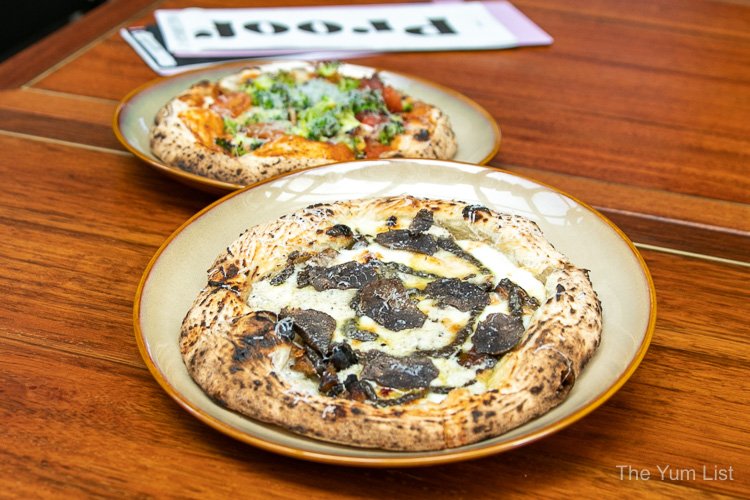 After a number of pleasing meat-free recipes, hubby demands something with animal protein and so requests La Americano Pizza (RM34.90). Hickory-smoked pork bacon is the highlight here supported by broccoli, mozzarella, gorgonzola and cherry tomatoes. The pork dominates with a thread of smokiness yet a whisper of pungency from the blue cheese balances it out.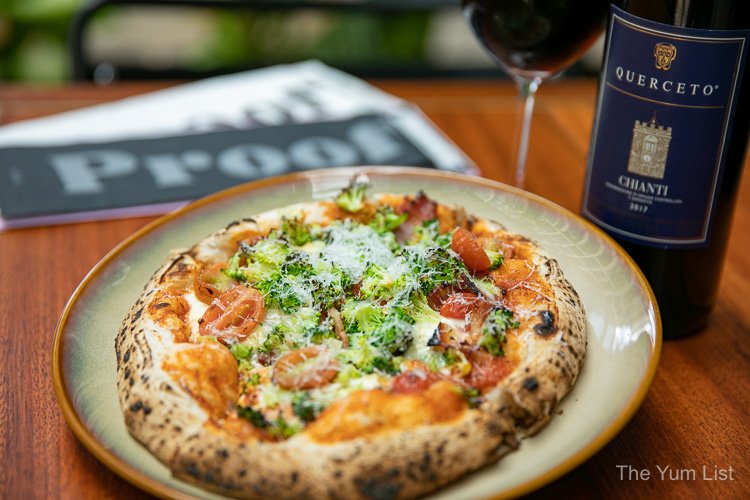 Proof Arcoris Dessert
Green Apple Rocky Road Pizza (RM19.80) continues the crusty theme with baked green apples, marshmallows, chocolate sauce and almond flakes. The smell of toasted marshmallows is enough to make the mouth water before delivery and, once on the table, there is no holding back.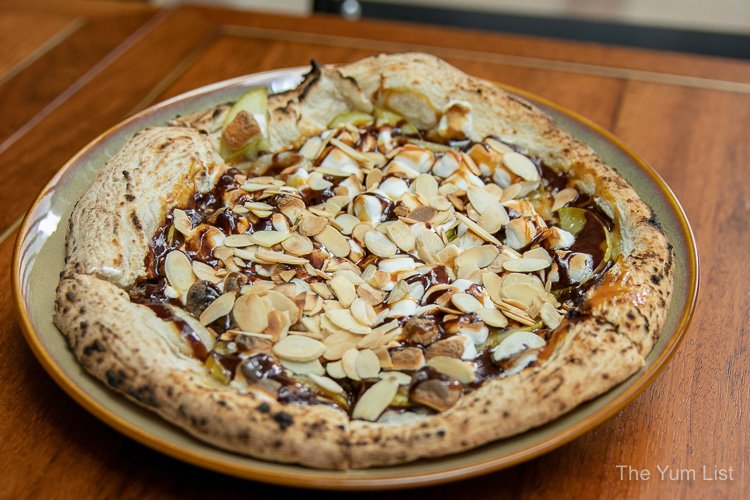 Reasons to visit Proof Arcoris:  a focused menu of pizza made from scratch; generous toppings and sauces; a concise and well-chosen wine list; friendly relaxed location.
Proof Arcoris
Proof Pizza + Wine Arcoris
Mont Kiara, 50480 Kuala Lumpur, Malaysia
+6 03 6411 8745
www.facebook.com/proofpizzaAPW
Proof Arcoris Opening Hours
Daily 12 pm – 3 pm and 6 pm – 10:30 pm