Words: Monica Tindall
Photos: Rich Callahan
Chinese New Year really is just around the corner and tonight we check out the celebratory menu at the newly rebranded Fook Kuala Lumpur. Formerly, Neo Tamarind, the restaurant has maintained its stylish setting but has seen a modernization of the recipes. Chef Sombat Kokasemkul has designed a modern menu with inspiration coming from across Asia.
High ceilings, cool cement and enormous paintings give the setting of Fook a hip contemporary feel. Soft lighting in the form of a magnificent chandelier and strategically placed downlights provide gentle illumination. There are numerous water features: not your tacky round fountain style but chic soft flowing walls of water. Fook is the Chinese word for prosperity so it seems only suitable that our first experience with the new concept is with their Chinese New Year menu.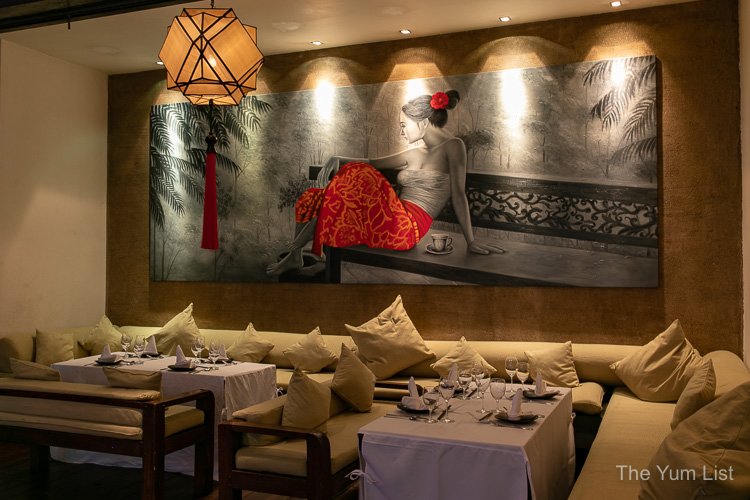 Fook, Chinese New Year 2019
Every Chinese New Year menu in Malaysia must begin with the salad of prosperity, Yee Sang (Medium RM88++, Large RM118++). Vibrant mounds of shredded papaya, pomelo and coloured strips of fried flour together make a mountain on the plate that is topped with soft salmon sashimi. Just before serving, you squeeze some fresh lime on top, pour over the plum and tamarind sauce and toss as high as you can (the higher you toss the better your fortune) to mix it all together. It's on the crisp carby side rather than the fresh veggie side that I usually appreciate most about this salad. If you are a deep-fried carb lover, this one may be for you. Everything is made from scratch and the colours are natural coming from plants such as beetroot.
Fook, Chinese New Year Set Menu (RM188++ per couple)
Amuse Bouche
The amuse bouche, a mushroom bao, looks just like a brown, field mushroom. Dusted with mushroom powder, the soft bun holds mushroom paste. It's a mild beginning allowing room for intensity to grow.
Appetizer
The first course of the Chinese New Year menu is the Appetizer Platter served on an elongated black plate. A trio of small bites represents Korea, China and Japan with a mildly pungent but rather spicy kimchi, a century egg with cucumber (again with a good dose of spice), and a mini cone of tuna topped with black roe.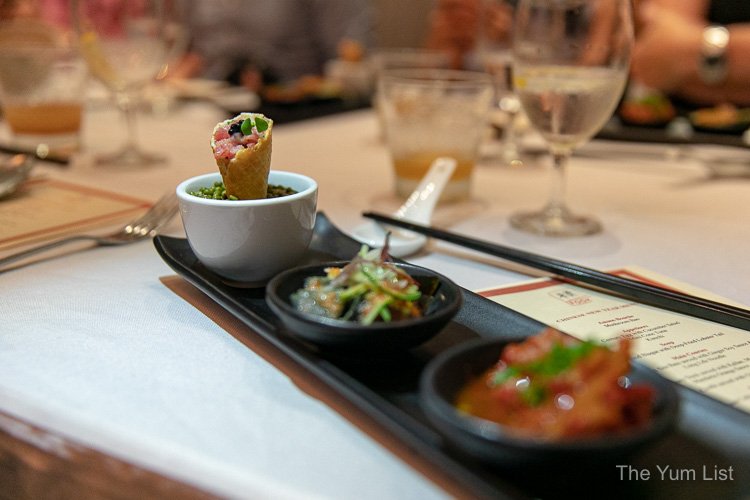 Soup
Soup follows with a decadent seafood bisque. It's unlike any plating of soup I've encountered with pieces of okra tied together in a bundle and used as a platform to hold a deep-fried lobster tail. The soup is powerful, thick and flavour-packed.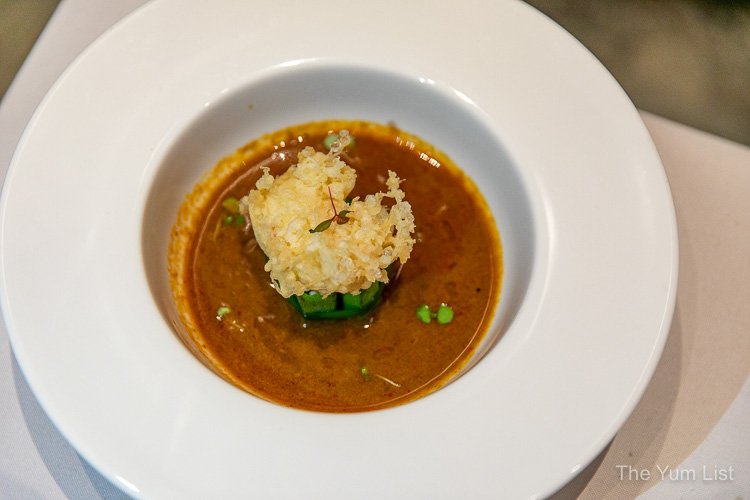 Mains
The main courses begin with fish and then guests have a choice of poultry to continue.
The Steamed Sea Bass is beautifully seasoned with a ginger soy sauce and presented over long life noodles. The fish is wet and soft and there is plenty of sauce. Symbolizing longevity, the noodles are an essential part of a Chinese banquet.
A vibrant spread of kalian, mushrooms and mandarin orange sauce accompanies the Roasted Honey Duck. The cinnamon citrus sauce is smartly held in a hollowed out orange skin. The separation allows you to add to your individual preference. The duck is pink in the middle and as I look around (we're at a table of about 20), plates are clean. The general consensus seems to be positive.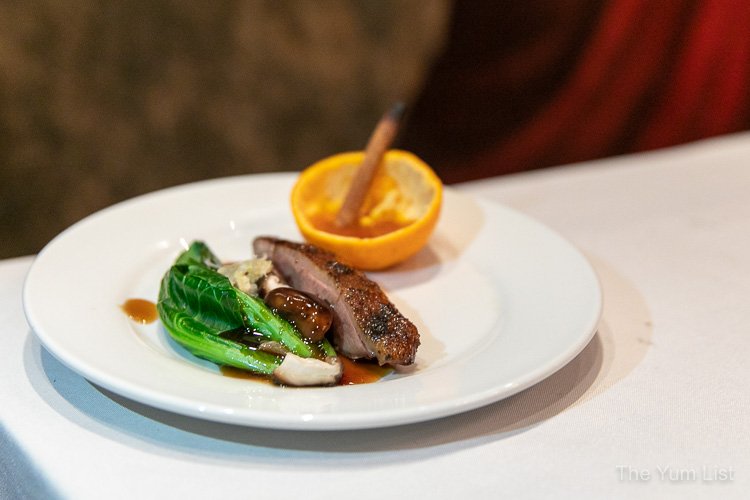 Alternatively, guests can have the Chicken Confit which is bulked up with ginger fried rice providing the customary rice course signifying the end of the savoury section of the menu. A chilli, ginger and garlic sauce is the highlight adding moisture to the poultry.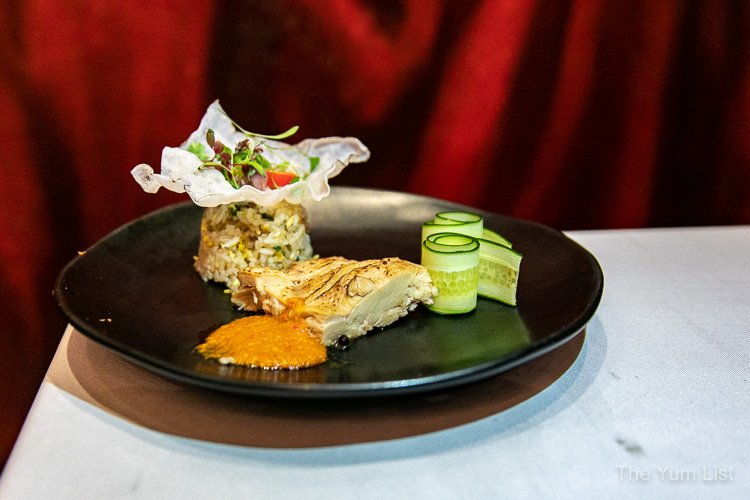 Dessert
Lastly, East meets west in the dessert selection with a Sesame Panna Cotta partnered with green tea ice cream and a cookie crumble. The soft bitterness of the tea and the nuttiness of the ice cream blend well, each complementing the other. The baked cream is velvety smooth. This might be my favourite dish for the evening.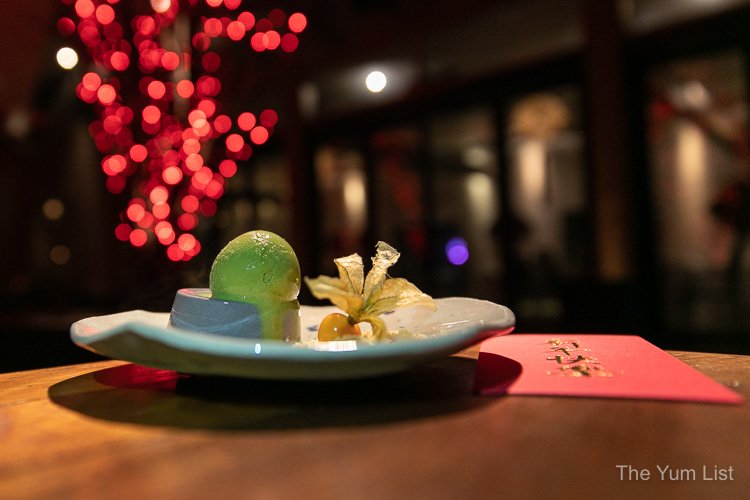 The Chinese New Year menu at Fook is available until the 20th of February, 2019 and priced at RM188++ per couple.
Reasons to spend Chinese New Year at Fook KL: chic setting; individually plated dishes mean you don't need to have a big group to celebrate; the food is not only flavourful but beautifully presented; a reasonably priced night out in a very pretty environment.


Fook KL by Samadi
19, Jalan Sultan Ismail,
Bukit Bintang
50250 Kuala Lumpur
Wilayah Persekutuan Kuala Lumpur
+603 2148 3700
[email protected]
www.fook.my