Words: Monica Tindall
Photos: Rich Callahan
With Chinese New Year just around the corner, it has been fun visiting some local restaurants and getting into the spirit of things. If any culture knows how to celebrate with food, the Chinese sure do! When it comes to feasting, you can be assured that, when done Chinese style, tummies will be left bulging at the seams and there is a high possibility of rolling (rather than walking) out of a room. Tonight we're taking a look at Spring Garden KLCC's newly revamped menu. And, while we order a la carte, we also take a look at some of their CNY dishes for the closing of the year of the dog and the welcoming of the year of the pig.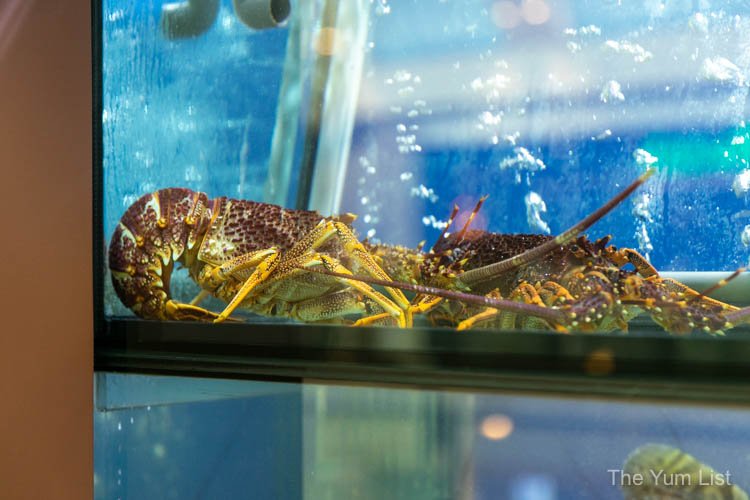 Reopened after extensive refurbishments, Spring Garden KLCC now focuses on live seafood with a large tank teaming with the kitchen's prime ingredients bordering the front wall. It fills a gap in the market of dining options around KLCC as there are no other such offerings nearby. The interior has seen a complete makeover with aquamarine blue the mainstay shade with bright red and gold adding further vibrancy. The feel is casual and cheery yet with a sense of style. All in, it's a contemporary feel and as the dinner crowd approaches, the atmosphere livens and is fairly bustling by the time we leave.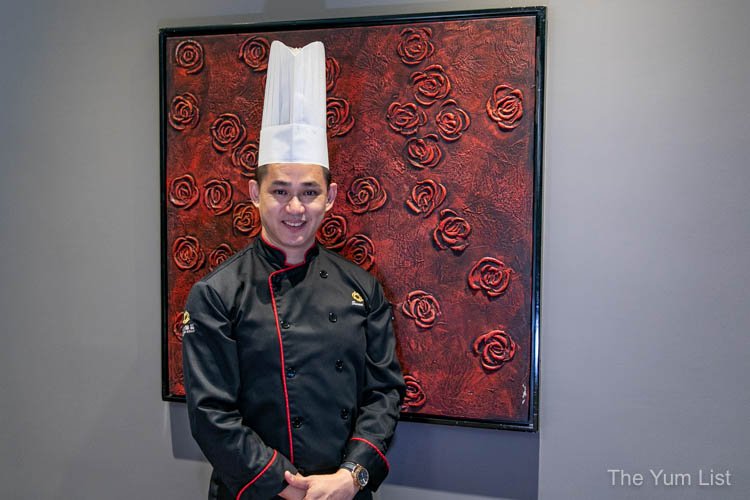 Spring Garden KLCC Menu – Chinese Seafood Restaurant KL
On the table are braised peanuts and spicy bean curd pieces with beans, onions and anchovies providing something to munch on while we browse the menu. These are dangerously good: I have to remind myself to slow down as we have ordered a lot!
I'm of the opinion that you can't go wrong with seafood topped with melty cheese and so the Baked Fresh Water Prawns with Cheese (RM55++) gets my winning vote. Rich is not fond of seafood, which hubby knows, so he is quick to swipe up Rich's portion. The halved prawns are the size of a slipper lobster and the cheese seals in their moisture.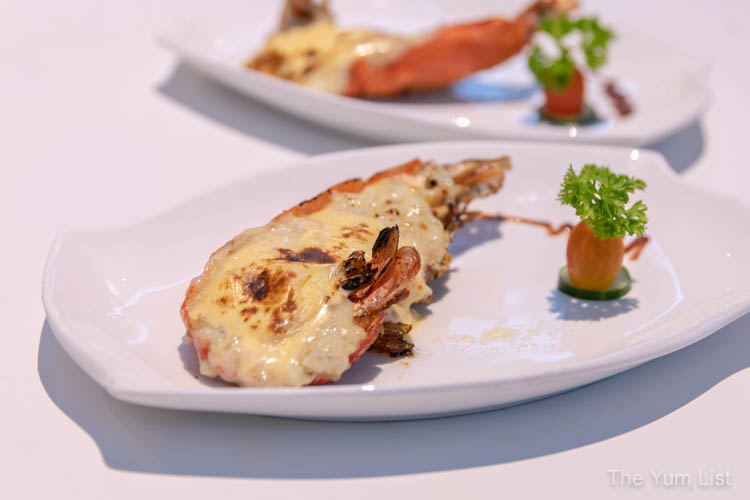 The Steamed Cod Fish (seasonal price) done Nyonya style is another hit at our table. The fish is moist and tender and the sauce of ginger, garlic and chilli is delicious. The sauce has a grainy texture to it: obviously made in house and gives further substance to the dish.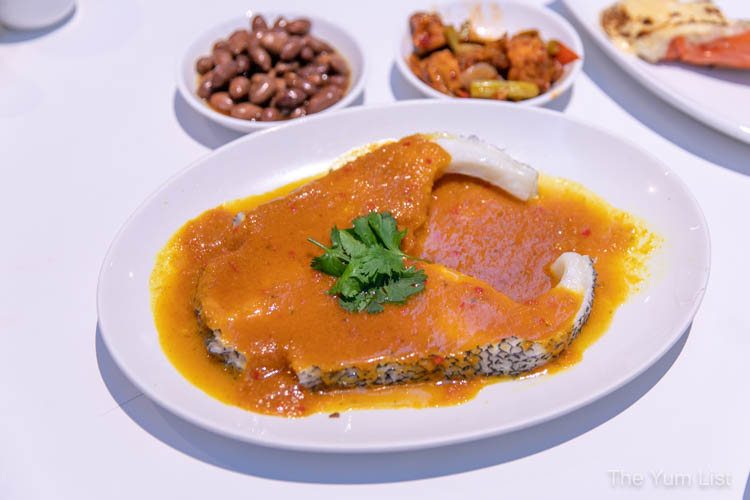 One of the most popular items on the menu is the Soft Shell Crab (RM58++) served in a steamed bun with salted egg yolk sauce. They arrive in a bamboo steaming basket and you add the sauce at will (at least that is after you've grabbed it back from hubby who is biting and adding biting and adding). The buns are soft and have an inner lining of lettuce which helps keep the crab crisp until the last one is polished off.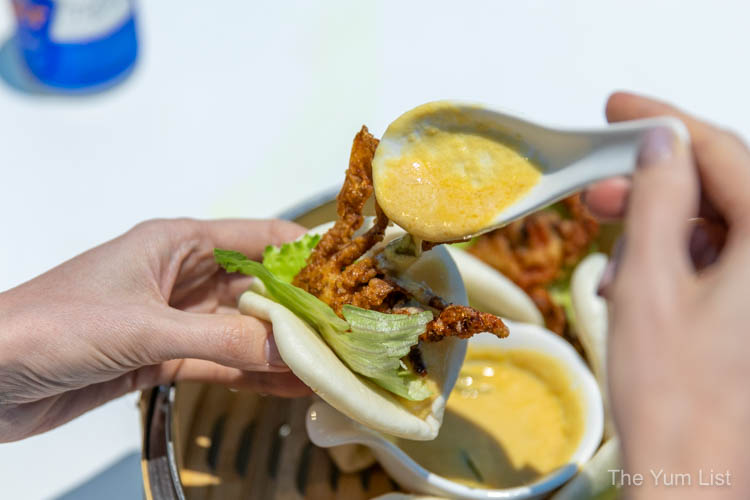 Another seafood delicacy, the Pan-fried South African Abalone with Black Truffle (RM38++ per piece), is elegantly laid in the centre of the plate with its pearly shell fanning above. The plate is prettily hand painted just before serving with a cherry blossom design. The abalone has been steamed, then pan-fried and made even more luxurious with a topping of truffle.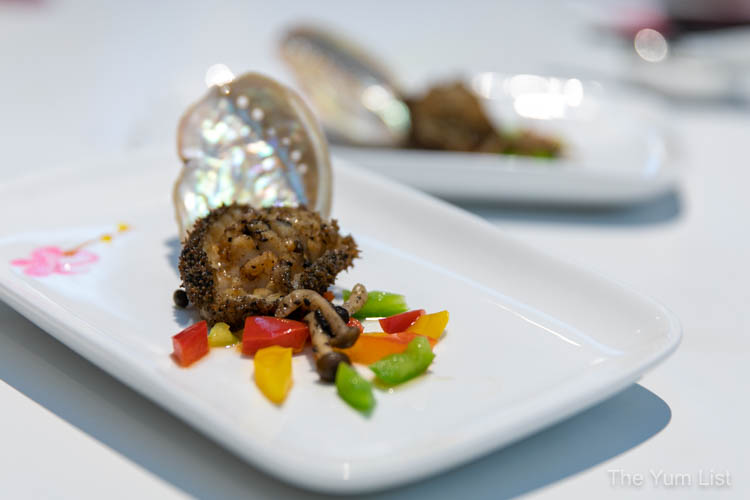 I do enjoy a good clay pot and the Braised Lamb Loin (RM68++) with brown sauce is a rich and tasty recipe. The lamb is rather fatty, which increases the richness of the dish and the sauce is lusciously thick and sticky. Red, yellow and green capsicum balance out the intensity with a fresh vegetable crunch.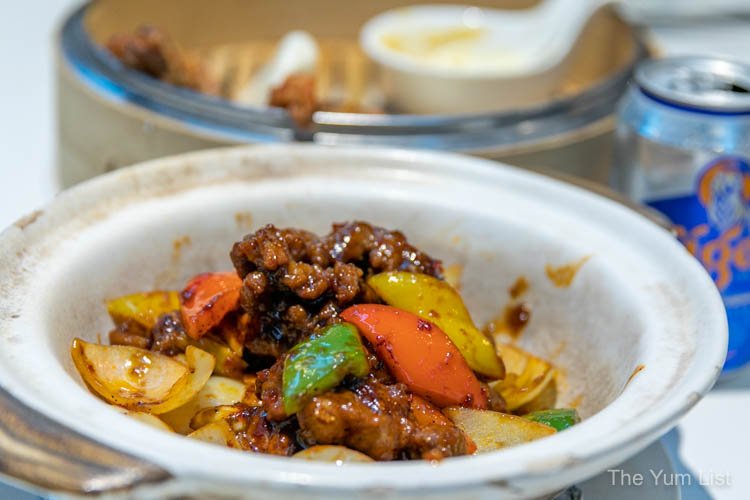 Braised Diced Beef Tenderloin in Hot Pot (RM55++) comes out sizzling! I love that sound and the smell that it brings with it. While I'm not a big meat eater, I can't help but dig into this dish. The meat is tender and the aromas continue to tickle my nose as the heat caramelizes the last bits in the bottom of the pot. The boys are quick to dive in and I'm glad I got my two cubes first as it's an all-male battle of the forks until the very last piece.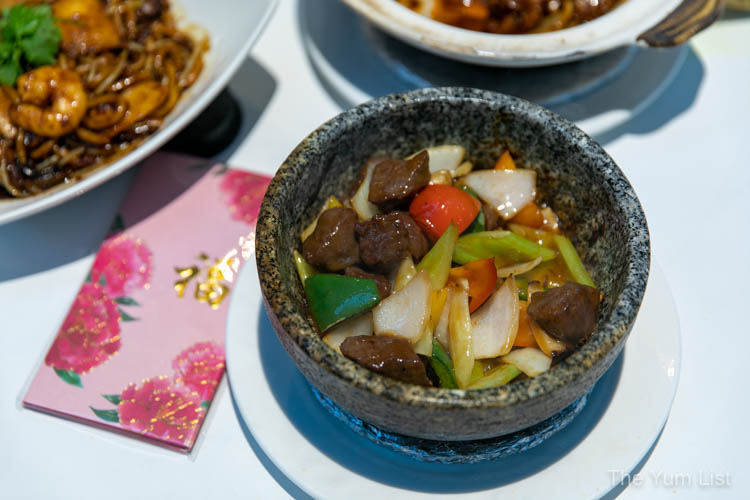 Noodles are always a great way to ensure that no one leaves hungry and as is such with the final savoury dish, Udon with Seafood & Black Pepper Sauce (RM30++). Fat noodles are well-coated in the sauce that has a good wallop of pepper. Again, seafood is fresh and in abundance with prawns, calamari and fish covering the top. Bean sprouts give a good bite of crunch breaking up the smooth soft texture of the noodles.
Spring Garden KLCC CNY 2019 Menu
From the Chinese New Year menu, we have a final toss for prosperity with the Golden Fortune Yee Sang (RM98++ half portion) with assorted fruits and nuts. It's a delightfully healthy choice: so fresh, crisp, light and just feels good! Shredded carrot, dragon fruit, pomelo, mandarin segments, jackfruit, pomegranate, pear, grapes, rose apple, jicama, sesame, sunflower seeds, tiny black raisins and crackers are tossed together with a sweet sticky plum and passion fruit sauce. As you toss, express your desires for 2019 and remember that a higher hurl and messier spread symbolises good things to come in the upcoming lunar year. (I've included their full CNY 2019 menu below.)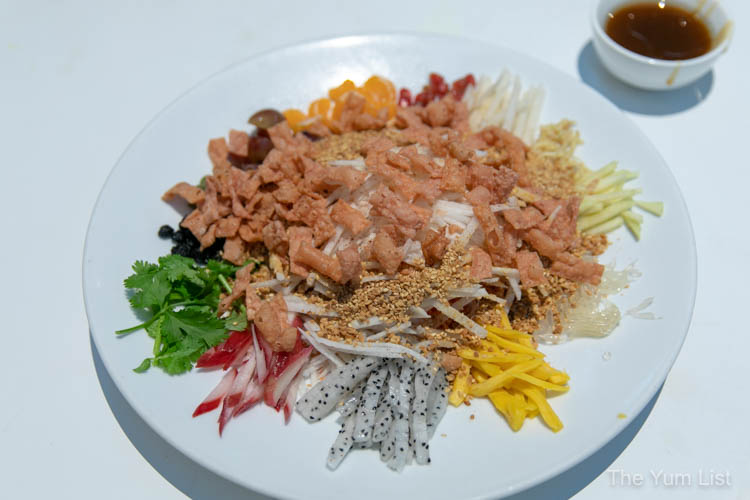 Spring Garden KLCC Review
I have to admit that there are not many places I'd be happy eating at in KLCC. I have a special love for OpenHouse and don't mind a craft beer or two at Delirium but prior to tonight's dinner, KLCC is not really a spot I'd head to find a meal. Spring Garden KLCC, however, has expanded my options in the twin towers with their fresh ingredients, attractively presented dishes and lively atmosphere.
Reasons to visit Spring Garden KLCC: great live seafood selection; love their twist on the CNY classic with the Fortune Yee Sang; the boys would definitely reorder the Braised Diced Beef Tenderloin in Hot Pot; I would go for the Steamed Cod Fish in Nynonya Sauce and when wanting a bit of decadence, I'd order the Baked Fresh Water Prawns with Cheese.
Spring Garden KLCC
Lot 413 & 414
4th Floor Suria KLCC
50088 Kuala Lumpur, Malaysia
+603 2166 9881
www.taithong.com.my/sgklcc
* Spring Garden KLCC is a pork-free restaurant
Spring Garden KLCC Opening Hours
Monday-Sunday:
10.00 am – 10.00 pm