Monica Tindall
Hue already feels as if it is off the beaten path not yet overcome with tourists such as nearby Hoi An and Da Nang. But, if you have a bit of an adventurous spirit and enjoy a good coffee hunt, which takes you even further away from the well-known, then you must check out Hue Cafe Roastery.
Despite being peak season when I arrive, there is not a single other tourist in site. In fact, the entire route after walking past the local market (about 700 metres back) feels 100% removed from the road somewhat more travelled. Hue Cafe Roastery is on the second floor of a row of shophouses and has the mood of a hipster cafe with its mosaic tiled floor, cement rendered walls and sacks of coffee beans as decor. Inside is furnished with some old-school tables and chairs but my pick is the balcony with stools and a bar facing the river.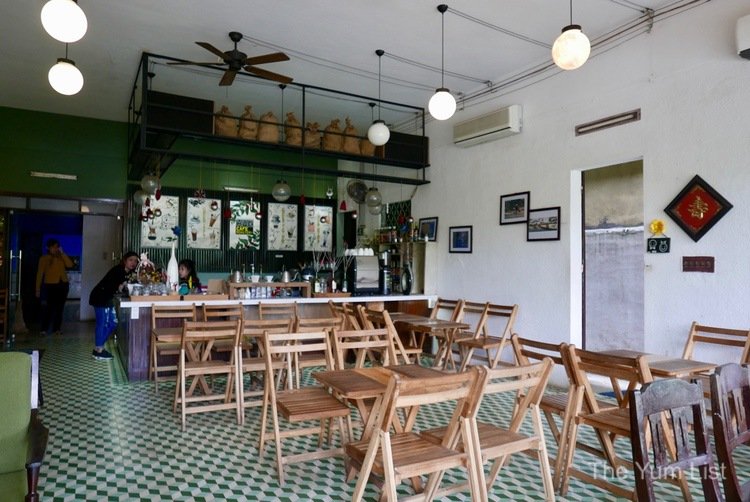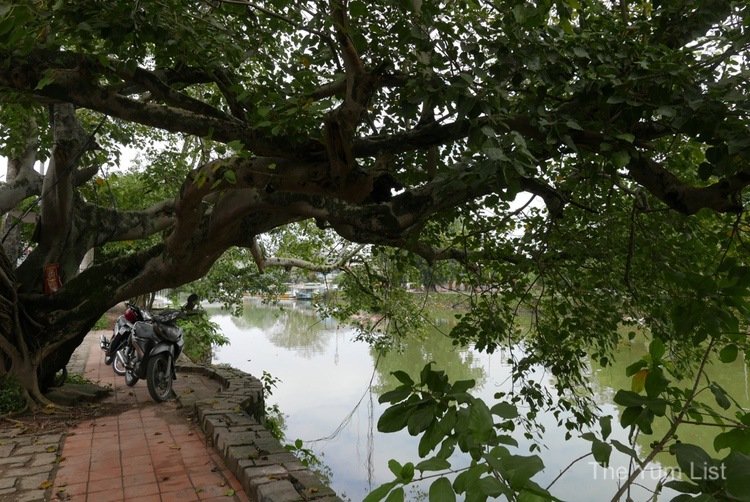 Hue Cafe Roastery Menu
Hue Cafe Roastery's menu is mostly a pool of liquid with a couple of cakes thrown in. Coffee (of course), tea, shakes and sodas ensure just about everyone will find something to quench their thirst.
I begin with the local speciality, Hue Royal Tea. Being Vietnam's Imperial City, it is only fitting that this tea offers health-giving properties – benefits fit for royalty, naturally. The benefits of red dates, artichoke, jasmine flowers, liquorice, bitter melon and goji berries are found in Tra Cung Dinh (VDN 25 000). It's brewed in a pretty ceramic cup fit with a strainer on the top. The taste is very pleasant with a little sweetness from the fruit and some floral notes in the finish.
Traditional Vietnamese style drip coffee can be ordered as Cafe Sua Phin (VDN 12 000) (with milk) or Cafe Den Phin (VDN 10000 black). I find the taste of the local brew a bit much on its own so opt for the version with sweetened condensed milk. The sweet, thick milk is layered in the bottom if you're careful you can stir just a little bit to get the desired sweetness rather than mix the whole sugar bomb in at once.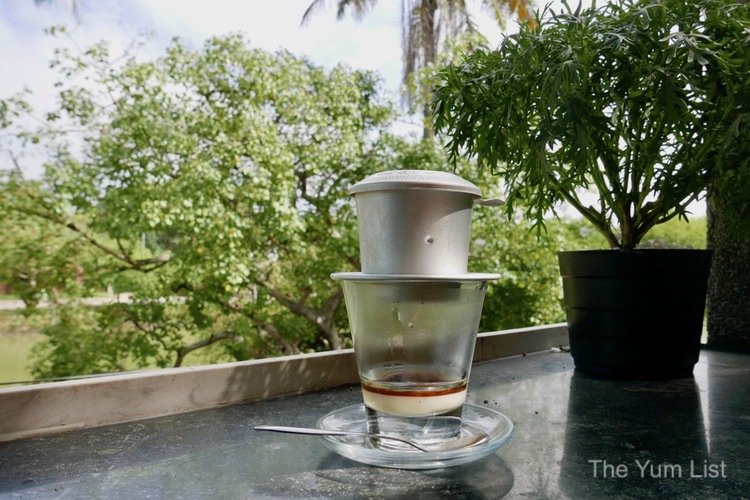 Cafe Trung (VDN 25 000) is the famous egg coffee and along with the drip version, should be tried at least once. It sports a pretty patterned top with stripes of coffee breaking up the foam of egg, milk and honey. It's good enough to be had as coffee and dessert all in one.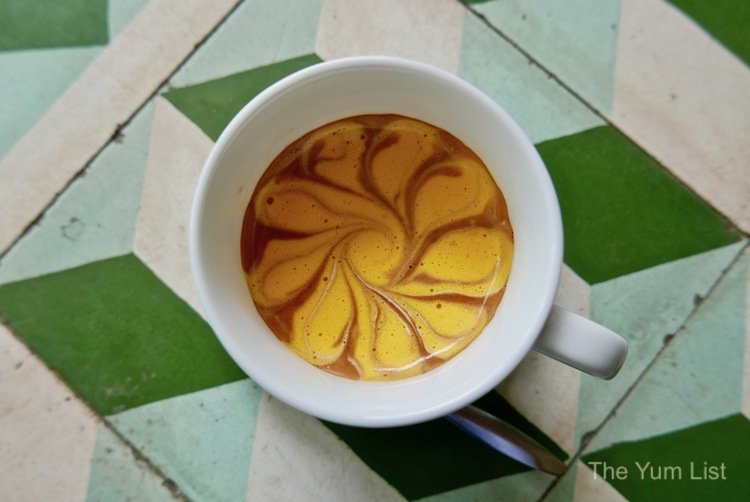 Ice blendeds, smoothies, yoghurts and Italian sodas provide more liquid refreshment and from here I try the Cookies Frap (VDN 28 000). It is an icy cold ice blended drink with fresh milk and chocolate sauce garnished with a generous crown of whipped cream and a broken Oreo cookie.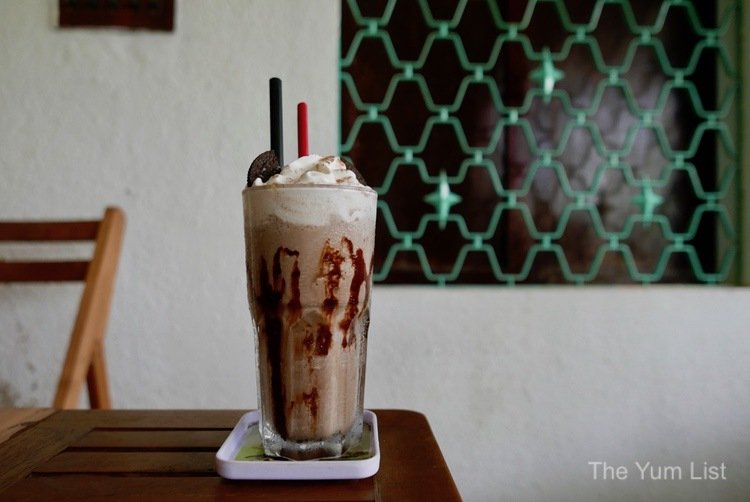 Besides Vietnamese style coffee, Hue Cafe Roastery also serves a number of espresso-based drinks. I try the Latte (VDN 25 000) and find it milky but satisfying. If you're a fan of the Aussie double shot latte, you would do well to ask for a double shot here. Do note, that for true speciality coffee lovers there is a select menu of hand pour coffees with the V60 and cold brews featuring beans from Ethiopia.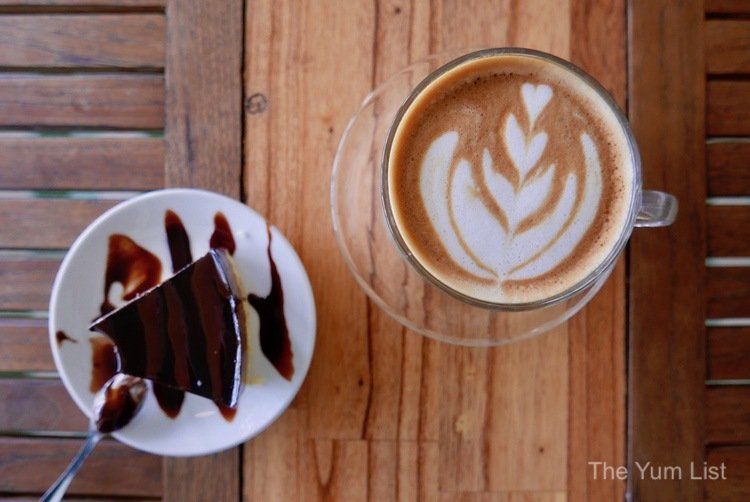 Hue Cafe Roastery's comprehensive drinks menu is accompanied by three cakes: tiramisu, chocolate and the cake of the day. I try the Bahn Chocolate (VDN 20 000), which is a rich chocolate mousse based on a thin layer of sponge, topped by a dark chocolate jelly and drizzled with chocolate sauce.
Reasons to visit Hue Cafe Roastery: a charming quiet location facing the river; fun coffee hunt material; great local coffee; extensive drinks menu; Insta-worthy setting.
Hue Cafe Roastery opening hours:
Daily 6:30 am – 10:30 pm