Monica Tindall
Located in the beautiful Azerai La Residence, Hue, Le Parfum restaurant is one of the finer dining experiences you'll find in the city. Serving breakfast buffet-style to guests of the hotel in the morning, it offers an a la carte menu to visitors for lunch and dinner.
In pleasant weather, a table on the verandah watching the activity on the river with a view to The Citadel's monument on the opposing shore is a popular seat. On days a little cooler and wet, a white-clothed table inside, surrounded by local reproductions of old-time photos is almost as enjoyable.
Breakfast – Le Parfum Restaurant
The mornings are bright and cheery with the sun streaming in the windows and the patio gently cooled by a soft drift from the river. As mentioned, breakfast for hotel guests is served buffet style. A collection of local and international dishes offers plenty of variety. Tropical fruits are a highlight as are the daily changing bowls of noodle soups. The chefs seem to get a workout with constant requests for eggs and pancakes made a la minute too. A rainbow of juices adds colour to the liquid refreshment and both western and local style coffee run free-flow.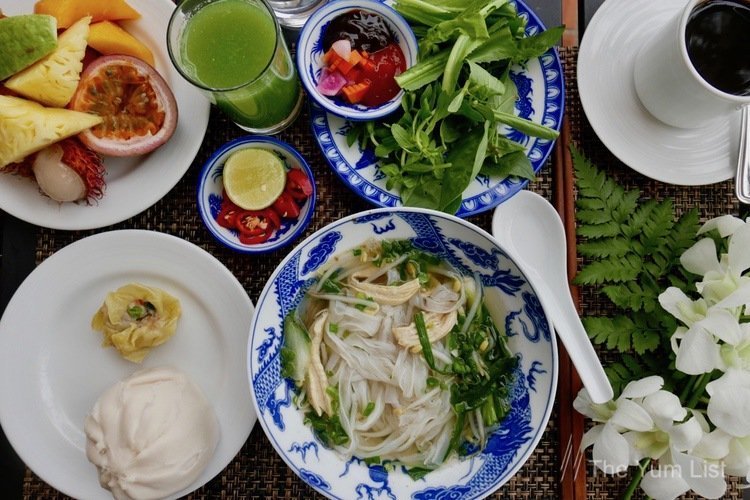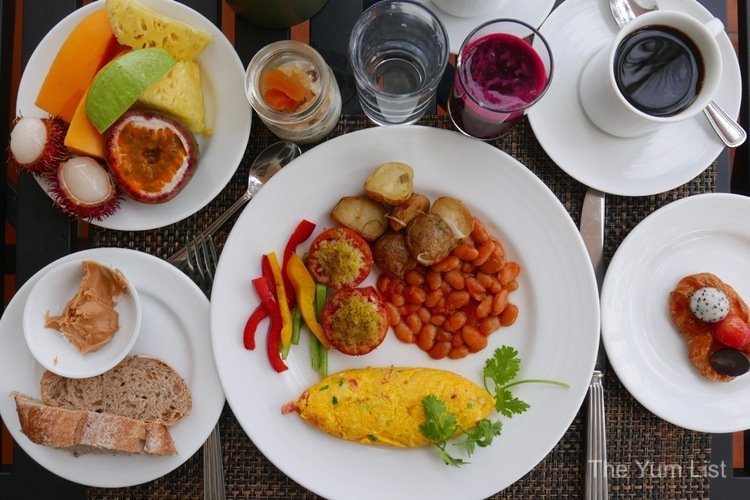 Le Parfum Restaurant Menu
In the evenings, the setting is lit with soft lighting and a fine dining menu of Vietnamese and international dishes. A basket of warm bread with butter, balsamic and their house-made pesto – ground with leaves coming from their own organic garden – give us something to munch on while browsing the menu. Both my dining companion, Ms Yen, and I are happy with the number of light options – there's even a page dedicated just to these recipes – and we find ourselves ordering nutritious local plates.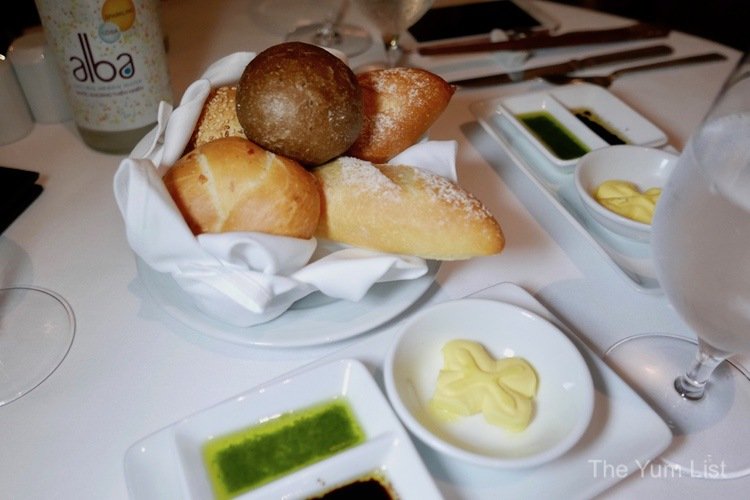 While our requests are being prepared an amuse bouche – a seafood salad – is delivered connecting our location by the river (and not far from the sea) to the restaurant.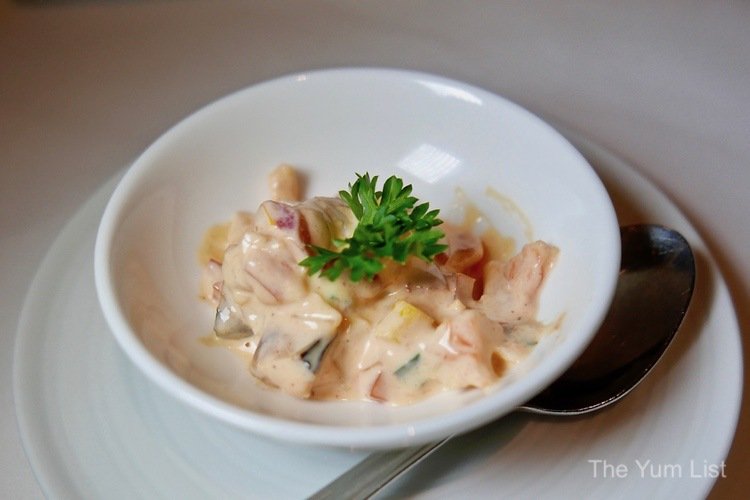 Le Parfum Restaurant Menu – Starters
I jump straight to the healthy menu with the Variation of Hue Salads (VDN 185 000 – 120 Calories – all items on the healthy page have the energy count listed). Pomelo, green mango and banana flower with crispy shallots and nuoc mam sauce (a special Hue sauce that I'm told is found in every household along with sliced chillies) are arranged attractively on a woven tray. It's lined with banana leaves with the goal of mirroring the local market with their old-school eco-friendly packaging. It's recommended to start with the green mango, continue with the banana flower and end with the pomelo as they increase in flavour and spice. They are all wonderfully fresh and I'm very happy with my choice. Ms Yen has a platter of local Hue appetizers and says this is a good preview of the many delights Vietnam's culinary capital has to offer.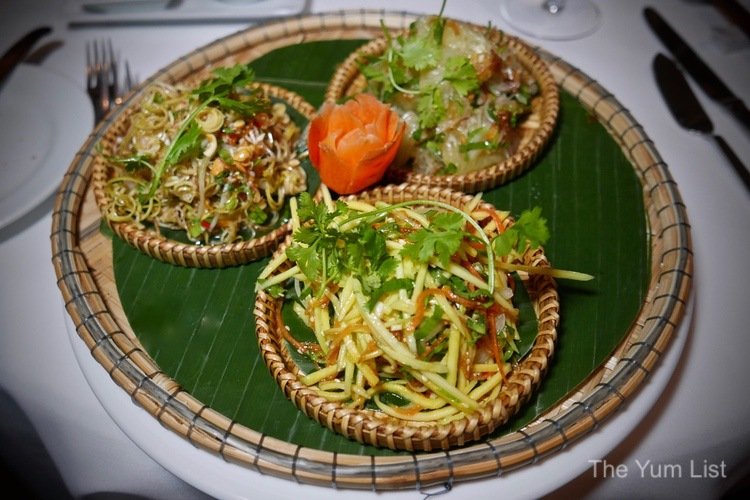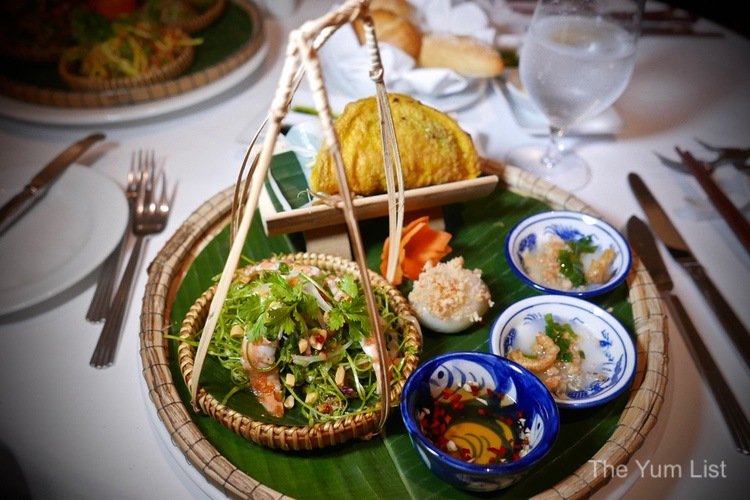 Le Parfum Restaurant Menu – Mains
Again, the presentation of the mains shows attention to detail and the imperial heritage of the city with royal expectations for food to look appealing. Carved veggies, rice towers and plenty of fresh herbs accompany the star attraction on each of our plates.
Grilled Red Snapper (VDN 260 000) in banana leaf with sautéed vegetables, lotus rice and lemongrass sauce is a lean choice yet packed with flavour. The Steamed Sea Bass (VDN 260 000, 250 Calories) is also a tasty dish accompanied by broccoli mash, tomato and lemongrass salsa. Both fish are moist and flaky. And, both ladies leave not a single forkful.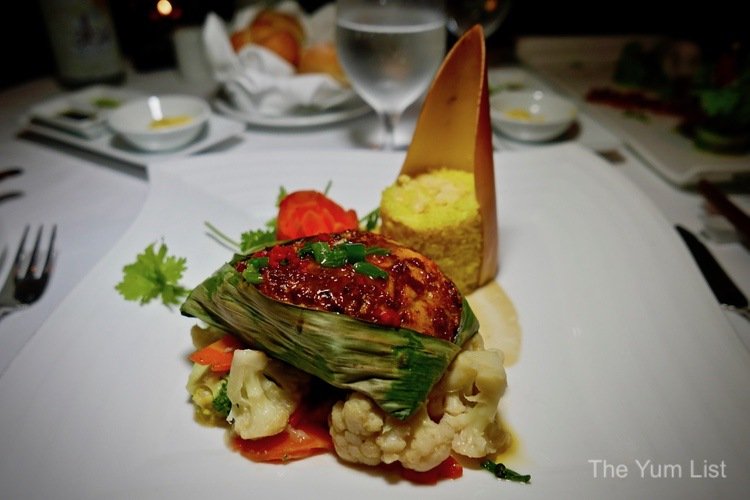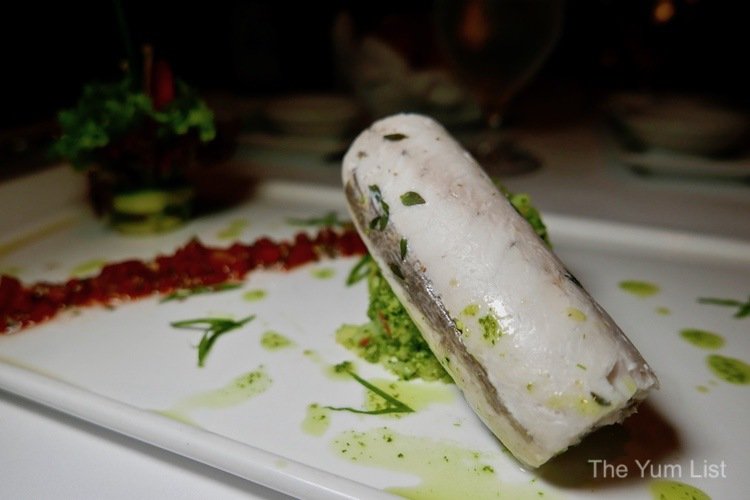 Le Parfum Restaurant Menu – Dessert
Sorbet (VDN 70 000 per scoop) comes in a whole bunch of flavours but my personal preference is always going to be coconut. They're ideal for just a tad of something chilled and sweet to conclude a meal. If you want to go out with a grand finale, however, you must order The Sweet Egg Nest of Le Parfum (VDN 230 000). The presentation is spectacular with the dessert hidden under a bamboo cage. Pudding revealed, an ovoid lace of toffee and chocolate encloses a creamy coconut mousse with a strawberry heart middle resembling the white of an egg. The yolk, represented by a passion fruit sphere, breaks up the white and the whole thing sits on a nest of dried crisp apple shreds. Besides being visually impressive, it is also absolutely delicious.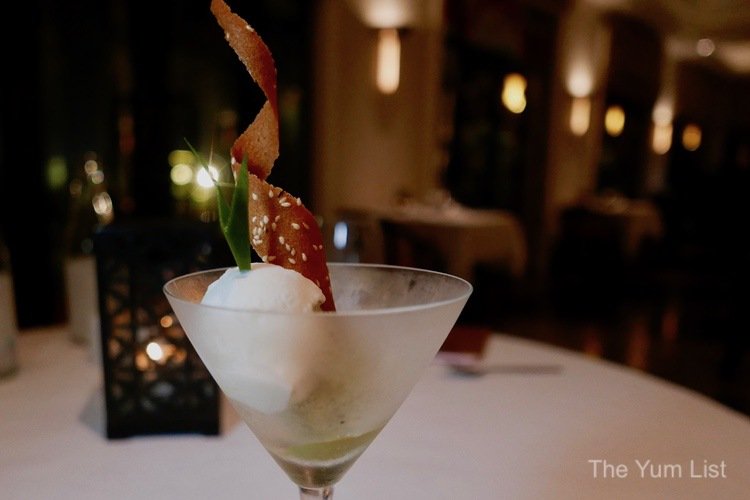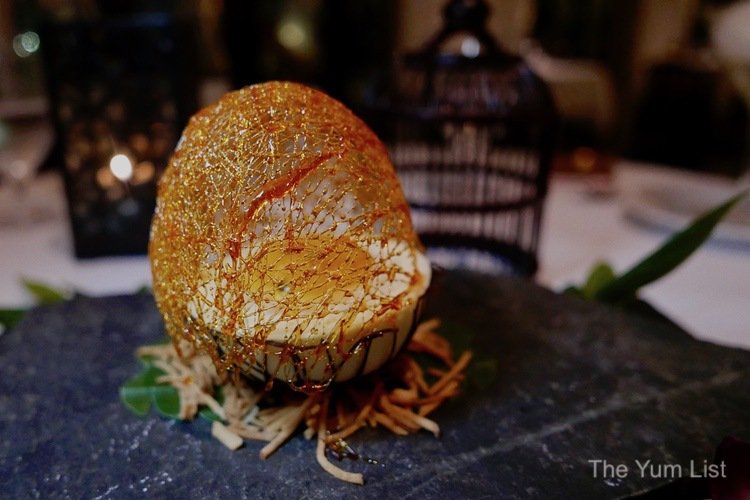 Reasons to visit Le Parfum Restaurant, Azerai La Residence Hue: pretty location by the river; fresh local recipes presented with flair; don't miss The Sweet Egg Nest of Le Parfum.
Le Parfum Restaurant
Azerai La Residence Hue
05 Le Loi Street
Hue, Vietnam
www.azerai.com
+84 (0) 234 383 7475 Fax: +84 (0) 234 383 7476
[email protected]