Words: Monica Tindall
Photos: Rich Callahan
When we first visited Marco Creative Cuisine in 1 Utama, we couldn't believe the incredibly good value-for-money menus offered. A whole degustation of seven courses was priced at only RM78! Eighteen months on from our initial visit, we are curious to check out their latest updates and wonder if it still merits the applause.
Chef Darren Leong shares with us that the biggest changes since we last met are that they have added pork to the menu and are reserving the degustation menus for festive occasions only. He assures us that their primary goal is still to make high-quality cuisine at affordable prices and browsing the a la carte menu, this seems to hold true.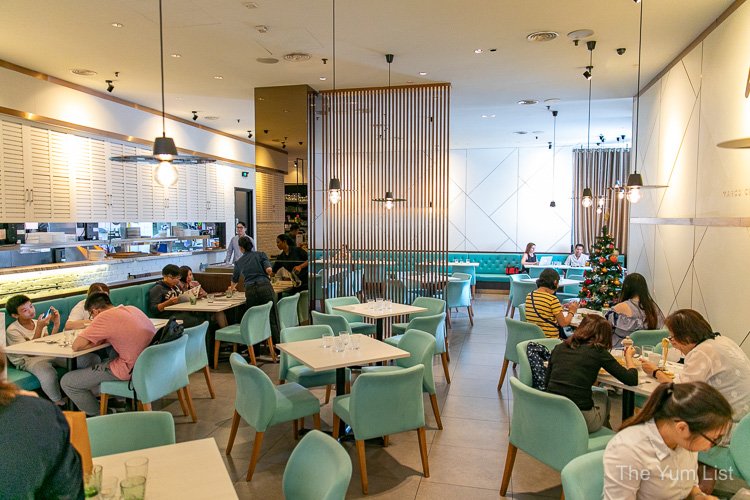 Marco Creative Cuisine Review – The Drinks
Before we dive into the solids, the liquid menu is worthy of a second look. The BOSS – Banana Orange Strawberry Smoothie (RM18) – is blended with Greek yoghurt and is Rich's sensible choice to begin. Rich says, "You gotta try this. It's the boss." He's right. It is a deliciously thick combo balancing sweet and tart.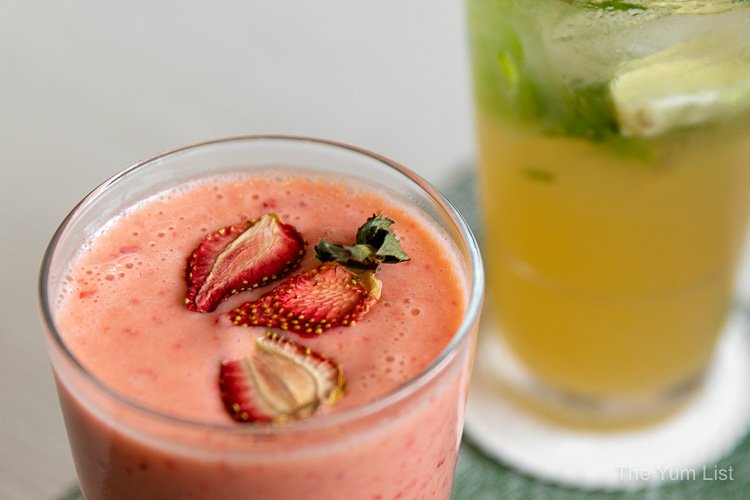 I'm far less practical paying no heed to it only being Monday and think Margarita (RM30) and Monday go together nicely. Marco Creative Cuisine offers a twist on the classic with Tequila and lime livened with Aperol. It's wonderfully tangy with a good kick of lime and fine sea salt and citrus zest rimming the Champagne coupe.
Hubby follows my thinking with a Mojito (RM30) made with Matusalem añejo rum, topped up with lime, mint and soda. Served over ice cubes, it's not too icy (I'm really not fond of drinks sporting crushed ice formed into a mountainous peak). The aged rum gives a greater depth than white rum: this rum-loving writer advocates that all mojitos be made with a dark base. Continuing the adoration for rum, hubby backs it up with a Rum Old Fashioned (RM30). Two parts rum, one-part home-made ginger lemon syrup and Angostura bitters, this is another adjustment up a notch on the original.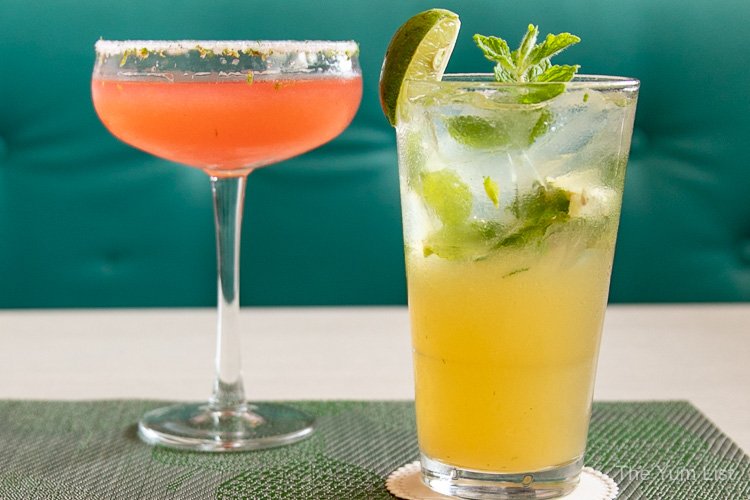 Marco Creative Cuisine Menu – Food
Thirsts quenched, it's time for food. The current menu's focus is on pasta, steaks, burgers and desserts, albeit, a gourmet version of these, prepared with quality ingredients and meticulous technique.
Marco Creative Cuisine Review of the Starters
Kicking our starters off with vibrancy, Antipasti Salad (RM25) is a plateful of colour. Green leaves, cherry tomatoes, almonds and lychee are given a good boost of flavour with Manchego cheese (one of my faves), crisp jamon, chorizo and salchichon slices. Inspired by customers requesting cold cuts but who feel guilty not having veggies, they decided to mix it all together. It's a win, win, I'd say.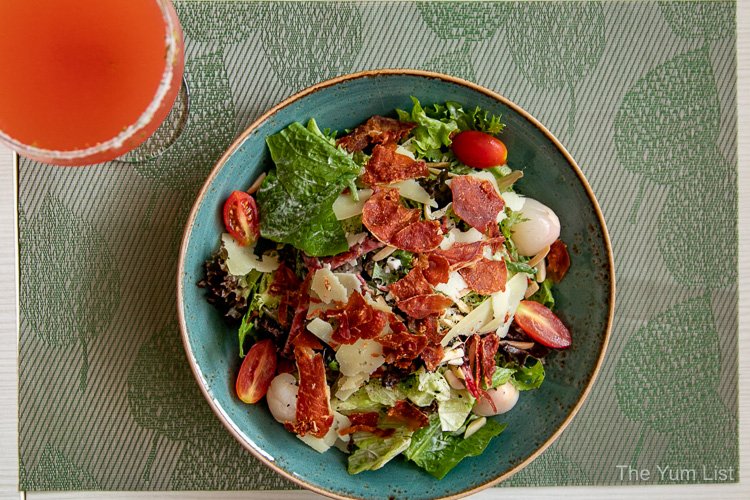 Next, we turn to two of their popular soups. Cream of Tomato Soup with Crispy Jamon (RM15) is a hearty blend of Italian tomatoes blended with herbs (parsley, bay leaves), spices (there's a light thread of chilli) and lushed up with cream and a crunchy topping of Spanish ham. Apparently, the crisp ham on top that hubby is soooo excited about was discovered by accident. It was put in the microwave by mistake but when it came out crunchy and intensified in flavour they thought it an excellent topping for soups and salads (the fellas are also advocating it as a popcorn or potato chip replacement). The second, soup, Truffled Mushroom (RM15), is a thick velvety blend of brown mushrooms jus, shitake puree and truffle oil. While I relish the bite of spice in the first, hubby prefers the milder nature of the second.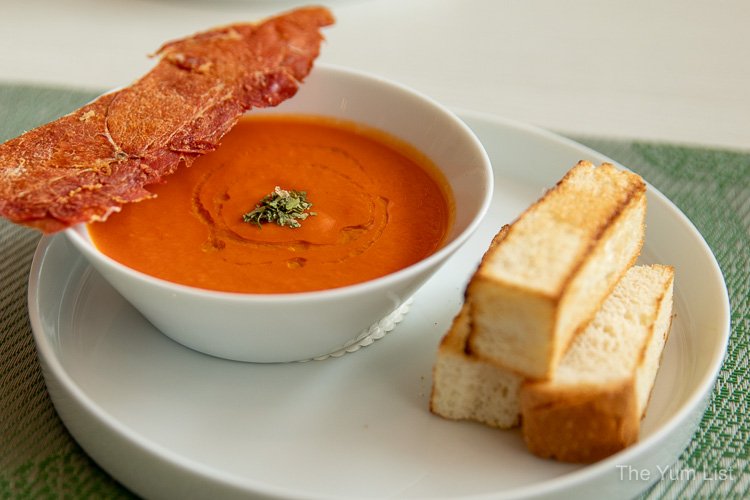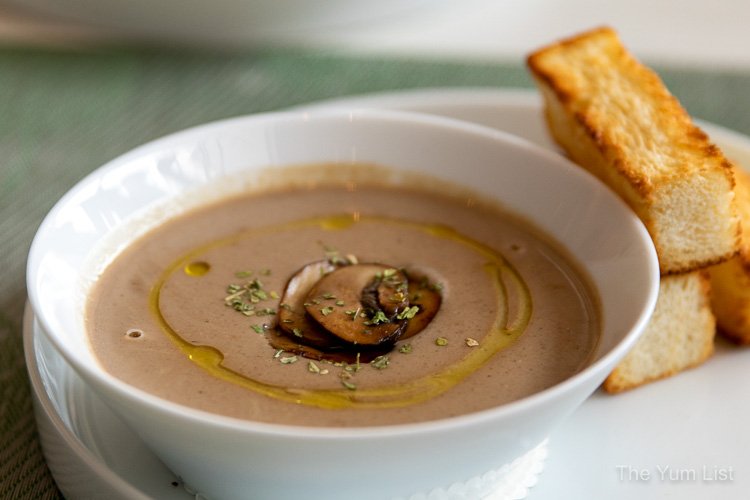 Marco Creative Cuisine Review of the Mains
Truffled Mushroom Fettuccini (RM35) is made a la minute with the ribbons of pasta tossed in the earthy cream sauce just before serving. The connection to earth is enhanced with brown and shimeji mushrooms. Bacon and Parmesan cheese complement the flavours and the recipe is a wonderful balance of flavour with the truffle noticeable but not overpowering.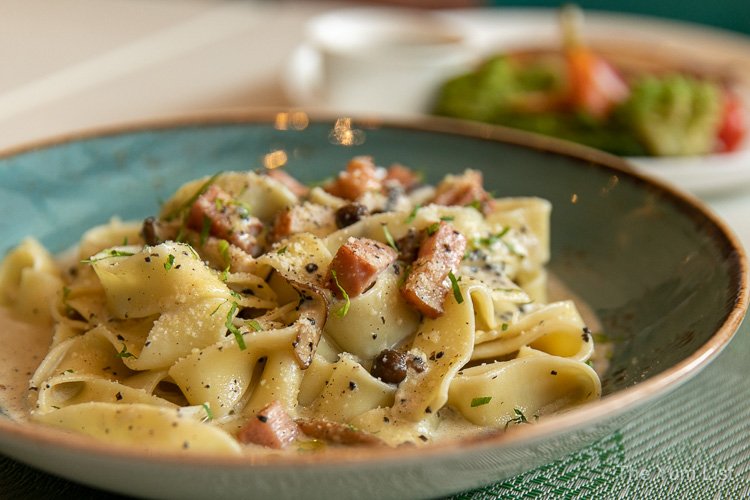 Pork Loin Steak (RM40) has been left in a brine of apple juice and milk overnight. It's then sous vide and pan-seared just before serving. The flavours are mouth-watering and, between Rich and hubby, I have to be quick to slice in. Accompanied by your choice of side and sauce, we leave it to the chef to decide. It's brought out with roasted veggies and olive herb sauce (spiced up a notch with a bite of chilli) – superb.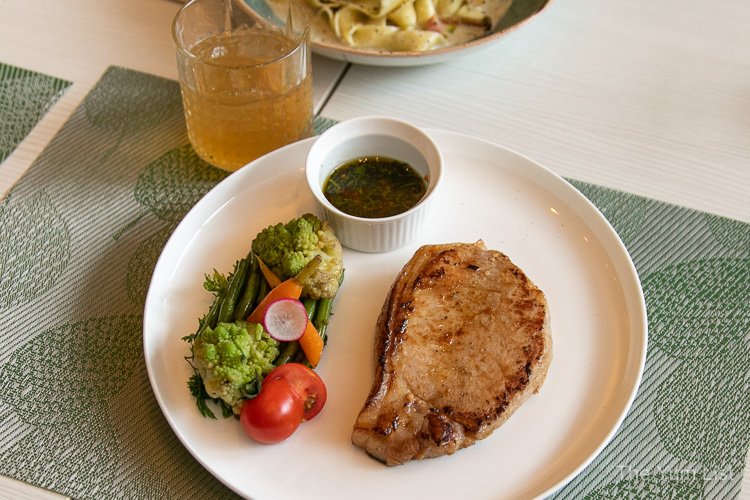 New York Strip Steak (RM58) is cooked medium rare, nicely charred on the edges and pink within. It's a grass-fed striploin steak with well-balanced flavours, which are enhanced with the recommended Roquefort cheese butter sauce. The fat wedges are great on their own but the addictive tang of the blue cheese goes as equally well with the fries as it does the steak. Value-for-money fact: If you visit during lunch you can get this beauty at only RM48 along with a soup and salad! What a steal!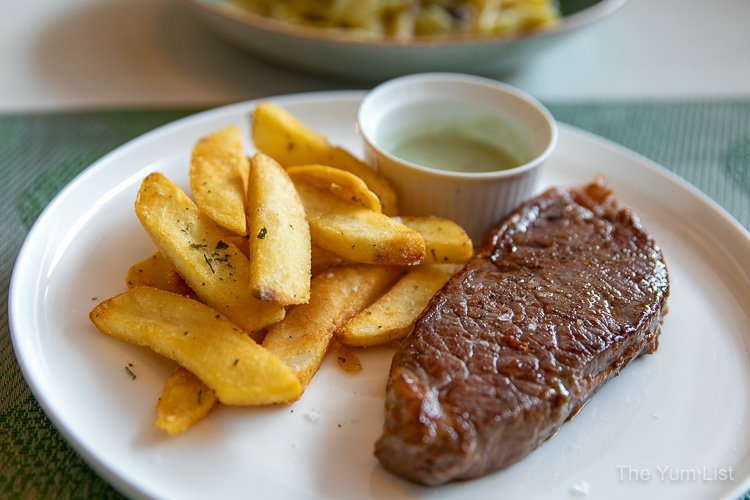 Marco Creative Cuisine Review of the Desserts
A trio of petite cakes has recently been introduced to the dessert menu and so today we have all three! The first wins the affection of all with our spoons fighting a mighty clash right up to the very last crumb. Bruleed Cheesecake (RM19) is crowned with a thin layer of torched sugar. Droplets of lemon curd and meringue kisses add their own charm. It is worth the battle.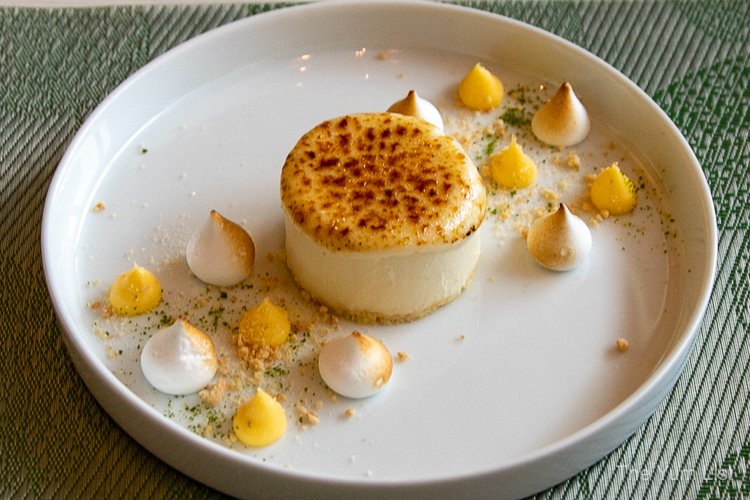 Raspberry Decadence (RM19) comes close in the competition for spooning. It's a pretty plate of raspberry mousse plated with berry compote, fresh strawberries and meringue kisses. It too is velvety smooth and not a single scoop remains.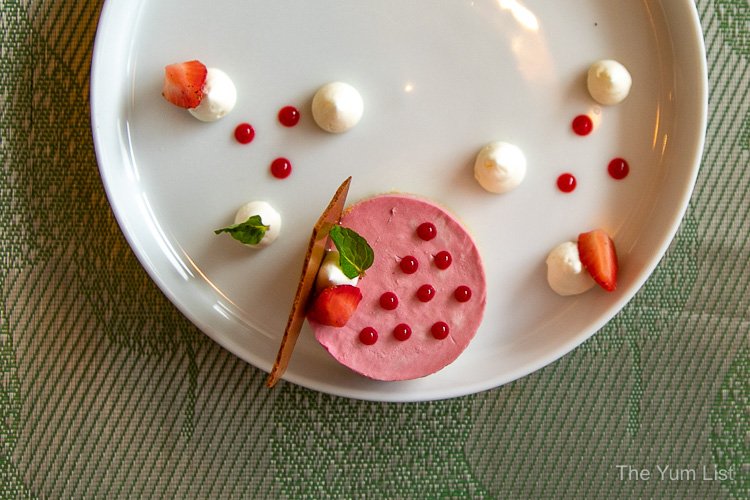 We've left the Chocolate Fondant (RM15) until last and, thankfully, after two desserts, the spoon enthusiasm is waning so I don't have quite the same challenge to get my share. It's a warm moist cake, not a melty-middle one, made with single origin 58% dark chocolate. It is well-complemented with a mildly tart strawberry ice cream.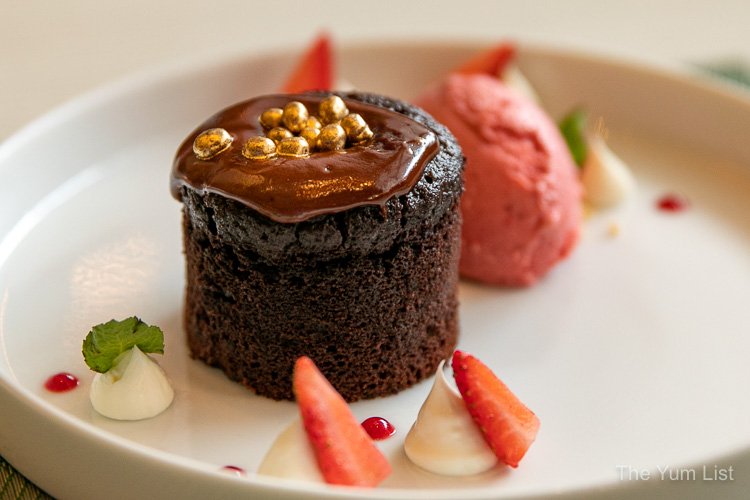 Another cool fact: Every day between 3 pm and 6 pm, all desserts come with a free-flow of black coffee! With two dozen desserts to choose from, Marco Creative Cuisine sure is proving to uphold its value-for-money status.
Marco Creative Cuisine Review: comfortable pleasant setting; value-for-money meals; you can't go wrong with just about any order (we each had our favourites with me loving the salad and soups and the boys drooling over the steaks and pasta); whatever you do though, don't miss dessert – our top pick, the Bruleed Cheesecake; and cocktails are beaut too!
Marco Creative Cuisine Review
Lot G146, Ground Floor (old wing) 1Utama Shopping Centre,
No. 1 Lebuh Bandar Utama, Bandar Utama,
Petaling Jaya 47800, Selangor, Malaysia
03-7731 8923
marcocreativecuisine.com
Marco Creative Cuisine Opening Hours:
Monday to Friday: 11 am – 10:30 pm (last call 9:30 pm)
Saturday & Sunday (public holidays): 10 am – 10:30 pm (last call 9:30 pm)
* non-halal
Check out more European style restaurants in Kuala Lumpur here.