Monica Tindall
Moomba, Angsana Lăng Cô Resort's beach restaurant and bar, serves up a delightful menu of international and local dishes. Situated between the shore and the resort pool, and with full-length glass walls, the setting is a postcard of green and blue from every angle. In fair weather, the open rooftop is a popular spot for cocktails, nibbles and feeling the ocean breeze in your hair. In the winter months, when the temperature can drop below 20 degrees Celsius and the skies commonly bring rain, guests enjoy the same menu indoors in the warmth of the resort's breakfast restaurant, Market Place.
Moomba Restaurant Menu – Drinks
Today I'm dining with the hotel manager, Ms Figen and, besides the charming company, I'm pretty stoked to get some insider tips on the menu and especially, to see what someone who eats here frequently orders. We're by the sea with palm trees marking the landscape so a fresh chilled coconut seems a good idea. Garnished with an umbrella and accompanied by a paper straw (nice – no plastic) and a spoon, we can sip and then scoop up the soft young flesh once emptied.
Moomba Restaurant Menu – Food
As with many resorts, the food on Moomba Restaurant's menu is a mix of local and international. With Vietnamese chefs and ingredients, it would be reasonable to expect the local food to be of top quality and so our requests are mostly local in nature.
Yo Banh Ep gets things started in Vietnamese style. Unlike the common basket of bread rolls, diners at Moomba Restaurant get a taste of local with flattened round crackers made from tapioca and pork belly. A tangle of herbs and crudités of cucumber are used to make a sandwich with a thin (or thick if you like to spice things up) spread of Hoi An chilli sauce.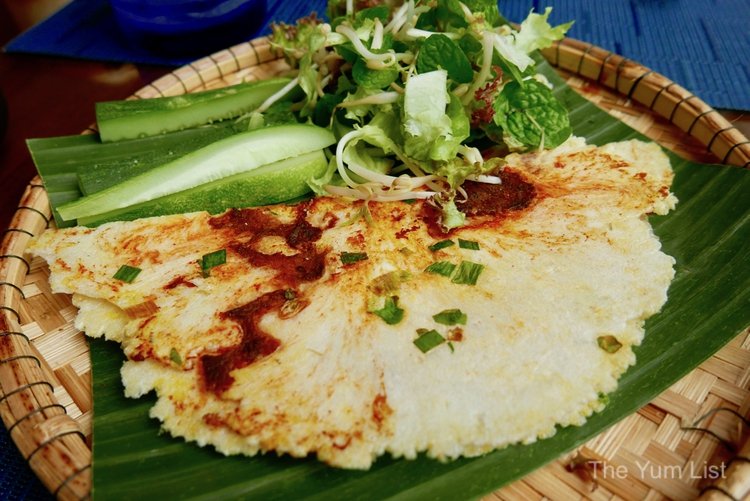 Moomba Restaurant Menu – Starters
I have it on good recommendation that the Roasted Beetroot Salad (VND 200k) is a reliable order. The roasted red root is fanned across a dark slate plate with blue cheese, candied walnuts and a herb vinaigrette. My dining partner says it's her favourite and she has it every time she visits.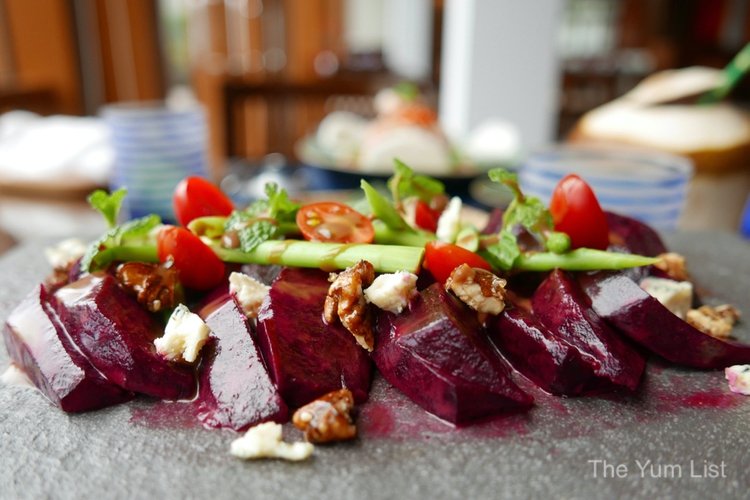 I continue with the local theme requesting the Green Papaya Salad (VDN 200k). It's lushed up a good deal with generous amounts of sliced pork belly and prawns. Shredded carrots bulk up the strips of fruit and peanuts and a sweet and sour fish sauce give that addictive tang and crunch associated with the salad. Again, the portion is large and it sure does settle a hunger pang or two.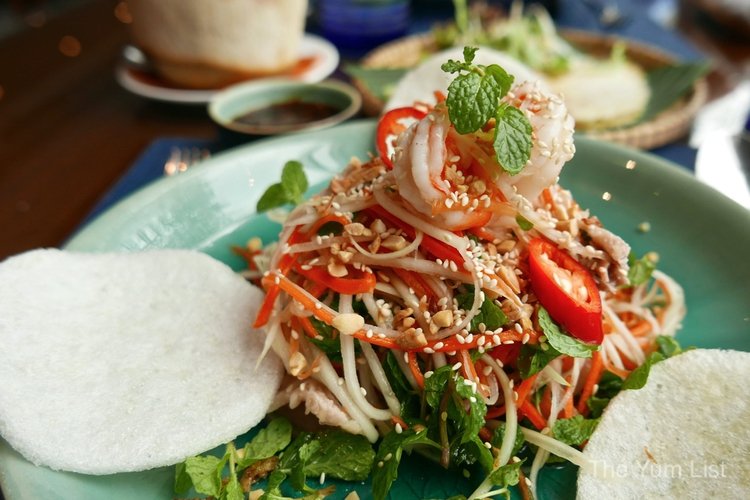 Chargrilled Salmon Salad (VDN 210k) is another healthy choice with pink cubes of salmon tossed amongst pickled carrot, perilla, water grass, the heart of coconut palm, a plentitude of fresh herbs, thin slices of red onion, cherry tomatoes and fried garlic. I just love the variety of greens in the salad and that familiar tangy and sweet fish sauce with chilli is a light and moreish complement.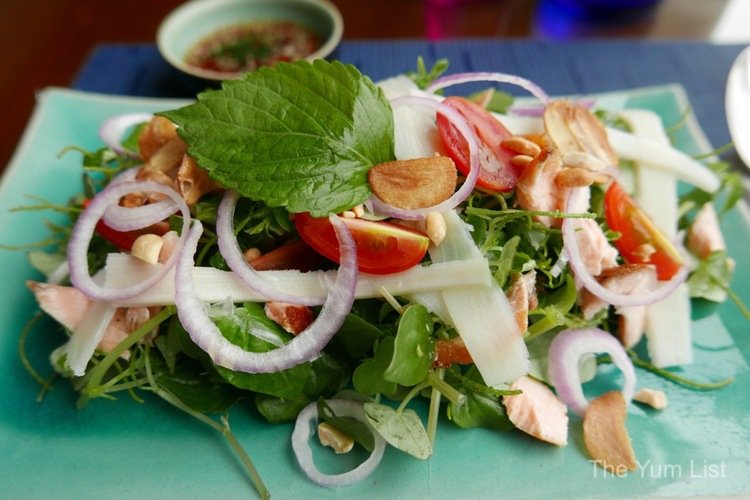 Given our location, the Lăng Cô Seafood Soup (VDN 200k) seems another sensible option. A clear broth is packed with the fruits of the sea – prawns, pieces of fish, calamari and clams – and substantiated with pineapple, tomato, bean sprouts, okra, spring onions and Vietnamese coriander. There's a nice sour ending to it so I'm guessing some lime (or possibly tamarind – I'm suffering a terrible sinus infection so am not as sharp as usual) may have been added just before serving. It's another salubrious pick with my only whine being that I have to peel the prawns myself. I know the locals say there's more flavour with the shells on but I like to be pampered when I eat out – not wanting to do any of the shelling myself. Truth be known, however, the staff are so kindly, I bet they'd take it back to the kitchen and do it for me if asked.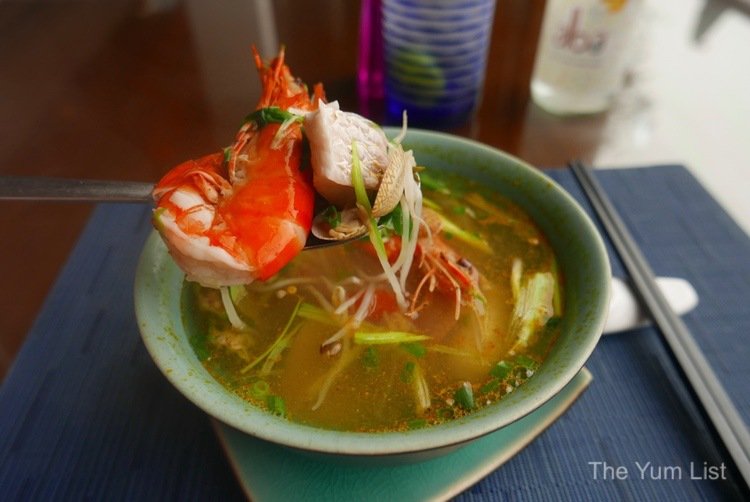 Moomba Restaurant Menu – Mains
Both of us, it turns out, eats loads of veg and a little fish once in a while and so it is that we both end up with sea bass done in a duo of styles as our mains. Mine is grilled and coloured with a healthful dose of turmeric and lays in strips across a bowl of rice noodles. Perilla (a herb native to South East Asia related to mint), dill, bean sprouts, a few torn leaves of lettuce and peanuts add more nutrition. Lastly, every last drop of a tasty peanut sauce gets used to mix through the noodles. It's something I'd be happy to order again.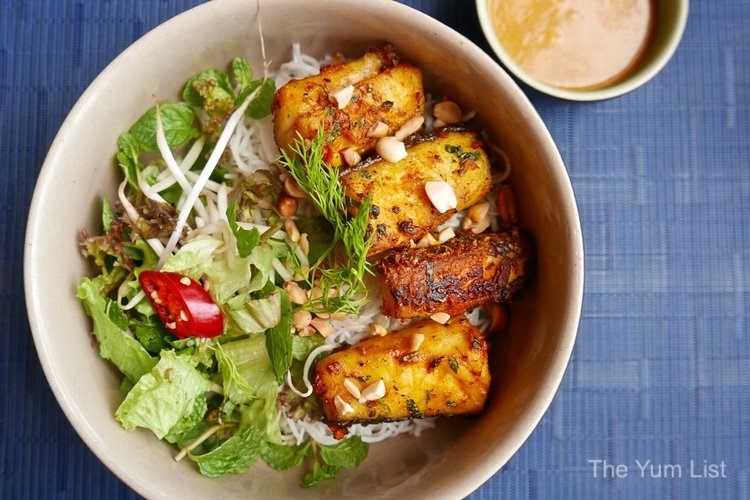 From the barbecue section of the menu, the seabass (VDN 360 k) is marinated and wrapped in banana leaves. The leaves preserve the moisture as it's grilled and assist in infusing the seasoning. Ms Nigen gives the charred lime a good squeeze, saying it's all that is needed to make the dish perfect. There's an attractive side of steamed vegetables too – cauliflower, broccoli, asparagus, zucchini, bok choy, red capsicum and mushrooms, which add colour and crunch.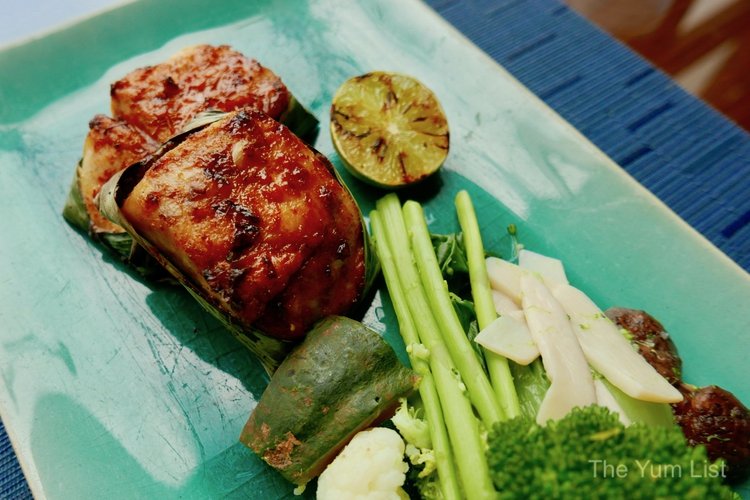 Moomba Restaurant Menu – Desserts
Finally, we can't leave without trying just a little dessert. Something light for lunch, the Vietnamese Trio Sorbet (VDN150 k) proves a refreshing ending with just the right amount of sweetness to satisfy but not too much to clinch the deal on the afternoon nap. The Vietnamese apple and mint, and mango sorbets are light and icy, while the coconut is richer and creamier. Combined, they play well together, and, of course, are all made in house.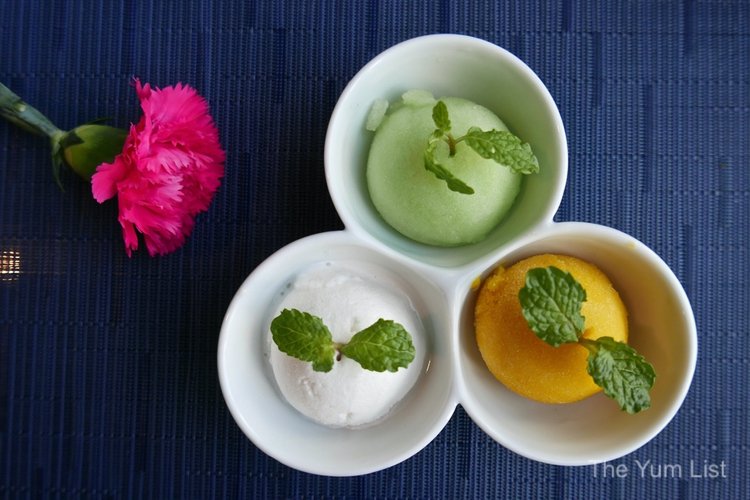 Trio Sugarcane Dessert (VDN 150 k) uses the namesake as the key ingredient in three different preparations: sugarcane jelly, sugarcane kumquat sorbet and sugarcane and kumquat syrup. In the description it says with "banana cake," and I imagine a small slice of cake as part of the arrangement. What arrives, however, is an entire log of moist cake garnished with baked banana slices that sits in the syrup making the bottom deliciously wet. It turns out that the cake is the star of the show with the sugarcane recipes playing supporting, yet important roles.
While I've lost my sweet tooth with age, I certainly haven't misplaced my penchant for a cocktail and Moomba Restaurant sure is the right place to indulge. Foregoing another dessert, we opt for a cocktail by the pool instead. Angansa Mojito (VDN 160k) is lively and refreshing with vanilla vodka, mint sprigs, lime and a garnish of gummy bears! On the fruity side is the Blueberry Gin Sour (VDN 160) made with berry puree, gin, lime, sugar syrup and Angostura bitters. They round off our afternoon with fun keeping the holiday spirit fresh and merry.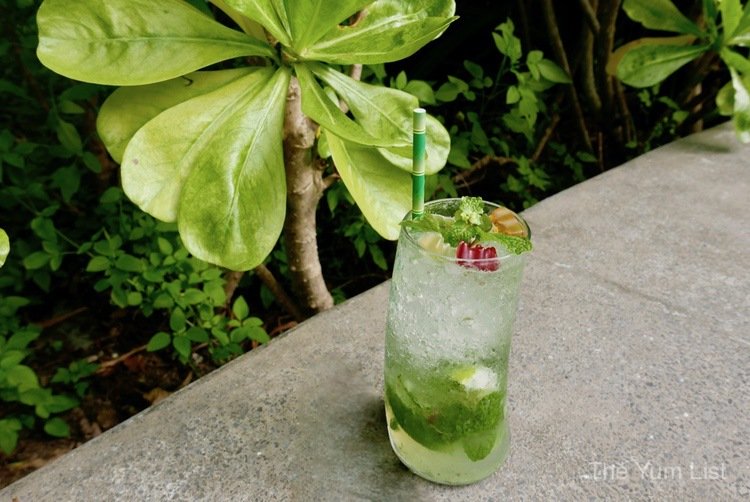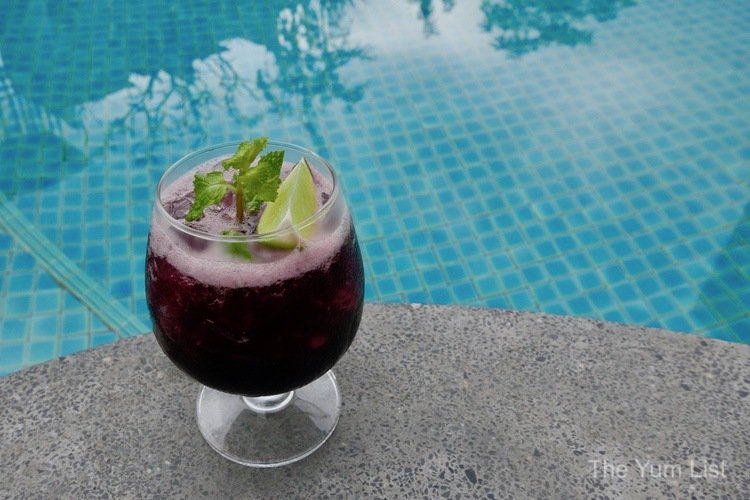 Reasons to visit Moomba Restaurant: a fresh mix of Vietnamese and international cuisine in an extremely hygienic and very pretty beachside setting. Must-tries are the green papaya salad, marinated seabass and the coconut sorbet.
Moomba Restaurant
Angsana Lăng Cô Resort Vietnam
Cu Du Village
Loc Vinh Commune
Phu Loc District
Thua Thien Hue Province
Vietnam
+84 234 3695 800
[email protected]
www.angsana.com/en/vietnam/lang-co-central-vietnam
Moomba Restaurant Opening Hours