Monica Tindall
I think partly due to my Aussie heritage and also in part to my love for nature, there is nothing I love more than spending my days outdoors – especially in pleasant weather. Visiting Central Vietnam over the "winter" months can both be a blessing and a disappointment depending on how the weather behaves. I am extremely fortunate that I have dry days and beautiful temperatures hovering around 22 degrees Celsius. As such, I take full advantage of the outdoor dining options presented at Banyan Tree Lăng Cô with a visit to Azura, a Mediterranean restaurant.
Azura is centred by a bar and kitchen with tables bordering its edges. In inclement weather, it can be closed off with floor to ceiling folding glass doors. In agreeable weather, however, it is opened up with the sea breeze allowed to blow through. Today I find the temperatures exceptional: the sky is overcast and the sea sends a gentle puff making it irresistible to take a seat on the patio.
And what could be more befitting the setting than a flute of bubbles? Petit Albet Brut Reserva, Metode Tradicional, Spain (VDN 300k per glass) obliges. Toasty on the nose, fruity in the middle with a dry acidic finish – it makes a fine aperitif and also does well with my salads to come.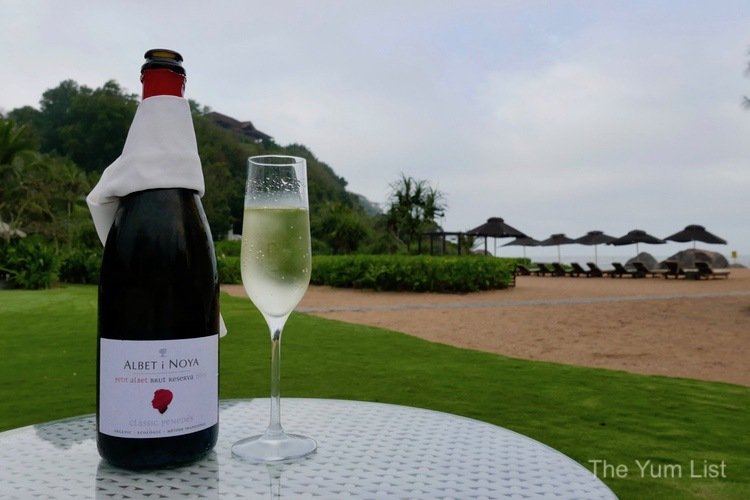 A basket of house-made spongy focaccia with tomato, onion and herbs immediately satiates hunger and comes with an olive and anchovy tapenade. Olive oil and balsamic are standards on the table if you so choose but the tapenade is fab, full of flavour with a good graininess to it.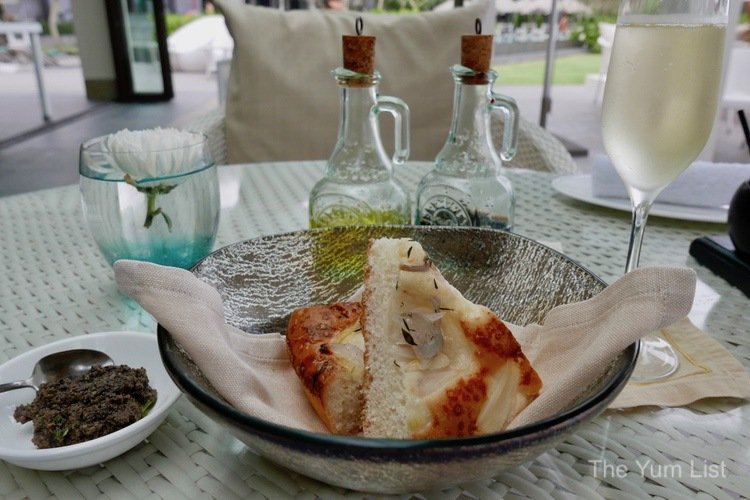 Azura, Banyan Tree Lăng Cô Menu – Starters
Despite bread and bubbly, my meal officially begins with a vibrant plate of green in the Rucola Salad (VDN 200k). Rocket leaves, frisee, sliced green apple, cherry tomatoes, red radicchio and walnuts are dressed in a very light blue cheese sauce. The dressing is subtle and not overpowering at all (as some blue cheese sauces can be) offering a nice tang to the leaves complementing the dominant bitterness of the radicchio and arugula. It's a good meat-free option but if you'd prefer a vegan alternative, the dressing can also be made with olive oil and balsamic.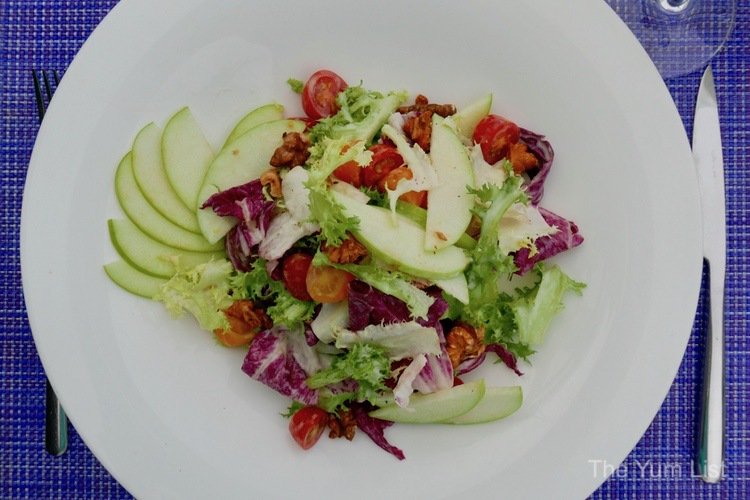 Chef highly recommends the Azura take on a Caprese salad with the Crispy Mozzarella and Tomato (VDN 350k). There can't be anything more decadent than deep-fried cheese don't you agree? And, here the whole round has been breaded and cooked making the outside a slim layer of crunch while the inside is warm and soft. A bed of Roman tomato salsa with a fine balsamic dressing and concentric rings of basil pesto provide both contrast in colour and also in taste breaking up the richness of the cheese.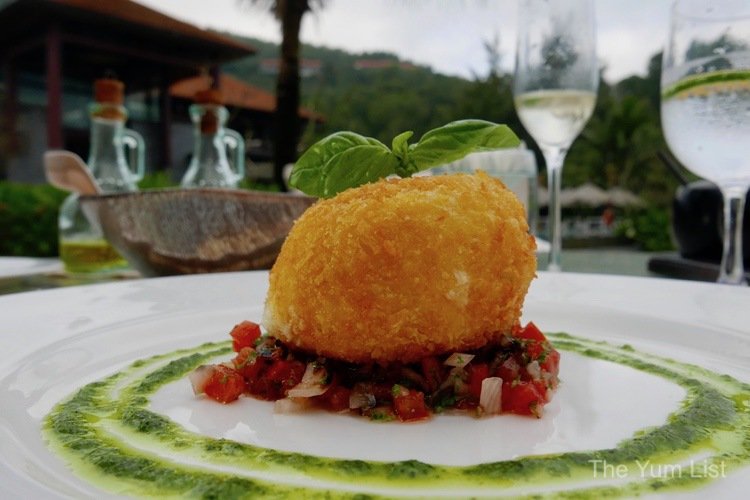 Azura, Banyan Tree Lăng Cô Menu – Mains
Sea Bass Cartoccio (VDN 325 k) assists in regaining my healthy direction with a fillet of white fish wrapped in paper and cooked together as a parcel with plentiful Kalamata olives, tomatoes, capers, basil, onion, garlic and olive oil. A sprig of fresh parsley garnishes the fish and a generous squeeze of lemon and a sprinkle of pepper give a stellar finish to the moist and flaky bundle. It is such a simple cooking technique with delicious results that it reminds me that I should do this much more at home.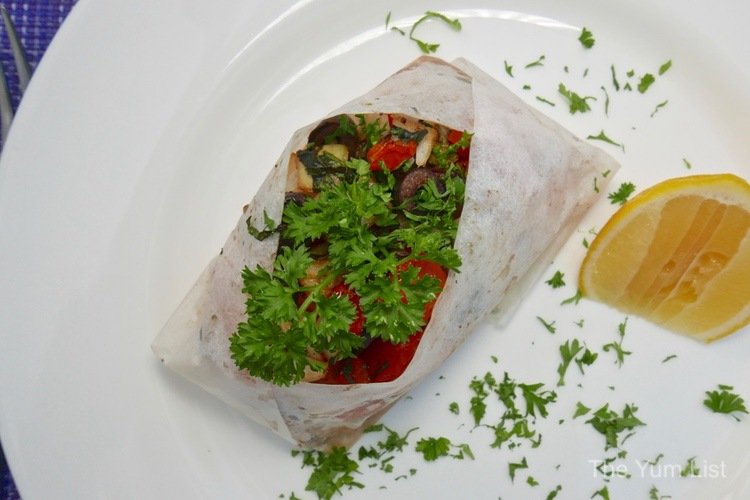 Azura, Banyan Tree Lăng Cô Menu – Dessert
My waiter, Thao, answers my question before I've even asked it: Blueberry Coconut Pannacotta (VDN 180 k) is the reply. My question: What do you recommend for dessert that is both delicious and photogenic? And, oh boy, did he nail it with this sweet ending! It is not a simply-flavoured cooked cream as I was imagining but rather layer upon layer of texture and sweet fruity and bitter balance. First, there's a base of shredded coconut. Next the creamy blueberry pannacotta. And then, a thin crisp sheet of chocolate followed by more pannacotta. The top is garnished with passion fruit pulp and dried coconut and the side is dotted with fresh berries and a blueberries coulis. Rarely do I finish an entire dessert by myself but this combo of fruit, coconut and chocolate are simply divine!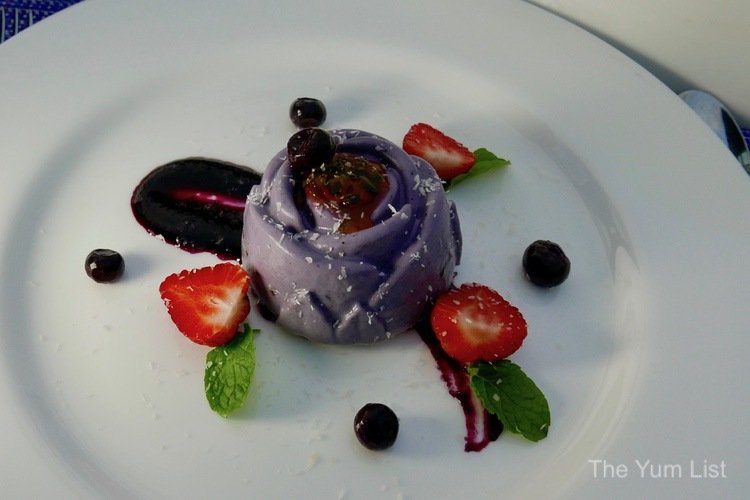 Reasons to visit Azura, Banyan Tree Lăng Cô, Vietnam: beautiful setting; warm friendly setting; a light break in Asian food (especially if you have been travelling for an extended period); lots of meat-free choices; must try the signature Crispy Mozzarella and Tomato and also don't miss a pretty plate of Blueberry Coconut Panna Cotta for dessert.
Azura, Banyan Tree Lăng Cô
Cu Du Village
Loc Vinh Commune
Phu Loc District
Thua Thien Hue Province
Vietnam
www.banyantree.com/en/vietnam/lang-co
+84 234 3695 888