Words: Monica Tindall
Photos: Rich Callahan
On a colourful strip off Bukit Bintang is an exciting new eatery, Tarma Iraqi Street Food. The vibrant side street is enlivened by this charming restaurant serving Iraqi street food.
Tarma Iraqi Street Food Location
A cerulean blue gate opens to reveal a covered patio and mosaic floor. Decorative steel-legged tables are bordered with canary yellow chairs and topped with lanterns and ashtrays: smokers are welcome outdoors.
Inside is picture perfect with the mosaic tiled floor changing in hue to blue, black and white and the same sky blue following through to painted exposed bricks. Semi-booths are made with old-school benches (that you'd usually see in a tea house) and arched sections of the wall hold stained glass, mirrored doors and quirky signage, "You can't STOP when its laffa time."
"Casual, friendly, this is Iraqi street food," shares Hani, restaurant owner, when commenting on what they were hoping to share with this concept.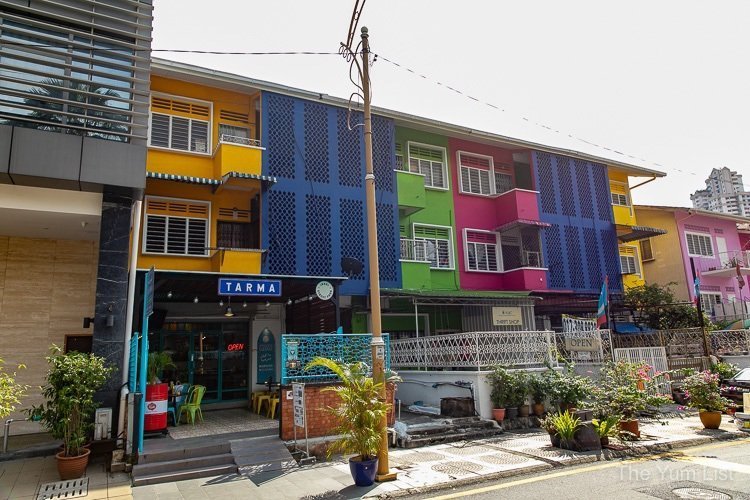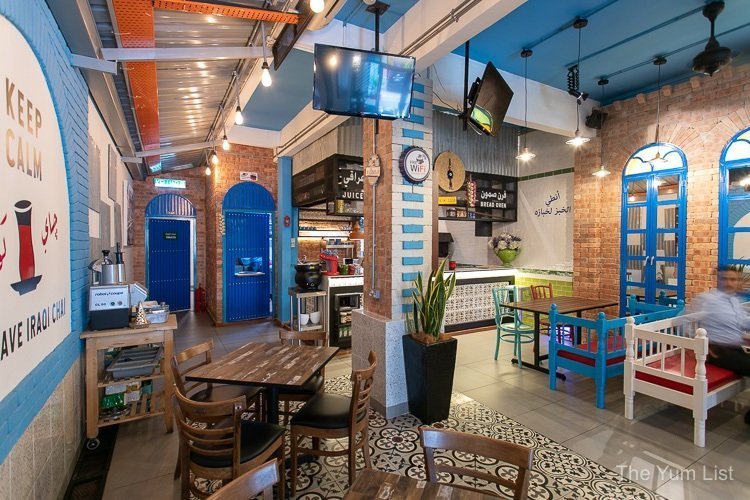 Tarma Iraqi Street Food Menu – Drinks
The recommended beginning is with Original Chai (RM10), a pot of hot tea with cardamom. There are a number of Iraqi teas on the menu with cinnamon, mint and milk other blends to try. For those wanting more of a caffeine kick, Iraqi Coffee (RM5), similar to a Turkish brew but with cardamom, provides a strong and heavy dose.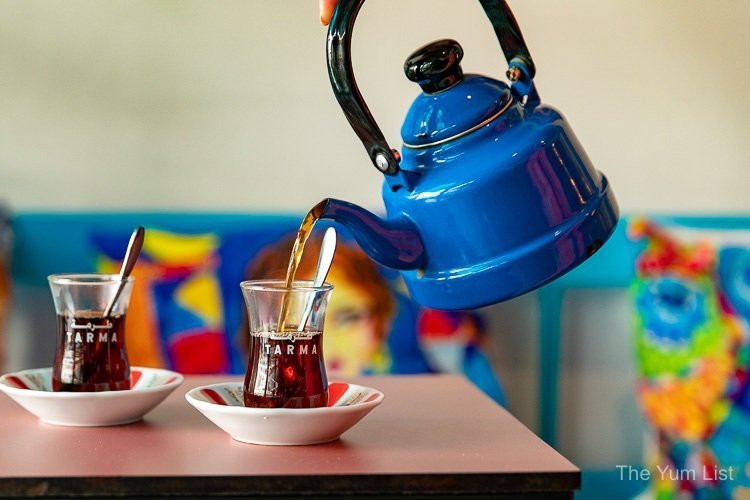 Cold drinks include Sharbet (fresh juices RM8), Shakes (RM12), Bared (soft drinks RM4), Shnina (Iraqi yoghurt drink RM7) and Beera (beer RM15). I'm curious about all of the unknown words so order everything I've not heard of. It turns out the Hamedh Helo (RM8) is a sweet and sour drink of passionfruit and lime topped up with Sprite. Tarma (RM12) is a sweet and creamy milkshake blended with bananas and dates. Lastly, Shnina (RM7) feels rather nutritious with unsweetened sour Iraqi yoghurt mixed with water.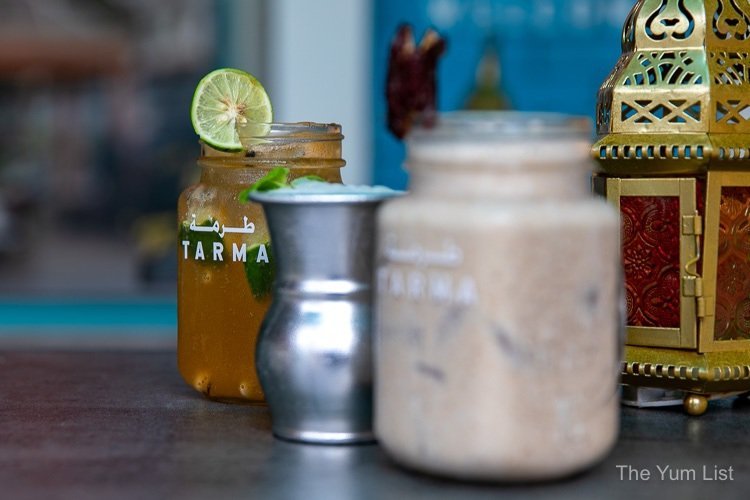 Tarma Iraqi Street Food Menu – Food
The menu is well-designed resembling a single-page folded newspaper making it easy to navigate. Photographs of each dish are supposed to simplify requests but it seems to make us want to try it all rather than just select a few dishes.
Breakfast
You can start your day at Tarma Iraqi Street Food with breakfast. Makhlama (RM16), eggs, can be served as an omelette or sunny side up and are accompanied by tomatoes, minced meat and onions. You can easily make this a veggie option by omitting the meat. It is value for money served on a big silver tray with the omelette separate from the side of pickles, tomato, cucumber and black olives. Rich picks up the tray and says, "and that's breakfast. There's no messing around here."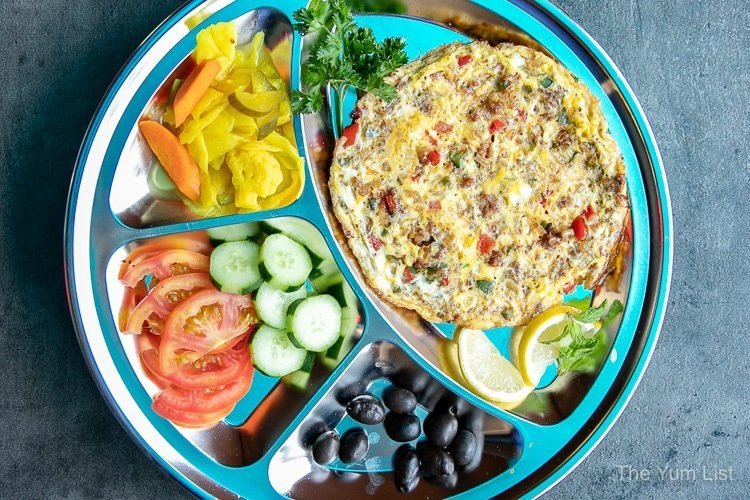 Salads
Iraqi Chopped Salad (RM16) launches the lunch and dinner menu with a healthy mix of diced tomatoes, cucumbers, spring onion and cilantro seasoned with olive oil. All of the veggies are separated with a sprinkling of pomegranate on top allowing you to mix at will.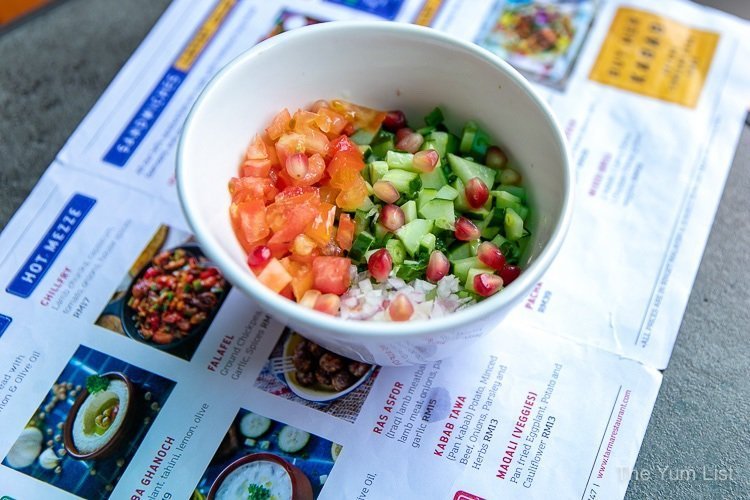 Street Mezze
Something found commonly on the streets of Iraq is Lablabi (RM6). These boiled chickpeas are especially popular in winter. They are served in a plastic bowl with a spoon and a squeeze of lime brightens the otherwise mildly flavoured legume.
Cold Mezze
I don't have a female friend who doesn't like Hummus (RM9) and so, even though it's nothing new to try and commonly found on menus in KL, I must test out Tarma's recipe. The traditional cold mezze is a mash of chickpeas with tahini, lemon and olive oil. This blend is heavy on the sesame paste giving the dip a slightly bitter finish. The secret to its creaminess is that it is only made in small batches and blended with an ice cube before serving.
An unfamiliar name but familiar recipe is Jajeek (RM9). Sour yoghurt, cucumber, olive oil, garlic and dill make a great topping for flatbread. It comes with bread on the side but is traditionally taken with arak. It makes a good mix with other bits and pieces on my plate such as the salad and grilled meats.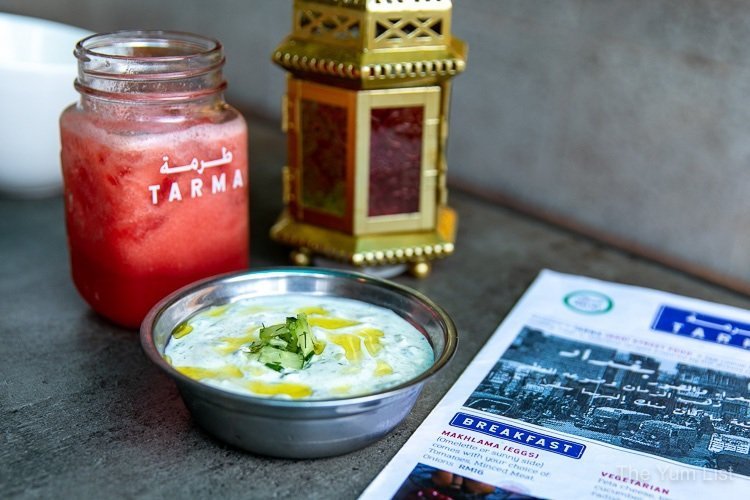 Hot Mezze
I really could just live off mezze never ordering a main – I like small plates as I enjoy the variety and ability to try many things that comes with them – and so we continue with the hot mezze with the Chillfry (RM17). Lamb chunks, tomato, parsley and onions are stewed together with a house blend of spices. This dish is rich and comforting and a hot favourite amongst the three of us.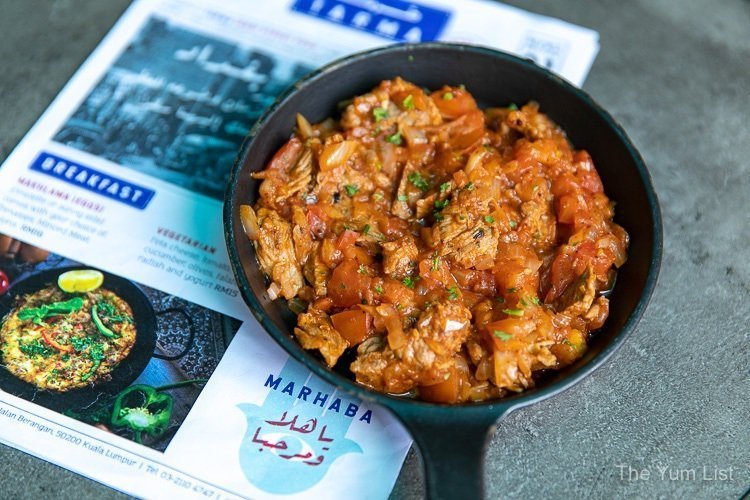 The boys are happy with just about anything minced meat so the Ras Asfor (RM15) is a crowd pleaser. Lamb is minced together with onions, parsley and garlic into meatballs and served with a mildly spicy and juicy tomato sauce.
Kabab Tawa (RM13), otherwise known as pan kabab, features flour, minced beef, onions, parsley and herbs. A dipping sauce of yoghurt and herbs and thinly sliced white onion sprinkled with herbs and sumac make a lovely cool fresh contrast to the warm oily patties.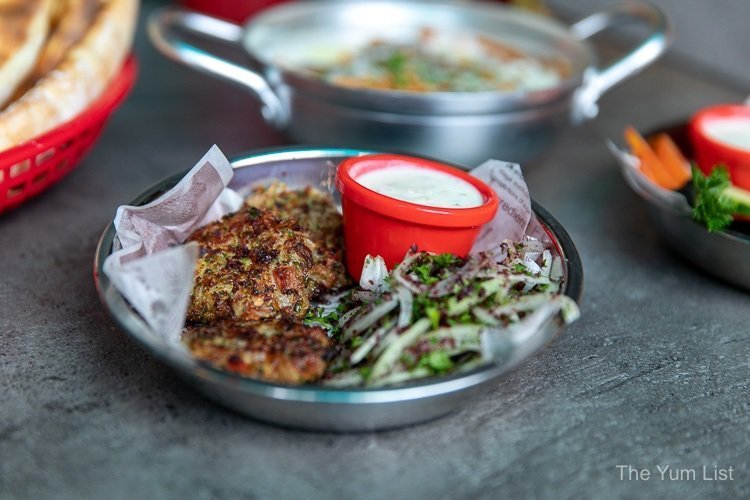 Another vegetarian choice is the Maqali (RM13). Pan-fried eggplant, potato and cauliflower are sliced and layered in a round silver dish and again partnered with cucumber, tomato, black olives and yoghurt, which help to freshen the fry.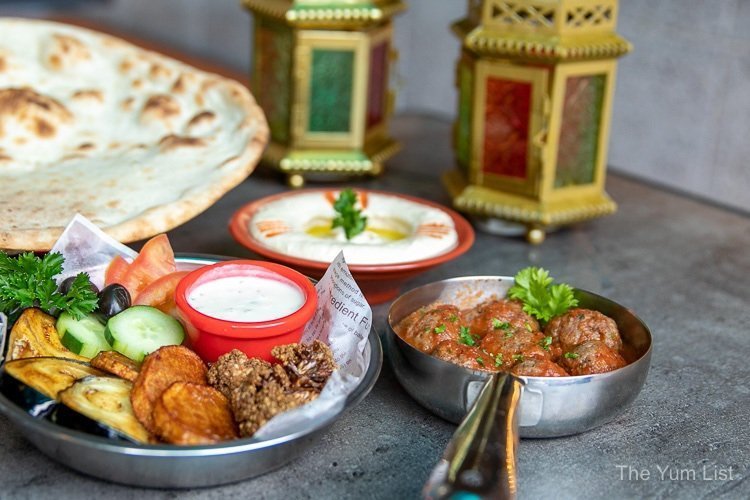 Grills
A handful of grills (Mashawi) come with a choice of salad, rice or French fries. We try the Kabab (RM29), which is a mixed grill of beef and lamb. The minced meats have been ground and cooked over a charcoal grill and the tomato and chilli that come with it sport the same marks of the grill.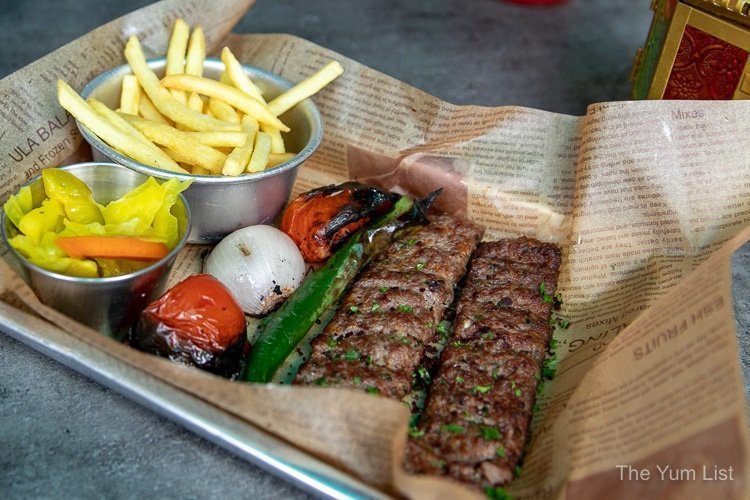 The boys are truly in their glory with another meaty item, the Kabab Bel Leben (RM29). This time beef and lamb are grilled and then baked together with yoghurt, fried bread, sliced almonds and baked in the oven. It's a rich recipe; one which I recommend sharing.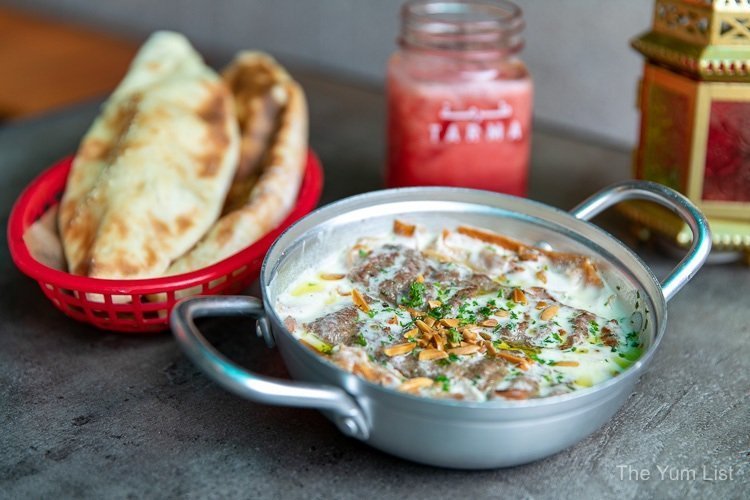 Mains (Sunday only)
Giving a reason to return on Sunday are two mains, the Pacha (a famous dish of boiled lamb brains, stomach and trotters) and Quzi, lamb shank. We're lucky to have the Quzi (RM29) available today even though it's mid-week. A whole tray of rice holds the lamb shank as if a jewel on display. On the side, white beans in tomato sauce act an additional sauce and if we didn't have so much on our table, we probably would have used it together with the rice.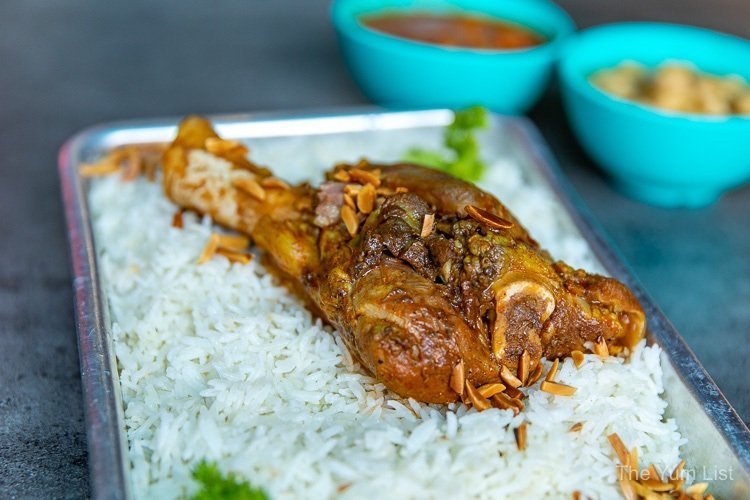 Moajanat
Moajanat, flat bread baked in their brick oven, comes with various toppings. Lahm B Ajeen (RM16) and Cheese (RM16) are their two top sellers. The former has a topping of ground lamb, herbs and house spices and the latter is a stretchy topping of mozzarella cheese and herbs. The dough is made fresh in house and these are perfect bites for sharing over a beer or two.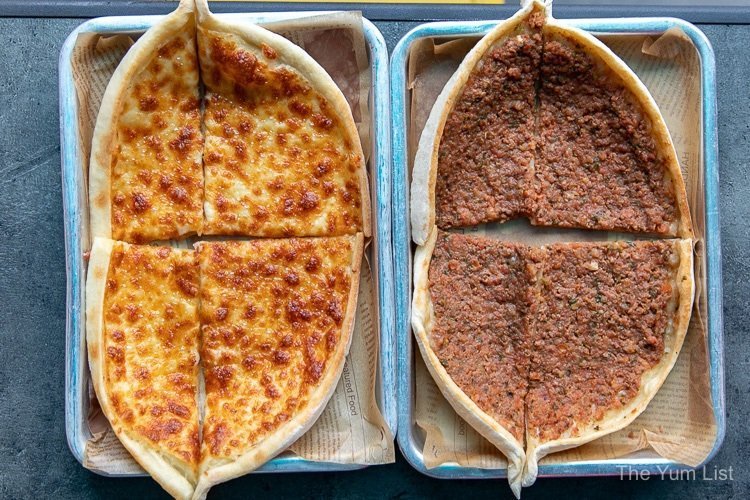 Tarma Iraqi Street Food Menu – Desserts
Lastly, Datlee, Iraqi fried doughnuts, are a bargain with a plateful of 10 sweets going for RM10. The balls have been deep-fried and drizzled with sugar syrup just before serving. Even though we're declaring that we're bursting at the seams, it is incredible how quickly these disappear.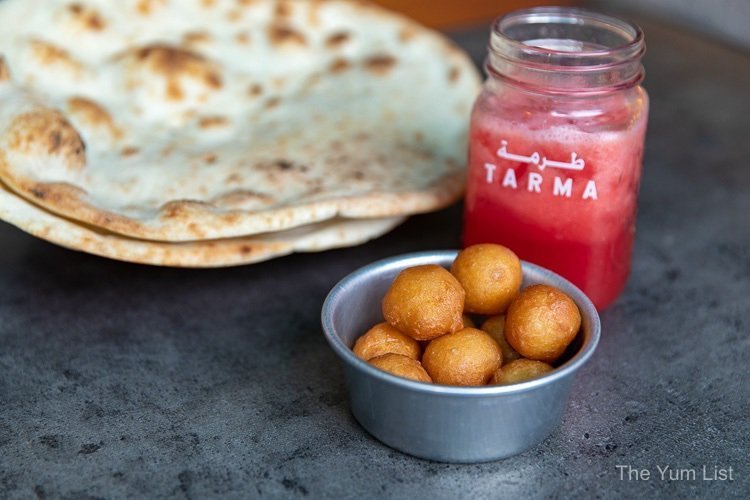 Reasons to visit Tarma Iraqi Street Food: a cheery, casual eatery; a great place to come with friends or family; order lots and share it all; value for money; must try the breakfast omelette, share some Moajanat, be sure to try the Chillfry and save room for the fried doughnuts (or not, you'll fit them in either way full or empty).
Tarma Iraqi Street Food
83, Jalan Berangan, Bukit Bintang
50200 Kuala Lumpur
Malaysia
www.instagram.com/tarmarestaurant
Tarma Iraqi Street Food Opening Hours:
Sunday to Thursday 12 midnight – 11 pm
Friday, Saturday – 11 pm – 12 midnight