Words: Patricia Podorsek
Photos: Monica Tindall
When I first heard the name Namelaka Patisserie, I made the short-sighted assumption that we were headed to a place for Greek pastries. And although I was looking forward to some baklava, I couldn't have been more delighted to find an entirely new concept in desserts instead, one that is as beautiful and artistic as it is well-crafted and delicious.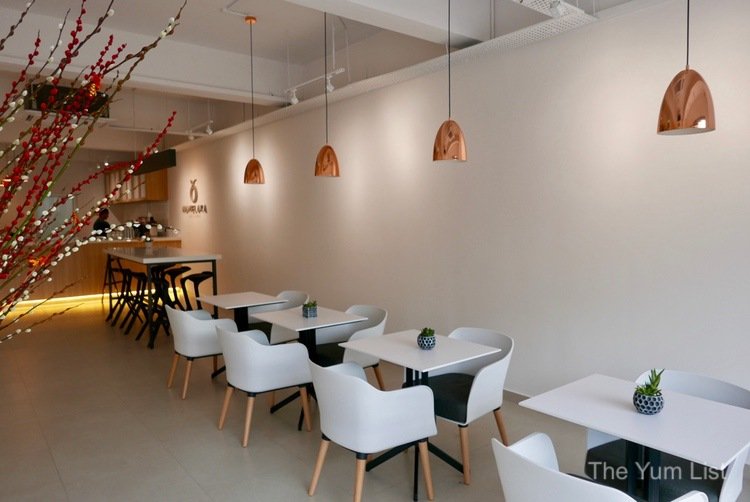 Namelaka Patisserie
The word 'namelaka' actually comes from the Japanese, meaning smooth and creamy. The term refers to a relatively new technique in desserts, one that blends Belgian chocolate with fresh cream and gelatine, and lets it chill for more than a day, for an extra creamy finish. One website calls it "a fabulous cross between a ganache and a crème pâtissière." I call it amazing!
What's even more amazing is what Pastry Chef C.K. has been able to do with it: Using ingredients that represent the entirety of a piece of fruit, he has found a way to create unbelievably realistic-looking, edible fruit pieces using namelaka as the foundational element!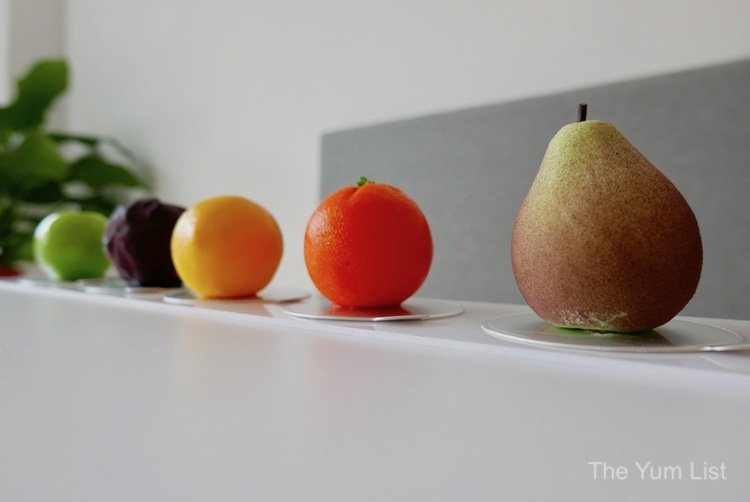 Namelaka Bangsar Menu – Desserts
Namelaka Patisserie – Lemon
We start with the Lemon (RM23). Seeing it sit on the plate, you would have no idea it was not just plucked from a tree or a supermarket stack. The skin, made of white chocolate, is spray-painted with more chocolate – yellow this time – to give it both the color and the natural bumpy texture of a real lemon. The 'pith' is the namelaka layer. With a little fresh lemon juice added, we find a creamy texture that moves and dances, lighter than mousse, but not as fluffy. Inside, we find chunks of real lemon skin – boiled, sweetened and thickened – for a deep intensity of lemon flavour offset by just a hint of mint. This is lemon dessert at its most intense, and it's most luscious. Not as sweet as some of the others, this fruit piece ultimately becomes my favorite of the lot.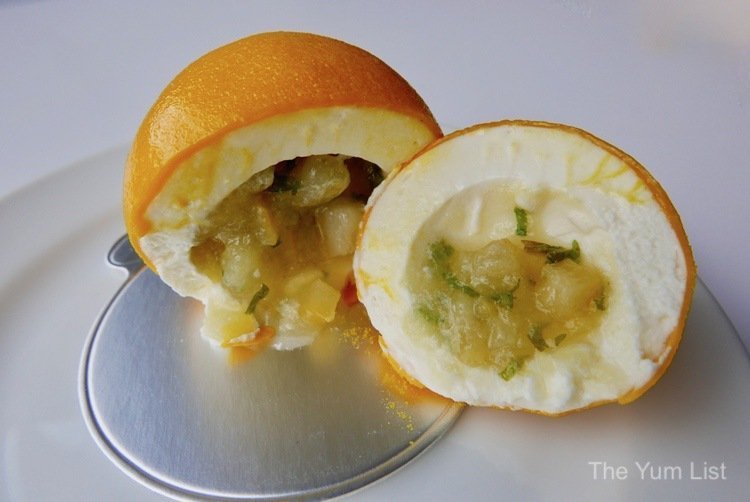 Namelaka Patisserie – Pear
Moving on to the Pear (RM21), again I am deliciously deceived into thinking that a real piece of fruit is sitting on my plate! Breaking open the chocolate exterior, we discover the namelaka is enhanced by mascarpone this time, with chunks of fresh pear suspended inside in pear gel. C.K. and his team endeavour to produce finished products that embody as much of the fresh fruit as possible while preserving the integrity of the pièce montée.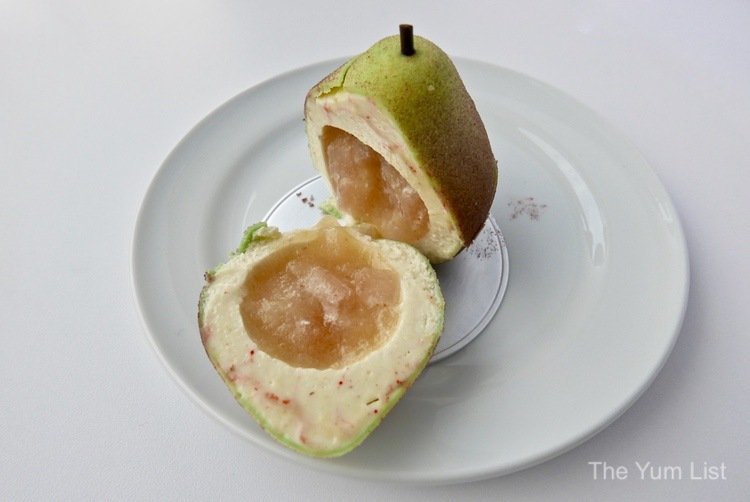 Namelaka Bangsar Menu – Drinks
All this culinary creativity needs some coffee. Gratefully, we accept a richly blended latte, earthy and smooth. The artistry (as well as the noble flavour) obviously does not stop with the desserts, as one coffee comes adorned with… a peacock!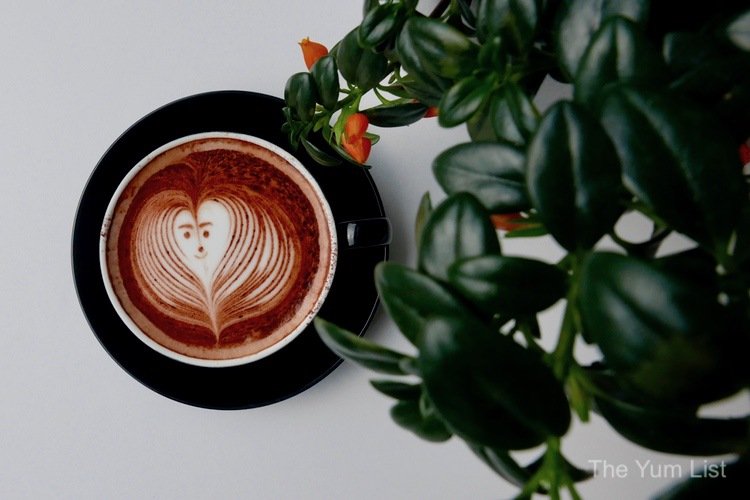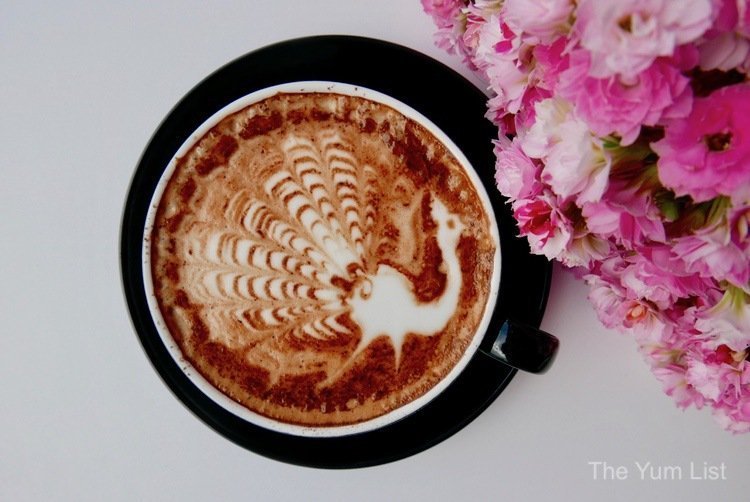 Non-coffee drinkers will find refreshment in the beautifully-colored Butterfly Pea Lemonade. A little mint tucked into the ice cubes triples the already stacked layers of flavour here. This drink is bright, bubbly, and has something about it that really sparkles!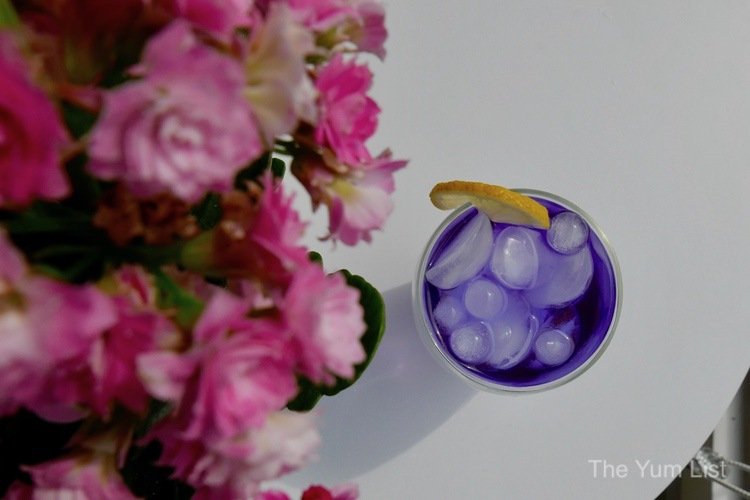 Namelaka Desserts – Passion Fruit
Perhaps the most beautiful of the fruit selection, the Passion Fruit (RM23) adds the greatest splash of color against the calm and minimalist surroundings. The upstairs interior of Namelaka is staged like an art gallery, with simple white walls and very unassuming furniture. This allows the desserts to become the centrepiece of the restaurant. Once cracked, the passion fruit opens like a flower, gorgeous orange seeds spilling onto the plate. This time the namelaka layer is enhanced with ginger, and the interior carries the same explosive intensity as its fruity namesake, thankfully in a way that's not quite as sour as the original!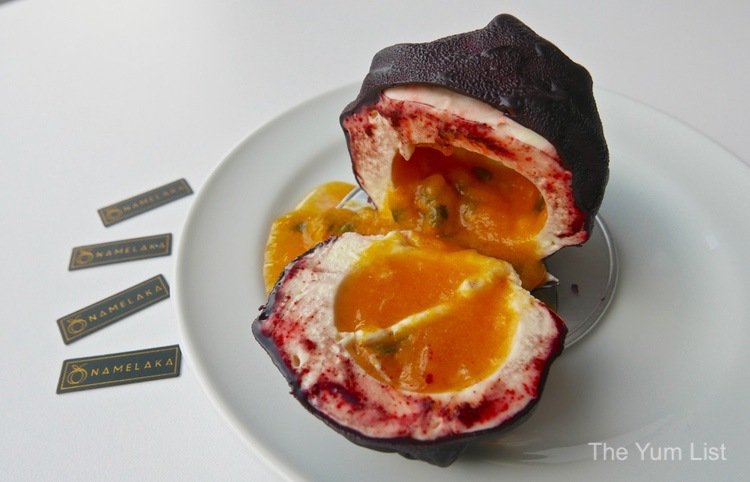 Green Apple at Namelaka Bangsar
The glossy sheen of the Green Apple (RM19) could tempt Snow White right off the pages of your childhood storybook! Inside this beauty, we find the signature cream and chunks of sweet apple enhanced by dill, an unusual choice that carries hints of a herbal-infused spring.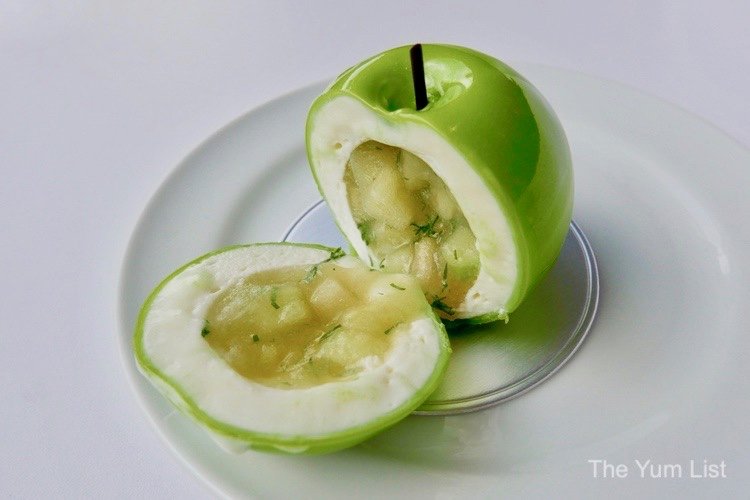 Namelaka Patisserie – Orange
Lastly, just in time for Chinese New Year, C.K. and his team have developed a bright Orange (RM21). This is pure citrus sweetness emboldened by undertones of timut pepper encased in the same creamy hold. A lucky choice for us, I'd really like to celebrate being a pig with this one!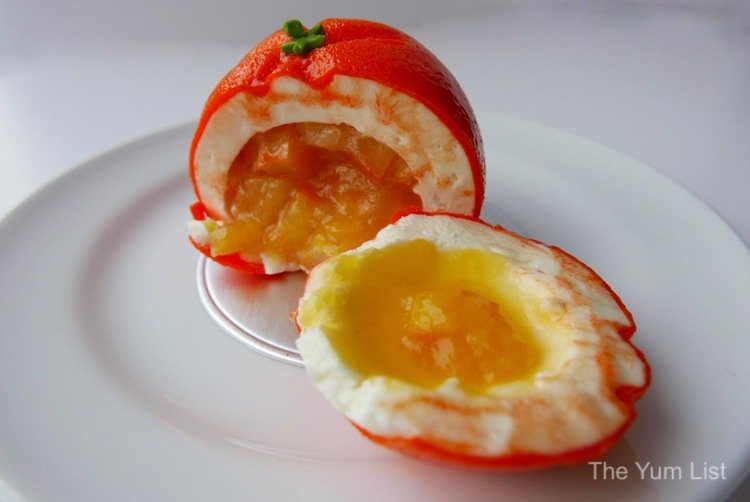 Namelaka Bangsar Menu
Recently opened, we are witnessing the very beginnings of CK's creativity with desserts. He is planning a rose for Valentine's Day and already has a new series under development, one based on nuts rather than fruit. He has also begun experimenting with tarts that use namelaka cream, ones that are more chocolatey than fruity. For the curious among the readers, CK plans to open his test kitchen to customers twice per month, on alternate weekends after Chinese New Year. You can become part of the evolving menu of Namelaka!
Namelaka Bangsar Review
This concept dessert bar is the perfect place to take a date on a Saturday afternoon or after dinner at one of the many fabulous restaurants in Bangsar. It would also be a fun stopover as part of a Bangsar progressive evening, where a group of friends pops from place to place over the course of an evening out.
Reasons to visit Namelaka Patisserie: Enjoy desserts quite unlike any other in the city. Our favorites were the Lemon and the Passion Fruit, but we suggest that you grab a group of friends and try them all!
Namelaka Patisserie
1st floor, 34, Jalan Telawi 2
59100 Bangsar, Malaysia
+6 03 2201 3241
www.facebook.com/namelaka.my
Namelaka Patisserie Opening Hours
Namelaka Bangsar is open 11:30 a.m. – 8:00 p.m. through the week and 11:30 a.m. – 10:00 p.m. Friday and Saturday. They are closed on Wednesdays.