"Eat for you, eat for the planet"
Monica Tindall
Unless you have lived under a rock for the past 20 years, you must have heard about the benefits of a plant-based diet. The advantages of increased fibre, vitamins and nutrients and a reduction in saturated fats have long been documented. The research on the impact of reducing meat consumption on the health of the world has also been around for some time but only recently has it reached a larger audience. Besides the cruelty of industrialised farming, the amount of water and land used to grow grain for feed (that could otherwise be used to grow grain for humans), the contamination of the water supply and the increased production of greenhouse gases, are compelling reasons to reduce meat consumption if not cut it out altogether.
7-Day Plant-Based Cleanse KL
For those convinced of the merits of a plant-based diet or those willing to give it a try so they can condemn it with at least a whisper of authority, the 7-Day Plant-Based Cleanse is a good place to start. Developed by nutritionists Marissa Parry and Alex Prabaharan, the week-long meal plan is designed to give your body a chance to heal and feel what it is like to eat clean, reaping the rewards of both.
What's Included in the 7-Day Plant-Based Cleanse KL
Made fresh every morning, the 7-Day Plant-Based Cleanse delivers lunch, dinner and snacks daily to your home or office for a period of a week. Additionally, a jar of almond butter and golden elixir turmeric tea are delivered on the first day. An electronic guide book is sent by email before beginning, which includes the menu for the week along with tips for motivation, guidelines on what to do if you are still hungry and recipes for celery juice and smoothies that are recommended as breakfast and mid-morning snacks.
7-Day Plant-Based Cleanse KL – Delivery
A day's worth of meals is delivered daily between 11:30 am and 1 pm. All are refrigerated and items for dinner should be kept chilled until later heated up in the evening for the final meal. My lunch break is not flexible at work and I have less than 25-minutes to take it so I let the team know ahead of time my restrictions, which they graciously work around when scheduling the delivery.
7-Day Plant-Based Cleanse KL – Support
Support is offered via a What'sApp group where members can interact with the chefs as well as others participating in the cleanse. While I don't take part too much in the chat, it is comforting to read the successes and struggles of other participants throughout.
7-Day Plant-Based Cleanse KL – Day by Day Menu
Day 1
The first delivery includes a bottle of almond butter and turmeric tea that is meant to last the whole week. A green and orange salad with a creamy dressing is provided for lunch. A trail mix offered as a snack or dessert, and mushroom soup with steamed vegetables is dinner. The salad is full of fresh, crunchy greens and the sauce a nice compliment. I do find it much lighter than what I would usually eat but by having a spoon of almond butter and a cup of the tea, hunger is reduced. Later the mushroom soup is a flavourful clear broth and the accompanying veg obviously very fresh. Again, however, the portioning is smaller than what I'd usually eat and I have to be mindful of every bite wanting to complete the cleanse with integrity.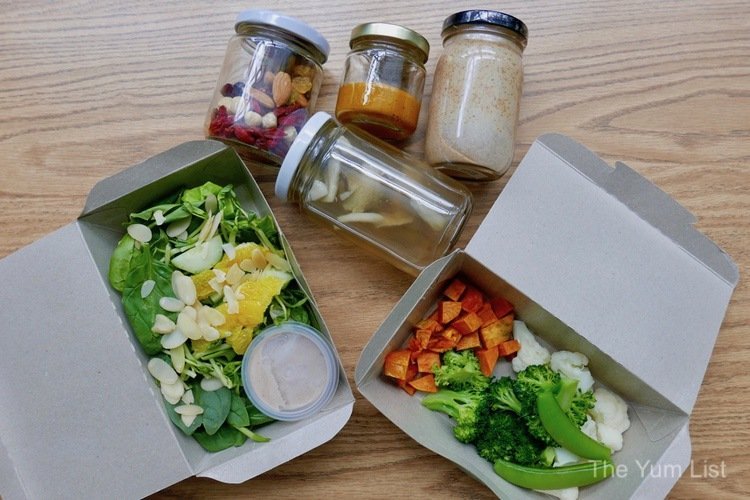 Day 2
A glass of celery juice or lemon water is recommended to kick off each day (recipe provided in the guide) later followed by a glass of vegetable and fruit smoothie for breakfast and snack. It's a good idea to plan the week out purchasing your fruit and veg ahead of time. I have fun experimenting with different combinations to mix the mornings up a bit. The second day's lunch sees a mango salad with orange juice dressing, chia pudding as snack or dessert and a roasted veggie salad with a mustard dressing for dinner. I appreciate the zip of the mustard in the dressing, am a big chia pudding fan and well, you had me at mango. Once more, I am used to eating a lot (I am quite active so think I need the calories) and find myself topping up with fresh fruit and regular cups of herbal tea.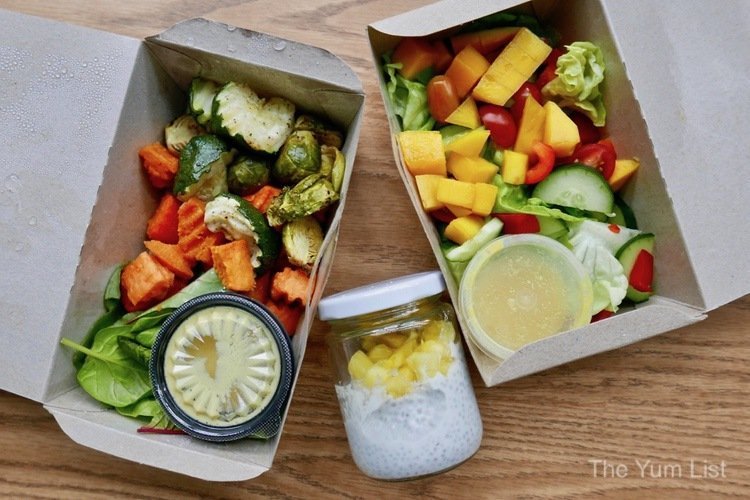 Day 3
Today it's ratatouille with pesto, bliss balls and salad with a spicy lime dressing. I really do love veg so eating this way is not hard for me at all (and I'm adapting to eating less so my attitude is on the up). Bliss balls are my all-time favourite snack (after nut butter) and I'm rather fond of the tang in the lime dressing for dinner.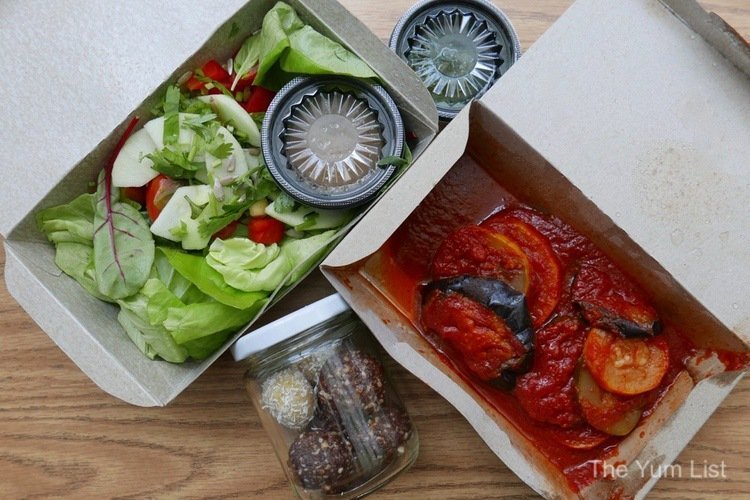 Day 4
Thursday sees a return to the green and orange salad with a creamy dressing and trail mix, with pumpkin soup as the evening meal. Pumpkin soup is another win!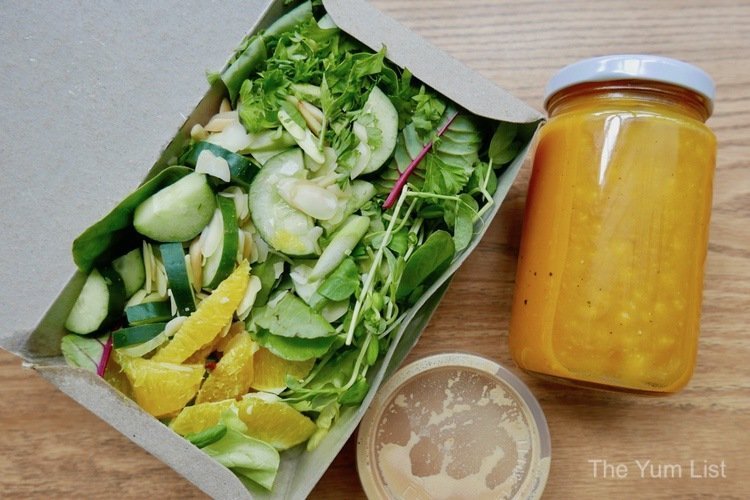 Day 5
The last day of the work week features fruit and veggie salad at lunch, energy bliss balls for a treat and a sweet potato hash for dinner. I'm not particularly fond of the fruit in lunch today but have given feedback, which the team are constantly seeking and using to refine their offerings. The coconut dressing though is delicious – I want the recipe for this one. I adore sweet potato so the dinner is a very happy one for me.
Day 6
The weekend brings assorted vegetables and mushrooms with a kiwi salsa, chia pudding and spicy potato curry. The most difficult part of the weekend for me is not lingering over multiple cups of coffee in the morning and also politely refusing a glass of wine with friends in the late afternoon. These are two delights I certainly look forward to reintroducing next week.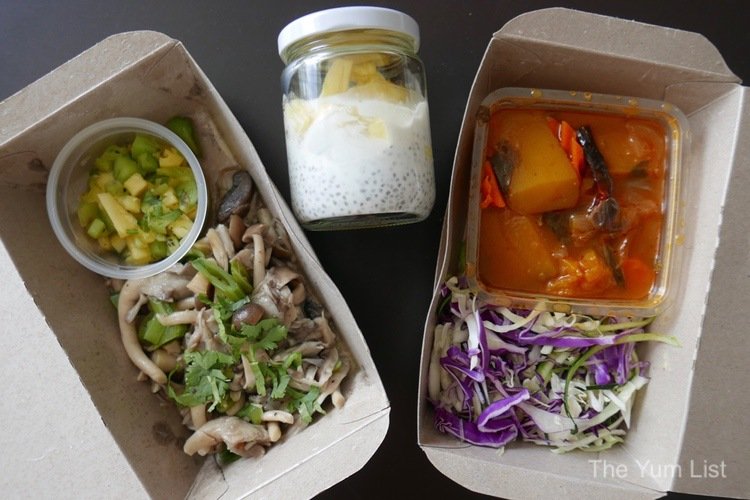 Day 7
The final day of the 7-Day Plant-Based Cleanse concludes with veggie seaweed wraps, energy bliss balls and hearty vegetable soup. Part of the sense of gratification of completing the 7-Day Plant-Based Cleanse comes from naturally feeling better inside and out but also from an emotional standpoint in that I committed to something that is good for my body and kept that promise to myself.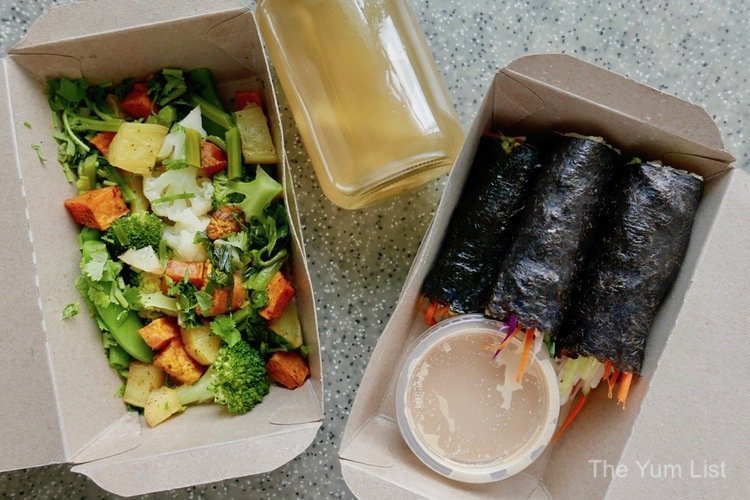 7-Day Plant-Based Cleanse KL Price & Payment
The 7-Day Plant-Based Cleanse KL is priced at RM490 for lunch, dinner and snacks for the entire week. Payment is made by making a deposit into the Food Matters bank account a week before the program begins.
Is the 7-Day Plant-Based Cleanse KL Zero-Waste?
There was very little plastic used in the delivery with glass jars and cardboard boxes used for the majority of items. On the last day, they welcome you to send back the glass jars for reuse. While there was far less packaging used than regular food delivery companies, if I were to do it again I might ask to provide my own reusable containers, and I think the team at Food Matters would be more than willing to oblige.
7-Day Plant-Based Cleanse KL Review
There is such a diversity of plants (far greater than there is of edible animals) so it really isn't too hard to go meat-free for a week. I'm guessing the most challenging for many would simply be rethinking what they can eat not what they can't eat. The Plant Power Cleanse team makes giving this lifestyle a try extremely easy by doing the planning, grocery shopping and preparation for you. While I was hungry on the first two days, my body soon learned to adjust and I found snacking on fruit and drinking herbal teas (which is allowed) satiated my appetite. The recipes provided were tasty and I particularly enjoyed the small treats provided daily. For those wanting to give plant-based eating a try, the 7-Day Plant-Based Cleanse KL with The Plant Power Cleanse is a painless way to begin.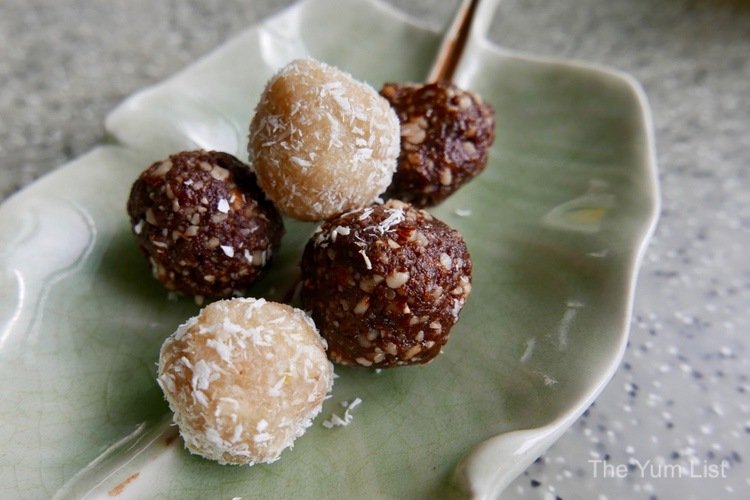 The next 7-Day Plant-Based Cleanse KL begins on March 25th.
Contact Alex on +6012 377 2165 to sign-up.
Find them on Instagram @plantplowercleanse.
Want to continue with a plant-based diet? Find restaurants in Kuala Lumpur with lots of vegetarian options here.