El Toro Loco KL
Words: Monica Tindall
Photos: Rich Callahan
It didn't take us long to find the newly opened Spanish restaurant and bar in Kuala Lumpur, El Toro Loco at Fraser Place. Our noses are quick to sniff out a glass of sangria and a slice of tortilla Española. Parked on a corner of the building with both a covered outdoor patio and air-conditioned interior, it's a stellar location to graze and imbibe on both.
The initial menu concept was developed together with Spanish Chef Marc Torices from El Kabron Bali. Another Spaniard, Chef Pau Brossa, currently keeps things authentic heading the kitchen team at El Toro Loco and is the one to walk us through the menu today.
El Toro Loco Menu – Drinks
Cocktails are always an appropriate start don't you think? El Toro Loco offers a handful of signatures as well as the classics. To get a taste of their creativity, it's the former that we order. Lucia in the Sky (RM46) takes my fancy with its topping up with Taittinger Champagne over a base of vodka, lime juice and mint. And with a claim, "just the best in town!" we must also give the Strawberry Margarita (RM46) a whirl. The former is perfect for a hot afternoon and the latter features a sugar rim, freshly muddled strawberries, tequila, Cointreau, lime and lemon juice, simple syrup and strawberry syrup. It's a good balance of sweet and mildly tart. Both both go down deliciously. Salud!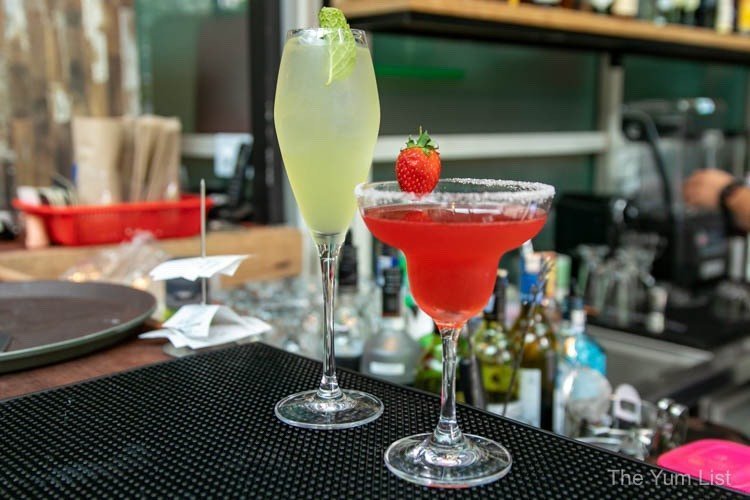 El Toro Loco KL Menu – Food
Depending on who you ask, the difference between pinchos and tapas varies on which part of the country you're eating them in, whether or not they're "pinched" with a skewer or just a smaller portion of what could be a meal. Generally, though pinchos are often served as an aperitif (and are more commonly found in the north of Spain), whereas tapas can be both nibblies and an entire meal. At El Toro Loco, pinchos are served on bread held in place with a toothpick and tapas are, as mentioned, suitable for snacking or for combining into a more substantial dinner.
El Toro Loco Pinchos
Two pinchos, De Txaka (RM15) and De Champiñon Iberico (RM24), are fitting bites for our cocktails. The former serves up Spanish crab salad with piquillo pepper and piparra atop a slice of baguette. Piquillo means little beak in Spanish and these red peppers, so named for their shape, are mild and sweet in flavour. Piparra are pickled green chillies and these add a nice tang to the seafood. The latter pincho sees the classic, Iberico ham, topping a grilled mushroom seasoned with a piquant vinaigrette. It's quite an eye-catching presentation with the ham draped over the tall skewer. There's plenty of olive oil and as we slide the ham down the skewer and squish the bite altogether it squeezes out the sides leaving our lips happily lubricated.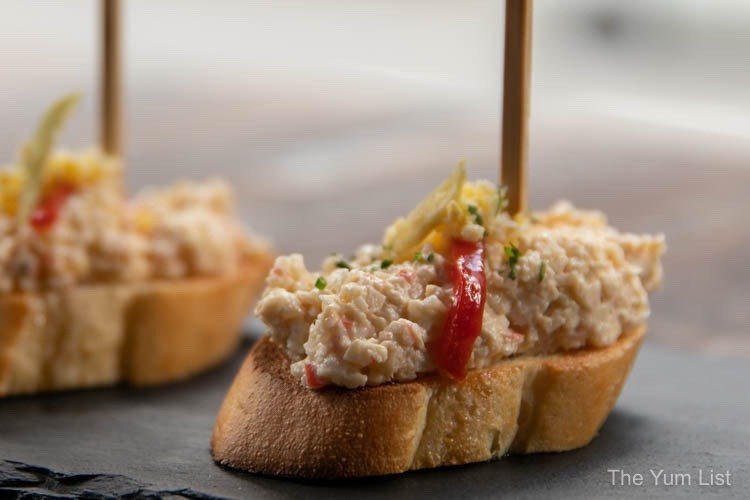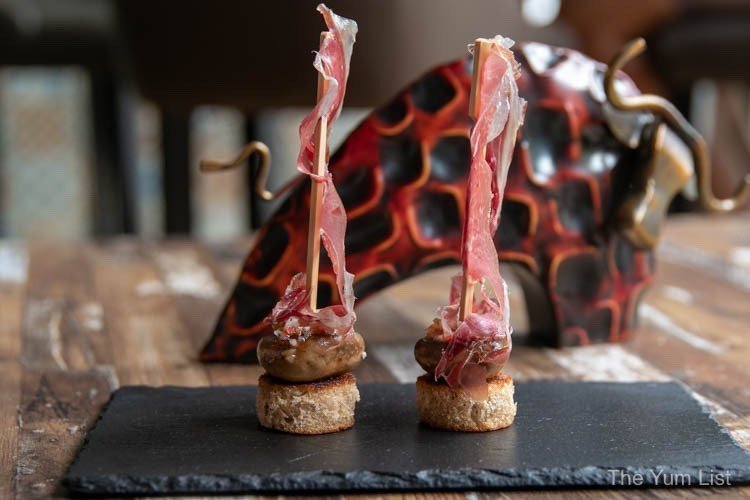 El Toro Loco Sangria
Sangria Bianco (RM26) or Sangria Tinto (RM26), made with white and red wine respectively, are well-chilled and provide suitable material for washing down the rest of the meal. Bartender Chris lets us in on his secret recipes. El Toro Loco's combination adds gin, Triple Sec and dry vermouth to sauvignon blanc and tops it up with Sprite and bitter lemon for the white sangria. The red sees shiraz, dark rum and red vermouth over a base of strawberry, orange and apple cubes topped up with Fanta, Sprite and bitter lemon. Both are tasty and go well with food. In the end, it's a simple choice of red, white or both.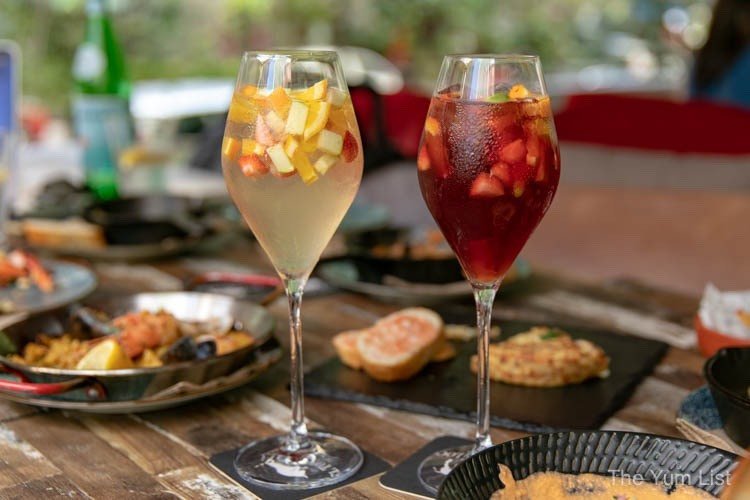 El Toro Loco KL Tapas
When ordering tapas you can choose just a few as a light snack or an assortment adding up to a whole meal. The simplest things are often the hardest to master and so our first couple of choices prove a good judge of the solid foundation on which El Toro Loco's menu is based.
Tortilla de Patatas (RM18) is possibly my most endeared tapa. This traditional potato omelette is presented whole alongside "pan con tomate." The side consists of toasted bread topped with mushed tomato, olive oil and garlic and is considered a staple in Catalan cuisine. Both are extremely simple recipes but with quality ingredients can be oh-so-satisfying.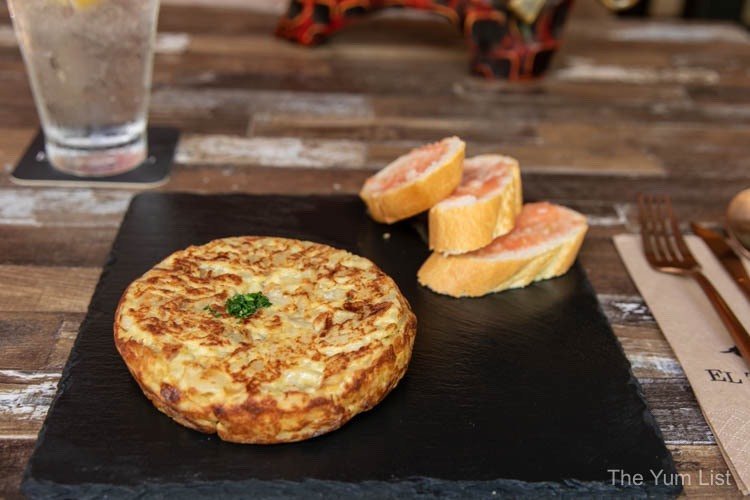 Croquetas de Jamon (RM15, 5 pieces) is another classic and this version is filled with Serrano ham. The chef has mastered the thin crunchy coat that is both elegant but stable enough to encase the creamy interior.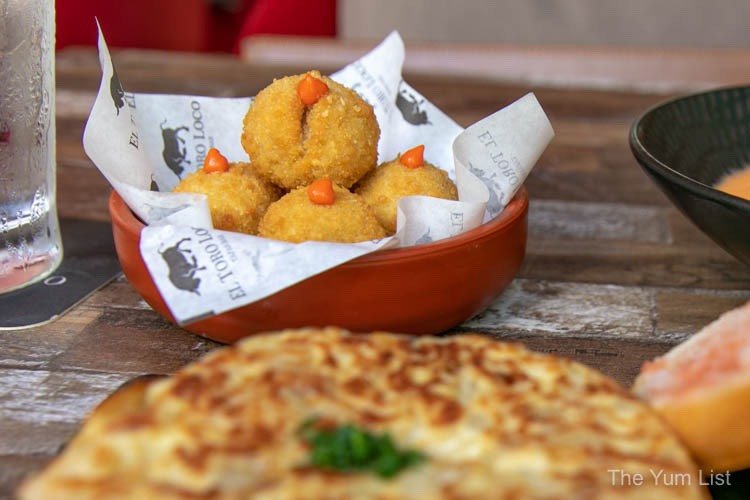 You know I love my veg and so the Champiñones y Alcachofas al Ajillo (RM 21) is a must. A cocotte of mushrooms and artichokes are cooked together with olive oil, garlic and chilli. It's best eaten using the side of bread as a scoop and quickly to consume it while it's still hot.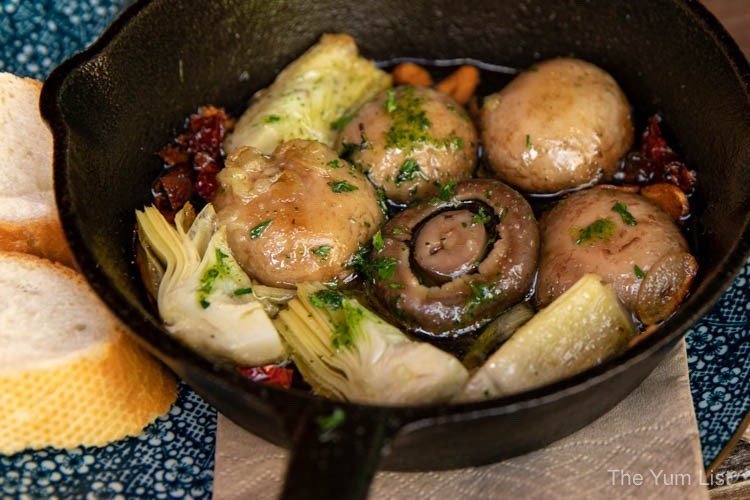 Of the multitude of Spanish recipes, Paella (RM29) seems the one to have most widely reached foreign shores. This rice dish varies from region to region with the interior mostly using chicken, rabbit and vegetables as key components whereas seaside locations make versions rich with seafood. El Toro Loco KL's recipe hails from seafaring origins with fish stock, prawns, clams and squid providing plenty of protein. It has the distinctive, socarrat – caramelised edges – signifying a perfectly cooked paella. You must scrape these up from the sides to really appreciate its authenticity.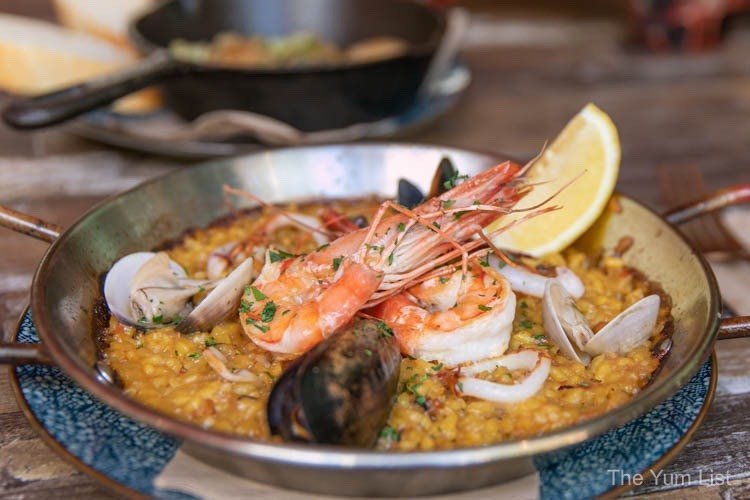 Gambas al Ajillo (RM 33) is another tapa that seems to be known world-wide and when I quiz the staff as to their favourite dish this is the first answer. Hailing from the south of Spain, these shrimp cooked in olive oil, garlic and chilli rely on quality ingredients put together simply to allow their natural character to shine. Don't waste that oil that remains in the bottom of the pan! Use the thin slices of baguette that side the dish to mop up final drops.
Ceviche from Peru and the chilled Spanish tomato soup, gazpacho, on their own are both excellent warm-weather dishes. The kitchen team at El Toro Loco KL, however, have combined both loves into the Ceviche Agazpachado (RM22), turning two classics into a modern happy marriage. Grouper is "cooked" in leche de tigre, a marinade of coriander, lime and chilli and gently scooped atop the tomato soup. It's the only recipe on the menu that detours from tradition but a successful diversion it is.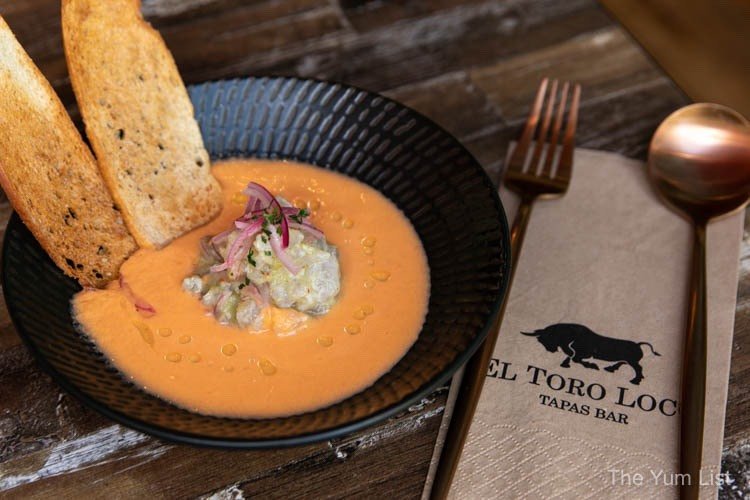 Lastly, from the tapas menu, Rabo de Toro Estofado (RM29) – bull tail stew – introduces a casserole found all over Spain. It's said to have originated in the south in Andalusia and was traditionally eaten after bullfights. Today, however, the meat could also be ox or cow. With the meat being quite tough and boney, a lengthy cooking period is needed to soften it. Here Chef Pau has given due diligence and the plate that arrives at the table is full of flesh that is nothing less than succulent.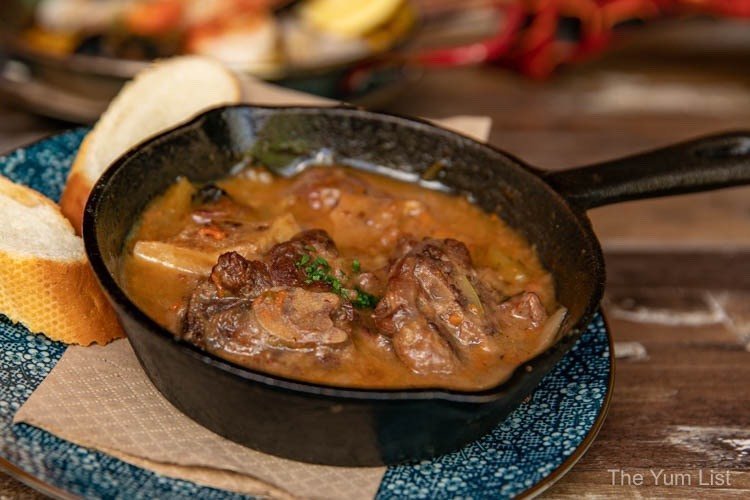 El Toro Loco Menu Desserts
There are only four desserts on El Toro Loco's Menu and Chef Pau recommends all of them.
A traditional cheesecake from the north, Tarta de Queso Asturiana (RM20), is proof that dessert is certainly not an afterthought. This baked cheesecake is a famous recipe from Asturias combining cream, egg and cream cheese. A scoop of mixed berry compote spooned over the top breaks up the richness with its pleasant whisper of sour.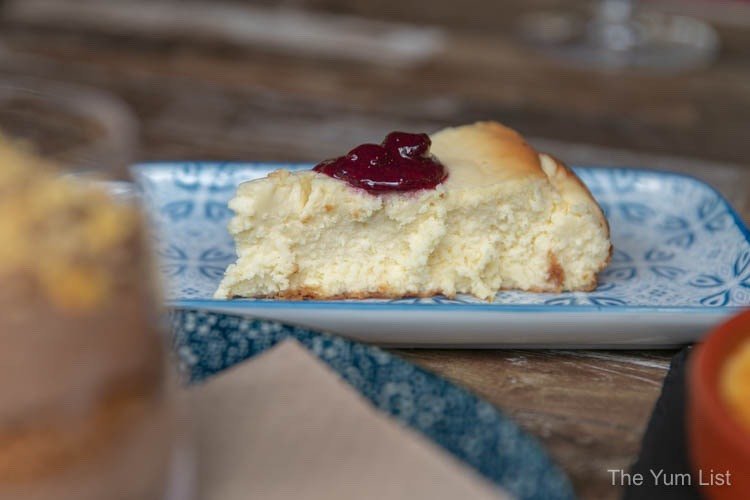 Catalan style crème brulee, Crema Catalana (RM19), and Flan de Nata with almond biscuit are an excellent comparison of the same ingredients done in different cooking techniques. When we compliment the chef on the quality of the custard, he humbly agrees that it's good but the best one in his opinion is his grandmother's. He says that it's an identical recipe but never tastes quite the same as when his abuela makes it. Crema Catalana is distinct from the rest of the world's crème brulee in that the base is more liquid custard than solid. The top is the classic torched sugar but after you break the seal, your spoon is left with minimal resistance. Flan de Nata, on the other hand, is a velvety smooth mould of firm custard covered with a thin caramel sauce. I think you should order both – all in the name of research, of course.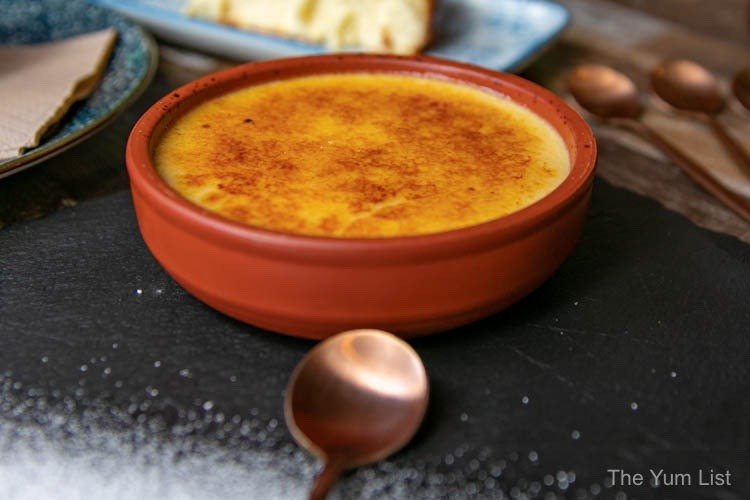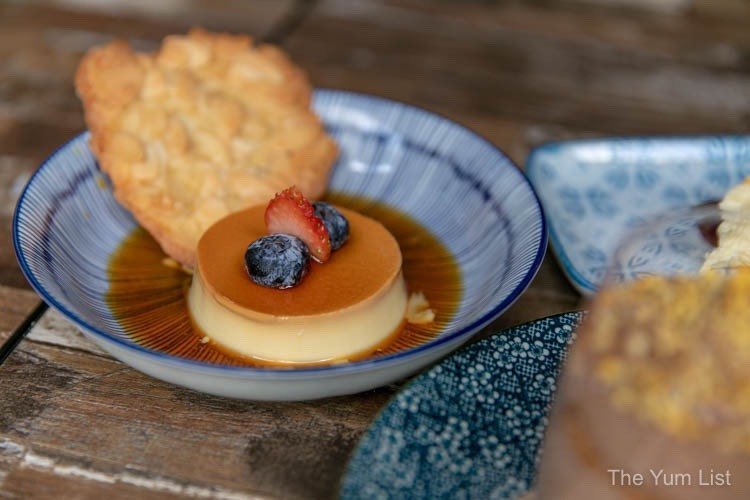 Lastly, guess the top of the Mousse de Chocolate (RM20)! It's not crushed pistachios. It's not brittle. It's actually fried corn! Layered with crumbled biscuits and chocolate biscuits, the aerated mousse shows its lightness via bubbles viewed through the side of the glass. It's like no mousse I've tried before. The toasted corn adds an incredible flavour to the cacao and the raspberry compote contributes a strand of tang.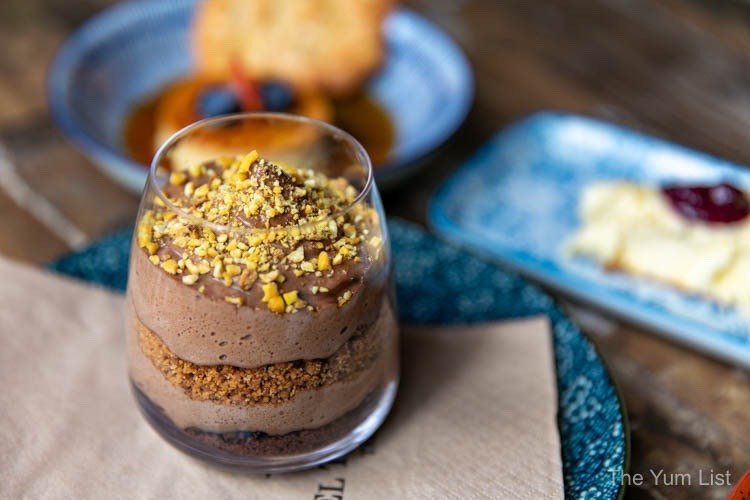 Reasons to visit El Toro Loco KL: a pleasant indoor/ outdoor setting in KL's city centre; one of the few places in the city with a late night kitchen; authentic Spanish recipes; must try De Txaka and De Champiñon Iberico pinchos, Ceviche Agazpachado, Paella and be sure to save space for at least one of the desserts – chocolate lovers should go with the mousse but those curious about the subtle differences found in crème brulee around the world the Spanish version, Crema Catalana should definitely be given a taste.


El Toro Loco KL
Spanish Tapas Restaurant & Bar KL
Fraser Place, 10 Jalan Perak
50450 Kuala Lumpur, Malaysia
+6 03 2181 7388
www.facebook.com/etl.kl
El Toro Loco KL opening hours:
Daily 12 noon – 12 midnight (but in reality, when the last customer leaves)