Words: Matt Jones Photos: Rich Callahan
To be honest, I'm not quite sure what I was expecting when Monica asked me to accompany her to Improv Bistro in the Wisma Lim Foo Yong building on Jalan Raja Chulan. Promoting itself as a 'bistro that hosts live bands and music performances, open-mic and stand-up comedy, art gallery and library,' it was hard to imagine exactly what kind of place we were heading to.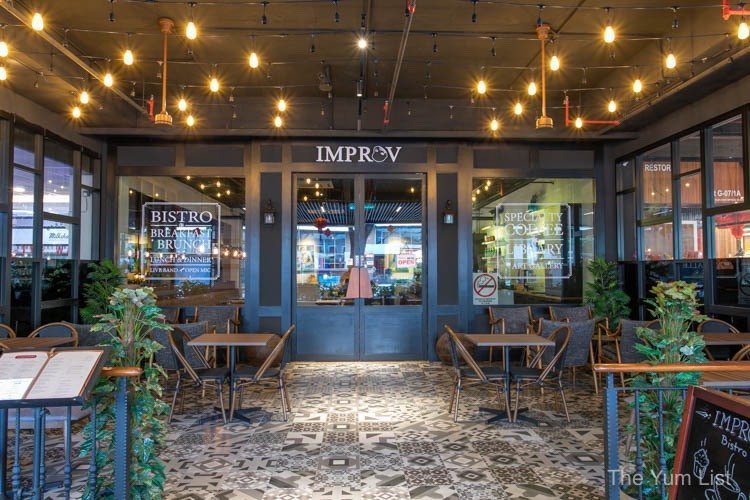 Improv Bistro KL
Upon arrival, we were met with an impressive loggia housing a wonderfully relaxing outdoor lounge area, and impressive double door entry, all very sleek and city-sophisticated in slate-grey with a stunning black and white mosaic tiled floor.
Inside, the sophistication and impressively elegant interior continued. Echoing a luxe contemporary Parisian ambience, the generously proportioned space is zoned into non-dedicated areas that give a wonderful sense of calm and relaxation. The front section hosts a long white bar with bar stools and a leather upholstered wall of banquette seating and individual tables. Further in, the space morphs into a library and gallery area, with the open-mic and live music stage standing as a proud altar to entertainment at the far end. Views are maximized from any vantage point.
In a palette of layered coffee and chocolate tones, the expansive walnut timber floors are softened with the occasional Persian rug. The duality of white and timber topped tables and the carefully curated selection of four different Hans Wegner iconic chairs allow the venue to craft a multi-functional set of spaces that are at once open and inviting yet also private and intimate. The library area with its vast collection of new and second-hand books (which are for sale for only RM5-10, all proceeds lovingly donated to charity) is a cosy vignette with a warm inviting living room feel, where you can easily while away hours absorbed in a book while the rest of the bistro buzzes and hums along around you. The entire scheme is a homage to modernist mid-century and contemporary French style.
Opened only six weeks when we visited, the concept behind Improv Bistro is to create a home-like feel where everybody can come and read a book, watch a movie, browse the art collection and eat exceptional French regionally-inspired food.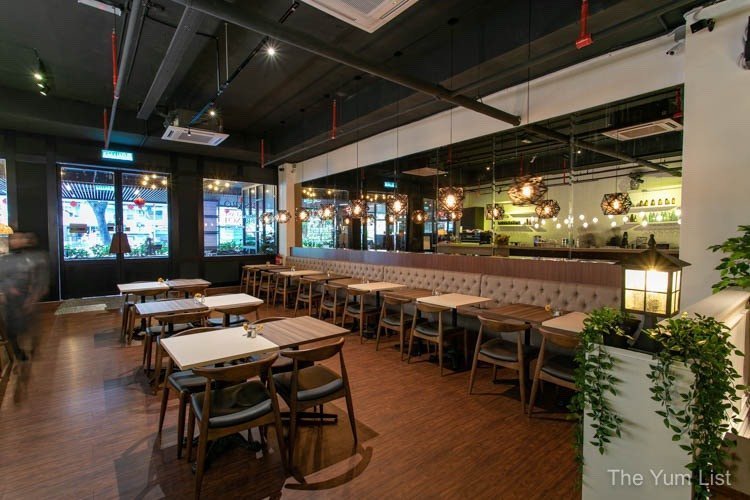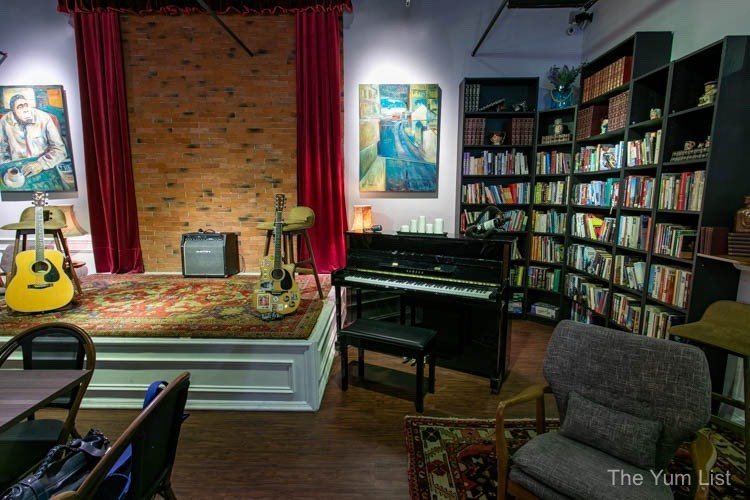 Improv Bistro Menu
Perusing the sumptuously leather-bound menus, we learn that everything is made in house, sourced for the finest of quality, organic where available and of the highest provenance possible. It took them over a week to perfect the blends of Australian fruit and veg alone in order to create the purest of juices extracting the maximum natural flavour! The coffee is also an Australian import, and all bread, pastries and cakes are made in-house (including the jams, compotes, sauces and sides).
The incomparable Chef Lance U'ren is the mastermind behind the menu. I'm not sure which was more enjoyable: Monica's unrestrained groupie-like excitement at discovering he was here at Improv Bistro standing right in front of her (apparently they share a culinary history), or the exquisite dishes that he kept crafting for us.
Improv Bistro Starters
The Duck Rillettes (RM15) is a beautifully presented timber platter of duck rillettes, three kinds of pickles and a stand of toasted sourdough. The Chicken Liver Pate (RM22) with its pots of black caviar, pickled beetroot and red wine vinegar with toast, and the Salmon Rillette Platter (RM TBA) with its three sides of seared baby corn, diced carrot and sliced white plum, again with their home-made toasted sourdough fingers, were sublime.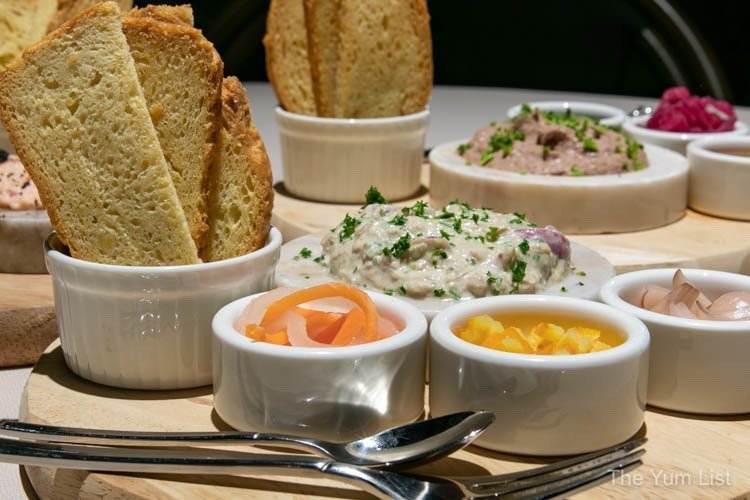 Improv Bistro Brunch
From the brunch side of the menu, Eggs Benny (RM15) is a visual feast of two poached eggs "oooohhh, with runny egg yolk", smiled Monica, on a big fat square of buttermilk waffles. Lightly wilted spinach, apple cider hollandaise and a mixed herb and arugula garnish complete the base. We added the creamy Corned Beef (RM9), which really amped up the heartiness.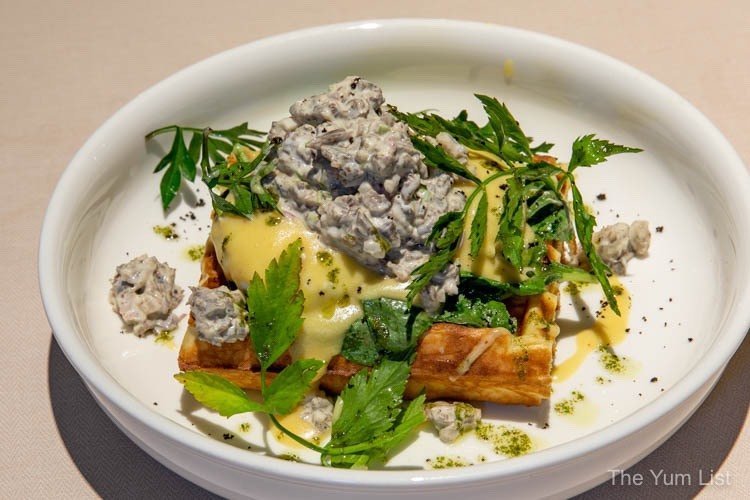 Another brunch favourite, the Berry French Toast (RM27.60), is not for the delicate or faint of heart. A timber platter of two thick-cut slices of brioche French toast was piled with whipped cream, slivered baked almonds, a mixed nut praline and sliced fresh strawberries. To add even more sweetness a pot of summer berry jam and a mini jug of honey are at your service.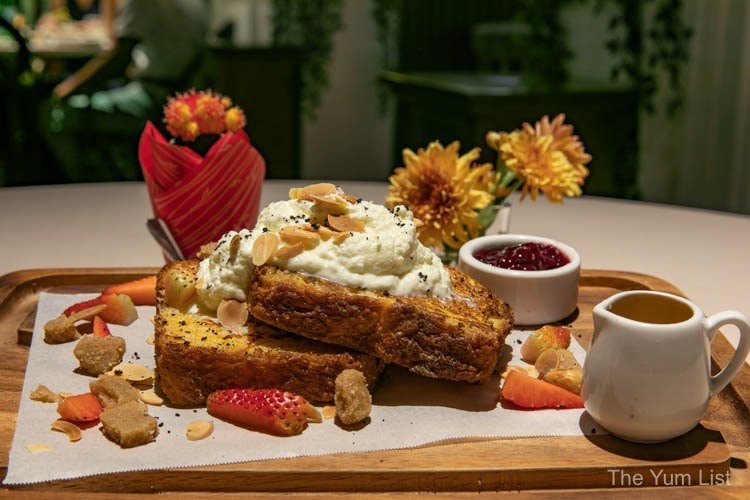 Two Craft Smoothies (RM18 each) went perfectly with this side of the menu. The Summertime Smoothie of fresh mango, banana and pineapple were bursting with a bright orange hue and freshness. Served in a highball with a sliced strawberry garnish it was a very attractive drink. I feel I must apologise here to Monica and Rich for consuming the entire thing myself because I can honestly say, "Best. Smoothie. EVER." The All Berries Smoothie is equally rich and decadent, garnished with sliced red dragon fruit and strawberry.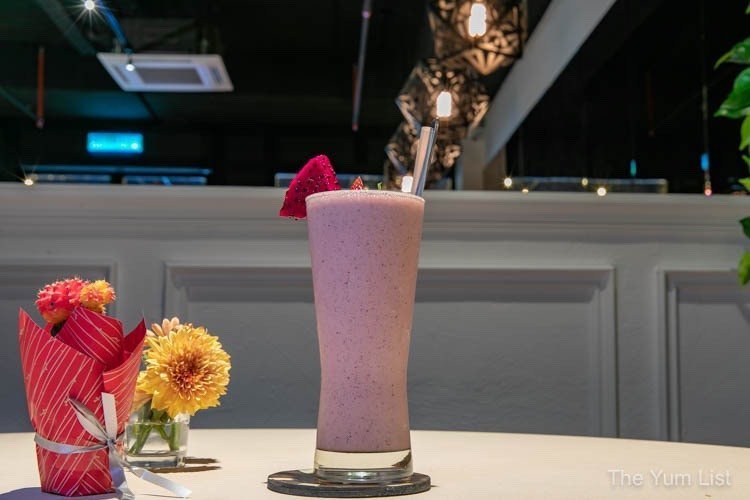 Improv Bistro Menu – Mains
To continue, Boneless Duck Leg Confit (RM48) was our first main and turned out to be mine and Monica's favourite dish. Lance's French fine-dining plating artistry really makes its mark here. The boneless dug leg sits atop potato mash surrounded by dots of orange carrot puree. Char-grilled pickled onion gravy vessels (adorable!) were capped and sealed with slices of white plum (the fruit from which asam boi is made). The garnish was not only a stylish but an essential component of the overall profile.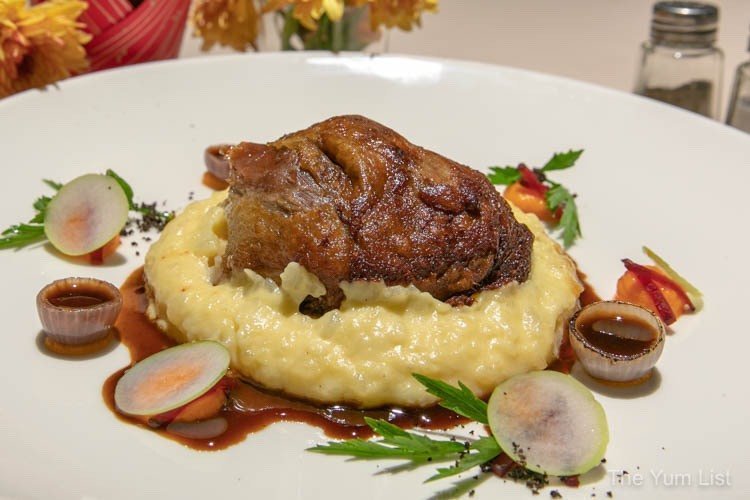 Pan-seared Butterfish (RM39) was a delicately flavoured white-fleshed sea fish with grilled turmeric eggplant, yoghurt and coriander sauce and tomato salsa on a potato puree. Expert cooking technique kept it moist and flaky and the delicious accompaniments added layers of complexity.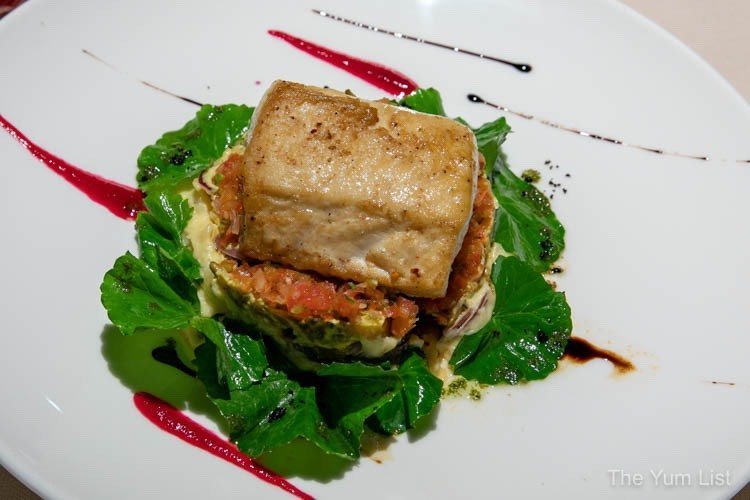 Sumptuous Meatballs (RM38) more than lived up to their name. A juicy baked beef meatball explosion from a traditional Swedish recipe using lots of caramelised onions and loads of beef jus is sure to please the meat-lovers. A delightful sweetness was lent with barberry jam and gravy and pommes puree played well with tradition. It was all set off with semi-translucent dill-marinated cucumbers.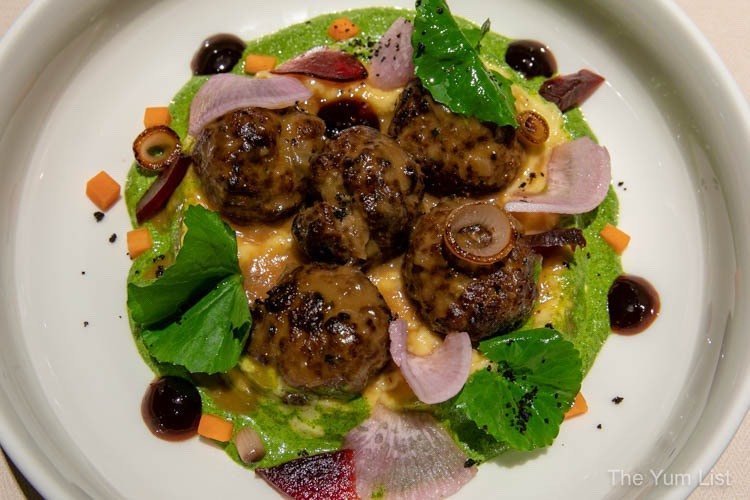 Must-try dish alert: The Cold Tomato Salad (RM32) with Cameron Highlands' heirloom tomatoes was very enjoyable. A mix of sizes and colours were accompanied by jellied balsamic pearls and a scoop of the most divine basil and buffalo mozzarella ice cream. The sheer textural and taste combination is genius.
Improv Bistro Menu – Desserts
A perfect segue into the "To Finish" menu (portioned in 'for-sharing' sizes), Pavlova (RM22) is a whole not-so-miniature pav traditionally topped with sliced banana, passionfruit, red dragonfruit, fresh whipped cream and dark chocolate shavings with sprigs of fresh mint. A generous wedge of Moist Chocolate Cake (RM15) from the display at the barista end of the bar was a flawless complement to a quality cup of coffee.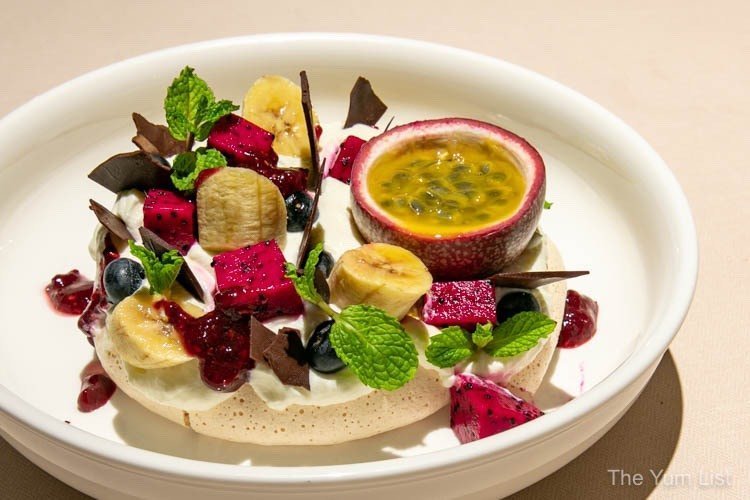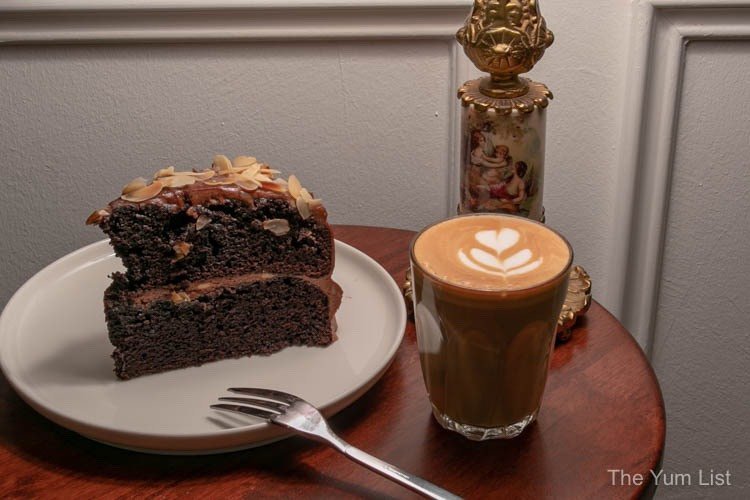 Improv Bistro KL Review
With a focus on seasonal produce, the menu at Improv Bistro uses only the freshest of ingredients and reflects the talents of a master chef. The setting is absolutely delightful and we could all imagine ourselves nestled in the library with multiple cups of coffee for hours or enjoying a beautiful meal serenaded by live music performances. Improv Bistro is a fantastic addition to KL's culinary scene so 'raise a glass to life' and spoil yourself in the sumptuous splendour of this new meeting place.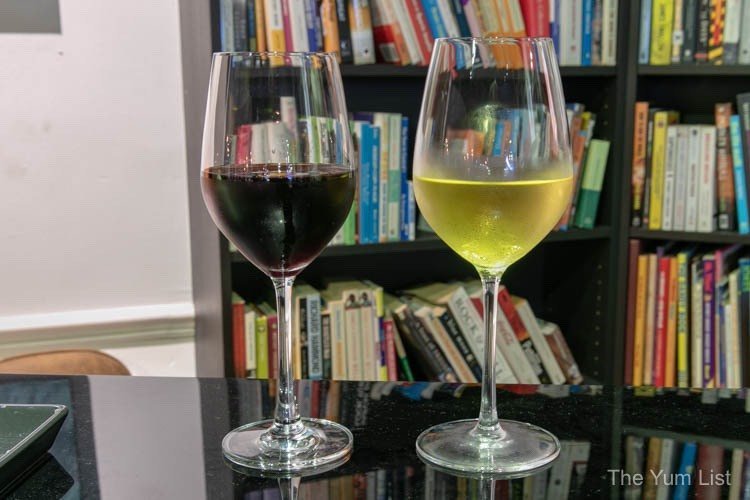 Reasons to visit Improv Bistro: a stylish bistro conveniently located in the city centre with live music performances, an inspiring book collection and rotating artist's pieces adorning the walls; good coffee; great smoothies; must try the duck rillettes platter, boneless duck leg confit and cold tomato salad; very generously sized desserts.
Improv Bistro KL
Lot 6 Wisma Lin Foo Yong
86 Jalan Raja Chulan
Kuala Lumpur 50450
+60 16 203 3364
www.facebook.com/improv.kl
Improv Bistro Opening Hours
Monday to Thursday: 11am – 10 pm
Friday and Saturday: 11am – 12am
Find more European-style restaurants in KL here.