Words & Photos: Monica Tindall
There is no denying that I have a great fondness for Italian food. Spending many summers in Italy and being blessed with a number of friends who are Italian chefs, I think my taste buds have been spoiled for choice. What I enjoy most about the cuisine is the focus on a small number of quality ingredients simply put together allowing the character of each to shine. I'm hoping to find this core philosophy in Eatalia Bansgar, which we're visiting today for a late lunch.
Footloose and Dirty Dancing tunes have us tapping our toes as we enter the open restaurant that spills onto the street with a covered patio and potted plants. Stripy Vespa scooters and matching helmets, a wood-fired oven and stacks of wood, and long communal tables adorned with herbs and olive oil bottles are immediately attractive. The space is very pleasant and the staff greet us warmly.
Eatalia Menu – Bangsar
The first things that stand out on the menu at Eatalia Bangsar are a clear focus on fresh pasta, house-made pizza and dishes cooked in the wood-fired oven. The giant magazine-style menu is vibrant and easy to navigate with colourful photos matching precise descriptions of each dish. We are going to do our best to try at least one recipe from each section of the menu but there are only two of us today so wish us luck!
Antipasti
Meat-loving hubby eyes the Carpaccio di Manzo (RM24) with great affection. Thin shavings of raw beef are accompanied by olive paste, rocket leaves and shaved Parmigiano. A light balsamic and olive oil dresses it bridging the soft meat and crisp bitterness of the leaves.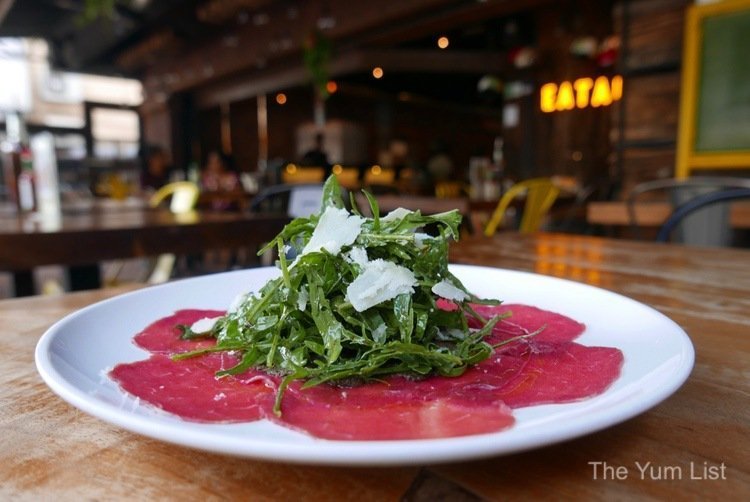 Insalata
I'm always on the lookout for meat-free choices and so my first pick is the Insalata di Rucola (RM22). A simple combination of verdant fresh rocket is sweetened with pears and given another layer of flavours with Grana Padano and toasted nuts (today its almonds and walnuts). Lastly, a thin drizzle of lemon dressing brings the profile to full fruition.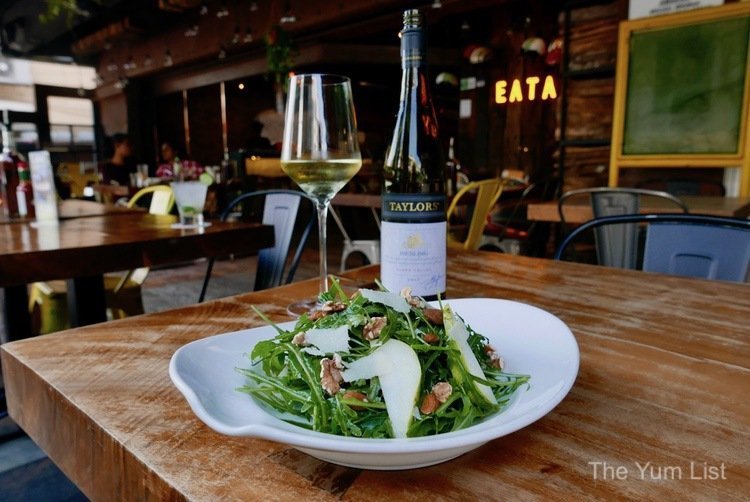 Almost opposite in hue is the Caprese (RM28) with cherry-red tomatoes providing a palette of red broken only by soft white buffalo mozzarella and fresh basil leaves. It's generous in portion and celebrates all that is Italian – an honouring of quality ingredients.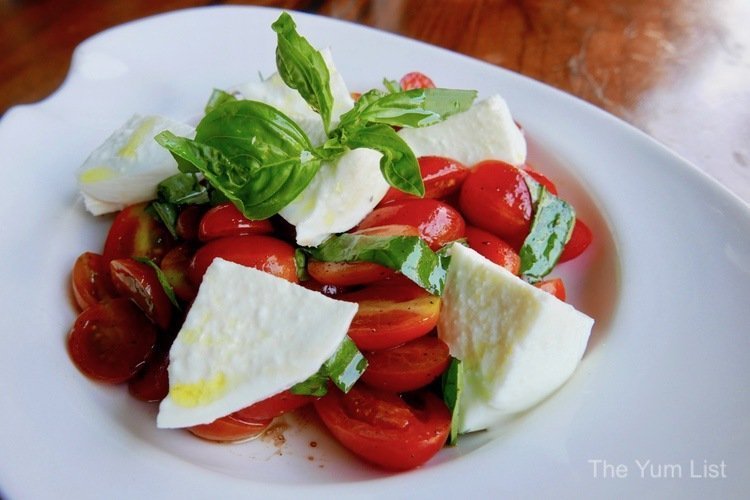 Eatalia Bangsar Menu – Drinks
It's a warm afternoon and hence our drink selections are partly influenced by the weather and in part by the food. Hubby kicks off with a Caipiroska (RM30). This Russian twist on a Brazilian cocktail is excellent when the temperatures reach sweltering levels. The traditional cachaça is replaced by vodka in Eatalia by Brava's recipe and accompanied by lime and sugar.
I, on the other hand, head straight to the wine menu with a familiar drop from South Australia. Taylors Wines Clare Riesling (RM178) is always a good choice in my book (this region produces some fantastic cool climate Rieslings). Citrus, pineapple and elegant floral aromas are found in the nosing followed by a crisp acidic palate. Well-chilled it makes perfect afternoon quaffing but also mates well with our salads.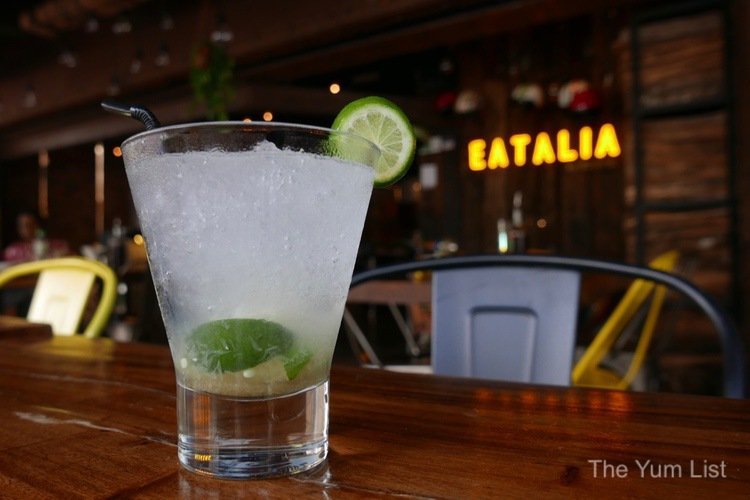 Zuppe
Hubby and I are both fans of good pumpkin soup. If you have a quality cut of pumpkin, you don't need to add too much else to make it delicious. For the Crème di Zucca (RM14) at Eatalia Bangsar, the team first roast the squash in the wood-fired oven bringing out the flavours of the vegetable. Croutons and beef bacon bits add a bit of crunch mixing up the texture. It's a rustic rendition, roughly blended, getting a thumbs-up from both of us.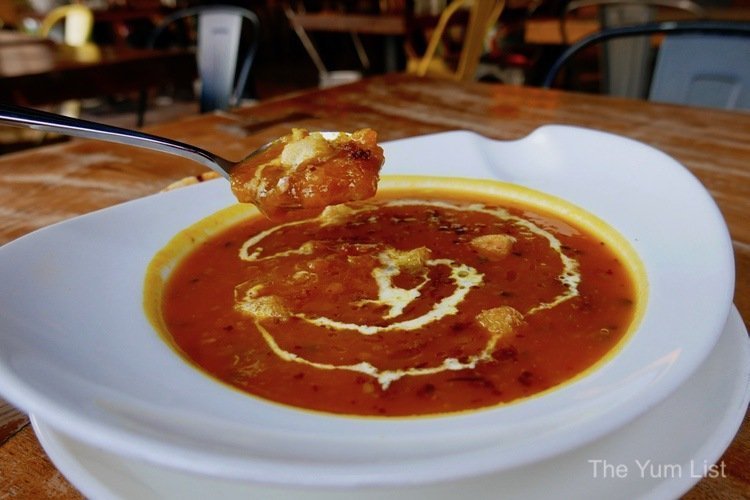 Fresh Pasta
I count over 20 types of fresh and dried pasta on the menu and seeing they make the fresh options in house, that's how we narrow the alternatives. Ravioli Spinaci e Ricotta (RM25) offers a meat-free recipe. The envelopes are a little softer to the bite than I'd expect (but I know many of the local crowd prefer pasta this way) and filled with a generous amount of ricotta and leaves. Melted butter, sage and Grana Padano adds a definite richness to the recipe. Isn't sage and butter just a wonderful combo?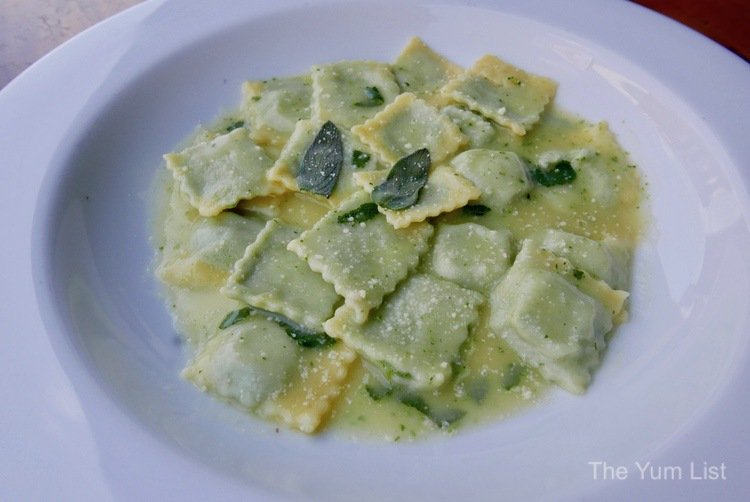 Pizza
Eatalia Bangsar has a large selection of pizza proudly cooked in their wood-fired oven. Crusts are all made fresh in house and there is even a complimentary pizza making class every Sunday for children at 12 noon. We try the Rucola (10" RM21), which is basically a Margherita base bulked up with cherry tomatoes, Parmesan cheese and sprinkled with rocket leaves. The simple combo of red and green veg atop a decent crust is very satisfying. While the crust is not an example of Italian tradition, it is thin yet strong enough to hold an abundance of ingredients. I'm not a big meat eater and hubby is off gluten but the Brava with pepperoni and the Bresoala with air-dried beef are Eatalia's best-sellers.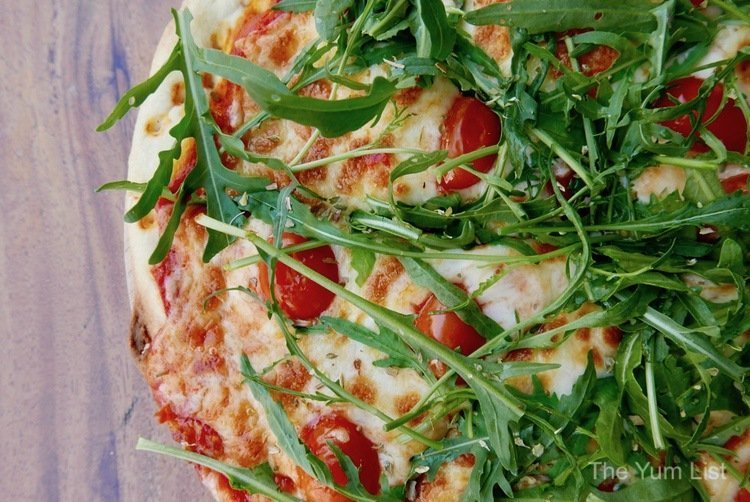 Fun fact: The boss himself, Leon, built the pizza oven by hand!
Secondi Piatti
Hubby had picked the Filetto di Manzo Al Pepe Verde (RM68, 120 grams) before even considering starters, soups, salads or anything else on the menu. I credit his love of Aussie steak to time spent on the farm in Australia and this cut, charred on the edges and pink in the middle, brings memories of outdoor barbecues flooding back. The Australian Black Angus striploin is accompanied by grilled veggies arranged in a series of stripes on the plate.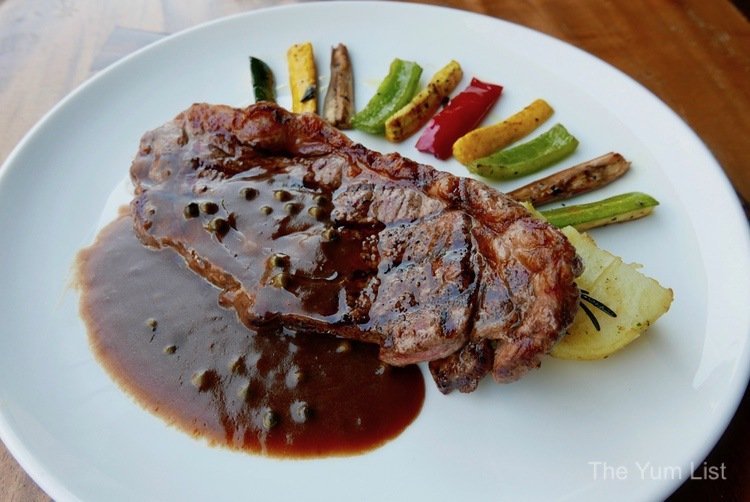 The chicken came highly recommended. Petti di Polla Alla Spinaci e Ricotta (RM28) looks gorgeous on the menu with a bright orange bed of pumpkin mash holding a golden roasted breast of chicken. We're happy to see that the real deal matches the image and find the breast stuffed with a tasty mix of spinach and ricotta cheese. A mushroom cream moistens the top and sprigs of fresh rosemary add both vibrancy and a herby aroma.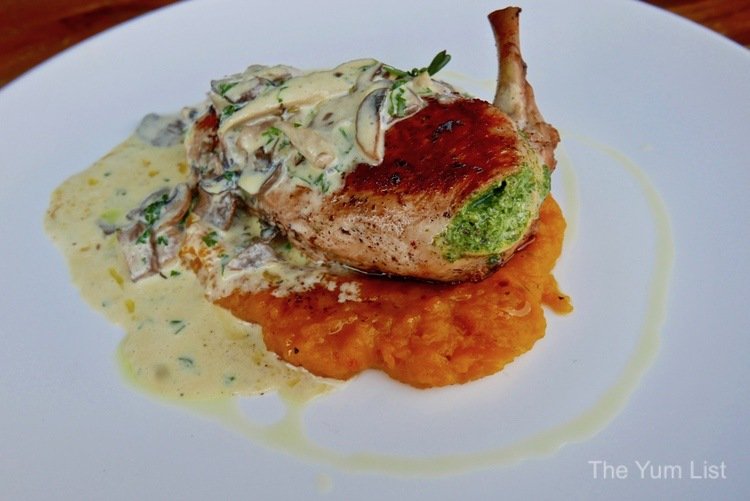 Eatalia Bangsar Menu – Dessert
A handful of desserts is all that is needed to end such a filling Italian meal. I like the petite sizing of the Tartufo (RM10), which is a ball of vanilla and chocolate ice cream rolled in crushed almonds and dusted with cocoa powder. Hubby can't go past something creamy and the wobbly cone of gelatine cream topped with forest berries, Panna Cotta con Frutti di Bosco (RM13), meets his approval. We think we've had enough sugar but the staff insist that we're missing the most ordered item, the Tiramisu (RM16). Made in-house (as is everything else), ladyfingers are dipped in coffee, layered with a whipped mixture of egg yolks and mascarpone and flavoured with Marsala.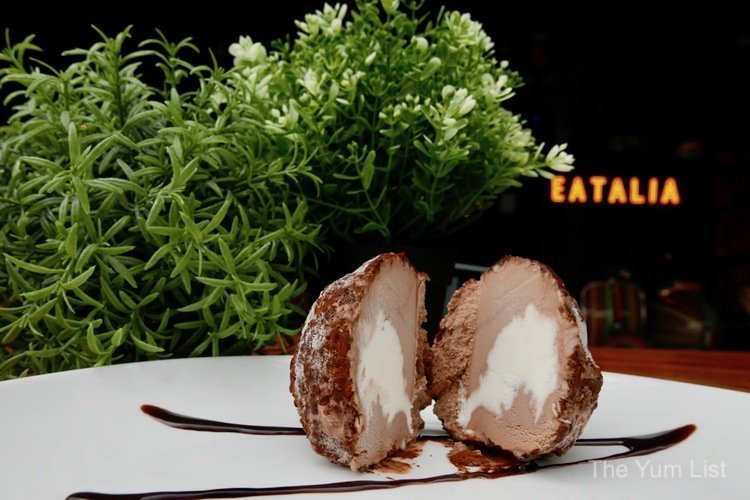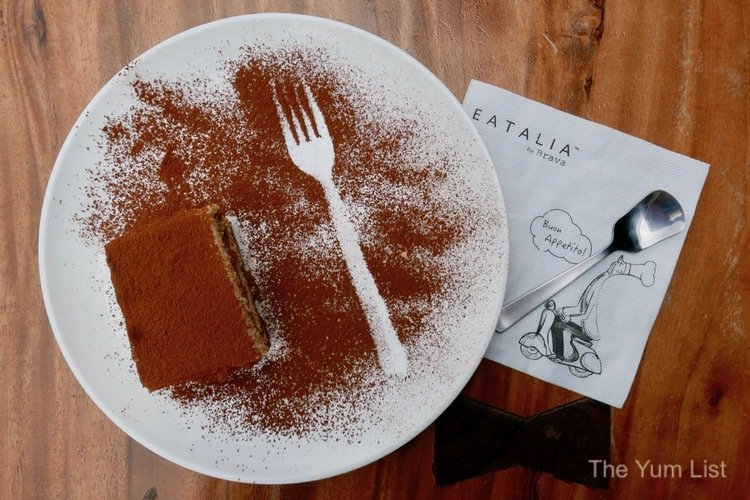 Reasons to visit Eatalia Bangsar: relaxed, friendly and attractive setting; wood-fired oven; complimentary pizza making classes for kids on Sunday; we loved all of the antipasti with vibrant, super-fresh veggies; the rustic pumpkin soup was yum and our favourite main was the chicken stuffed with ricotta and spinach; white wine lovers should enjoy Taylors Wines Clare Riesling – it's a delicious drop.
Eatalia Bangsar
25, Jalan Telawi 2
Bangsar, 59100 Kuala Lumpur
Malaysia
+6 03 2288 8188
www.eataliabybrava.com
Eatalia Bangsar Opening Hours
Daily 11 am – 12 midnight
Eatalia by Brava Bangsar is a pork-free restaurant