Words: Matt Jones Photos: Monica Tindall
Like a wonderful jewel secreted away in a hidden compartment of the jewellery box, Kikubari rests enigmatically at the top of the stairs in DC Mall, Damansara Heights. Weaving our way around the column of bamboo poles to arrive at the glazed wall displaying the (significant and spectacular) wine store, we are whispered inside. A shrine to fine contemporary Japanese cuisine, Kikubari is much, much more than the simple 'sake, wine and tapas bar' suggested by the entrance.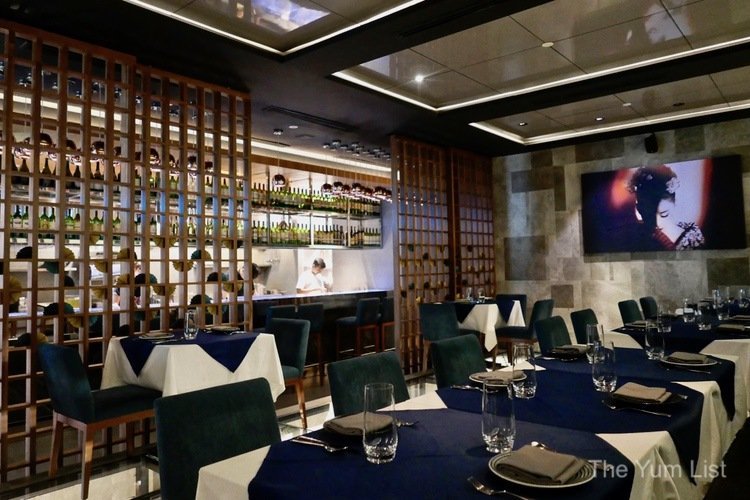 Kikubari Japanese Restaurant
The stunning interior is a layered pastiche of the Japanese fan motif, appearing and recurring throughout all elements of the space. From the stunning under-lit classic blue and white glass bar top to the sunken sand sculpture Zen garden (lit beneath the floating glass platform floor), through to the delicate origami paper fans adorning the bamboo timber screen walls; all is overseen by photographic geisha portraits, themselves hiding coyly behind vintage Japanese ogi.
A long open runway of a kitchen struts behind the bar for that traditional sushi chef experience, where you can interact with the chefs and be personally served, or retreat to the stylish sophistication of the dining room. Right down to the LED back-lit menus, everything about Kikubari screams attention to detail.
Kikubari Menu – Degustation
Steered towards starting with a sparkling sake by our equally sparkling sommelier Yuhei to "whet the appetite for the snacks", he pours us a Saito Sparkling Sake from Kyoto (RM100/300ml). As we were having the five-course degustation menu (RM398++) with sake pairing (add RM198++), this was an excellent pre-dinner kick-off to proceedings.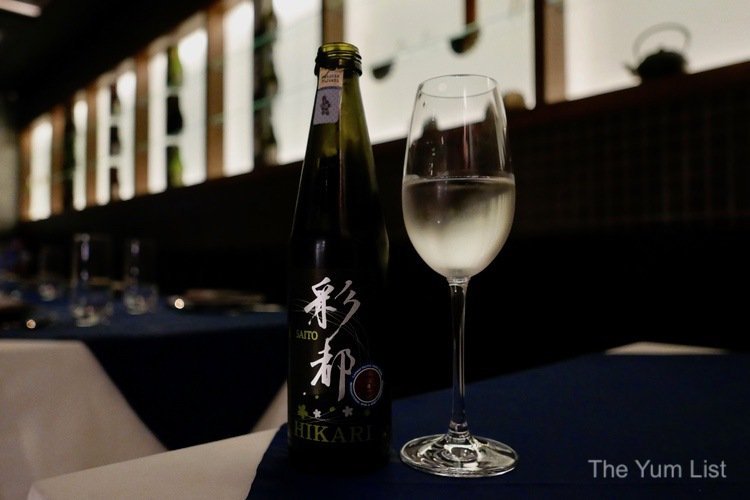 Kikubari Menu – Amuse Bouche
A second recurring motif throughout Kikubari is the repetition of three, evidenced in each dish (and sometimes as elements within a dish itself). Case in point, the amuse bouche came in a series of three snacks, with instructions to eat in a particular order by Chef Jun Wong, master-mistress behind this conceptual masterpiece. First, uni (sea urchin) on a wedge of tomato with a Champagne vinaigrette was a fresh, light play of sweetness and texture. Next came the crisp-based fried gobo burdock skin with beef tataki wagyu and a garnish of black caviar and miniature herbs (yum!). Lastly, churros with cream cheese and salmon roe were quite genius really (churros and cream cheese – yes please). The snacks were perfectly matched with the Suigei Tokobetsu Junmai. This dry-style sake had an intense fruitiness, sitting on the sweeter side of dry and is best when served cold.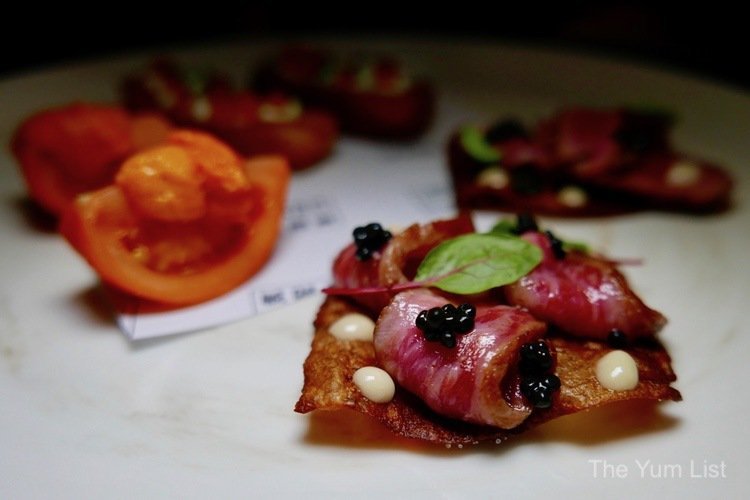 Kikubari Menu – First Course
The first course was a platter of silky smooth tuna tartare (cut from the loin side of the fish) with a large sticky crunchy aonori chip of white seaweed. Oscieta caviar and green aonori flakes were sprinkled over along and a dash of wasabi mayonnaise, which gave a nice warmth. The saltiness and acidity of the caviar brought out the richer depth of the Kokuryu, Kuzuryu Ippin sake from Fukui Prefecture. A refreshing drop, not dissimilar to a light white wine, is dry and best served cold. Its dryness intensified the silkiness of the tartare.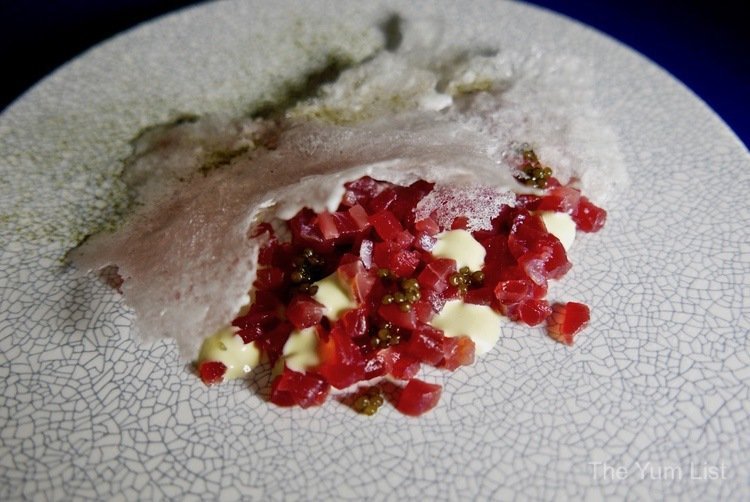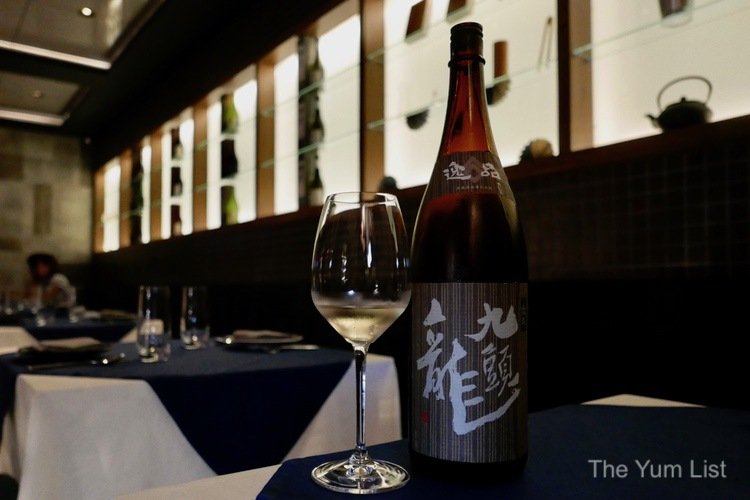 Kikubari Menu – Second Course
The second course of abalone tempura with liver sauce was a simply presented delicacy. The umami notes were intensified by the playful balance of the two elements, as was the KID Junmai sake pairing. Small, simple, sensational.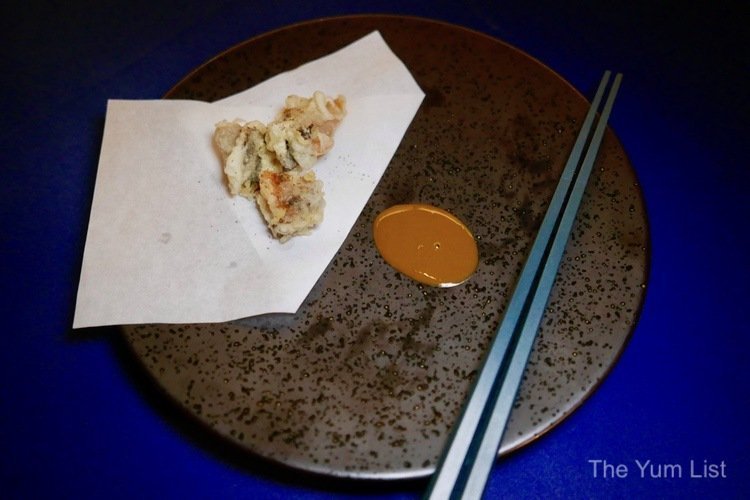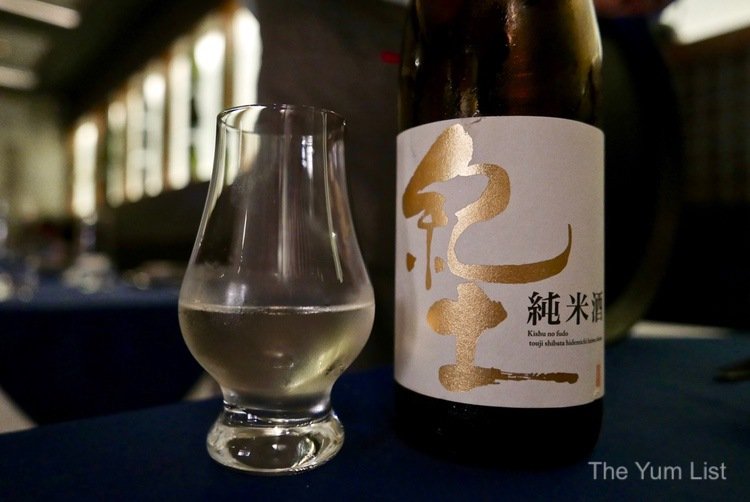 Kikubari Menu – Third Course
The third course of soy-glazed Japanese seasonal fish presented the winter fish, amberjack, selected by Chef Jun for its fat content, which brings about a juicier, richer experience. Hotaruika, a tiny firefly squid was its companion. It proved another textural triumph of a delicate soy glaze against crisp amberjack skin contrasted with the subtle chewiness of the squid. The sweet, honeydew melon fruitiness of the Tatenokawa Junmai Daiginjo was designed to enhance the smoothness of the dish. An added benefit of its light weight is that it makes it very easy to drink.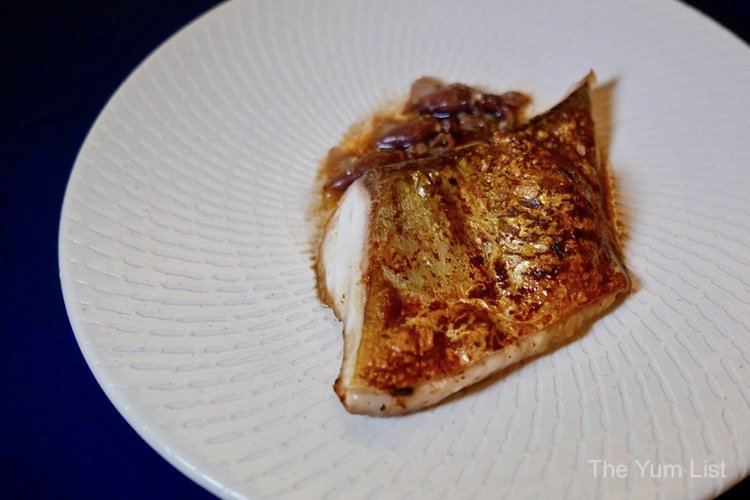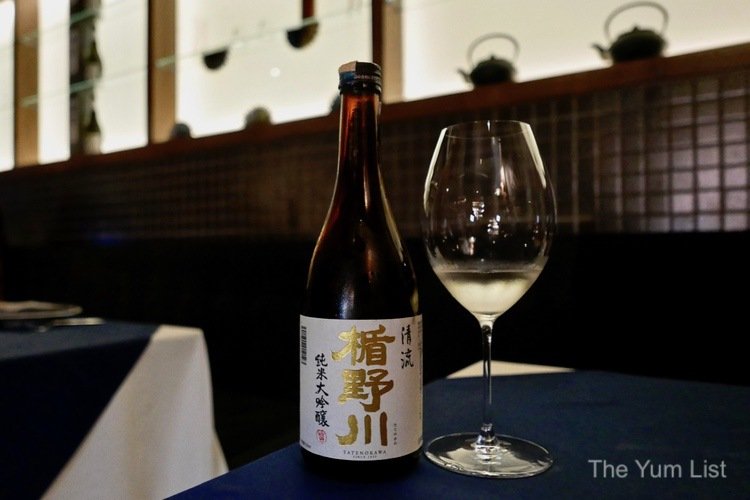 Kikubari Menu – Palate Cleanser
At this point, we are presented with a glass orb of icy-sharp palate-clearing honey and lemon granita with (naturally, three) red grapes, to cleanse away the prior fish and seafood tastes and prepare us for the pending duck dish.
Kikubari Menu – Main
The main was a triple cherry triumph with cherry wood smoked duck swimming in a tart, sweet red wine and cherry sauce. Powdered Sakura salt adorned with a trifecta of baby spinach leaves. It paired perfectly with the Daishichi Kimoto Junmai. Full-bodied with a stronger nose and a definite rice aroma, this dry, sweet selection, akin to a fortified wine or sherry, is poured into steamed glasses and served warm. I don't know which was more noteworthy, the duck dish itself or the Napoleonic-like 'Lamborghini of knives' ceremonial sword we were each inducted with to carve it. Brilliant!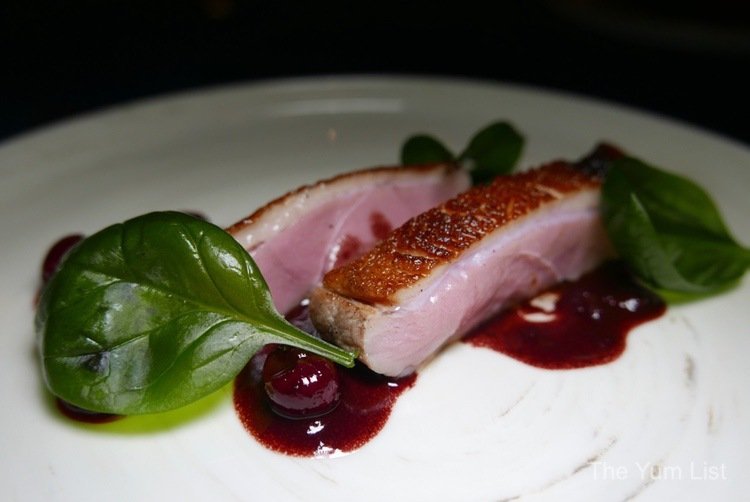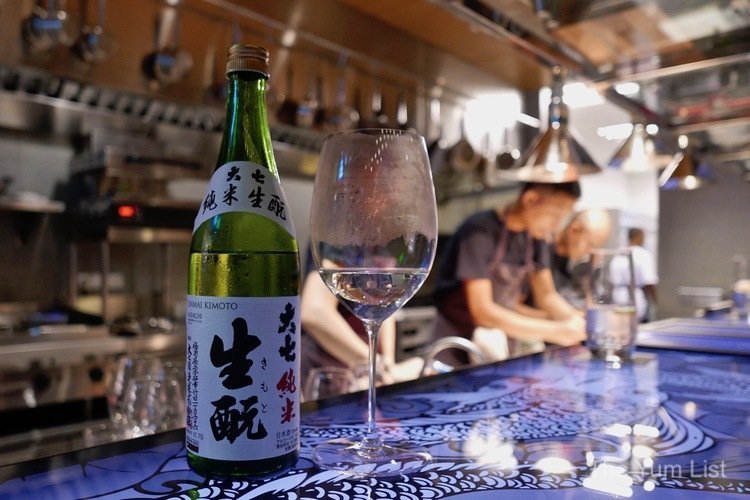 Kikubari Menu – Desserts
The avant dessert course of matcha ice melting over kuzu noodles wading in a kuromatsu sauce (Okinawan sugar cane) with a teaspoon of roasted soybean powder, left me with even higher expectations of what the 'actual' dessert was going to be.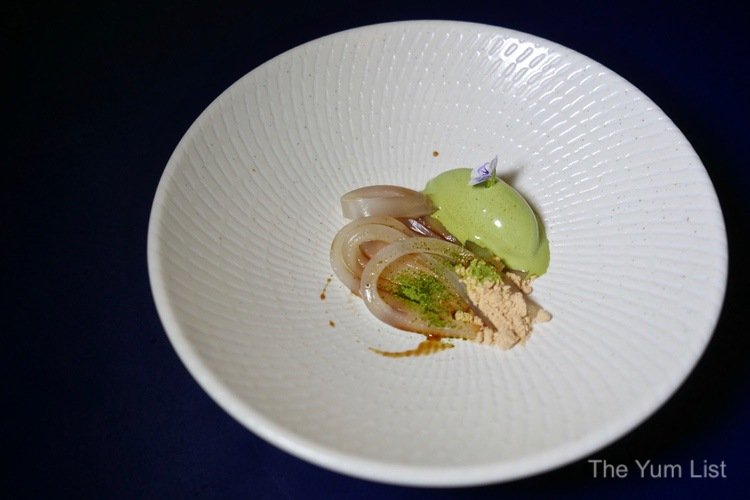 A luxe, layered, rich creamy plate of fresh Japanese strawberries with strawberry cream, blond chocolate ice cream, strawberry tuile and walnut snow, with tiny edible blue flowers, certainly didn't let the degustation down! Nor did the Benichu Ume-shu! The barrel-aged Japanese plum wine was delicious with its caramelized taste of roasted pears and peaches poured over an ice cube – a delightful finish.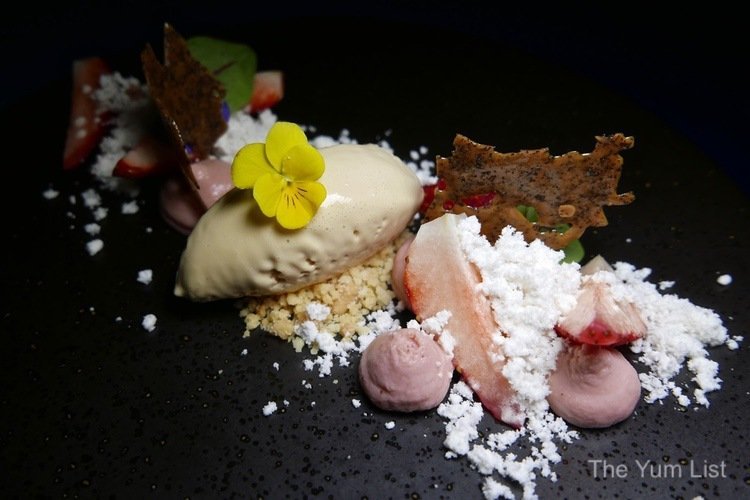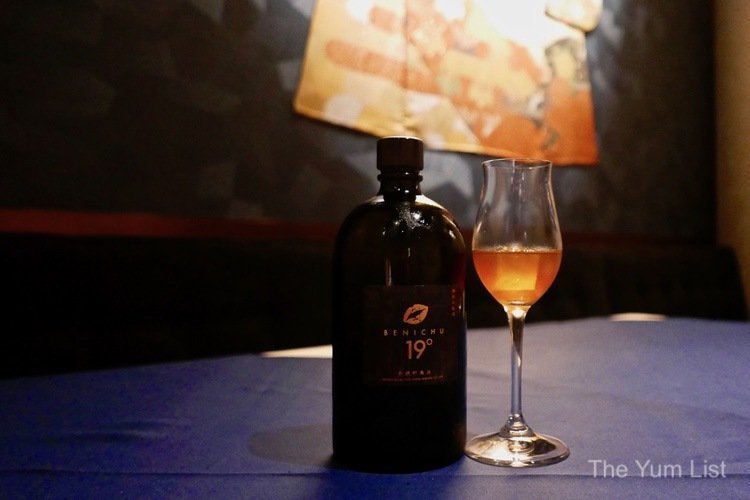 Reasons to try the Kikubari menu: elegant setting; exceptional sake pairings; an intriguing line-up of dishes.
Kikubari
Level 3 Rooftop
DC Mall, Damansara City
Kuala Lumpur, Malaysia
www.kikubari-dc3.com
Kikubari Opening Hours:
Weekdays for lunch (12 – 2:30 pm) and dinner (6:30-10:30 pm)
Saturday dinner only (6:30-10:30)
Sunday closed
Find our previous visits to Kikubari here, here, here and their meat-free menu here.