Words: Monica Tindall
Photos: Rich Callahan
Kuala Lumpur's vibrant café culture owes much to establishments such as Feeka Coffee Roasters. These pioneers in third wave coffee educated and pushed barriers pathing the way for a now flourishing café scene. New operations have bloomed all over the city but only the truly dedicated stand the test of time. Feeka Coffee Roasters has its foundations firm and those in need of a caffeine fix, a hearty meal, a slice of cake or just a pleasant setting to get a bit of work done are frequent visitors.
Feeka came from the Swedish word, fika, which means to take a break. And whether consciously or not the crowd that animates the space embodies the spirit: lingering over a book, chatting with a friend or going solo with a quiet sip and reflection on the moment. A semi-covered courtyard bordered with green is popular in the cooler mornings or later evenings. In the heat of the day, however, you'll find most guests indoors sitting on benches and chairs or cosying up on colourful couches.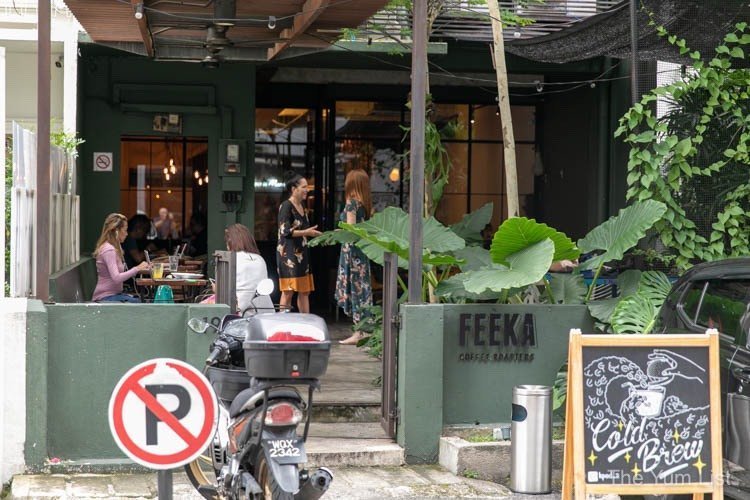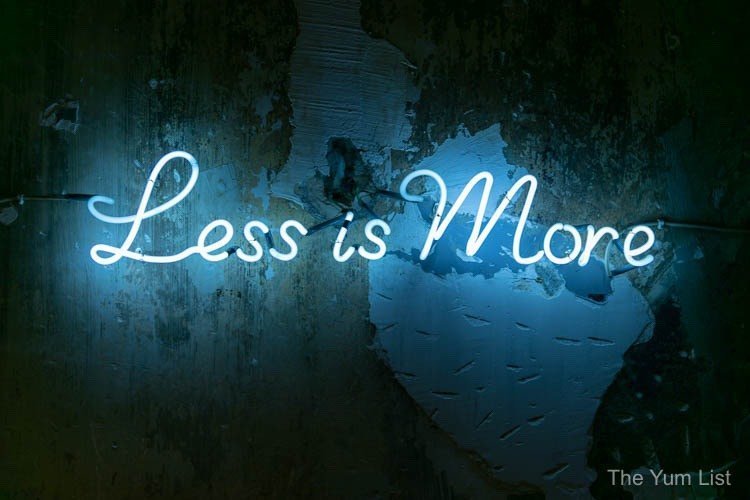 Feeka Coffee Roasters Menu – Coffee
Obviously, coffee is a priority here and all beans at Feeka Coffee Roasters are proudly locally roasted. Currently, the café carries two blends: The Feeka Blend and the Blackbird Blend. The former is a special mix by the Coffee Collective, which is good for espresso-based drinks with or without milk. A combination of Brazilian and Guatemalan beans brings flavours of dates, caramel and dark chocolate. When mixed with milk, almond, cookies and milk chocolate come to the forefront. The second, by Artisan Roastery, is also a blend that fares well black or white. Three beans from Brazil, Colombia and Indonesia from single estates propose notes of hazelnut, orange reduction and dark chocolate. Espresso based coffees with milk such as cappuccinos and lattes are all priced competitively at RM11 and all are made with a double shot. While both blends were enjoyable my personal tastes favoured the Feeka Blend.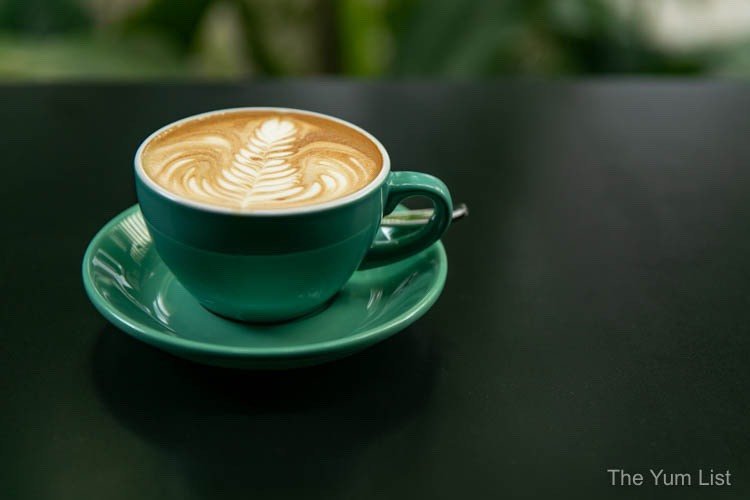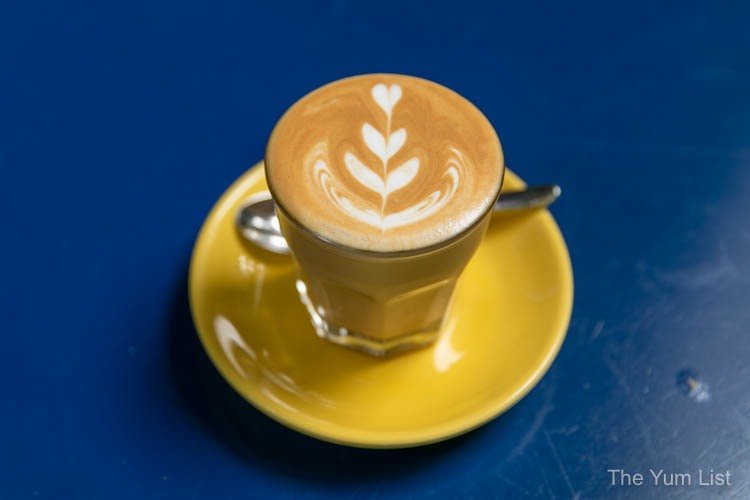 Seasonal Cold Brew Coffee comes black (RM15), white or as a tonic brew (RM16). The latter is a refreshing drink, fantastic for sweltering afternoons. A garnish of dried orange and zest bring out the fruity and earthy notes of the Indian Chikli beans on which it is made.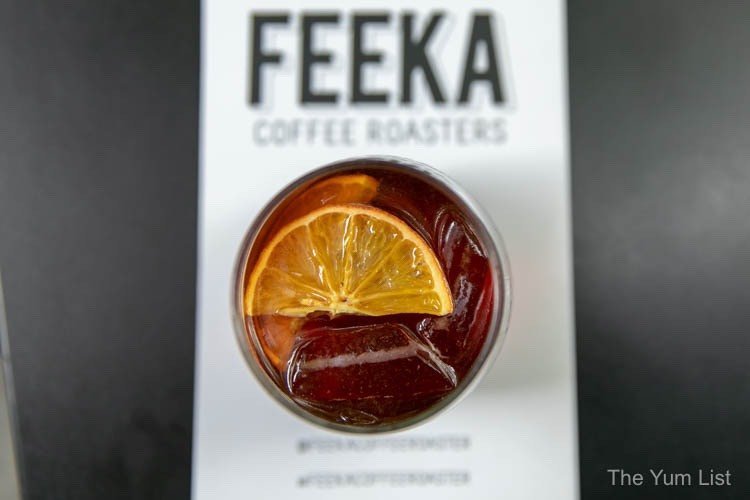 Feeka's Gold Cup Brewer allows the team to get the quality of a professionally brewed hand pour without the margin of error and time taken to do so. This machine filter coffee is served in a small carafe with petite Chinese tea cups for tasting. The fruity floral profile makes this a good coffee to pair with a meal.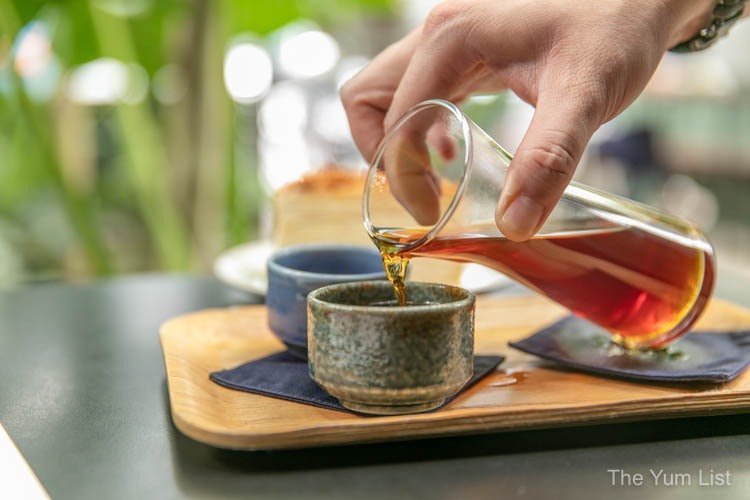 The team have recently introduced almond milk as an alternative to dairy, so vegans or those choosing a dairy-free diet can still have a creamy cup without compromise.
Feeka Coffee Roasters Menu – Breakfast
All of that coffee has a serious food menu to support it with an extended breakfast being served from 8 am – 3 pm and lunch and dinner offered between 12 noon and 11 pm. Even though the brekkie menu officially finishes at 3 pm, outlet manager Hafizz assures us that if they still have ingredients and customers want something from the morning menu later in the evening, they are happy to oblige.
Pretty breakfasts can only bring joy to the day and the Berry Chia Pudding (RM 17) certainly puts a smile on my face. Layers of chia seed pudding, wild honey, Greek yoghurt and berries are crowned with crunchy granola. Spooning through the layers puts creamy, crisp, sweet and tangy all in one delicious mouthful.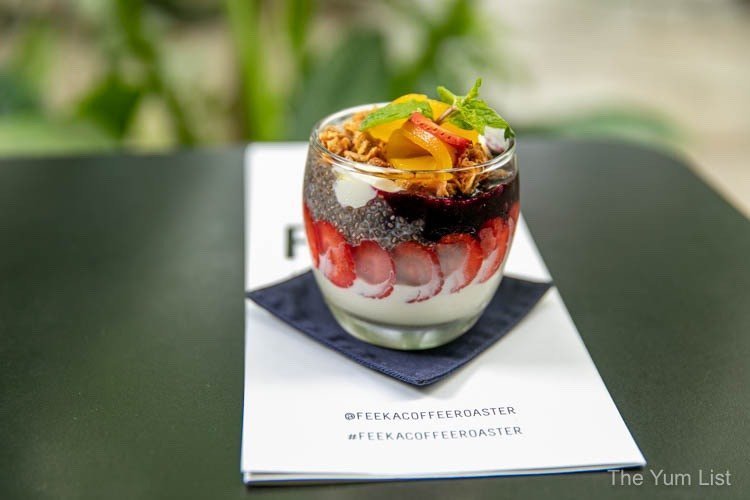 I can't go past a good Smoothie Bowl (RM19) and Feeka Coffee Roasters has a trio to choose from. Tropical is our order today with a chilled smooth bowl of mango, banana, coconut cream and yoghurt adorned with flax seed, coconut flakes and granola. Rich, my not-as-health-fanatic-as-me photographer, reckons this bowl just may have converted him to give them a repeat order.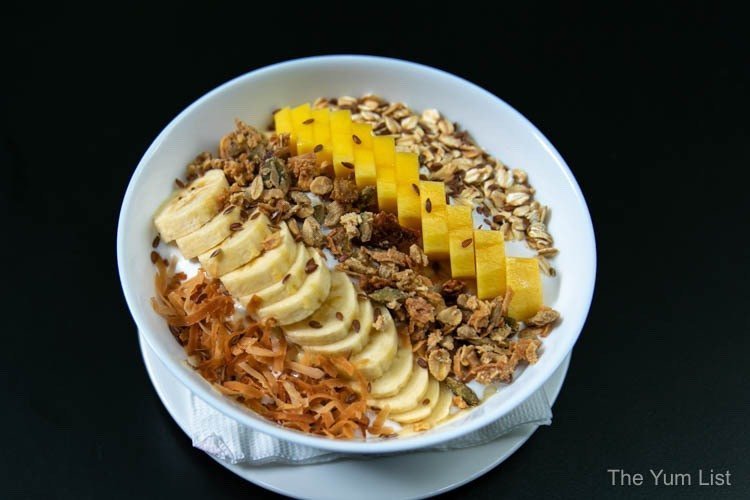 Another brekkie favourite is Ricotta Pancakes (RM18). Livened with poppy seeds, these five fluffy rounds are stacked in a tower and infused with lemon. A berry compote, fresh strawberries, butter and a dusting of powdered sugar garnish the spire. These are a real breakfast treat – Hafizz recommends treating yourself on a Monday to inspire a sweet week ahead.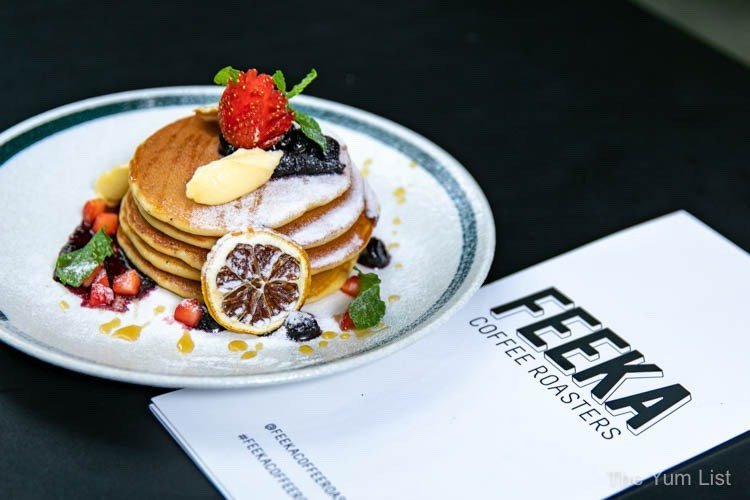 Feeka Coffee Roasters Menu – Mains
Has anyone noticed that I'm up to the fourth item and it's also a vegetarian dish? No? Well, neither do my carnivorous partners in crime – testimony that a good recipe is about a balance of flavours and textures and has nothing to do with whether or not it has meat (in my opinion). The Roasted Veggie Burger (RM 20) comes with a tower of veggies wedged between a fluffy toasted matcha bun. A hearty juicy Portobello mushroom is the star of the show with supporting roles played by tempura onions, roasted zucchini, melty cheddar cheese and a smoked capsicum sauce. Thick cut fries tossed with Parmesan cheese, pepper, salt and parsley bulk up the meal even further. It sure is a tummy-filler.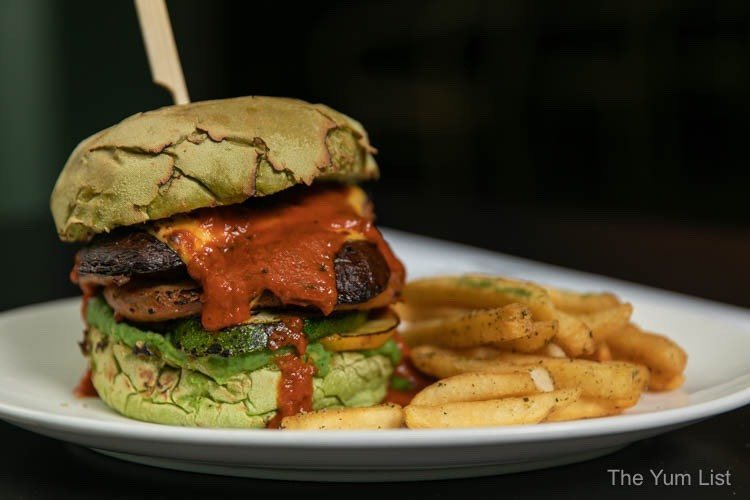 One of the most popular mains is Grilled Chicken with Couscous (RM25). The breast has been marinated before pan-fried golden brown and comes with a Greek salad tossed through with couscous and tangy mint yoghurt. Finely chopped red onion, halved cherry tomatoes, sweet corn and sunflower seeds add both nutrition and more texture. This one is hubby's favourite.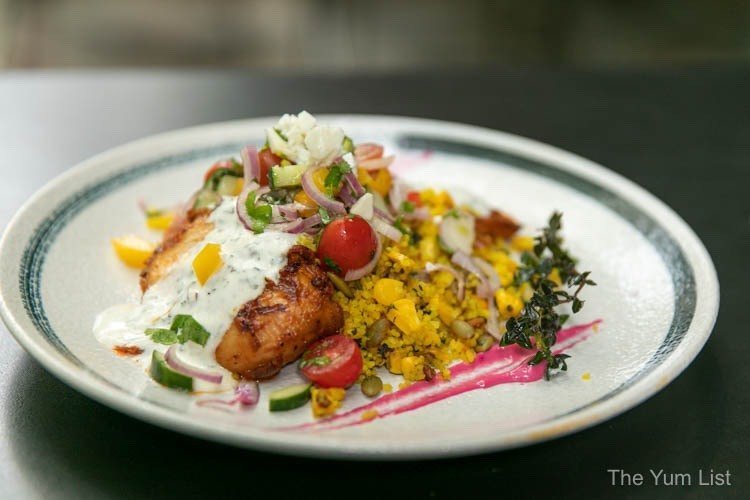 Feeka Restaurant Dessert
A chilled glass display holds a number of sweets and cakes making flawless companions to a cup of coffee. Almond Salted Caramel Mille Cake (RM14) comes straight from the chiller. This beauty is one of the best-selling items of all of the sweets and out of the 14 flavours of mille crepes available, it is always number one. Twenty-six layers – 13 of crepes and 13 of cream – are "supposed to melt in your mouth like ice cream," says Hafizz. Rich repeatedly digs into the creamy layers and I find the caramelized top irresistible. Hafizz adds that this is highly recommended with a double shot of espresso.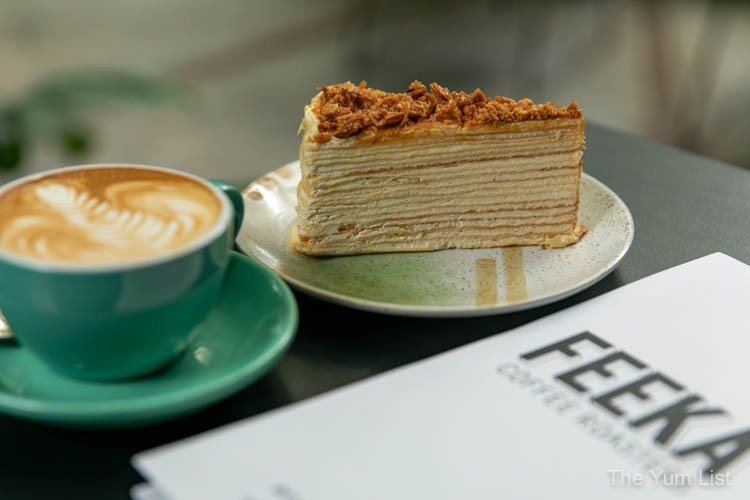 Feeka Coffee Roasters Review
There is something to be said about cafés in Kuala Lumpur that have stood the test of time. With a multitude opening and closing within a couple of months of each other, an establishment that has lasted this long has solid footing. The setting is welcoming, staff are friendly and the coffee is excellent – it's a winning combo for a community café deserving of many repeat visits.
Reasons to visit Feeka Coffee Roasters: relaxed setting full of character and a great green courtyard for cooler weather; excellent coffee; lots of meat-free and healthy options; I really enjoyed the Berry Chia Pudding and Grilled Chicken with Couscous; fans of mille crepe cakes should give the Almond Salted Caramel a try – out of 14 flavours it is the number one seller.
Feeka Coffee Roasters
19, Jalan Mesui
50200 Kuala Lumpur, Malaysia
+6 03-2110 4599
www.facebook.com/feekacoffeeroasters
Feeka Coffee Roasters Opening Hours
Daily 8 am – 11 pm