Words: Jon Noble    Photos: Monica Tindall
Tucked away on the top floor of the DC Mall is Kikubari; a hidden gem with a wonderful setting and fine food. The kitchen's focus is on using quality imported Japanese ingredients cooked with techniques from around the globe. And now, every Monday, Kikubari are offering a Meatless Menu.
Meatless Monday at Kikubari DC Mall
The staff are passionate about creating not just a good meal but a culinary experience. Being a meat lover I was ironically excited to be invited to their new concept of meatless dining: I perceived myself to be the perfect challenge to be convinced that a plant-based meal could be as equally as appetising as my usual carnivorous preferences. I have to admit to being pleasantly surprised, in fact, highly impressed! The idea is to encourage a move to a healthier lifestyle for all without sacrificing the pleasure that fine dining can bring. Meatless Mondays at Kikubari DC Mall is a gentle introduction to reducing the amount of flesh in my diet and may just see me seeking out more veg and less meat more often.
Seating around 30 guests, the feel of Kikubari is intimate and features an impressive raised glass floor over wave patterned sand (much like a Japanese Zen garden). Accent lighting and a select display of Japanese artefacts create a stylish yet relaxed environment. The attention to detail continues through to the menu, which is backlit with LED lights.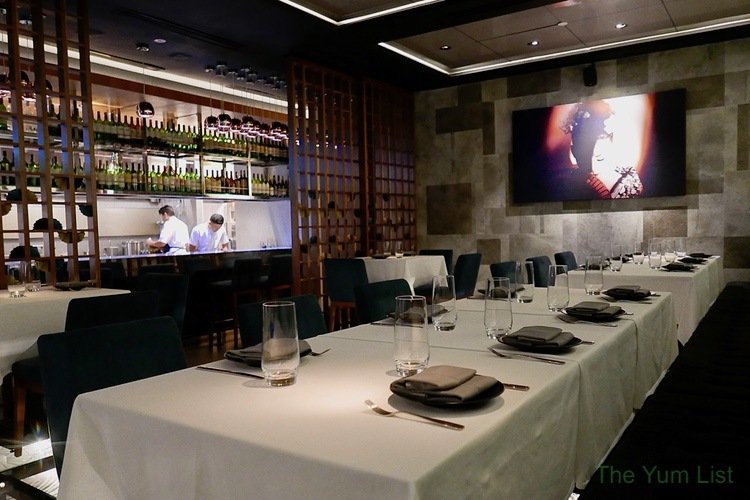 Meatless Monday Set Menu Kikubari DC Mall
The fixed price tasting menu is RM 228++ and is designed to be enjoyed by the whole table. We opted for it to be paired with sake, the choices of which formed just a small, but obviously very important part of one of the most comprehensive wine menus I think I've ever seen. Wines from around the world range in price from RM 250 to RM 280,000 a bottle! For non-drinkers, they are currently working on putting together a tea pairing as an alternative.
Whilst anticipating our first course, we began with a Junmai-Shu Sake (RM 20 per 6cl) and embarked on a fascinating education on the arts of sake fermentation. The process is more akin to beer than wine, using rice, yeast and water and the overall quality being affected by the percentage that the rice has been 'polished.' This first one was slightly warmed and was somewhat smoother than I had anticipated, refreshing with a slight sweetness but intense flavour.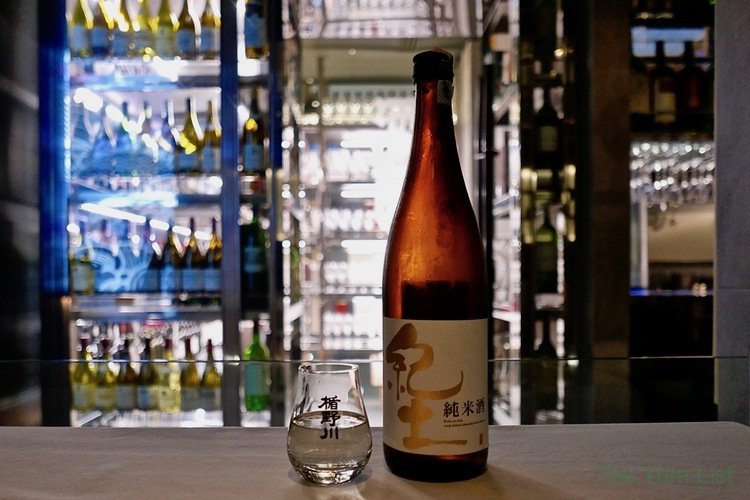 Our first course arrived and was beautifully presented (as it transpired, so were all the dishes to come) by chef Syaaban, comprising of White Asparagus, Edamame, and Aosa Nori. This was a bed of thin strips of white asparagus topped with edamame beans and slightly crispy finely chopped aosa seaweed, homemade salted egg yolk, and a jus made from the asparagus stems. An extremely delicate balance of flavours and textures made this dish an exquisite start.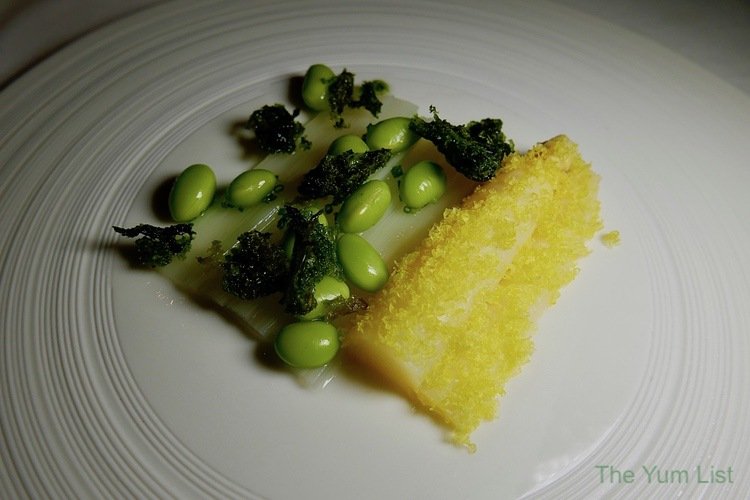 Each of the kitchen crew is tasked with creating their own dish and then presenting it to the table with an explanation behind the idea; a lovely touch to really personalise the experience. It's a very young and largely new team with John & Billy only two months in, but under Chef de Cuisine Jun's guidance have clearly developed a passion for cooking with the plant-based ingredients. It became apparent that there was a friendly competition within the team to produce the most popular dish.
Next up was John with his Fruit Tomato + Wakama Deconstructed Tart with Smoked Parmesan Cream. Again this dish just instantly worked! A beautifully light shortcrust pastry base that almost melted in the mouth was topped with a dome of jelly tomato consomme and pieces of fresh zesty tomato, with wakame seaweed and garnished with amaranth microgreens. The soft subtle flavours of the pastry and the velvety Parmesan cream were ideally complemented by the zing of the fresh tomato.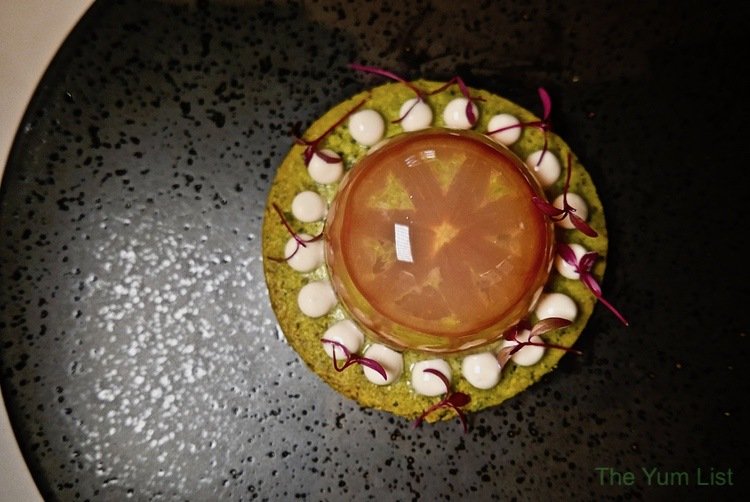 A chilled glass of Junmai Ginjo-sho Sake (RM 23 per 6cl) gradually increased our pairing in intensity. This is a result of the rice being 40% polished as opposed to the 30% of the first one but to me also had a delicate fruity (lychee tasting) finish.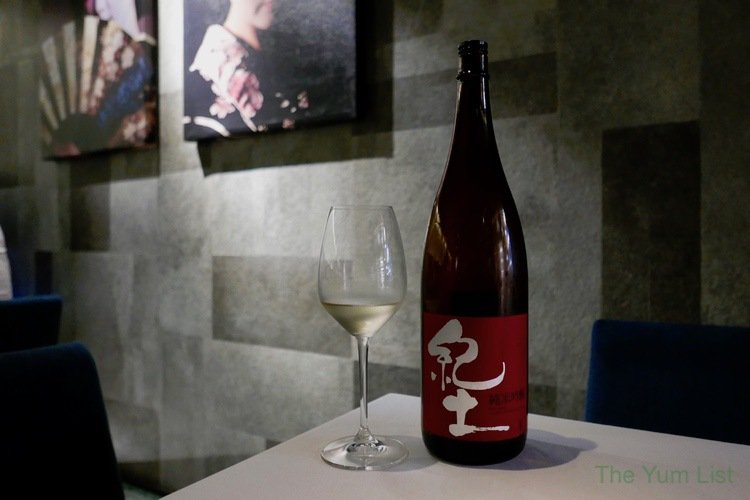 By this stage our taste buds were singing with joy as we were presented with our third (and my favourite) dish by Billy; Yuzu Negi Broth Ramen, Ajitama and Salted Takenoko. The fine ramen noodles were cooked until tender yet springy and the yuzu broth had a lovely umami, which Billy achieves by making it with butter in place of meat stock. The rich butteriness is balanced with strips of leek to cut through the richness and complemented with bamboo shoots and marinated soft boiled egg, which is partially cooked and then cured. At this point, I was completely sold!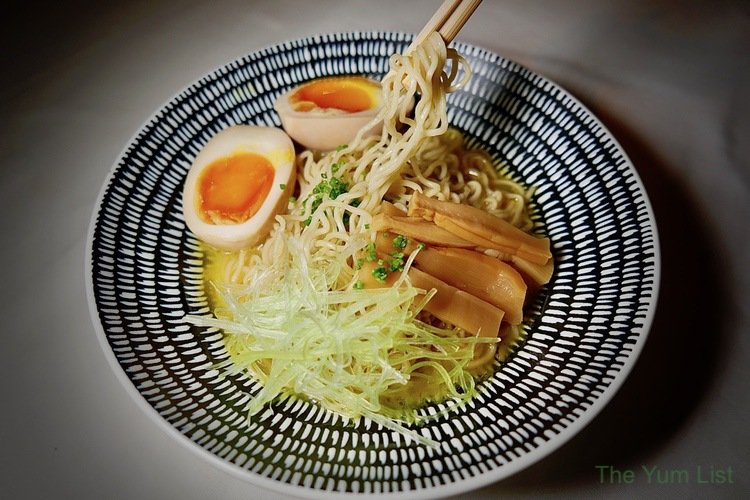 Sake number three to was Junmai Kimoto (RM 27 per 6cl). Our sake education continued with one of Kikubari's two sommeliers, Danny, explaining that this sake takes twice as long as the classic method to produce. Apparently, sake brewing has up to 12 steps as opposed to the usual six for wine. The authentic Kimoto method involves wild fermentation and this gives the sake a richer deeper flavour with more savoury undertones, another perfect match for an extraordinary dish.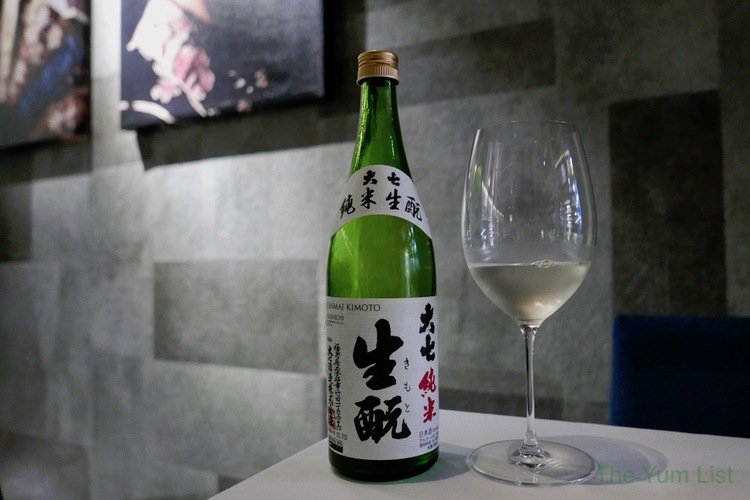 Kikubari Dessert Menu
Our final course, dessert, was brought to us by Hafiz; Mango Mille Feuille, Okinawa Sugar and Rhubarb Sorbet. This petite masterpiece was founded with a fantastically light pastry and offered a delicate balance of sweetness from the brown sugar and fruity sharpness from the mango and rhubarb sorbet – a flawless finish to an amazing food journey.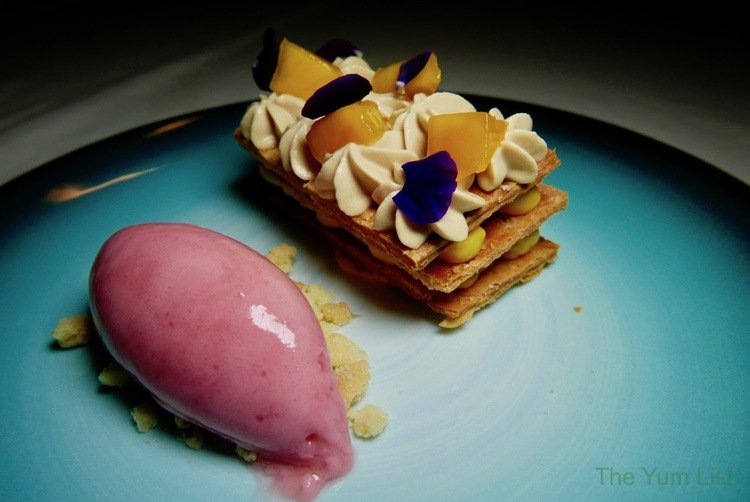 Ending with balance as the focus, the dessert was accompanied with a glass of Benichu (RM 35 for 6cl), a Japanese plum wine (Umeshu), which is naturally fruit-infused without the use of sugar. The Benichu has an ever-so-slight viscosity to it with a delicious stone fruit finish.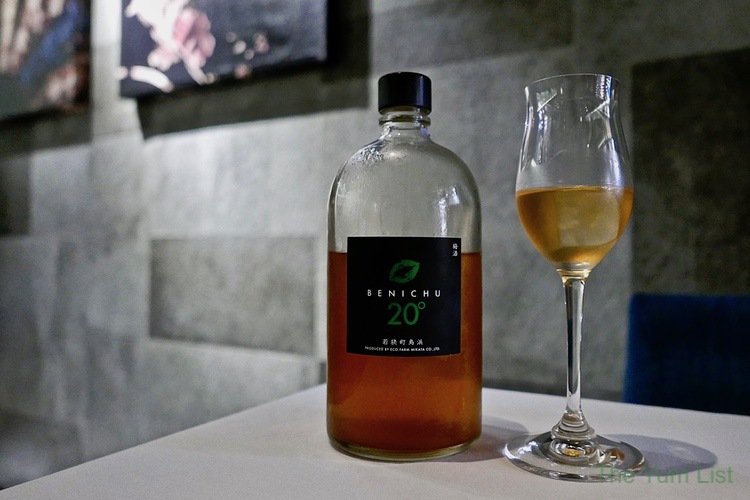 Overall I was hugely impressed with the evening and would highly recommend giving it a try, even as a self-confessed carnivore. Kikubari's Meatless Monday menu is suited equally well for dining with a group of friends or a romantic interlude as a couple.
Reasons to try out Meatless Monday at Kikubari, DC Mall: it's a culinary journey, not just a meal out; the kitchen team have nailed both taste and presentation; stylish and intimate setting; incredible wine and sake menu; a gentle introduction to meat-free eating.
Kikubari DC Mall
Level 3 Rooftop
DC Mall, Damansara City
Kuala Lumpur, Malaysia
https://www.kikubari-dc3.com/
Kikubari Opening Hours: Monday to Saturday – 6:30 pm – 12:00 am
NB 'Meatless Monday' menu is changed on a monthly basis is now available every Monday.